Hold the phone! I have just decided on my "Summer of 2017 Cocktail" (insert a loud CLINK here)…Homemade Low Carb Lime Vodka Coolers!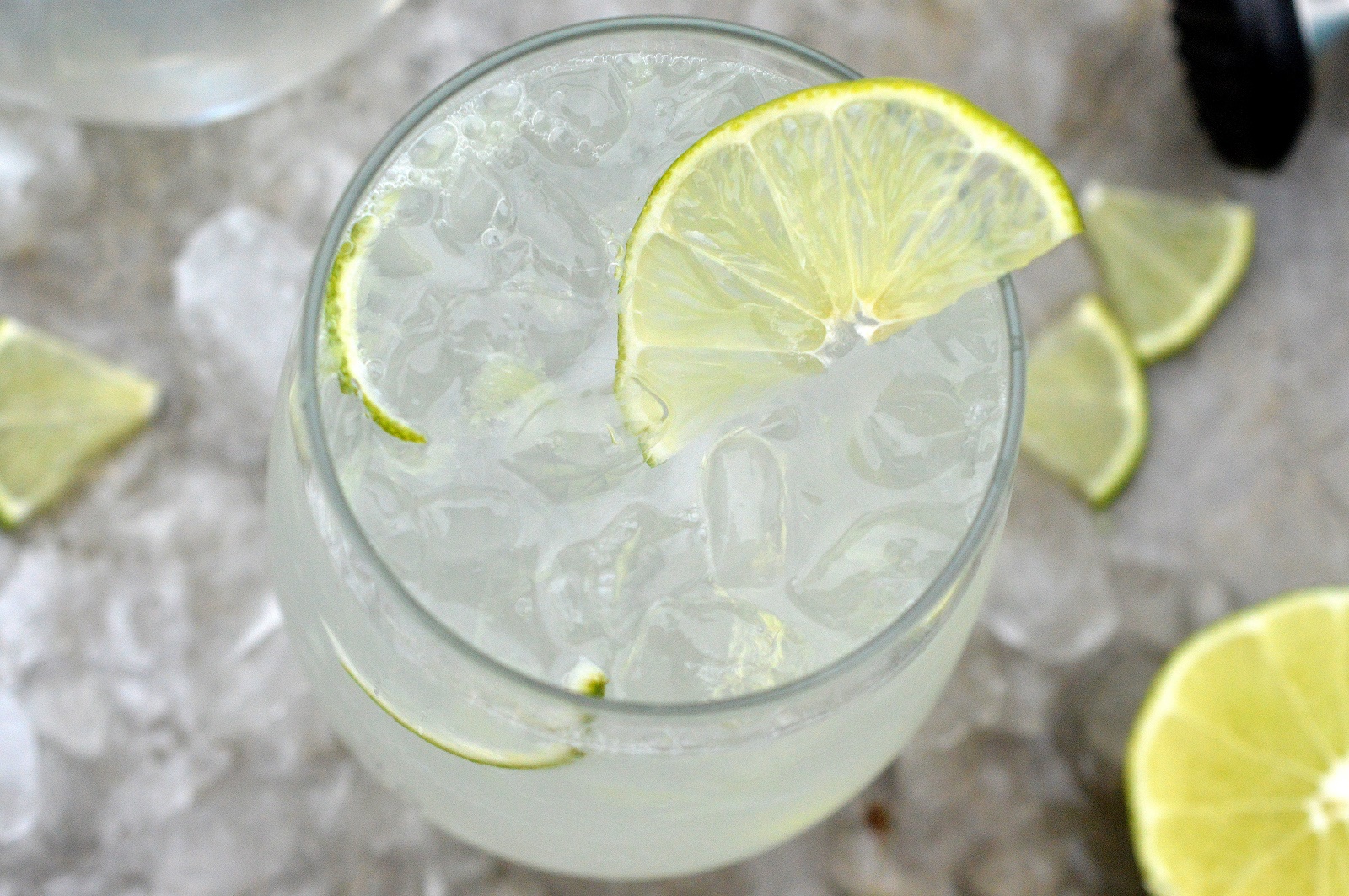 And the best part??
If you are watching your carbs or sugar, it is totally customizable! Make these Homemade Lime Vodka Coolers as sweet or as light as you want. Win!! Think about it, store bought cooler have 37-48 grams of carbs in them, plus some sort of preservatives, like sodium.  You making them yourself is low carb plus you know exactly what you put into it.
These Homemade Low Carb Vodka Lime Coolers are delicious, refreshing and easy to prep, when you are ready.
Do you know what else is easy??
Ready?
Have you heard about Drizly?
Drizly.com partner with local stores so you can shop their shelves using your smartphone or computer to order beer, wine and liquor at the touch of a button. How cool is that!
Have you ever gone to the liquor store not knowing exactly what you want…maybe you look around at wine or Bourbon, try to see of the labels say anything indicating taste, is it dry, is it sweet, do people like it, etc. look for the random cards that cling onto some shelves with just a little bit of information?  Well I have, and I always feel pressure to move out of someone's way as well as make a decision and get out of there.
Sure I know what vodka I like best and I go right for it. My husband knows what beer he is in the mood for, however as a Scotch, Bourbon and Whiskey fan, he wants to try new varieties,  this service makes that easy.
What I love about Drizly.com concept is the fact I can look at say Irish Whiskey and quickly see the choices available for purchase as well as a product description and customer reviews. That is exactly what I want, and my husband feels the same way!
Quick, easy and all in one place. You look, read, select and then before you know it, it's at your door!
To learn more about this awesome service visit Drizly.com. you can also see the areas in which they currently serve (they are even popping up in Canada). The service is not yet here in PA…Because ya know, PA is a tough state for liquor, however things are changing! I think Drizly.com and their service should be available everywhere. It would be like Amazon for all things beer, booze and wine! Sign-me-up!
The key to this delicious-tasting refreshing Homemade Low Carb Lime Vodka Cooler is fresh limes and good vodka. You want to "supreme" your limes, which means cut the skin off (and the pith) and pop out each lime segment. Here is a great YouTube video on how to just that by a professional chef.  It's easy!  
Here is an image of my lime part-through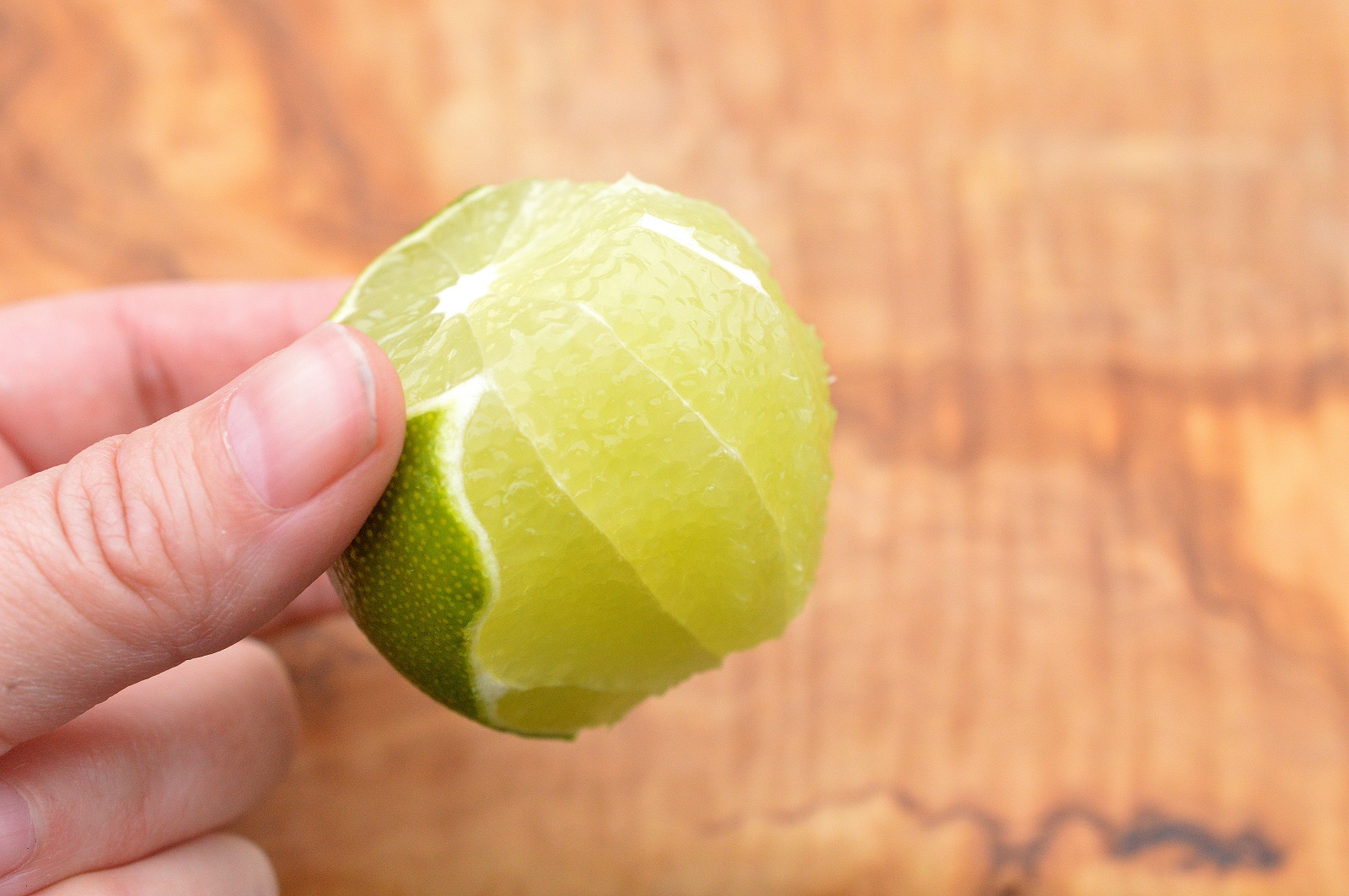 After the skin and pith of off, simply pop out the segments, yum!! Plop 2 or 3 segments into each glass you will be using and muddle them (with a muddler or wooden spoon), you want them broken down into pulp.
Squeeze any excess juice from what is left of your lime/limes, get every drop…even from the skins and set aside a mason jar full of lime juice…So you can make LOTS of these coolers!
How are these low carb you ask?
Well, there are 774 calories and 200 carbs in a cup of white sugar.
There are zero calories and carbs in a cup of water.
When you make your simple syrup, the yield should be 22 TBS…SO each TBS of syrup you add to your cooler has just 36 calories and 9 carbs. The lime, the ice and the seltzer…zero. Even if you use 2 TBS in your cooler, you are looking at 18 carbs vs the typical store-bought cooler which has 38-48 carbs.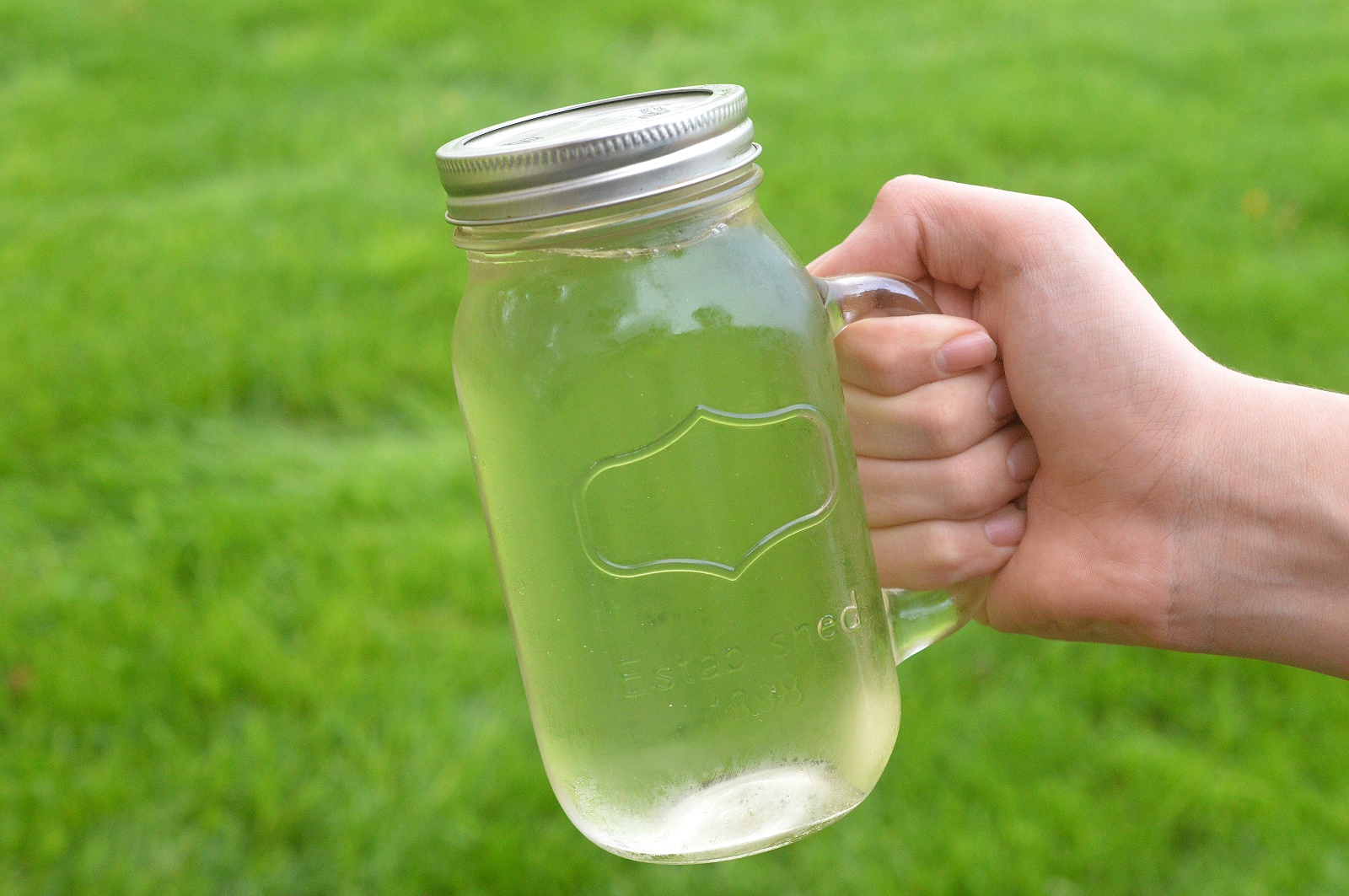 Not too shabby! So even if you are low-carbing…Bottoms up once or twice!
I always have simple syrup in my fridge. It makes the best lemonade! Plus I add it to a variety of homemade cocktails.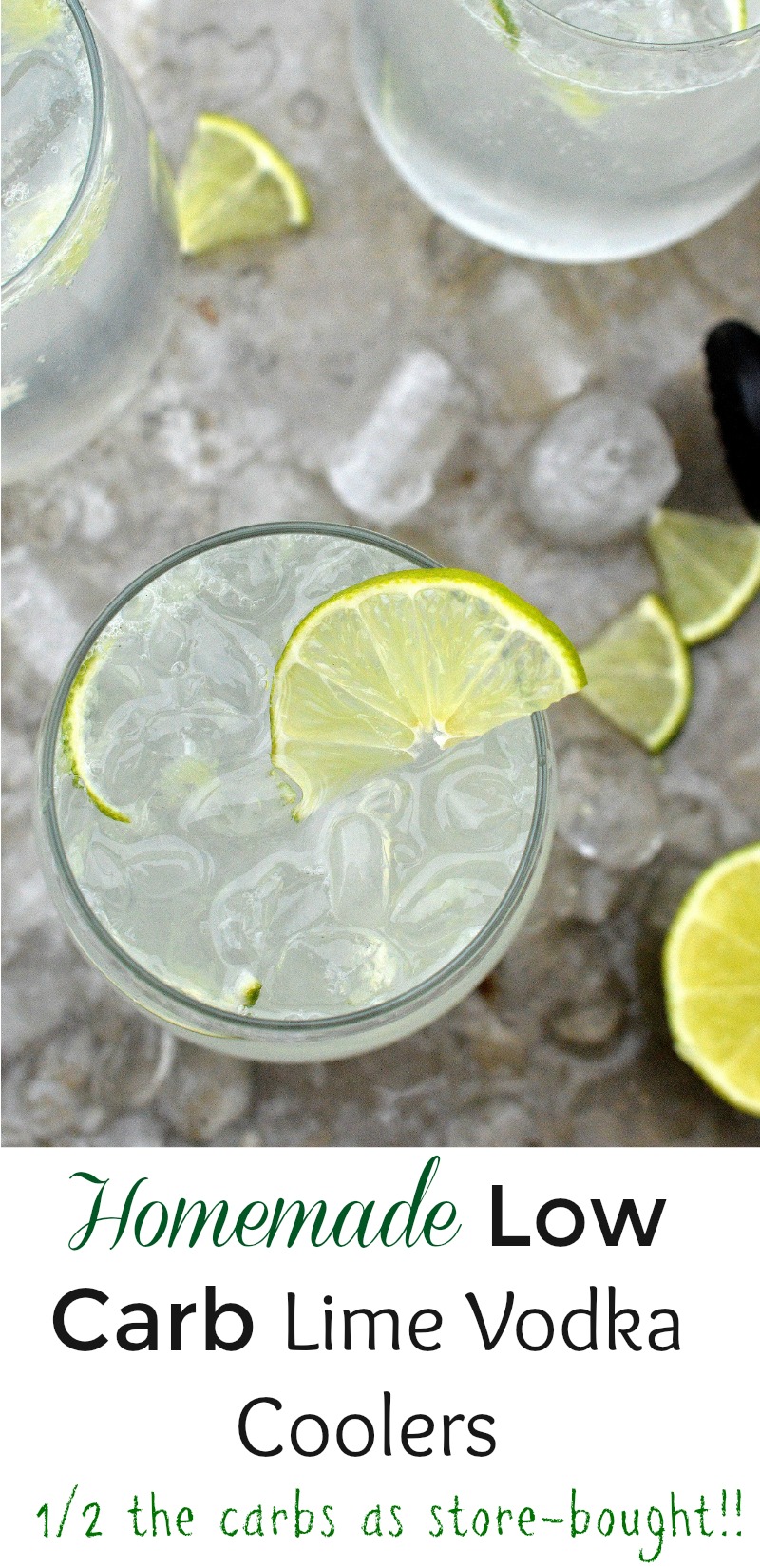 I hope you try out my scrumptious Homemade Low Carb Lime Vodka Coolers and if you are luckier than I am…you can order the vodka for them right to your front door! Go ahead, I'm not jealous (much), I am patient 🙂
This is not a sponsored post for Drizly, I thought the concept was phenomenal and wanted to share, I did receive a GC to shop for my ingredients, to contribute a cocktail recipe.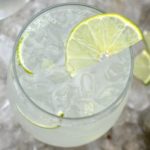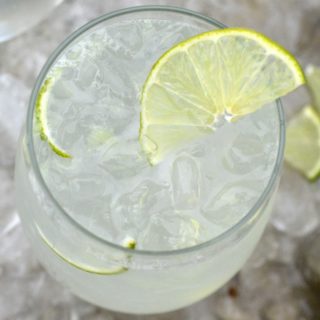 Print Recipe
Homemade Low Carb Lime Vodka Coolers
Ingredients
1

cup

water

1

cup

sugar

Limes

Vodka

Seltzer

Ice

To assemble 1 drink I use 1 TBS Lime juice plus the pulp

3 oz vodka, 1 1/2 TBS -2 TBS of simple syrup. However make it the way you will enjoy it.
Instructions
Make your simple syrup by combining 1 cup water with 1 cup sugar. Heat the mixture just until all sugar is melted (no granules remain) and liquid is cloudy-clear, Doing let it boil (you will lose some via evaporation and allow the mixture to contain more sugar).

Allow mixture to cool to room temp, then store in fridge is a sealed jar for up to 3 weeks. This should yield between 1 1/2 cups and 1 3/4 cups...so 22 TBS worth.

When ready to assemble coolers, first you want to supreme the limes. Like I described above. Once you have your limes cut into segments, place 2-3 segments in each glass and muddle them (with a muddler or wooden spoon). Get them all broken down, so you have pulp floating around your cocktail, yum!

Fill the glass with as much ice as you like, then vodka, then 1 1/2-3 TBS simple syrup (depends on the size glass you use and your preference for sweet).

Top with seltzer, garnish with a lime slice and maybe a few thin shards of lime skin in the glass and enjoy!!