One of the fastest, and in my opinion...best, fresh vegetable side dishes you can make for dinner are my Quick & Easy Skillet Green Beans. These are SO stinking good that there are almost never enough, which is a good problem to have when it comes to veggies when you have kids!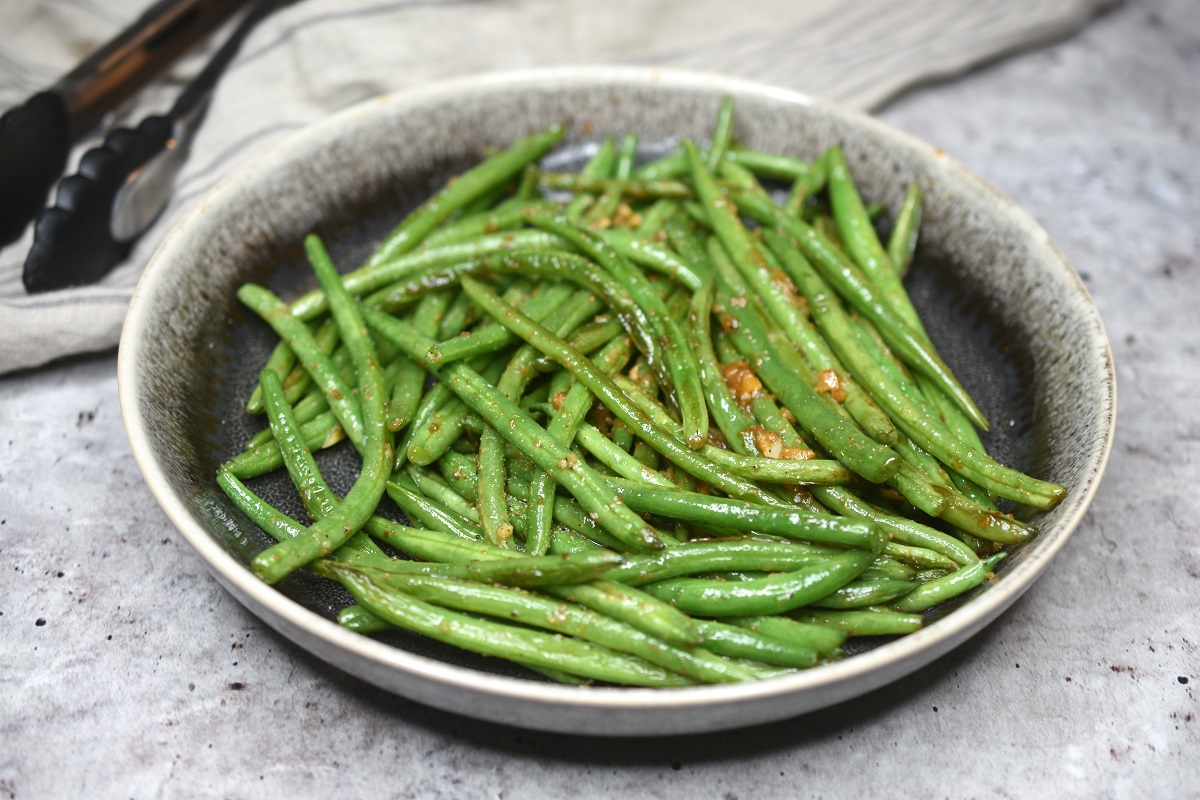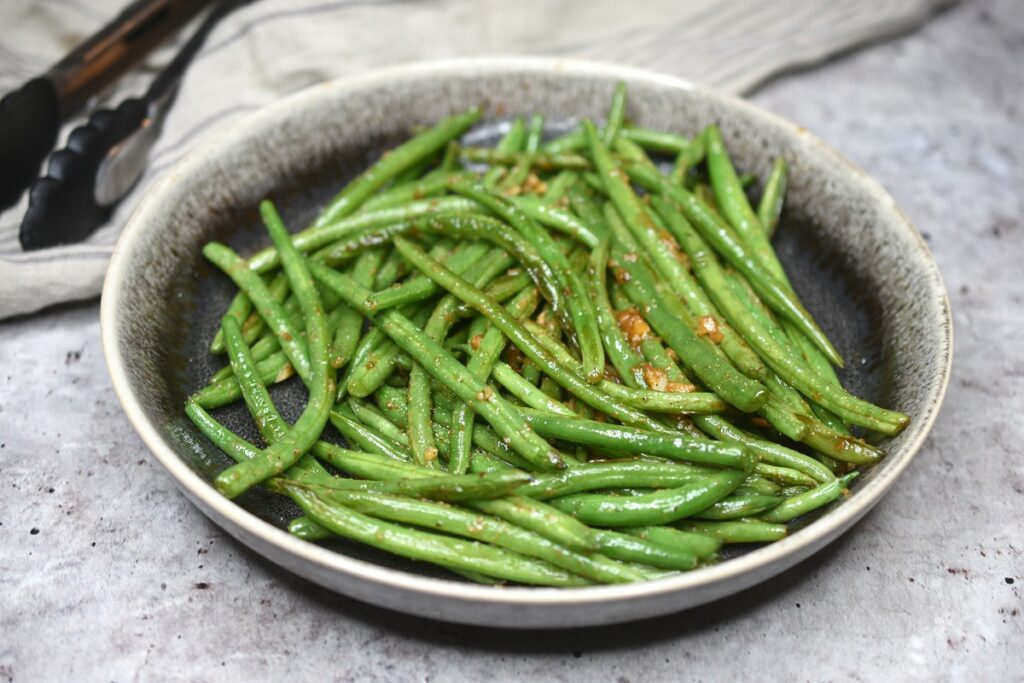 I love my parents to pieces HOWEVER, when it came to vegetables growing up, I hated most of them, unless they were raw. Those I liked. 
Maybe it was because most often they were boiled and water-logged. 
Once I began cooking for myself, I experimented with all sorts of ways to cook - everything. Oven, grill, stovetop or a new cooking appliance, I tinkered (and still do). I now know how I enjoy vegetables best.
My favorite ways to make green beans are this easy skillet green beans recipe, the Asian Style Green Beans (that taste just like the Spicy Green Beans at PF Chang's) and these Cajun Green Beans.
I also like grilling them in a pan I use specifically for grilling vegetables. A little char on them is deee-licious!
Ingredients
Fresh green beans
Water
Butter
Garlic
Seasoning blend (garlic and onion powder, black pepper, salt)
Optional red pepper flakes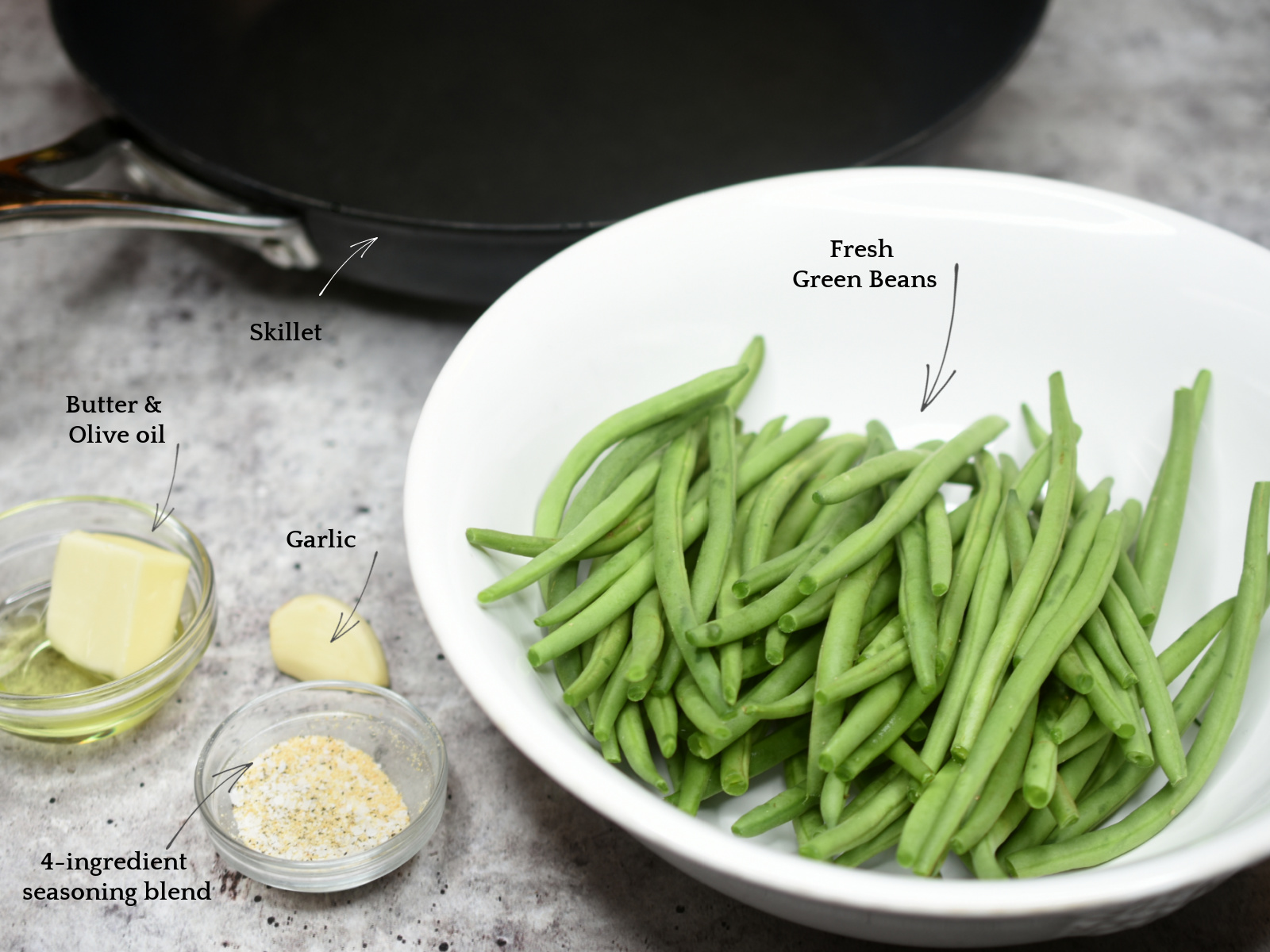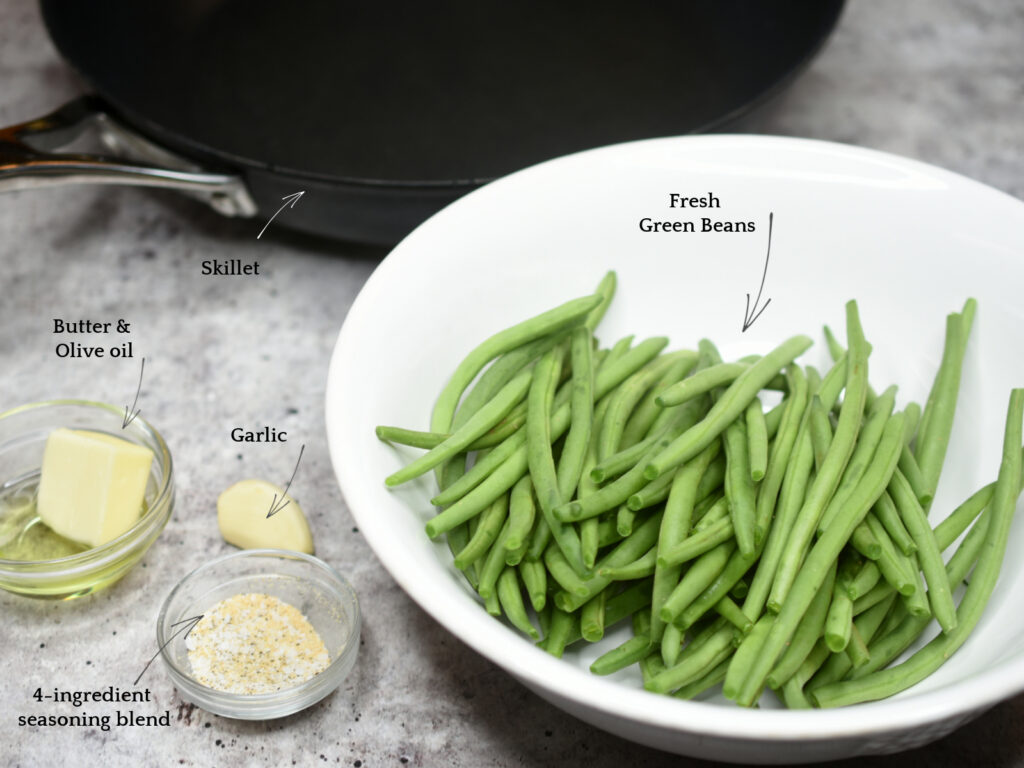 Tips
This dish comes together quickly.
Once you have prepared your green beans, heat a large pan over med-high heat.
Once the pan is hot, add in the butter and grapeseed or olive oil, as soon as the butter melts add in the beans, sprinkling them with a couple of pinches of your seasoning mix (see recipe below).
Sauté, moving them around with tongs or a spatula often. You will want them to brown/char just a bit.
Once the butter/oil mixture begins to dry up (after about 4-5 minutes) add in garlic, sauté for 15-30 seconds, add in 2 TBS water. Stir, cover and remove from heat. Allow the beans to sit for 2 minutes.
Spritz the beans with a little fresh lemon juice, sprinkle with additional seasoning mix, taste and adjust and serve.
Are green beans good for you?
1 cup (about 4 ounces) of fresh green beans are just 31 calories
They contain 7 grams of healthy carbs (complex carbs)
They contain 2.7 grams of fiber and 1.8 grams of proteins
Just .02 grams of fat and 3.3 grams of sugars
Fresh green beans contain 16% of the RDA of vitamin C and 5% of vitamin A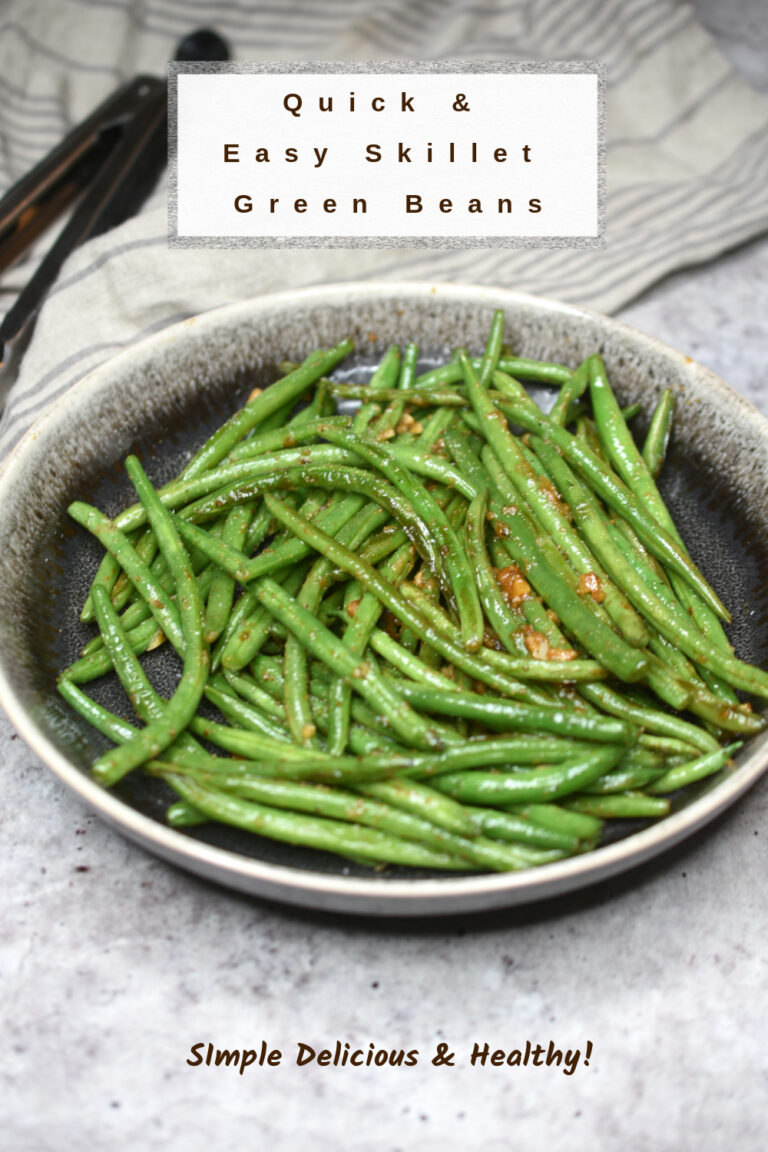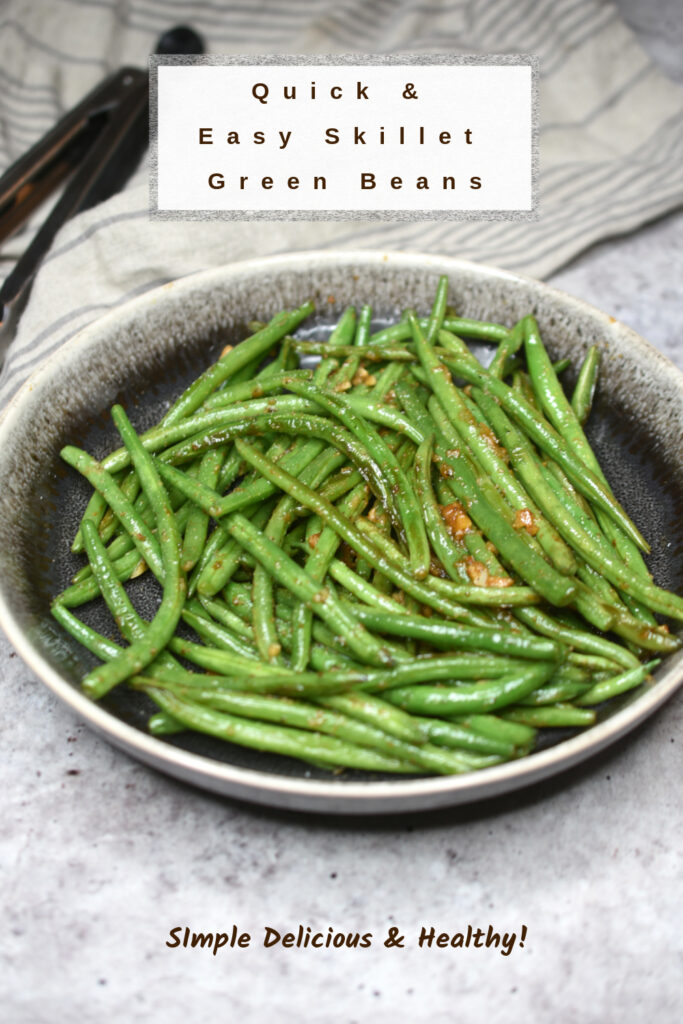 Instructions and variations
Line up groupings of green beans and quickly slice off the stem ends (the top part that was attached to the plant). That part is not and enjoyable eating experience, I also like to slice off the tails as well. A quick, chop-cop and toss them into a bowl.
Choose to leave your beans whole or slice into smaller segments - its up to your preference.
This recipe can easily be altered. if you enjoy spicy, add in some red pepper flakes or add Cayenne (red) pepper to the seasoning mix. You can choose o use all butter and leave out the oil.
You can also add in some chopped ginger to the pan for a healthy, spicy kick.
You can choose to use garlic paste for this recipe (it won't burn like fresh garlic can and has great flavor). If you do use it, you can add it to the pan just after you add the green beans, tossing it well.
You could also add in some chopped shallots or onions.
Some prefer crisp-tender green beans (like my family and I do). If you prefer them cooked through, add an extra TBS of water and allow them to cook, covered for a few minutes more, stirring occasionally.
Always taste and adjust to your preference as you cook
I hope you enjoy these simple skillet green beans and that they grace your table for many dinners to come!
If you enjoy cooking with fresh green beans as much as I do, check out two of my favorite green bean recipes:
Asian-Style Green Beans (They taste just like PF Chang's Spicy Green Beans)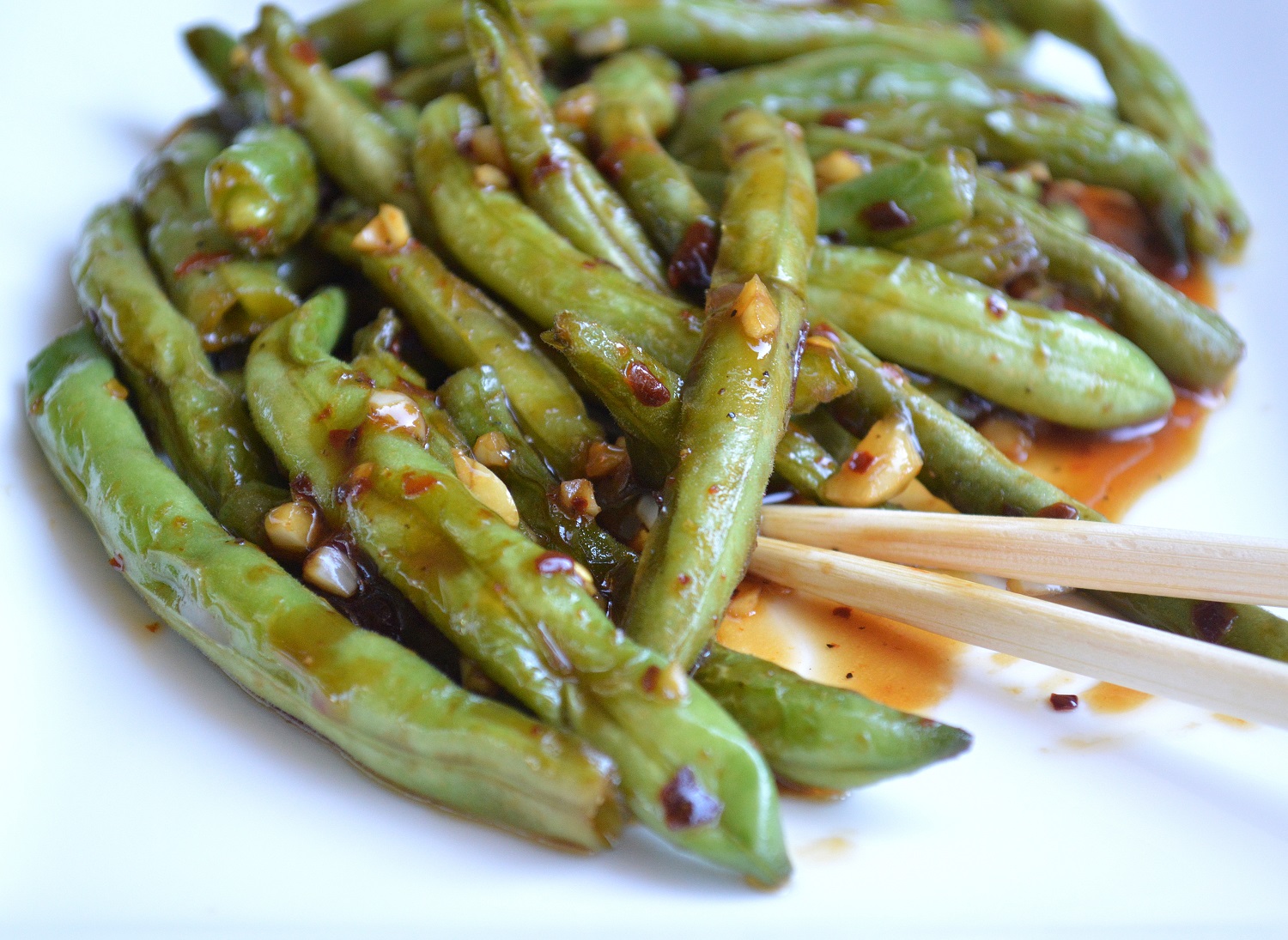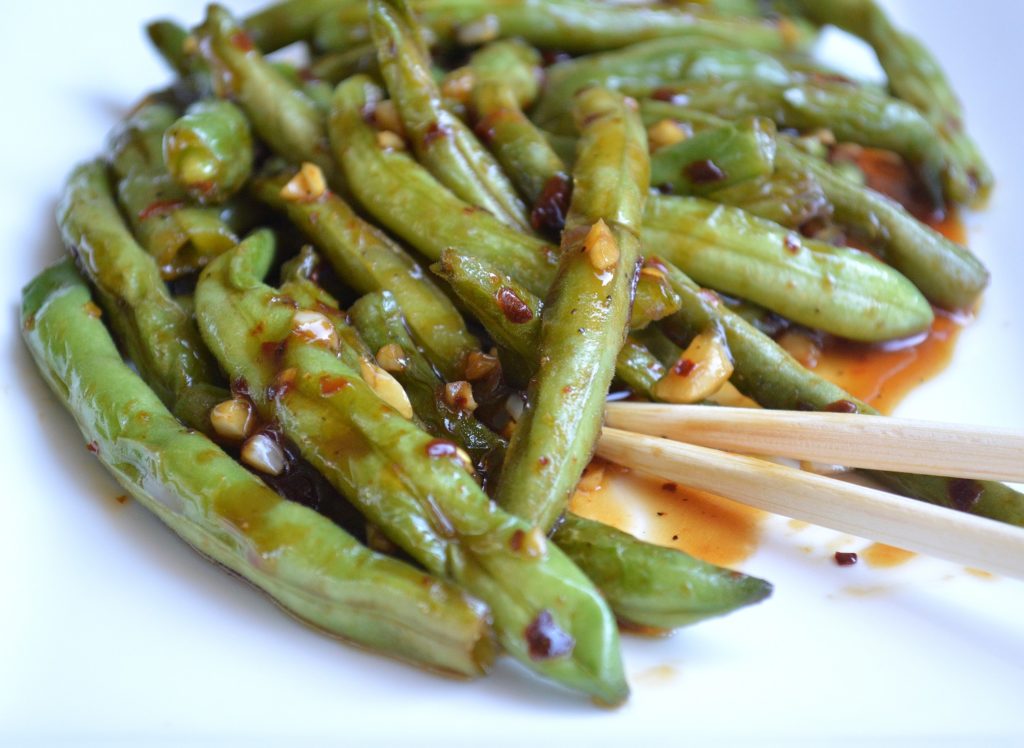 Cajun Green Beans, simply prepared, these are full of flavor and are super easy to make.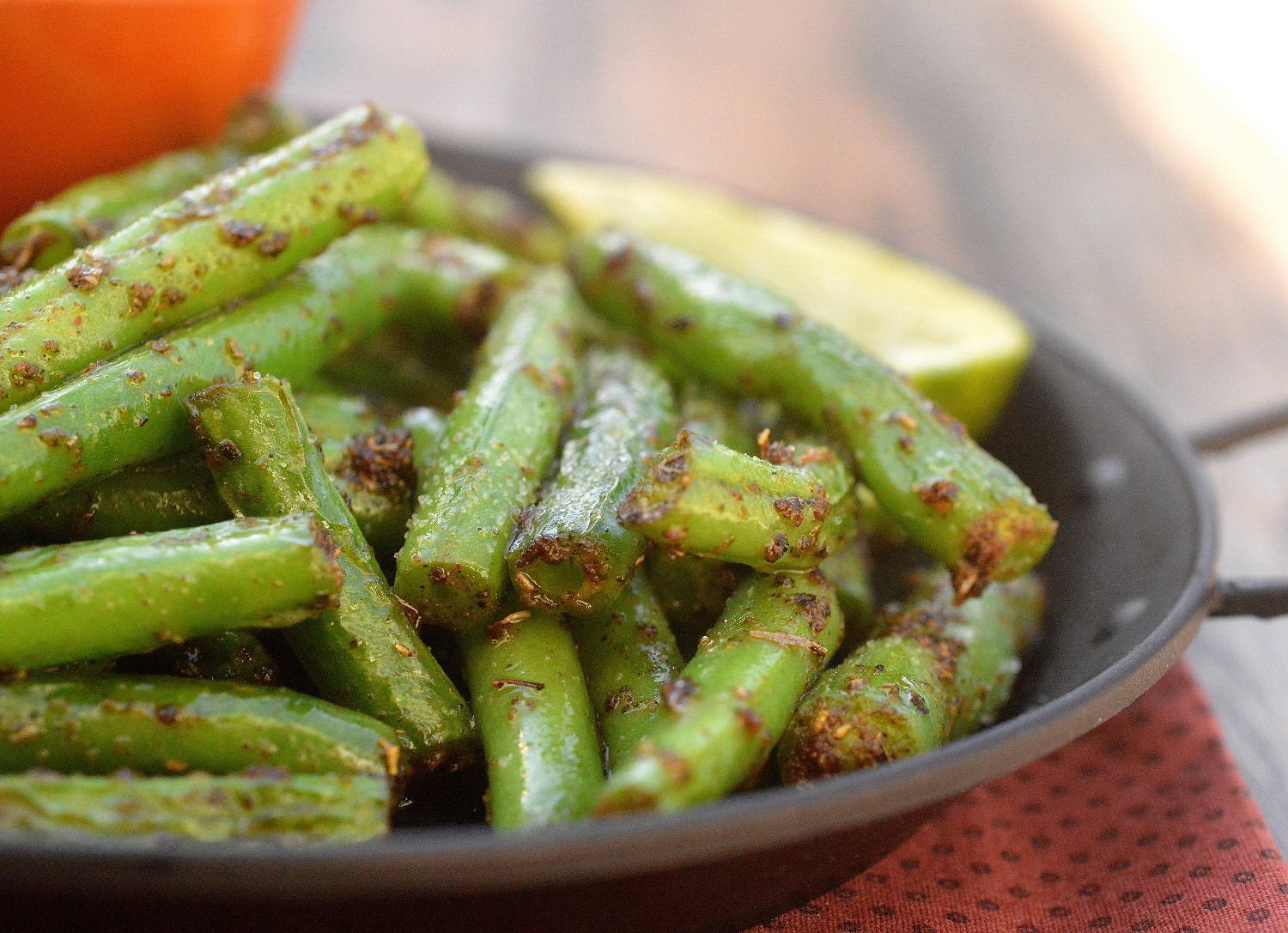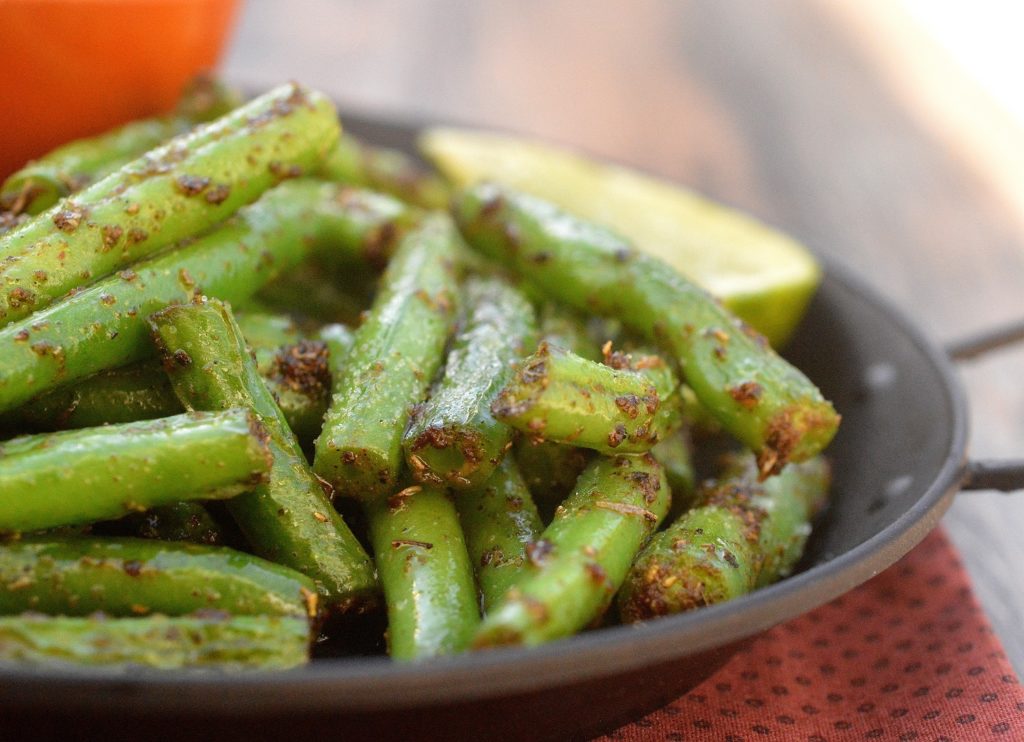 You may also enjoy my Grilled Eggplant Stacks or my Cheesy Potato Cakes.
An affiliate link is included in this post. If you shop the link or my Amazon Store, I may receive a small percentage of the sale. I only recommend things I truly use and like.
Nutritional information calculated by a WordPress plug-in.
Recipe originally published October 2020, updated August, 2022.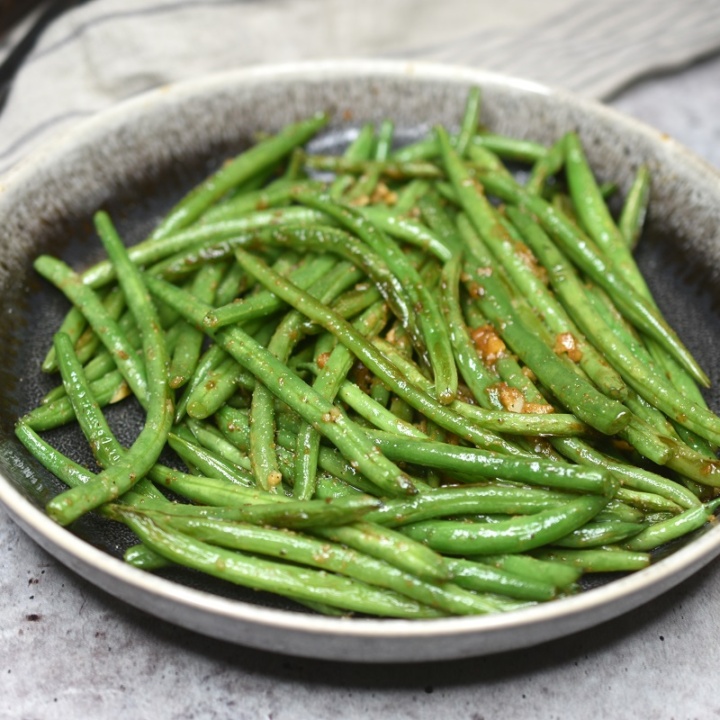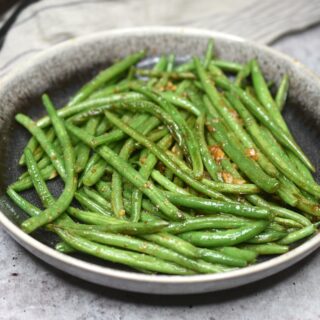 Quick & Easy Skillet Green Beans
When you know how to cook fresh green beans they are delicious! This recipe for Skillet Green Beans is quick, delicious! A perfect side dish for both Thanksgiving or a simple dinner.
Ingredients
1

pound

fresh green beans, trimmed

1

clove

garlic, minced

¼

teaspoon

salt

⅛

teaspoon

black pepper

¼

teaspoon

onion powder

¼

teaspoon

garlic powder

1

TBS

butter

1

TBS

grapeseed or olive oil

Spritz of fresh lemon

Optional: Red pepper flakes
Instructions
In a small ramekin or bowl, mix together seasoning ingredients and set aside.

Grab a large skillet, non stick if you have one, and heat over med-high heat. Add in butter and oil. Once butter melts, add in green beans. Sprinkle with a pinch or two of the seasoning mix and sauté for 5 minutes or so, moving beans around occasionally. Allow them to brown or char in spots.

Toss in the garlic and sauté for 30 seconds or so, moving it around almost constantly, not allowing it to burn.

Add in the water, sauté for another 30 seconds or so. Cover, remove from heat and allow it to sit for a 2-3 minutes.

Season with additional seasoning mix, spritz with fresh lemon, toss and serve.
Notes
If you enjoy spicy, add in a pinch or two of red pepper flakes.
You can also decide to add in some chopped shallot or onion as well. Minced ginger would give a zesty bite and its good for you too.
And of course you can always add some grated Parmesan cheese for garnish.
Decide if you want your green beans crisp-tender or cooked through.
Make a larger batch of the seasoning mix and season all the things! It's a great way to cut down on salt too since it delivers great flavor!
Nutrition
Serving:
4
servings
Calories:
94
kcal
Carbohydrates:
8
g
Protein:
2
g
Fat:
7
g
Saturated Fat:
2
g
Cholesterol:
8
mg
Sodium:
178
mg
Potassium:
239
mg
Fiber:
3
g
Sugar:
4
g
Vitamin A:
871
IU
Vitamin C:
14
mg
Calcium:
42
mg
Iron:
1
mg
Follow me on Tik Tok for 1 minute videos