This recipe for Crispy Air Fryer Zucchini Chips with Sriracha Aioli is going to blow your socks off! It's THAT good and it's THAT easy! Bite after bite, it's crispy, crunchy yet still moist in the center so you taste the zucchini. The dipping sauce is a must!! Just 2 ingredients to make.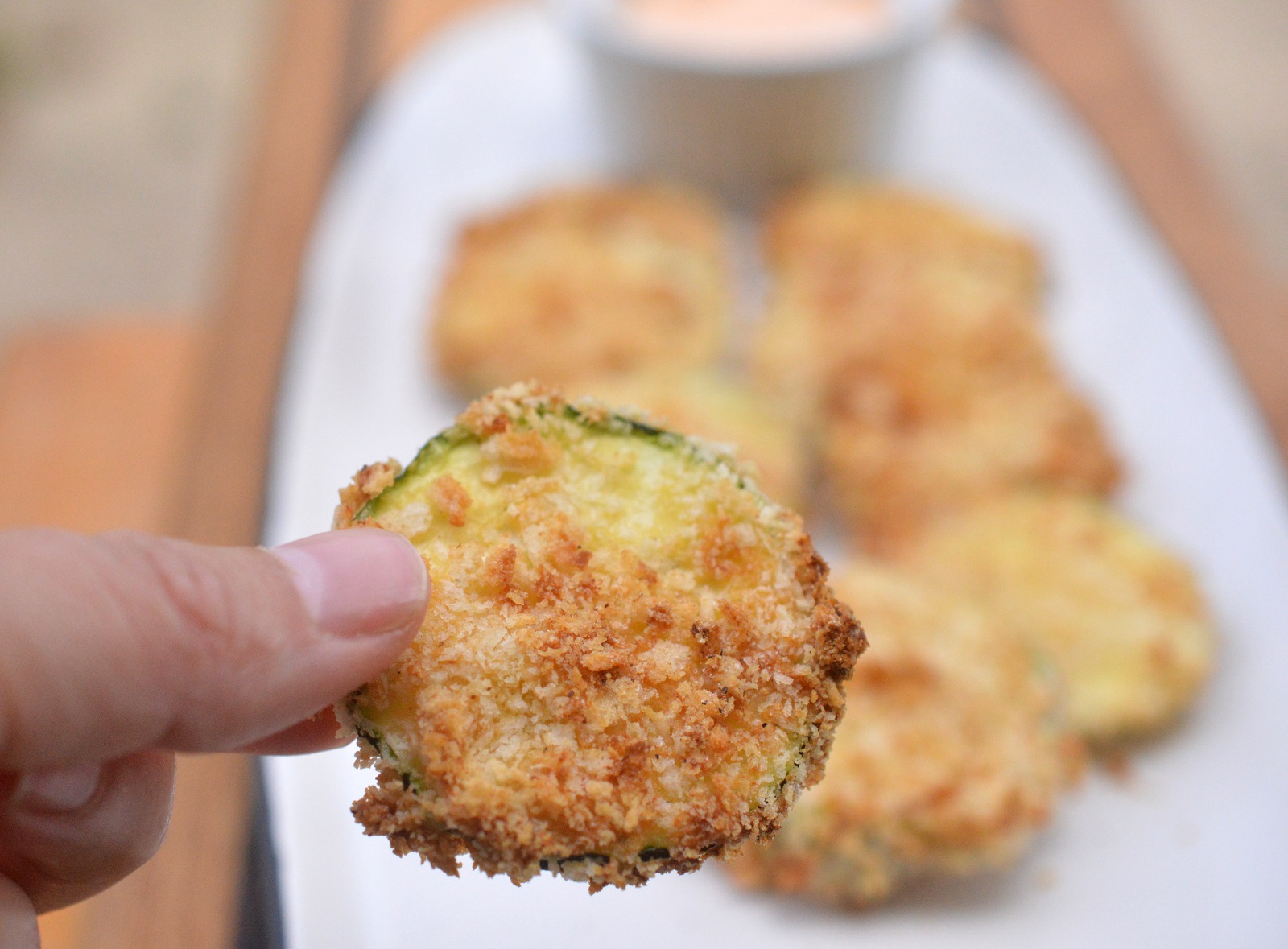 I would say that for half of my life I paid zucchini either no attention OR I did whatever I could to get out of eating it. Trust me, we had zucchini recipes a lot. My dad had a huge garden back then (actually he still does). He grows zucchini, potatoes, cucumbers, onions, peppers and so much more!
It wasn't until I was in my 20's while out to eat somewhere that I decided to give zucchini a try since it was on my plate and it looked kinda good the way it was seasoned. That zucchini was crisp-tender and well seasoned and I thought to myself, huh...it's not that bad.
I've said it before, many of the vegetables in my life growing up were boiled to death and mushy which just wasn't for me. Once I discovered how "I" like to cook and eat vegetables, it was game on! Well except for beets, blech! I don't think I will ever like beets, lol!
Let's talk about this Air Fried Zucchini! You guys, it's good, like really good and even better it's SO easy and a fast recipe. A total winner!
The zucchini crisp up nice and yet are not dry, the coating has nice flavor and the Sriracha Aioli dipping sauce is sooo tasty (and just 2 ingredients). If marinara sauce is your thing go right ahead and serve with that, however in my opinion, the Sriracha Aioli is the way to go!
Betcha even your children will enjoy this quick zucchini recipe!
I put this on my Instagram Stories in the Highlight called Ninja Foodie...LISTEN to the crunch! ANd if you are looking for an air fryer I can not recommend the Ninja Foodie Deluxe enough. It is my favorite small kitchen appliance (my teen kids as well)! You will not believe how many things it can do!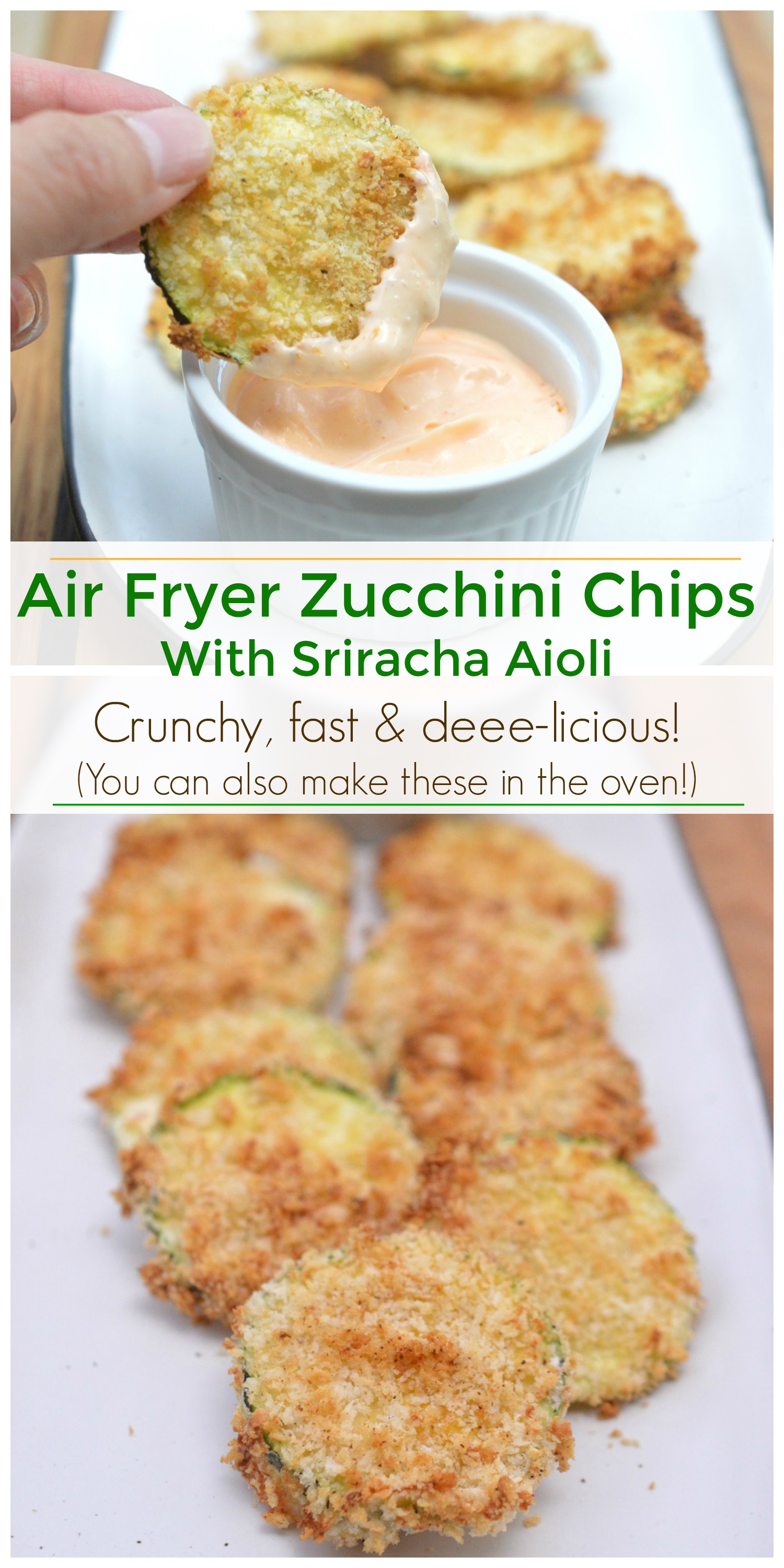 How Do I Make Zucchini Chips in Air Fryer?
You guys! Making these zucchini chips using an e air fryer is SO easy that you just won't believe it. You will only wish you could make more at a time. But then it's all good since the next batch will cook as you enjoy the first batch nice and warm and crispy!
To make Zucchini Chips in your air fryer, you will need 3 bowls (or 2 plates and a bowl). One for the flour, one for the egg and one for the Panko. I like to season both the flour and the Panko.
Slice your zucchini thin and then first dredge it in the flour, next the egg and finally the Panko.
Lightly spray your air fryer basket and in they go!
Don't overlap them.
Set the temperature and time and in 10 minutes or so you will be happily munching and crunching!
I also suggest making the Sriracha Aioli, which is simply mayo and sriracha.
This is not a sponsored post, however, I have to say that I CAN NOT say enough good things about the Ninja Foodi Deluxe pressure cooker/air fryer and more. IF you are thinking of one THIS is it!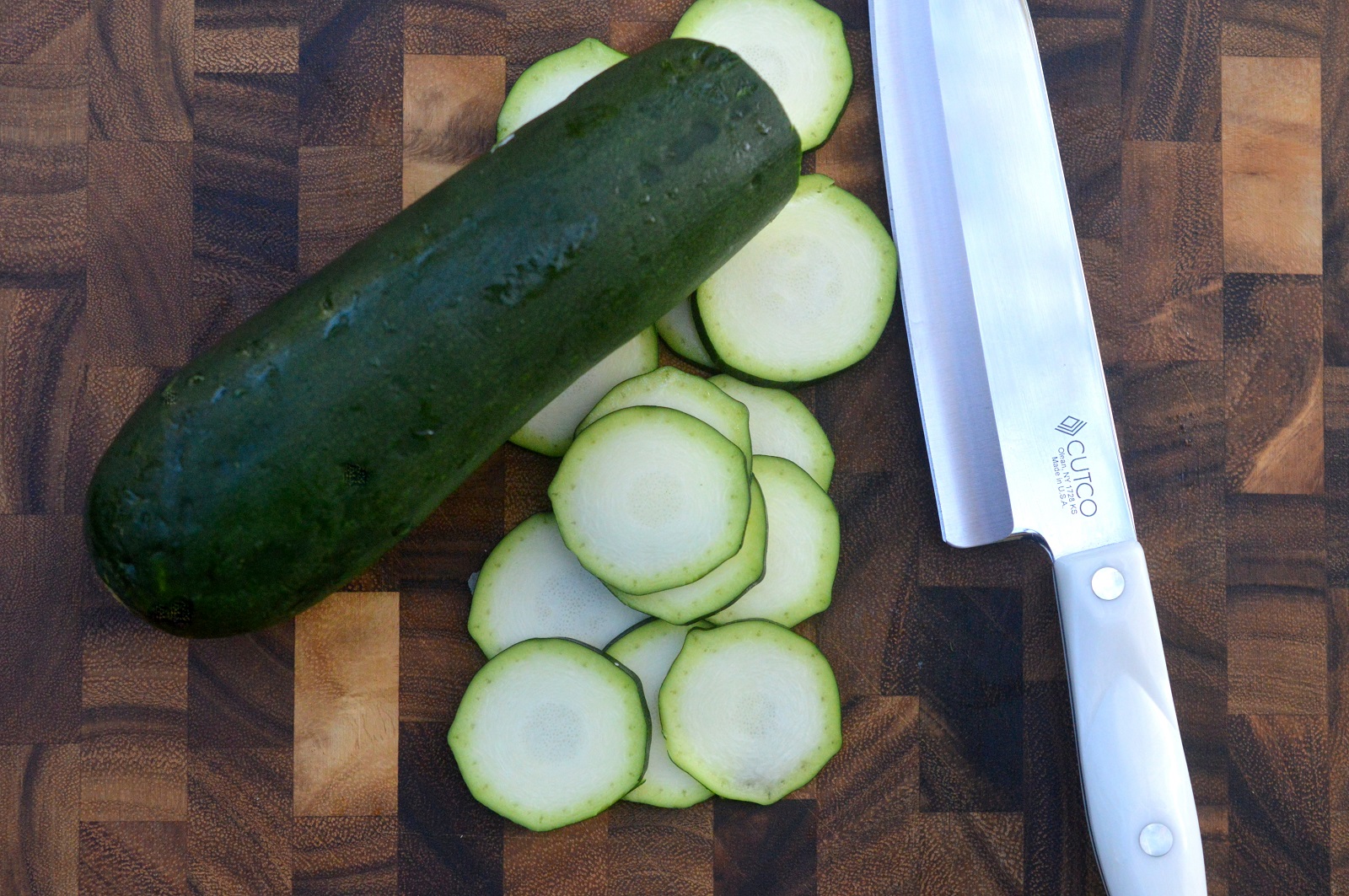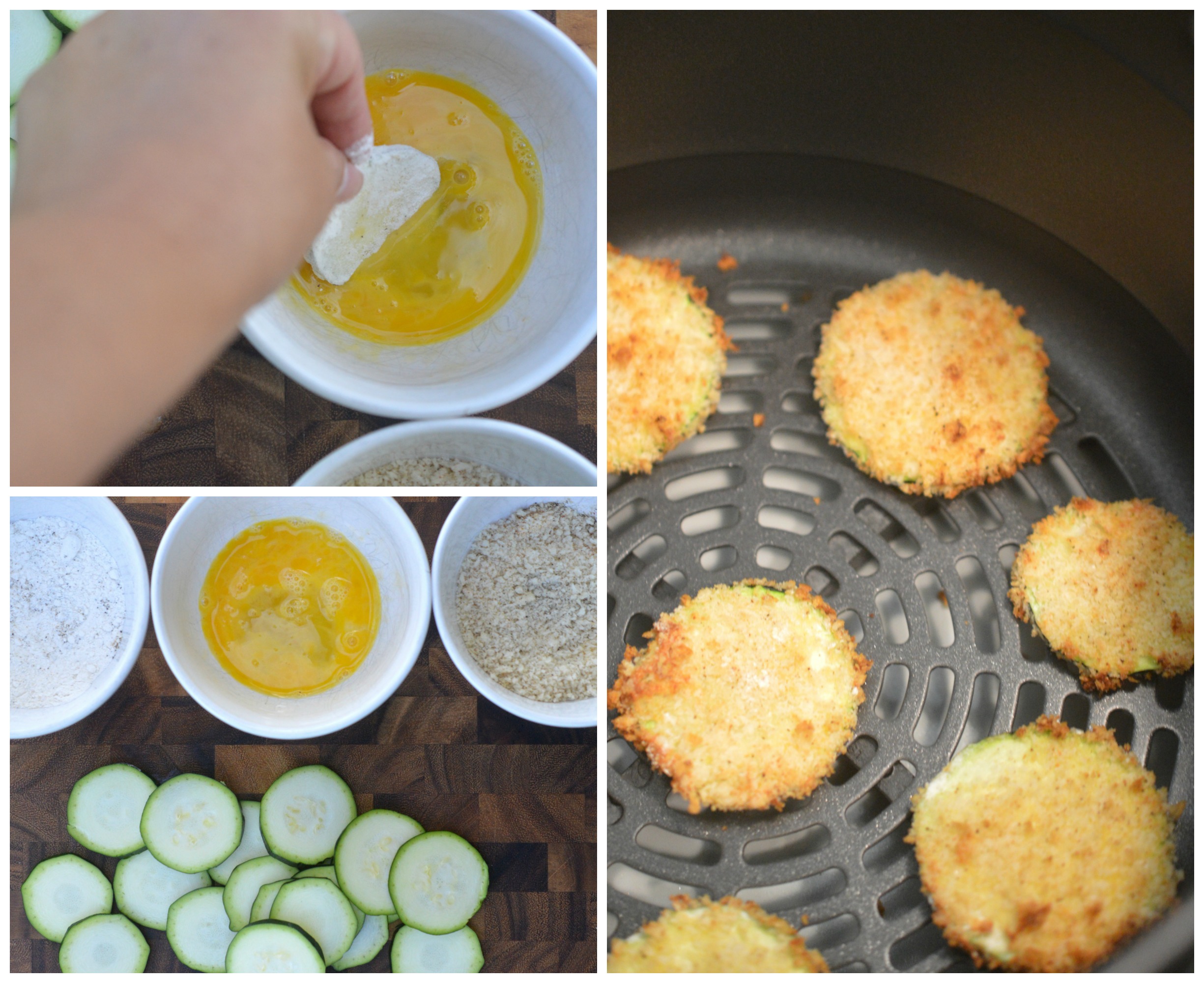 Can I Make Zucchini Chips the Oven?
Yes! I tested them out in the just to see what would happen for anyone without an air fryer who is interested in making these.
Follow the recipe and then bake in a preheated 400-degree F oven for 16-18 minutes, flipping once at about the 12-minute mark. They are very close to the air fryer version.
Bake them on parchment paper and allowed space between each one since I didn't want the moisture in each slice to allow them to steam at all.
Variations Air Fried Zucchini
You can choose to add a small amount of grated Parmesan cheese to the Panko.
Spice these up as much as you enjoy with red (cayenne) pepper for a little heat
You can serve these with marinara sauce, enjoy them plain or serve with sriracha Aioli which is just mayo and Sriracha mixed together, however cue the angels singing! The combination of that and the crisp zucchini chips is magical!
Swap the zucchini for yellow squash.
All I can say is this is one of those recipes, I will literally be walking around telling people to make! It's that delicious and it's that simple!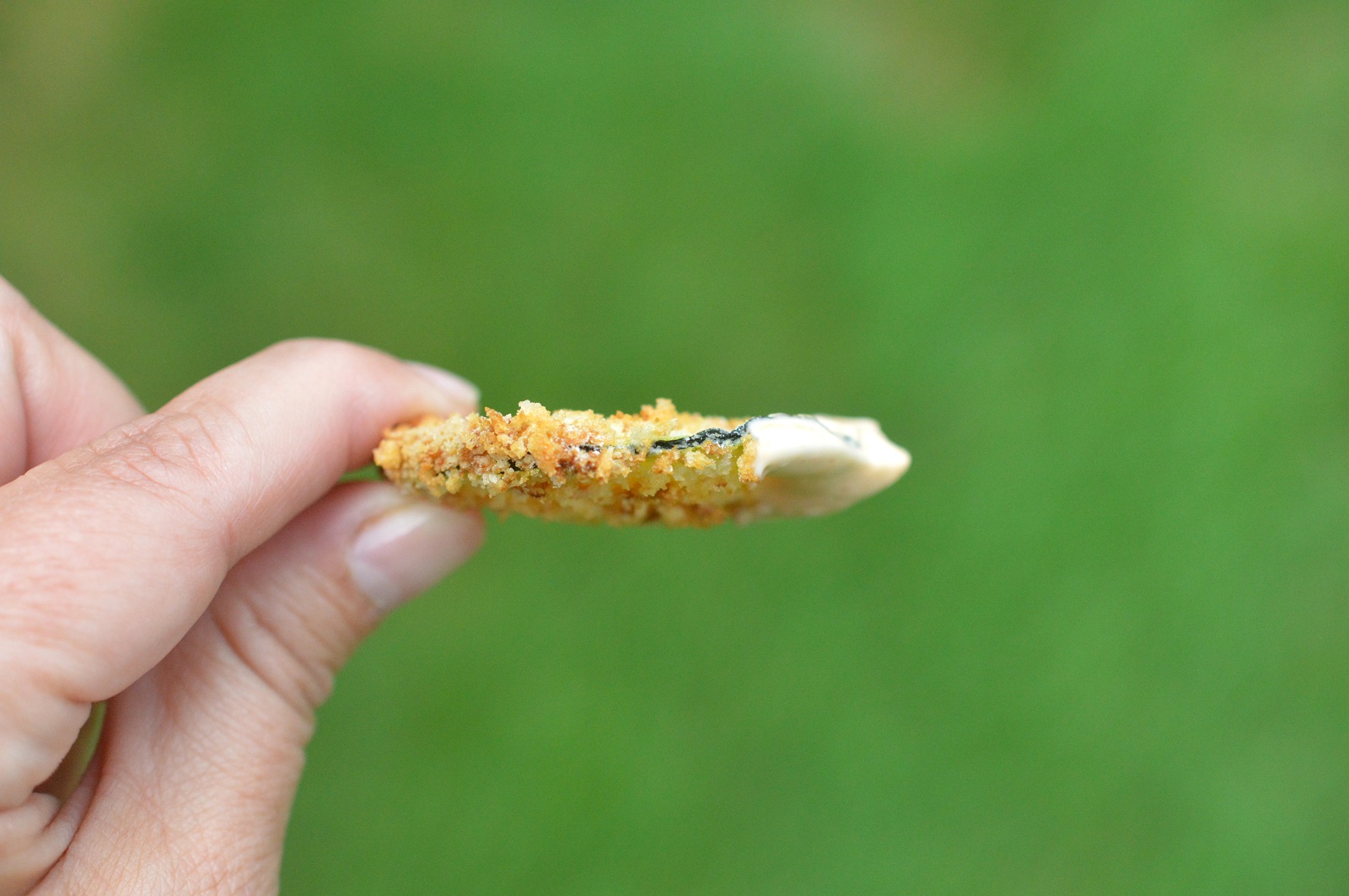 I'd love to see YOUR Zucchini Chips if you make them! Tag me on Instagram when you do @soufflebombay!
If you don't already follow me on Instagram, Facebook or TikTok, please do! I often post cooking tips and short recipe videos on those platforms.
Zucchini Recipes To Try
These Zucchini Pizza Bites are fun and different! A great low carb zucchini recipe that even the kids may enjoy!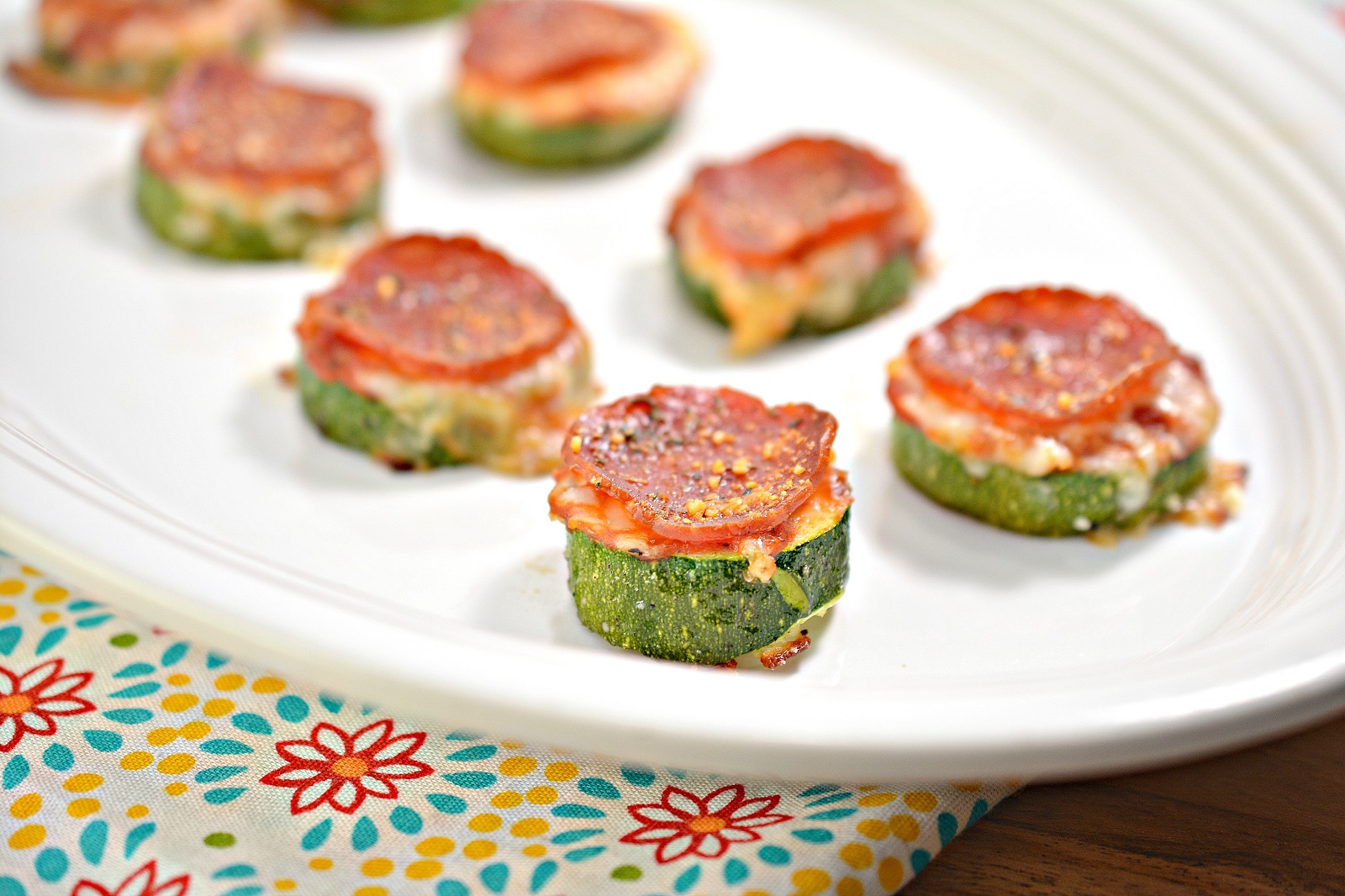 Or one of my favorites...Cheesy Zucchini Cakes Yummmm!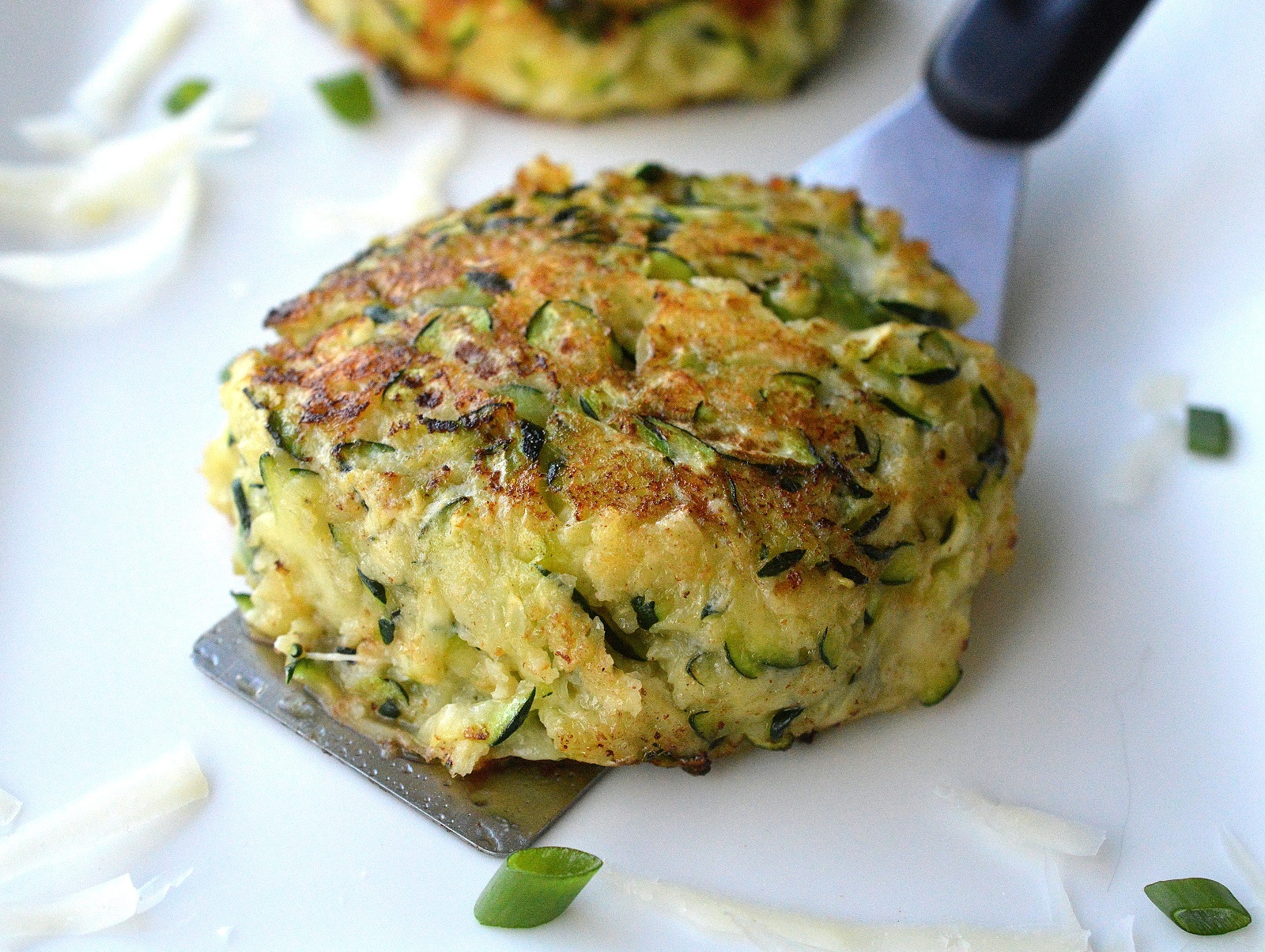 OR this amazing Grilled Shrimp and Zucchini Greek Salad. Pretty enough for parties or guests!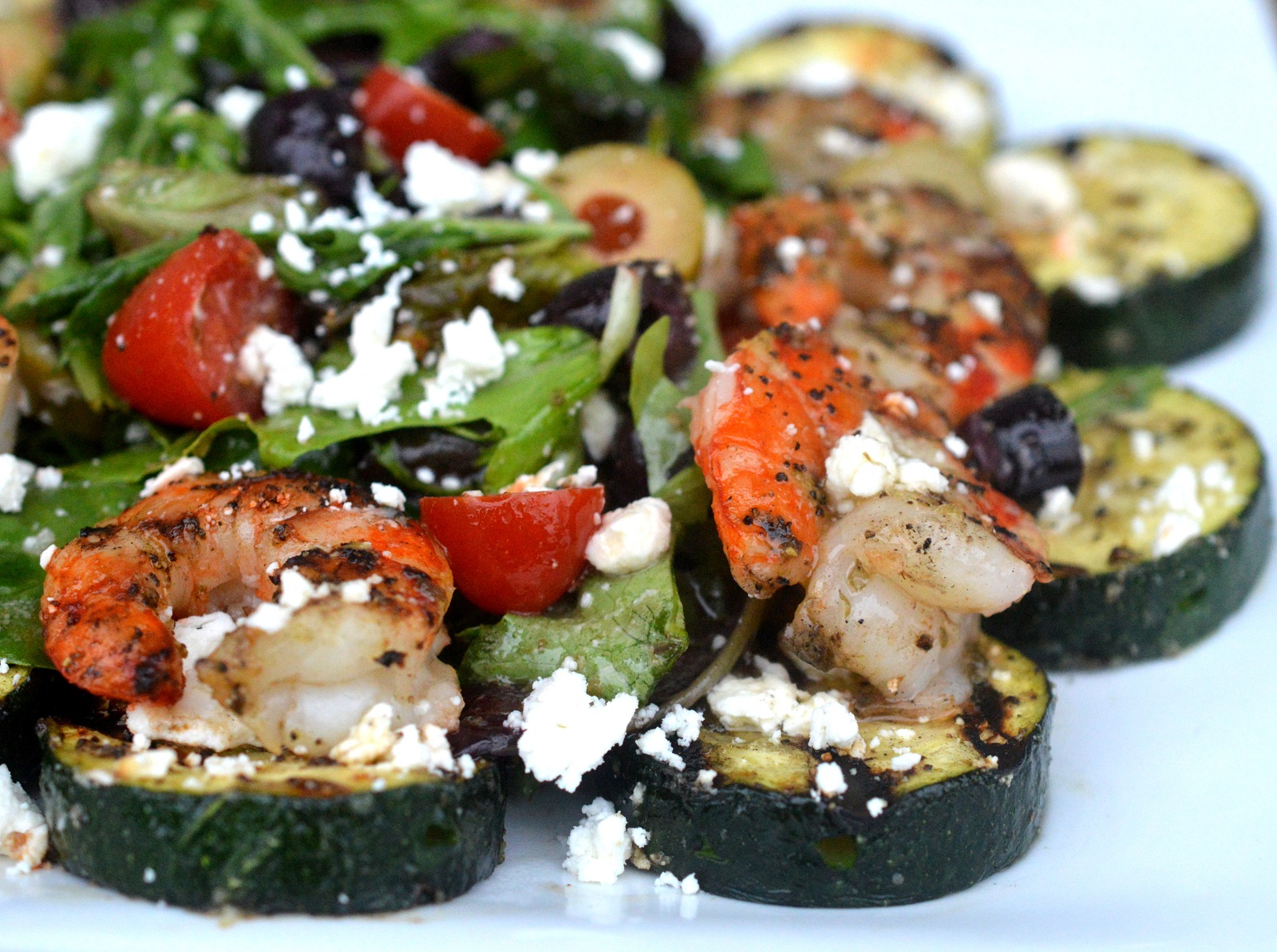 Zucchini Drop Biscuits - Everyone loves these! A summer staple garden zucchini recipe!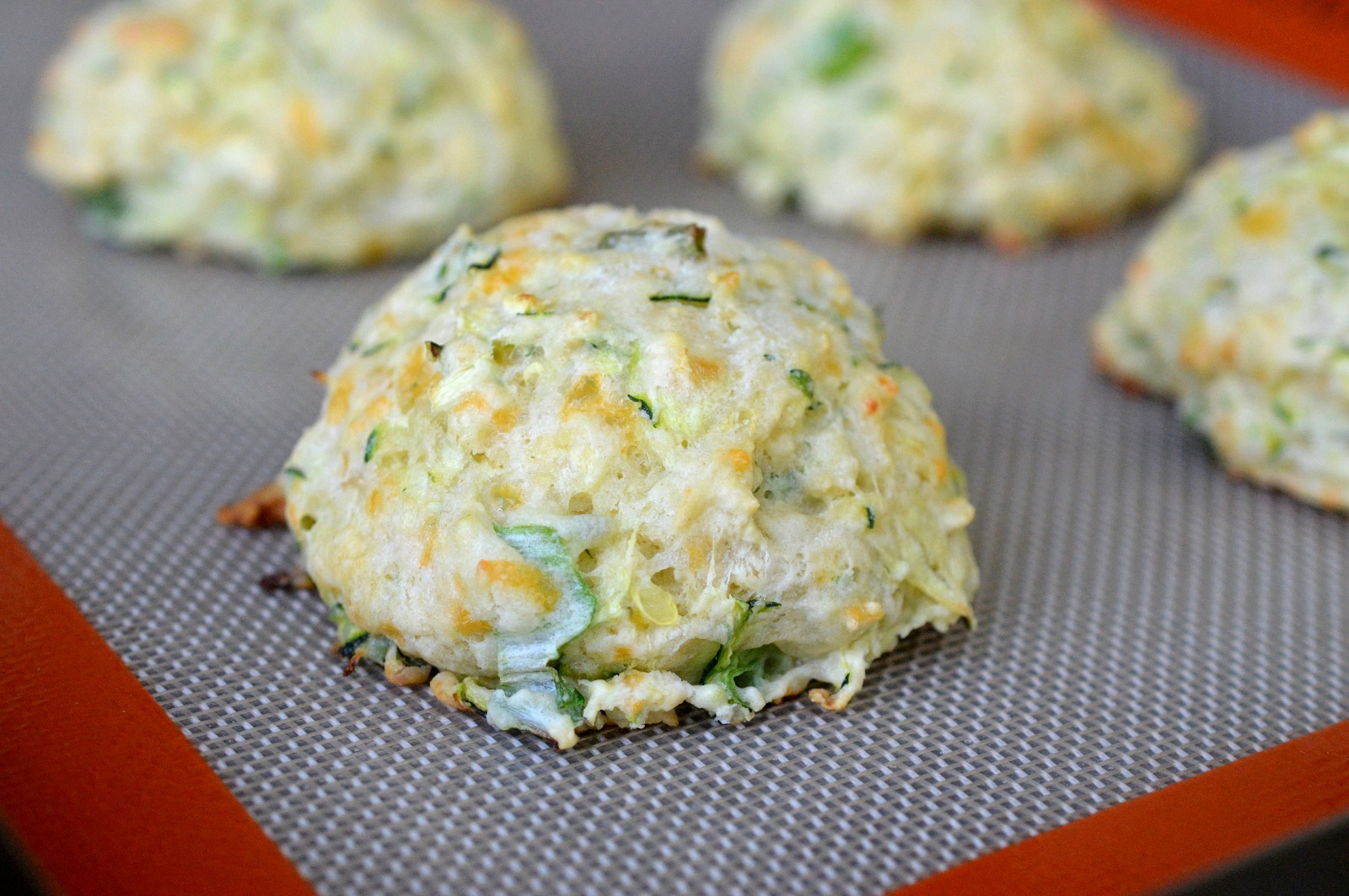 Enjoy!
Originally posted September 2019. Updated July, 2023.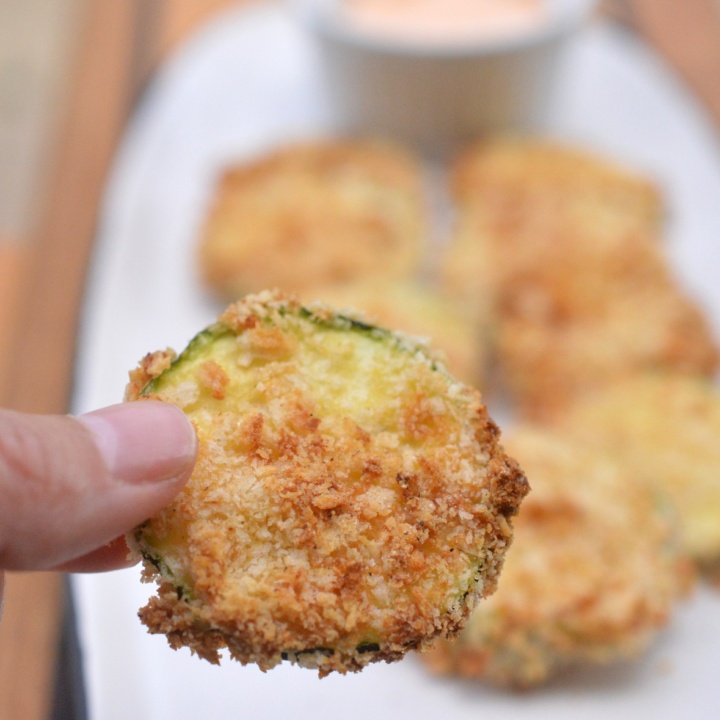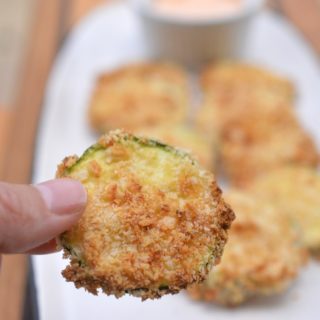 Crispy Air Fryer Zucchini Chips With Sriracha Aioli
Air Fryer Zucchini Chips are a delicious appetizer, snack or side dish! They cook up fast and crisp. Dip them in Sriracha Aioli, these air fried zucchini are a bite to remember!
Ingredients
16

slices

of zucchini

skin on, cut 1/16 inch thick (about the thickness of the space between your thumb and forefinger if you just allow them to not touch making the "ok" sign.

¼

cup

flour

1

large egg

½

cup+ Panko

A few shakes of each salt

garlic powder, black pepper & cayenne (red) pepper

Sriracha Aioli

⅓

cup

mayonnaise

1

teaspoon

or more of sriracha
Instructions
Clean your zucchini, pat it dry.

Slice into thin rounds. About ⅛ inch thick each. Think about the thickness of when you place your thumb and forefinger together and then move them apart the smallest bit. That thickness.

Prepare 3 bowls or 1 bowl (you can use paper for easy cleanup). Place flour in one, egg in the next and Panko in the third. Season flour and Panko with just a few shakes of salt, pepper, garlic powder and if you want a little kick of spice, add in a shake or two of cayenne pepper.

Beat the egg.

One by one, dredge each zucchini round in the flour, then into the egg to get it coated and then finally into the Panko. Shake off excess, and place directly in fryer or on a parchment paper-lined baking sheet.

When ready to air fry, set the temperature to 390 degrees and set the timer for 11 minutes. Depending on the size of your zucchini (you know they can REALLY vary in size), you may need a minute or two less if its really small or a minute or two more if really large.

If cooking a second batch just after, since air fryer is hot, it'll take a minute or so next for the next batch.

YES, you can also make these in the oven. 400 degrees for 16-18 minutes, on a parchment paper-lined baking sheet (or directly on the baking sheet) flipping them at about the 12-minute mark.

While they cook, mix together your mayo and sriracha. Use as little of as much sriracha as you would like...we like it spicy!
Notes
Using an air fryer to make zucchini chips is amazing! They are crisp and you can make them quickly!
Tip - Don't overlap the zucchini for the crispiest result.
By the time you are finished enjoying the first batch, the next batch will be ready!
Nutrition
Serving:
2
servings
Calories:
357
kcal
Carbohydrates:
15
g
Protein:
6
g
Fat:
30
g
Saturated Fat:
5
g
Polyunsaturated Fat:
17
g
Monounsaturated Fat:
7
g
Trans Fat:
0.1
g
Cholesterol:
98
mg
Sodium:
330
mg
Potassium:
267
mg
Fiber:
1
g
Sugar:
2
g
Vitamin A:
306
IU
Vitamin C:
16
mg
Calcium:
31
mg
Iron:
2
mg
Follow me on Tik Tok for 1 minute videos