Looking for a snack or appetizer on the lighter side? One even the kids most likely will at least try? Look no further than these fun Zucchini Pizza Bites.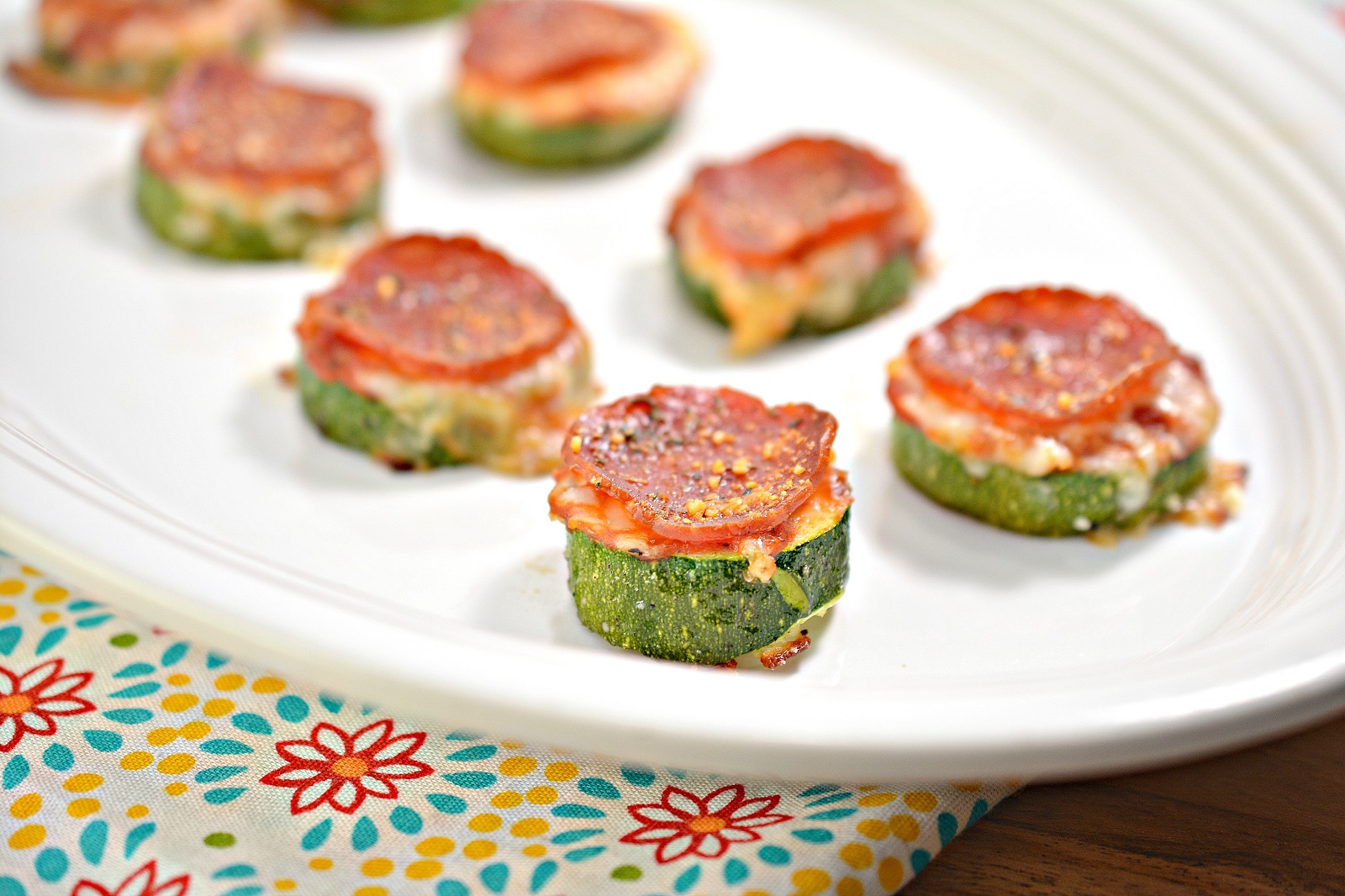 Admit it, age doesn't matter when it comes to bite-sized food, or food on a stick for that matter, it's always fun!
These lil' Zucchini Pizza Bites are a perfect snack or app that just so happen to be gluten-free.  These are also keto-friendly if you watch your sauce ingredients.
Zucchini Pizza Bites are easy to make, a perfect recipe to let the kids take the lead on at any age!
Bite after bite, the cheese, sauce and pepperoni mingling with the crisp-tender zucchini is both tasty and satisfying.
Zucchini is about to be in abundance in gardens everywhere, this is just one more way you can enjoy it! If you enjoy zucchini, check out my recipe for Stuffed Zucchini (I even eat this for breakfast, so good!) and our family favorite Zucchini Cakes. Another fantastic zucchini recipe is the gorgeous Zucchini, Shrimp & Feta Salad. It makes for a stunning platter. One more to check out are these fun Mozzarella Zucchini Balls (another kid favorite) - Yum!
How Do You Make Zucchini Pizza Bites?
All you need are a handful of ingredients to make Zucchini Pizza Bites. Zucchini, pepperoni, cheese, sauce, and seasoning. That's it! After that, all you need to do is bake the zucchini independently and then assemble the bites and finish baking.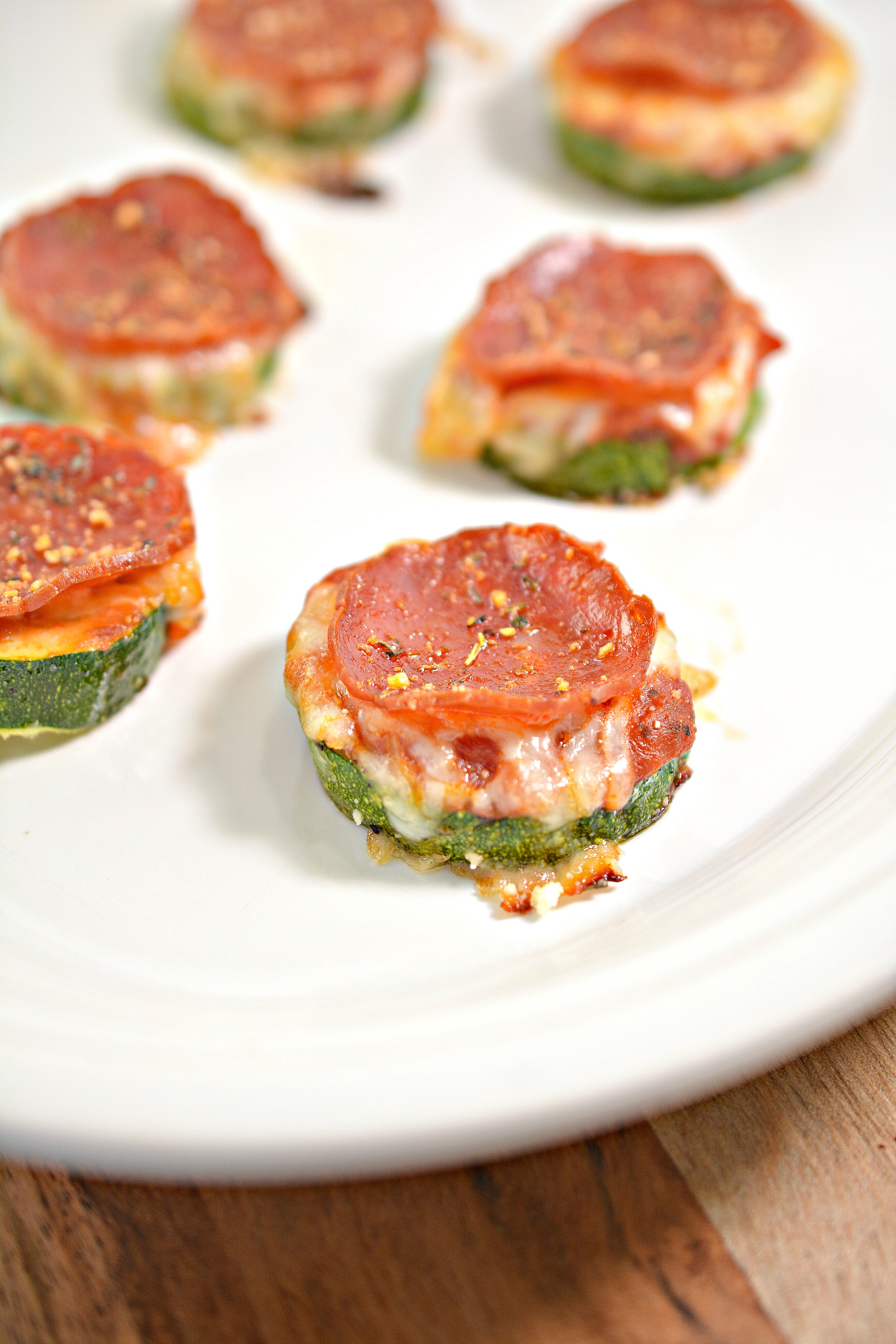 What Variations Can You Make To Zucchini Pizza Bites?
These are delicious as is, you can, however, switch out zucchini for yellow squash. You can also decide to make these as "cups". Cut the zucchini a little thicker 1 ½ inch deep slices will work. Scoop out a small amount of the center, and fill with mozzarella cheese, ground sausage, and sauce. That way its a play on a sausage pizza vs a pepperoni pizza.
Can You Make Zucchini Pizza Bites In Advance?
These are best made and served right after they come out of the oven. You can slice the zucchini ahead of time and store in an airtight container or bag.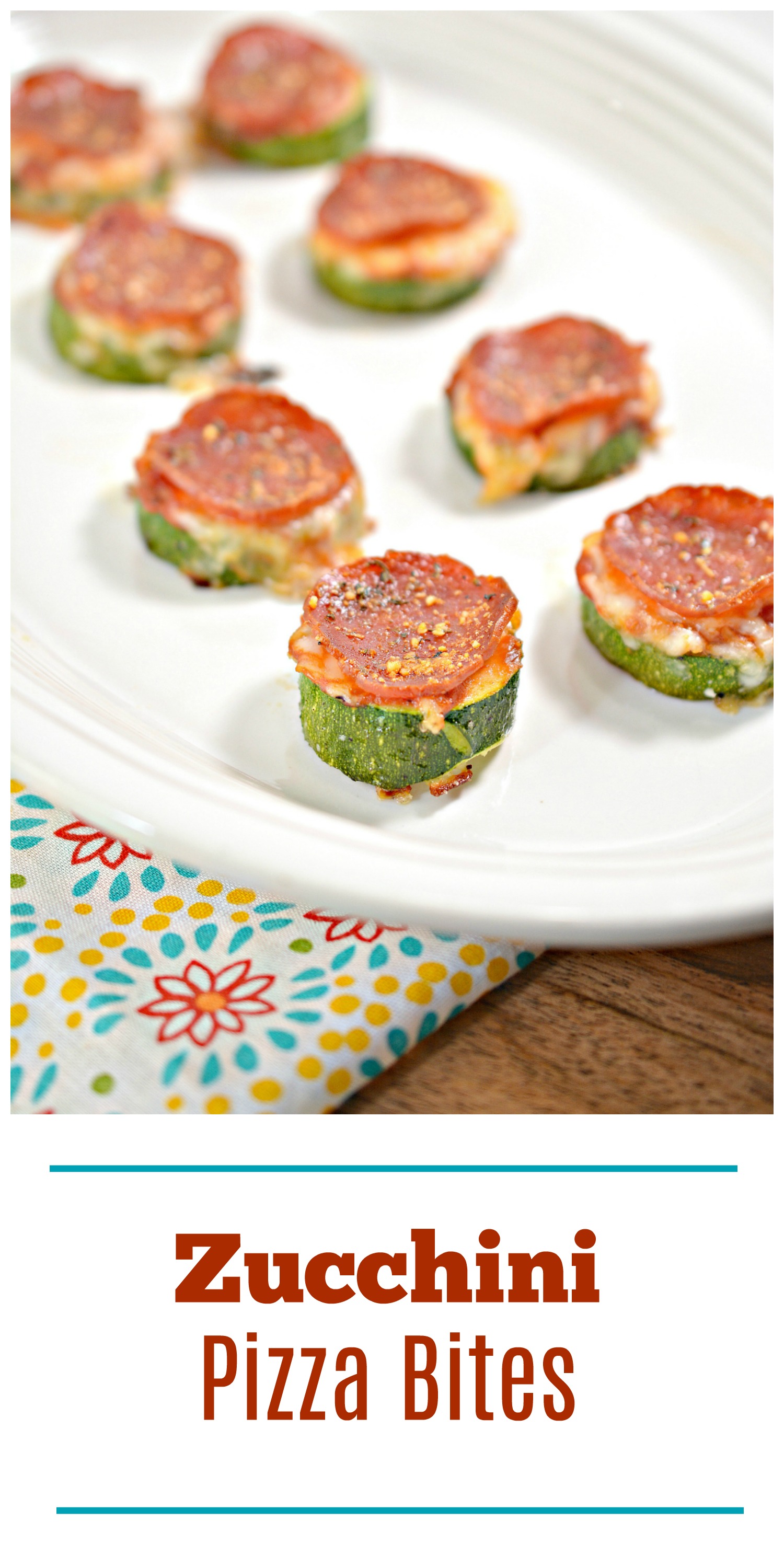 What Recipes Can I Make With Zucchini?
Zucchini is so versatile, use it in sweet cakes, savory quick bread, or pureed in soups. It's fantastic grilled or stir-fried as well. As mentioned above these are a few of my favorite ways to enjoy zucchini. The Zucchini Cakes are amazing, even my kids love them!!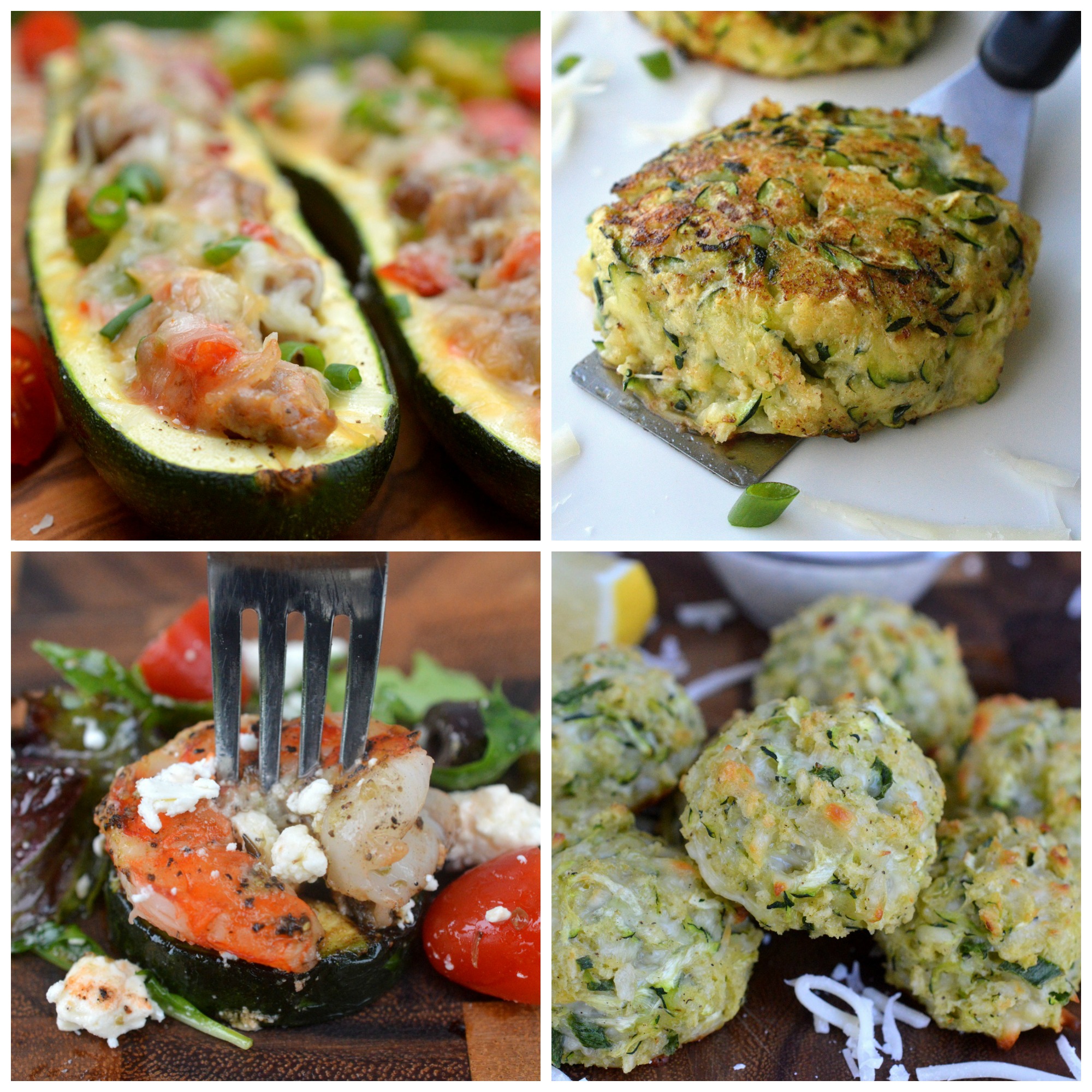 Enjoy!!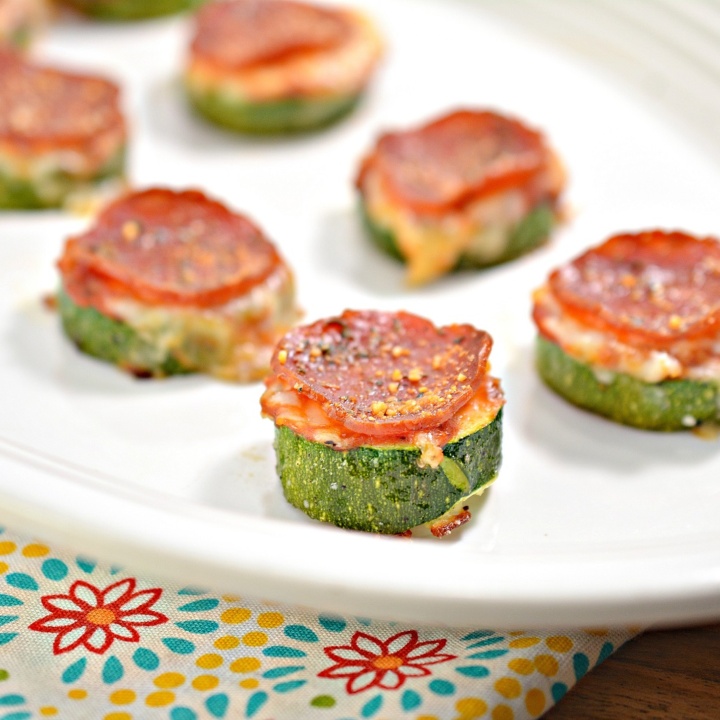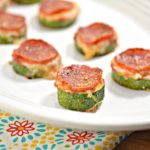 Print Recipe
Zucchini Pizza Bites
These little Zucchini Pizza Bites make a great appetizer or snack. Low carb Zucchini Pepperoni Pizza Bites, a kid friendly recipe.
Ingredients
20

thick slices of Zucchini

2 medium zucchini sliced

½

TBS

grapeseed or olive oil

½

c

pizza sauce or marinara sauce

1

c

shredded Mozzarella cheese

20

slices

pepperoni

Grated Parmesan cheese to garnish

Salt and pepper to taste

Optional: Italian seasoning to taste
Instructions
Preheat oven to 350 degrees F.

Slice 20 thick rounds of zucchini, toss them in ½ teaspoon of the olive oil.

Line a baking sheet with parchment or wax paper place the zucchini slices on a rack on a baking sheet, and sprinkle them with salt and pepper to taste.

Bake for 10 minutes, and remove from the oven.

Spread a small amount of pizza/marinara sauce atop each zucchini round and then

some shredded mozzarella cheese on each zucchini slice, and then top each slice with pepperoni.

Optional: Sprinkle on Italian seasoning atop the cheese to taste and bake for 5-10 minutes until the cheese is melted and browned on top.

Remove the zucchini pizza bites from the oven and let them sit for a few minutes. Garnish with grated parmesan cheese and serve.
Nutrition
Serving:
5
servings
|
Calories:
132
kcal
|
Carbohydrates:
3
g
|
Protein:
7
g
|
Fat:
10
g
|
Saturated Fat:
5
g
|
Polyunsaturated Fat:
1
g
|
Monounsaturated Fat:
4
g
|
Trans Fat:
0.1
g
|
Cholesterol:
25
mg
|
Sodium:
386
mg
|
Potassium:
214
mg
|
Fiber:
1
g
|
Sugar:
2
g
|
Vitamin A:
336
IU
|
Vitamin C:
9
mg
|
Calcium:
124
mg
|
Iron:
1
mg