Stuffed food has layers of flavor, plus it's fun and delicious when you can eat the bowl! These Sausage, Pepper, Onion, Tomato and Cheese Stuffed Zucchini are a healthy, protein-packed, vitamin-rich way to start your day! Today I teamed up with Smithfield, who is sponsoring this post, to not only share this recipe but to tell you about their fantastic partnership with No Kid Hungry.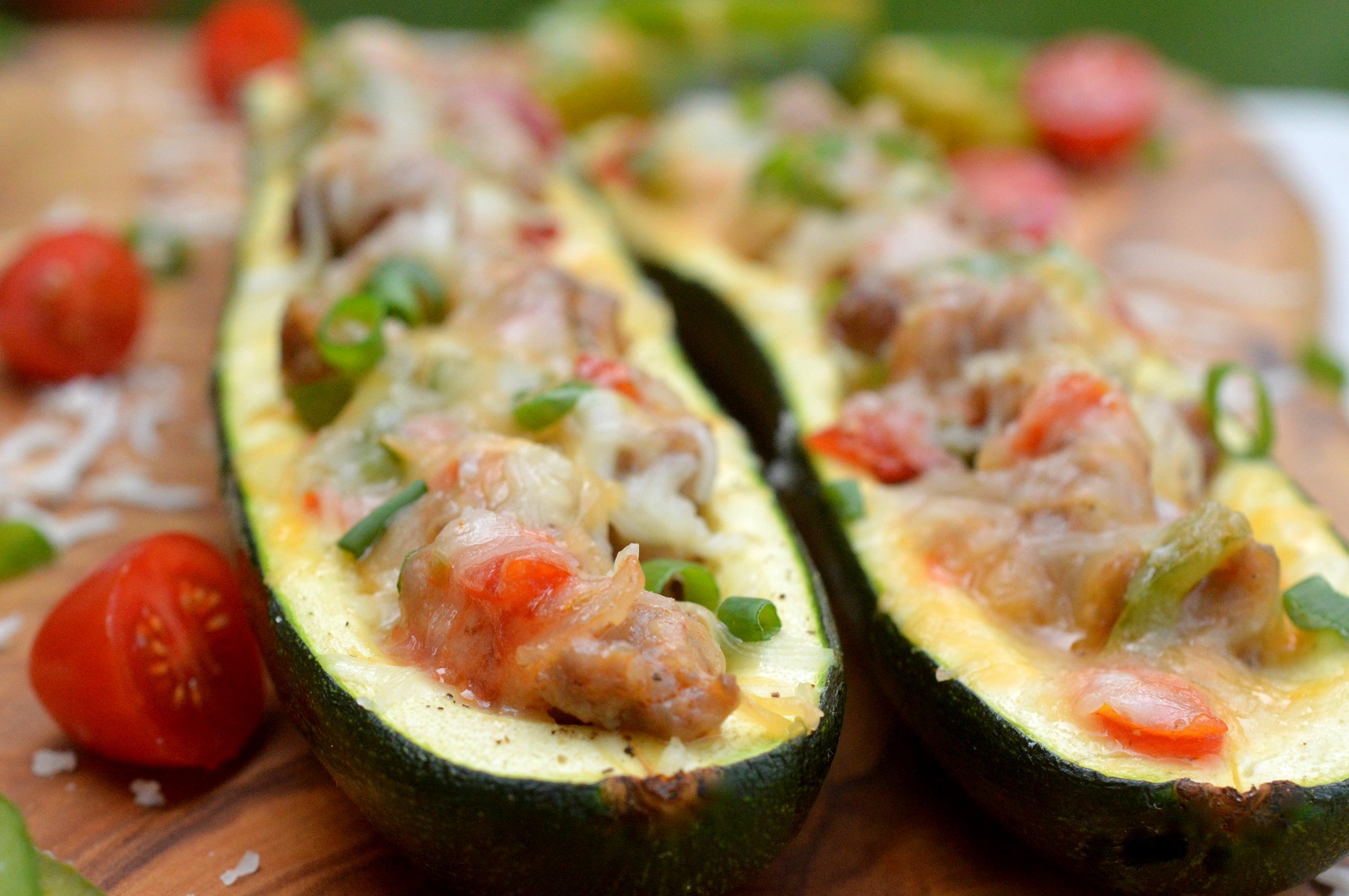 My family tore these Sausage, Pepper, Onion, Tomato, and Cheese Stuffed Zucchini up the first time I made them!! I couldn't believe it, and they couldn't believe it…These were a total home run! I made them spicy with a mixture of hot peppers from my garden and a poblano pepper from a friend's garden used Smithfield Breakfast Sausage for the main part of the filling. The sausage cooks up quick and adds such a great flavor to this dish!  In addition to a flavor explosion, starting your day with Sausage, Pepper, Onion, Tomato, and Cheese Stuffed Zucchini sets the tone for a successful day!
Breakfast is important. It took me years to really understand that – it really is the most important meal of the day. It boosts your energy, increases your concentration, and jump-starts your metabolism (yay for that!!). You can take 15-20 minutes and make yourself a healthier, more substantial, delicious, protein-packed breakfast with Smithfield bacon, fresh breakfast sausage and Anytime Favorites ham for a well-balanced start to the day.
Today I chose Smithfield Fresh Breakfast Sausage Links. I snipped them into bite-sized pieces that would easily fill my zucchini boats.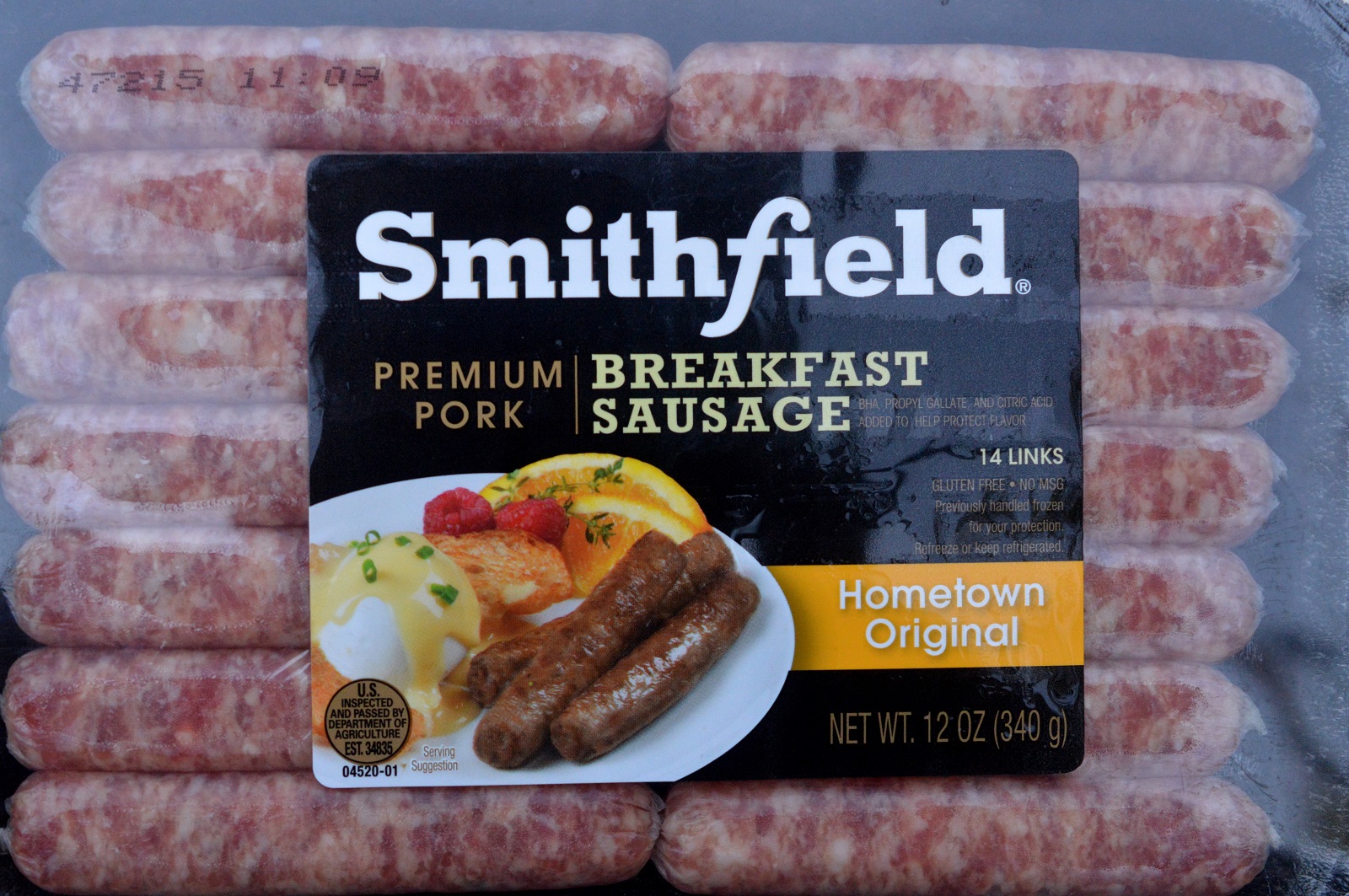 Tip: See how I said, "snipped" vs. "cut"?  Whenever you want to "cut" any type of sausage into smaller chunks...always use scissors or kitchen shears, it's so much easier and neater, something I learned from the Amish years ago.
When you start your day off with more than just toast, a bagel or a protein bar you're more likely to be efficient and effective throughout your day. So whether you are wrangling your kids, running a business or going for a workout, eating a solid breakfast is a great idea!
These delicious Sausage, Pepper, Onion, Tomato and Cheese Stuffed Zucchini are great for breakfast, lunch or dinner. Make them spicy like I did or mild, your call. You can even add some scrambled eggs to it if you like; it's great that way as well!
It's simple to halve and scrape out some of the insides of the zucchini with a spoon (zip, zip, zip!!) to get them ready to bake and fill.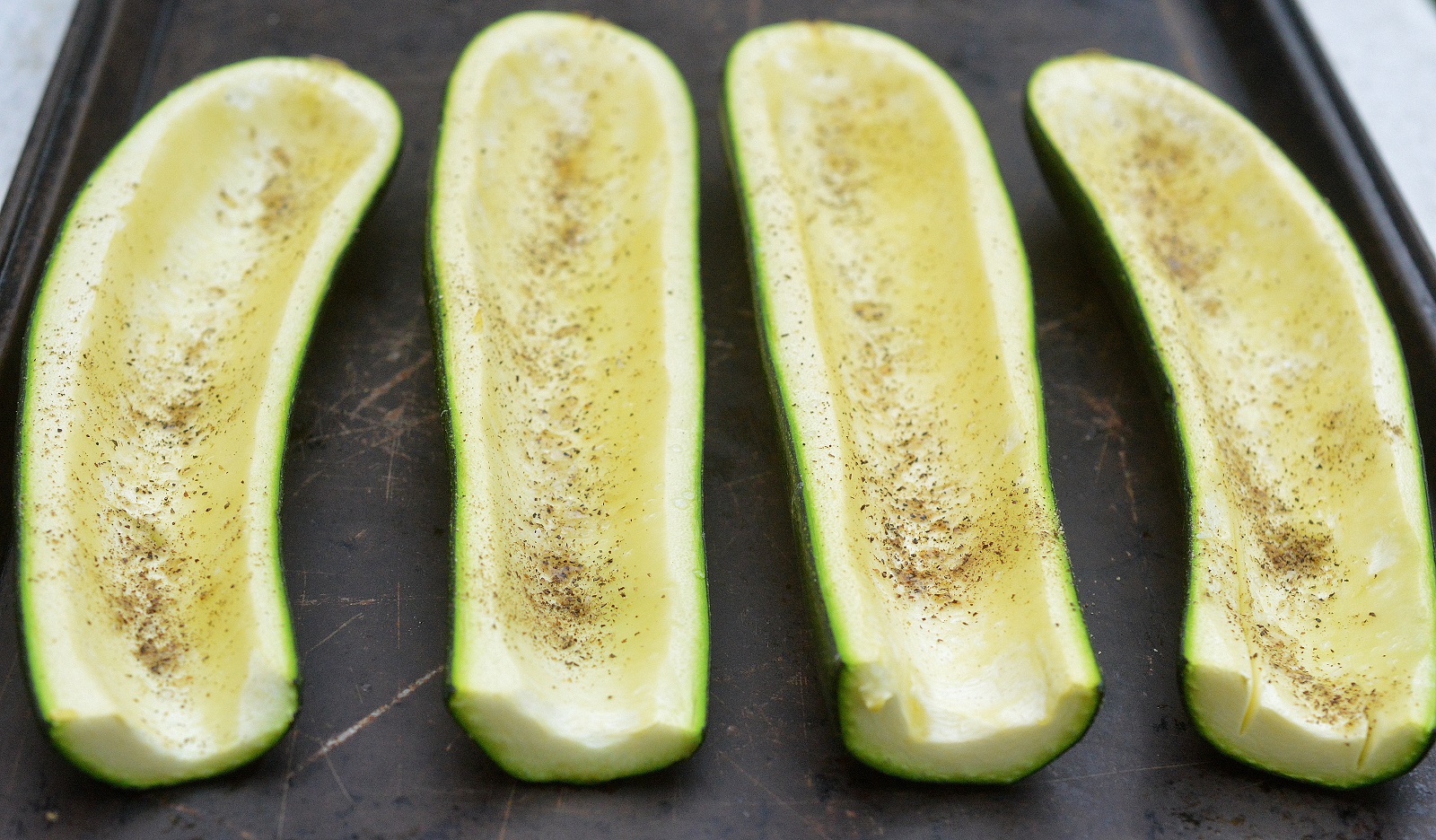 Next time you cook for a crowd, why not fill a casserole dish with these beauties instead of something sticky-sweet?   I'll bet your guests love it and the fact that they are gluten-free makes it all the better! Raid your garden or fridge for ingredients (that's what I did). Start with the zucchini and the sausage and go from there. There is no right or wrong.
Did you know that school breakfast can have a huge on students? No Kid Hungry found that students who eat school breakfast have been shown to achieve 17.5% higher scores on standardized math tests and attend 1.5 more days of school per year (Source: No Kid Hungry).
Smithfield is partnering with No Kid Hungry, an organization committed to providing innovative solutions to combat childhood hunger, to donate one million meals* to children in communities across America.
Until October 31st, you can help Smithfield and No Kid Hungry reach their goal by purchasing a Smithfield breakfast product - for every purchase Smithfield will donate enough for one meal to No Kid Hungry. To double your donation, post a picture of your Smithfield breakfast** to your social channels (Facebook, Twitter and Instagram) and tag it #breakfastpower and Smithfield will donate a second breakfast to No Kid Hungry.
Anytime I see Brands partnering with No Kid Hungry, I am happy to support them. It's such an important initiative. Thank you to Smithfield for sponsoring this post and for their initiative of helping feed families in need.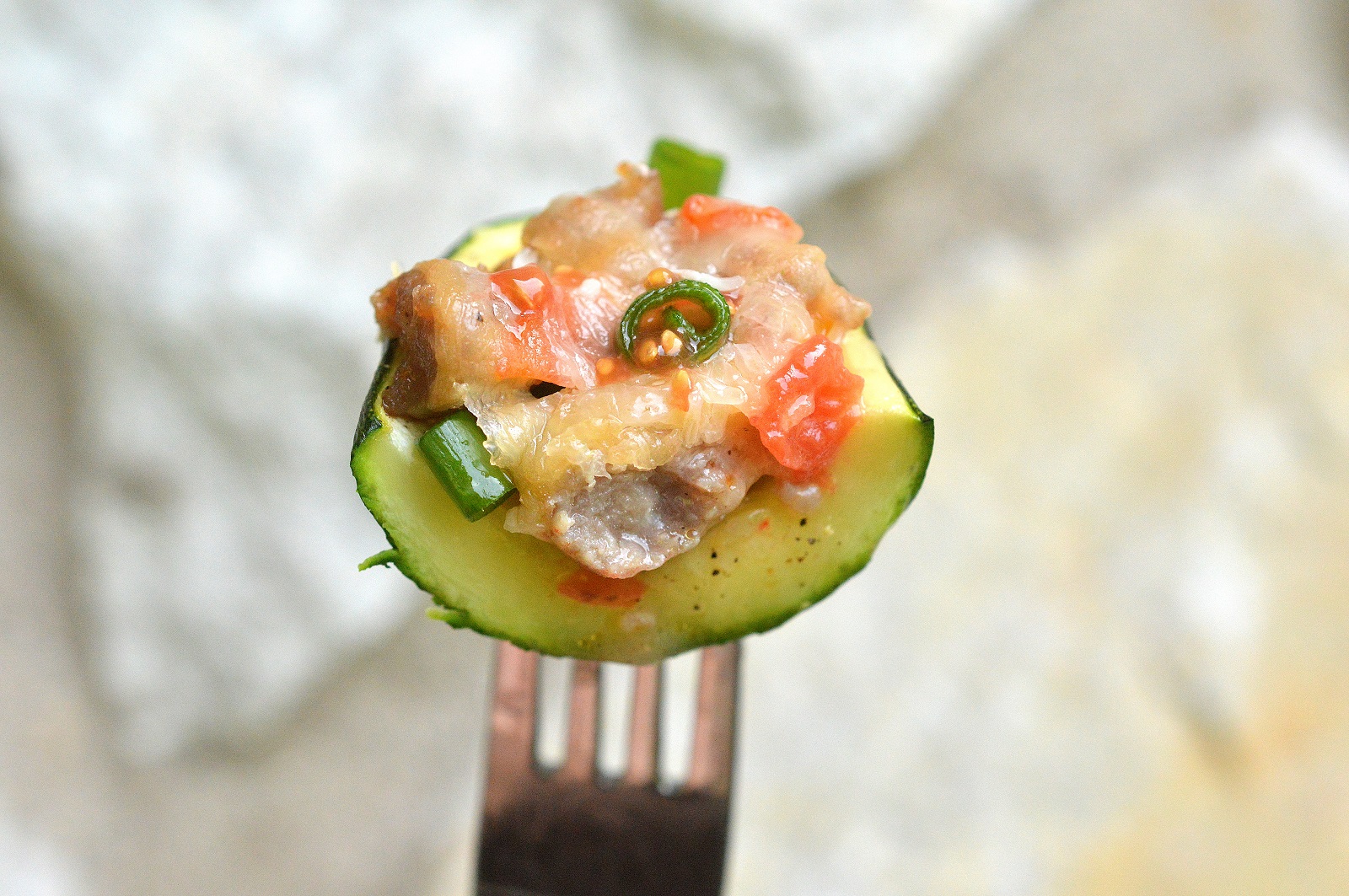 I hope you try this super-tasty Sausage, Pepper, Onion, Tomato, and Cheese Stuffed Zucchini. Show me your masterpiece on Instagram or Facebook by tagging me (@soufflebombay) if you do!
Thanks again to Smithfield for sponsoring this post and for coming up with a great way to help kids in need through No Kid Hungry!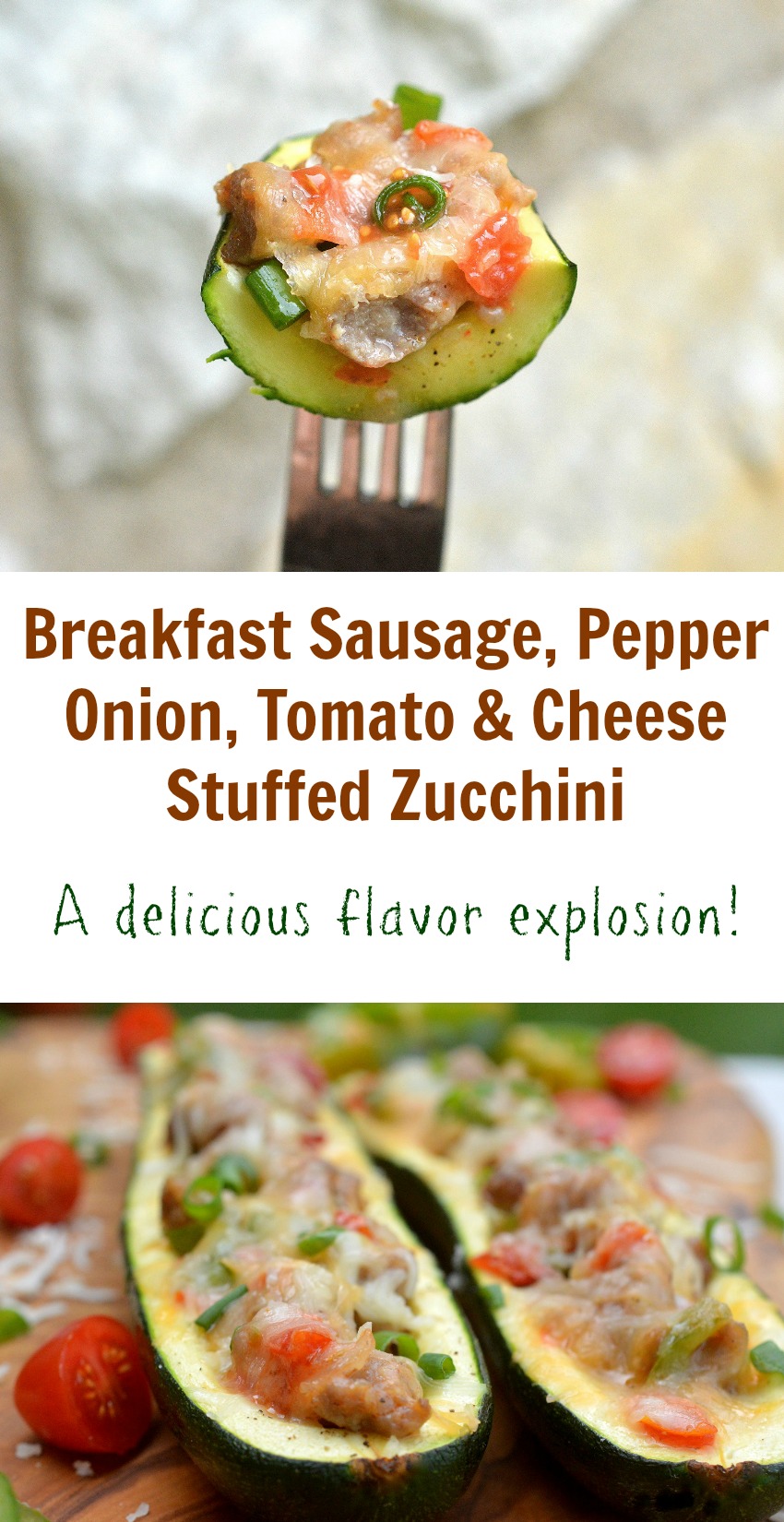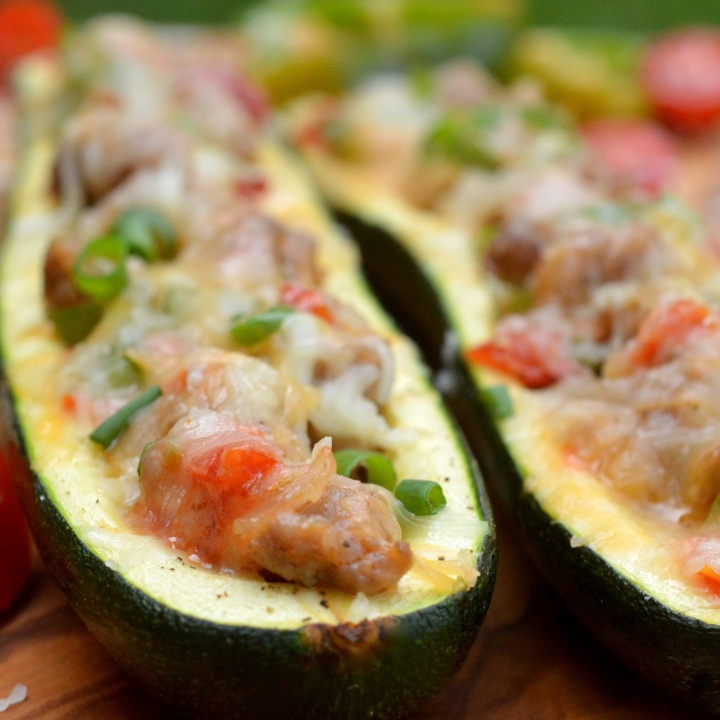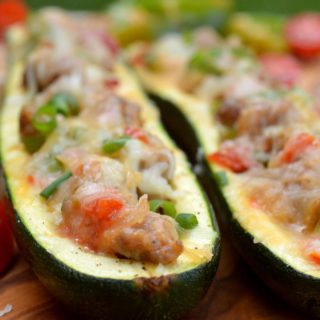 Sausage, Pepper, Onion, Tomato and Cheese Stuffed Zucchini
Ingredients
2

large zucchini

Salt & pepper

1 12

oz

package of Smithfield Premium Pork Breakfast Sausage

⅓

cup

chopped Vidalia onion

1

chopped hot pepper

¼

cup

chopped poblano pepper

⅓

cup

chopped grape tomatoes

2

cups

of cheese

I used ½ cup shredded Mozzarella and 1 ½ cups of a shredded cheddar blend
Instructions
Heat your oven to 375 degrees.

Halve your zucchini and using a teaspoon, scrape out ½ to ¾ of the inside (your preference). Be sure to get all of the seeds. Bake for 15 minutes. Remove from oven and season the insides with salt and pepper (do this after baking).

Meanwhile, cut each sausage link into quarters and place in a non-stick skillet pan.

Cook, add 3 TBS water to the pan after a few minutes. Add in the onions and peppers. If you are not into spicy, substitute red/green peppers or your favorite pepper. Cook until sausage is cooked through and peppers and onions are soft. Add in tomatoes and cook for another minute. Remove from heat and add in ½ cup of your cheddar cheese, mix until incorporated.

Fill your zucchini with the mixture, top with cheese and bake for 3 minutes or until cheese is melted.

I prefer the zucchini to be cooked crisp-tender, I don't like it very soft. Cooking time will vary based on the size of your zucchini, how much you scrape out and your preference for the cook.

Enjoy!
Follow me on Tik Tok for 1 minute videos