This easy recipe for Savory Zucchini Bread is amazing with a little butter hot from the oven. It is also fantastic alongside soups or stews or used for toasting the next day.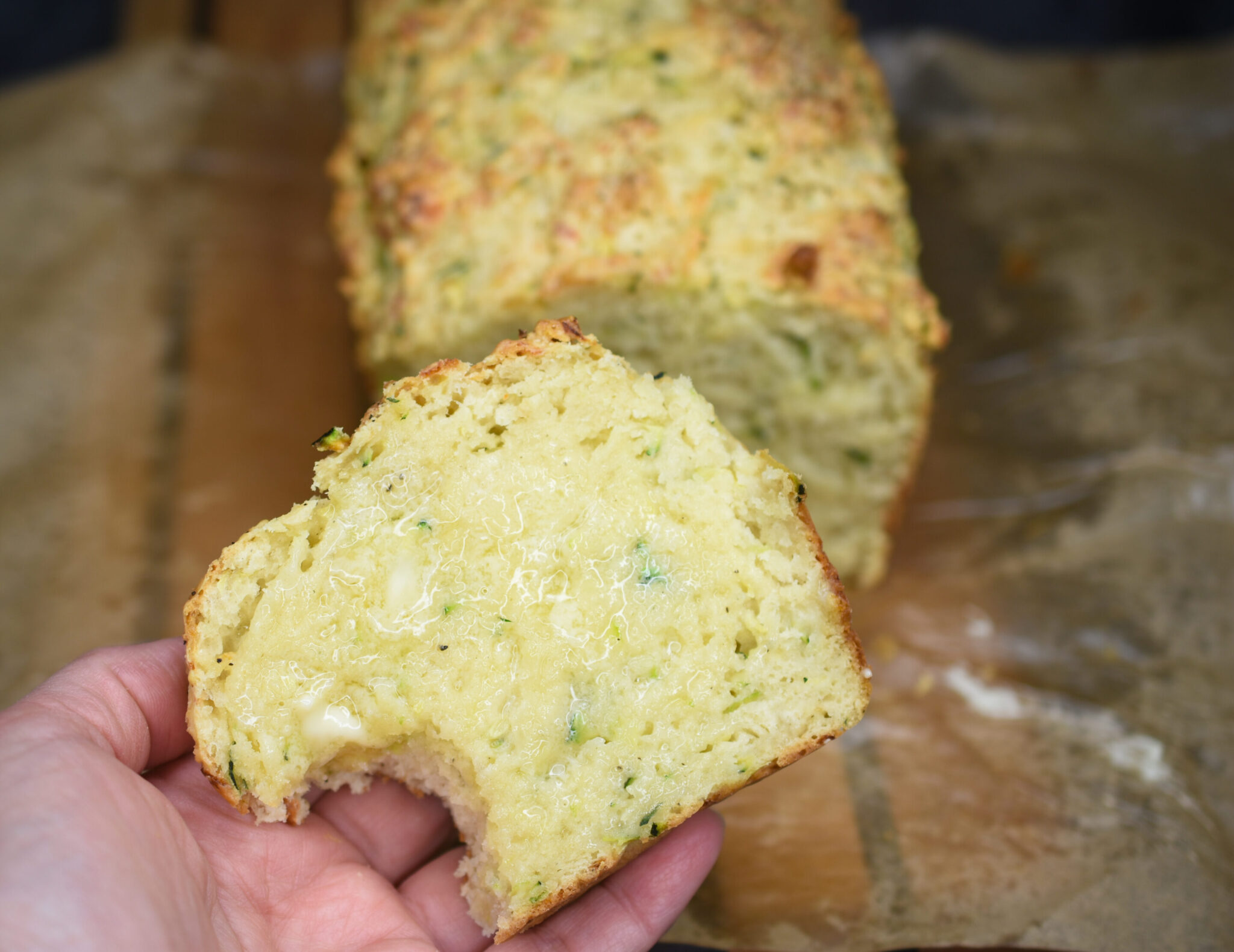 Why you'll love this recipe for Savory Zucchini Bread
Delicious hot from the oven with a bit of butter
Easy recipe, you don't even have to peel the zucchini
You can choose to add more cheese if you like
Swap out the cheese flavor, for cheddar, smoked gouda, pepper jack or something similar
Makes a great toasting bread for breakfast topped with extra cheese and an egg
Perfect for charcuterie or cheese boards, cut into cubed chunks
Ingredients
1 medium zucchini, shredded (skin on) about a cup once liquids pressed out
3 cups flour
1/2 teaspoon salt
1/8 teaspoon (or more) black pepper
1/2 teaspoon onion powder
1 teaspoon baking powder
1 teaspoon baking soda
One cup freshly shredded Parmesan cheese
1 cup shredded Mozzarella cheese
1 egg
1 1/2 cups whole milk
2 TBS melted butter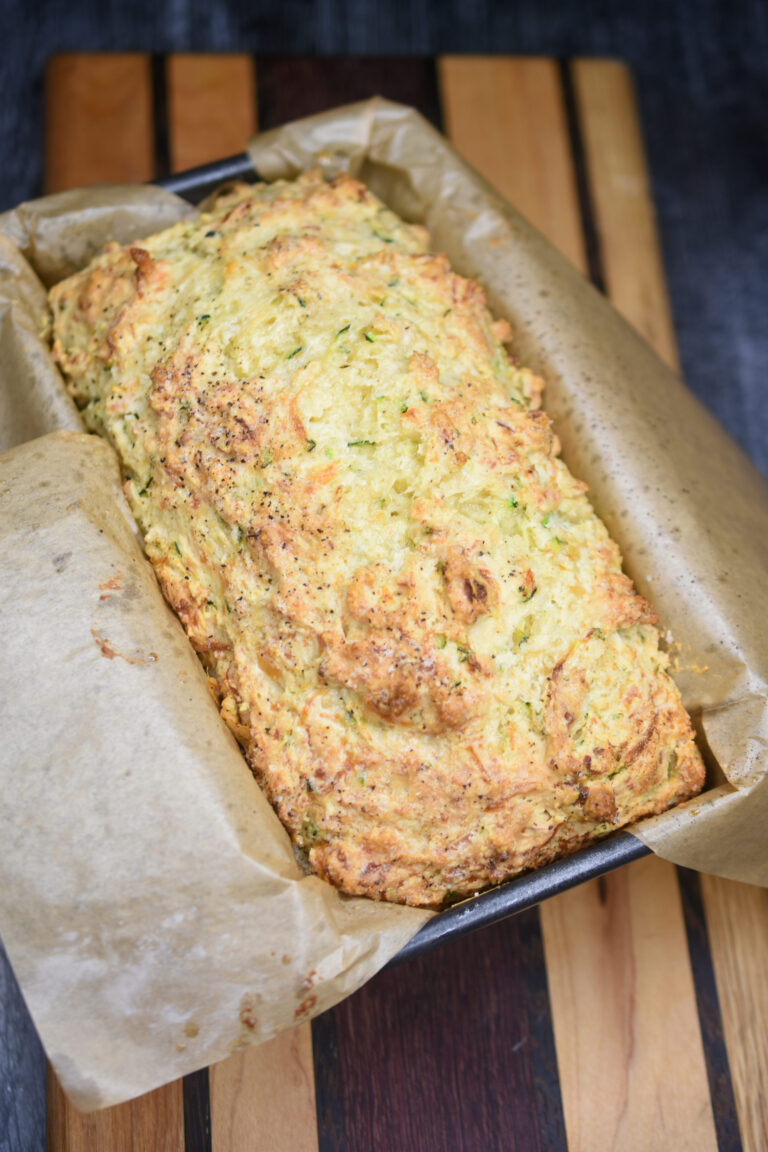 Equipment to make Zucchini Cheese Bread
Cheese grater
Bowl
Spatula
Parchment paper
Loaf pan
Instructions
The most important part of this recipe is making sure you dry your zucchini before adding it to the other ingredients. After shredding the zucchini, blot hard with paper towels. Sprinkle with a bit of salt and pepper, toss and allow it to sit wile you gather and combine most of the other ingredients. Allowing the zucchini to sit for 10-15 minutes after salting helps pull a lot of the liquid from it. Blot in a number of times after with paper towels to mostly dry it.
Other than that, combine the flour, salt, pepper, garlic powder, baking powder, baking soda in a bowl and whisk until combined. Add in cheeses and zucchini. In a small bowl whisk together the milk, egg and melted butter. Add to dry ingredients and combine until incorporated. Turn out into a parchment paper lined loaf pan and bake at 350 for 50-60 minutes or until a toothpick inserted in center comes out mostly dry.
Tips
Be sure to get most of the liquid from zucchini before adding to the bowl.
Salting your zucchini a bit and allowing it to sit in a bowl or colander for 10-15 minutes helps to remove liquid, making blotting easier.
Whisking your milk, egg and butter before adding makes for easier more even incorporation.
If your batter feels dry, add a bit more milk. If to wet, add a little more flour.
Change up the cheese used to pepper jack, cheddar, a cheddar blend or even a smoked gouda. Half a harder cheese and half a softer cheese or all softer.
Add in scallions, or minced jalapeno for additional texture, flavor and color.
Add in red pepper flakes for a little kick of heat and color.
Bake on a rack centered in your oven.
Frequently Asked Questions
How do I adapt Zucchini Bread for High Altitude?
I like to refer people to the King Arthur Baking website for that since I live at 252 feet above sea level. I have no experience with high altitude baking.
How Do I make Cheese Zucchini Bread Gluten Free?
If you can normally swap out something gluten free for all purpose flour, give it a try. I don't have much experience with gluten free baking.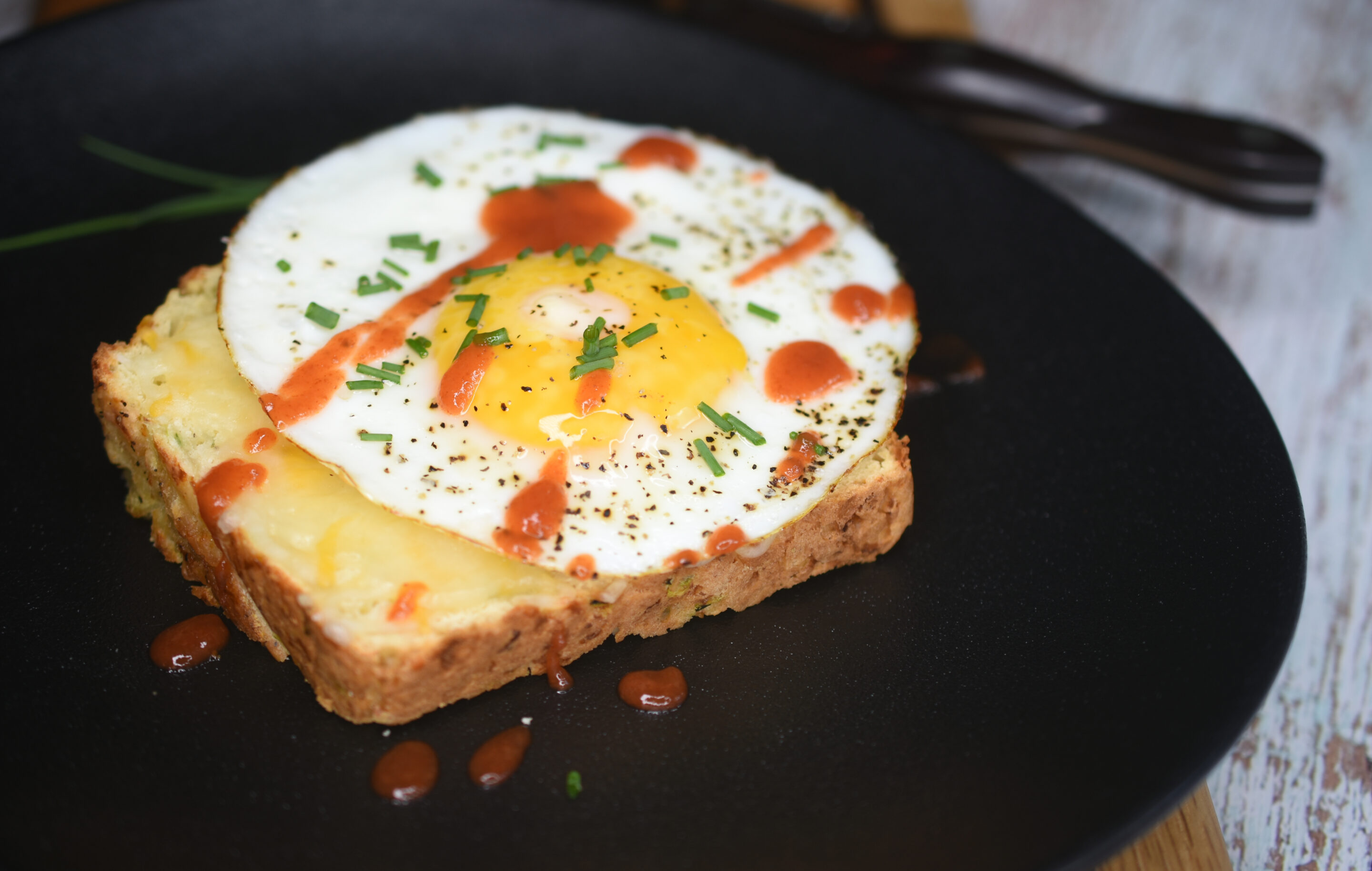 Variations
Swap out cheeses for a different flavor. Add in scallions or jalapenos for additional flavor and texture. Add in red pepper flakes for a pop of heat and color.
Serving Suggestions
Best enjoyed hot from the oven on its own or alongside soup, stew or a salad.
Enjoy toasted the next day with butter, or toped with additional cheese, an egg and or breakfast meats or a drizzle of sriracha etc.
Similar recipes
If you enjoy quick breads, try this delicious and east Cheesy Bacon Jalapeno Quick Bread or these Zucchini Cakes which are one of my favorites in summer. Or try these lighter Zucchini Drop Biscuits.
I hope you enjoy this cheesy zucchini quick bread recipe!
-Colleen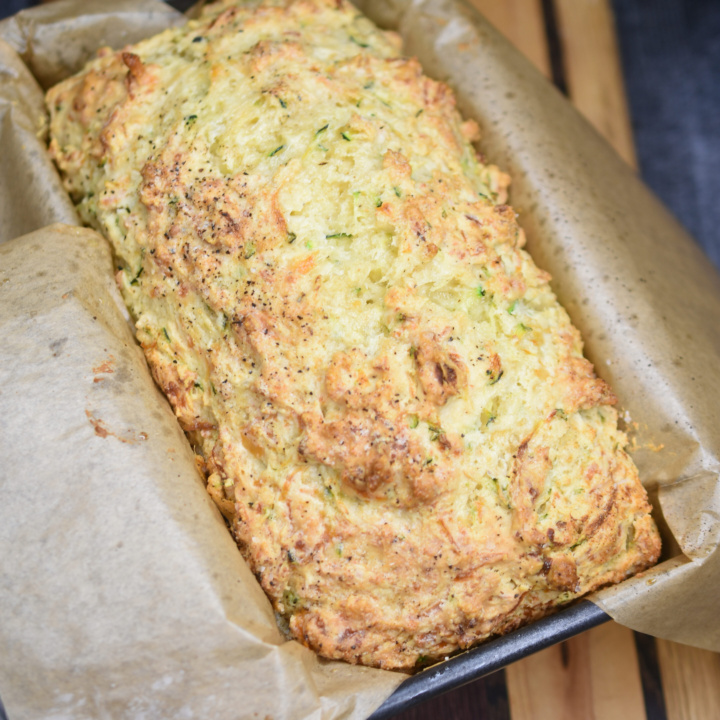 Print Recipe
Savory Zucchini Bread
Savory Zucchini Bread recipe. Easy to make Zucchini Cheese quick bread. Delicious alongside soups, stews, salads or as breakfast toast.
Ingredients
1

medium zucchini shredded, skin on

about 1 cup once liquids pressed out

3

cups

flour

1/2

teaspoon

salt

1/8

teaspoon

(or more) black pepper

1/2

teaspoon

onion powder

1

teaspoon

baking powder

1

teaspoon

baking soda

1

cup

freshly shredded Parmesan cheese

1

cup

shredded Mozzarella cheese

1

egg

1 1/2

cups

whole milk

2

TBS

melted butter
Instructions
Shred zucchini, using a cheese grater, leaving skin on

Press liquids from zucchini, blotting with paper towel. Salt and pepper zucchini just a bit, toss and allow to sit for 10-15 minutes, blot mostly dry.

In a mixing bowl, combine flour, salt, pepper, onion powder, baking powder and baking soda and whisk until blended.

Add in cheeses and zucchini.

Whisk together milk, egg and melted butter in a small bowl and add to mixing bowl. Stir until combined.

Line a loaf pan with parchment paper and bake for 50-60 minutes on the middle rack.

Rest for 5 minutes, lift bread from pan, slice and serve with or without butter.
Nutrition
Serving:
9
servings
|
Calories:
291
kcal
|
Carbohydrates:
35
g
|
Protein:
13
g
|
Fat:
10
g
|
Saturated Fat:
6
g
|
Polyunsaturated Fat:
1
g
|
Monounsaturated Fat:
3
g
|
Trans Fat:
1
g
|
Cholesterol:
47
mg
|
Sodium:
599
mg
|
Potassium:
191
mg
|
Fiber:
1
g
|
Sugar:
3
g
|
Vitamin A:
384
IU
|
Vitamin C:
4
mg
|
Calcium:
284
mg
|
Iron:
2
mg