If you like things a little spicy, my Jalapeno Relish may be for you! Grab a bunch of beautiful jalapenos from you garden, farmers market or local grocer and in about 30 minutes you can make jars of it for your enjoyment and for gift giving.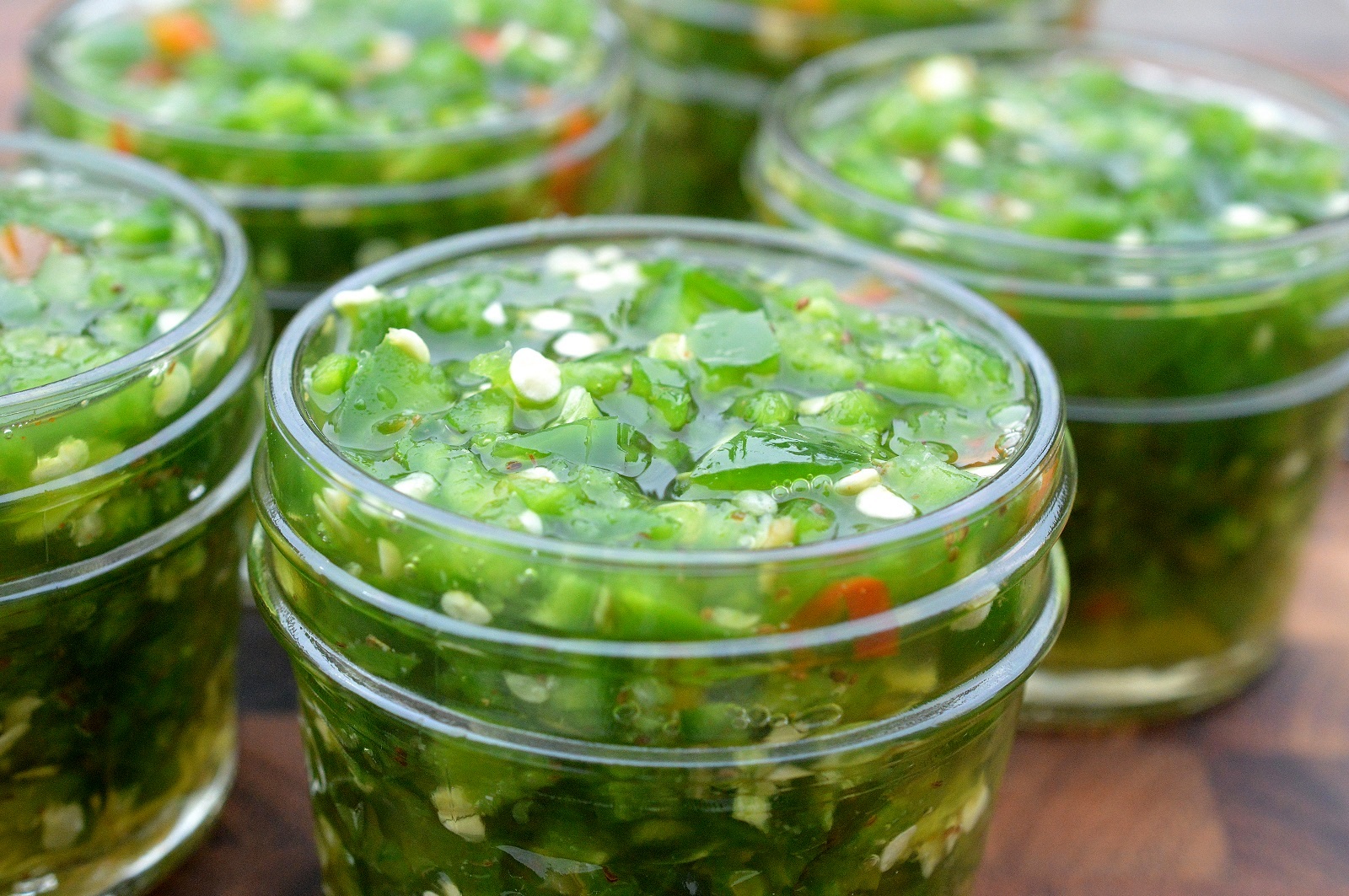 MY friend Molly has been up to her eyeballs in jalapenos. She is known for her killer Stuffed Jalapenos, however just how many of those can you eat?  Wait don't answer that...My husband would actually eat them every single day if given the opportunity!
After receiving 2 lots of jalapenos from her, and not wanting any to go to waste, I got down to business and decided why not quick-pickle them. Instead of traditional rings, I decided to chop them.
They came out SO pretty and vibrant!
This Jalapeno Relish is HOT.  So you need to enjoy heat. I chose to leave all the seeds in, since we enjoy things spicy. You can scrape or cut the seeds out out before you mince the jalapenos for much less heat if you choose.
You can sprinkle some over a brick of cream cheese with a drizzle of honey and enjoy them that way. You can put this Jalapeno Relish on sandwiches, meats, eggs or toss some into your pasta. Of course you can use these in anything Mexican. i put some in my chicken enchiladas, both in the enchiladas and in the sauce. Yum!
I've been on a jalapeno kick, besides all the jalapenos my friend gave me. I was at a farmers market in Bucks County, PA and saw a table full of just-picked jalapenos and decided I needed more, lol! The farmer decided to also grab two big farmer-sized handfuls of jalapenos and toss them into the bagful I already had. I walked away with about 50 jalapenos for...wait for it...$2.00.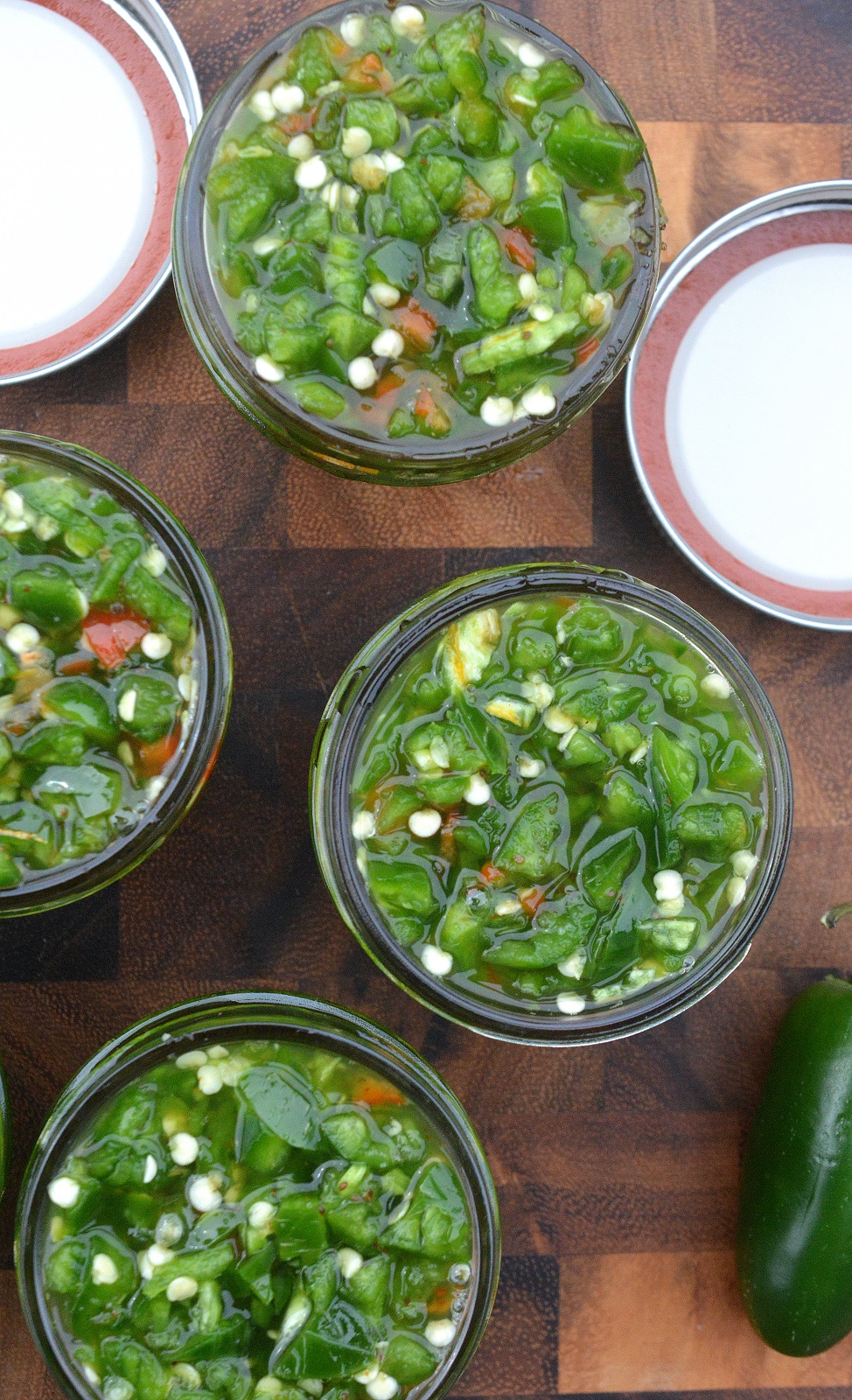 I have a lot of boyfriends. No joke, I really do! I think its my friendly personality. I will strike up a conversation with anyone if I have something to say or I want to make them feel good.  The other week at the beach, I walked in a pizza place with a friend and our kids, I saw a man with a full metal tray of bacon and said "WHOA...I'll have that to go please!!" He chuckled and we both proclaimed our love of bacon. As I exited to grab an outside table to wait for our order, the man appeared smiling ear to ear, arms extended out to he holding an overflowing french fry boat full of bacon...for me. I was so excited I asked him to marry me!
See food boyfriends. I could tell you at least 47 more times that's happened to me. It's my superpower. Haha!!
If you find yourself with a lot of jalapenos by accident or on purpose, get creative! Because I had so many jalapenos, I also put a Cuban Sandwich IN a Jalapeno and it rocked!  My husband and son are already begging for more.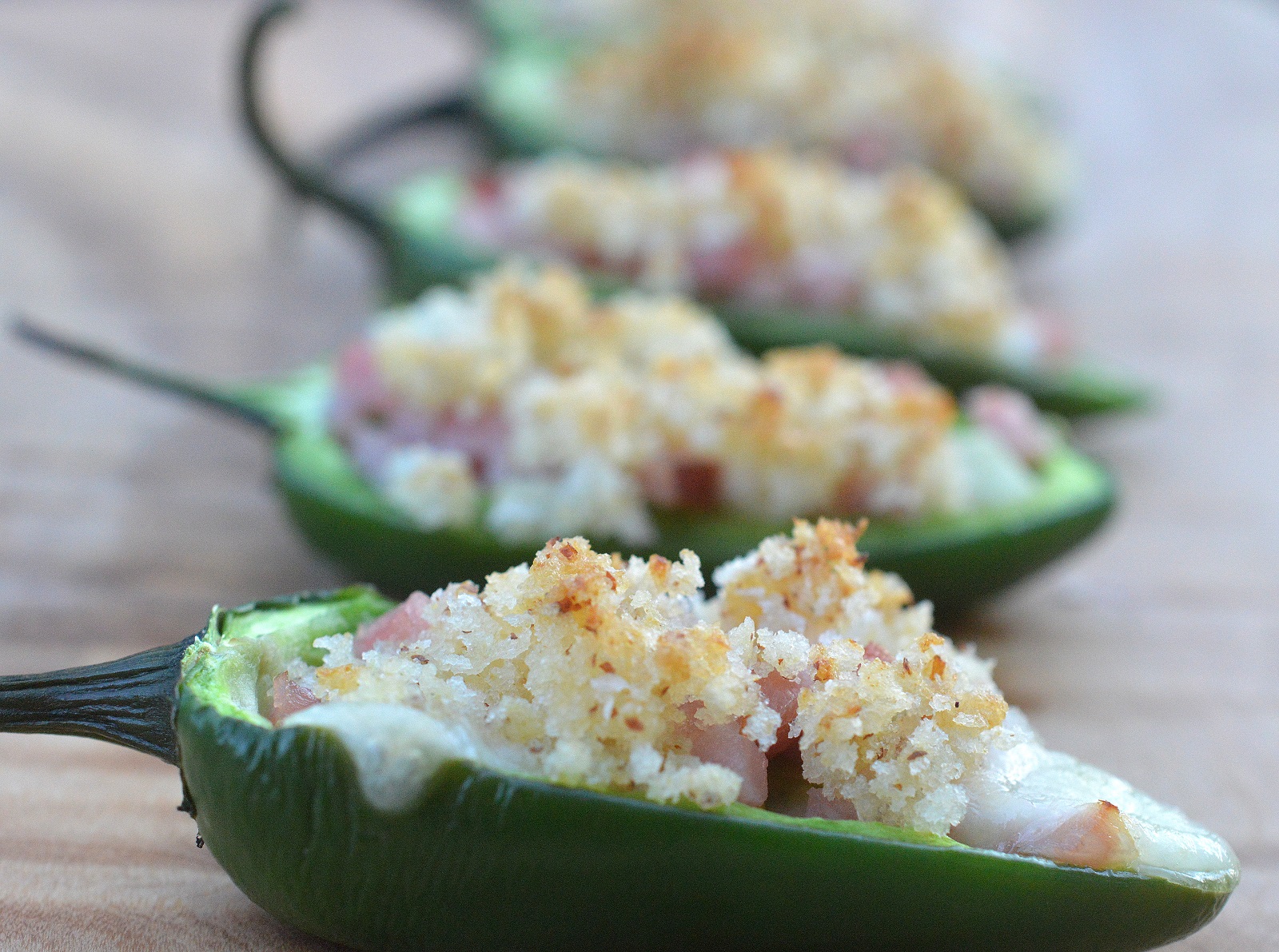 My husband (the man obsessed since before day I met him with traditional jalapeno poppers) said that they were "stupid good", whatever that means. And my 14-year-old son, well he ate so many, that it made this momma very happy. That's all the proof I need. Make 'em!
If you like to quick-pickle, you HAVE to try these Quick & Easy Sweet & Spicy Pickles! I'd like to say they make a good food gift, however...You may eat them all first! Mmmm!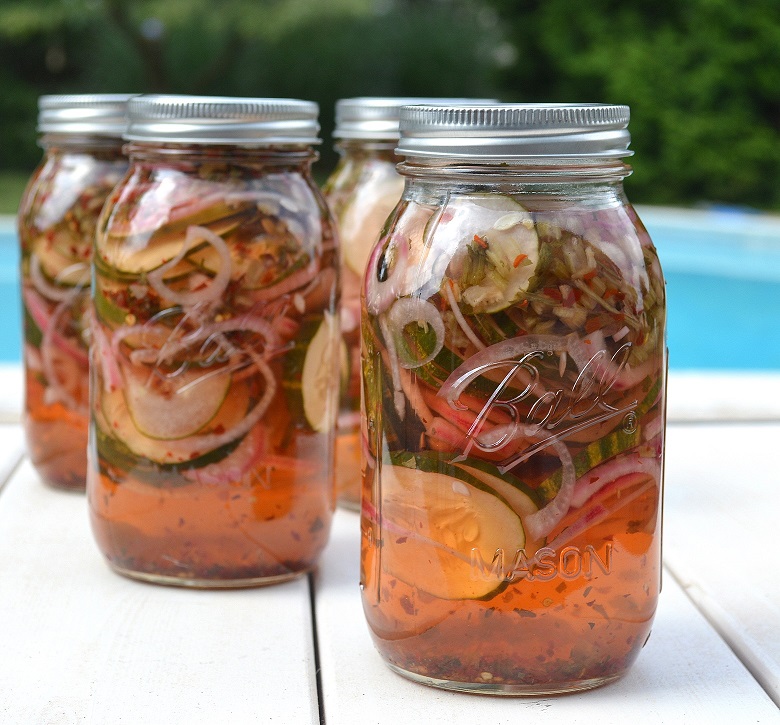 And if you want to get a lil' faaaancy...Spiralize them, they pickle even faster and are SO pretty!1 Great on sandwiches and salads.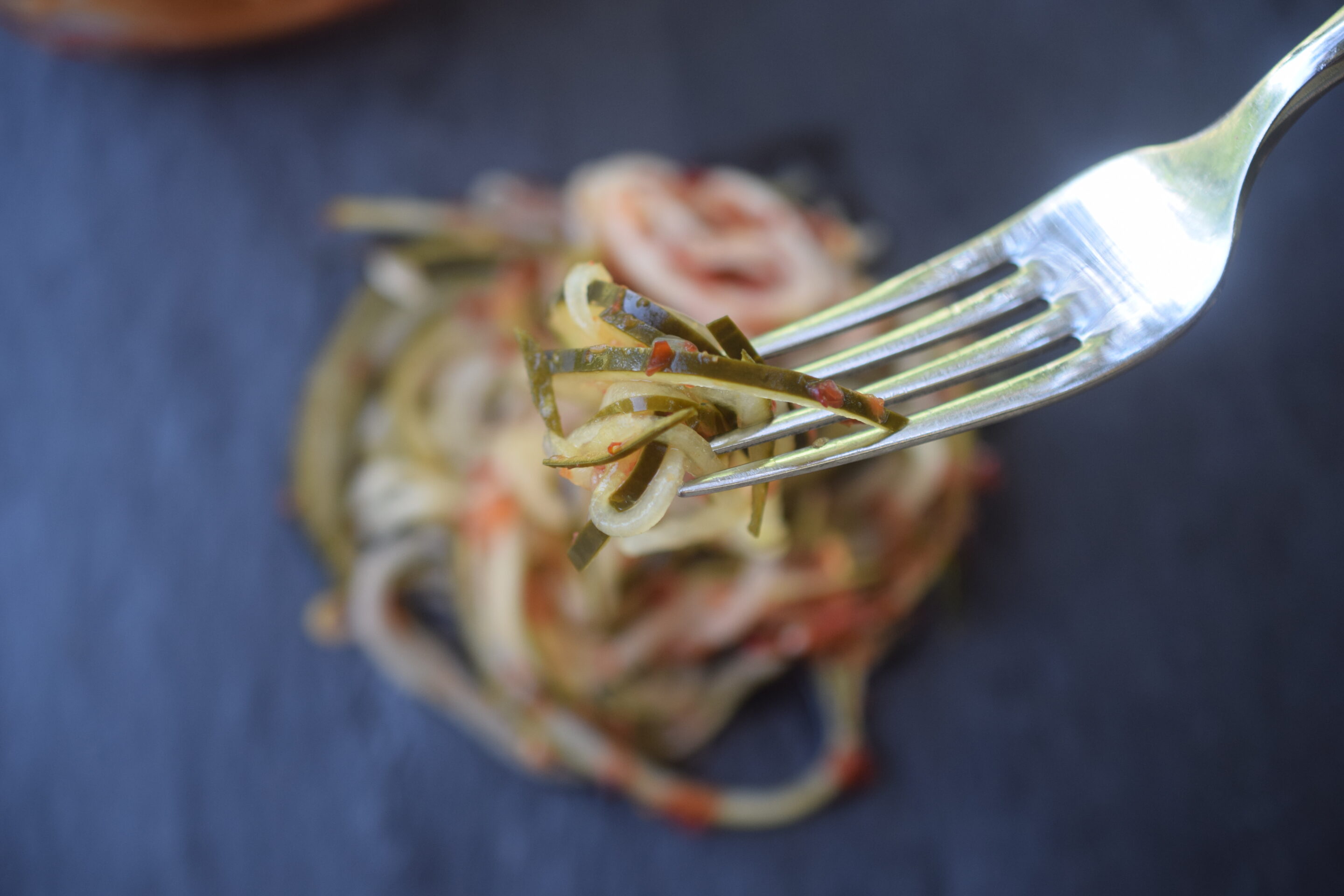 Enjoy! Tag me on Instagram with your creations @SouffleBombay!! Love that!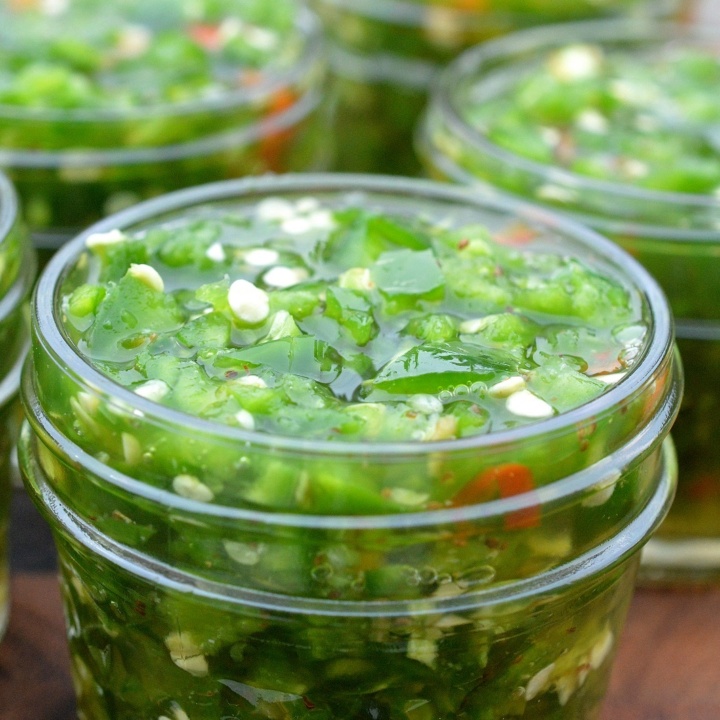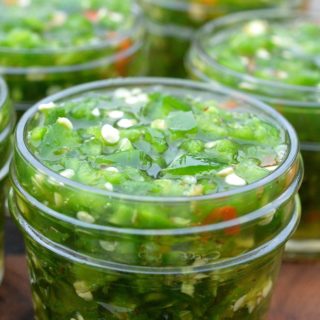 Jalapeno Relish
Ingredients
20-25

jalapenos

chopped small

1

clove

garlic

minced

1

cup

white vinegar

1

cup

water

½

cup

sugar

1

TBS

celery flakes

½

TBS

Kosher salt
Instructions
First, decide if you want to keep the seeds in or out of your relish. How hot do you like foods? Also jalapenos vary in heat. Taste a piece and decide. Maybe put some seeds in. Your call.

Chop your jalapenos fine and toss them with the minced garlic. Feel free to add a red pepper for a pop of color if you like (or to help cut the heat). In small mason jars (I use 4 oz) spoon in the chopped jalapenos until they just about reach the top. Don't press hard or "pack" them in, you need room for the liquid.

In a small pot, heat, vinegar, water, sugar, celery flakes and salt until it boils.

Remove from heat and allow it to sit for 2 minutes.

Pour liquid into your filled jars, allow it to cool down for 10 minutes or so, then screw the lids on, allow them to cool to room temperature and then place in fridge until you want to enjoy them.

Remember when working with jalapenos, you never know how hot or mild they may be. Be careful of your eyes, no rubbing your eyes for a while after working with them OR you will remember it for sure, lol!
Follow me on Tik Tok for 1 minute videos