If you like Jalapeno Poppers, your are going to love my Cuban Sandwich Stuffed Jalapeno Poppers! I teamed up with Smithfield who sent me some of their Anytime Favorites Hickory Smoked Premium Quarter Boneless Sliced Ham to use in a recipe creation.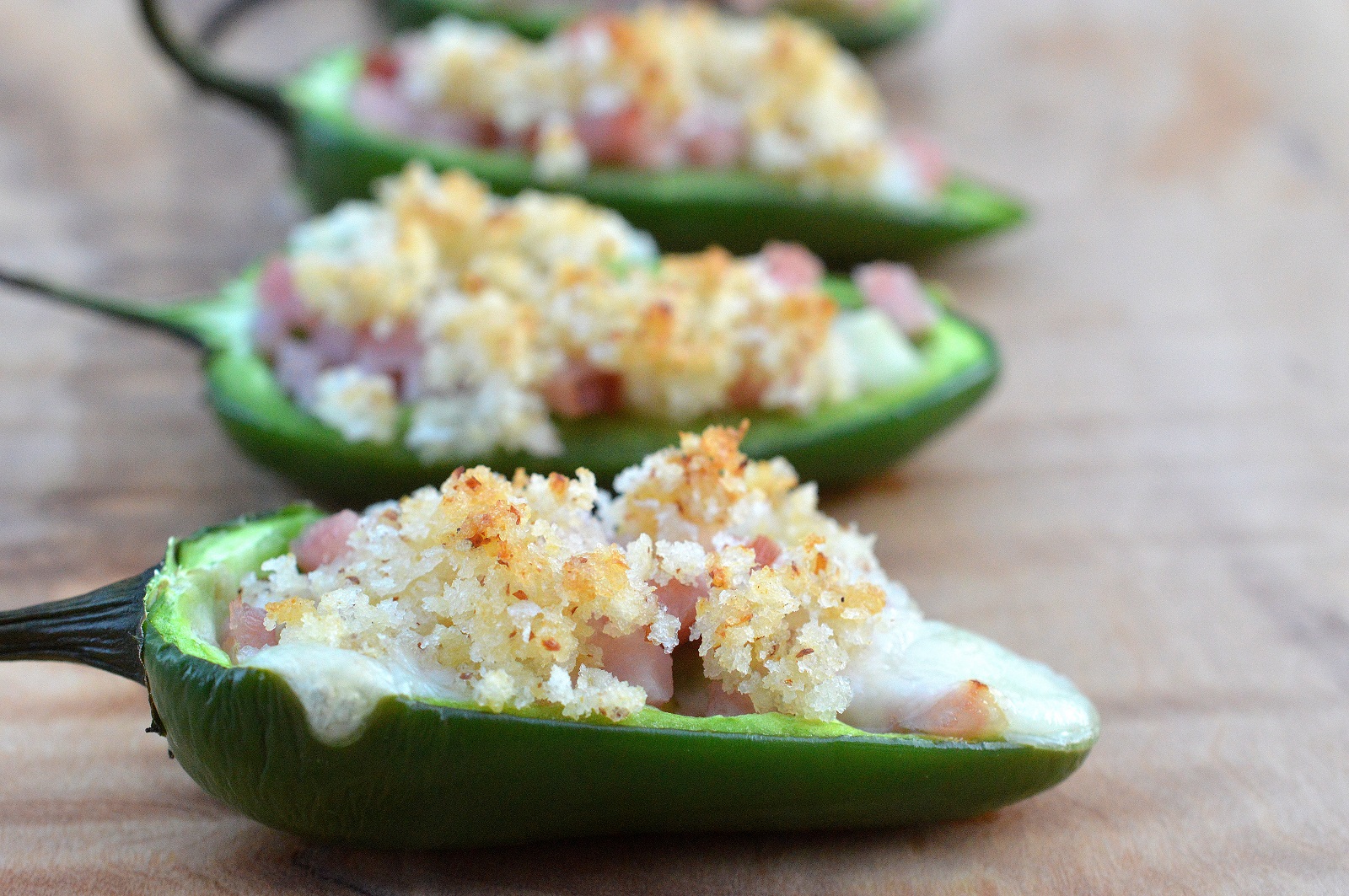 One thing my whole family can agree on when it comes to food is ham, every one of us loves ham....So I knew I could come up with something delicious that everyone would enjoy!
Who here enjoys stuffed jalapenos? They always seem to be a crowd favorite and never last long when they are put out. As I thought about what I would make with my ham I thought to myself, "why has no one ever made a "Cuban Sandwich" in a jalapeno??" "I bet that would be kinda yummy..."
I was right! It was delicious! Plus, it was SO easy to make with the help of Smithfield Anytime Favorites Hickory Smoked Premium Quarter Boneless Sliced Ham!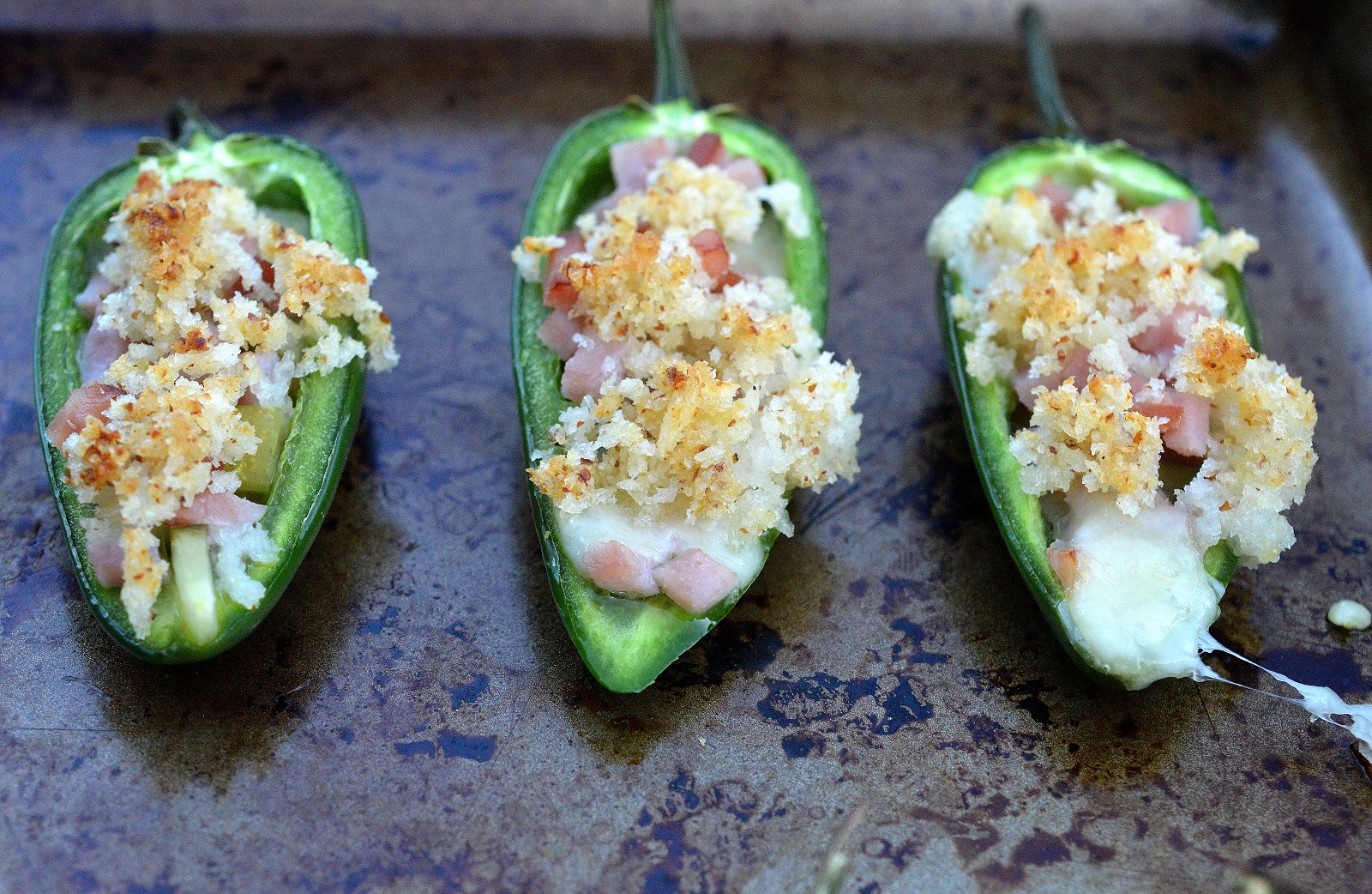 As I was tinkering with how to make these Cuban Sandwich Stuffed Jalapeno Poppers, I had a thought about also using some roasted pork in the peppers. I actually tried it, however my taste testers and I enjoyed them better without it, plus it's less effort, so that is what I recommend.
Start with big beautiful jalapenos, delicious ham, Swiss cheese, and kosher pickles and there you have your base for the filling. Then it's tied together with the Panko Topping which is where I added in the mustard and the butter traditionally found in a Cuban Sandwich. I loved how it all came together! I thought I was a smartypants incorporating the mustard into the topping lol!
Tip: Little dessert spoons are a great tool for making quick work of removing jalapeno seeds & stems!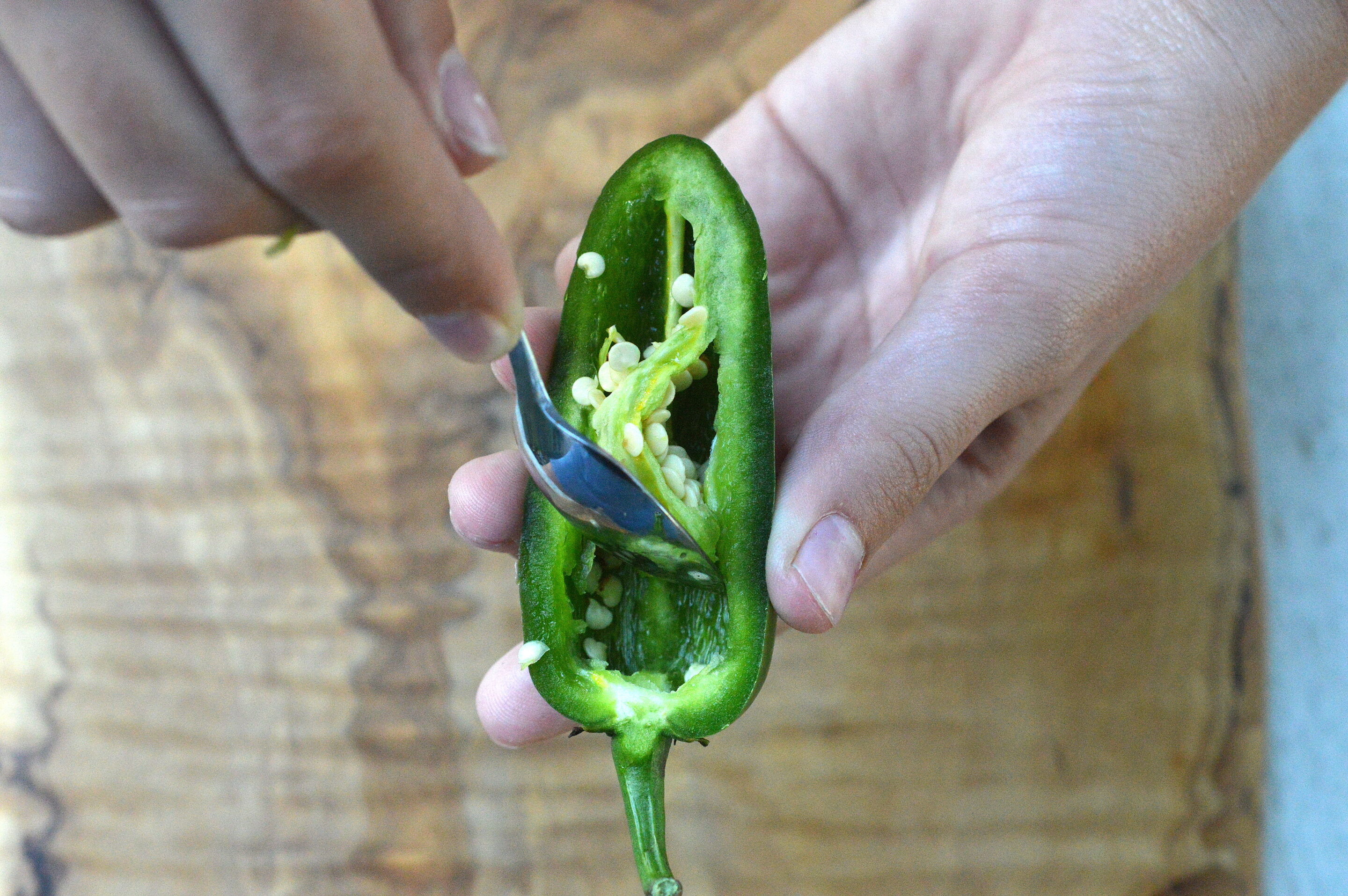 These Cuban Sandwich Stuffed Jalapeno Poppers were really good! I timed them to be ready for when the kids got home from school and knew my husband wouldn't be too far behind. Everyone is hungry when they walk in the door and I would much rather they all have a whole food snack before dinner vs grabbing something prepackaged and sweet. These peppers did the trick!
My 14 year old son kept coming back for more and more (which always makes a momma happy). My husband and I also ate the heck out of them! These are still too spicy for my youngest, however she was eating the filling out of them.
Smithfield is a brand that has been in my life and on my table as long as I can remember. From their iconic Spiral Hams to their ham steaks...they have been family favorites when I was growing up and are today with my own family. I always grab a couple ham steaks when making batches of our favorite baked beans, the kids enjoy the ham straight up and in omelettes.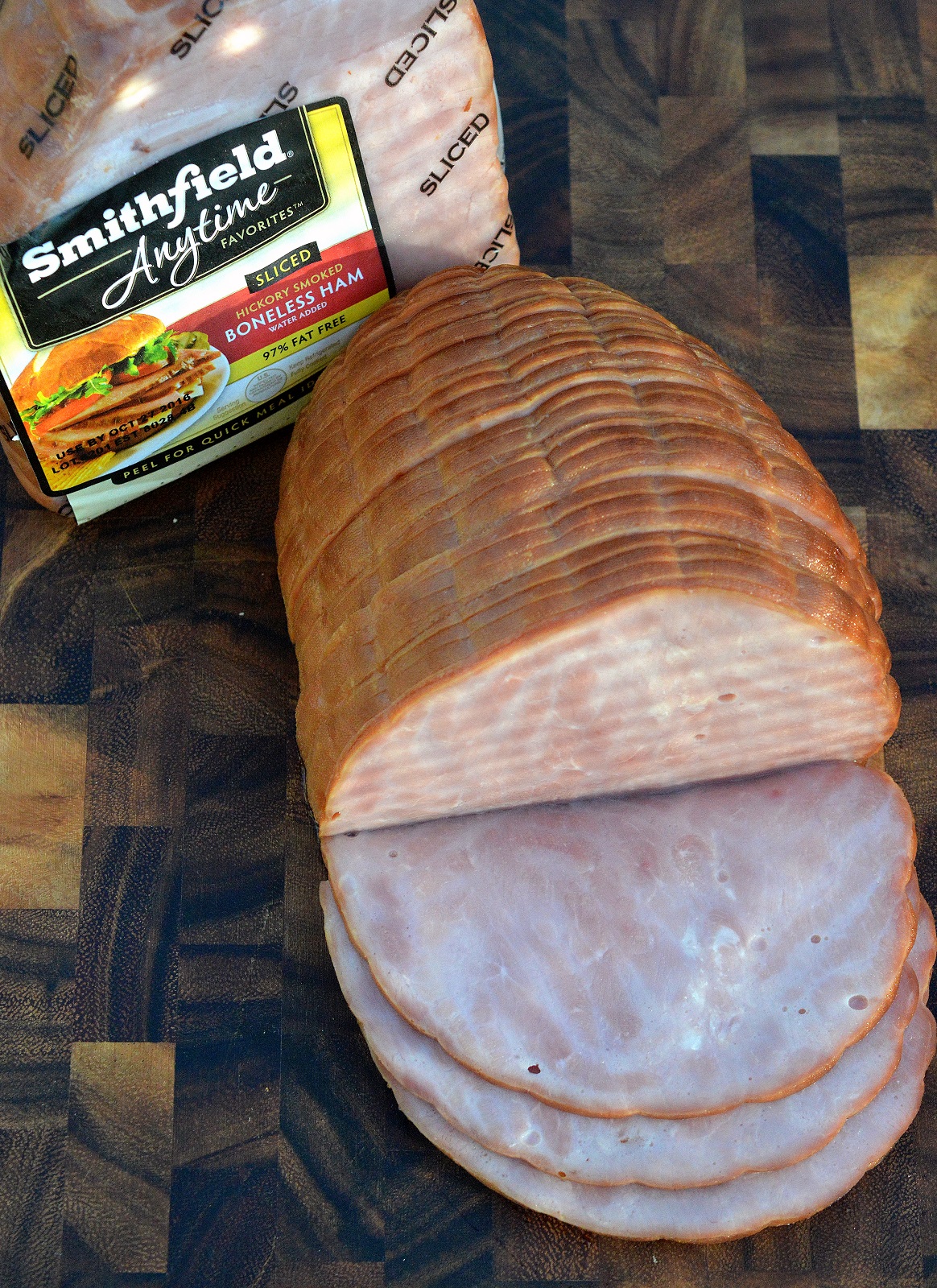 Smithfield has made it even more convenient for busy family's with their Anytime Favorites, which come in many varieties...some sliced, some already diced. Love that they get it that sometimes we need a helping hand in the kitchen...especially when school and sports are in session however we don't want to compromise on quality! Life can get hectic and getting a meal I am food I am proud about in front of my family can be a challenge.
Look for Smithfield Anytime Favorites in grocery stores nation wide.
For more recipe inspiration visit Smithfield on Facebook or check out their website which in addition to recipes has a Prep School where you can learn about all things ham and pork...every way imaginable! I learned a few things!
These Cuban Sandwich Stuffed Jalapeno Poppers are a nice variation from the traditional poppers filled with cream cheese as well as those filled with cheddar and wrapped with bacon. Give these a try for an after school snack or as a side dish. They would also be great for a Barbecue, tailgating party or just because. You won't be disappointed!
Make a few of these Cuban Sandwich Stuffed Jalapeno Poppers or make an army...just make them and let me know if you do! Tag me on Facebook or Instagram and show me what you do! Or come back here and leave a comment with your thoughts. Thanks!!
Thanks to Smithfield for sponsoring this post and inspiring the idea for these deliciously fun peppers!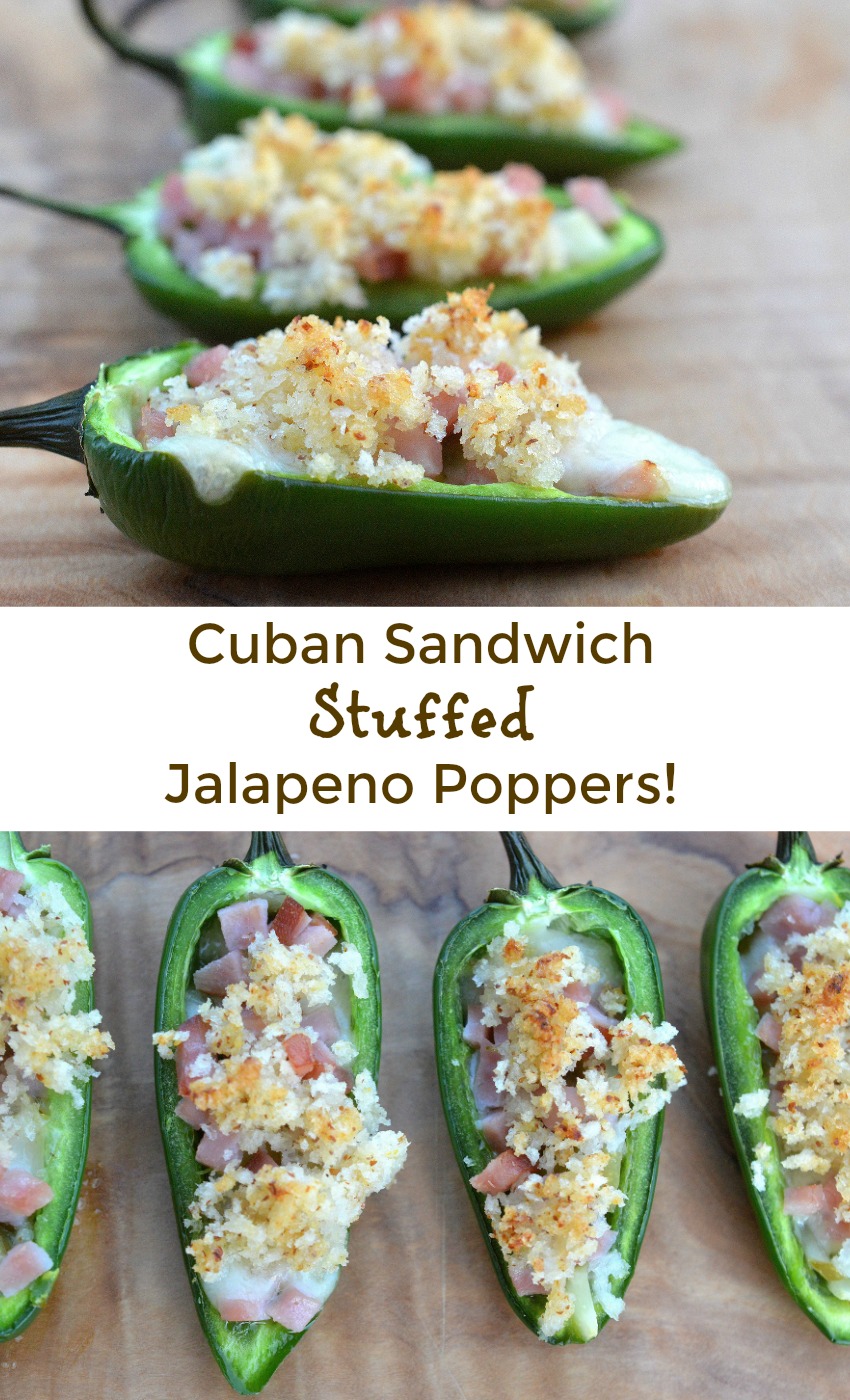 Enjoy!!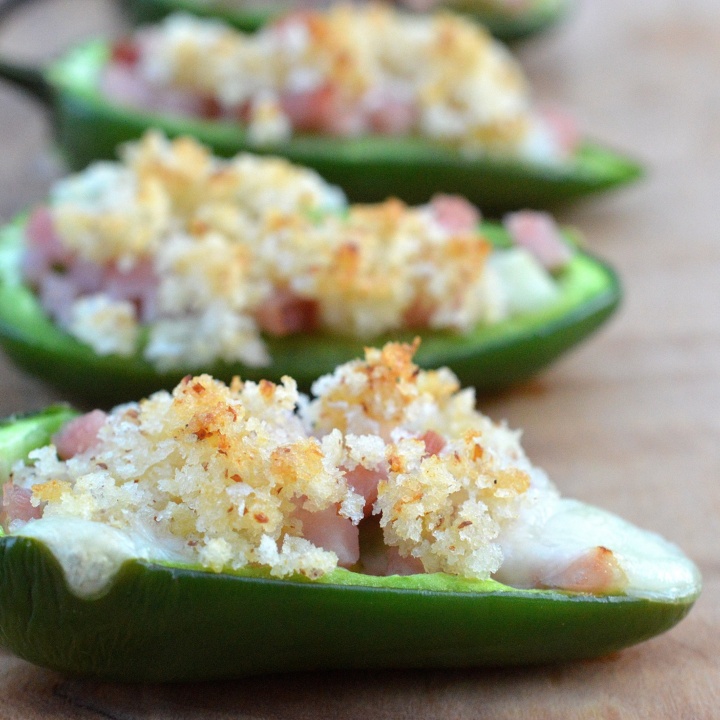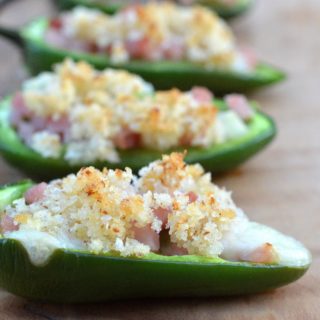 Cuban Sandwich Stuffed Jalapeno Poppers
Ingredients
15

jalapenos

4

oz

brick of Swiss cheese diced small

3

slices

Smithfield Anytime Favorites Hickory Smoked Premium Quarter Boneless Sliced Ham diced small

5

Kosher pickles

seeds removed and diced very small

¾

cup

plain Panko breadcrumbs

1

TBS

butter

½

TBS

Dijon

or yellow mustard

Salt & pepper
Instructions
Preheat oven to 375 degrees.

Slice your jalapenos in half and clean them out with a small dessert spoon (removing stems and seeds from the insides and discard). Be careful of your eyes while you do this. Don't touch your eyes with your fingers for a while after.

Line jalapeno halves on a baking sheet, stuff with the ham, cheese and pickles. I prefer layering the pickles in first, followed by a mixture of the ham & cheese.

Press down to allow a tight fit of the mixture into the peppers.

Combine the Panko, butter and mustard, blend with your fingertips until completely incorporated. Season with salt & pepper.

Place a mound of crumbs atop each pepper.

Bake for 15-25 minutes, depending on your preference for pepper doneness as well as pepper size and thickness.

These can also be made on the grill.

Serve and enjoy.
Follow me on Tik Tok for 1 minute videos