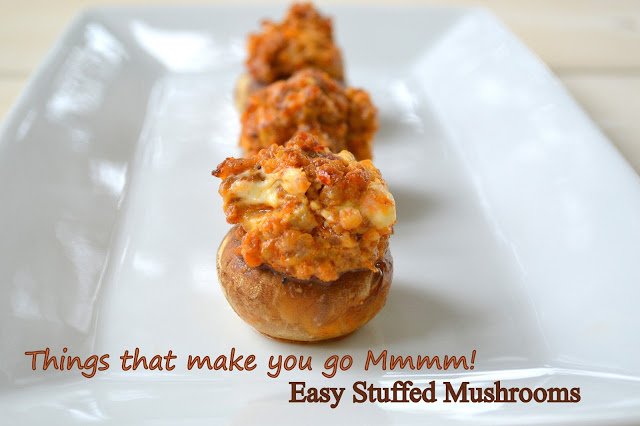 Raise your hand if you like love stuffed mushrooms! It seems to me that mushrooms stuffed with cheese, sausage, crab, lobster, pesto or whatever filling people dream up are something most people go crazy for.
I however feel left out. I just don't want to eat a mushroom, in any way, shape or form. I never have…ever. They just kinda skeeve me out. However, the more I learn about them – the more I want to eat them. Recently, I heard 2 brothers, Tony and Joe D'Amico aka To-Joe, who are 4th generation mushroom farmers in Kennett Square, PA (the mushroom capital of the world and less that 2 hours from me) speak for an hour about just what it is they do and I was utterly fascinated! The facts combined with their passion for what they do makes me want to give mushrooms a try – lets see if that happens!
I make mushrooms all-the-time, I stuff them, I saute mushrooms for steaks and burgers and I grill portabella's. I love to make them, I just don't wanna eat them. I think I have been making stuffed mushrooms one way or another since I was a teenager. They were one of the first recipes I made out of my very first adult cookbook – (insert a big smile here) The Good Housekeeping Illustrated Cookbook circa 1980 which I still have today, is literally falling apart and I cherish dearly. To me that cookbook is like my favorite super old pair of jeans, old stuffed animal or a very good childhood friend. I will keep her forever!
My husband absolutely adores mushrooms and he exclaims often both publicly and privately…"How do you do it?" "You never even tasted mushrooms yet you have destroyed me from ever wanting them out – you make them so good!"
I say it's out of love! I knew how much my dad liked them growing up and wanted to make them for him as soon as I could. My first serious boyfriend adored them, so I made them for him often. My grandmom (who is at this moment 101) always liked a grilled portabella, so I made them for her when I could, my husband could eat mushrooms daily one way or another so I come up with a variety of ways to excite him on the mushroom front and always ask him…what does this taste like…what do you think of this…so in reality he and my other taste testers are the real recipe makers when it comes to shrooms!!
Stuffed mushrooms specifically are a great party app! They are easy to prepare ahead of time, travel well and are always (and I mean always) a hit! Plus, for those that are gluten free it's perfect!
So that's it then!! Now I know (and you do to honey) that it really is both out of love and the personal satisfaction I get when I know I made something someone gets/got excited about, whether I eat it or not!!
Sausage Stuffed Mushrooms


24-30 white/button mushrooms
1 TBS olive oil
2 cloves of garlic, minced
1 pound hot sausage, casing removed
8 oz cream cheese, room temperature
1/2 cup grated Parmesan cheese
Salt & pepper
1/2 tsp onion powder
Optional: a bit of cayenne/red pepper or red pepper flakes
Clean your mushrooms and remove stems. Slice the brittle end off of each stem then chop stems, set aside.
Heat your olive oil in a large saute pan, add in your minced garlic and chopped mushroom stems and saute for 2 minutes, remove from pan and place in a large mixing bowl. Add your sausage to the pan , break it up and cook until done (adding in a bit more olive oil or water if necessary). Cut your cream cheese into 1/8ths and place the mixing bowl, add in the cooked sausage and toss to combine. Add in your Parmesan cheese, salt, pepper, onion powder and red pepper if using, toss until combined. Once the mixture is cool enough to handle, stuff each mushroom and place on a lightly oiled baking sheet. Cover and refrigerate until ready to cook. Bake at 350 degrees for 20-25 minutes (depending on the size of your mushrooms) or until done.
Serve hot.
Colleen's Notes: If you are not into spicy, of course you can use sweet sausage instead of the hot.
Sometimes I put a pinch of Parmesan cheese atop each mushroom as I plate them. Sometimes I brush the insides of each shroom with a tiny bit of sherry. Sometimes I make a Panko and butter topping for thyem as well. It just depends on my mood. Feel free to try all methods out until you find what works for you.
Here is a 3 ingredient meatless stuffed mushroom my husband adores! Pesto & Parmesan Stuffed Mushrooms. It doesn't get any easier than that!!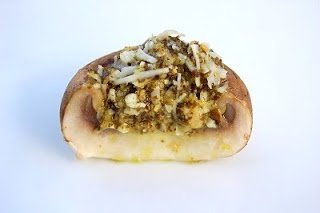 Enjoy!!