Whether you are looking for a Stuffed Mushrooms with Cream Cheese recipe or a Sausage Stuffed Mushrooms recipe, this recipe will work!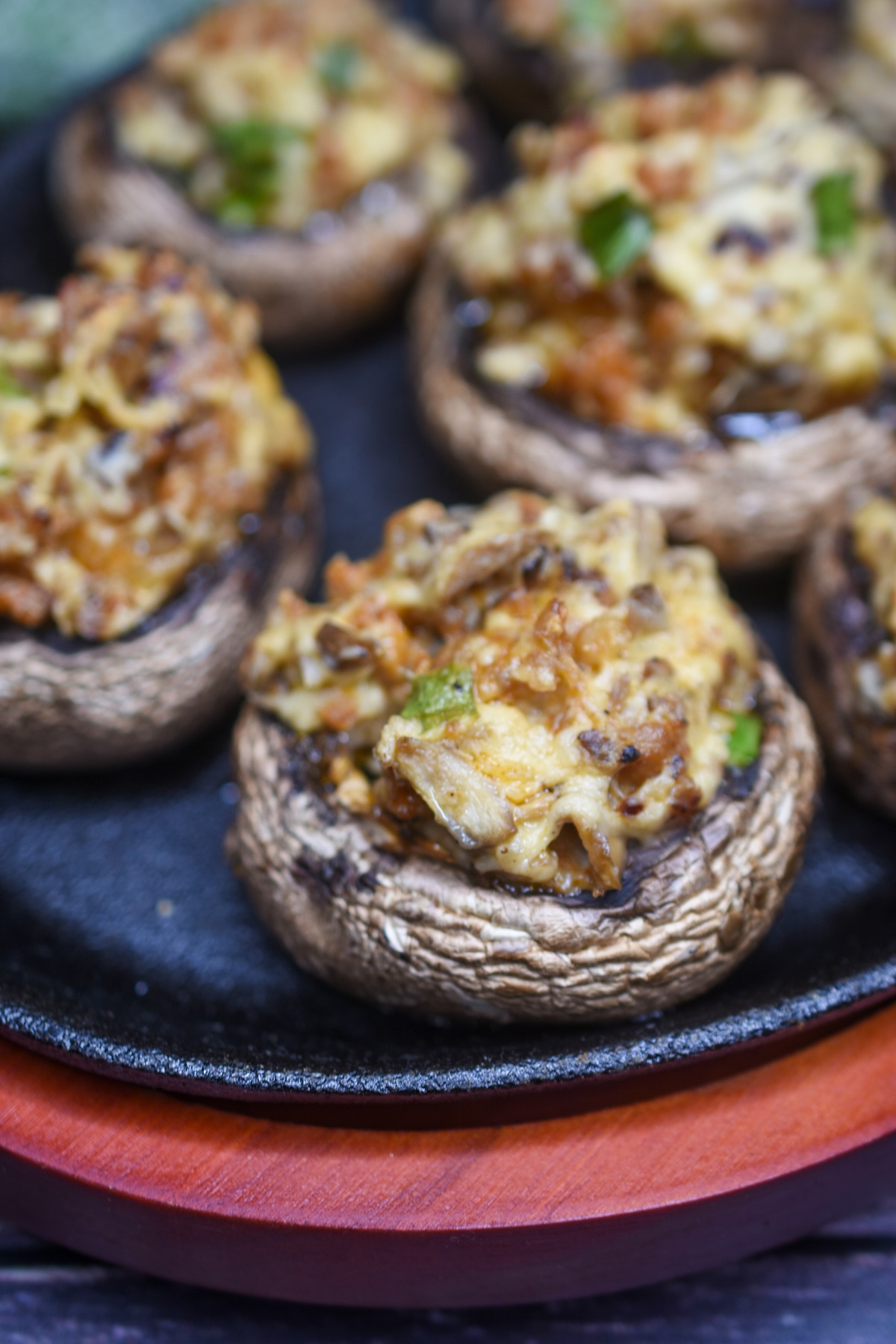 Raise your hand if you enjoy stuffed mushrooms!  
It seems to me that mushrooms stuffed with cheese, sausage, crab, lobster, pesto or whatever filling people dream up is something most people go crazy for when they see them at a party.
I make mushrooms all-the-time,  I stuff them, I sauté mushrooms for steaks and burgers and I grill portabella's.  I love to make mushroom recipes because my husband and family love them. I just don't want to eat them, lol.  It's a texture thing for me mostly.
I have been training myself the last couple of years to at least try them. Especially since I love foraging for morels, chicken of the woods, chanterelles etc.
Mushrooms were one of the first recipes I made out of my very first adult cookbook - The Good Housekeeping Illustrated Cookbook (circa 1980) which I still have today. It is literally falling apart yet I cherish dearly.  To me it is like my favorite old pair of jeans, childhood stuffed animal or a best childhood friends.  I will keep it forever!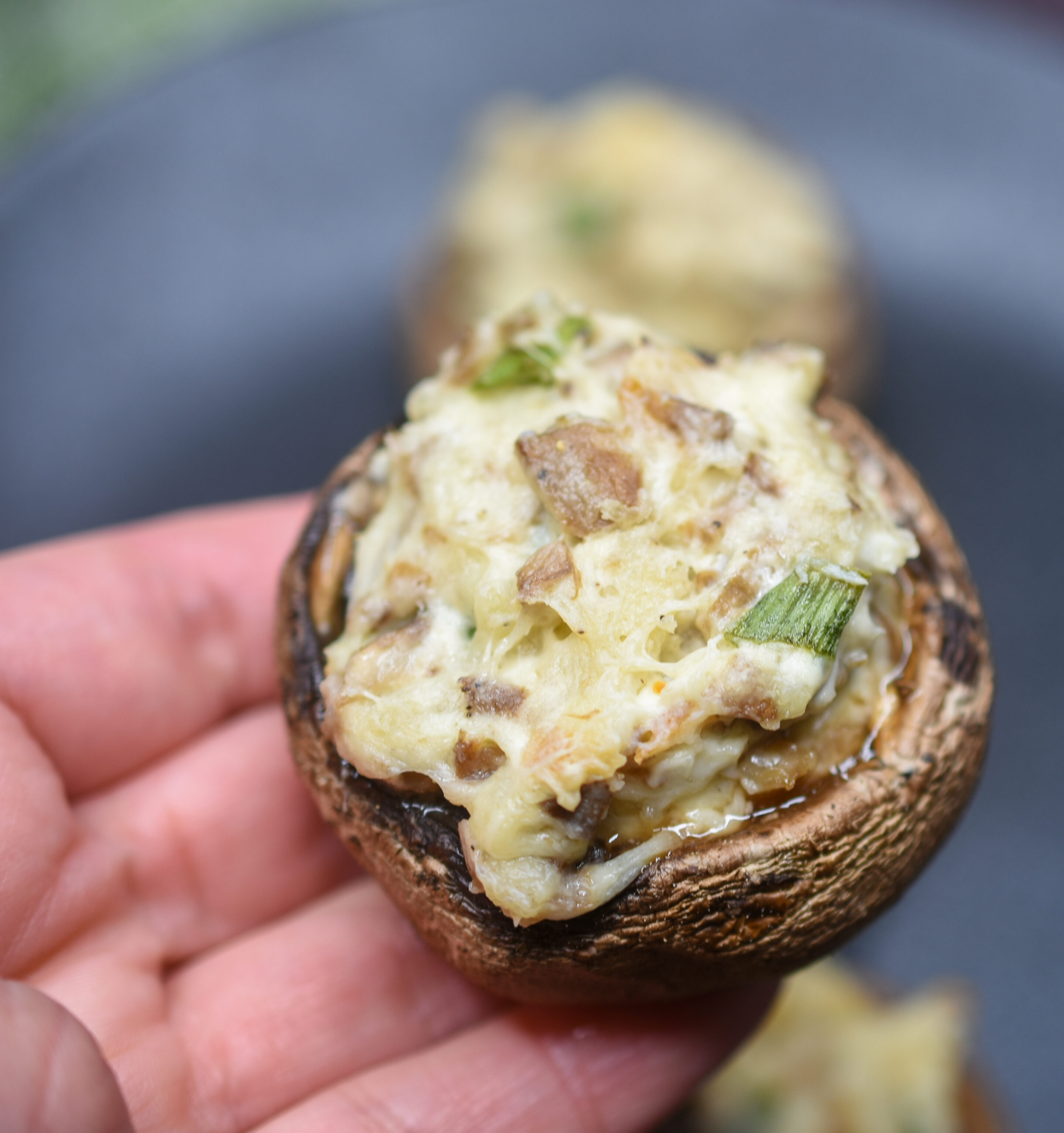 Why You Will Love This Stuffed Mushrooms Recipe
This is an easy recipe in my opinion and wherever I bring them people love them! I just bring them on a tray and bake them on the spot.
It is an easily adaptable recipe, make this stuffed mushroom recipe vegetarian or with the sausage. It works bot ways. Same goes for the shredded cheese, you can change it up.
I also love that you have a purpose for the mushroom stems, people really seem to enjoy them as a part of the filling and often THINK they are easting crab lol!
I have made this stuffed mushrooms with cream cheese recipe many times. Both with and without the sausage. It has nice flavor and is a great one or two bite appetizer offering.
When I make it without sausage, everyone things it is a crab stuffed mushroom! So funny! The texture comes from the steams which I simply chop up, sauté and add to the cheese mixture. See my Variation section below on how to adapt this to vegetarian stuffed mushrooms.
My husband absolutely adores mushrooms and he exclaims often both publicly and privately..."How do you do it?"  "You never even tasted mushrooms yet you have destroyed me from ever wanting to order them out - you make them so good!"
I always reply "it's out of love"!  I knew how much my dad, mom and Babci enjoyed them growing up and I wanted to make mushroom recipes for them as soon as I could.
My husband could eat mushrooms daily (one way or another) so I come up with a variety of ways to excite him on the mushroom front and always ask him "what does this taste like", and "what do you think of this", so in reality he is the real recipe maker when it comes to mushroom recipes!! But don't tell HIM that!!
Stuffed mushrooms specifically are a great party app!  They are easy to prepare ahead of time, travel well and are always (and I mean always) a hit!  Plus, for those that are gluten free it's perfect!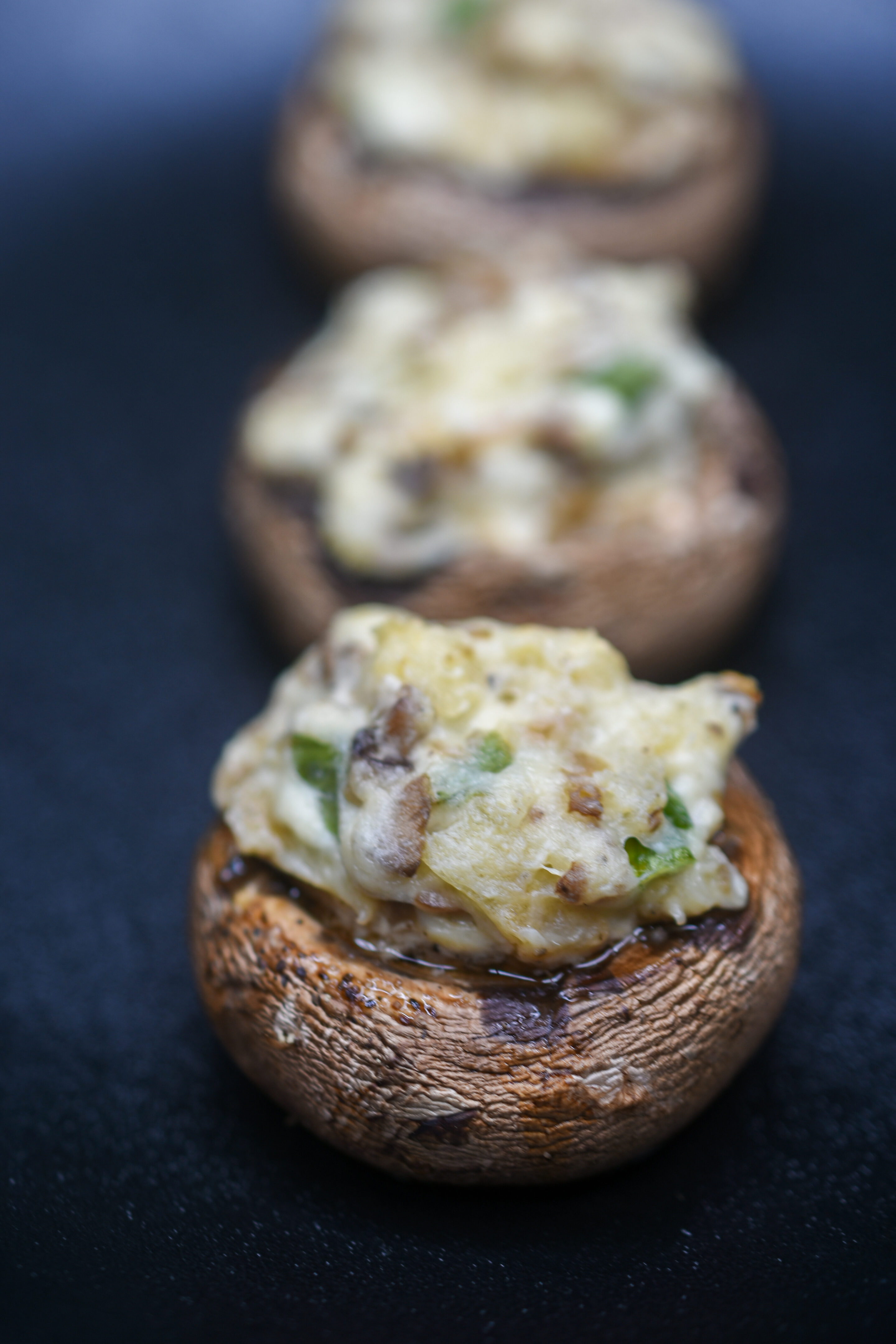 Ingredients
Mushrooms
Cream Cheese
Mozzarella Cheese
Red pepper flakes
Sausage
Black pepper
Variations
Swap up the type of sausage used. Such as hot Italian, sweet Italian, chorizo, etc.
Change the cheese from Mozzarella to Parmesan or Asiago or you favorite cheese that melts well.
Use baby or regular portabella mushrooms, crimini, or even shitake mushrooms instead of the recommended button mushroom.
Add in chopped herbs or scallions for color and flavor.
Make these as Vegetarian Stuffed Mushrooms by omitting the sausage. The mushroom caps themselves that you will chop up and add to the cream cheese mixture will fool people into thinking they are eating meat. I recommend chopping up an additional cup of whole mushrooms (caps and stems) to add to cheese mixture in place of the sausage. To make those more flavorful, sauté in a bit of butter with a big clove of minced garlic, salt and pepper before adding to the cheese mixture.
Tip
I like to brush the inside of each mushroom cap with a tiny bit of sherry or cooking sherry or even sake or white wine for a hit of acid and flavor.
While you can prepare these cream cheese stuffed mushrooms ahead of time, I find making the filling and setting it aside in a container then stuffing just before baking yields the best result. And of course these are meant to be eaten once you pull them from the oven.
Other mushroom recipes you will love
I hope you share these Stuffed Cream Cheese Mushrooms with or without the sausage!
-Colleen
Originally posted July, 2013. Updated May, 2023 with recipe card, photos, nutrition info, etc.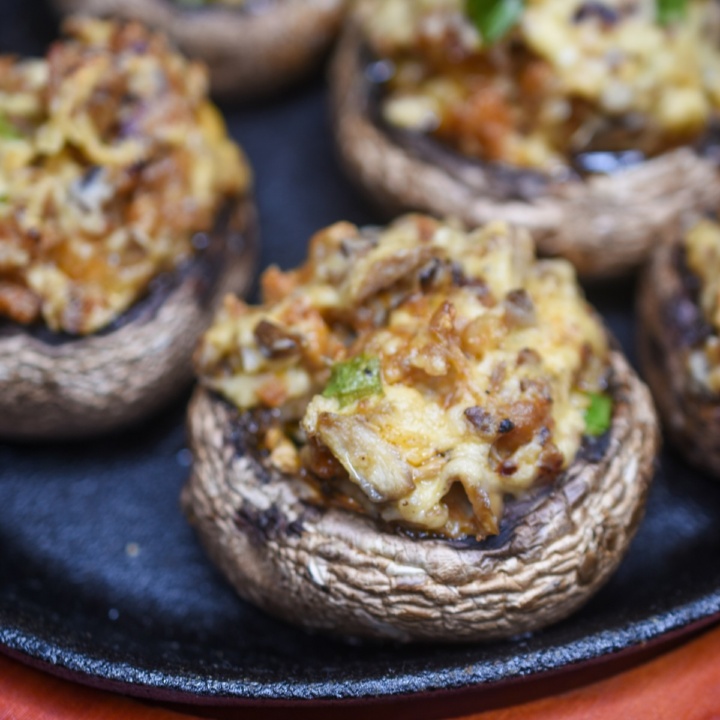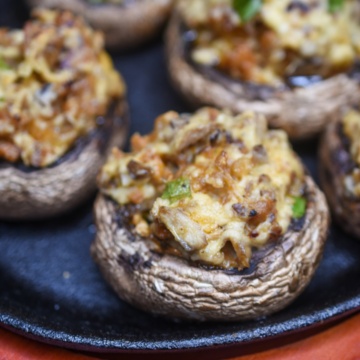 Mushrooms Stuffed with Cream Cheese
If you enjoy stuffed mushrooms, this recipe is our favorite! Mushrooms Stuffed with Cream Cheese recipe is easy and flavorful and it can be adapted to a vegetarian stuffed mushroom easily!
Ingredients
20

white/button mushrooms

Numbers of mushrooms depends on their cap size

1

TBS

olive oil

2

cloves

garlic, minced

1

pound

hot sausage, sweet sausage or chorizo

casing removed or loose

8

oz

cream cheese

room temperature

¾

cup

shredded mozzarella cheese or shredded Parmesan cheese

black pepper

red pepper flakes

sherry, cooking sherry, sake or dry white wine for bushing (optional)
Instructions
Clean your mushrooms and remove stems.

Slice just the very bottom of the woody/brittle end off of each mushroom stem then chop stems, set aside.

Heat your olive oil in a large sauté pan, add in your minced garlic and add your chopped mushroom stems in and sauté for 2 minutes, until wilted.

Remove mixture from pan and place in a large mixing bowl.

Sauté your sausage in the same pan, breaking it up till crumbly. Once cooked just about through (add in a little water or olive oil IF necessary) , scoop sausage out with slotted spoon (allowing excess grease to drip off, and add to mixing bowl with the mushroom stem mixture.

Cut your cream cheese into chunks and place the mixing bowl, with the hot sausage mixture and mix till combined

Add in your Parmesan cheese, pepper, and red pepper if using, toss until combined. Once the mixture is cool enough to handle, stuff each mushroom and place on a lightly oiled baking sheet. I also like to sprinkle salt and pepper on the baking sheet for a little flavor of the "top side" of the mushroom caps as they sit and bake. *Before stuffing, if you choose, brush inside of mushroom caps with a tiny bit of sherry, sake or dry white wine.

Either bake immediately or once cool, cover and refrigerate until ready to bake. Bake at 350 degrees for 20-25 minutes (depending on the size of your mushrooms) or until done to your liking..

Place on a serving dish and enjoy while hot.
Notes
Nutrition calculated by 6 servings. If serving as an appetizer, people may only take one or two so the calories will be much less. Same goes for if someone grabs a large stuffed mushroom or a small stuffed mushroom. No real way to calculate. 
Nutrition
Serving:
6
servings
Calories:
441
kcal
Carbohydrates:
5
g
Protein:
19
g
Fat:
39
g
Saturated Fat:
16
g
Polyunsaturated Fat:
4
g
Monounsaturated Fat:
15
g
Trans Fat:
0.2
g
Cholesterol:
104
mg
Sodium:
691
mg
Potassium:
464
mg
Fiber:
1
g
Sugar:
3
g
Vitamin A:
659
IU
Vitamin C:
2
mg
Calcium:
118
mg
Iron:
1
mg
Follow me on Tik Tok for 1 minute videos