"Wow...wow...that was a nice surprise." 
"Col, these are GOOD!  These Spicy Grilled Mushrooms are really good,  I wasn't expecting any heat and there it was, wow!"
This was the conversation my husband was having with himself the other night at the dinner table as he was downing forks full of mushrooms.
I had made a dinner that had nothing to do with BBQ but decided to throw the beautiful mushrooms I had picked up at our farmers market,  on the grill.  I am always changing up the way I make my husband mushrooms since, ya know...the man digs them so much. So tonight it was Spicy Grilled Mushrooms!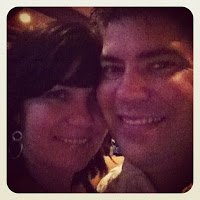 Sometimes I am such a nerd and get all excited over how I think he or my kids will get excited about something I made them that I know they like.  It's just another way I show my love I guess! For example, my 11 year old son loves and I mean loves Churros.  He gets them at school once a week when they have them for dessert.  I have often thought about making them and surprising him but hadn't yet.  Until the other night. Literally at 10 PM I quickly whipped up a batch for him and the buddies he had sleeping over after a day spent canoeing.  When I called them to the kitchen the look on my son's face was worth a million dollars, he was thrilled.  He came back downstairs 2 more times to get another churro then gave me a great big hug! So at the end of the day, I am not sure who was more happy and satisfied...him or me.  THAT made me so happy!
Sometimes we go into something big or small all for someone else and WE end up with the moment, memory or triumph...you know what I mean?
I didn't plan on taking a picture of these and sharing them, however after his reaction I thought some of you just might want to surprise the spice loving, mushroom loving man or woman in your life!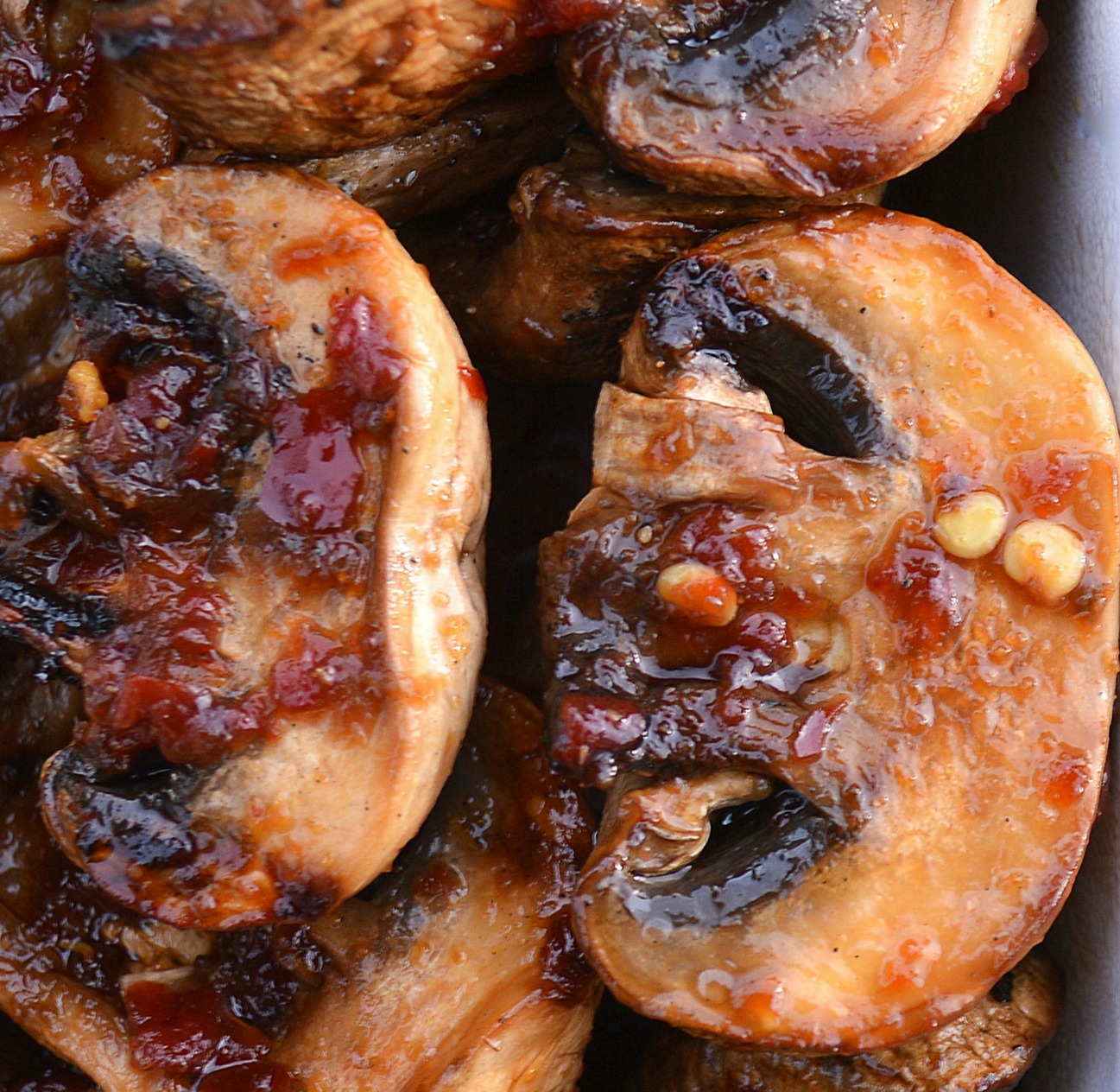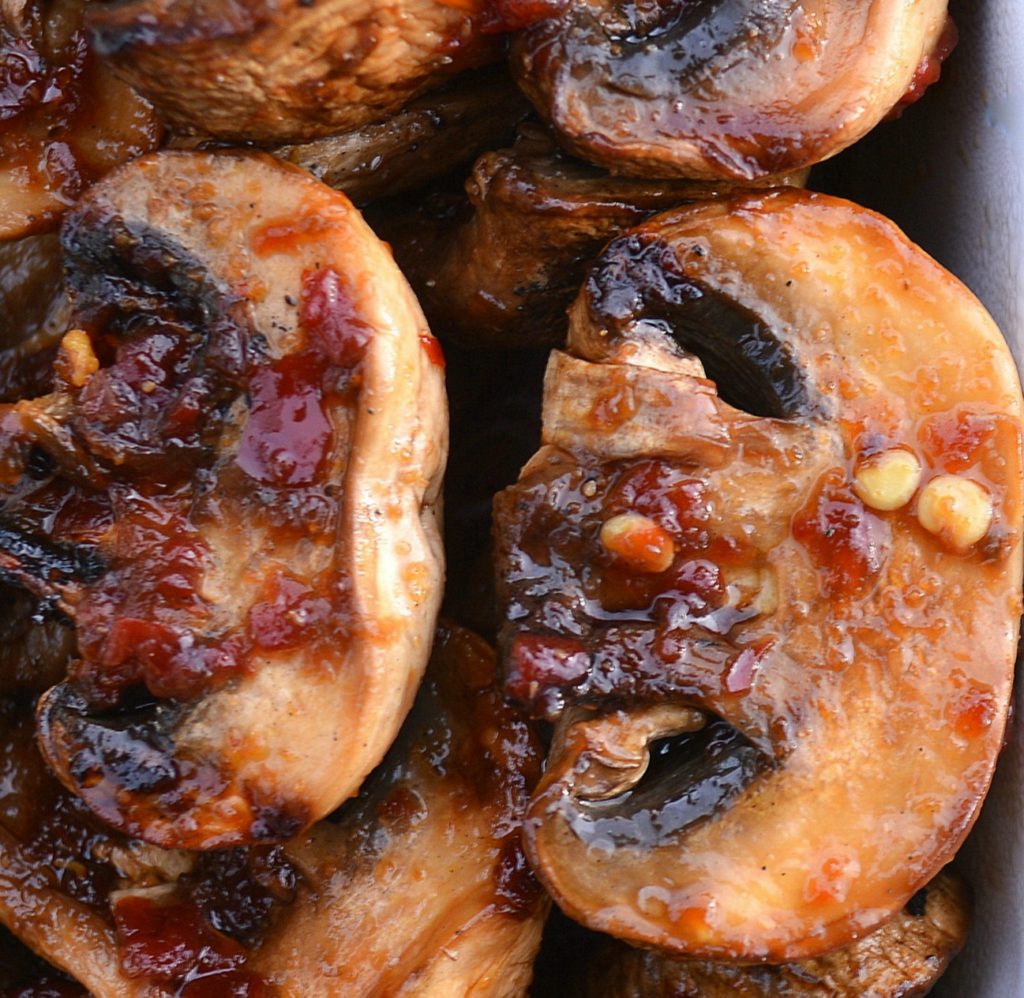 15-20 large mushrooms, cleaned and halved (I used large white button mushrooms)
½ cup soy sauce
2 TBS Worcestershire sauce
1 TBS chili with garlic sauce
In a medium bowl, whisk together the soy sauce, Worcestershire and the chili with garlic sauce.  20 minutes prior to grill time, add your cleaned mushrooms to your marinade and toss until all are coated.  Toss a few more times during the 20 minute marinade.  Heat your grill to high, skewer your mushrooms and cook for about 4-5 minutes per side or until cooked to your preferred doneness which would depend on the size of your mushrooms.
Optional but yummy: Bring your remaining marinade to a quick boil and spoon over your mushrooms.
Colleen's Notes:  Chili with Garlic sauce is one of my favorite ingredients in so many dishes, I pick that over Sriracha any day - they levels of flavor and what you can do with it are amazing!.  If you do not have access to it you can make your own (here is my friend Winnie's recipe for Chili with Garlic Sauce) OR you can just add in place of that 1 TBS olive oil, 1 teaspoon red pepper flakes and 1 clove of minced garlic to the marinade.  Let the olive oil, red pepper flakes and minced garlic steep together for 20 minutes for best flavor before you use it.
I am sure this marinade would liven up just about any kind of mushroom you would want to grill.  If your mushrooms are tiny, leave them whole.  Let me know what you do with it AND let me know if someone special loved this as much as my man did 🙂
Enjoy!