These Roasted Honey Mustard Mushrooms could make a mushroom lover out of almost anyone!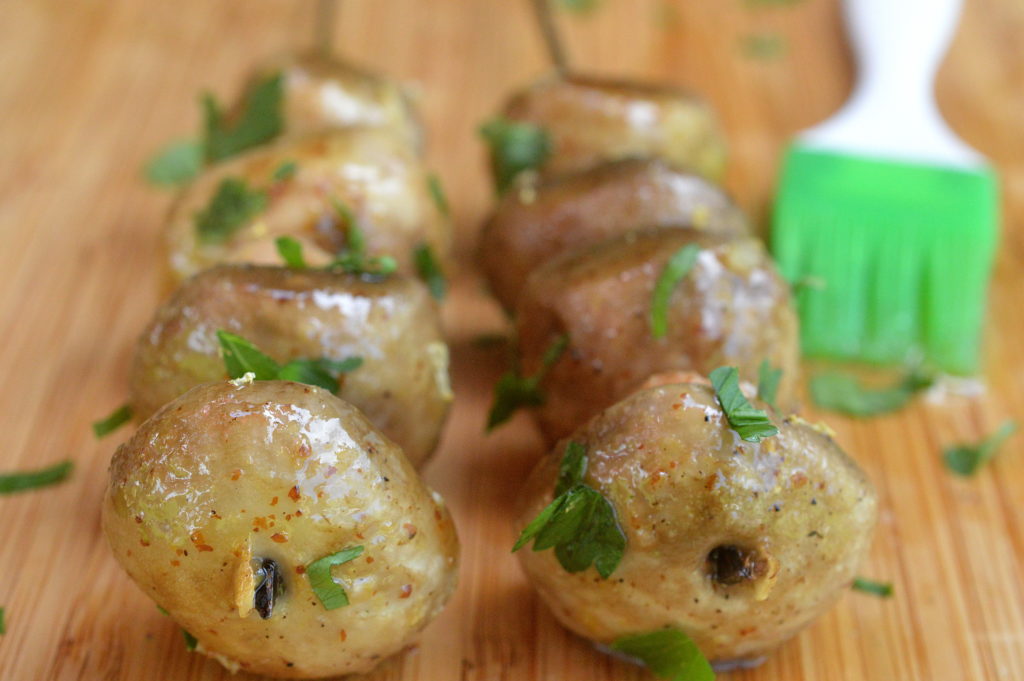 Once again, I am partnering with Produce for Kids and Acme Markets this year to help spread awareness about their campaign with Feeding America. Through partnerships with Produce for Kids, ACME and select fruit and vegetable companies have raised more than $280,000 to benefit children's charities. I really enjoy when I can use my platform to help spread the word about causes such as this.
The annual Produce for Kids Campaign is taking place at all ACME Markets now through June 2. Be on the lookout out for the Produce for Kids logo near participating fresh produce to find out how you can make a difference! Last year, ACME Markets & Produce for Kids donated over 170,000 meals to Feeding America! Find out how easy it is to help end hunger in America.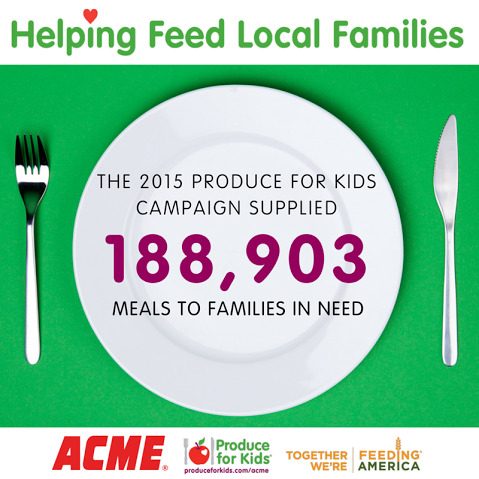 The Produce for Kids Campaign will be supported by more than 32 participating produce suppliers, representing nearly every major category of fresh produce. Grocery shoppers are encouraged to purchase more nutritious fruits and vegetables and in exchange, suppliers will make a donation to Feeding America and other community organizations. Every time you purchase one of the Brands below through June 2, 2016...You help feed a local family.
Participating Brands include:
Earthbound Farm®
Eat Smart® Fresh Cut Vegetables
Fresh Express® Packaged Salads
Kings River Packing California Citrus
Maries® Dressings
RealSweet® Vidalia® Onions
Setton Farms® Pistachios
To-¬Jo Mushrooms
Wholly Guacamole®
Avocados from Mexico Mexican Hass Avocados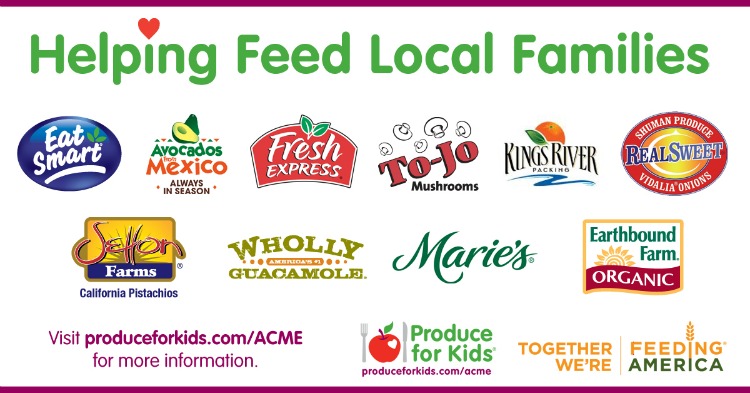 Local food banks that will benefit include:
Community Foodbank of New Jersey
Philabundance
The FoodBank of Monmouth and Ocean Counties, Inc.
Maryland Food Bank
Food Bank for Westchester
Regional Food Bank of Northeastern New York
Connecticut Food Bank
Food Bank of Delaware
Food Bank of South Jersey
For my recipe, I decided to go with mushrooms. Not all kids (or adults for that matter) give mushrooms a chance. Mushrooms are so versatile and can be flavored in a variety of ways. My husband counts mushrooms as one of his top 5 favorite foods. My 12 year old niece is also crazy for them. My 11 year old daughter will eat them in soups and my 14 year old son...well he's not there yet, lol!
I decided to give the mushrooms a flavor profile of honey mustard and decided to roast them vs grill them to keep them moist the way mu kids like them. I actually haven't seen them this way before and thought...Hmmm, kids love honey mustard...wonder if they'd enjoy mushrooms that way. I'd say these Roasted Honey Mustard Mushrooms were a hit, they were gone pretty quick!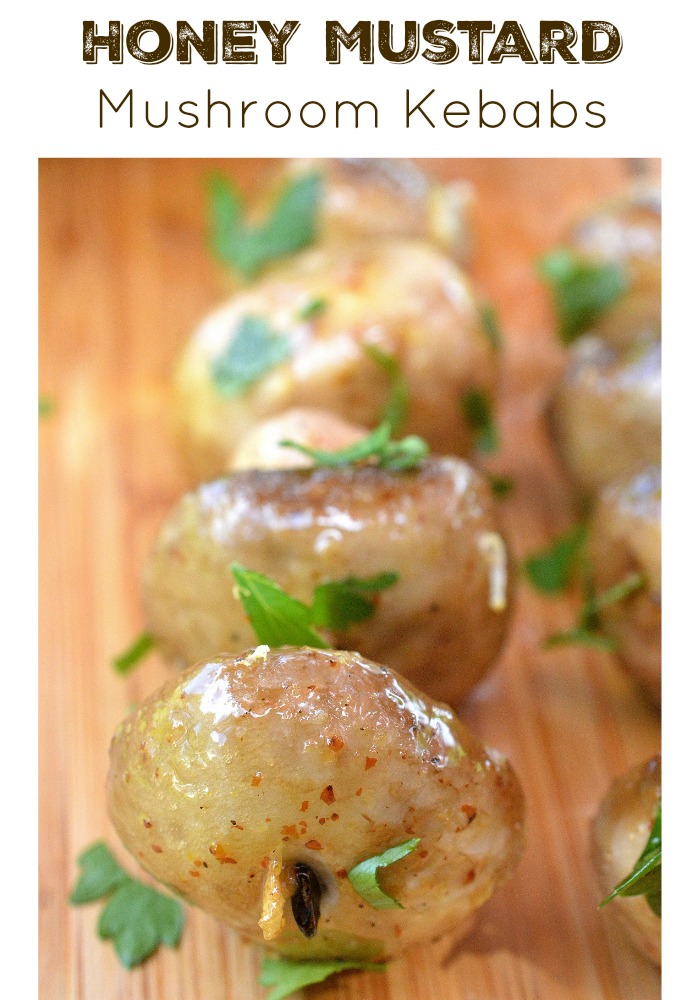 I made them 2 ways, one batch was with a honey mustard garlic sauce, the other I used Vidalia onions. Both were good. My husband said he really couldn't tell the difference. It just depends on what you want to go with or if you want to use both garlic and onion.
I also served the mushrooms on a bed of spinach. My whole household loves spinach and happily I can always count on Earthbound Farm Organic for delicious, clean spinach options.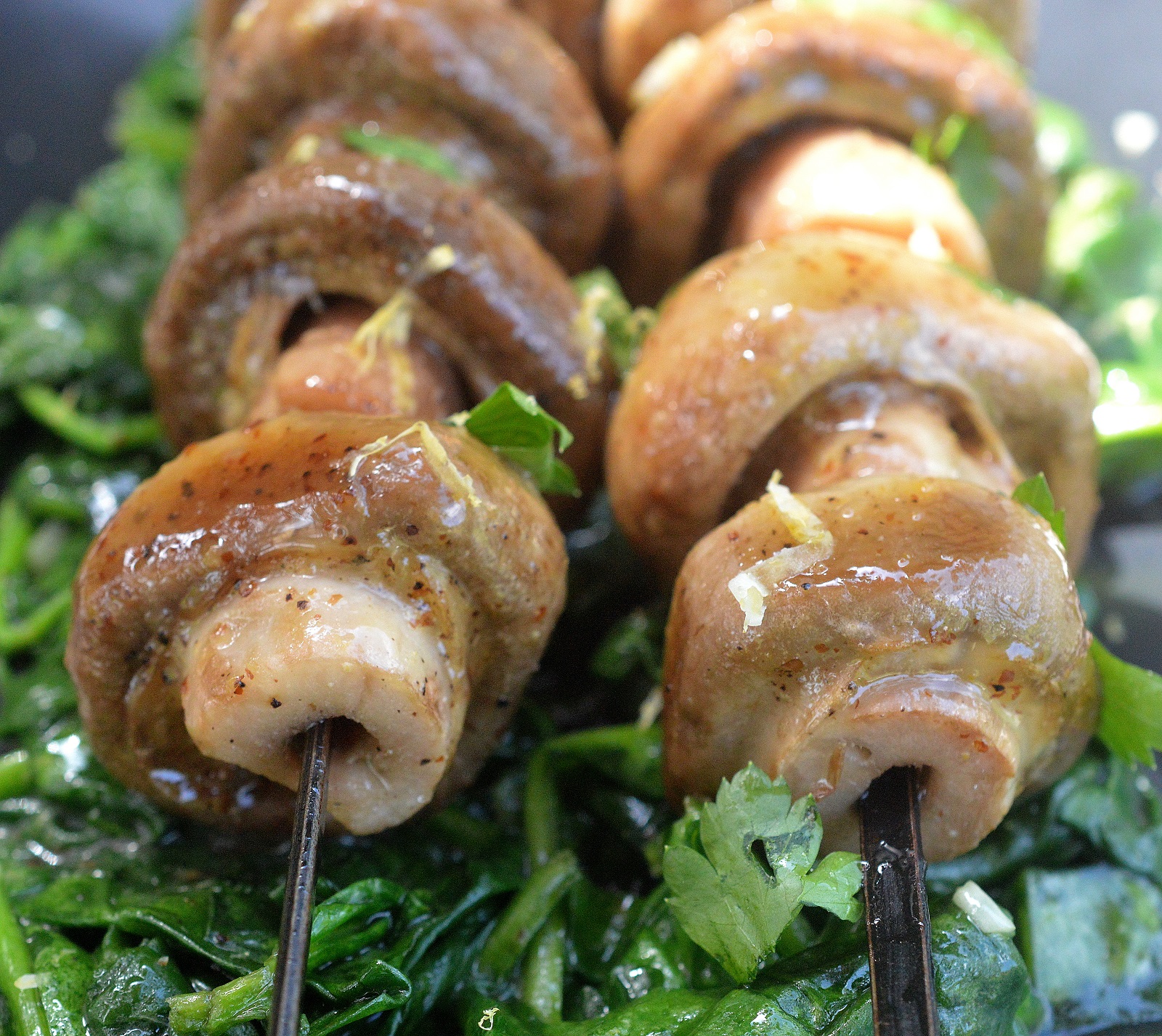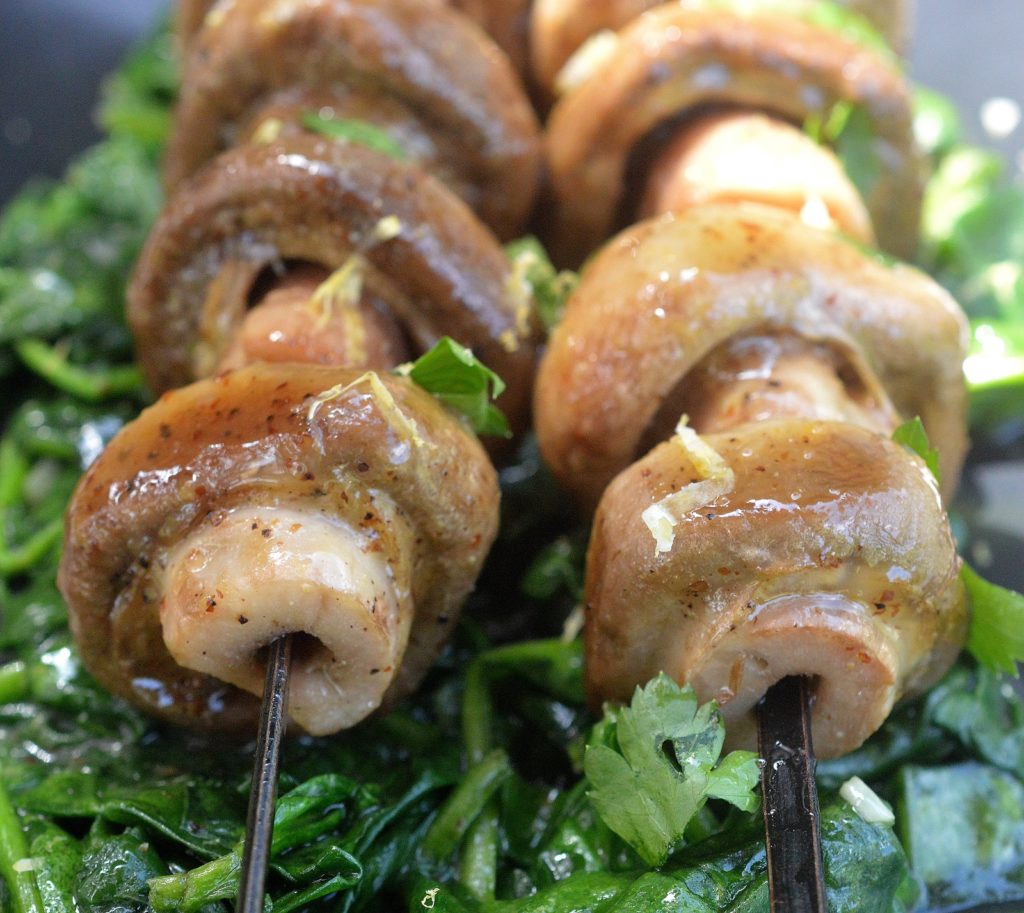 For the mushrooms, I used To-Jo Mushrooms which are a Philadelphia area staple. I've actually met the brothers, (Tony and Joe) that now run the family business Kennett Square, Pennsylvania, and I have to say that when I heard them speak a few years ago, I was enthralled! The whole process from beginning to end is just so interesting and the brothers were so passionate about what they do. They work those mushrooms every-single-day-of-the-year!
Fun Fact: Did you know that Kennett Square, PA (an hour north of Philly) is the "Mushroom Capital of the World"??
Serve these Roasted Honey Mustard Mushrooms over sautéed spinach or alone as an accompaniment to your favorite meat or fish. The kids may just fall for them...My husband sure did! He kept saying how delicious they were. I roasted them on skewers, because...let's face it, food on sticks is fun! You can skewer them or roast them loose, your call.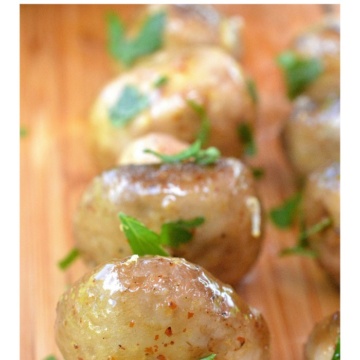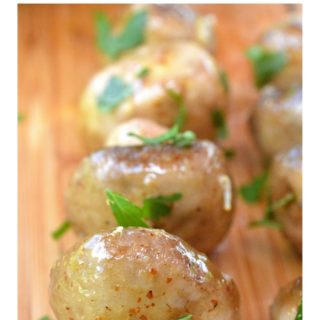 Honey Mustard Mushroom Kebabs
Ingredients
To-Jo® White Mushrooms

2

cloves

garlic

minced

2

TBS

grapeseed or olive oil

¼

cup

grainy Dijon mustard

¼

cup

honey

A squeeze of fresh lemon juice

Salt and pepper

Sauteed Spinach

optional
Instructions
Clean and trim your mushrooms.

Preheat your oven to 400 degrees

Oil metal or wood skewers* and then thread on the mushrooms.

Place them onto a lightly oiled baking sheet.

In a small saute pan, saute your garlic just until fragrant (1-2 minutes) over medium-high heat.

Add in the mustard, honey and lemon. Stir to combine. Season with salt & pepper.

Once the mixture comes to a vigorous boil, remove from heat and set aside.

Brush mushrooms with the Honey Mustard Glaze and bake the mushrooms 15-20 minutes or until done to your liking.

Halfway through, flip the skewers and brush them once again with the glaze.

Once done, brush with the glaze once again and serve.

Cook time will vary by size of mushrooms used.
Notes
I also made these using Real Sweet® Vidalia® Onions in place of the garlic. My family enjoyed it both ways. You choose which you will like. If using onions, simply saute them in a bit of oil or cutter until translucent and season them with salt and pepper. Follow the recipe from there.
To make Sauteed Spinach, place 3 TBS oil in a pot over med-high heat, saute 2 cloves garlic for 1 minute. Add in the fresh spinach, toss constantly until it wilts. Season with salt & pepper and enjoy! I actually used Earthbound Farm® Spicy Spinach and it was really good, I hadn't had the spice variety previously, my daughter (11) loved it!
*If using wood skewers, first soak them in water.
Follow me on Tik Tok for 1 minute videos