Rice is one of the most consumed foods in the world and the variety of preparations is almost endless. Many enjoy a combination of rice and vegetables but if you want to up the flavor Roasted Vegetable Rice is something you want to try.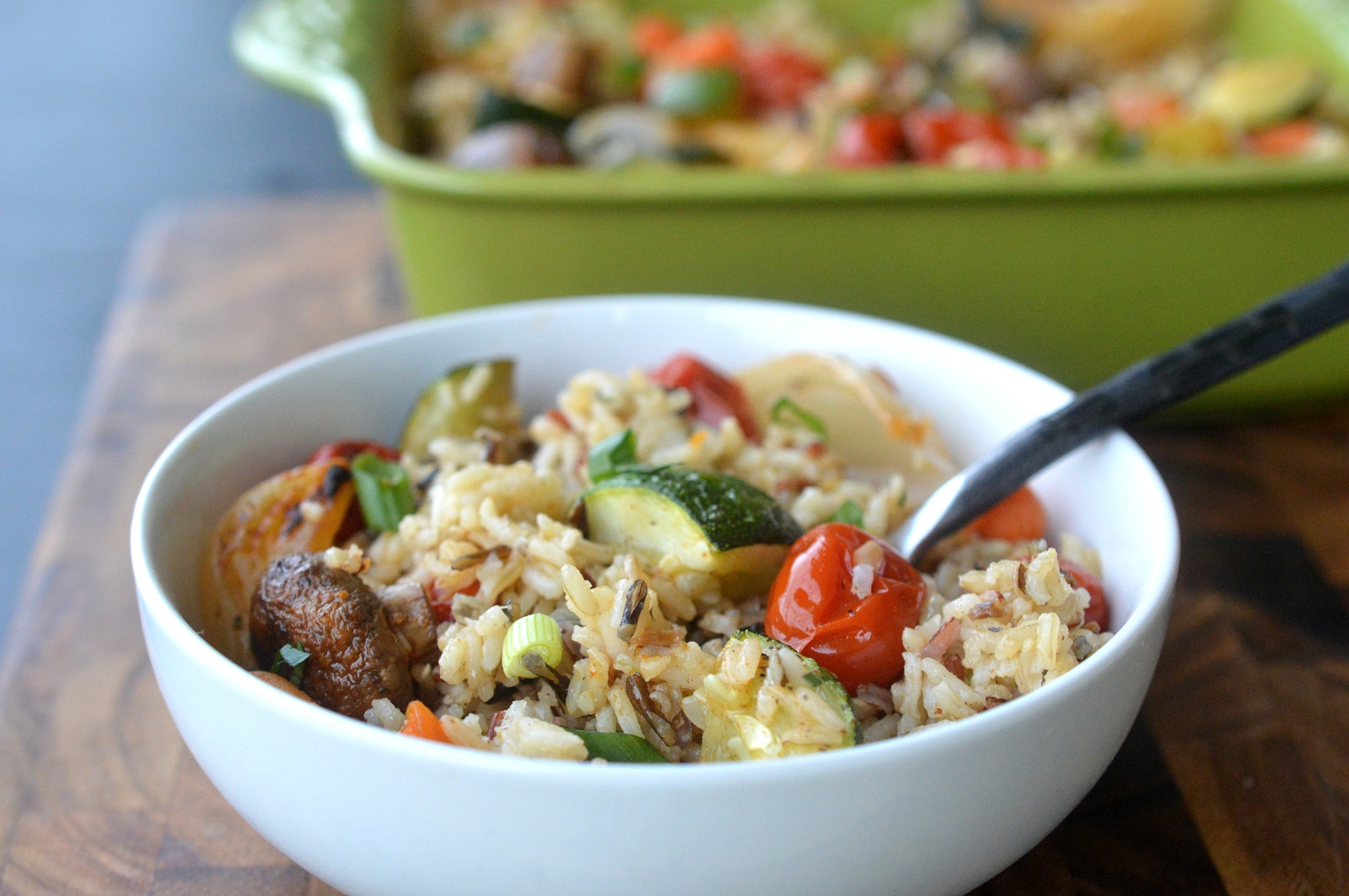 Today's post is sponsored by RiceSelect®, who is serious about growing, packaging and selling the world's best rice. All thoughts and opinions contained within the post are my own.
Combining vegetables with rice is good however taking the time to roast your vegetables first adds flavor, texture, and depth to the dish, and choosing high-quality rice is a game-changer! Roasted Vegetable Rice can stand on its own as a vegetarian entree or can be used as a vehicle for your favorite meats like pork tenderloin, roasted chicken, meat roast or various kinds of seafood.
Rice is one of those foods that is enjoyed all-year-long. The beauty of this Roasted Vegetable Rice Dish is that you can easily adapt it and use whichever vegetables happen to be in season or that you enjoy the most. Roasting vegetables can also turn out of season or so-so veggies into flavor bombs.
Today, I want to talk about the quality, taste, and texture of  RiceSelect® and the non-GMO Project Certified varieties they carry. Did you know that RiceSelect is grown in the USA and that all of RiceSelect products are the real thing? They are natural and clean…Free of preservatives and chemicals.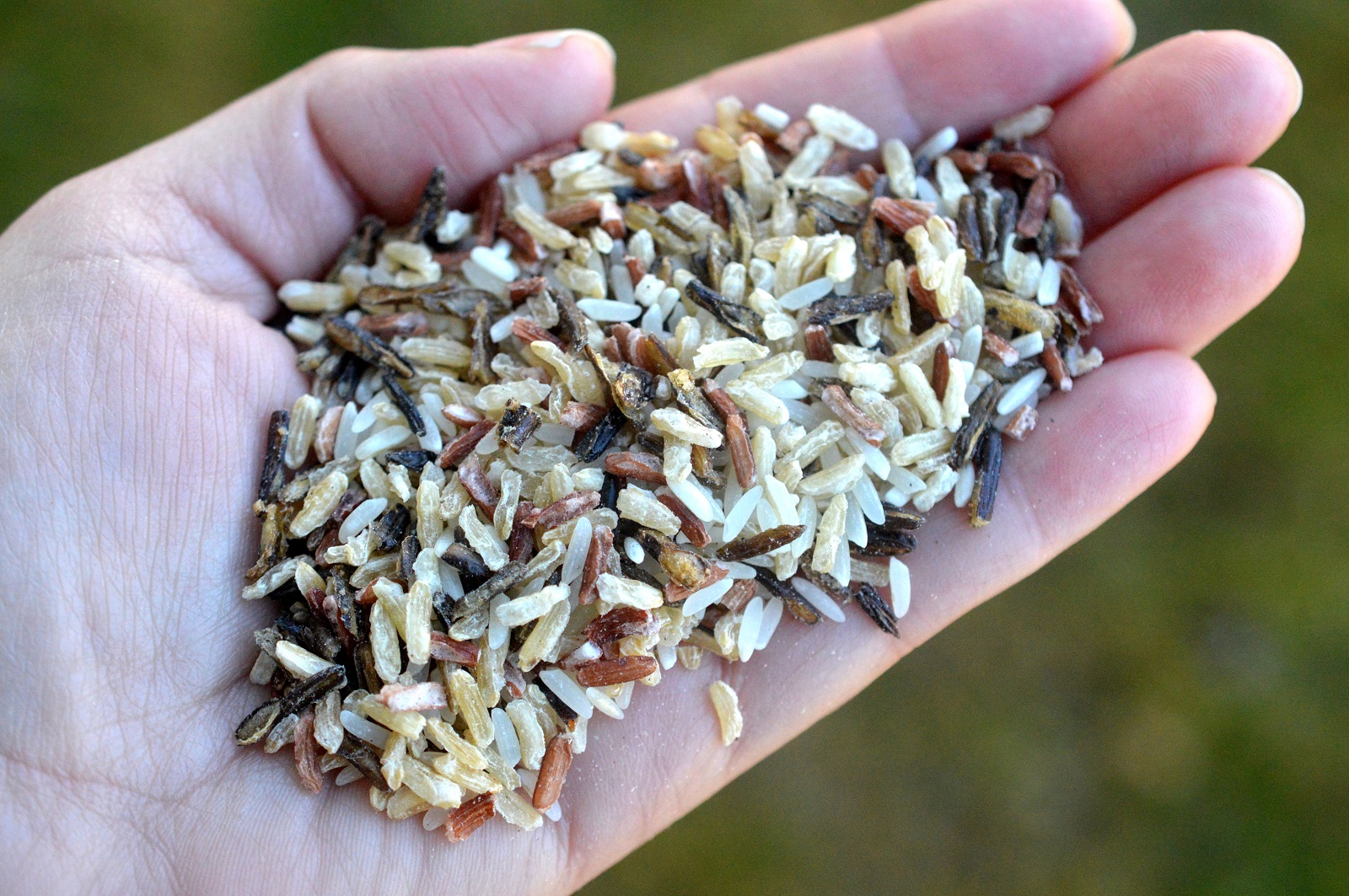 The attention to detail that goes into creating RiceSelect, from grain to packaging, yields some of the finest rice. Their packaging is even BPA-Free and recyclable…winner!! It's clear so you can see the quality and resealable
You can see the difference…You can taste the difference!
For this recipe of Roasted Vegetable Rice,  I chose the RiceSelect Royal Blend which is a combination of Texmati, White, Brown and Red Rice. The robust taste, texture, and flavors paired perfectly with the roasted vegetables, which I happened to serve with a seared and roasted pork tenderloin lightly flavored with a lemon-garlic sauce. The combination of the rice blend and the juicy roasted vegetables was satisfying and memorable. Plus its a meatless meal, so you can feel good about feeding your family.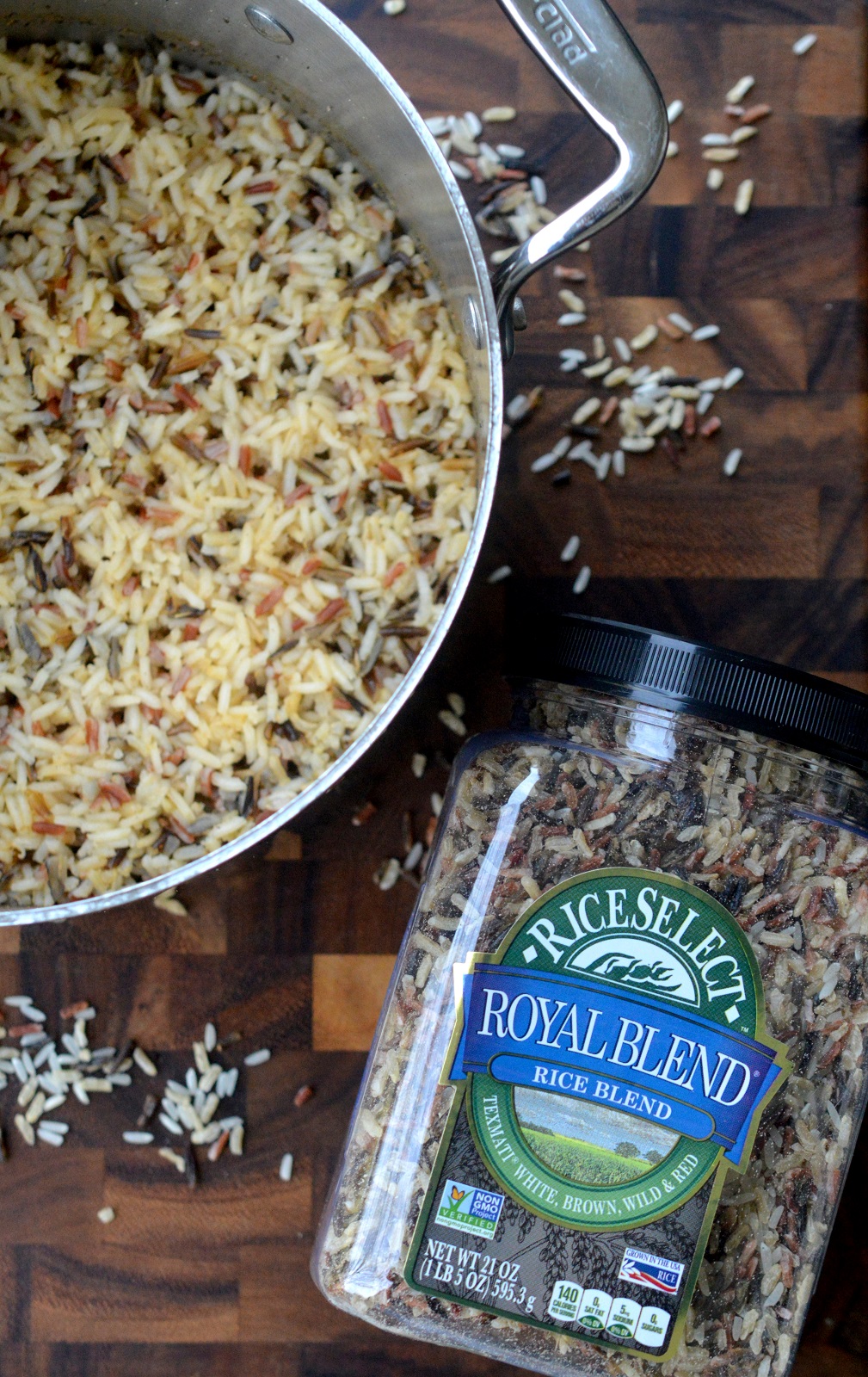 All RiceSelect products are NON-GMO Verified and Star-K kosher certified, they are recognized worldwide for their outstanding taste, texture and cooking qualities. Varieties include Texmati®, Jasmati®, Basmati®, Risotto, Sushi and Royal Blend® and various blends like the one I used in today's recipe. In addition to rice, RiceSelect makes quinoa and award-winning pasta products, including RiceSelect® Couscous and Orzo.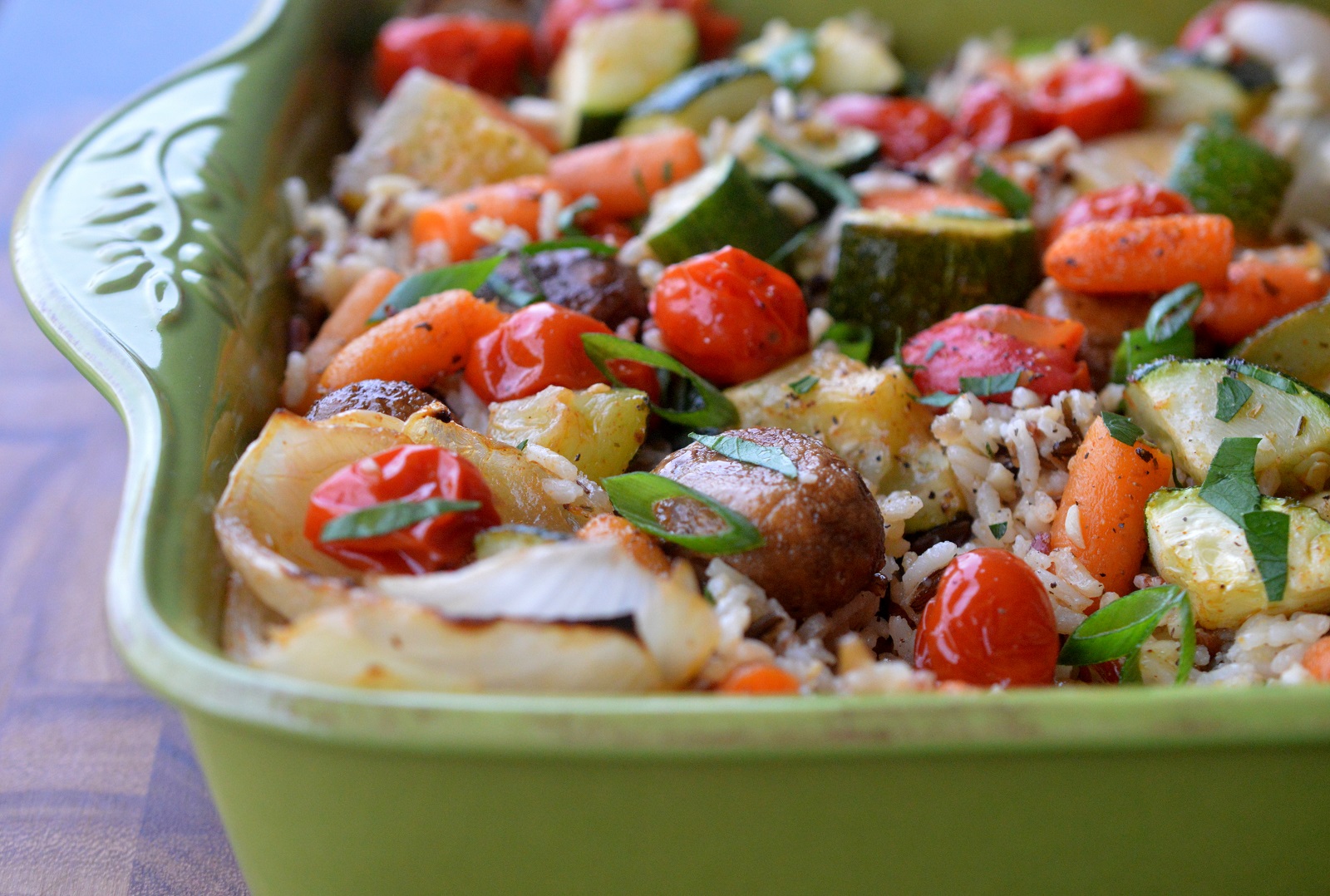 What's The Best Way To Cook Rice?
Cooking rice really comes down to how you prefer to cook it. You can choose to use water as the cooking liquid, vegetable, seafood or meat stock or a combination of fruit juice and water. The beauty of rice is that it can be cooked in a variety of ways:
Use a rice cooker- simply set it up, and walk away and a little while later you have perfectly cooked rice!
Use the stove-top method and cook your rice per the packaging instructions in a pot.
You can even cook rice in the oven, you just need to use a boiling hot liquid as you start to cook. I have done this with success and cooked the vegetables and meat atop the rice which I have to say adds some fantastic flavor as the juices from each trickle down into the rice.
How Do I Roast Vegetables?
Roasting vegetables is easy! All you need is a sheet pan and an oven. Simply toss your chosen vegetables in oil and seasoning (or marinate them as you wish) and bake in a 400-degree oven, tossing them occasionally, until done to your liking. Depending on what vegetables you choose, you may wish to add them in various stages throughout the roasting process. For example; tomatoes will cook much faster than beets.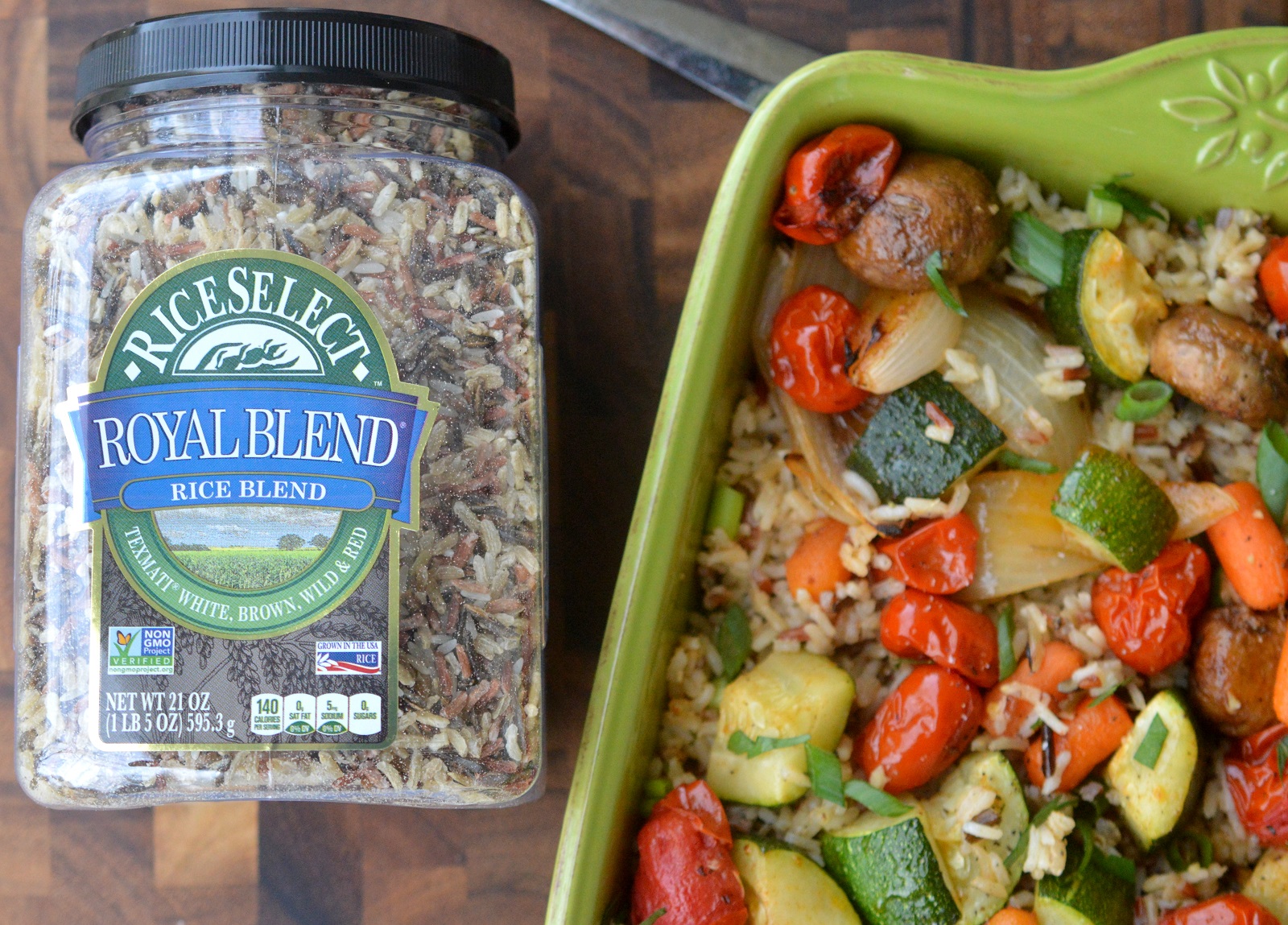 What Can I Pair Roasted Vegetable Rice With?
You can enjoy this recipe for Roasted Vegetable Rice on its own as a meatless entree or top it with any roasted or grilled meat like pork tenderloin, whole fillet, whole chicken or chicken sections, meat kebabs, or a variety of seafood.
I hope you try out this recipe for Roasted Vegetable Rice with the way I wrote it or with the vegetables you enjoy the most! I'd love to see your take on it. Tag me on Instagram #soufflebombay so I can share it with my followers.
Visit and follow RiceSelect on Facebook, Instagram & Twitter for exciting recipe ideas, news, and special offers.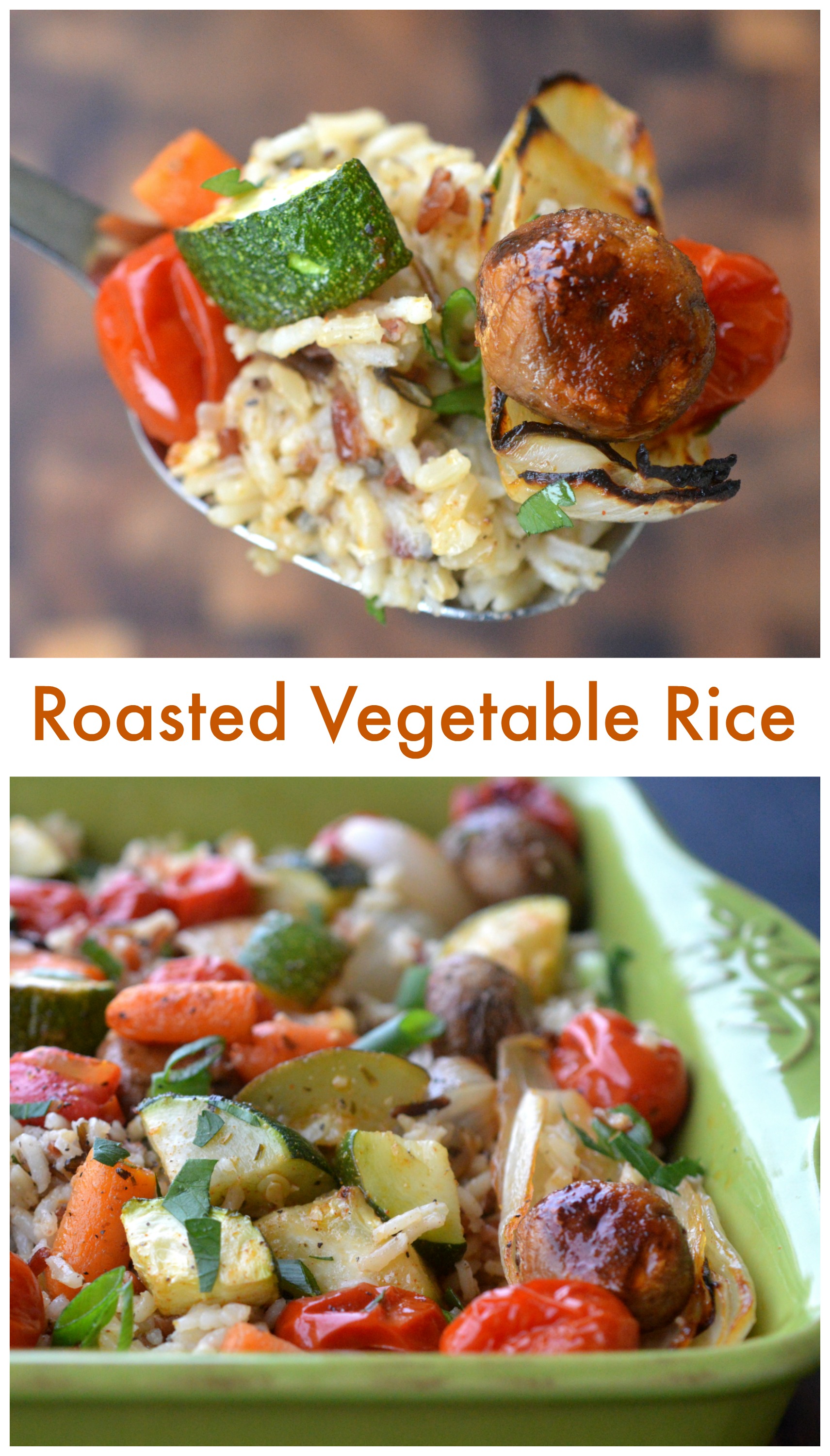 Enjoy!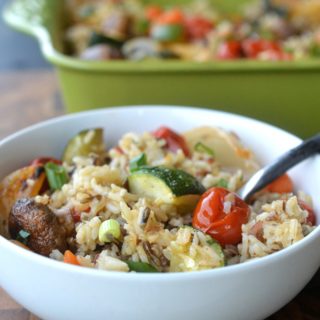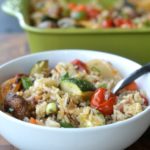 Print Recipe
Roasted Vegetable Rice
Roasted VEgetable Rice makes a great side dish or it is robust enough to be enjoyed as the main course.
Ingredients
4

cloves

garlic minced

1/4

cup

grapeseed or olive oil

Kosher salt & pepper

Vegetables such as zucchini

Vidalia or red onion, carrots, mushrooms, asparagus, peppers, tomatoes, etc.

Rice

cooked to package directions...use vegetable broth in place of water
Instructions
Combine oil, garlic, salt, and pepper and allow it to sit 30 minutes. If you have a muddler, muddle the garlic a bit to impart flavor quicker.

Preheat oven to 400 degrees.

Prep your chosen vegetables, cutting each type of vegetable in similar sizes to allow for even cooking (leave mushrooms and tomatoes whole if using).

You want to time the vegetables adding those that cook quicker, later.

Carrots 30 minutes

Onions 25-30 minutes

Zucchini 20 minutes

Peppers 20 minutes

Asparagus depending on thickness 15-20 minutes

Grape tomatoes 15 minutes

Add those that take longer to cook first.

Be sure to allow space between vegetables, allowing them to roast instead of steam (use two baking sheets if necessary)

Toss vegetables as you add them with just a bit of the oil and season with additional salt and pepper.

Reserve at least 1 TBS of the seasoned oil to use on the rice.

You can also sprinkle with paprika, onion powder, and garlic powder if you wish as well.

While vegetable roast, prepare rice according to package directions (using vegetable broth in place of the water).

Once rice is finished cooking, toss it with 1 TBS of the seasoned oil (or more if it's left), then place the roasted vegetables over-top of the rice. Pour any pan juices over the rice for extra flavor.
Notes
I gave no real measurements for how much rice or vegetables since you can make this for one or 10, it's up to you.
Just back into how many people you want it to serve by how much rice you wish to make.
The garlic oil is also delicious on meats you want to roast, especially beef. Just rub the meat with the seasoned oil then salt and pepper it well.