Grilled Chili Lime Chicken Skewers make for a quick and easy weeknight meal yet are delicious enough and pretty enough (in my opinion) to serve for a weekend gathering.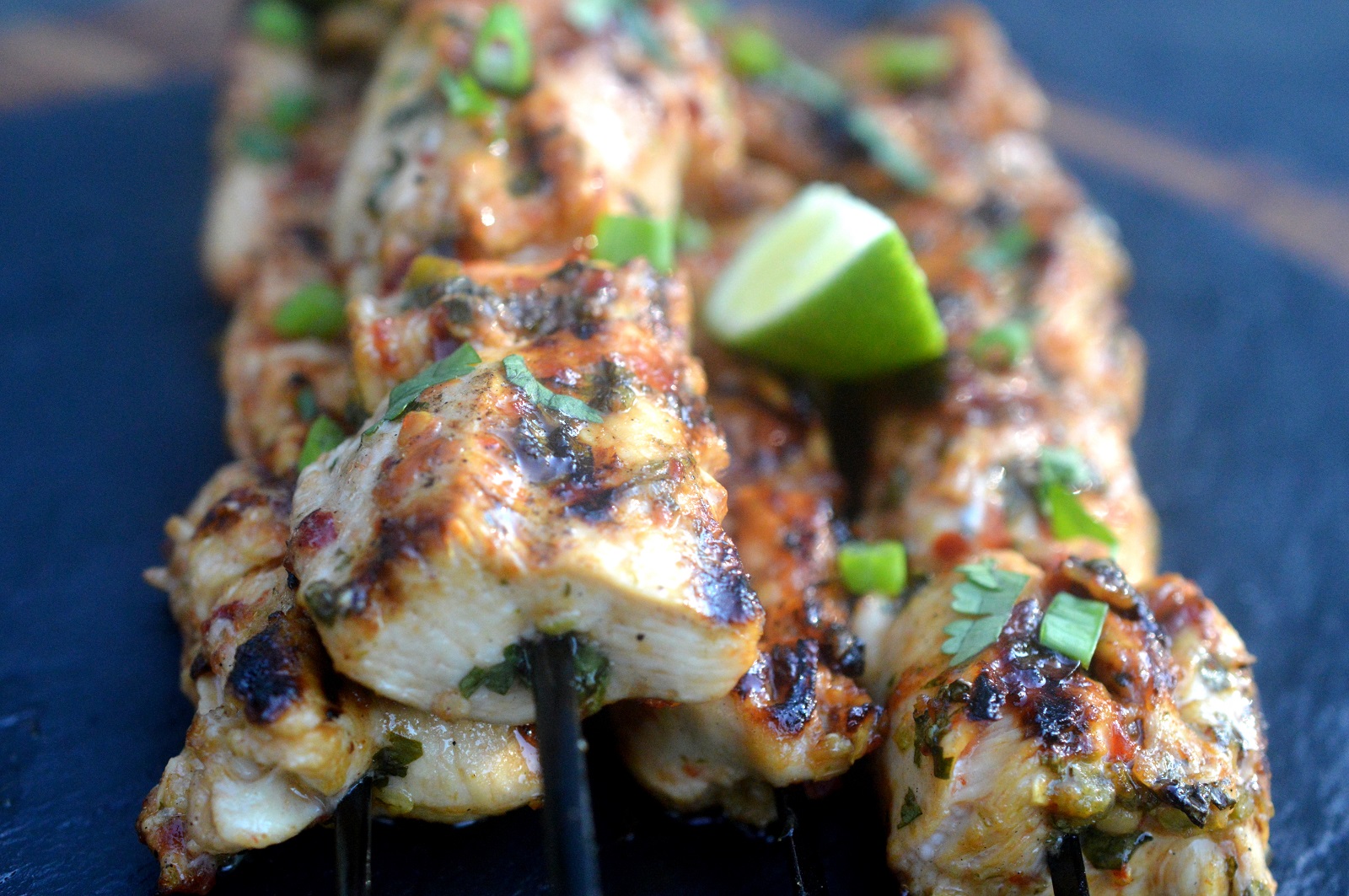 Seriously, who doesn't love chicken?? It's so versatile. Served hot or cold, chicken skewers can take on any flavor profile you can dream up.
Recipes for grilled chicken skewers just scream of summer and bonus they are so simple to make and quick to cook!
Plus these chicken skewers are great for outdoor entertaining. You can make a lot for a reasonable price and then simply serve them with grilled vegetables over rice on styled up on a huge platter. The chicken skewers are both gluten-free, nut-free and dairy-free so that makes things easy when it comes to food allergy issues.
Last week I had a conversation with someone who said if they could only have one protein the rest of their life it would be chicken…I was like really? Chicken? It's not what would have instantly popped in my mind BUT she made a great case for it stating just how versatile it is, and how hard it would be to get bored with it. I get it!
You can make your Grilled Chili Lime Chicken Skewers as mild or as spicy as you like.
The great thing about this recipe is that it doesn't take much to prepare it and it cooks up quick. Leftovers can be enjoyed cold or reheated. I like to make chicken salad from the leftovers. It's so yummy to make chicken salad from various leftover chicken flavor profiles like BBQ, spicy, Cajun, etc. Each type lends an interesting twist standard chicken salad. I always make extra chicken just for that reason!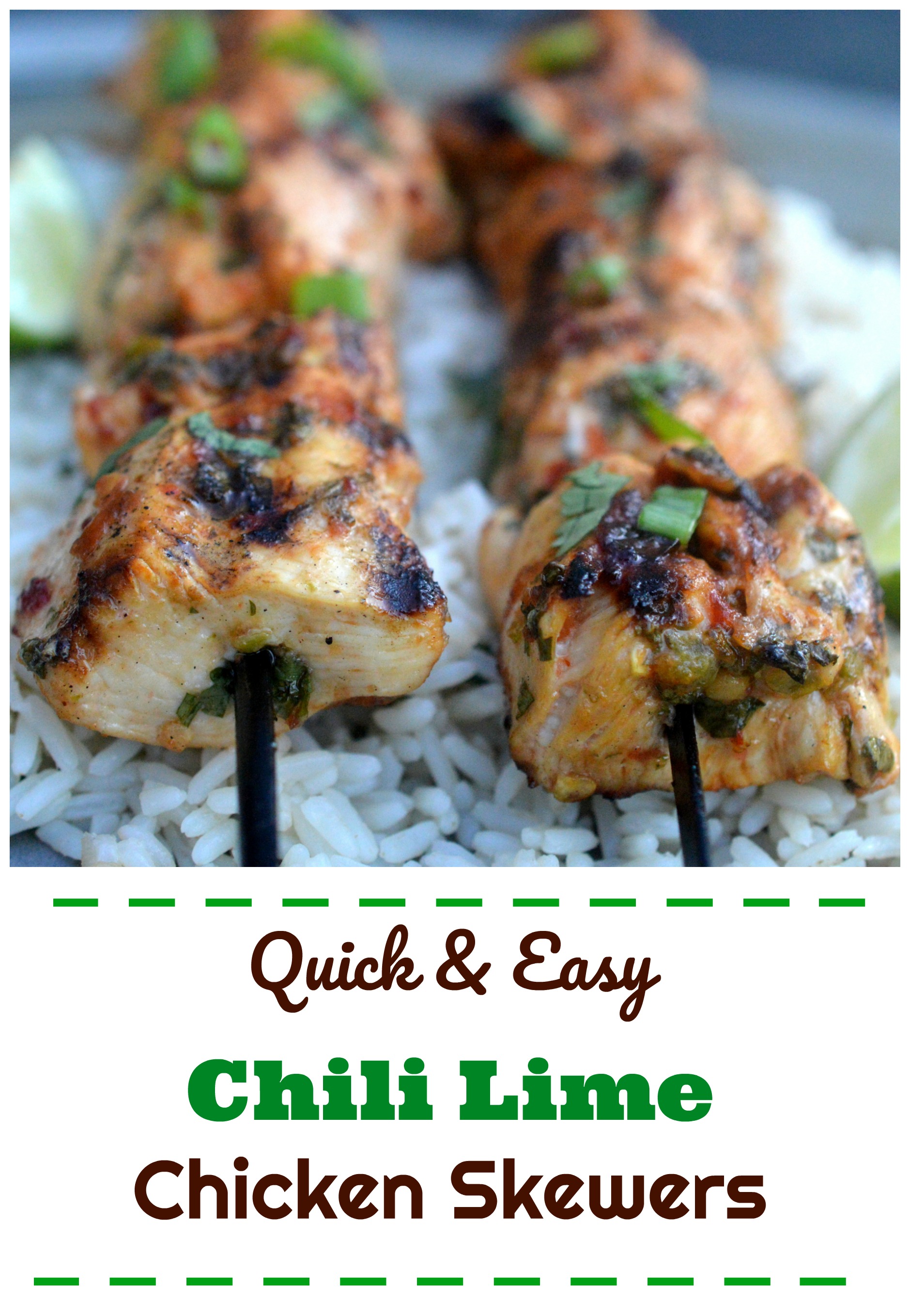 How Do You Make Chili Lime Chicken Skewers?
Making these skewers is easy. Cut chicken into chunks, season with the spice blend and set aside. Mix up the marinade. Then, add the chicken to the marinade and allow it to sit for 30 minutes to 2 hours covered in the refrigerator. Tossing occasionally. in the refrigerator. Skewer your chicken, allow it to come to room temperature for about 15 minutes, then grill when ready.
I always like to serve vegetables with this as well as rice. I almost always skewer my vegetables on separate skewers than the meat or fish I am grilling SO the meat and the vegetables each cook evenly. Depending on what you are cooking by having everything on its own skewer, you can time when you add and remove them from the grill. That way, nothing is under-cooked and nothing is overcooked.
What Variations Can You Make To Chili Lime Chicken Skewers?
You can make this recipe spicier by adding another jalapeno or by leaving the jalapeno seeds in the marinade. That will typically increase the spice-factor unless for some reason you found yourself with mild jalapenos. You can also add in some red (cayenne) pepper to the marinade. If you want a sweeter taste, add more honey.
You can choose to use white meat (boneless chicken breasts) or dark meat (boneless thighs). You can also choose to make this without skewers and use bone-in or boneless chicken (white or dark) as well as chicken wings. It all works.
Which Are Better For Grilling? Wood Skewers or Metal Skewers?
I would rather not bother with wood skewers. Between "babying" them first with keeping them wet and then making sure no splinters enter my food I've never been a fan. Invest in a dozen (or more) metal skewers. These are what I use.
What Can I Do With Leftover Chicken Skewers?
My favorite thing to do with the leftovers is to make a quick chicken salad. All I do is toss a few small carrots and celery pieces into my food processor, give it a couple of pulses until they are chopped fine, toss in the chicken chunks, a nice drizzle of honey, a TBS or so of mayonnaise, salt, and pepper. I give it a whirl and that's it. I enjoy that on a wrap with lettuce (and sometimes bacon) or just over lettuce like and enjoy like a salad. You can also shred it into pasta sauce, use for sandwiches or over rice.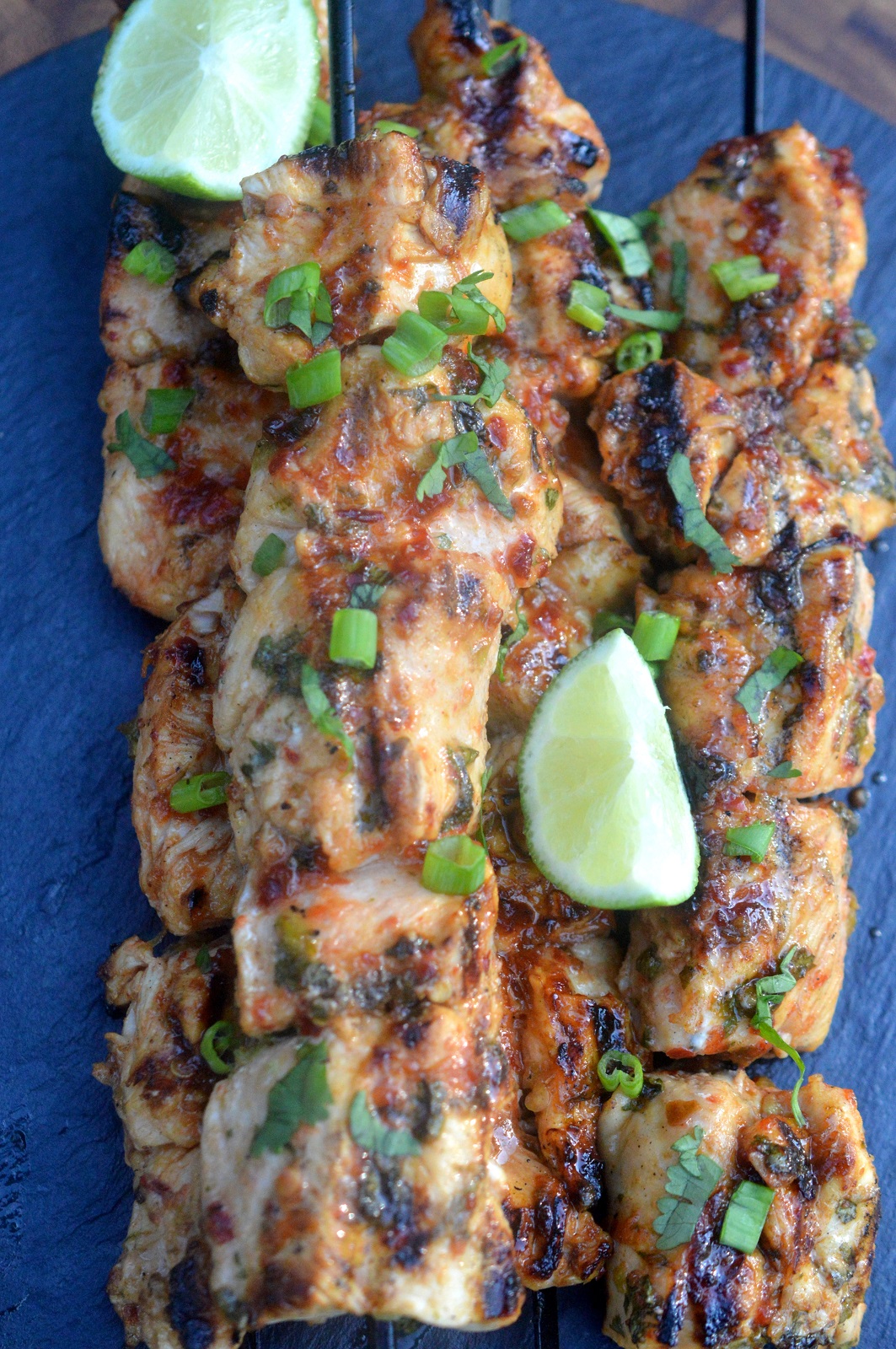 Let me know if you whip this recipe up and what you thought! You can follow along on my Instagram and Instagram Stories or Facebook to keep up with all kinds of recipes, tutorials & tips.
If you enjoy chicken recipes, here are a couple you may want to try or CLICK HERE for all my chicken recipes (there are a lot, lol! Also, follow my All Things Chicken Pinterest Board for all kinds of chicken inspiration!
These Lasagna Stuffed Chicken Breasts are ah-mazing! Cheese, sauce, and chicken = a home run!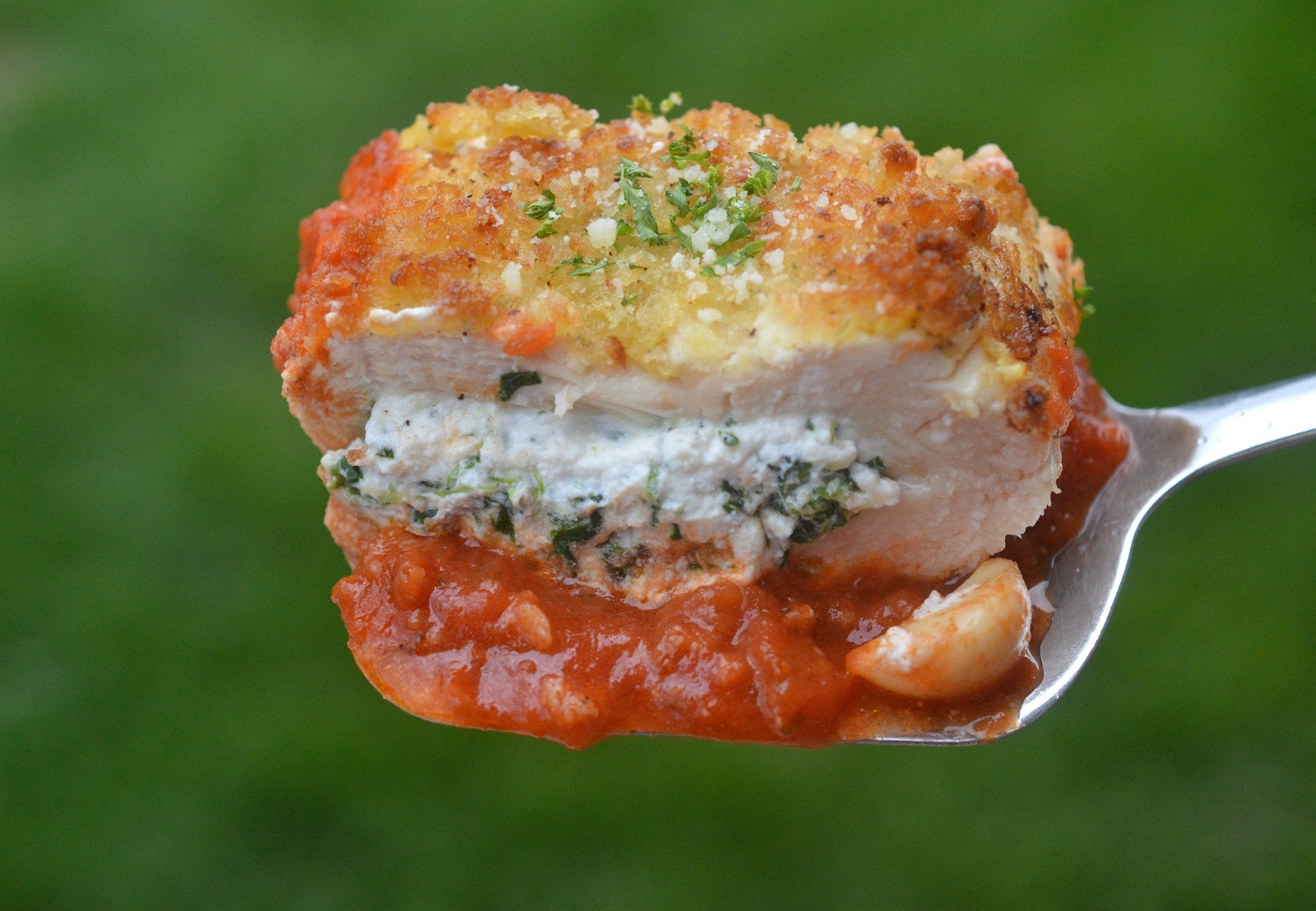 Grilled Asian Chicken Wings – There are never enough…Especially when it's game-day!
Enjoy!

Since I am not a registered dietitian or nutritionist, I use a WordPress plug-in to calculate and approximate the nutritional information of my recipes,.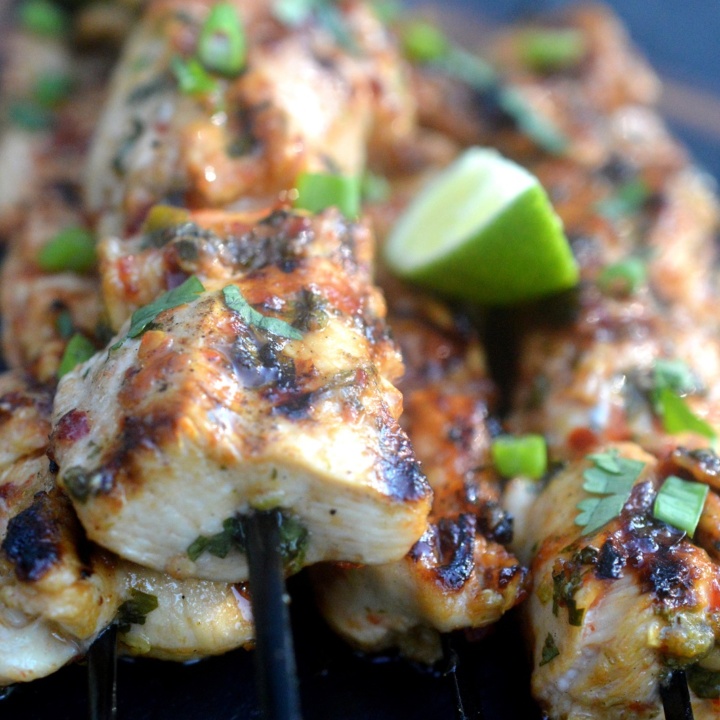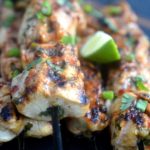 Print Recipe
Grilled Chili Lime Chicken Skewers
Fire up the grill and make these quick & easy Grilled Chili Lime Chicken Skewers.
Ingredients
3/4

TBS

salt

1/2

teaspoon

black pepper

1

TBS

chili powder

2

pounds

boneless chicken breasts or thighs

1/2

cup

lime juice plus 1 TBS

2

teaspoons

lime zest

1/4

cup

grapeseed or olive oil

1

jalapeno

minced

4

TBS

garlic paste

or 3 cloves minced garlic

2

TBS

honey

3

TBS

chopped cilantro
Instructions
Mix together the salt, pepper and chili powder and set aside.

Cut chicken into similar-sized chunks and then sprinkle with the seasoning mixture.

Mix the remaining ingredients together to make the marinade and either shake it well in a jar or whisk vigorously to emulsify it.

Reserve 3 TBS of the marinade.

Place chicken in a bowl or gallon-sized baggie, and pour the marinade over top. Toss to get it evenly coated. Allow meat to marinate for 30 minutes - 12 hours, tossing occasionally.

When ready to cook, oil your skewers (and clean & oil your grill), skewer your chicken pieces (keeping similar-sized chicken chunks on the same skewers) and grill until chicken is cooked through.

Just before removing from the grill, brush with reserved marinade.

Remove from the grill and serve.
Notes
For extra heat, leave the jalapeno seeds in the marinade. Or add in a few dashes of Cayenne pepper to the spice mixture.
Nutrition
Serving:
8
g
|
Calories:
447
kcal
|
Carbohydrates:
18
g
|
Protein:
50
g
|
Fat:
20
g
|
Saturated Fat:
3
g
|
Cholesterol:
145
mg
|
Sodium:
1608
mg
|
Potassium:
974
mg
|
Fiber:
1
g
|
Sugar:
10
g
|
Vitamin A:
714
IU
|
Vitamin C:
21
mg
|
Calcium:
49
mg
|
Iron:
2
mg