When it comes to Chinese take-out, the dish my husband and I have ordered more than anything other is General Tso's Chicken. Back in the day, it used to be made with dark meat (where I lived anyway) I would always ask for white meat and pay the extra $1-2. Since I am a huge meatball lover, I thought it would be fun and tasty to make General Tso Meatballs with ground chicken.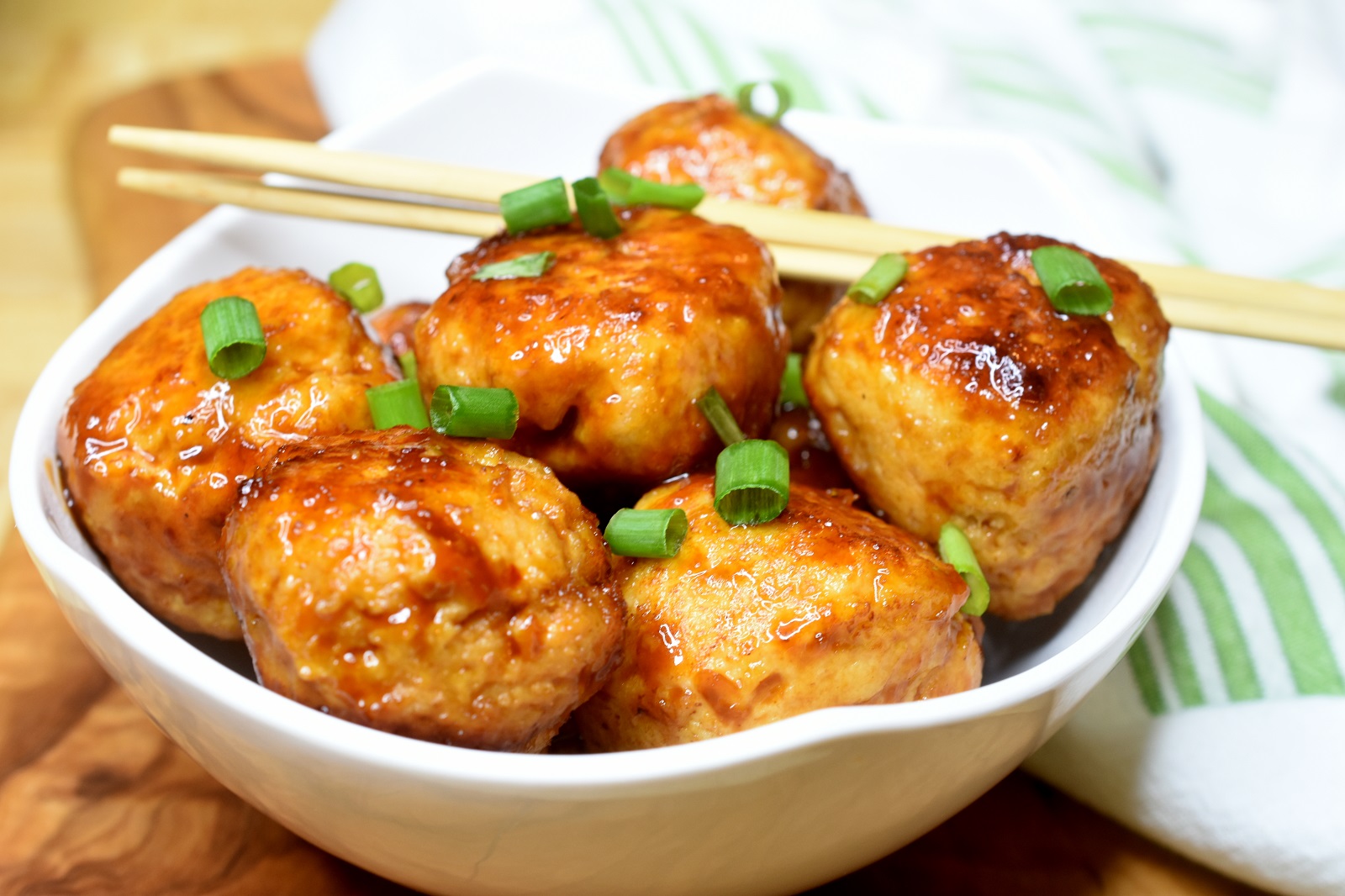 I am so glad I did! The whole family enjoyed these and now they are on regular meatball rotation.
There is just something about General Tso's Sauce, I just loooove it! My husband and I always ask our local places to spice it up when we order it. At home, however, I keep the sauce mild. My son would eat spicy, my daughter, however, is not there yet. We shall get her over to the spicy side one of these days, lol!
I chose to use chicken for this primarily because my daughter who can't eat beef or pork (food allergies) loves chicken meatballs. You can also make these meatballs with pork if you like. It would totally work.
When it comes to making chicken meatballs of any variety, when possible I like to add 25% ground thigh meat chicken. I find adding in dark meat makes them helps to keep them moist. I only do this when the 4 days a week Pennsylvania Dutch Market is opened and I can get whatever amount of fresh ground chicken meat I wish versus buying pre-measured packages.
Pan-frying them is the way to go, the browning gives great flavor.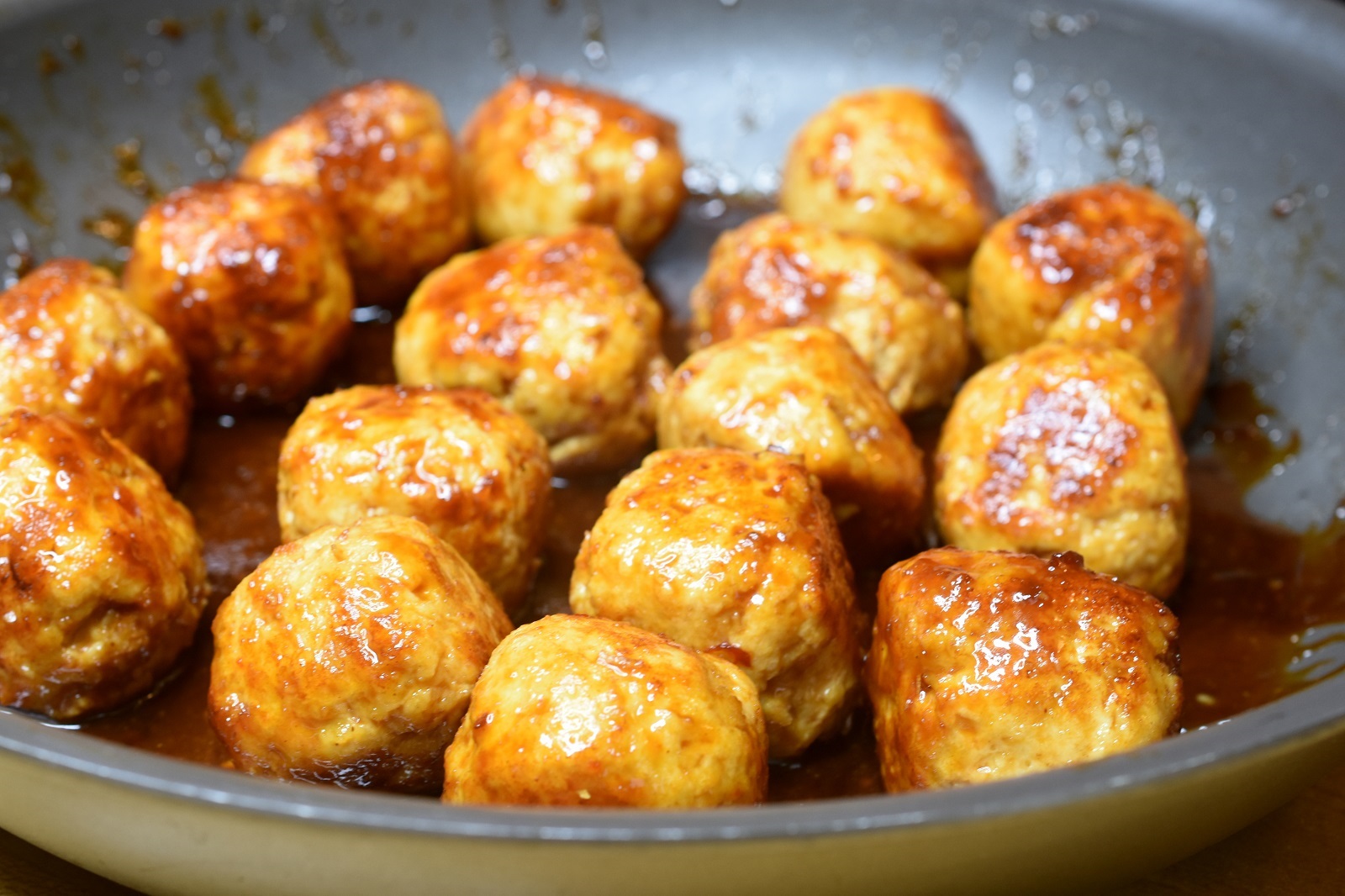 I make a variety of meatballs using beef, pork, chicken and even mushrooms, however, these General Tso Meatballs are top my list! Right up there with my Asian Pork Meatballs in a Ginger Honey Glaze (those are gluten-free and ah-mazing!!), my Turkey Meatballs in Savory Broth and my traditional beef meatballs (which funny enough I see I have never posted)
How Do I Make General Tso Meatballs?
Making these meatballs is just like making any other meatballs, the difference primarily is the sauce. To make the meatballs, the ingredients you need are ground chicken, an egg yolk, breadcrumbs, garlic, ginger and a small amount of hoisin sauce.
You can also choose to shred in a couple of tablespoons of onion if you like (using a cheese grater).
To make General Tso's Sauce you'll combine soy sauce, rice wine vinegar, brown sugar, hoisin, garlic, ginger, and water together and bring it to a boil.
Once they are ready, garnish with sliced scallions and dig in!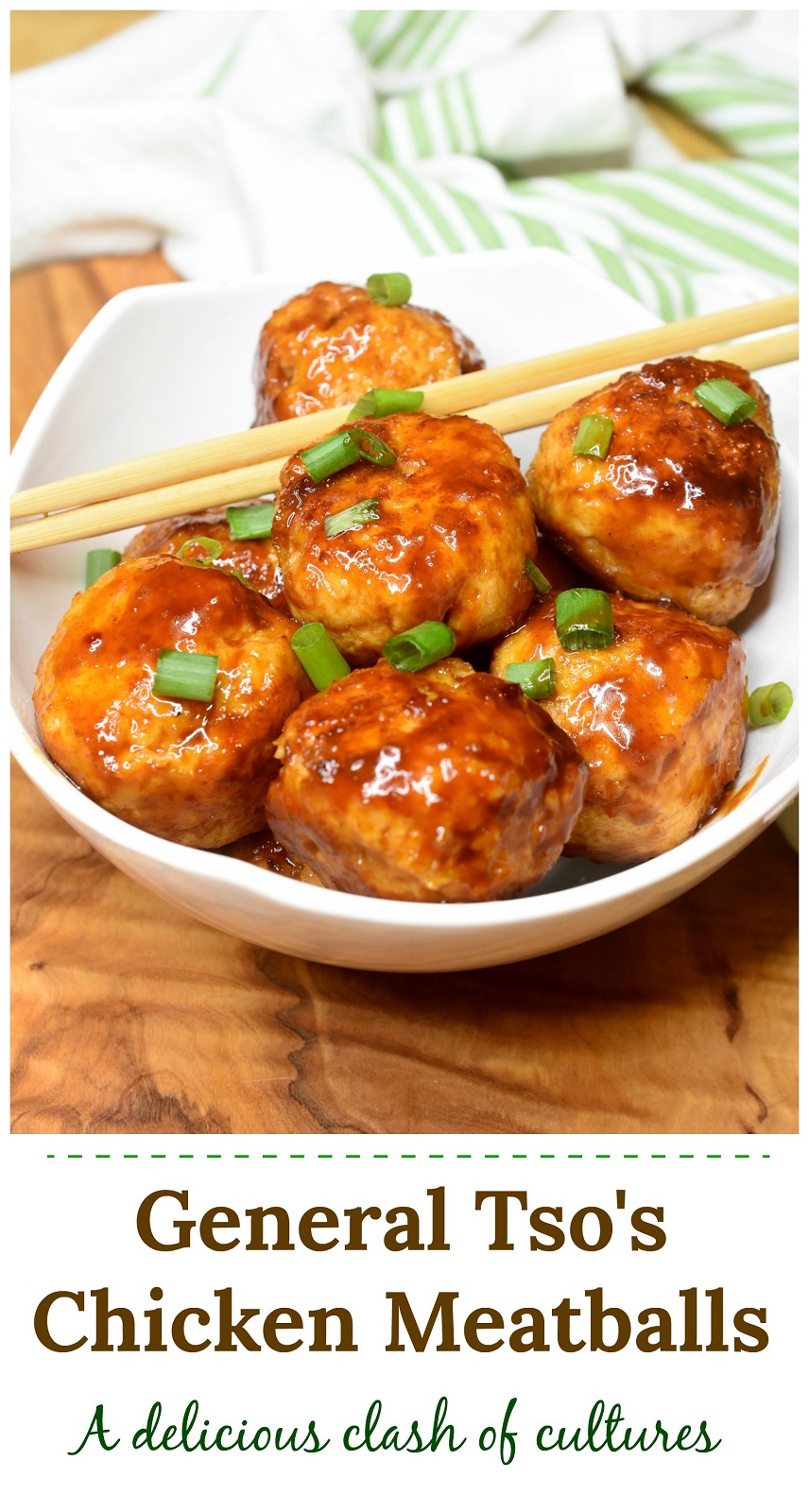 Can I Freeze These Chicken Meatballs?
Yes. You can freeze the meatballs cooked or uncooked. Uncooked stored correctly keeps for 3-4 months and cooked keeps for 2-3 months.
If freezing uncooked, place meatballs on a parchment paper-lined baking sheet in your freezer for an hour or more, so they become hard. That way they won't smush together.
I find freezing using my FoodSaver vacuum sealer makes a big difference. The more air I get out of any meat I freeze, the better the quality when defrosted. (ice crystals form inside of meats, which is why you see liquid once you thaw raw frozen meats…using a vacuum sealer, to take out as much air as possible, cuts down ice crystal formation this keeping meats natural moisture better intact)
I hope you make these General Tso's Chicken Meatballs. If you do, let me know how you liked them!
If you are a meatball lover like I am, check out my other meatball recipes HERE. Ha, I just counted how many came up…12! So this right here makes 13! Plus, I have a recipe for Leftover Turkey & Stuffing Balls…If you consider them a meatball (which technically they are) That's 14! Booyah!
Enjoy! XO Colleen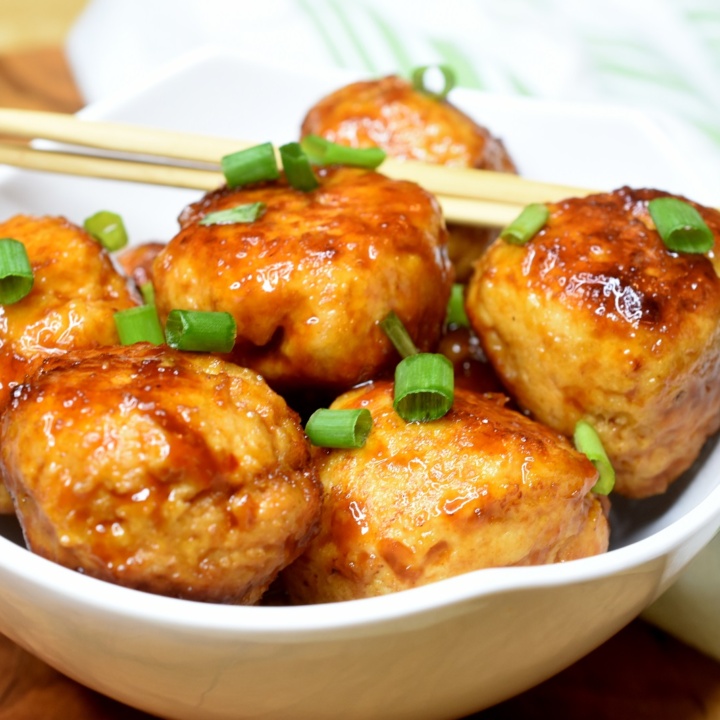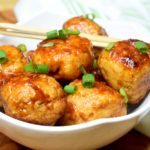 Print Recipe
General Tso Meatballs Recipe
If you enjoy General Tso's Chicken or are a meatball lover like me, then you'll flip for these General Tso Meatballs made with ground chicken!
Ingredients
Meatballs

1

pound

ground chicken

1

egg yolk

1/2

cup-3/4 cup plain breadcrumbs

or Panko

2

TBS

garlic paste or 1 clove garlic minced

1

TBS

ginger paste or 1/2 teaspoon dried ginger

If you like spicy

add in a pinch or two of red pepper flakes

Sauce

3/4

cup

soy sauce

6

TBS

rice wine vinegar

1/4

cup

water

2

TBS

hoisin sauce

2

TBS

brown sugar

1

TBS

garlic paste

or make a paste from a large clove of garlic

1/2

TBS

ginger paste

or teaspoon minced ginger

Optional 1 teaspoon cornstarch
Instructions
Combine all meatball ingredients in a bowl, mix together and form into meatballs.

When ready to cook, pan-fry them in a small amount of grapeseed or olive oil. I start with 1 1/2 TBS and add more when needed. Fry in batches so they can be turned gently to allow even browning.

Turn often browning as many "sides" of the meatball as you can.

Remove meatballs from pan, if excess oil remains, pour it out.

Add in sauce ingredients to the pan and bring to a boil and reduce by 20%.

If you would like your sauce a little thicker, spoon out 2 TBS of the sauce into a ramekin and stir in 1 teaspoon of cornstarch, stir until dissolved and add it back into the sauce allowing it to simmer for 30 seconds and it becomes fully mixed in.

Add meatballs back to the pan and simmer until cooked through.

Sprinkle with sliced scallions and serve alone or over rice,
Nutrition
Serving:
4
servings
|
Calories:
259
kcal
|
Carbohydrates:
15
g
|
Protein:
26
g
|
Fat:
11
g
|
Saturated Fat:
3
g
|
Polyunsaturated Fat:
2
g
|
Monounsaturated Fat:
5
g
|
Trans Fat:
0.1
g
|
Cholesterol:
146
mg
|
Sodium:
2635
mg
|
Potassium:
742
mg
|
Fiber:
1
g
|
Sugar:
9
g
|
Vitamin A:
66
IU
|
Vitamin C:
2
mg
|
Calcium:
42
mg
|
Iron:
2
mg