Easy Chicken & Cheese Quesadillas cooked in a waffle iron??
In 15 minutes flat?? Heck yeah!!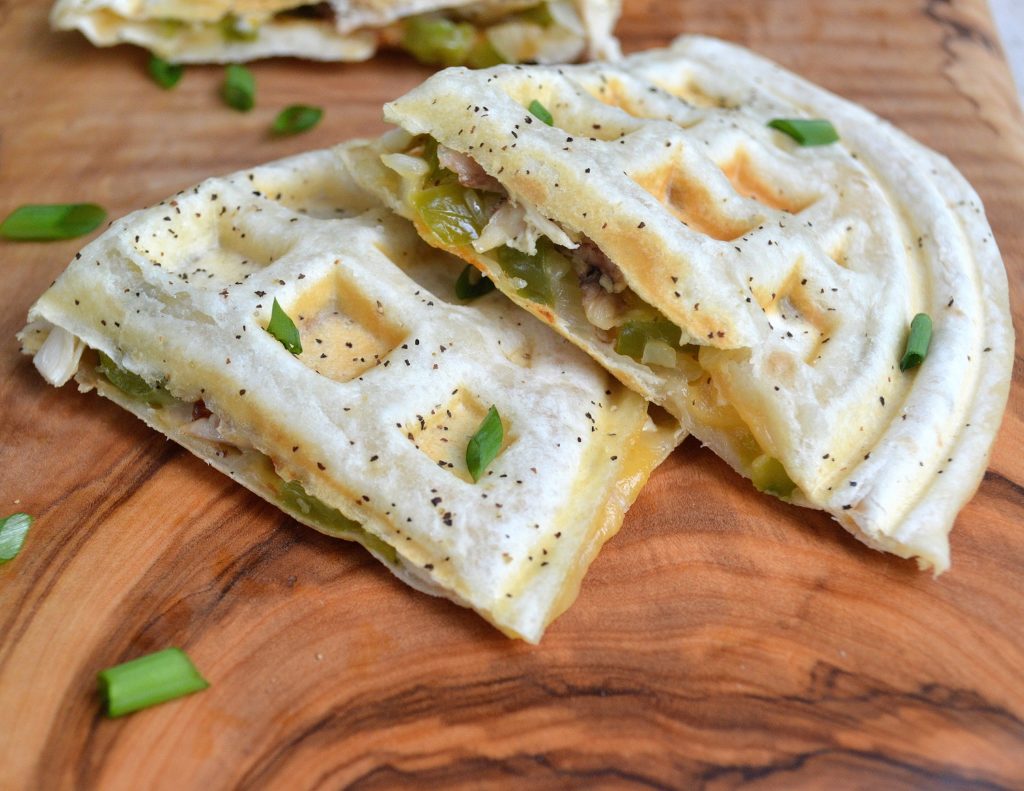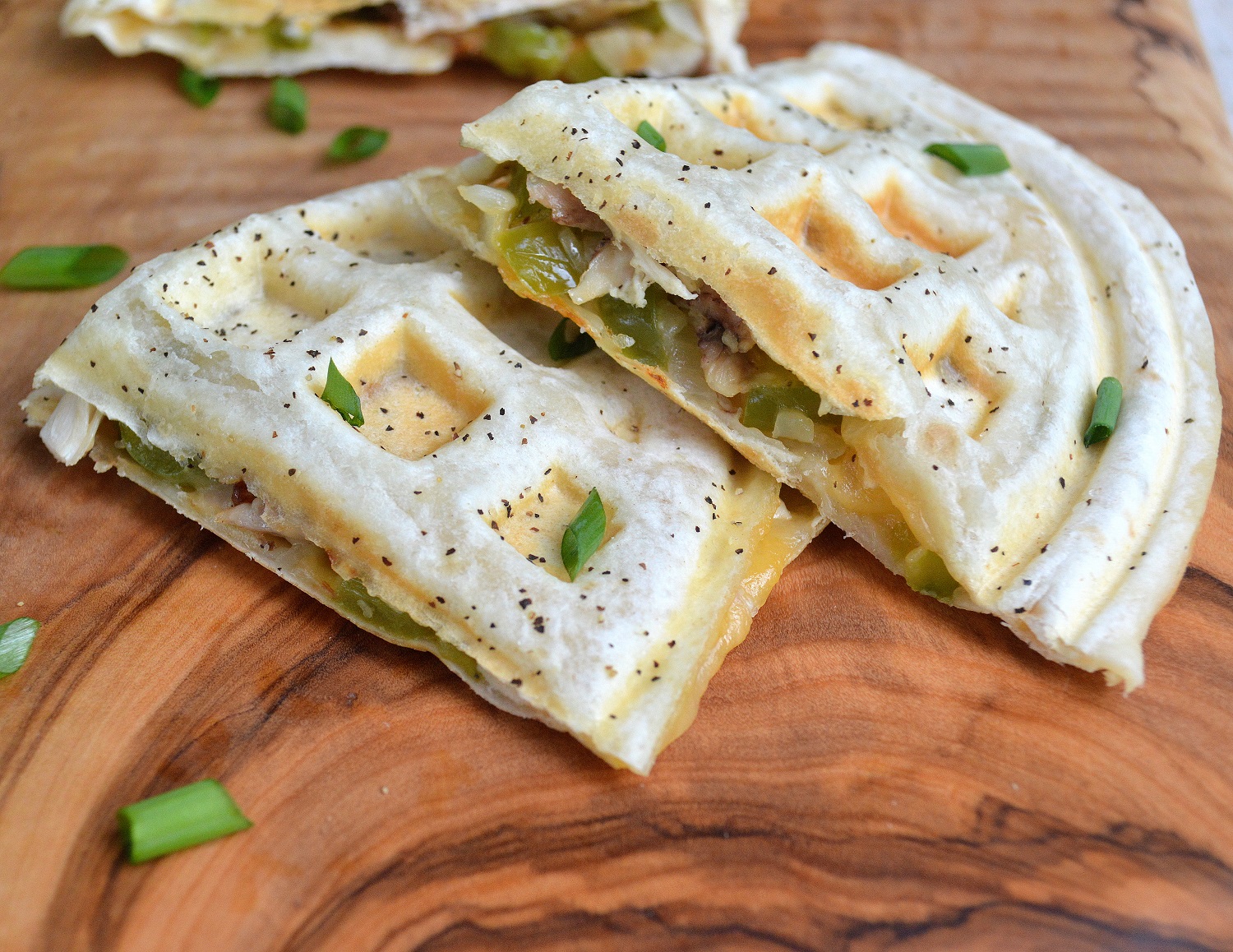 You guys!! This recipe for Easy Chicken & Cheese Quesadillas Cooked In A Waffle Iron is one of those recipes that I am crazy excited to share! 
To me, there is nothing more fun than making something delicious THAT is SO crazy-easy to make that in my opinion, anyone can make it!
Making quesadillas in your waffle iron?? Yes, it is easy and bonus…no flipping!! 
Gotta love that!
So the other day I saw somewhere (for the life of me not sure where) ideas on how to use waffle irons for things besides waffles…and all I remember is the quesadilla one.
Right away I said to my 13-year-old son (who just had his first quesadilla a couple of weeks ago) Hey… let's try "this" and told him about it.
So the next day that is just what we did!  Connor was a champ chopping, and cooking the
peppers and onions, Both he and my husband were over the moon for the Waffle Iron Chicken Quesadillas. Connor said they were way better than the one he had out at a restaurant the other prior week.
Why not add these Easy Chicken & Cheese Quesadillas Cooked In A Waffle Iron to your meal plan?? Take a look at just how easy they are to make:
Making quesadilla's in a waffle maker = Great Idea!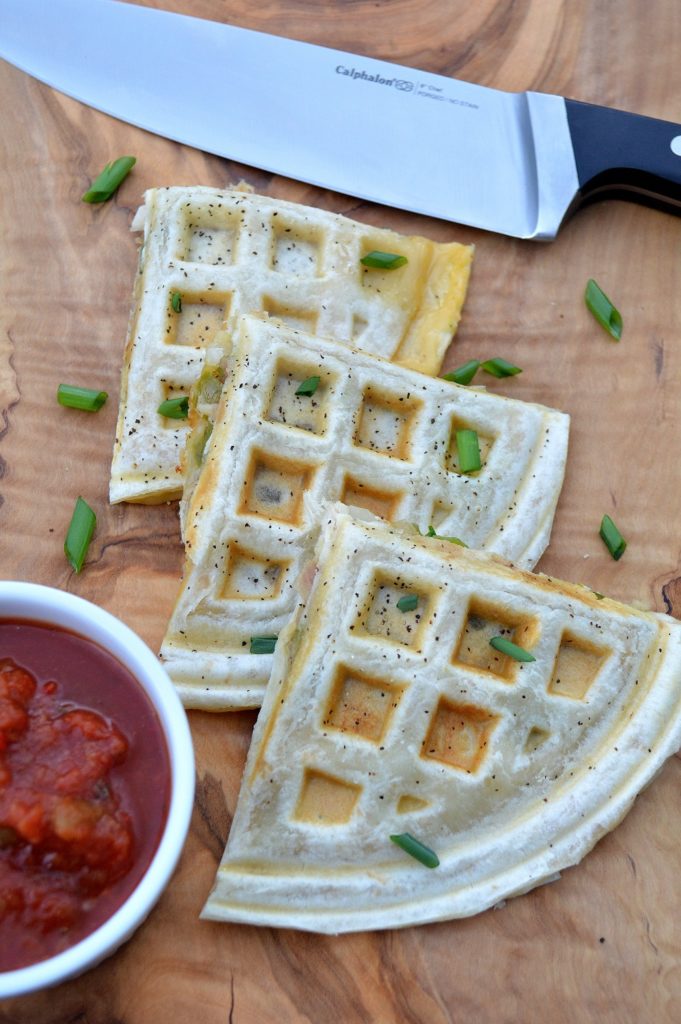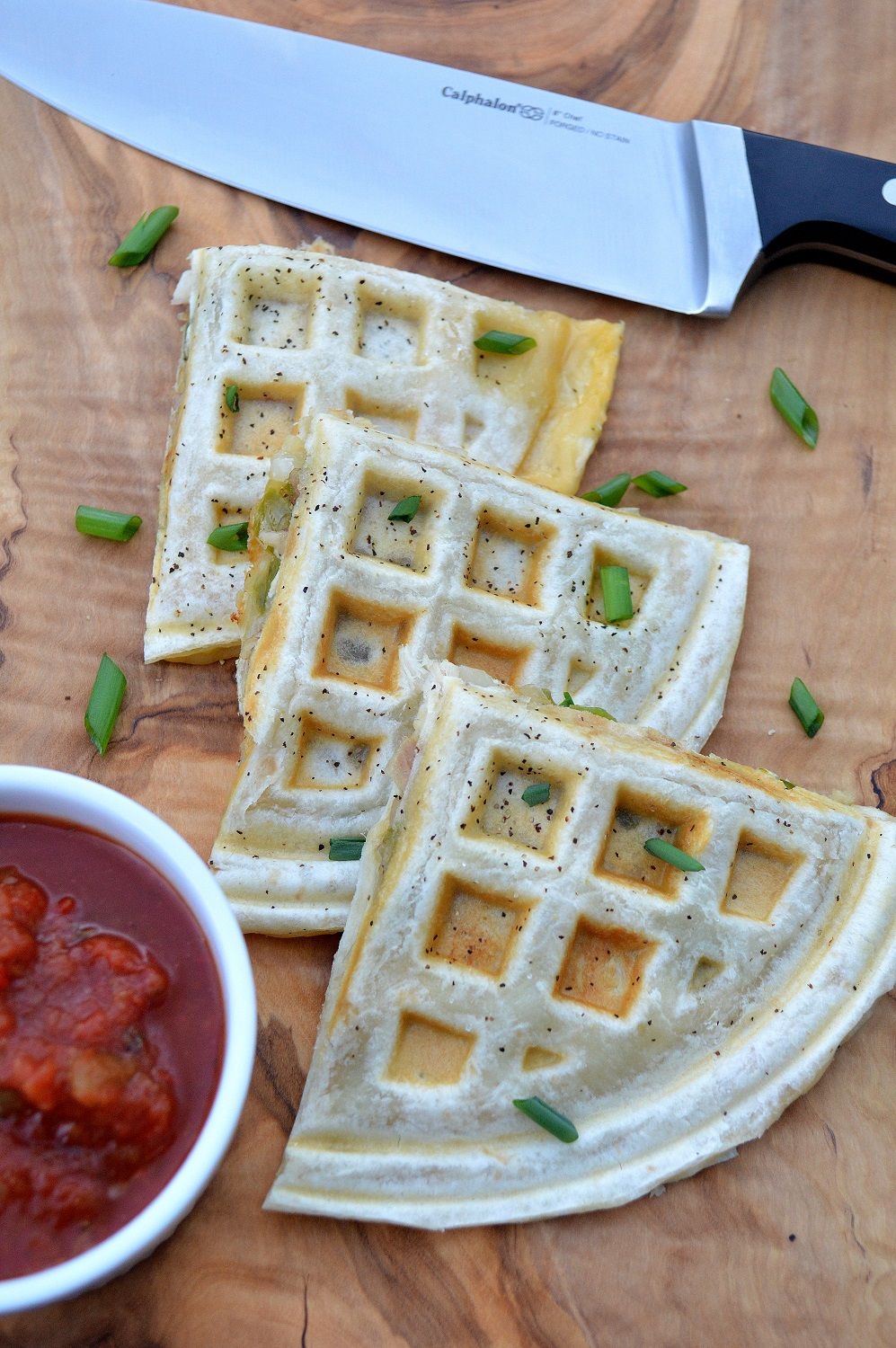 Another great idea…Have you seen the new Calphalon SharpIN Knives?  Their new knives sharpen themselves!! Woot! Talk about a great idea!
We all know how dangerous it can be to use dull knives while prepping/cooking. And how much easier is it to chop slice and dice with a perfectly sharpened knife…right!
Calphalon knows we are all busy so they decided to take one thing off of our plate and came up with self-sharpening cutlery!  Knives stay sharp for their lifetime with SharpIN Technology. Sharpeners are built right into the knife storage block, automatically sharpening straight-edge knives every time you remove them from the block, ensuring peak sharpness!
Thanks, Calphalon for sending me a set to try out!  They are terrific! 


Take a look: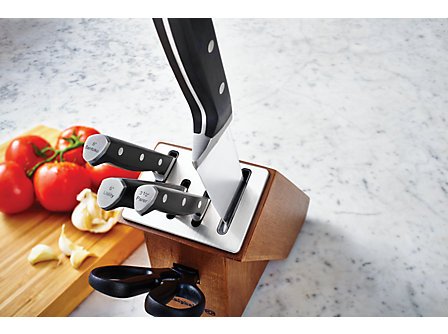 For a 1 minute YouTube SharpIn Knives Demo by Calphalon, click here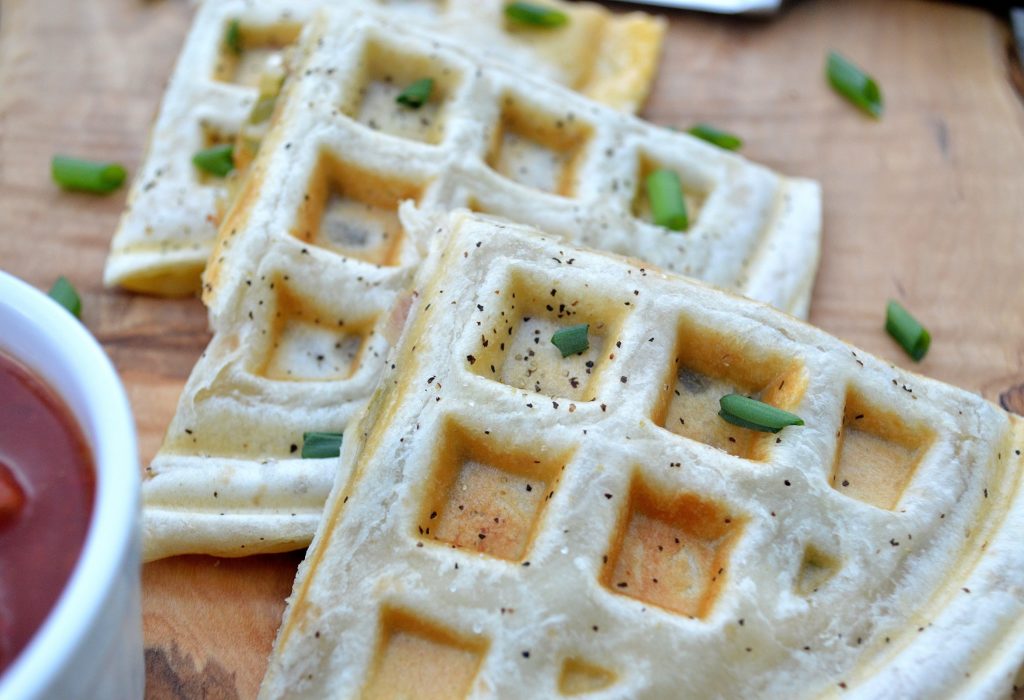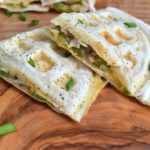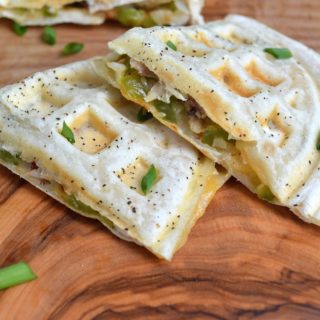 Print Recipe
Easy Chicken & Cheese Quesadillas Cooked In A Waffle Iron
Ingredients
1

small rotisserie chicken

1

green pepper

seeded and chopped

1

medium Vidalia onion

chopped

2

TBS

grapeseed or olive oil

divided

Salt & pepper

12 - 6-

inch

diameter flour tortillas

8

oz

package of shredded Mexican cheese

Salsa
Instructions
Pull apart your chicken, getting all of the meat off of it. Lightly shred it with your fingers. Season it and set it aside.

Saute the peppers and onions in 1 TBS oil for 4 minutes.  Set aside.

Heat your waffle iron.

Meanwhile, lightly coat one side of each tortilla with oil and season with salt & pepper. Once iron is ready, lay one tortilla oil side down on the griddle then spoon on some peppers & onions, then add the chicken, then add about 1/4-1/3 cup of cheese. Top with another tortilla (oil side up and gently close the waffle iron putting more and more pressure in it. Hold for 30 seconds.

Allow it to continue cooking other 2-3 minutes or so, putting pressure on it every now and again. Once the tortilla looks done to your liking (with some brown spots, remove it with a small spatula and place it on a plate for a minute.

Use a sharp knife to cut it into 4 triangles right along the waffle marks.

Serve with salsa and repeat until full.
Notes
For me, 1 large green pepper, 1 medium Vidalia onion, 1 8 oz bag of shredded cheese and 1 rotisserie chicken make 6 - 6-inch quesadillas.
I used a circular, non-stick "Belgian-style waffle iron for these.
Don't worry if any cheese oozes out...as soon as the waffle iron cooks it, it comes right off, crispy. Just flick it with a fork.
Enjoy!!