15 Minute Lemon Dijon Pork Chops are a dish I have been making for a couple of decades.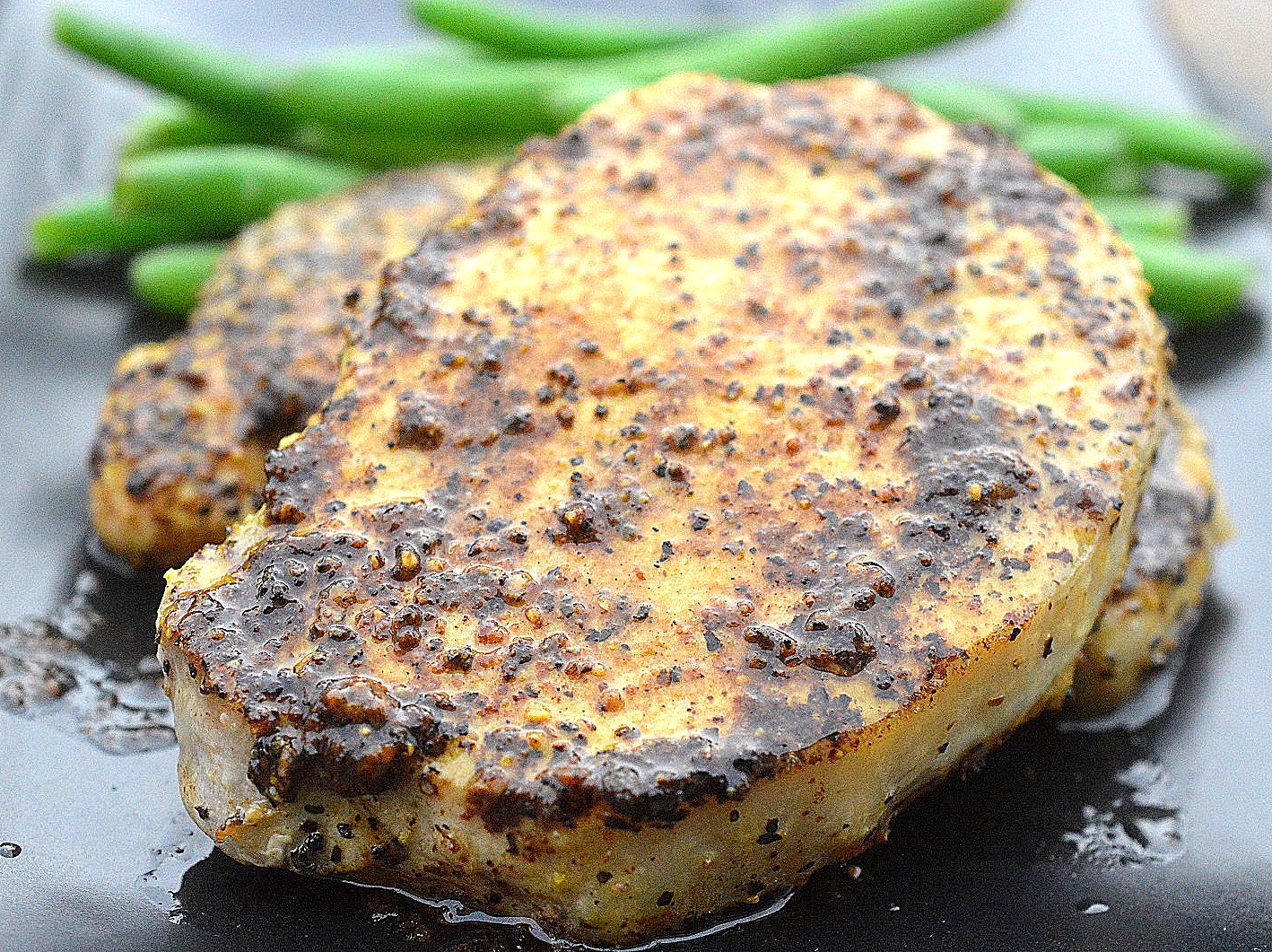 I remember a co-worker showing me that she had a pork recipe published in a small National Pork Council black and white paper-pamphlet recipe "book". After flipping through it, I tried out a few recipes and what I call 15 Minute Lemon Dijon Pork Chops one is the one that stuck with me. I make it a couple times a year.
This recipe is made even easier by Omaha Steaks delicious, trimmed center-cut pork chops.  I have both gifted and been gifted Omaha Steak Gifts. I mean who doesn't like the gift of food...right?
In corporate America, often a department head would gift the team with an awesome set of steaks, lobsters or a combo of both from Omaha Steaks. THAT was always epic and delicious! My husband would be more excited that I was, lol! Men do love good food!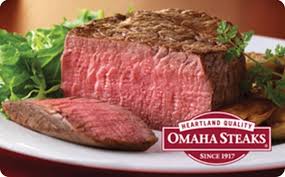 I've gifted steaks to my in-laws, my grandmother and a few others over the years. The make fantastic holiday food gifts! And so easy! Omaha has over 70 retail locations across the U.S., plus online and phone ordering. Visit OmahaSteaks.com or call 1-800-228-9055
Everyone is happy to see a cooler full of gourmet food arrive at their door!!
I received the The Tasteful Gift which includes:
2 (5 oz.) Filet Mignons
2 (5 oz.) Top Sirloins
2 (4 oz.) Boneless Pork Chops
4 (3 oz.) Potatoes au Gratin
4 (4 oz.) Caramel Apple Tartlets
1 - Signature Seasoning Packet
Tasteful Gift package costs $69.99 and ships free!
So if you are looking for the perfect gift any time of year...give something you know people can in fact use (we all have to eat...right??) and will definitely enjoy from steaks to pork, lobster, sides and even desserts, make an impression with Omaha Steaks!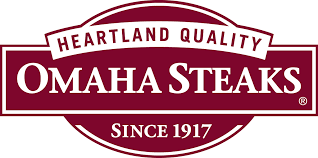 Thanks to Omaha Steaks for teaming up with me and sponsoring this delicious 15 Minute Lemon Dijon Pork Chops. You could call them Lemon Pepper Pork Chops BUT, they addition of a good quality grainy Dijon mustard brings them to a different level.
Join well over 300,000 other people and follow Omaha Steaks on Facebook, Instagram and Twitter for specials, recipes and more!
Serve these with roasted potatoes and some steamed green beans and you have a great meal! The sauce from the pork is so good, I make extra just so I can dip my potatoes into it. These 15 Minute Lemon Dijon Pork Chops are a family favorite, it's a perk that they are so simple! I hope you enjoy them!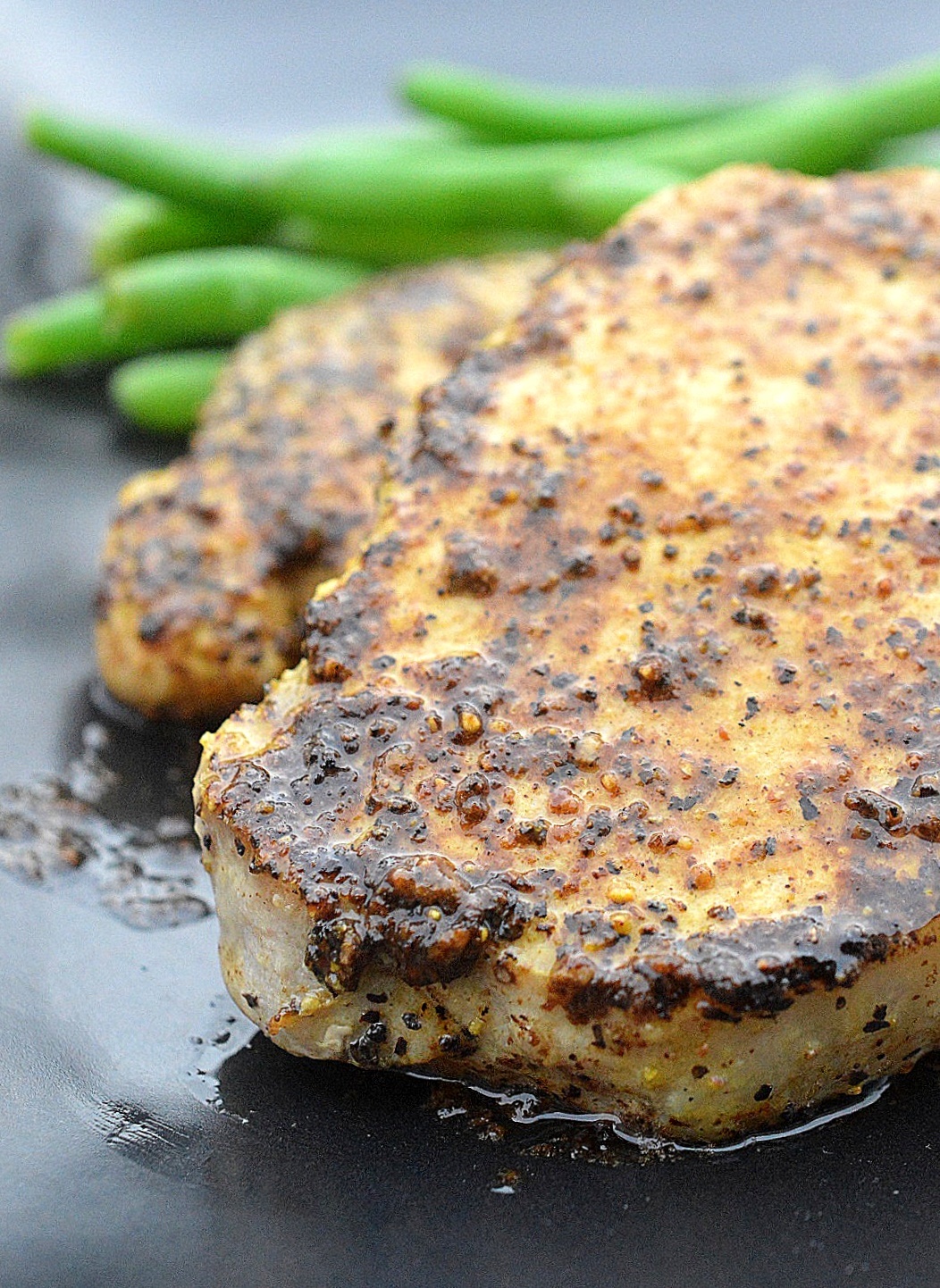 Have a wonderful holiday season!!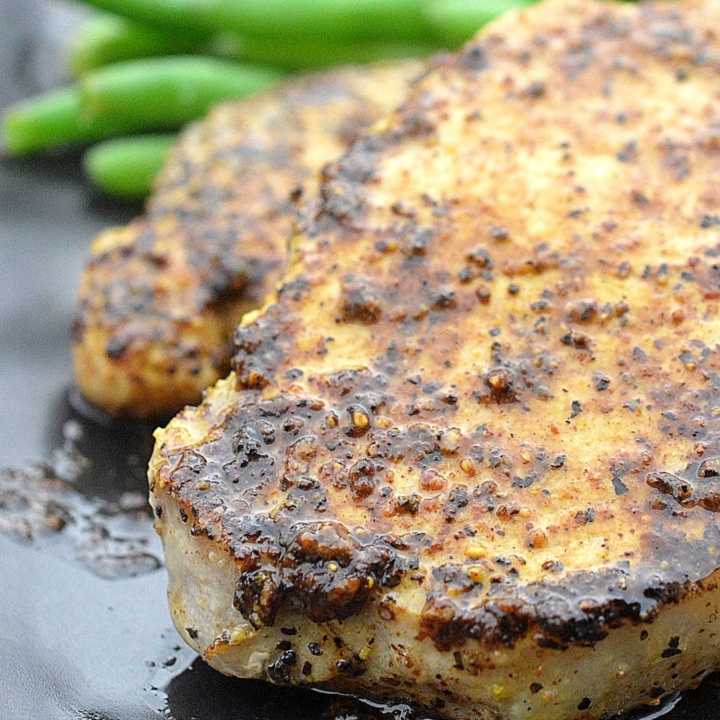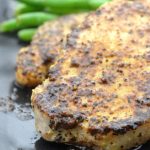 Print Recipe
15 Minute Lemon Dijon Pork Chops
Ingredients
4

boneless pork chops

Lemon pepper seasoning

2

TBS

butter

Plus 1 additional for finishing the sauce

1

TBS

grainy Dijon mustard

1

TBS

Worcestershire sauce
Instructions
Dust both sides of your pork chops with lemon pepper seasoning.

Heat a nonstick skillet (with sides) to med-high and melt the butter.

Add in the chops and cook until almost done (flipping once). Cook time will depend on size and thickness of your chops.

Remove pan from heat, remove chops and place on a plate tented with foil.

Add the additional 1 TBS butter, mustard and Worcestershire. Whisk until combines, return chops to pan and to the heat for 1 minute more.

If like me you want extra sauce, double everything above (except the meat).