Potatoes are what make the world go 'round…at least my world (I am an Irish lass)! These super simple, incredibly flavorful Rosemary Garlic Roasted Potatoes just may become your new favorite!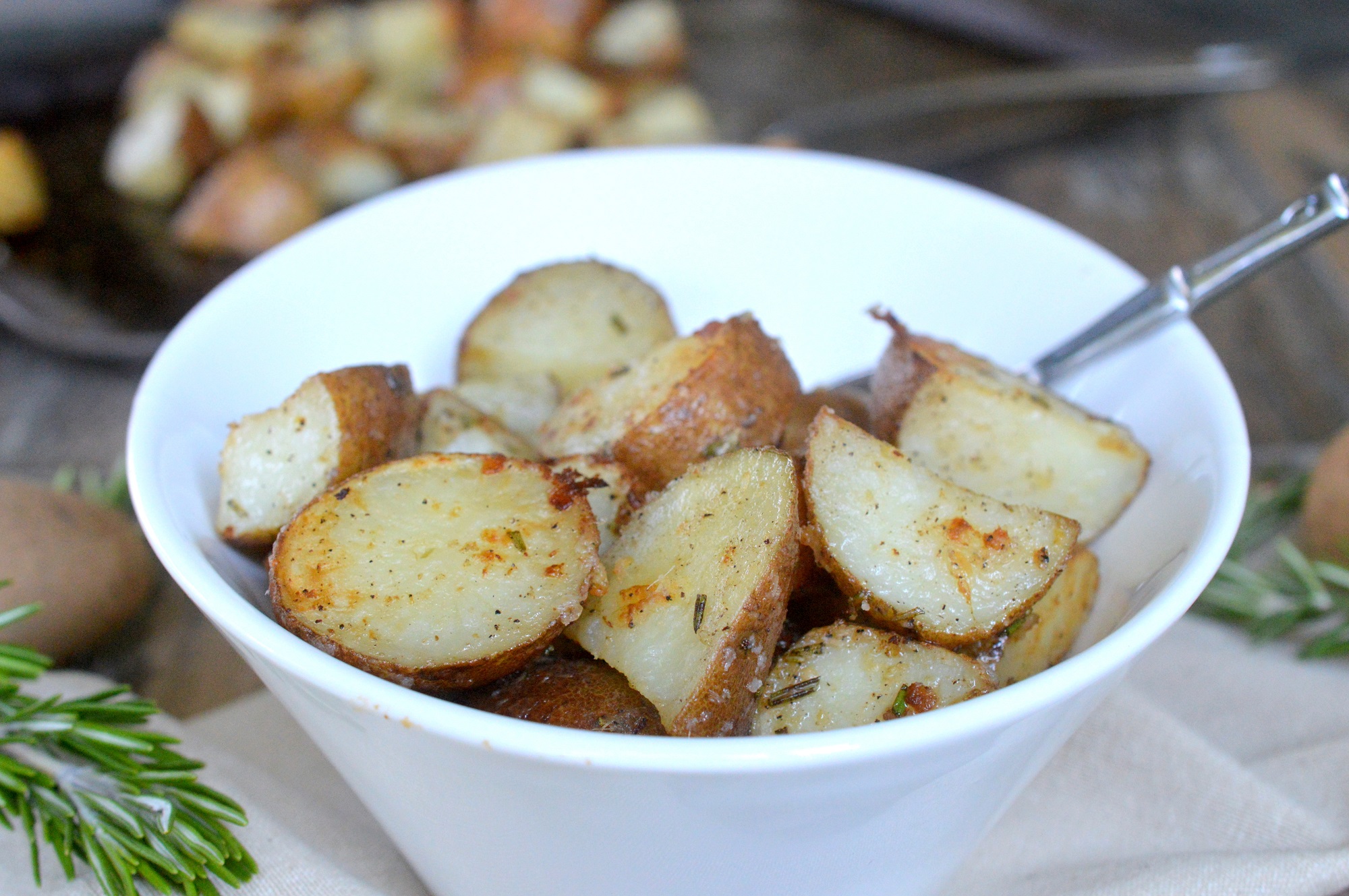 Today's Rosemary Garlic Roasted Potatoes post is a sponsored post for Side Delights® via Kitchen Play, however, all thoughts and opinions are my own.
Did you know that potatoes are the most widely consumed vegetable in the U.S. and second most consumed in the world? Potatoes are delicious, incredibly versatile and easy to prepare. They are loaded with calcium, potassium and other great things. They are my food soul-mate (right next to butter)!
These Rosemary Garlic Roasted Potatoes take me about 25-30 minutes to make start to finish and let me tell you…they are so stinking delicious! The recipe is from Side Delights' huge database of recipes and literally calls for just a few ingredients.  One switch I like to make from the original recipe is to use bacon drippings vs. the oil. Sometimes I do half bacon fat and half oil. Just depends on my mood.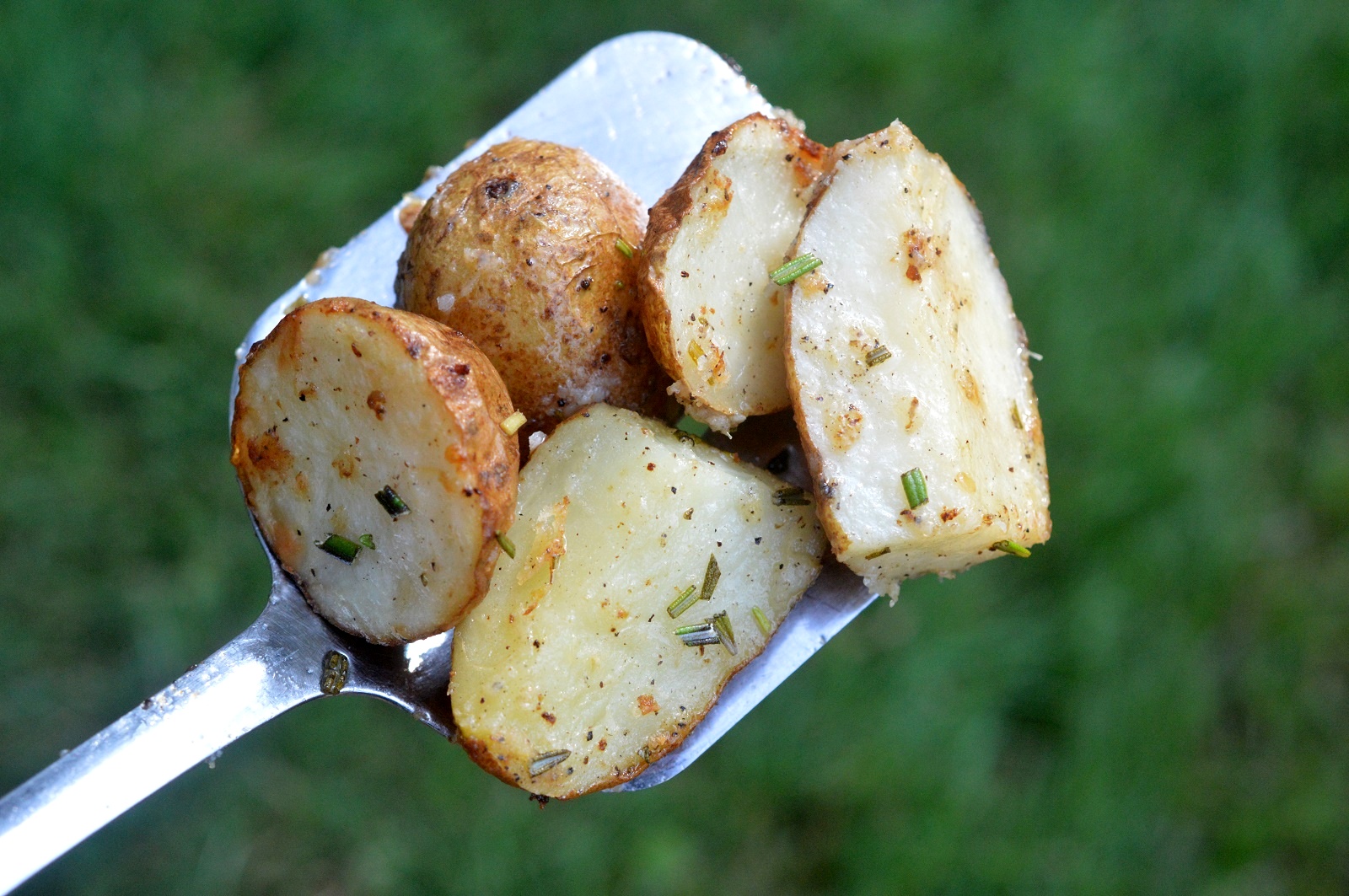 You never toss your bacon fat…right??? It makes so many foods better!  This is my PSA of the day xo.
My kids are just as crazy for the Rosemary Garlic Oven Roasted Potatoes as my husband and I are. They are good for breakfast, lunch, dinner or even snacking! Just ask my kids, lol.  I always make extra!
Potatoes are always a crowd pleaser! Whether you are 2 or 102…everyone loves them!  They are on my top 10 favorite foods for sure.  Mashed, roasted, fried, loaded or simple…I want it all!
Once again, I am teaming up with Side Delights who happens to be one of my favorite brands to work with (and eat!!).
If scrubbing potatoes is not your idea of a good time, you will love Steamables by Side Delights. Steamables are triple-washed potatoes in multiple varieties that are ready for you to use. All you need is 8 minutes in the microwave and then poof… perfectly cooked potatoes are hot and ready to be enjoyed. Plus, no pot to clean (winning!!)!  I make them that way and toss with Cajun seasoning or simply with butter and seasoning. SO delicious and SO easy!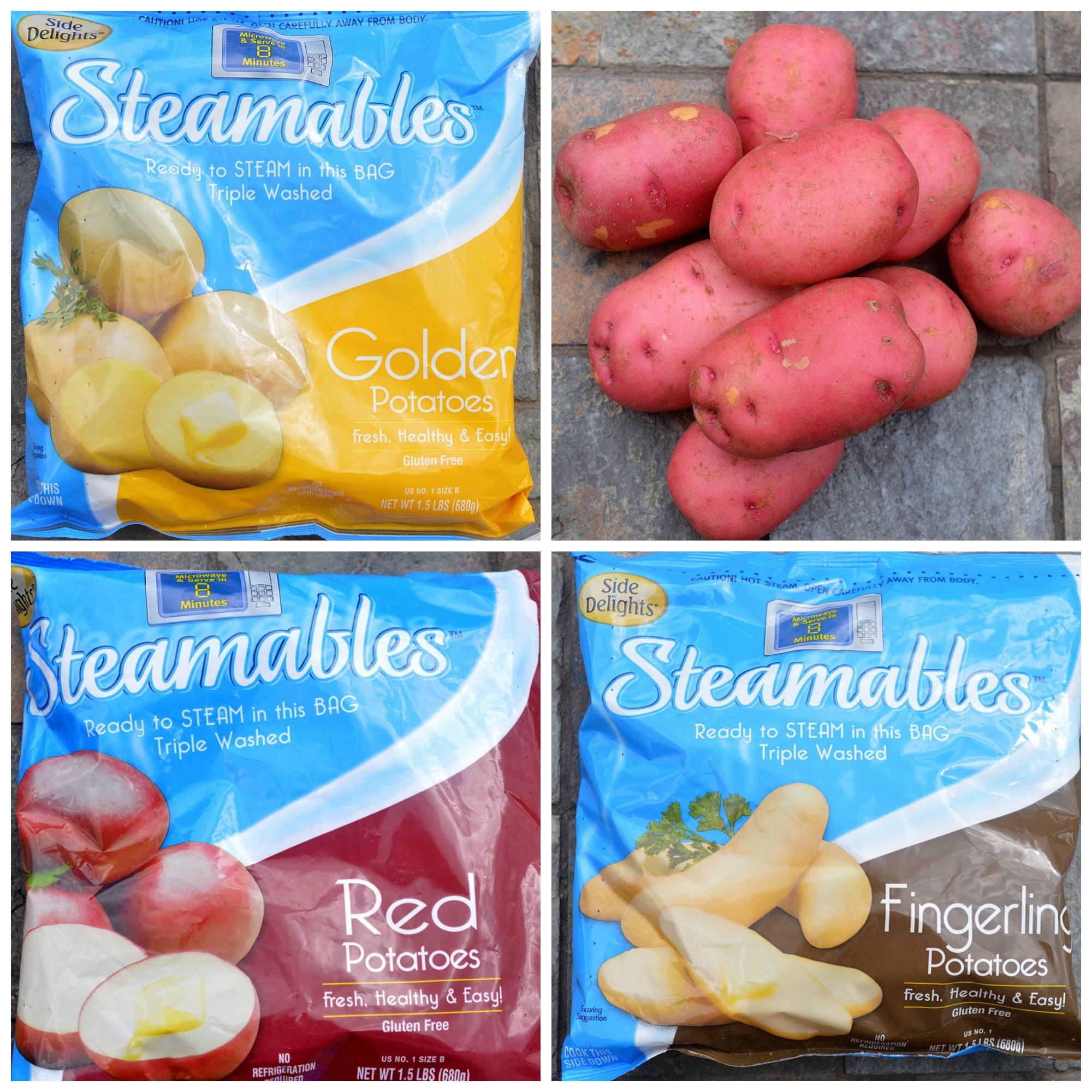 I also use them outside of microwaving them for a multitude of other dishes. No dirty hands, no dirt to rinse off your scrubbie, no wasted paper towels. Cooking time is greatly reduced, I just love them! AND they are still just a natural potato. Pure goodness! Steamables Potatoes come in Red, Golden, Fingerling, Russet, Purple, Sweet, Medley and the new Duo.  
It was love at first use between Side Delights Steamables and me! For this Rosemary Garlic Roasted Potatoes recipe, I used 2 bags of Steamables Russet Potatoes and simply microwaved them for 3 minutes each.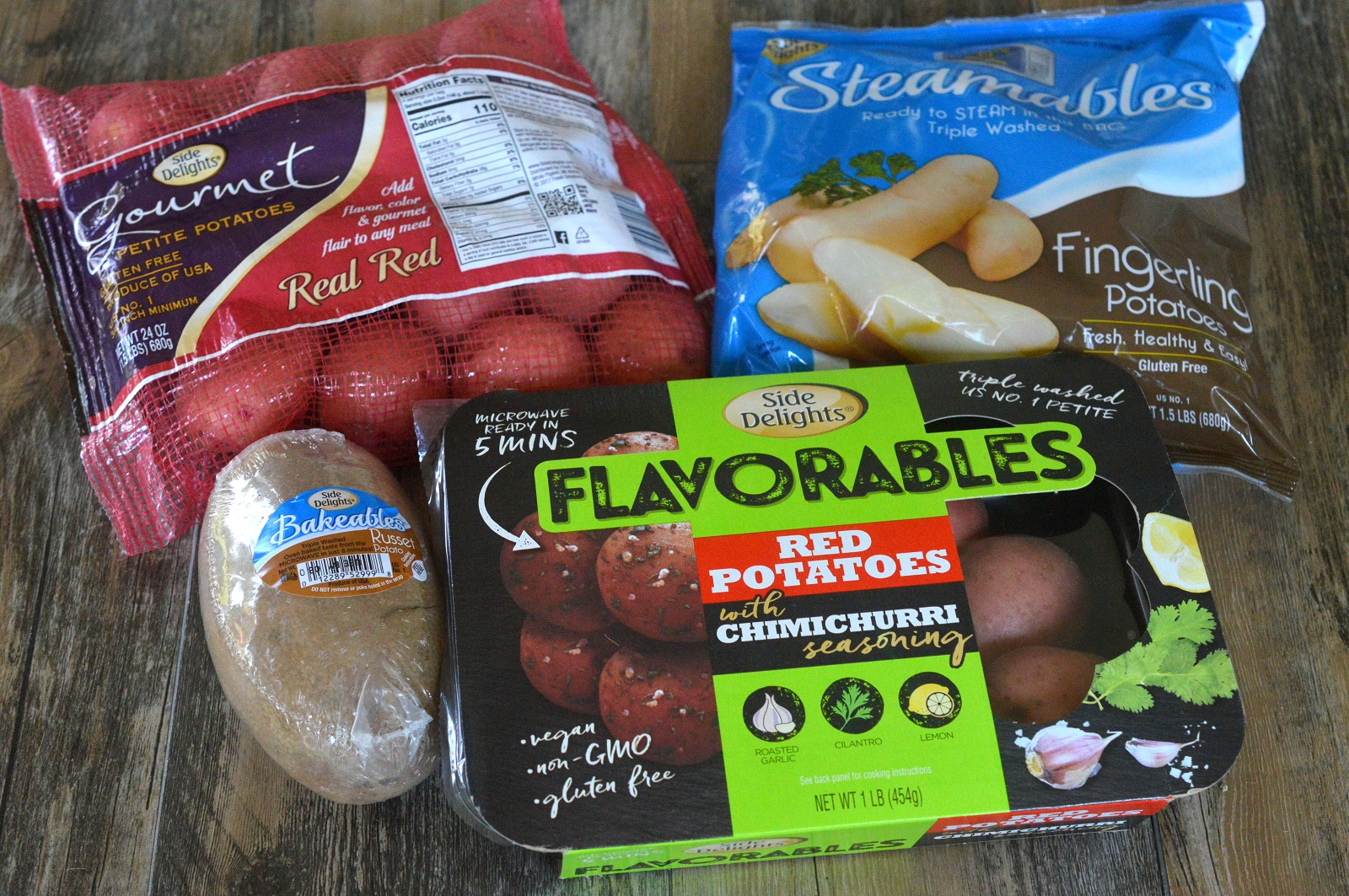 Side Delights also have a Gourmet Petite line to dial up the gourmet factor of any dish, Bakeables to elevate a Russet by making it cook quicker and their new Flavorables® line to prepare and consume on its own. I was so excited to try the Chimichurri!
Side Delights provides the highest quality fresh and value-added potatoes from regional operations in: Washington, Oregon, Idaho, North Dakota, Michigan, Ohio, Pennsylvania, Maine, Prince Edward Island, Minnesota and Florida. Delivering products grown close to home while reducing food miles and emissions from transportation. Love that!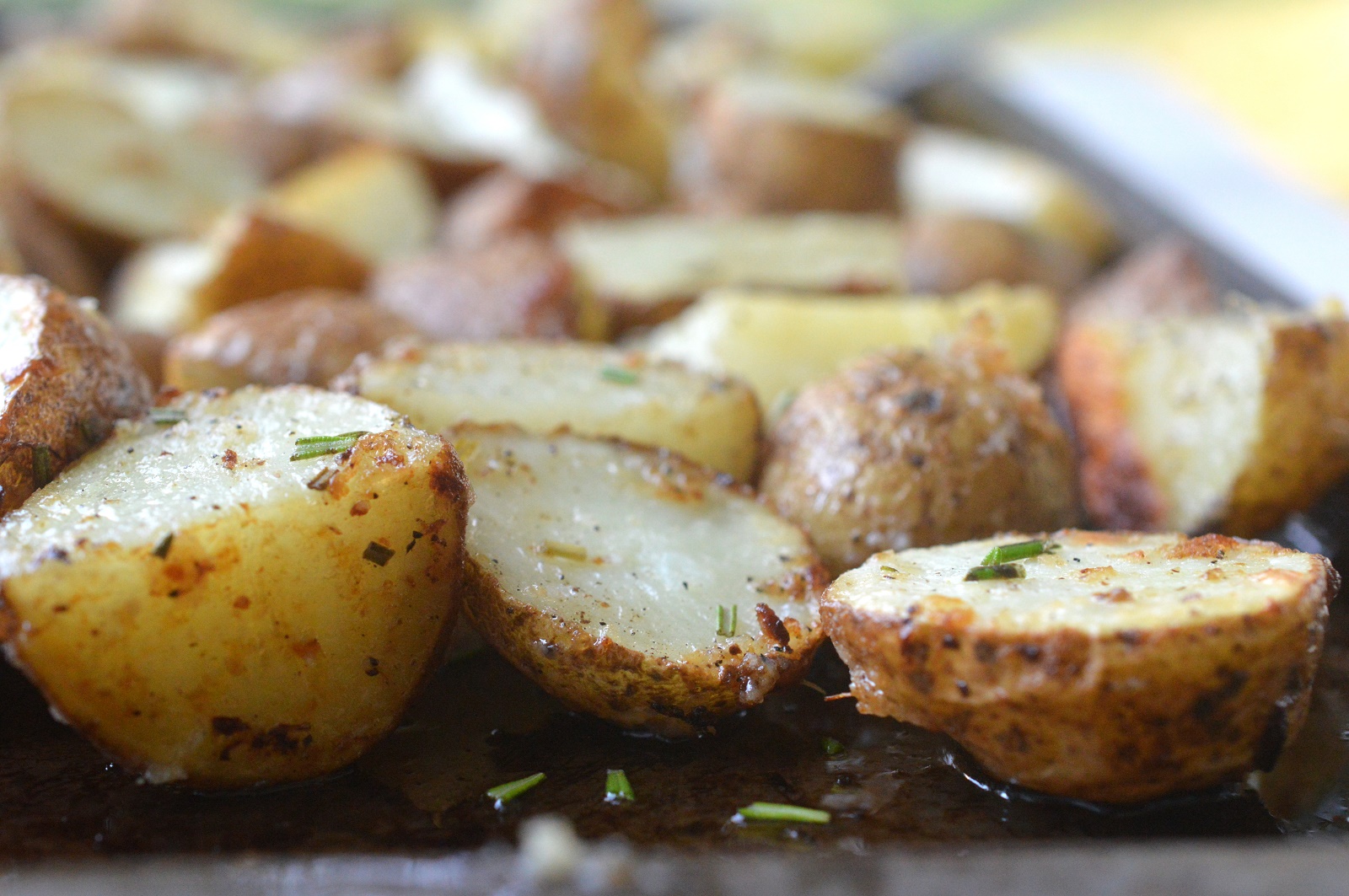 I hope you make these scrumptious Rosemary Garlic Roasted Potatoes. I am not the biggest lover of Rosemary (I think we had it on too many things growing up), however, it really works well on this dish. It comes across as a subtle flavor. I like making these on a sheet pan. Nice and easy. You could also use a casserole dish. Your choice.
Tag me on Instagram if you make these. I'd love to see your result!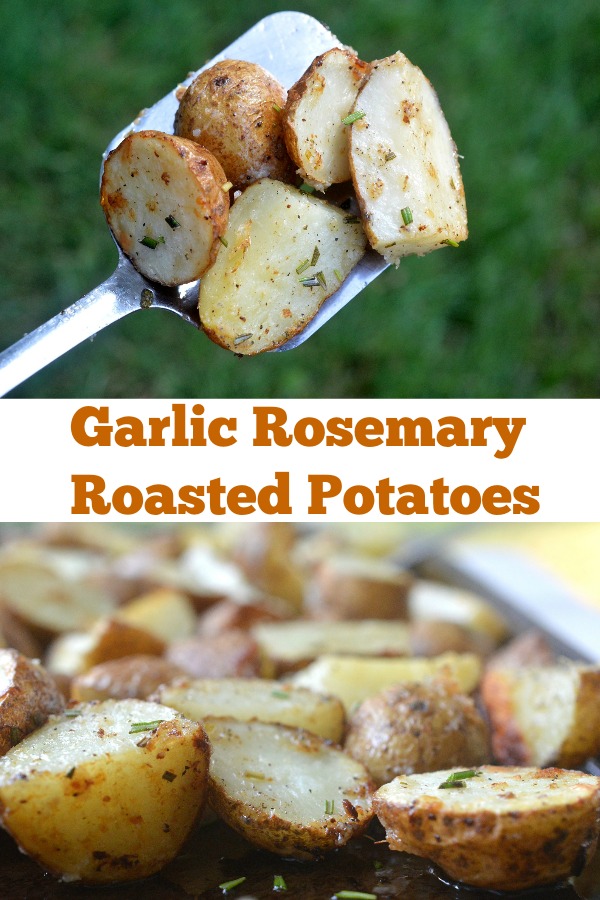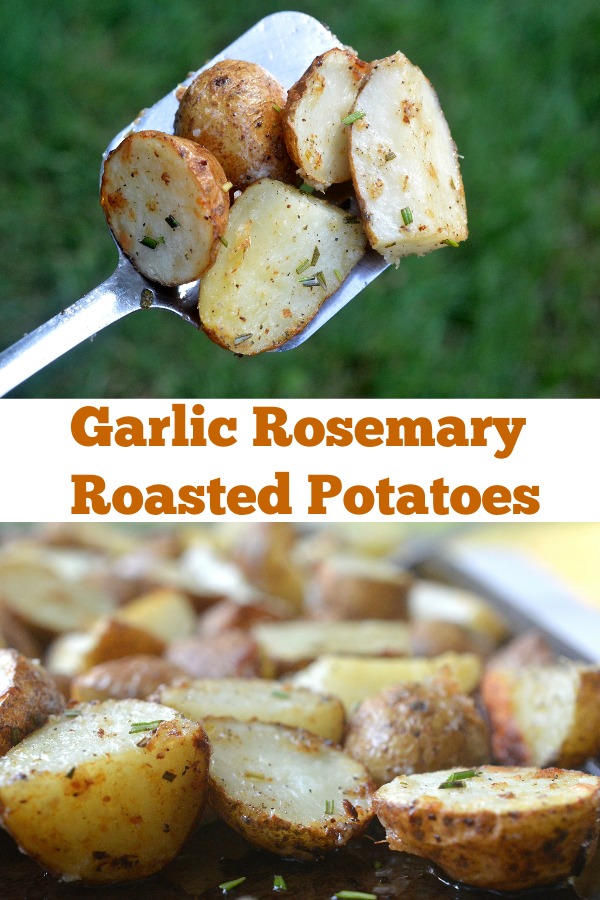 Enjoy!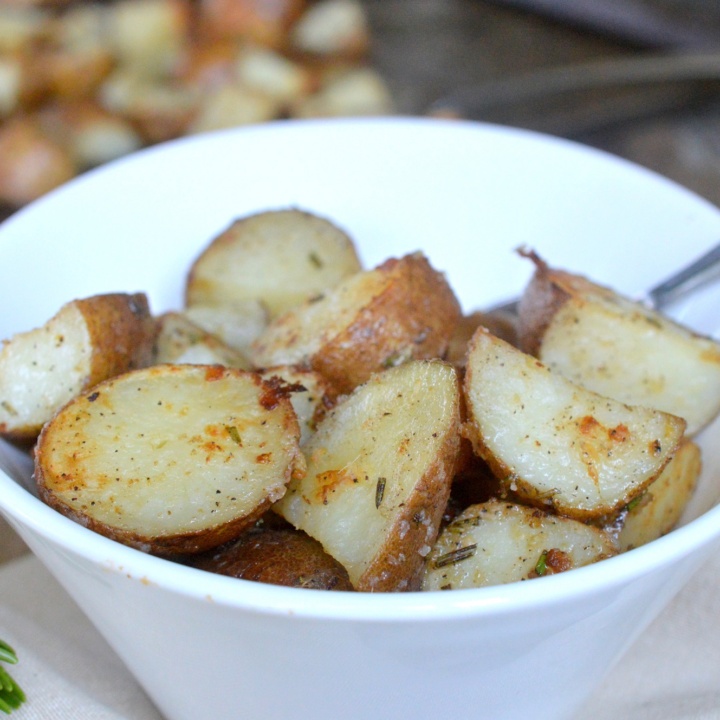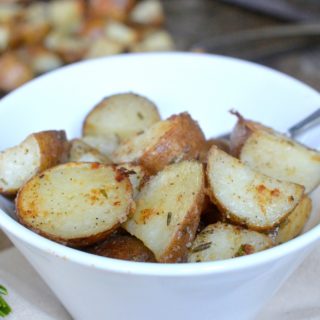 Garlic Rosemary Roasted Potatoes
go with just about everything! Potatoes are nature's ultimate comfort food! These easy to make Garlic Rosemary Roasted Potatoes go with just about everything! Make extra for breakfast leftovers!!
Ingredients
2

pounds

russet potatoes

peeled and cut into ¾-inch chunks

1

tablespoon

extra-virgin olive oil

2

cloves

garlic

minced

1

tablespoon

chopped fresh rosemary

½

teaspoon

salt

¼

teaspoon

freshly ground pepper
Instructions
Preheat oven to 450 degrees and place rack in the upper third of the oven.

Toss potatoes in a large roasting pan with oil, garlic, rosemary, salt, and pepper.

Roast potatoes, turning occasionally with a metal spatula, until golden brown and tender, 30 to 35 minutes.

Optional: Garnish with a Rosemary sprig, scallions or chives
Notes
If you have bacon fat on hand, I love tossing potatoes prior to roasting with 2 TBS of that. It gives SUCH a delicious flavor to the potatoes. (Always save your bacon drippings, mmm!)
When I make these with a bag of Steamables Side Delights Potatoes (which can be cooked to perfection in your microwave in 8 minutes). I cook them in the microwave for 3 ½ minutes. <g class="gr_ gr_184 gr-alert gr_spell gr_inline_cards gr_run_anim ContextualSpelling ins-del multiReplace" id="184" data-gr-id="184">Sut</g> them into chunks, <g class="gr_ gr_185 gr-alert gr_spell gr_inline_cards gr_run_anim ContextualSpelling ins-del multiReplace" id="185" data-gr-id="185">tooss</g> with the rest of the ingredients and roast for 25-30 minutes. Saves me some roasting time this way.
Follow me on Tik Tok for 1 minute videos