This recipe makes me SO happy! It's totally one of those happy-food-dance-in-your-chair kinda meals. I could literally eat it once a week…all year-round. I deem this the Best Pork Bolognese Recipe. Once you try this with ground pork, I think it will become your favorite!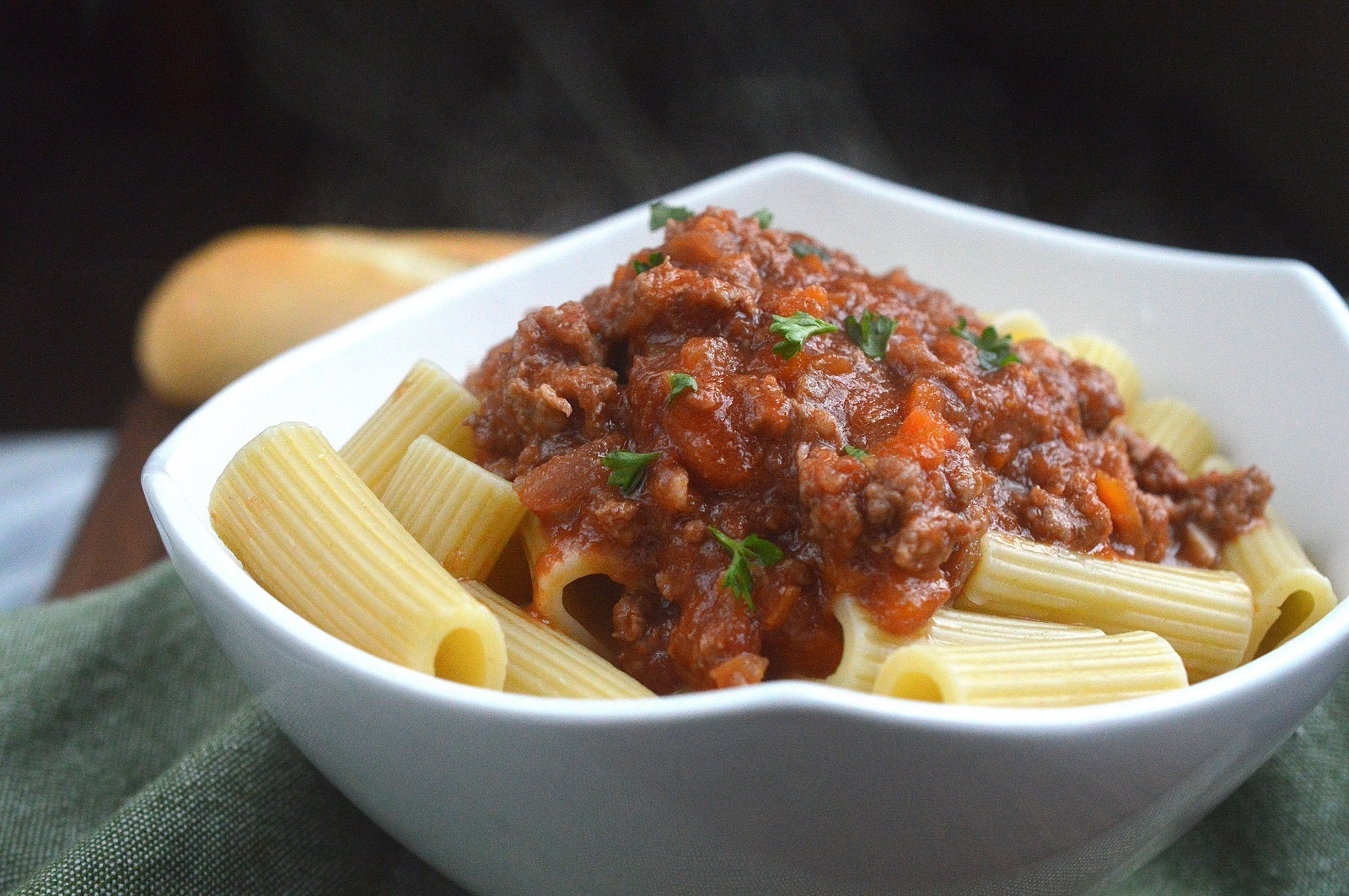 I've tasted other Bolognese recipes, however, after years of tinkering, I have found that this one, for my taste anyway, is the BEST pork Bolognese recipe! This is a go-to comfort food for me.
How Do You Make Bolognese?
Making a bolognese is simple, all you need is one pot for the meat sauce. You start with your mirepoix, which is your chopped veggies (onions, carrots, celery) which will impart both flavor and texture to the Bolognese. Then you add your meat followed by tomato paste, wine and water. It really doesn't take long for the flavors to build. Leftovers are just as delicious!
What Meat Do You Use For Bolognese Sauce?
You can use ground pork as I do, or choose to use ground lamb (my second favorite), ground beef, or even ground chicken. I have also made a meatless mushroom Bolognese using minced mushrooms.
What Do You Serve Bolognese Sauce With?
Traditionally, you serve Bolognese sauce over pasta. I like to use rigatoni for this. I will also use rotini or pappardelle. Many choose to serve it over traditional spaghetti as well. Sometimes I honestly just eat it right out of a bowl…No pasta necessary! I for sure eat about 1/4 cup of it out of the pot as it cooks, lol!
What About Leftovers?
If you make a big pot of the BEST Pork Bolognese Recipe, you can use leftovers for lasagna filling, for a Shepard's Pie, as a filling for hand pies, or to top zoodles with. You can also serve leftovers overtop a baked potato or avocado and call it a meal.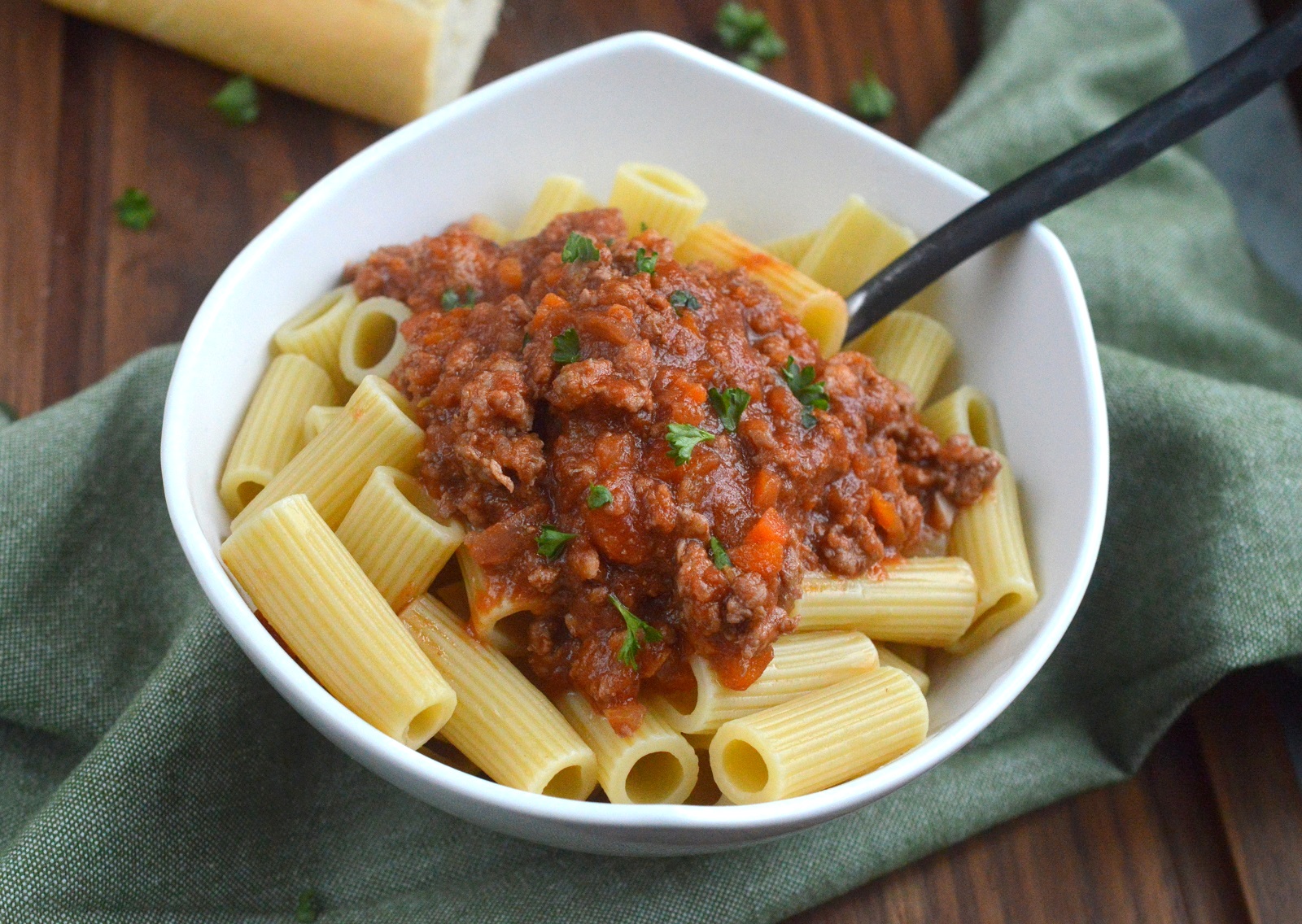 Garlic bread is a perfect partner to The BEST Pork Bolognese Recipe, check out my recipes for The Ultimate Garlic Bread.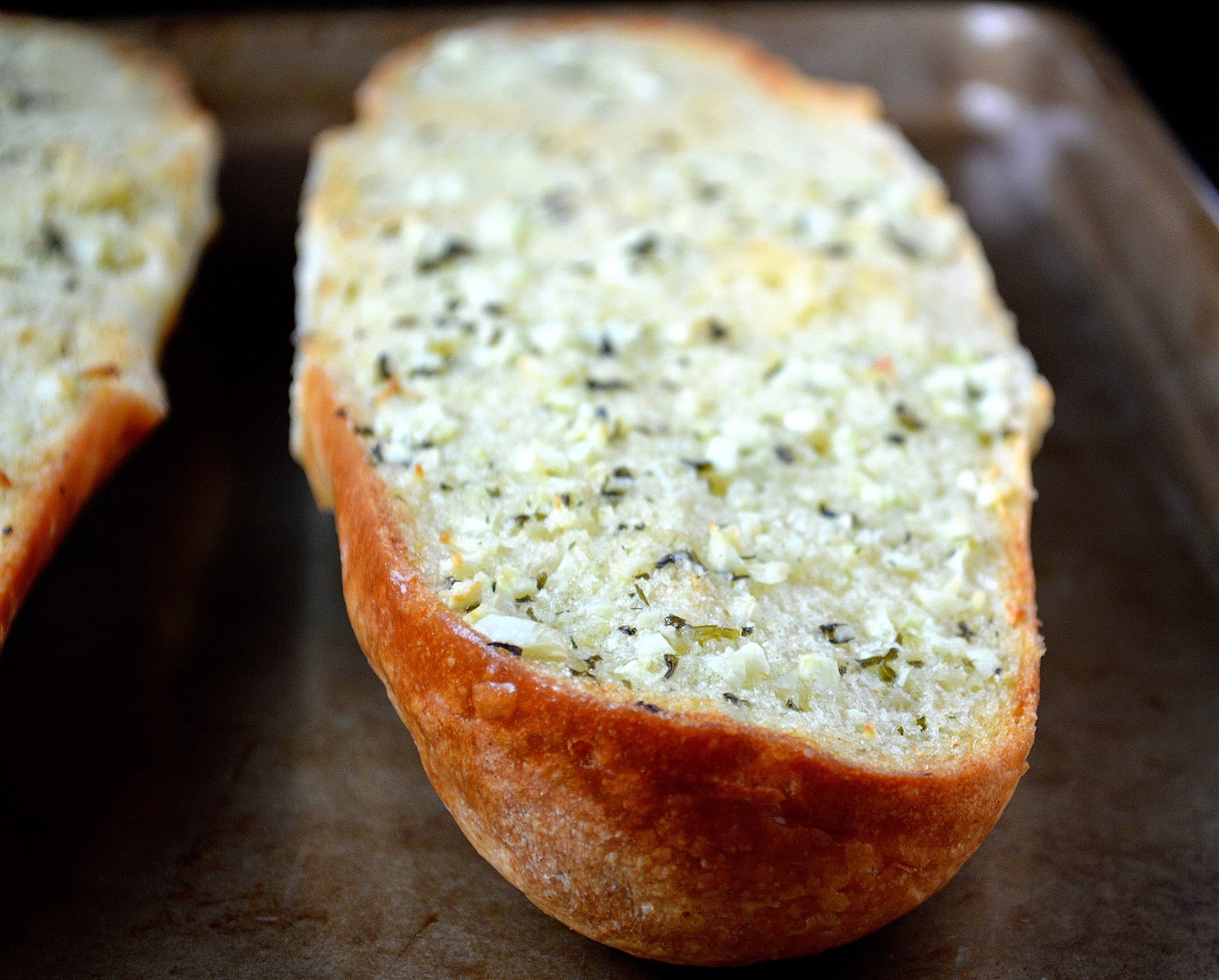 I am a meatball fanatic, as evidenced by the number of meatball recipes I have on my site (click here to see them). I have a beef meatball recipe of course, as well as pork, a variety of chicken and even a mushroom "meatless" meatball recipe. When it comes to a bolognese, I've found that pork is the way to go. The meat is just so flavorful mixed in with the vegetables, sauce, and pasta. I am literally making this for dinner tonight now that I have been typing and thinking about it, lol! I have to!!
I hope you try out my recipe for The BEST Pork Bolognese Recipe! If you want to try a vegetarian Bolognese. My daughter and I make Lentil Bolognese (she is allergic to some meats), I really enjoy it as well.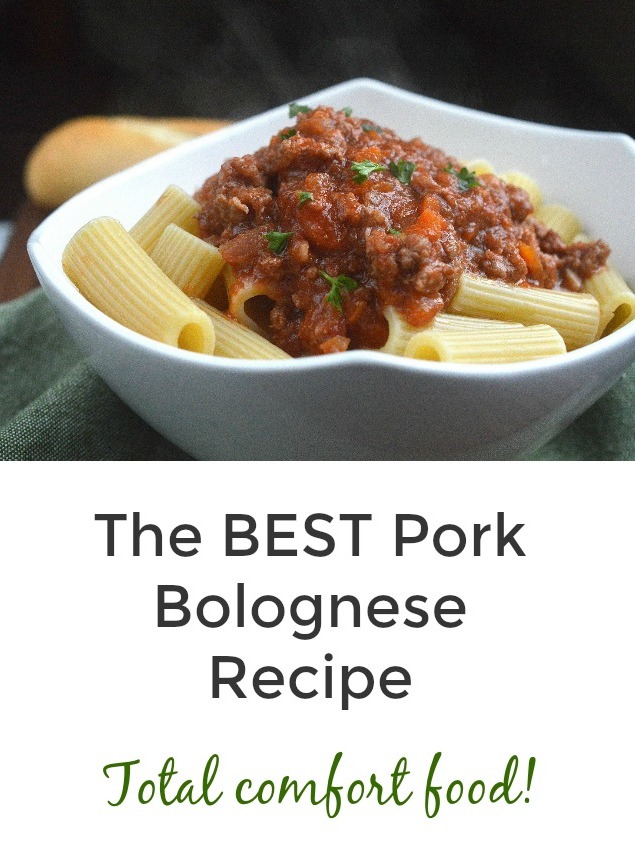 Enjoy!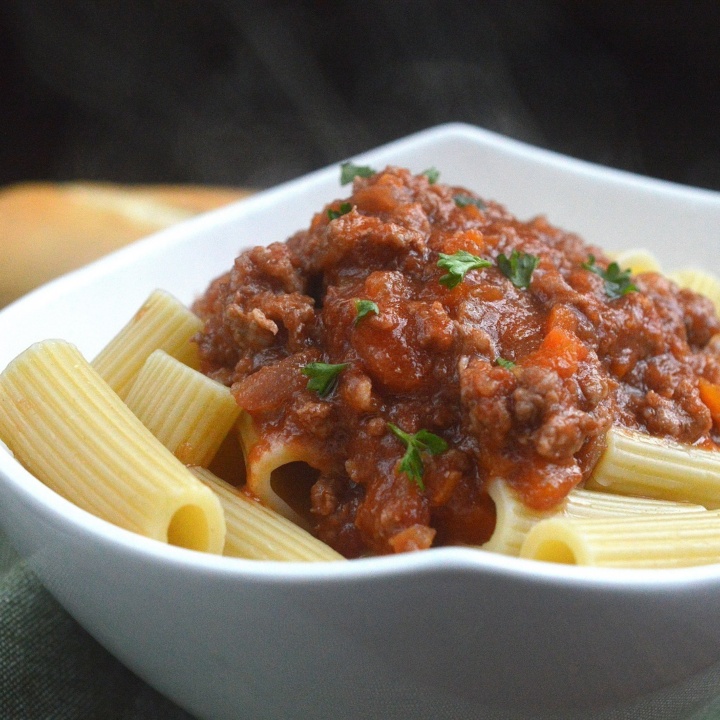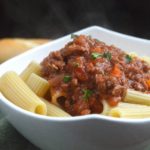 Print Recipe
The BEST Pork Bolognese Recipe
When the temperature dips a warm, comforting Pork Bolognese hits the spot!
Ingredients
1 1/2

TBS

bacon grease

grapeseed oil or olive oil

1 1/2

cups

chopped Vidalia onion

about 1 med-large

Heaping 1/2 cup chopped carrots

1/3

cup

chopped celery

optional

Kosher salt and black pepper

3

large cloves of garlic minced

2

pounds

ground pork

8

oz

tomato paste

2

cups

red wine

something full-bodied that you would drink...not a "cooking" wine. I like a Cab for this

1/2

cup

water

A few sprigs of Thyme

1/2

TBS

sugar

optional

Red pepper flakes if you want a little heat

optional

Pasta

I like Rigatoni for this, however, any type of pasta works

Freshly grated Parmesan

or your favorite hard Italian cheese if you like
Instructions
In a large pot, heat bacon grease or olive/grapeseed oil.

Add in the onions, carrots and celery and saute for 5 minutes or until tender and just browning.

Season with salt and pepper.

Add in garlic and saute for 1 minute.

Add in pork, break it up and allow it to brown.

Add in tomato paste, stirring to combine it with the meat and vegetables.

Add in wine, water and Thyme.

Season with additional salt and pepper and if adding sugar do so here (see notes).

Turn heat down to low and allow bolognese to simmer for 20-30 minutes, checking back often to stir and see if additional liquid (water or wine) needs to be added.

If you happen to have a Parmesan cheese rind, add it or a piece of it to the sauce (not necessary, just a nice way to use it up). And if you really enjoy garlic, add in some additional garlic for a stronger garlic flavor (adding some in towards the end gives a stronger flavor).

Add in a few shakes of red pepper flakes (more if you like heat) and maybe additional salt, taste and decide.

If you have the time, allow the bolognese to sit off heat for 15-30 minutes before serving, reheating if necessary. This deepens the flavor in my opinion and its fantastic the next day as well.

Serve over your favorite pasta ( I like it over rigatoni best), adding fresh shaved Parmesan if you enjoy it.
Notes
If you have Thyme on-hand add in a half dozen sprigs (tie together with kitchen twine for easy removal. OR strip two sprigs and add in just the leaves.
Tomato paste is bitter and depending on how dry the wine you used is...the sauce may need a bit of sugar. Taste and decide on your preference.
Don't be shy with your seasoning and salt. If you enjoy a bit of heat...add in red pepper...as much or as little as you like. Add in more garlic if you like as well.
Nutrition
Serving:
6
servings
|
Calories:
555
kcal
|
Carbohydrates:
16
g
|
Protein:
28
g
|
Fat:
36
g
|
Saturated Fat:
13
g
|
Cholesterol:
112
mg
|
Sodium:
406
mg
|
Potassium:
1032
mg
|
Fiber:
3
g
|
Sugar:
8
g
|
Vitamin A:
2394
IU
|
Vitamin C:
14
mg
|
Calcium:
59
mg
|
Iron:
3
mg