This post is sponsored by Light 'n Fluffy® Noodles. All comments and opinions are my own.
Who else loves a meal you can easily make in one pot, and in under 30 minutes?? I know I do! This recipe for an Easy Cajun Chicken Noodle Casserole is one of those meals I think you will be making again and again. Even my kids are crazy for this one.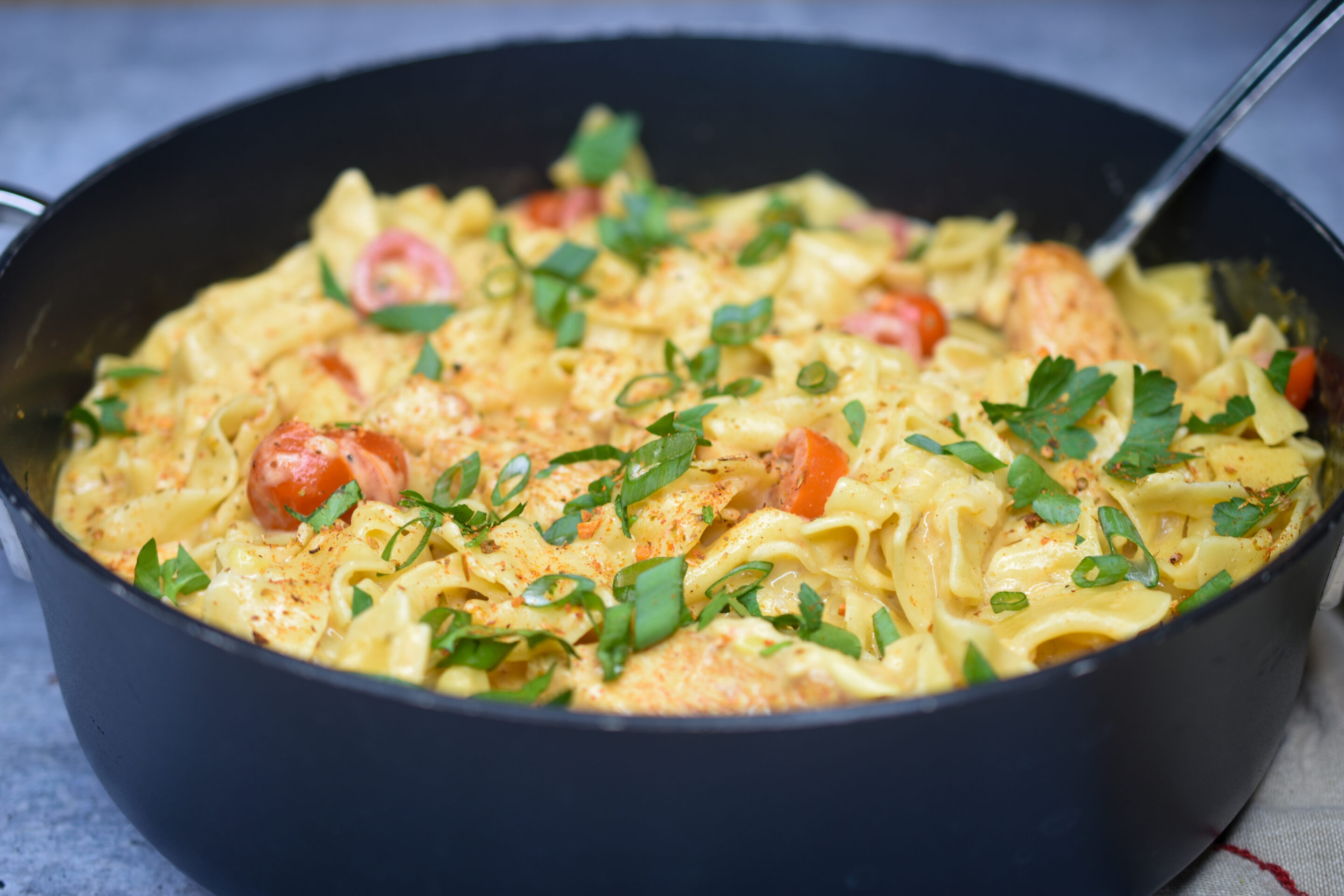 This easy recipe is just SO creamy and full of flavor. It makes you think of an alfredo sauce with the great flavor you get from the Cajun seasoning, mmm. It tastes like you're eating out at a restaurant!
Light 'n Fluffy® Noodles are the star of this dish. I've always found their noodles to be easily interchangeable with pasta in any recipe. They cook quickly and they absorb flavor so well! They are a staple in my pantry, just as they were in my mom's pantry and my grandmother's pantry.
Something about noodles is just so comforting. Whether they are in a soup, stew, casserole or simply served on their own with some butter, salt and pepper. As much as my kids enjoy a good meal and are adventurous eaters, I know both would opt for a bowl of buttered noodles over just about anything else.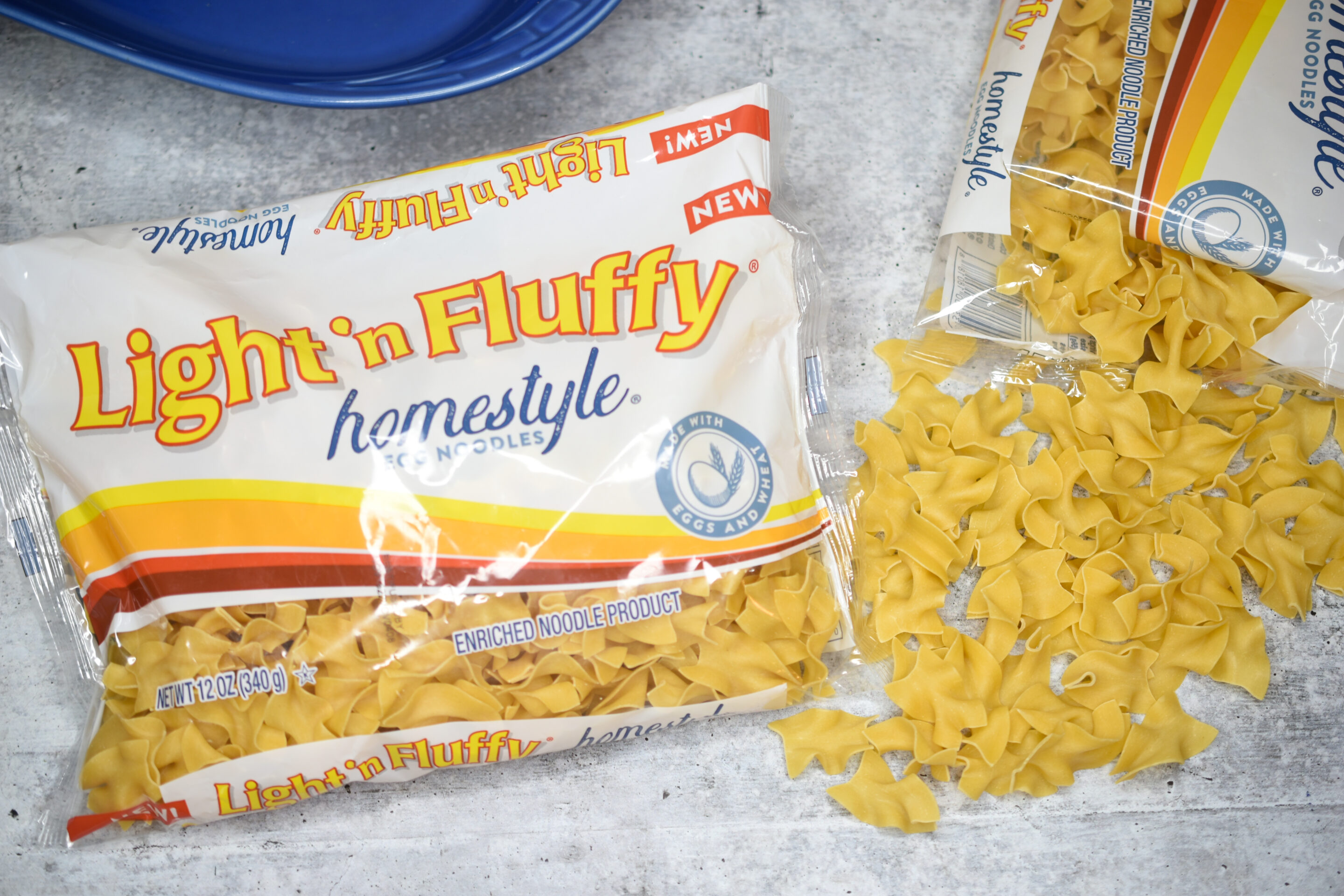 This easy recipe for Cajun Chicken Noodle Casserole is so flavorful and the best part is you can easily make it in one pot or even make it ahead, place it in a casserole dish and reheat when ready to enjoy.
I shopped at my local ShopRite and picked up a couple of bags of Light 'n Fluffy® Homestyle Noodles, however you can use any variety of noodles for this recipe. I often use their Extra Wide or Wide Noodles because I just love how sauce, gravy and yes butter too, clings to them.
Casseroles and one-pot meals are quintessential comfort foods for many families and often noodles are one of the stars of the show, add in chicken and a delicious sauce plus seasoning and…winner!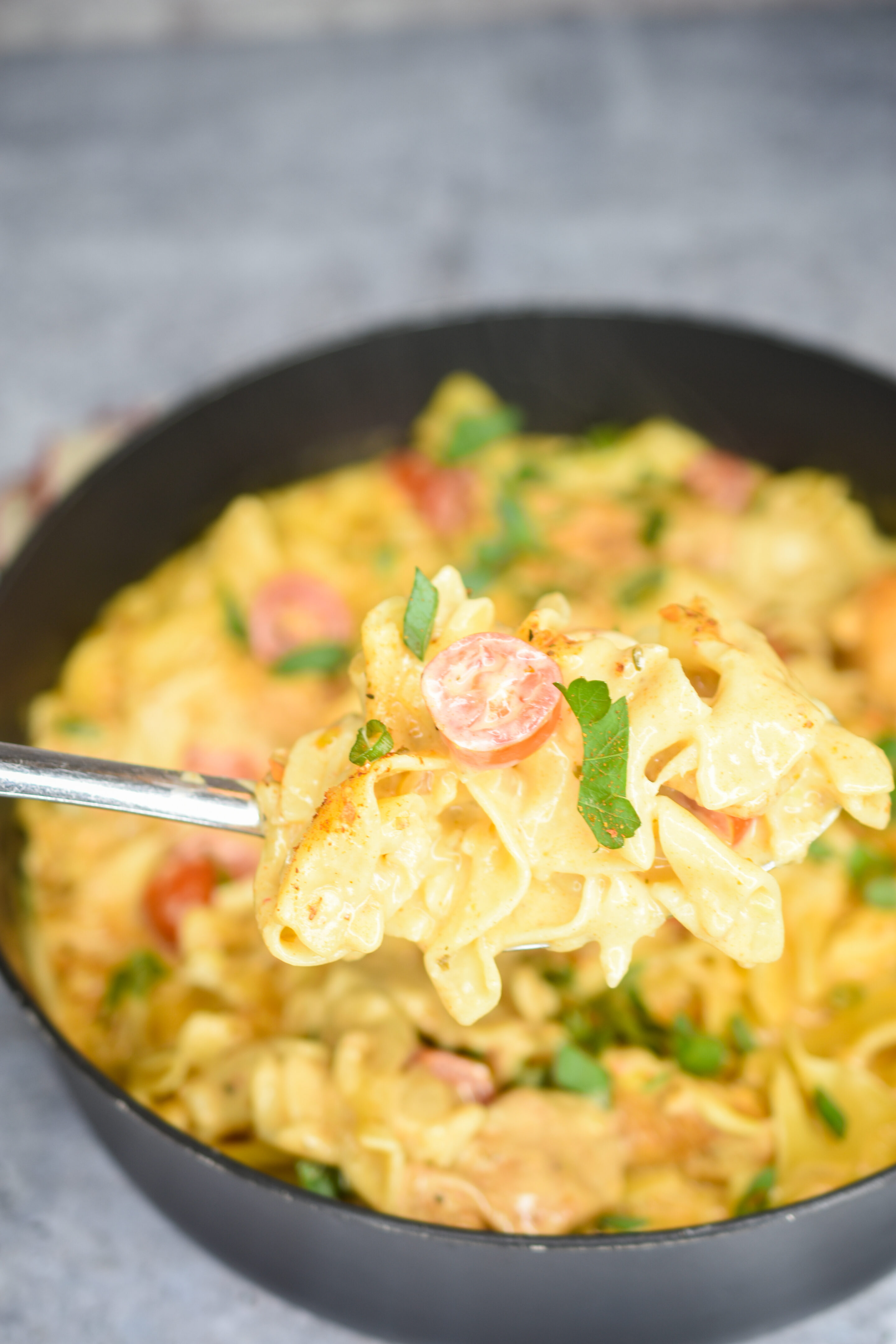 In my opinion, you can make this recipe with or without the chicken. The flavor of the Cajun seasoning as well as the other ingredients mingling with the noodles is amazing on its own.
If you want to try this recipe too, click HERE to shop for Light 'n Fluffy Noodles at ShopRite.
Ingredients for Cajun Chicken Noodle Casserole
¾ pound of boneless Chicken

3-4 TBS of Cajun Seasoning

Grapeseed or olive oil

1 cup chopped onion

2 cloves minced garlic or 2 TBS garlic paste

4 cups vegetable or chicken broth

12 oz. bag Light 'n Fluffy® Egg Noodles

4 oz. cream cheese

1 ¼ cup heavy cream

1 cup halved grape tomatoes

Scallion & and or parsley for garnish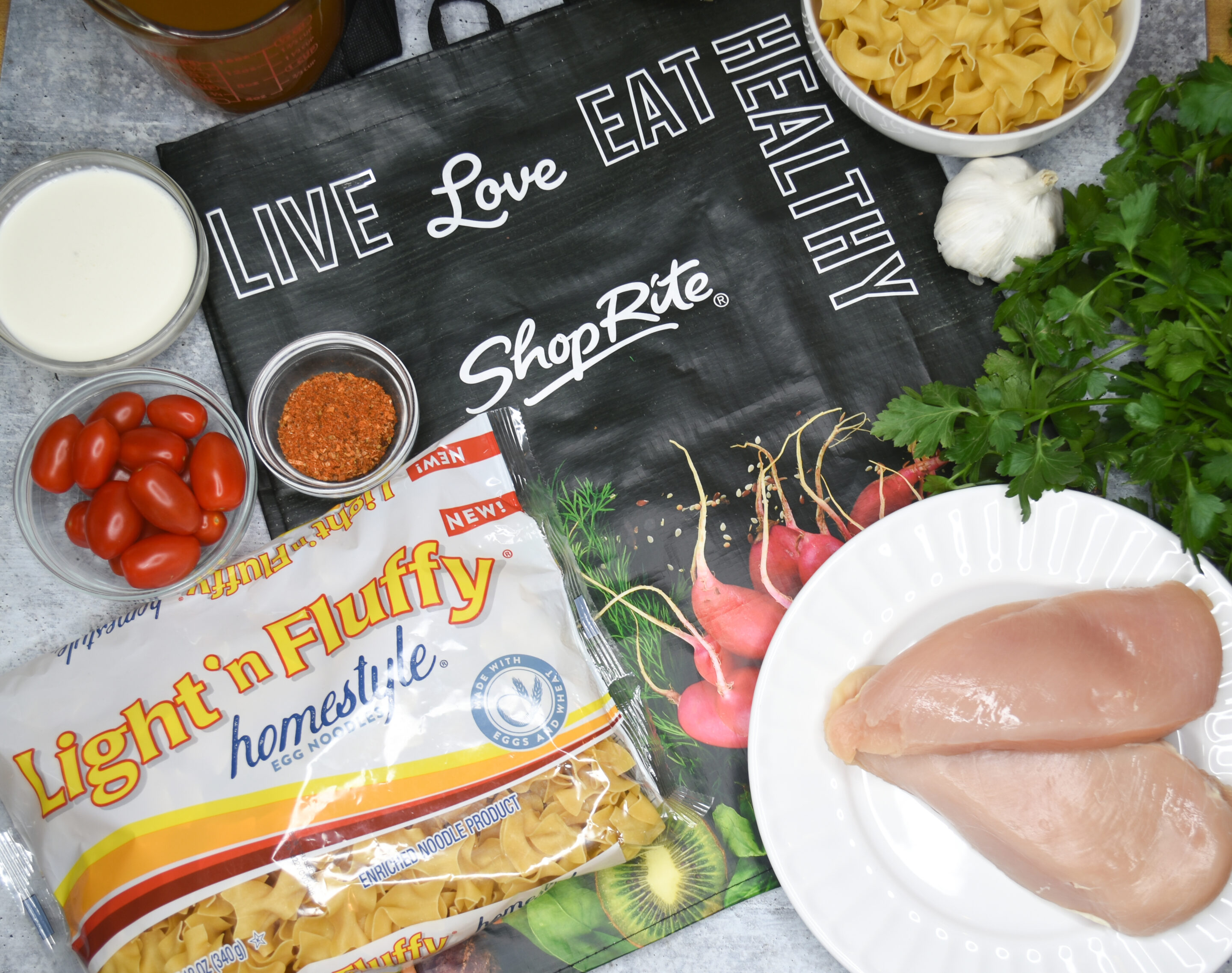 Variations
Feel free to add in a handful of fresh baby spinach

If you enjoy things really spicy, add in some chopped jalapeno when you sauté the onions.

If you enjoy Okra, you can always add some of that in a swell.

You can use chicken broth or vegetable broth for this recipe, however I think vegetable broth gives it a deeper flavor.

If you don't have fresh tomatoes on-hand you can add in a strained can of diced tomatoes, or even sun-dried tomatoes or if you are not a fan of tomatoes, leave them out.

If you are a cheese lover, you can also add in some freshly grated parmesan cheese (in the sauce or on-top of the dish).
Tips when making this recipe:
Use a non-stick pan

Don't fret that the broth doesn't completely cover the noodles, it's just fine as long as you stir often.

When initially browning the chicken, that is all you are doing, browning it for flavor…not cooking it through (you don't want to end up with overcooked chicken). Add additional oil as needed when cooking the chicken as well as when you sauté the onions.

I do not add any salt or black pepper to this dish. Honestly, it does not need it between the Cajun seasoning and other ingredients added. However as always, taste and adjust to your liking.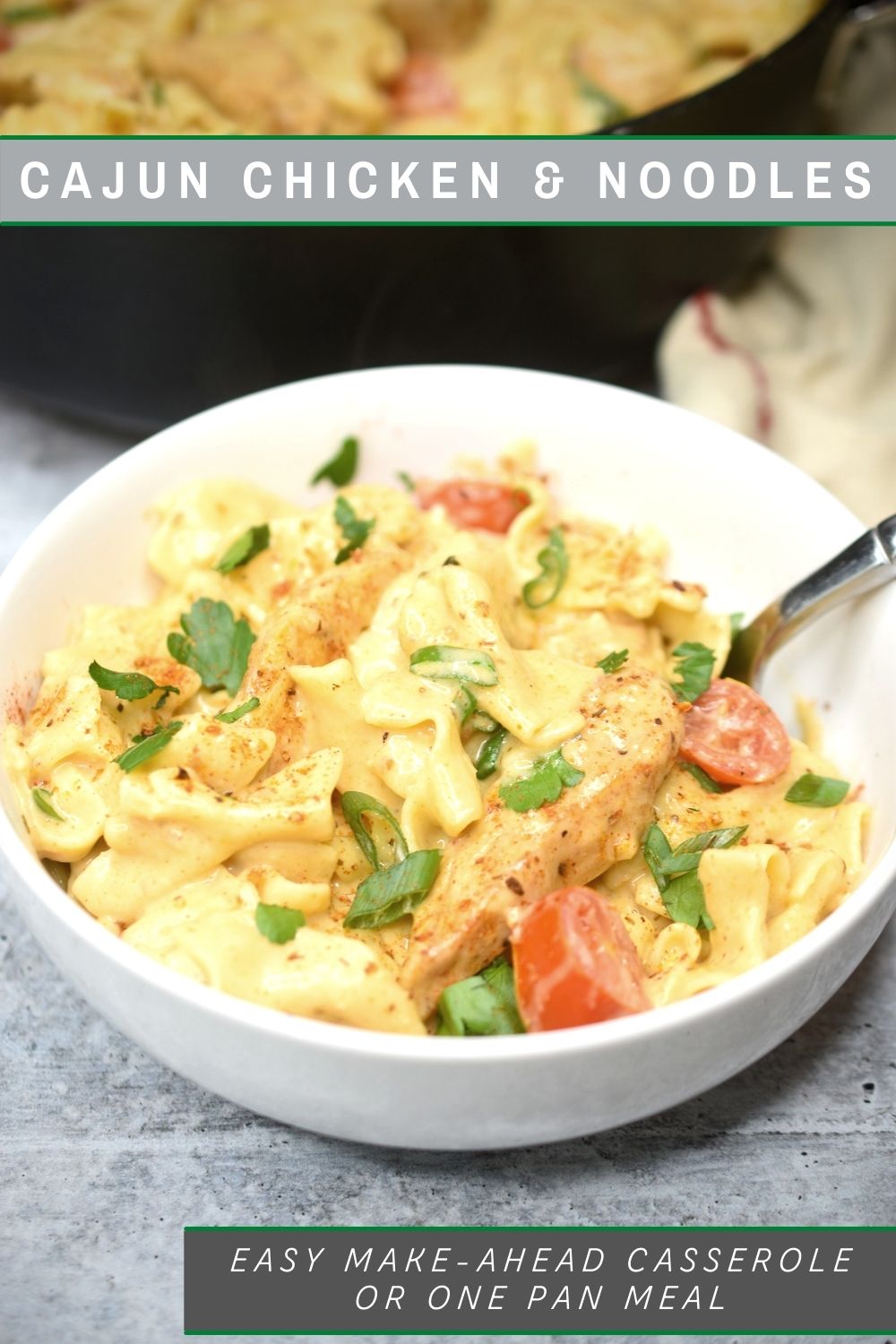 I hope your family enjoys this Cajun Chicken Noodle Casserole recipe as much as mine does! You may also enjoy this favorite Noodle Salad of mine, which is so pretty! It's a BBQ staple for me. OR if you enjoy Cajun flavor, your may enjoy this Shrimp & Andouille Skillet, I make huge post of it and bring it to gatherings.
Enjoy!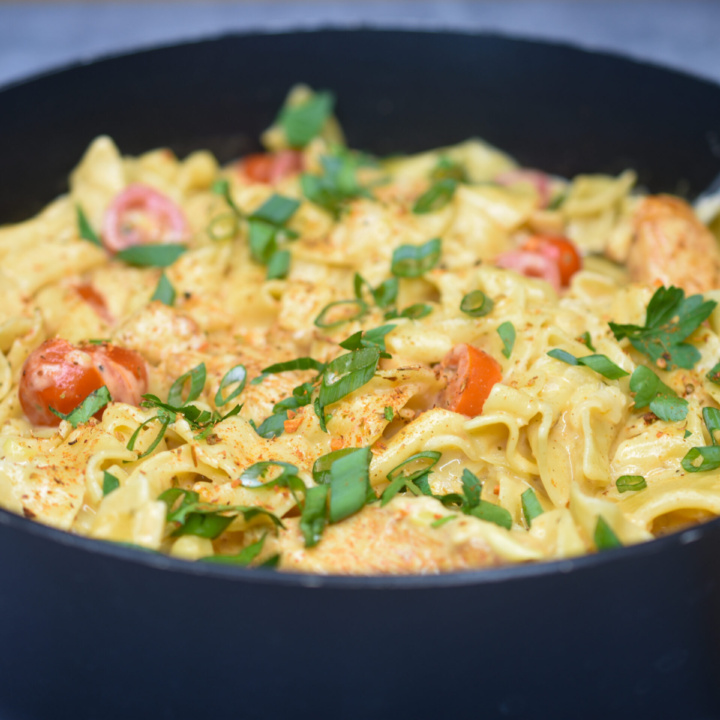 Print Recipe
Cajun Chicken Noodle Casserole
Easy and super flavorful Cajun Chicken Noodle make ahead Casserole or one-pan meal.
Ingredients
¾

pound

of boneless Chicken

3-4

TBS

cup of Cajun Seasoning

store-bought or homemade

Grapeseed or olive oil

1

cup

chopped onion

2

cloves

minced garlic or 2 TBS garlic paste

4

cups

vegetable or chicken broth

12

oz

bag Light 'n Fluffy® Noodles

4

oz

cream cheese

cut into small chunks

1 ¼

cup

heavy cream

1

cup

halved grape tomatoes

Scallion and or parsley for garnish
Instructions
Slice your chicken into bite-sized strips or chunks and then coat the pieces well with Cajun seasoning.

Heat a large sauté pan or skillet, with sides at least - inches high, over med-high heat. Once the pan is hot, add the oil.

Once oil is hot and begins to shimmer, add the seasoned chicken and sauté for 4 minutes or so. Just enough to brown all sides of the chicken. Add additional oil if necessary.

Remove chicken to a bowl, and add in onion, adding additional oil if necessary), sauté for 2 minutes, add in garlic or garlic paste and sauté another 1-2 minutes, stirring often.

Remove onion mixture and put it in the bowl with the chicken, cover.

Add in vegetable or chicken broth to the pan, turn heat to high, and stir it around detaching any browned bits or seasoning from the pan.

As soon as broth begins to boil, add in noodles.

Allow noodles to cook, stirring often for 6 minutes. Lower heat to medium and add in creamed cheese. Stir in until creamy.

Add in heavy cream, tomatoes and your chicken & onion mixture, stirring to incorporate.

Add in another ½ TBS to 1 TBS of Cajun seasoning.

Transfer contents to a casserole dish (or if your pan is oven safe, feel free to use that as well).

Bake in a preheated oven at 350 degrees for 15-20 minutes.

Taste and adjust seasoning.

Sprinkle with additional Cajun seasoning (if desired), snipped parsley and or sliced scallions.
Notes
If adding in sliced or chopped jalapenos, do so when adding the onions. 
If adding in fresh baby spinach, add in when you add the cream.
Nutrition
Serving:
4
servings
|
Calories:
832
kcal
|
Carbohydrates:
75
g
|
Protein:
36
g
|
Fat:
44
g
|
Saturated Fat:
24
g
|
Trans Fat:
1
g
|
Cholesterol:
259
mg
|
Sodium:
243
mg
|
Potassium:
890
mg
|
Fiber:
7
g
|
Sugar:
7
g
|
Vitamin A:
4449
IU
|
Vitamin C:
10
mg
|
Calcium:
138
mg
|
Iron:
3
mg