Delicious pasta, chicken, lemon, fresh basil, and avocados come together to create this sophisticated yet simple to prepare Creamy Avocado Basil Lemon Chicken Pasta. Skip your traditional sauce and give this vibrant dish a try!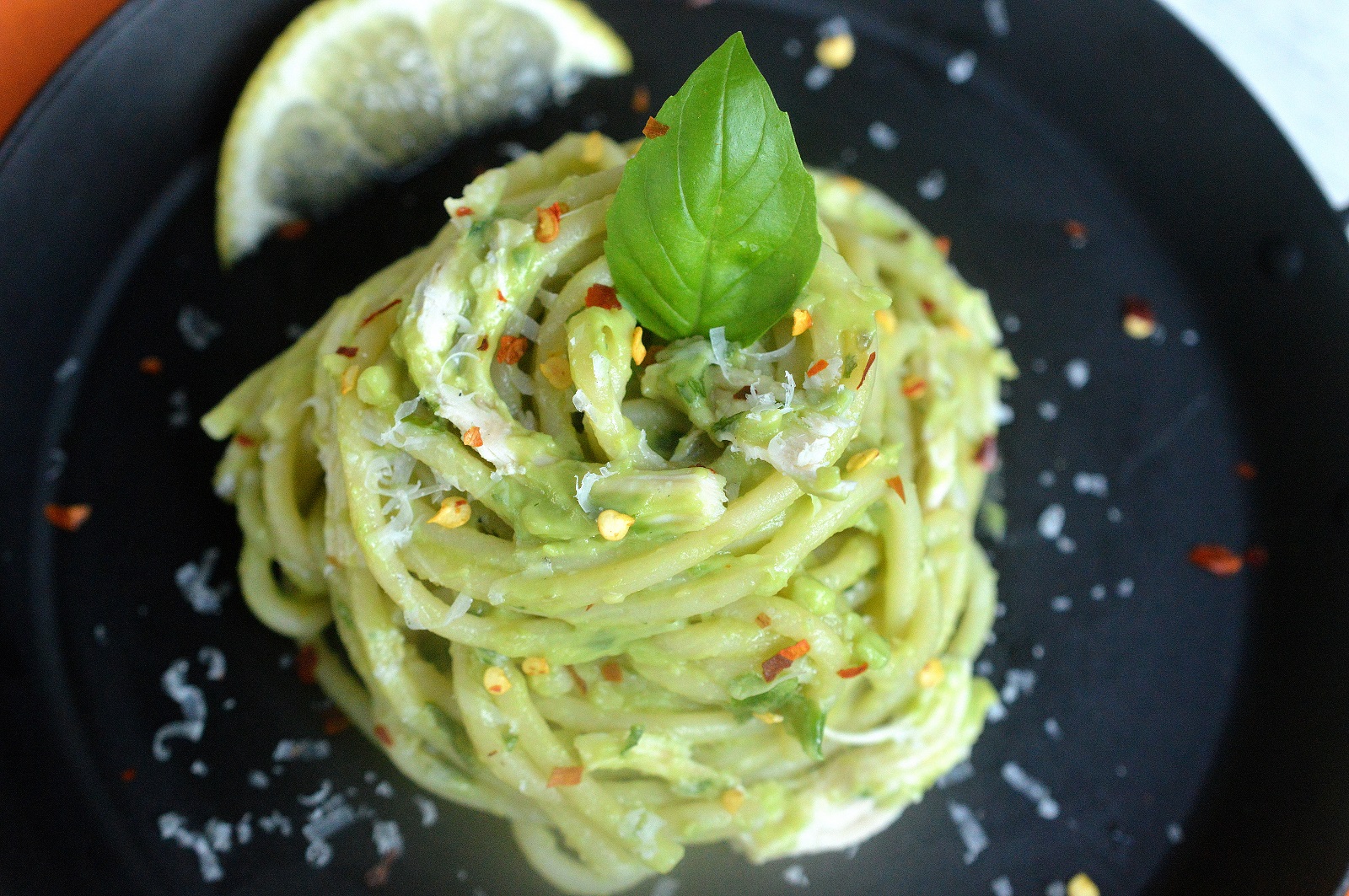 One thing my whole house can agree on when it comes to food is pasta, I know that my family is not alone in that. Pasta graces more tables come dinner time than just about any other staple. Did you know that the average American, eats 51 pounds of pasta each year? I'm willing to bet that both of my kids eat way more than that!
Avocados are a nutritional powerhouse! Pairing avocado with pasta is not only smart, but it's also fork after fork of creamy deliciousness! Making this Creamy Avocado Basil Lemon Chicken Pasta is easy. By the time the water is boiling for the pasta, you have just about made your sauce. All you need to add is a bit of your pasta water and your sauce is complete. You can choose to add some shredded chicken to the sauce or enjoy it meatless or with a sprinkling of crumbled bacon. It's your call. Choosing to use a store-bought rotisserie chicken (or breast) makes this dinner a snap!
This Creamy Avocado Basil Lemon Chicken Pasta is so good, like wiggle in your chair while you eat with happiness good! My husband was not into the idea of this the first time I made it at all and then just kept saying over and over how he couldn't believe how much he likes it (score one for me!!). It's funny, he will eat a little guac, but that's it for him when it comes to avocados (sigh…I know!!). In his mind avocados and cilantro go hand in hand and he wants nothing and I mean nothing to do with cilantro, which is why I went with basil in this sauce, and I have to say as a cilantro lover (and testing out both basil and cilantro)…Basil is the way to go here!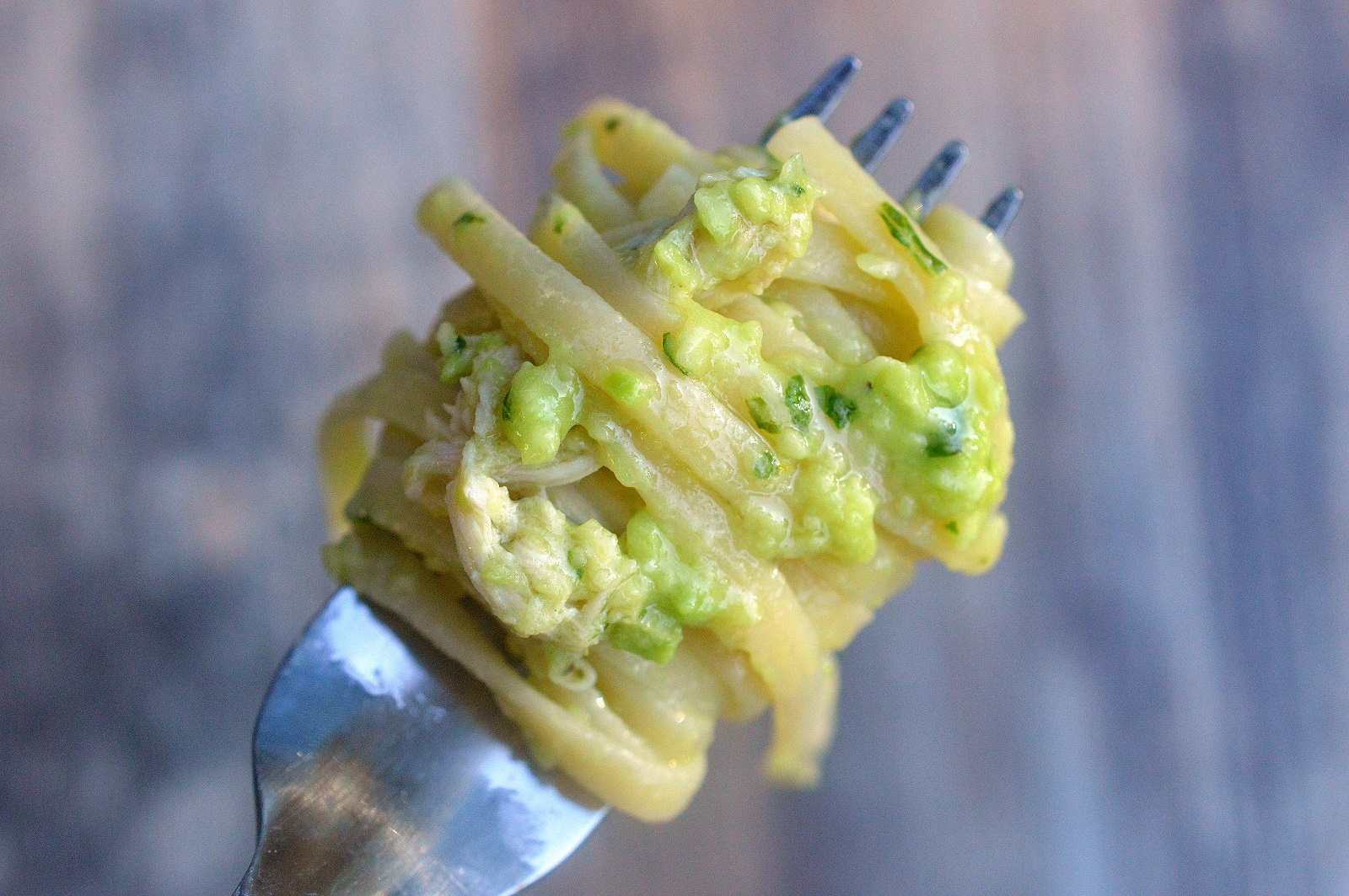 This is seriously one of my favorite pasta dishes now, the Creamy Avocado Basil Lemon Chicken Pasta sauce is so incredibly fresh tasting. If you enjoy spicy food, add in as much red pepper or jalapeno as you like. Oh and here's a tip from the chefs at Academia Barilla. When you salt your pasta water before boiling, it should taste like the sea. Gordon Ramsay says that too. So I listen 🙂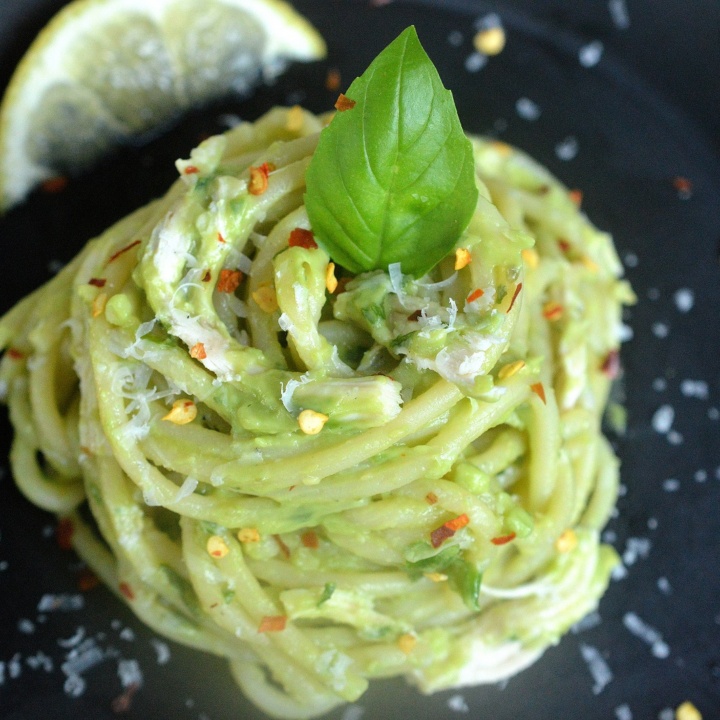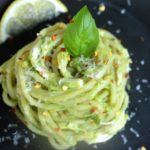 Print Recipe
Avocado Lemon Pasta & Chicken
Ingredients
1/2

pound

Linguini

3

cloves

garlic

1

TBS

chopped jalapeno

up to a whole jalapeno

1/3

cup

Basil

2

avocados

skins and pit removed.

Juice of 1 lemon

1/2

cup

pasta water

1/4

cup

grapeseed

avocado or olive oil

Kosher salt & pepper

Basil

grated Parmesan, Romano or Asiago cheese & lemon zest for garnish

Shredded chicken
Instructions
In your food processor or power blender, pulse garlic, jalapeno, basil, avocado and lemon juice until almost smooth.

Drizzle in oil and pulse until smooth.

Add in hot pasta water until sauce reaches the consistency you enjoy (1/4 cup to 1/2 cup).

Season, pulse, taste and adjust.

Toss with shredded chicken (if you are using it).

Toss sauce and pasta (with or without shredded chicken) in a bowl until evenly coated, portion out the pasta and then garnish with grated Parmesan, Romano or Asiago cheese & lemon zest. If you want more spice, sprinkle with red pepper flakes.

Enjoy!
Notes
Depending on how spicy you enjoy your food, use a small amount up to a whole jalapeno (with or without the seeds depending on your preference for heat AND how hot your jalapeno is).
Always test a jalapeno before using it in a dish due to the incredible range it may have from mild to very spicy.
The sauce is meant to be enjoyed fresh since the avocado will discolor.