One of my favorite meals is Pork Bolognese. My daughter, however, has food allergies to most meats so for her I began making this easy Lentil Bolognese and darn if it's not delicious and satisfying. You won't even miss the meat!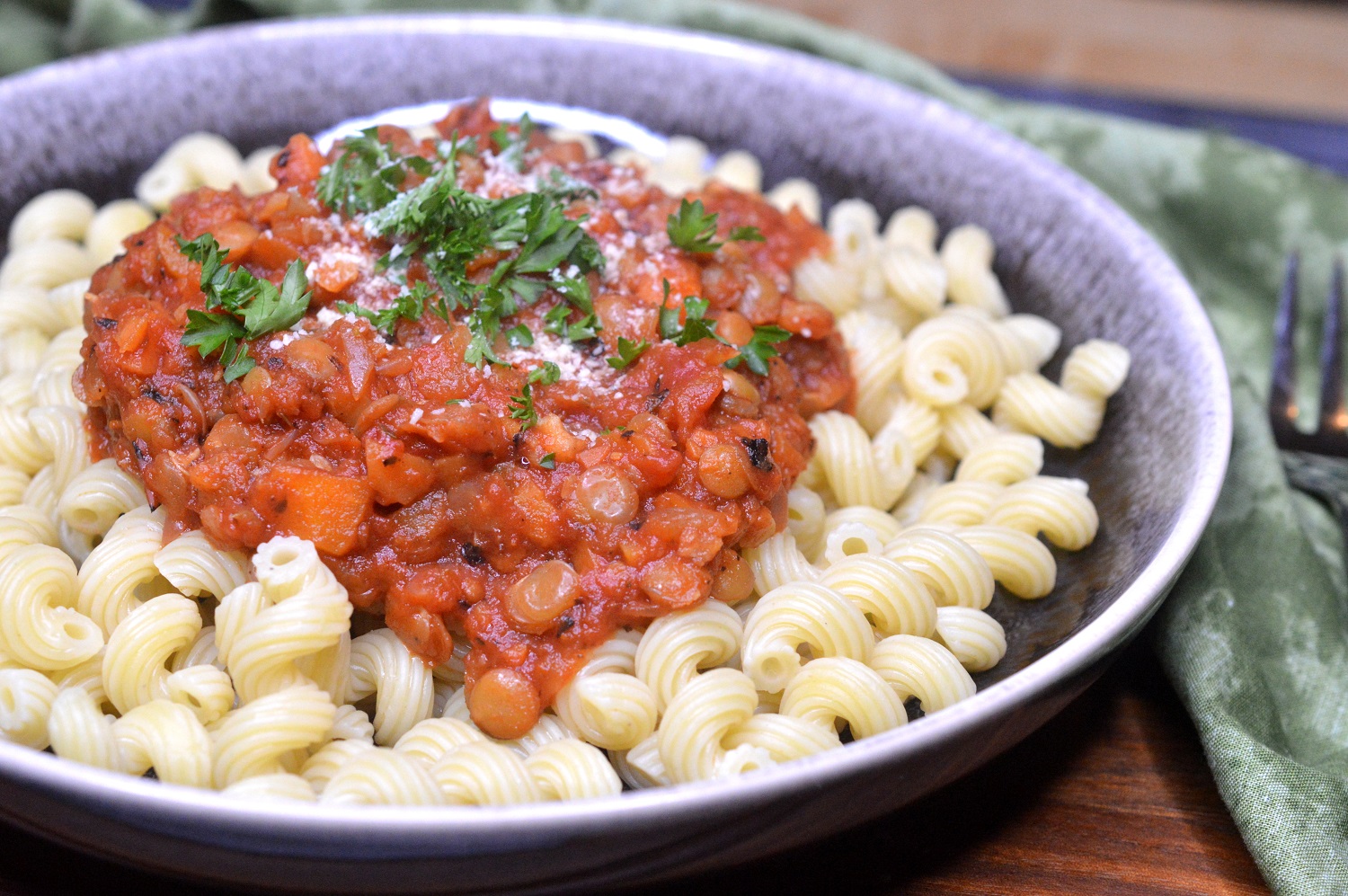 I can go a day or maybe two without meat or some sort and not notice it was missing, however, if I know I am not going to have it or can't (Lent...I am looking at you) it seriously messes with my mind. I grew up in a meat and potatoes household IF we didn't have some sort of meat at dinnertime it must have been Ash Wednesday or a Friday in Lent.
Oh, the stories I could tell you about the ways I pretended to eat any meat other than chicken growing up...where I hid it or attempted to bury it, etc. Meanwhile, in my adult life, I love it!
Since my daughter can't eat most meats, we experiment and come up with meals she can eat that mimic what she feels she's missing. This Lentil Bolognese recipe is one of her favorite dinners, hands down! It's satisfying and full of flavors. It can be enjoyed over pasta or simply on its own.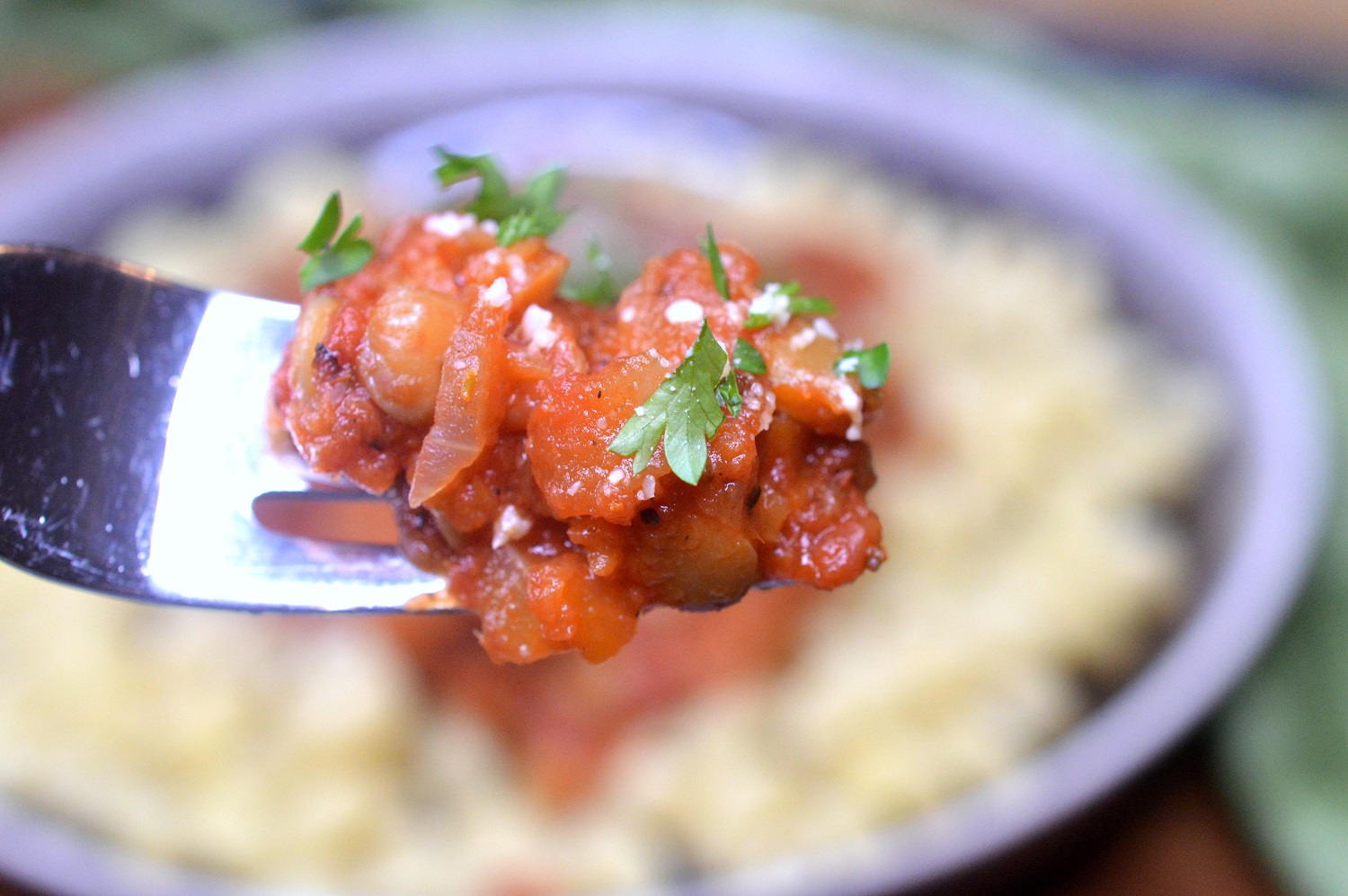 How Do You Make Lentil Bolognese?
Making this Lentil Bolognese is easy and just requires one pot. The ingredients you need are grapeseed or olive oil, chopped sweet onion, chopped carrots, chopped garlic, tomato paste, crushed tomatoes, Italian seasoning, fresh minced Rosemary or Thyme (either one or both is a lovely addition), kosher salt and black pepper, sugar, vegetable broth, and lentils. If you want to enjoy vegetarian Lentil Bolognese, swap the chicken broth for vegetable broth.
What Kind Of Lentils Do You Use To Make Lentil Bolognese?
Any variety of green lentils works best in my opinion. They come dried in bags. Green lentils have a nice earthy flavor and stay a little firm after cooking which I enjoy. Red lentils, on the other hand, are too mushy for my taste and if cooked too long break down.
What Do You Serve Lentil Bolognese With?
Enjoy Lentil Bolognese on its own, garnished with fresh shredded Parmesan cheese, over pasta, over avocado slices, over polenta, stuffed into a pepper over zoodles or any way you dream up!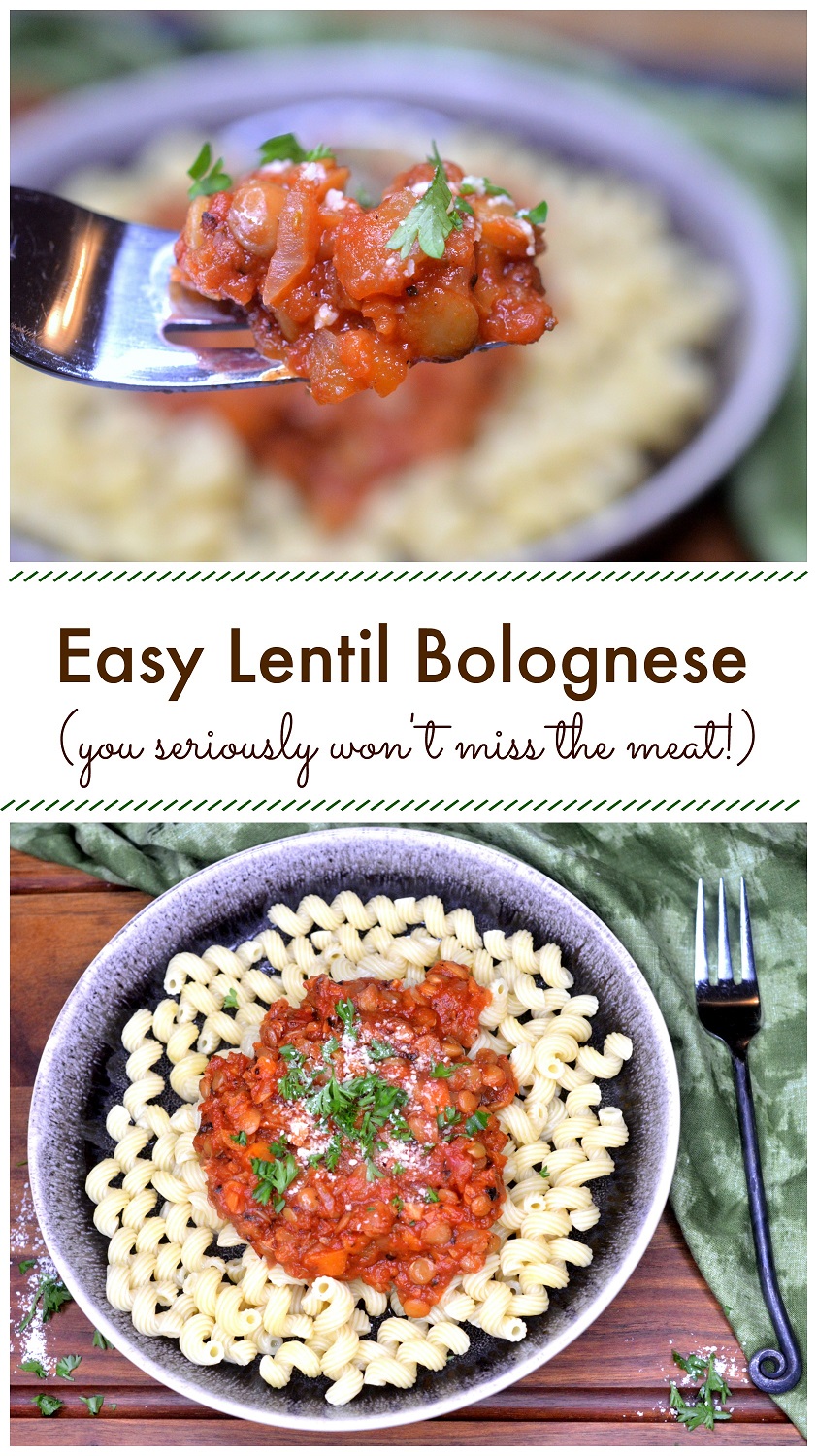 I hope you enjoy this recipe! Trust me when I say that this bolognese is so rich and satisfying...You just won't miss the meat!
If you enjoy meatless recipes every now and again, try my Meatless Mushroom Meatballs, or my Veggie Burger which will blow your mind...It's that good!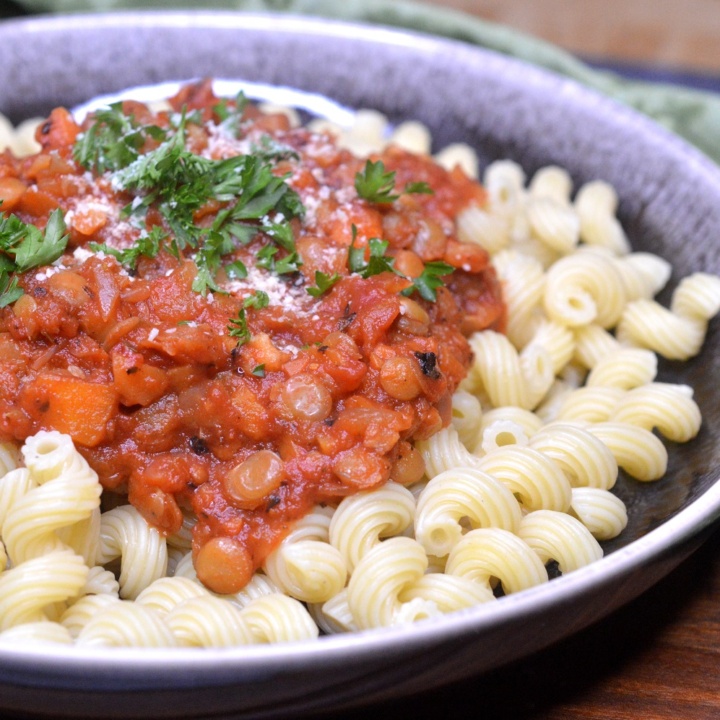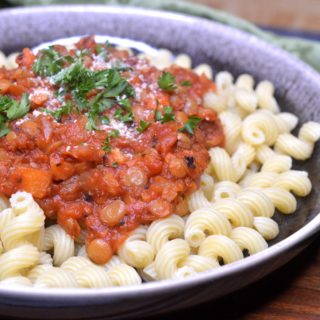 Easy Lentil Bolognese
This recipe for Lentil Bolognese is so rich and satisfying, you won't miss the meat! Serve over pasta or enjoy it on its own.
Ingredients
1 ½

TBS

grapeseed or olive oil

1

cup

chopped sweet onion

¾

chopped carrots

4

cloves

chopped garlic

4

TBS

tomato paste

28

oz

crushed tomatoes

1

TBS

Italian seasoning

1

TBS

fresh minced Rosemary or Thyme

either one or both is a lovely addition

Kosher Salt and black pepper

don't be shy

2

teaspoons

sugar

1

cup

vegetable broth

½

cup

red wine

optional, see notes

1

cup

lentils

Parsley and Parmesan cheese for garnish
Instructions
Add oil to a medium pot over medium-high heat and saute onions and carrots for 5-8, stirring often minutes just until they start to brown.

Add in garlic and saute one minute more.

Next add in tomato paste, crushed tomatoes, lentils Italian seasoning, herbs, salt, pepper, vegetable broth, wine if using and stir to combine.

Add lentils, cover and cook for 20 minutes, stirring often.

Taste and adjust seasoning.

Cook until lentils are done to your liking adding additional vegetable broth or water if necessary.
Notes
Reduce the amount of sodium by using low sodium chicken broth.
This is a very forgiving recipe and its easily adaptable to your tastes.
We use regular dried lentils for this (Goya brand usually and they are greenish-brown in color).
If you enjoy spicy food, add in a chopped jalapeno, red pepper flakes or both.
If you want more vegetables, you can add in chopped red or green peppers or even small sweet potato cubes.
The fresh herbs are not necessary however I feel they help make the dish shine.
Sometimes I simply add just water as the liquid and sometimes vegetable broth. I've even used chicken broth. If I have an open bottle of red or white wine, I toss in a half a cup, if not, I replace that with broth or water (so, in the end, I add 1 ½ cups liquid).
If you enjoy the texture of tomatoes, you can swap out the crushed tomatoes for diced tomatoes. If you can get your hands on fire-roasted tomatoes (crushed or diced...I say always choose those).
It's easy to make this dish your own.
Nutrition
Serving:
6
g
Calories:
250
kcal
Carbohydrates:
36
g
Protein:
13
g
Fat:
5
g
Saturated Fat:
1
g
Cholesterol:
2
mg
Sodium:
402
mg
Fiber:
15
g
Sugar:
11
g
Follow me on Tik Tok for 1 minute videos