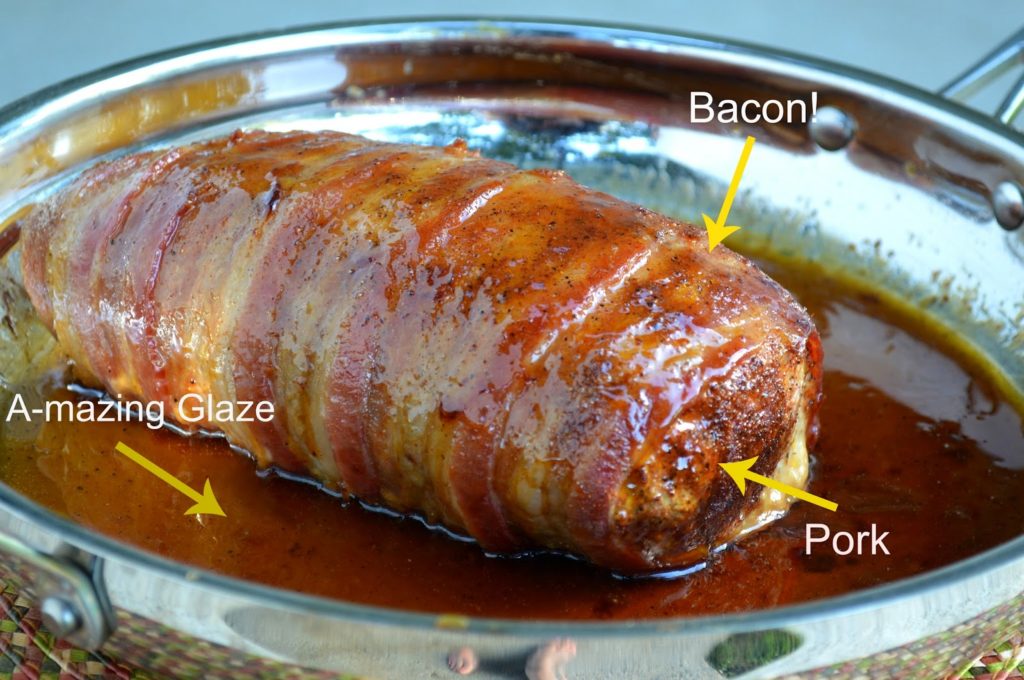 I would SO serve this Bacon Wrapped Pork Loin to Gordon Ramsey (and the though of feeding Gordon previously never before entered my brain)!!
Hold on, let me back it up for a second.  Last night, was my husbands hockey night.  Every Thursday he has hockey and he cooks himself a bowl of pasta…that is it…THAT is all my man will eat on hockey night.  I however had a gorgeous pork loin that I had picked up from my farmers marker that needed to be cooked, so I thought "what the heck…I'll just cook it up and we can eat it tomorrow".
Once it was ready, I sliced a piece off, popped it into my mouth and instantly my eyes flew open and my first thought was "I would serve THIS to Gordon Ramsey!!"
How funny is that?  
I cut myself a second bite, bellowed for my 12 year old carnivore, err I mean son, and we just stood there next to the stove popping bite after bite into our mouths and groaning with pleasure. We then decided to eat it all fancy-like off of the reverse side of the fork and say what we thought about it (like a food judge from another country). Even though my son had had eaten pasta with my husband he asked for a few slice on a plate to sit down and enjoy…and how could I deny him hot-from-the-oven-Gordon-Ramsey-quality-food?? Plus bacon was involved…BACON!!
This truly was a fabulous entree, the pork, the bacon and the sauce create a beautiful medley in your mouth. I would serve a gorgeous mashed potato or celery root puree along side of it as well as a green veggie.  Or you could be like Connor and I and just stand by the stove, slice it down and enjoy every bite!  Oh and if you think it looks small…its not!  The skillet pictured here is a 12′ skillet.
Based on your preference, decide if you want this to lean more toward sweet-spicy, pleasantly spicy or slightly acidic, All three work here.  You could grill it however cooking it in a pan right in your oven with the bacon ends securely tucked under the pork I say is the way to go for this one.
You HAVE to make this Bacon Wrapped Pork Loin and report back!! If this looks good to you, you may also enjoy these favorites: Perfectly Grilled Asian Chicken Wings (OMG!!), Perfectly Grilled Asian Chicken Wings, Grilled Jalapeno Honey Lime Shrimp or my favorite party food and super easy Spicy Noodles!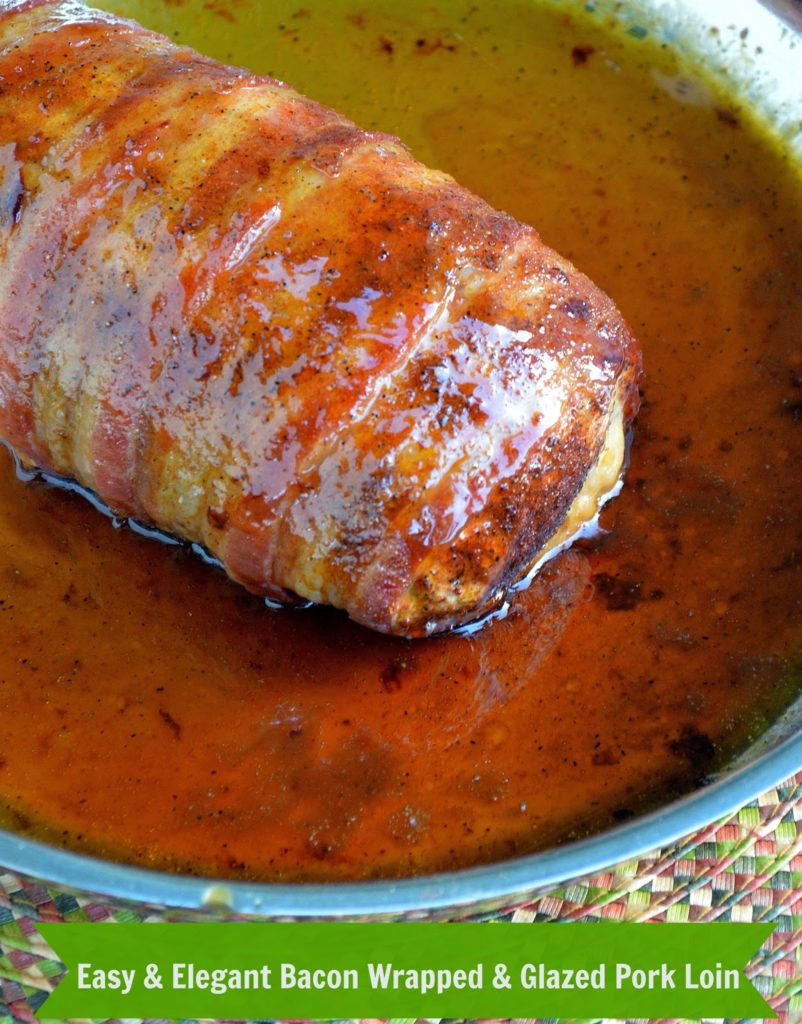 Bacon Wrapped Pork Loin 
3-4 pound boneless pork loin (or tenderloins)
chili oil
grapeseed or olive oil
1 TBS chili powder (see notes)
1 TSP paprika
1 tsp salt
1/4 tsp pepper
6-7 slices of bacon
Glaze
1/2 cup brown sugar
1 1/2 TBS apple cider vinegar
1 TBS flour
1/2 tsp coarse mustard (like a Grey Poupon Country Dijon)
Red pepper (to your taste)
For the pork, preheat your oven to 350 degrees.  Drizzle 1 TBS grapeseed or olive oil and 1/2 TBS of chili oil (if you don't have chili oil just use all grapeseed or olive oil) into your oven safe pan and swirl to coat the bottom of it with it.  Combine chili powder, paprika, salt and pepper in a small bowl and blend it with your fingertips until combined (reserve 1 tsp of the run and sprinkle that over it after you have wrapped it with the bacon).  Rub the mixture all over your pork, then wrap the pork with the bacon right on your prepared pan.  As you wrap it make sure the ends of the bacon are tucked under the pork. Overlap the bacon slices (somewhere between 1/8 and 1/4 of an inch), so they won't separate as they cook.  Pop it into the oven and cook for 30 minutes, then spoon 1/2 of the glaze over-top (get every spot) and bake for 10 minutes more, then drizzle remaining glaze over-top and bake an additional 10-15 minutes or until your pork is done to your liking (cook time will vary by size, weight & girth of your meat).


For the glaze, in a small saucepan, combine brown sugar, vinegar flour and mustard, whisk to combine and heat until just boiling.  Taste and adjust. sprinkle in red pepper.  Taste and adjust to your liking.  As stated above spoon half over the pork after it has been cooking 30 minutes, 10 minutes later, repeat with the remaining.
Colleen's Notes: Depending on your preference, you may want to make your glaze a little less sweet, a little more acidic or a little more spicy.  It is a very forgiving glaze, so you really can't mess it up…just tinker with the ratios.  If you want to omit the flour you can do that as well, just boil it for 1-2 minutes to allow it to reduce and thicken a little.
I hope you try this!!
Enjoy!