This right here is some serious comfort food which can also double as a game day eat! Potatoes and pulled pork go perfectly together.  These Pulled Pork Potato Nachos are made with good things and oh-so-delicious!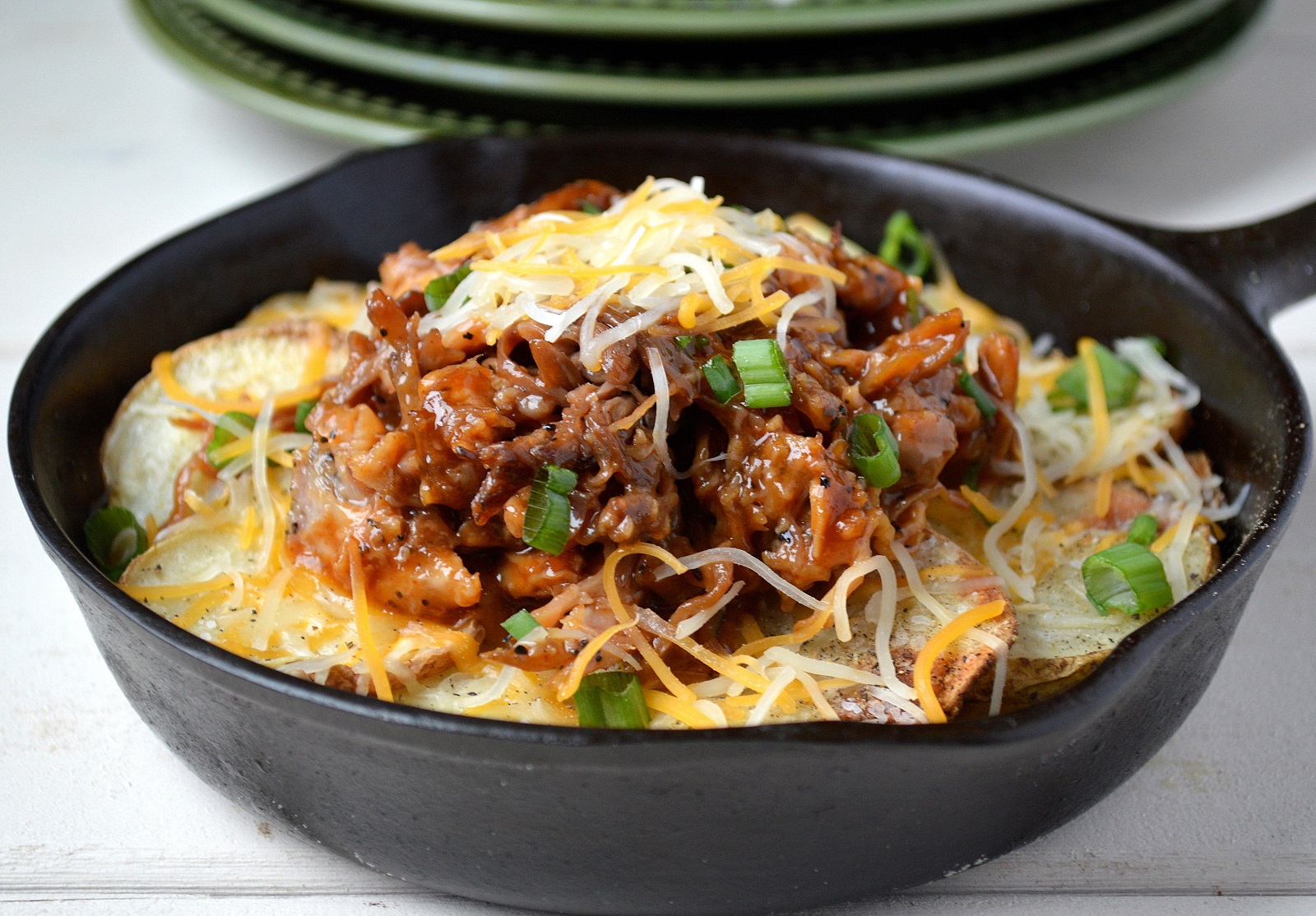 Give me a potato and I am a happy girl. Maybe it's because I'm Irish or maybe it's because my body responds to the nutrient-rich spud that is so very versatile...Plus they taste great! A little potato goes a loooong way!
These Pulled Pork Potato Nachos are fun, full of good things and you can customize them any way you like.  Enjoy Pulled Pork Sandwiches one day then use the leftovers the next for Pulled Pork Potato Nachos
In a pinch, you can buy pre-packaged pulled pork, however, there is nothing quite like homemade. I can't help but eat the pork as I pull it, those crispy bits are so darn good! Both my husband and son hover around me like puppies whenever I start pulling a hot-from-the-oven shoulder, lol! Sometimes I put them to work to earn their share.        You can find my pulled recipe here.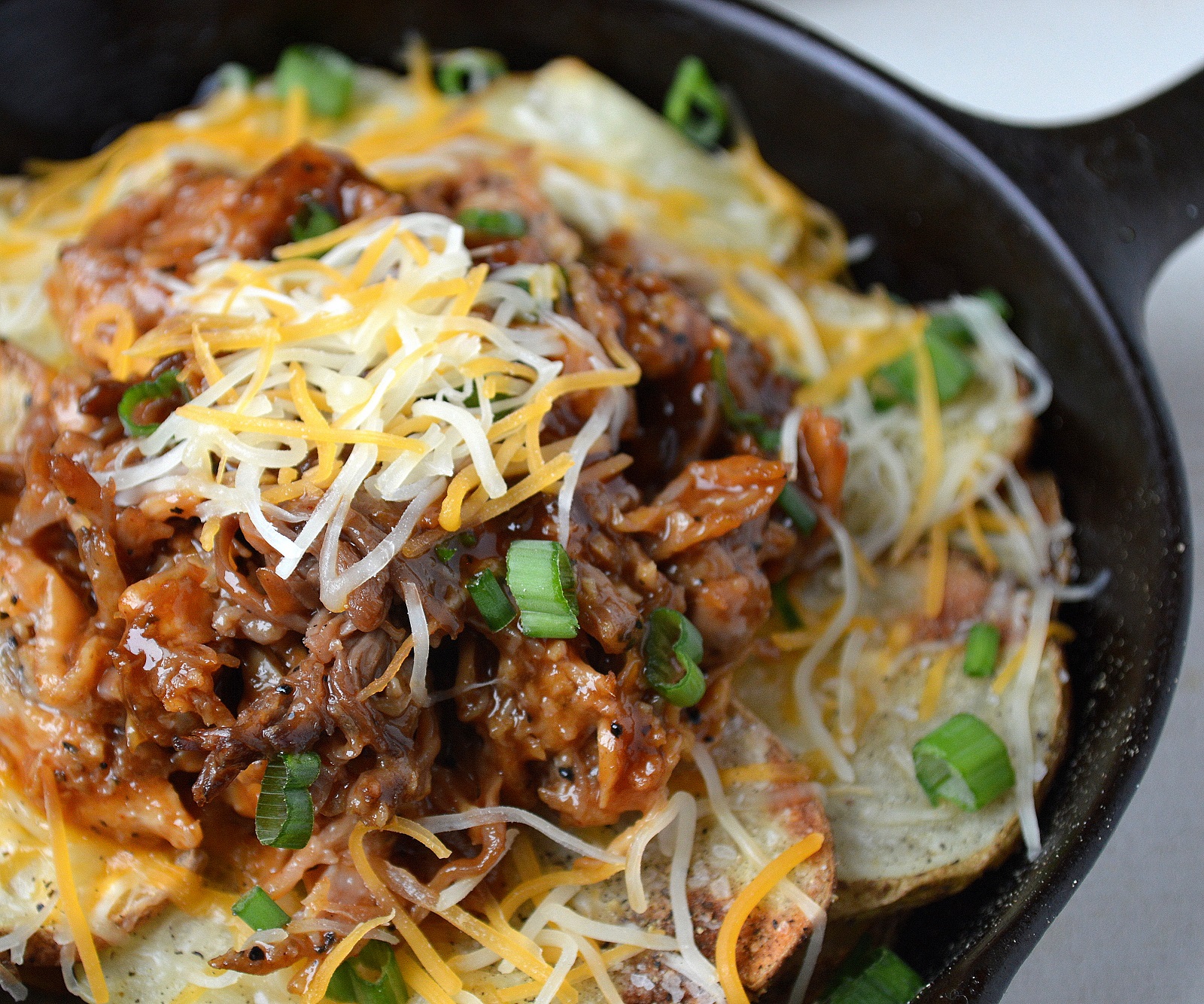 True story, a few years ago I made 70 pounds of pulled pork for the Father-Daughter Dance at my kid's elementary school. I had been chairing the dance for a few years and knew that by making the food myself it saved tons of money (which meant I could keep the ticket prices down and still give the girlies some fun bells and whistles). That particular year...as I was sliding the last tray of pork from my oven (with my sister's assistance...those trays were heavy), some of the juice sploshed over the side and a HUGE fireball came out of the oven. I saw it coming at me and shut my eyes. I opened them a split second later and the fireball was gone and I thought phew!. I didn't even know my oven could do that!!
THEN my sister starts smacking the top of my head like a maniac! Needless to say, my eyelashes were stumps, my eyebrows and first few rows under my bangs were singed. Thank goodness she was there because I had noooo idea there was smoke coming from the top of my head.
All in all I was fine, my skin and eyes were fine. My eyelashes and brown are still not the same (they were always nice...sob!!) BUT it could have been much worse!
The moral of this story is do not overload disposable pans with weight like I did OR put them on a tray while cooking.  I had crammed so much pork into my oven that day that I really didn't have a choice. Live and learn!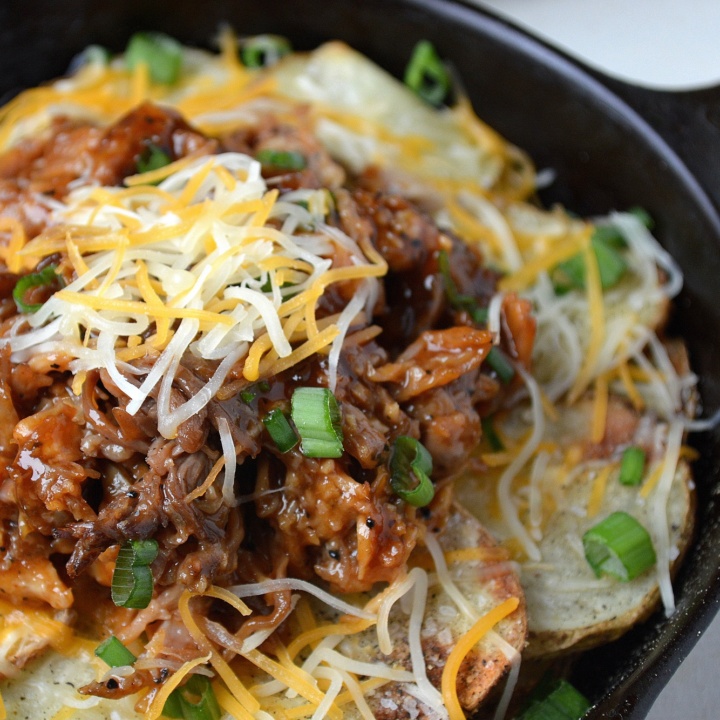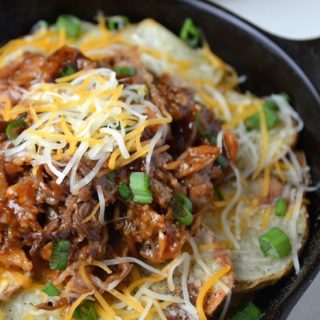 Pulled Pork Potato Nachos
Ingredients
2

large baking potatoes

Olive or grapeseed oil

Salt & pepper

2

cups

of pulled pork

homemade or store-bought

¾

cup

of a shredded Mexican cheese blend or your favorite cheese

¼

cup

sliced scallions

Sour cream

optional
Instructions
Preheat your oven to 375 degrees. Lightly oil a baking sheet. Slice your potatoes thin but not paper thin (about 1/16 of an inch). Place potatoes into a bowl as you slice them. Toss potato slices with a drizzle of olive or grapeseed oil, season with salt & pepper and place in a single layer onto your prepared baking sheet.

Bake for 10 minutes. Check on your slices, since sizes will vary remove the slices that are beginning to crisp and place them into your cast iron pan or baking dish. Once all slices are cooked arrange them in your cast iron pan/baking dish. Top the potatoes with most of the cheese, some additional salt & pepper if you like and the pulled pork. Sprinkle remaining cheese over-top of the pork. Bake at 375 degrees for 5-7 minutes or until heated through. Top with scallions and if you wish sour cream and serve
Follow me on Tik Tok for 1 minute videos