If you enjoy green beans or dining at PF Chang's, you may enjoy my version of PF Chang's Spicy Green Beans. It's an easy vegetarian recipe with big flavor. A happy mistake led me to this delicious green bean recipe!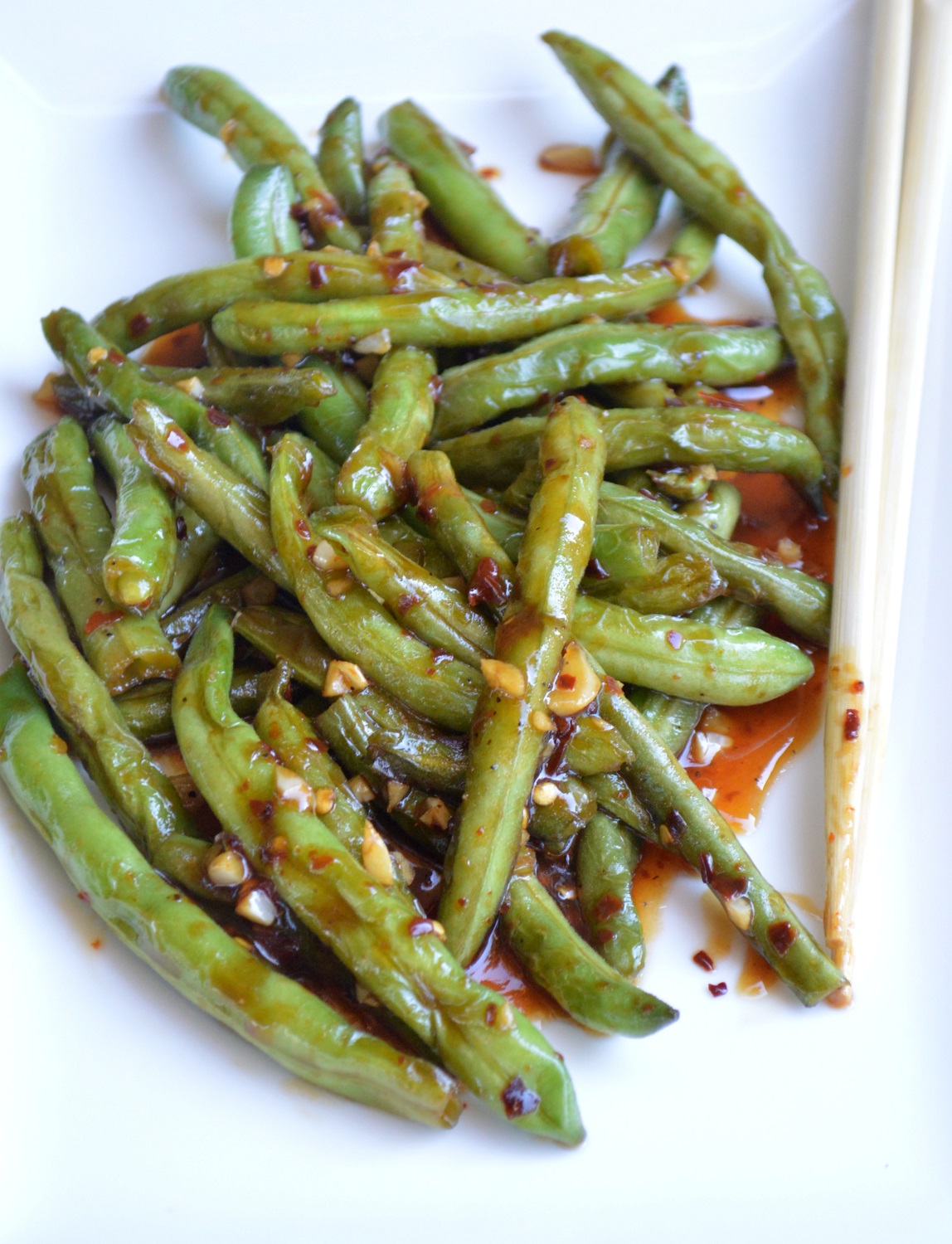 For me, the first time I ate at PF Chang's, it was love at first bite!
I was instantly smitten with their Crispy Honey Shrimp, Mongolian Beef, and the Crispy Green Beans (OMG!!) However, a surprise hit for me turned out to be their Spicy Green Beans (which, funny enough, came to the table by mistake).
One day over the summer, my family went to PF Chang's for lunch. The kids always order their Crispy Green Beans, so typically, when seated, we ordered them right off the bat.
Green beans did come out from the kitchen, however, they were not the crispy coated green beans we expected. Instead, out came Spicy Green Beans.
The kiddos immediately gave the plate the sink eye (as did I, not going to lie), lol. So our waiter said to just keep them and that he would bring the kids out the Crispy' Green Beans right away.
Let me tell you! THAT was such a deeeelicious mistake! Boy were those Spicy Asian Green Beans good. I wondered how in the world they could have escaped my food-radar all this time. 'Cause...ya know, I have been to PF Chang's quite-a-bit over the years.
I love Asian flavors, so making green beans with Asian sauce is something I go crazy for now!
A few weeks later, my husband & I were on a Saturday morning date and we popped by the Wrightstown Farmers Market, which occurs every Saturday morning and a woman was there selling nothing but green beans.
Big-fat-delicious-looking green beans in small baskets. I knew what I had to do...I had to replicate those green beans, so I did. I'd call that a sign, lol!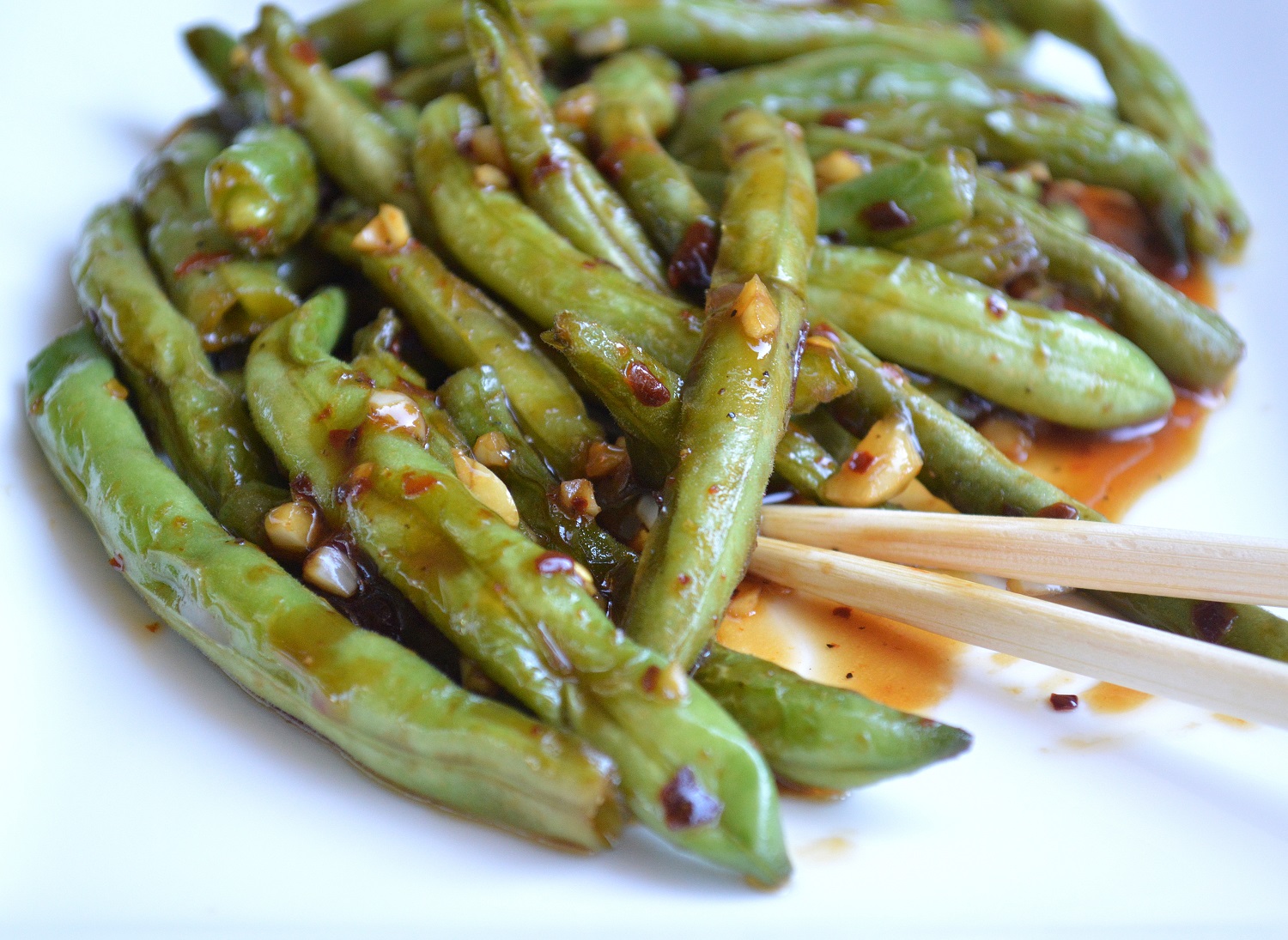 They were delicious...exactly the taste and texture we wanted. I don't have a wok (I used to back in the day) but they came out perfect!
These Spicy Green Beans are easy to make and would compliment a host of proteins or good enough to be eaten on their own. If you want to take your beans and kick them up a notch...try them!
Ingredients
soy sauce (I like low sodium soy sauce for cooking)
rice wine vinegar
sugar (or honey) more or less to taste
cornstarch
2 TBS sesame oil
green beans
red pepper flakes
garlic cloves
water
Tip
If you are making a couple of pounds of green beans, simply double or triple the above ingredients for the sauce.
Variations
If you enjoy green beans (or need them to disguise as I do) Check out these Harissa Green Beans I made for a site I recipe develop for - They were different & scrumptious!
Another way I enjoy green beans is by making these super simple Cajun Green Beans. Easy and low cal! You can use Cajun or Blackening Seasoning. Char them as much or as little as you wish.
Or you can go with the tried and true Skillet Green Beans, which in my opinion have so much flavor and go with eveything!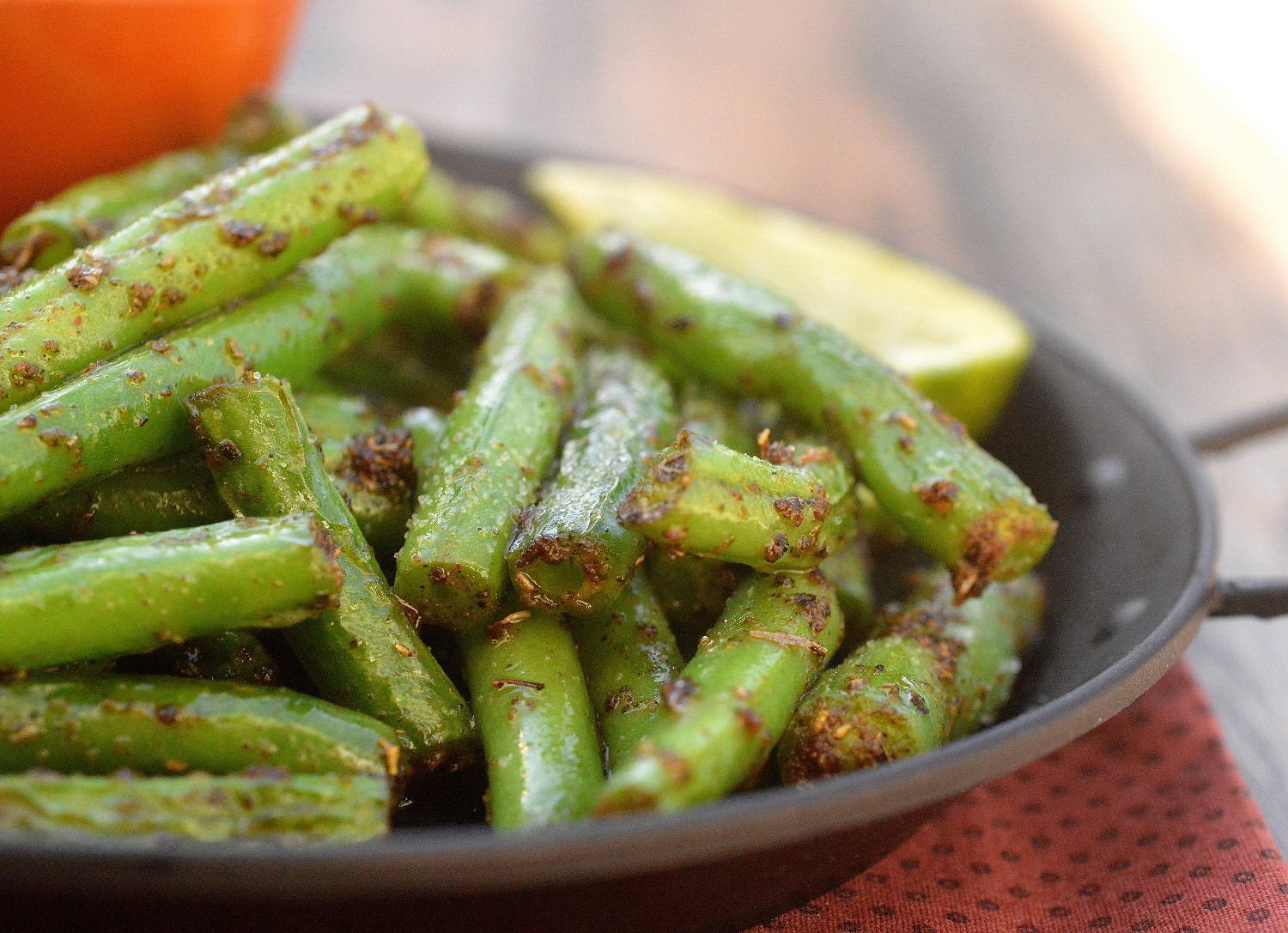 I also make Steamed Green Beans with Bacon Jam....I mean why not?
This Bacon Jam recipe is so good it's ridiculous! I give it as host/hostess and food gifts during the holidays. I put it on eggs, veggies, burgers, eggs, cheese and more! AND I eat it right off the spoon, I can't help myself!
If you enjoy Asian flavors, try these Grilled Chicken Wings Asian Style.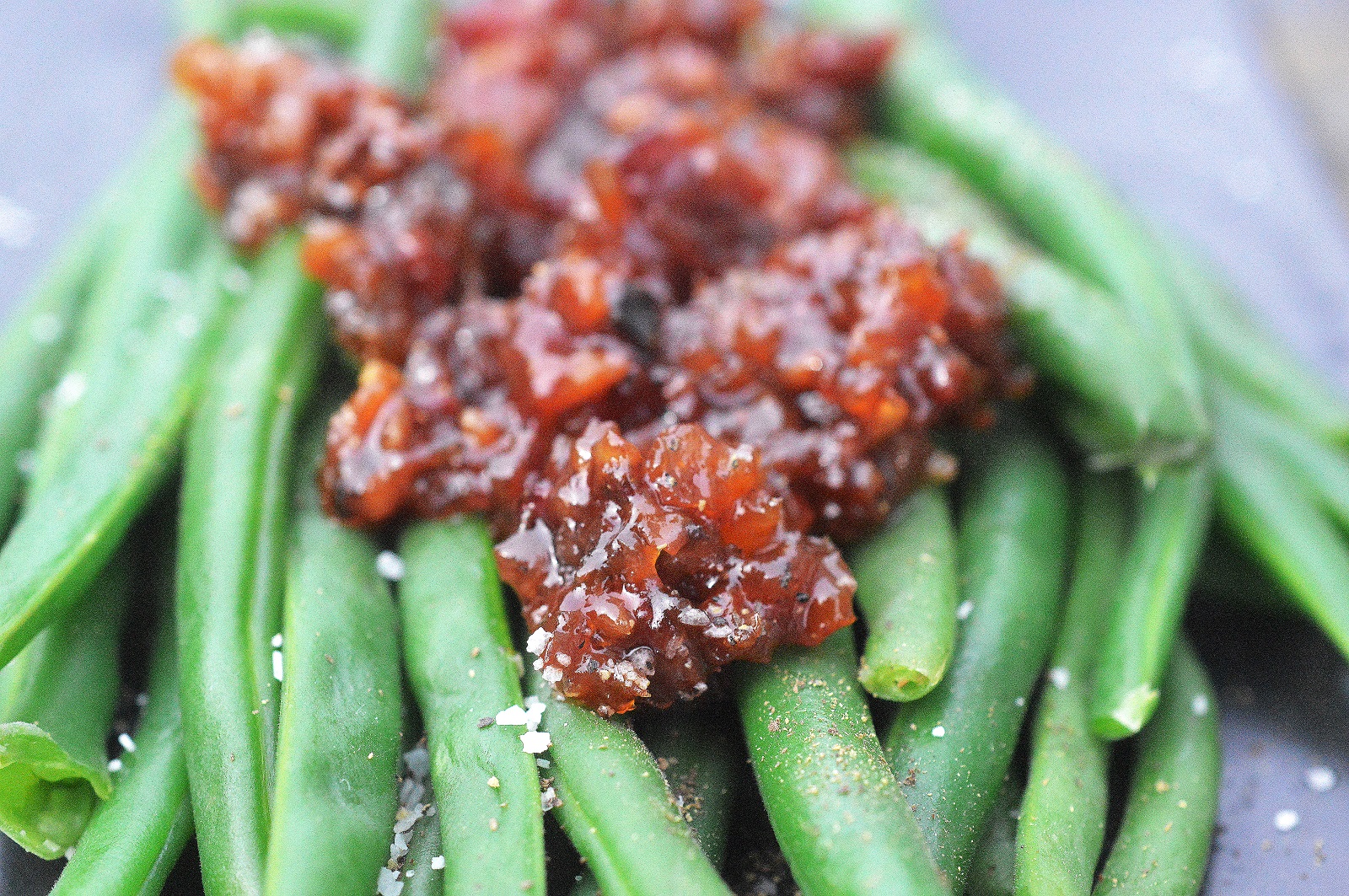 Let me know if you try out any of the green bean recipes!
Enjoy!
Since I am not a registered dietitian, nutritional data is provided by a WordPress plugin nutritional calculator. Recipe originally published in September, 2015. Updated January, 2023 with nutritional information and text.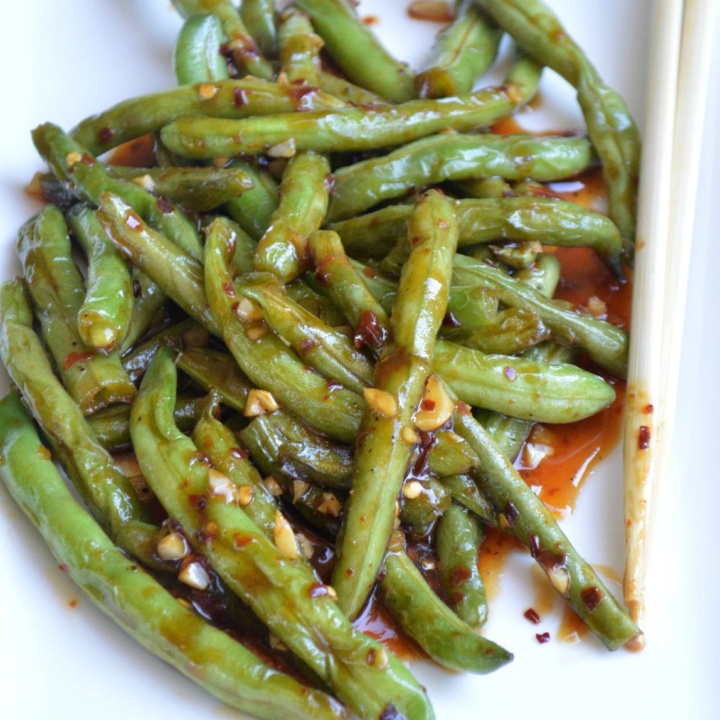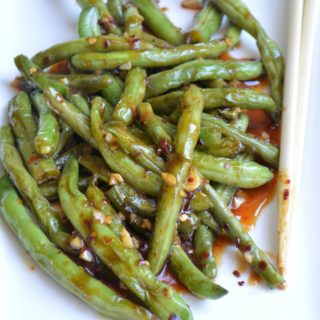 Spicy Green Beans (PF Changs)
This is my favorite way to enjoy green beans at home. Spicy Green Beans recipe similar to PF Chang's Spicy Green Beans. Full of flavor and crisp tender (or cooked to your liking). These may become your new favorite veggie!
Ingredients
2

TBS

soy sauce

I like low sodium for cooking

1

TBS

rice wine vinegar

1 ½

teaspoons

sugar or honey

1

teaspoon

cornstarch

12-16

ounces

green beans

1

teaspoon

red pepper flakes

3

garlic cloves minced

2

TBS

sesame oil

water (as needed)
Instructions
Mix together the soy sauce, vinegar, sugar and cornstarch. Set aside.

Prep your green beans by snipping off any ends that need it.

In your large skillet (or wok if you have one), heat your oil on medium heat for about 30 seconds, add in your garlic and red pepper flakes and cook for 30 seconds, stirring constantly.

Add in your green beans and cook until either crisp tender or more wilted, whichever is your preference. Depending on the size of your green beans 3-5 minutes. Add Tablespoons of water as needed to help steam/cook the green beans and prevent garlic from burning.

Once beans are done to your liking, pour in your soy sauce mixture. coat with sauce and continue to cook for another 30-60 seconds or until sauce thickens..

Serve & enjoy!
Notes
If you enjoy your beans completely cooked vs a little crisp-tender, add 2 TBS of water to the soy mix when you add it to the pan and cook for 3-5 minutes or until done to your liking.
Nutrition
Serving:
3
servings
Calories:
131
kcal
Carbohydrates:
15
g
Protein:
4
g
Fat:
7
g
Saturated Fat:
1
g
Sodium:
522
mg
Potassium:
397
mg
Fiber:
5
g
Sugar:
7
g
Vitamin A:
1322
IU
Vitamin C:
21
mg
Calcium:
67
mg
Iron:
2
mg
Follow me on Tik Tok for 1 minute videos