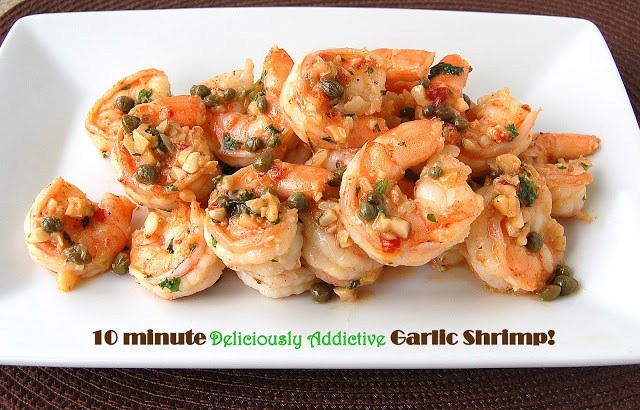 Why did I call this "Incredible Garlic Shrimp"?  Well…maybe its because shrimp is a top 5 favorite food of mine and capers & garlic are in my top 10 ingredients. I don't know…I just love this dish and if you like shrimp…I think you will too!
Is it wrong that I often crave capers and eat them straight from the jar?  Am I alone in this?
Garlic Shrimp, Shrimp Scampi…what's the difference…right?  I think the only difference is the addition of white wine for scampi.  I remember making Shrimp Scampi at a young age and loving it!  Years ago I phased out the wine part of the dish and added in capers and now I have a favorite dish that I can make quickly whenever the mood strikes with ingredients I typically always have on hand!
This is fantastic to make for a crowd or for 2.  Simple yet impressive and completely addictive!
3 TBS olive oil
10 garlic cloves, chopped
2 pounds of large shrimp (size 21-25 is nice), cleaned with shells & tails removed
A sprinkle of Kosher salt and black pepper
1 stick of butter, divided into 6 chunks
1/3 cup fresh lemon juice
3-4 TBS capers and a splash of the juice
Red pepper (Cayenne) to taste, I like it spicy so I usually use 1/2 tsp+
2 TBS chopped parsley (or more to taste)
Heat your olive oil in a large pan over med-high heat.  Add in your garlic and saute for 30 seconds, add in your shrimp and saute for 1-2 minutes, lower the heat to medium, sprinkle with s&p, add in 3 chunks of butter & the lemon juice and continue to saute until cooked through (about 2 more minutes), turning occasionally to ensure an even cook.  Remove from heat, add in your capers & juice, sprinkle with the red pepper and parsley and add in your remaining butter.  Toss until the butter is melted and serve immediately.
Notes: This is a fabulous appetizer as well as a great meal with a hunk of crusty bread and a salad or even some pasta.
If you like Cilantro better than parsley, feel free to substitute. If you are not into capers (gasp!), feel free to leave them out…but I wouldn't lol!


If you are cooking for a crown and this is an app…I would make 2 batches since it cooks up so fast.  That way it stays nice and hot while your guests gobble it up!


Enjoy!!