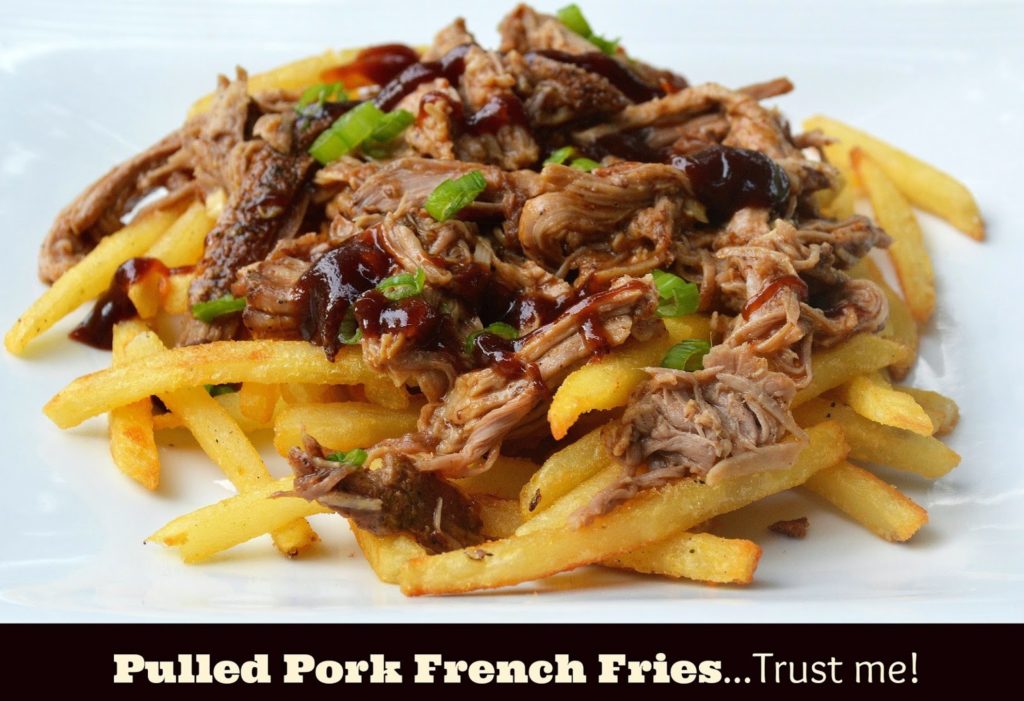 Oh yeah….THAT my friends is not a typo…Pulled Pork Fries people! I had no idea that my life was missing something…something incredibly delicious, until these fries appeared at a former biker bar turned almost-pub not far from me! Ummm and yeah…we went back like 3 time just to get these babies!
Over the 4th of July weekend, my family and some of our friends headed over to New Hope which is a super cute, trendy town along the banks of the Delaware River in Bucks County, PA about 8 miles from where we live. New Hope is always hopping! The shops, the restaurants, the people watching are all top-notch, its just a good time there! Plus, just a short stroll across the river (via a bridge with a walking path) lies Lambertville and equally awesome (and delicious) town.
On a whim, I decided to go there for lunch that weekend, texted a few friends and off we went. However many other people had the same idea that day so the wait for lunch everywhere was quite awhile…add in 4 families with kids and it was next to impossible. My sister and I strolled across the bridge to check out one of the restaurants along the water while the rest of the crew had cocktails in Lambertville. We didn't fare much better, it was a holiday weekend after all. SO I remembered seeing a former biker bar during the drive that had a new sign "Ralphies" and texted my hubs & co and said what about there? Its on the way home and they have outdoor seating and off we went.
We didn't know what to expect but happily they drinks were perfectly made, the beers ice cold and the food…the food was more exciting than we would have thought! My eyes immediately landed on Pulled Pork French Fries and I thought "whoa!" My husband felt the same so we put those in right away…they were a hit and another order was quickly put in. Who knew that combination would be crazy delicious?? All I knew was that I had to make them the next time I made pulled pork…so I did and now you can to!
Oh and yes, we have been back to Ralphies a number of times and they keep adding interesting bites! For their grand opening they had a Crab Boil which I have to say turned into a 6 hour day for us and was great fun!
Pulled Pork Fries
Homemade fries or frozen fries – your call
Pulled Pork
Scallions, sliced thin
Your favorite BBQ sauce for a drizzle
Cook your fried the way you like, once removed from the fryer, pan or oven, place a good amount of pulled pork over-top the fries. Sprinkle scallion slices over-top, drizzle with BBQ sauce and serve.
My Pulled Pork Recipe
7-10 pound pork shoulder (or your favorite cut for pulled pork)
Spice Rub
6 TBS paprika
3 TBS brown sugar
5 TBS Kosher salt
2 TBS dry mustard
2 TBS garlic powder
Optional: 1 teaspoon red pepper If you want your pork to have a kick (Yes!! Do it!)


Sauce
1 to 2 cups apple cider vinegar (just depends on how much of a vinegar taste you like…I usually
go with 1 1/4 cups
1 cup grainy mustard…you know what I am going to say…Grey Poupon Country Dijon!!
3/4 cup brown sugar
3 TBS minced garlic
1 cup ketchup
1 teaspoon red pepper (if you want some kick)


Optional – if you want more of a BBQ tasting sauce…taste it first, then decide if you want to add it 1/2 to 1 cup of your favorite BBQ sauce.


Colleens Notes: If you are using a cut of pork that has skin on it, you need to cut the skin off and boy is that work. It just depends on what cut of pork you are using. I have used pork shoulder, pork butt, pork roasts, center cut pork roasts all with success.


In a bowl combine all ingredients together for the rub.


Place the pork in the oven safe dish or tin you will be cooking it in. Rub every inch of it liberally with the rub. Depending on the amount of meat you are working with…set aside some of the rub you made careful not to touch it with your "meaty" hands in case you have extra which you can store in an air-tight jar for the next time (I always have some made in advance AND it makes a great gift!).
Place your coated pork into your baking dish or tin pan. Let it sit in the fridge for 2 hours or overnight. You really need to let it sit for at least 2 hours or you will not get the juice from the pork you need to make the sauce while it is cooking and in order for your sauces to be a success…you need a good amount of drippings. You will notice that the rub will look wet after a couple of hours – that;'s what you want to happen. Just before cooking I sprinkle a little extra rub over-top.


Bake at 325 degrees for 30 minutes. Lower the oven to 300 degrees and cook for another 4-6 hours or until you can easily pull pork apart with 2 forks. We love crispy bits in our pulled pork. If you do not, once the top is browned nicely, you can cover it with foil to prevent the crust.


Once you take the pork out of the oven, pour all the pan drippings carefully into a large pot. Set your pork aside to cool a bit (at least 15 minutes and up to one hour). To your pot full of pan drippings add your mustard, brown sugar, garlic, ketchup and red pepper. Whisk it well until fully incorporated. Bring to a boil, then turn off the heat.


Once you remove the pork from the oven, let it sit for 15-20 minutes prior to pulling. Use two forks and separate the meat bit by bit, discard any fat. I often use my fingers when I can here…that way I can feel if their are any pieces I want to toss…you just have to wait a bit more for it to cool. Place your pork pulling's onto the sauce (or eat it without the sauce…its equally delicious)


Colleen's Notes: Some pieces of pork yield more liquid than others. If yours is not giving off enough liquid and the pan is getting dry during cooking, just add some water.
Enjoy the pork by itself, over the fries or on sandwich mmmm!
Enjoy!