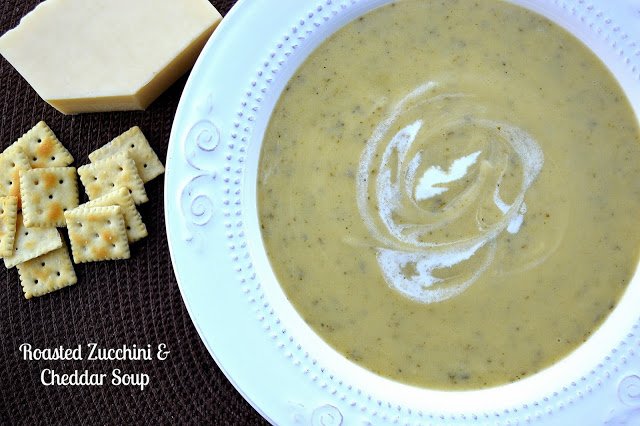 Roasted zucchini soup with cheddar is one of my favorites and it's perfect timing to make it! Last month I had the opportunity to spend a gorgeous weekend in the New York Finger Lakes Region courtesy of the
A
merican Dairy Association and Dairy Council
(ADADC). The council was formed in 1962 to benefit dairy farmers via advertising, marketing, and consumer education on all things milk and dairy. A part of every dairy farmer's milk check goes to the ADADC. This means – whatever way you are getting your dairy, organic or not, your purchase helps support dairy farmers and their families in more ways than one. That is a good thing in my book!
This trip was extra special because my husband accompanied me on it, which was wonderful! Other than leaving our son before he was 1 for two week-long trips, we have only been away from our kids more than 1 night, once in the last 10 years and that was only for a 2-night getaway. Needless to say, it was really fun to be on our own, even if it was just for 2 nights! The drive from where we live in Bucks County, PA took us about 5 1/2 hours and it was lovely. Especially once we began driving around Lake Cayuga, which is the longest of the Finger Lakes – it is enormous and just spectacular! I can not believe we haven't been there before. When we arrived at our stunning Geneva On The Lake, our hotel for the weekend, we loved it at first glance. This stunning Italian Villa sits on 10+ acres of rolling lawns and English-style gardens overlooking Lake Seneca. The hotel, grounds, staff, food, little touches here and there and of course the view were fantastic. We both agreed that we would definitely come back with the kids!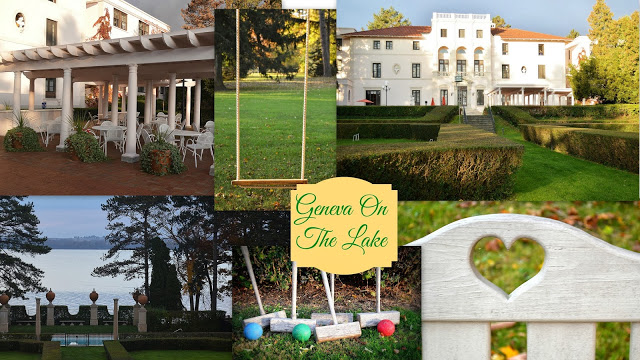 Just after we checked in we popped into town for something to eat and quite literally had just about the best (if not THE best) burgers…ever! If you are ever in the adorable town of Geneva you have to pop over to Eddie O'Brien's for a burger. Our bell-hop told us they were the best and boy was he right!! I have been wishing I could have another one for weeks! The quaint town of Geneva hosts Hobart & William Smith Colleges – the town is just so pretty, clean, and well laid out. I can't picture a cuter town to go to college in…right on the lake. I am storing this memory for when
the time comes to look at colleges for my kiddos (something that I can not even imagine…sniff, sniff!)
Funny, while out on the town Saturday night, we ran into one of the chefs from Eddie O'Brien's. I was like "your burgers are in-credible!!" He was like "yeah, we use a special blend" and THAT was all I could get out of him about that, lol!
A part of the weekend included a trip to Cornell University's Stocking Hall which houses its College of Agriculture and Life Sciences Program. I was fascinated to learn about New York's dairy industry. I had no clue that New York produces most of this country's Greek yogurt or that its 5,400 dairy farms produce over 1.6 billion gallons of milk…1.6 billion! Which equates to over $2.5 billion in sales to the state's economy.
Did you know, that in NY every time a dairy farm adds 40-50 cows to its facility, one new farm job is created? For every new job created on a dairy farm, an additional 1.4 jobs are created in the local economy which then equates to 6.6 new jobs being created upstream, making it one of the highest multipliers in the state.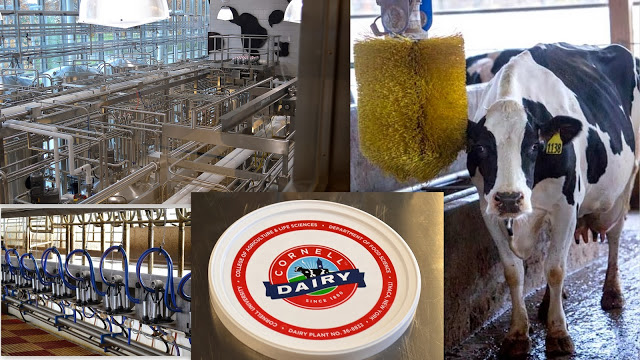 While at Cornell, we took an interesting tour of their dairy production facilities at Stocking Hall (which houses its nationally-ranked food science program which is in the midst of a 105 million dollar renovation), tasted fresh ice cream, greek yogurt, and cheese, and learned about the fascinating partnerships forged by Cornell with everyone from farmers to big corporations, to people with ideas for a product to Wegmans. Cornell is at the cutting edge of research and implementation. They support food businesses through collaborative research and development projects designed to improve the quality, safety, nutritional value, and shelf life of food products. They even lend a hand to the wine industry by helping local wineries convert to organic production. To me, one of the coolest things about Cornells' set up was the fact the production areas all backed up to an exterior wall of the school that had glass walls – that way anyone strolling around campus can easily see what is going on. Cornells believes people should know how their food is produced – I love that!! Cornell sources all of its milk locally and even produced its own brand of cheese (which was delicious!!)
"According to Dr. Dale Bauman from Cornell University, milk production per cow is up 467% since 1944. He cites research that shows dairy farmers are producing as much milk today as they did in 1944 from just 21 percent of the cows, using only 23 percent as much feed, 35 percent as much water, and making only 24 percent as much animal waste.
This efficiency on the part of dairy farmers is why the carbon footprint for each pound of milk is only 37 percent of what it was in 1944. When we stop and think about it, what dairy farmers have accomplished is truly outstanding. They have been able to do this by taking excellent care of their cows and using new research that has become available over the years. Such technology as
artificial insemination that has made outstanding herd sires available for the average farmer has played a huge role".
Throughout our day, we met farmers, toured a dairy farm, and even got to hang out with some cows who were treated so well, I may or may not have been a little bit jealous! The dairy barn was spacious, clean, and comfortable. The cows went to and fro, grabbing a drink, visiting one another, and moseying around at will. They even had back scratchers throughout their space, that way they can get a good scratching any time the need struck (wonder if they make them for humans??).
Both farmers we met that day say the more comfortable the cow, the more milk they produce. Skip Hardie from Hardie Farms is a 2nd generation Dairy Farmer and he prides himself on cow comfort. His 1400 cows sleep on water beds! I really enjoyed hearing both him and his wife speak about their life on their dairy farm.
Dairy is in my and my family's life in some form every single day. I am grateful to those hard-working farmers who make our enjoyment of their varying products available, affordable and delicious!
The week after the tour, I received a thank you box full of cheese from
Cabot Cheese
which was so nice and delicious – my household adores cheese! We love to just pop it in our mouths when the mood strikes (cheese is a staple in my kid's and husband's packed lunches) and I also like to cook with it. I decided to use some of the cheddar I received to tinker with a soup I make and add some cheddar to it. The result was fantastic – my husband was crazy for it (and so was I)! I hope you enjoy it!
Disclosure: As stated above, the trip to Geneva On The Lake was paid for by The Dairy Council. I was not paid to write this post, the thoughts and opinions throughout this post are my own based on my experience.
Roasted Zucchini Soup with Cheddar
Roasted Zucchini
3 medium zucchini (about 1 1/2 pounds)
1 TBS olive oil for seasoning zucchini
Salt and pepper
Soup
2 cloves garlic, chopped
1/2 cup chopped onion
2 TBS olive oil
1 potato, cubed (about 1 heaping cup full)
Zucchini chunks (from above)
48 ounces chicken broth, plus 8-16 ounces of chicken
broth
Salt and pepper
Tabasco
1 cup shredded cheddar cheese
1/4 cup heavy cream or half and half
Preheat your oven to 400 degrees, slice the tops of your zucchini off then cut them down the middle lengthwise. Drizzle them with a bit of olive oil and massage it around to cover the surface areas of the zucchini's. Season them with salt and pepper and roast for about 30 minutes or until fork tender.
Remove zucchini from the oven, cut them into 1 inch chunks and set them aside. In a good sized pot, saute your garlic and onion in 2 TBS olive oil for 4 minutes over medium heat, stirring often to avoid burning the garlic. Add in your potatoes and roasted zucchini, stir around for 1 minute then add in 48 ounces of chicken stock. Bring to a boil, reduce to a simmer and simmer for 20-25 minutes or until potatoes are cooked through. Remove from heat and allow it to cool a bit. Transfer soup to a blender and puree (be careful if it is hot – the hotter the soup at this stage the more likely the energy from the heat will burst open the top part of your blender when you pulse it). Rinse out your pot, then return the soup to it.
Depending on how thick your soup is and how thick you want it add anywhere between 8-16 ounces of chicken broth to it. Season with salt and pepper as well as a few dashes of Tabasco. Add in the shredded cheese and warm the soup over medium heat until it melts into the soup. Add in your cream, give it a good stir and serve.
Colleen's Notes:
Depending on how starchy your potato was as well as just how long you simmered the soup and the heat of your stove will dictate how thick or thin the outcome of your soup will be. Every time
I make this soup, it changes a bit, but I find adding the additional stock towards the end gets me the results I seek every time. I like the addition of a little cream – however because of the potato, you may find you don't need it. If you're not counting calories, I say go for it! If you do add the cream – never bring the soup to the boiling point again – just heat it through.