Once the temperatures begin to drop, I become a soup and comfort food making machine! I love fall and winter cooking…and eating!  This Black Bean Soup Recipe is one I have made a number of times and its always a hit.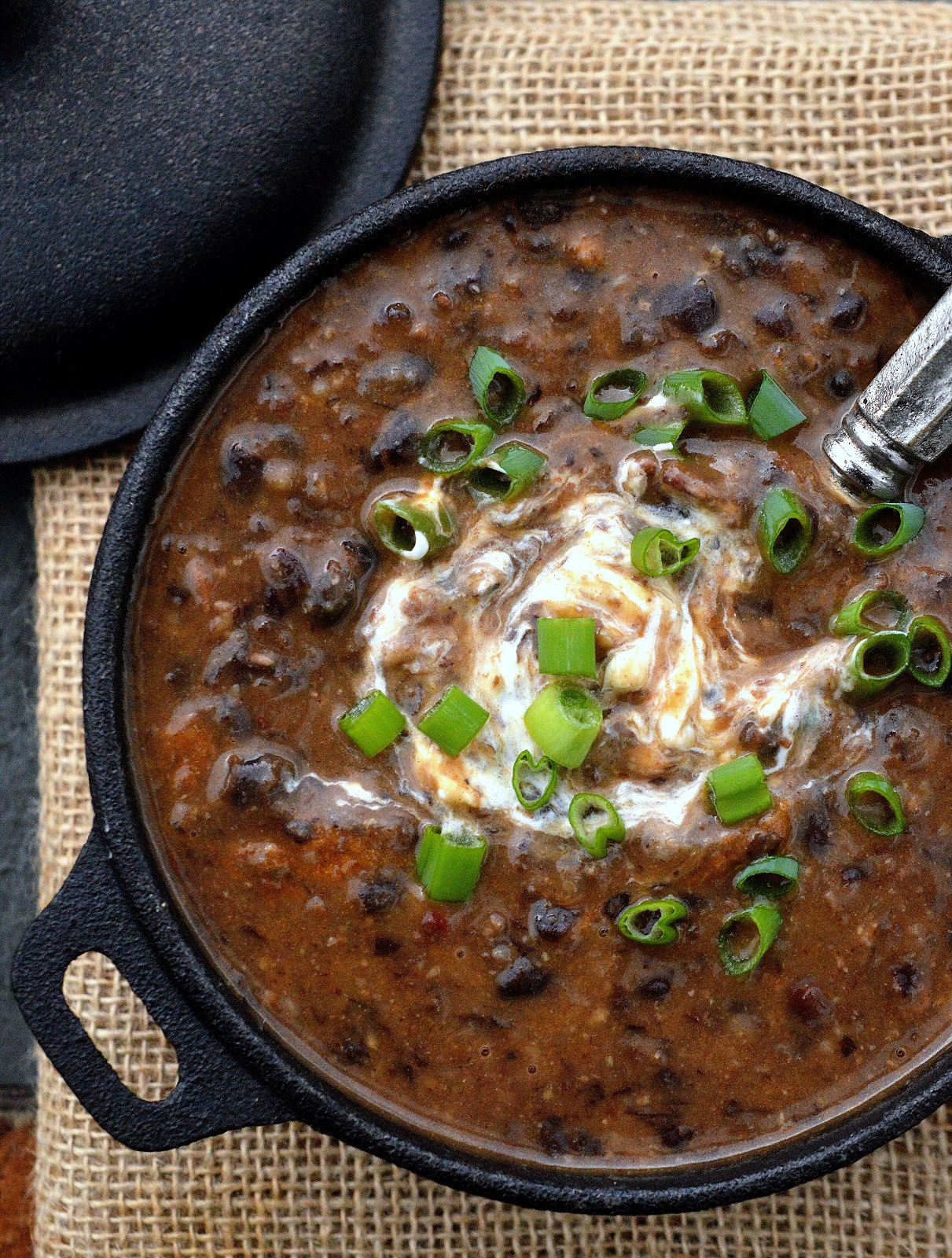 This Black Bean Soup recipe may not look pretty, however, it is full of flavor and textures and tastes great. Plus it's good for you too and made with pantry staples.
If you don't have the time to soak the beans, you can always follow your package instructions for the quick method which involves bringing them to a boil. I have successfully made this Black Bean Soup Recipe that way as well. Soup probably isn't something you think of bringing to parties and game day gathering, however, I have done this a number of times and this Black Bean Soup recipe is one dish that I have brought with me a few times. It's been a hit.
Spice this up or make it more on the plain side, totally up to you. Me?? I spice the heck out of it!
The ingredients you need to make Black Bean and Bacon Soup are:
2 1/2 cups dried Turtle Beans or 2 cups dried black beans
3 TBS olive oil
12 ounces bacon chopped
1 cup chopped onion
4 cloves garlic minced or 2 TBS garlic paste
8-10 cups beef stock
5 bay leaves
1 tsp sugar
1 tsp dry mustard
1 TSP lime zest
1 TBS lime juice
Tabasco I like it spicy, so I use a lot – start with 1 tsp and go from there
2 teaspoons Sherry or substitute apple cider vinegar
I also enjoy topping this with sour cream and scallions if I have them on-hand.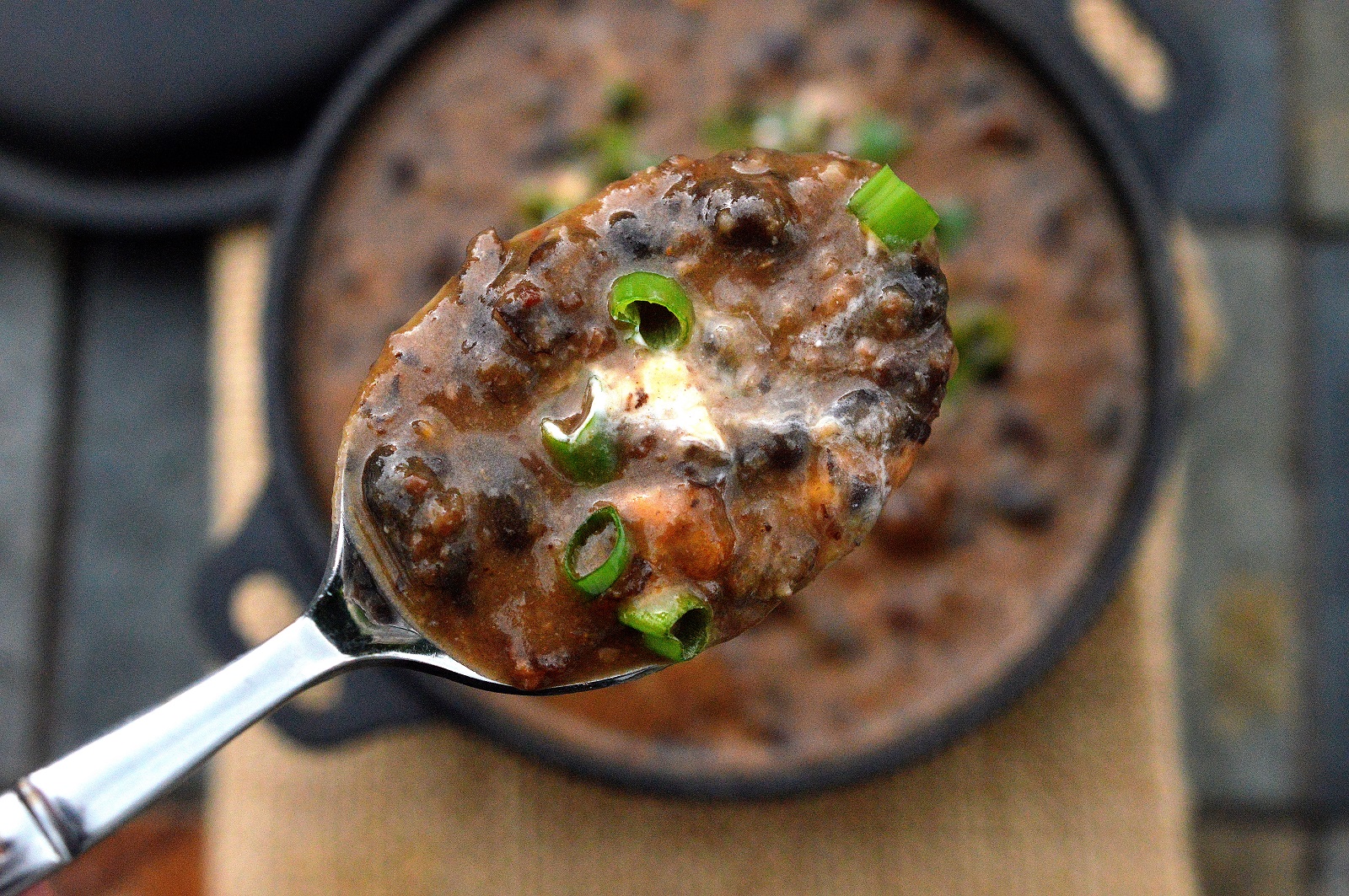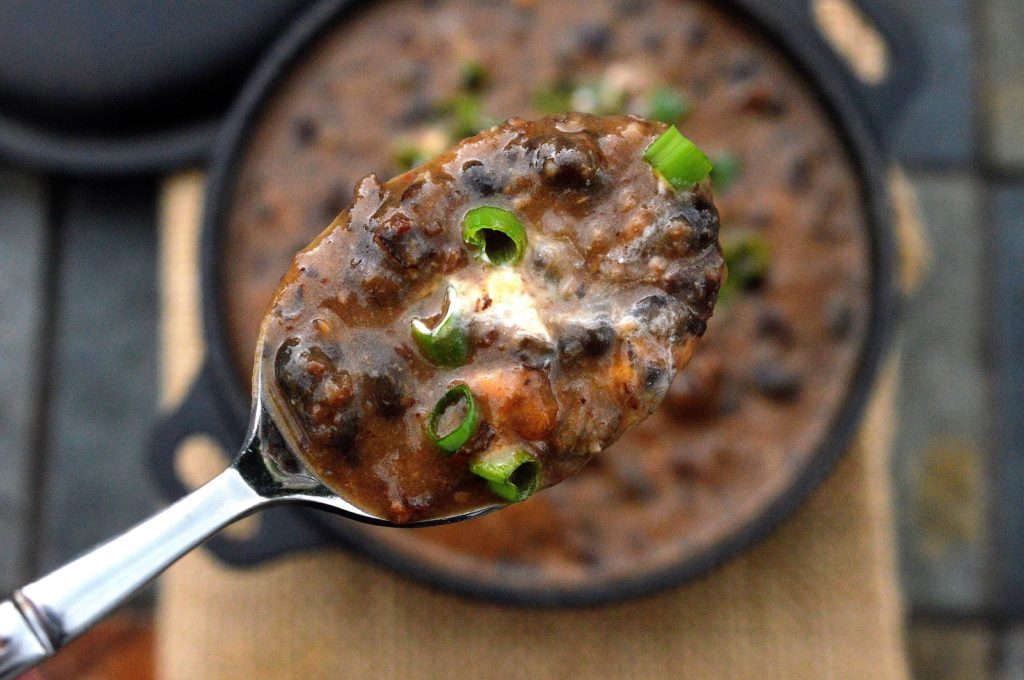 Do you have a favorite soup? I could happily eat soup every day of the week. I have been crushing on this Tomato Detox Soup. Recently, I decided to do a week-long detox with the intention of dropping a few pounds. I used this soup as the cornerstone of my eating and I lost 7 pounds in a week. Bonus! It is both delicious and healthy, and it's good warm or cold! A few of my favorite soups that you can find on this site are: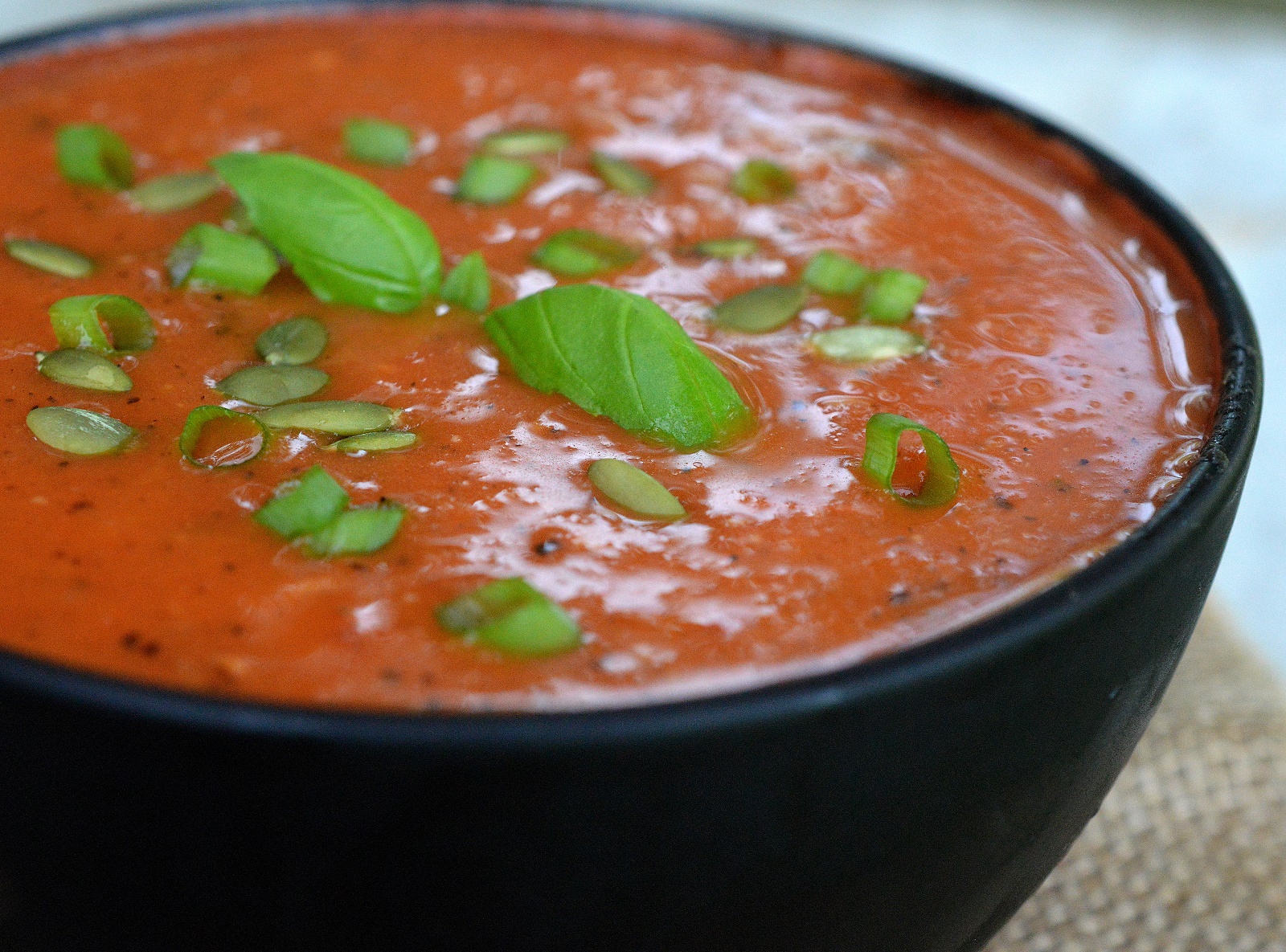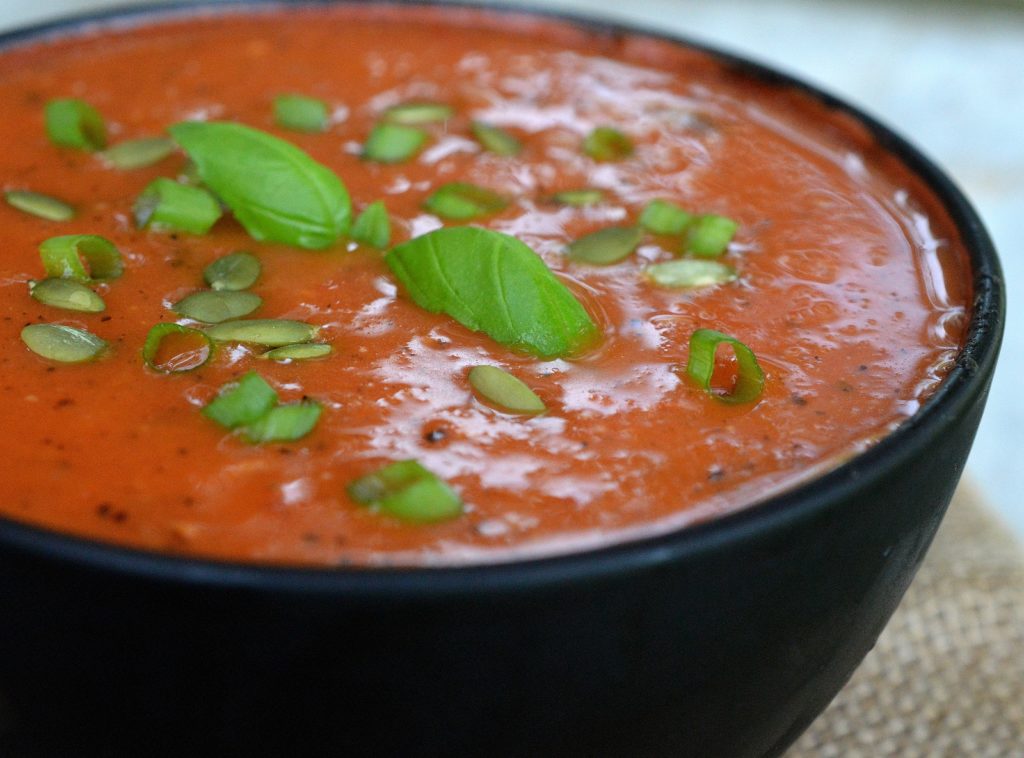 The soup my whole family can agree upon (it's so, so simple and it comes together so fast and has SO much flavor), check out my Garlicky Tortellini & Spinach Soup, it's not the prettiest girl at the dance but it sure is good! 
I LOVE this Sweet Potato Soup, it's creamy and dairy-free!
My Easy Chicken Pho is also a family fav (it has been made by so many people that sent me emails saying just how much they enjoyed it (love that!).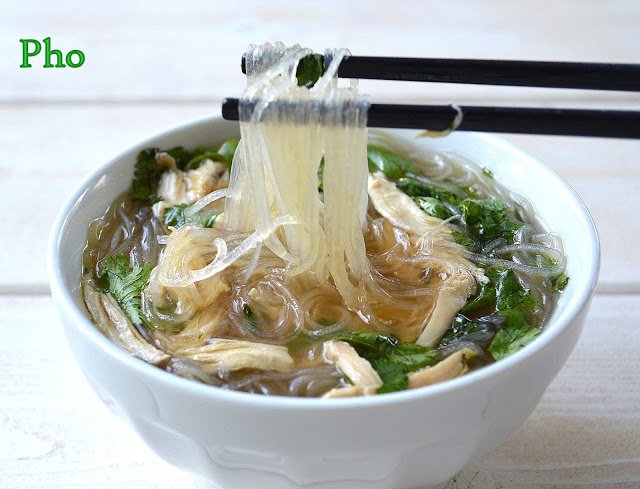 This White Bean and Bacon Soup is a favorite and a meal in itself, I replicated it from a delicious soup I had at Seasons 52 a few years back
AND you can't go wrong with my traditional Oven Roasted Creamy Tomato Soup. Roasting the tomatoes makes all the difference. For all my soup recipes, visit here.
Happy soup making!!

Recipe originally published in November 2017. Updated March 2020 with nutritional information, etc.
I'm not a registered dietician, I do my best to provide the most accurate nutritional values using a nutritional calculator. Any nutritional data I provide is an approximation. Actual dietary information can vary based on ingredients and portion sizes.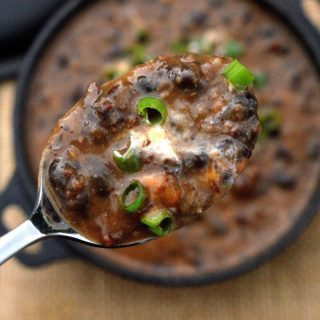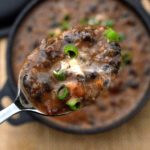 Print Recipe
Black Bean Soup Recipe
This super-flavorful Black Bean Soup us easy to make and so comforting! Spice it up or make it more on the plain side, your call!
Ingredients
2 1/2

cups

dried Turtle Beans

or 2 cups dried black beans

12

ounces

bacon

chopped

1

cup

chopped onion

4

cloves

garlic

minced or 2 TBS garlic paste

8-10

cups

beef stock

5

bay leaves

1

tsp

sugar

1

tsp

dry mustard

1

TSP

lime zest

1

TBS

lime juice

Tabasco

I like it spicy, so I use a lot – start with 1 tsp and go from there

2

teaspoons

Sherry
Instructions
Rinse your beans in a colander, place them in a large pot and cover with water plus an additional 2-3 inches of water. Set on your cool stove or counter and allow them to soak overnight or for at least 8-10 hours.

Drain your beans and set aside. In your large pot, saute your bacon until almost crisp. Add your onion and saute for about 5 minutes, add your garlic and saute another 2-3 minutes, scraping up any brown bits as you do.

Add your beans, 8 cups of beef broth and bay leaves and bring to a boil. Reduce to a simmer, uncovered for about 1 1/2 to 2 hours, stirring every so often (beans will be tender). Be sure beans are not sticking, if so add another cup of stock.

Choose how thick you want the soup by the stock you add. Some of the beans will break apart and thicken the soup (which is how I happen to like it, sometimes I use a potato masher and mash it up just a bit).

Pull out the Bay leaves and then add your s&p, sugar, dry mustard, lime zest, lime juice, Tabasco, sherry, and chili sauce if using. I allow this to sit for an hour uncovered and off the heat sg the flavors to deepen. I reheat briefly and serve. This is wonderful the next 2 days!
Notes
The bacon grease should be enough fast to sauté your onion and garlic in. If your bacon yielded a lot of fat, remove some. If you make this without bacon, or need more fat to sauté the onions and garlic, add in a bit of olive or grapeseed oil to get the job done.
If you like spicy, feel free to add a jalapeno in with the onions or a few pinches of cayenne to this soup! Just how we like it!
Nutrition
Serving:
6
servings
|
Calories:
574
kcal
|
Carbohydrates:
59
g
|
Protein:
31
g
|
Fat:
24
g
|
Saturated Fat:
8
g
|
Cholesterol:
37
mg
|
Sodium:
1015
mg
|
Potassium:
1950
mg
|
Fiber:
13
g
|
Sugar:
5
g
|
Vitamin A:
35
IU
|
Vitamin C:
3
mg
|
Calcium:
138
mg
|
Iron:
5
mg