Certain times of the year I like to buckle down for a few weeks, eat healthier and drop a few pounds. For me the end of summer is one of them. This Detox Pumpkin Soup recipe, is not only chock-full of vitamins and nutrients , its super low in calories and it's really, really good!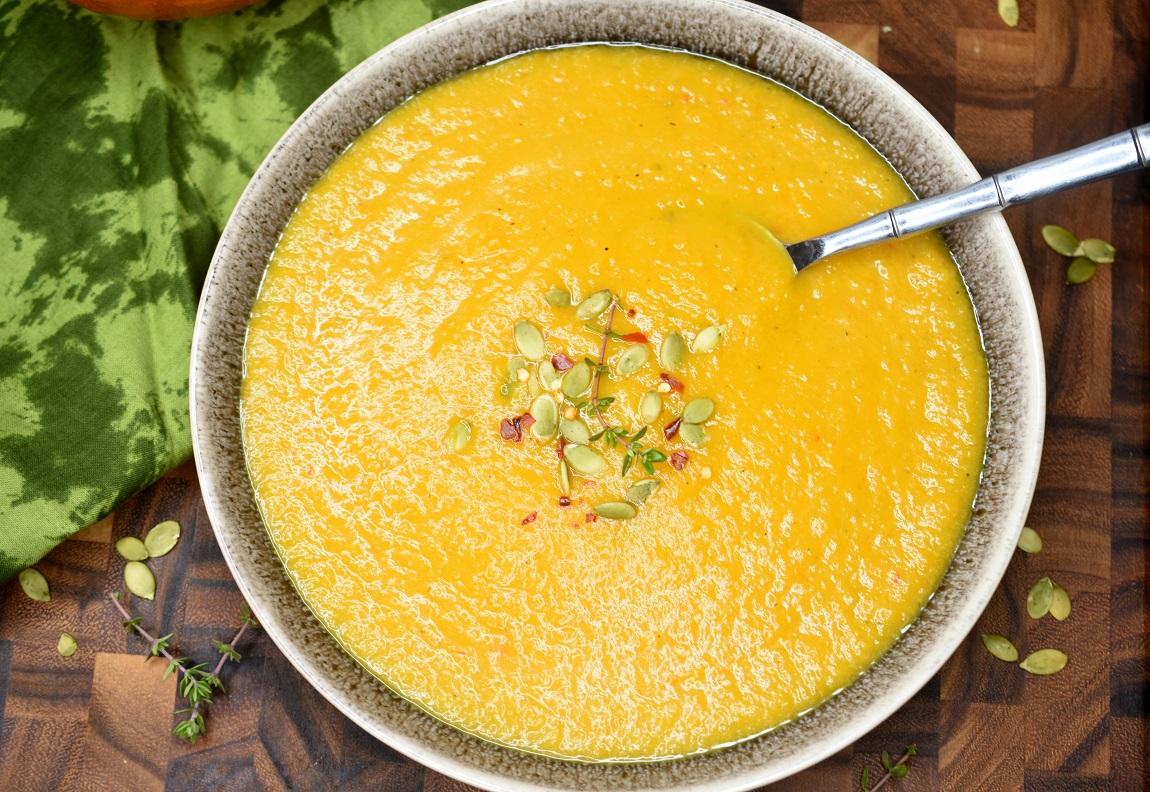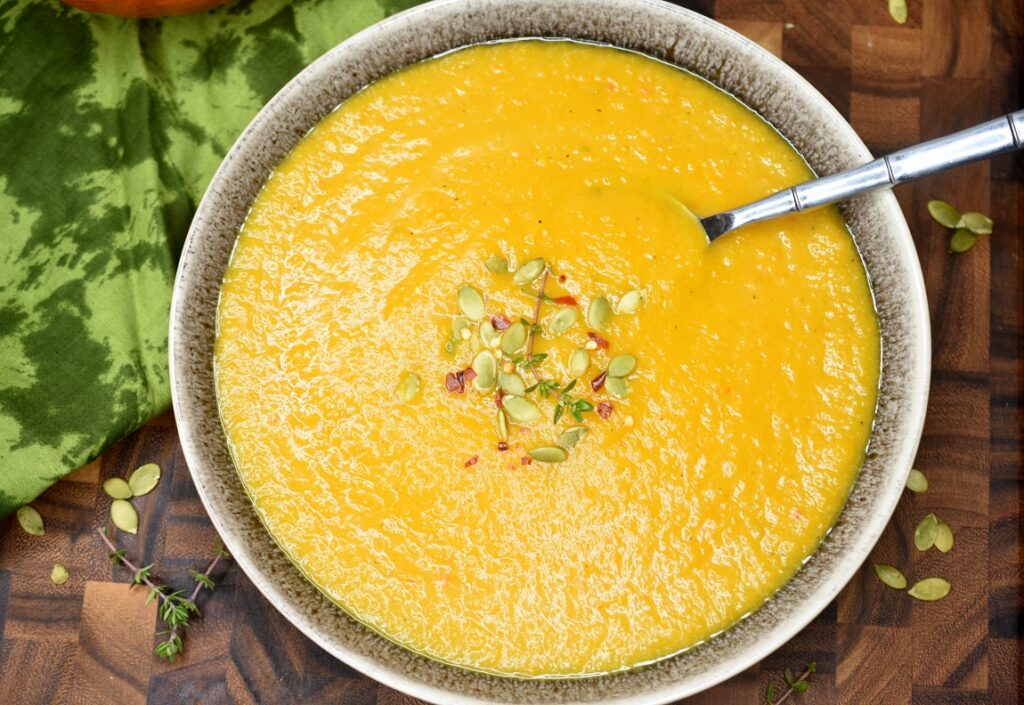 If you have never tried pumpkin before as a base for a soup, you should! Technically, it is a fruit, however, it resembles vegetables in the squash family in both taste and texture. Just like pepper and apples, pumpkins have a variety of types.
The smaller sugar pumpkins are the ones you want when it comes to baking and roasting. They are a little sweeter, less fibrous and their skin is a little darker in color.
Is pumpkin a fruit or vegetable?
I am not an expert by any means when it comes to pumpkins however, I think some varieties are actually vegetables while others are fruits.
I just know which ones tastes good, how to cook with them and which I reserve for decorating. That and the fact of pumpkin being a nutritionally dense food with low calories make it something I want to cook with again and again when its in season.
Nutritional benefits of pumpkin
Its loaded with Vitamin A -  One serving of pumpkin supplies more than double the recommended daily intake of Vitamin A (coming in at over 200%) which is key in assisting your body's immune system against infections and  illnesses. Vitamin A can also help against certain types of Cancer's, protects eyes against age-related decline and night blindness and more.
Pumpkin has almost zero fat and is very low in calories! It contains about 0.2% per cup (cooked).
Pumpkin is loaded with vitamins and nutrients such as Potassium, vitamin C and E, iron, B-12 and more. Plus its 3 grams of fiber and 2 grams of protein per serving.
When it comes to carbs, it comes in at about 12 grams of carbs per cup. Compared to say quinoa or rice they come in at double+ the carbs without the same nutritional punch. Pumpkin has almost zero fat and more nutrients and is ¼ of the calories.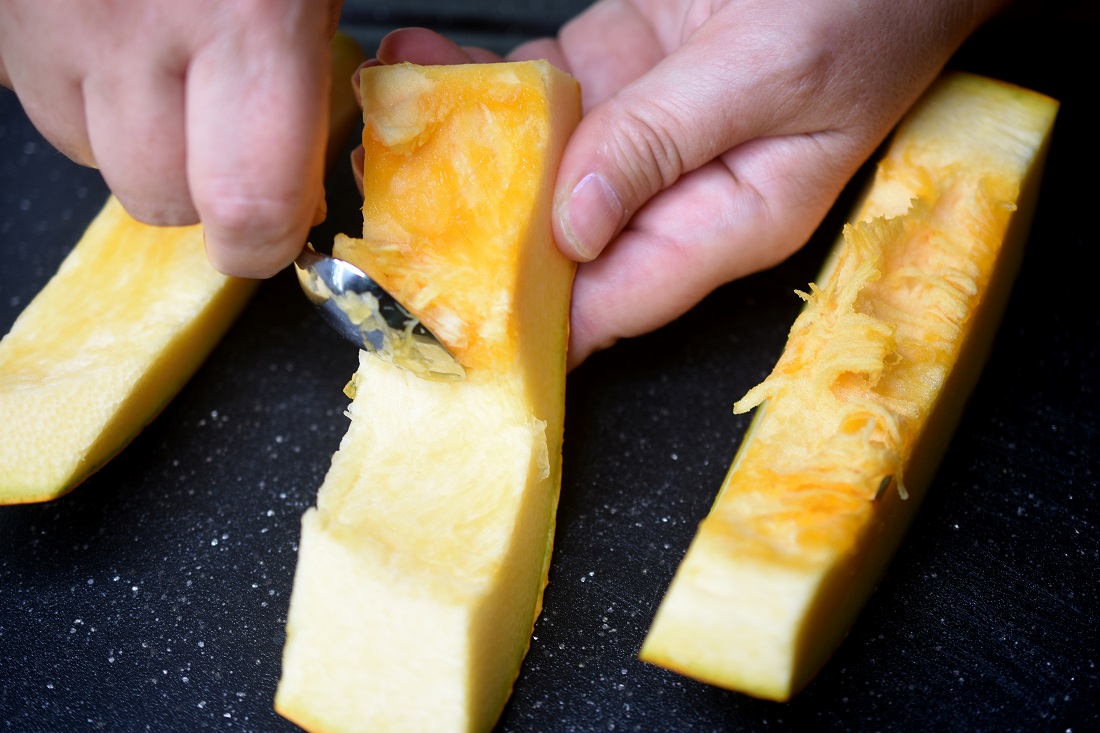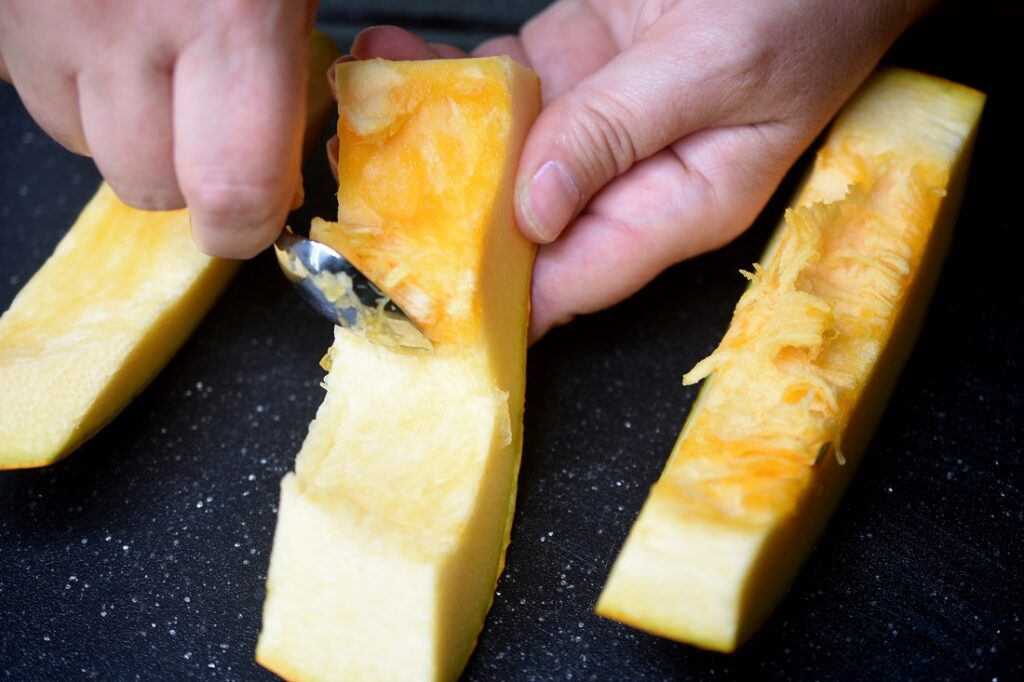 What Is The Best Way To Cook Pumpkin?
My favorite way to prepare pumpkin for savory uses is by simply cutting it into thick slices and placing them onto a parchment paper-lined baking sheet. I brush each slice with a little bit of oil (grapeseed, avocado or olive) and then season with salt and pepper. Then roast at 375 for 35-50 minutes (depending on the size of what I am roasting).
That is exactly how I prepare it for this Detox Pumpkin Soup recipe. You can also prepare it this way and enjoy it as a side vegetable (if you want a little heat, sprinkle with a bit or red (cayenne) pepper when you season.
Roasted pumpkins are a delicious idea as a part of a cheese or charcuterie board or as a side vegetable. Really! Even one of those small decorative pumpkins, roasted, is delicious spread onto a baguette or a hunk of cheese.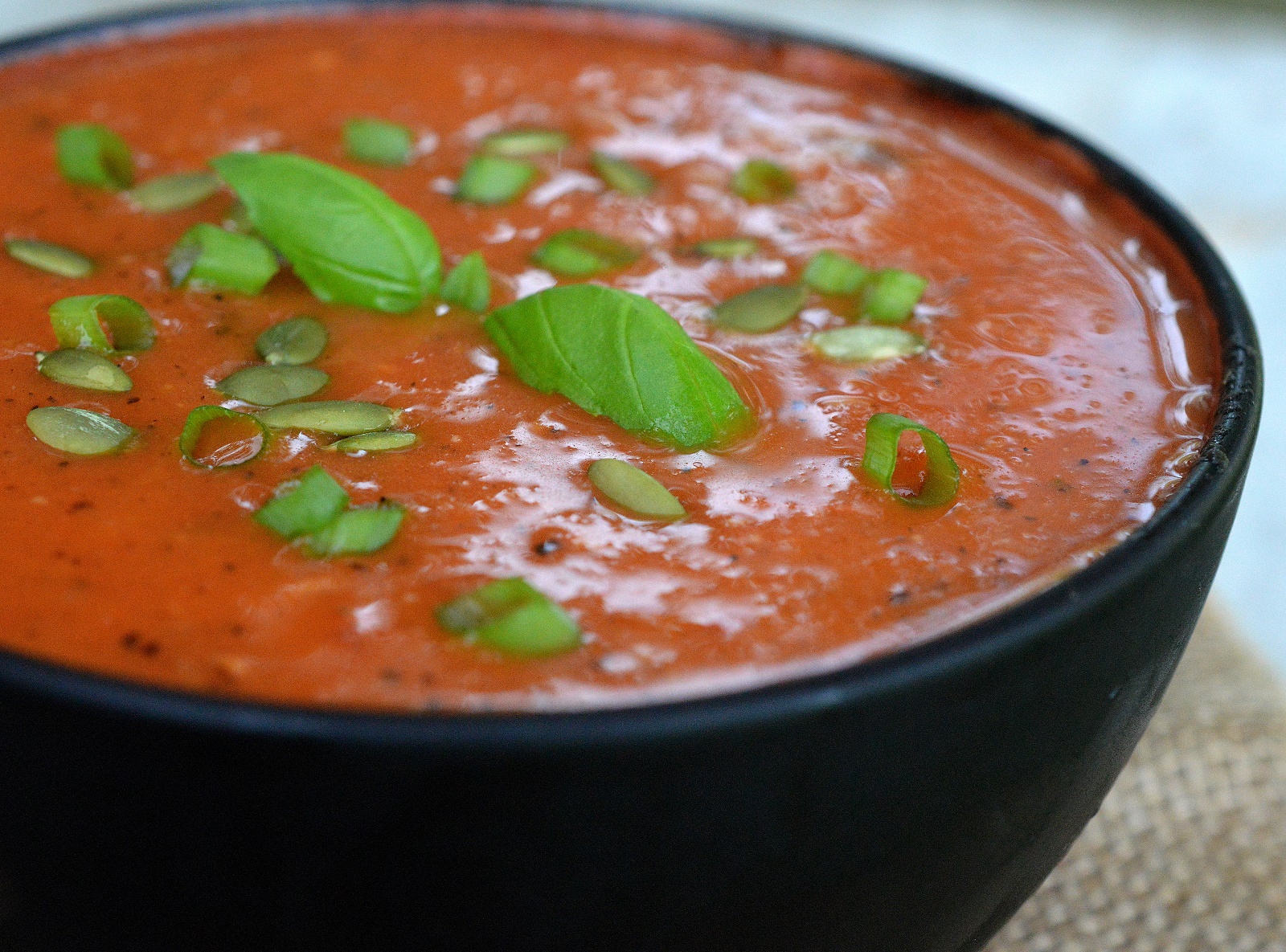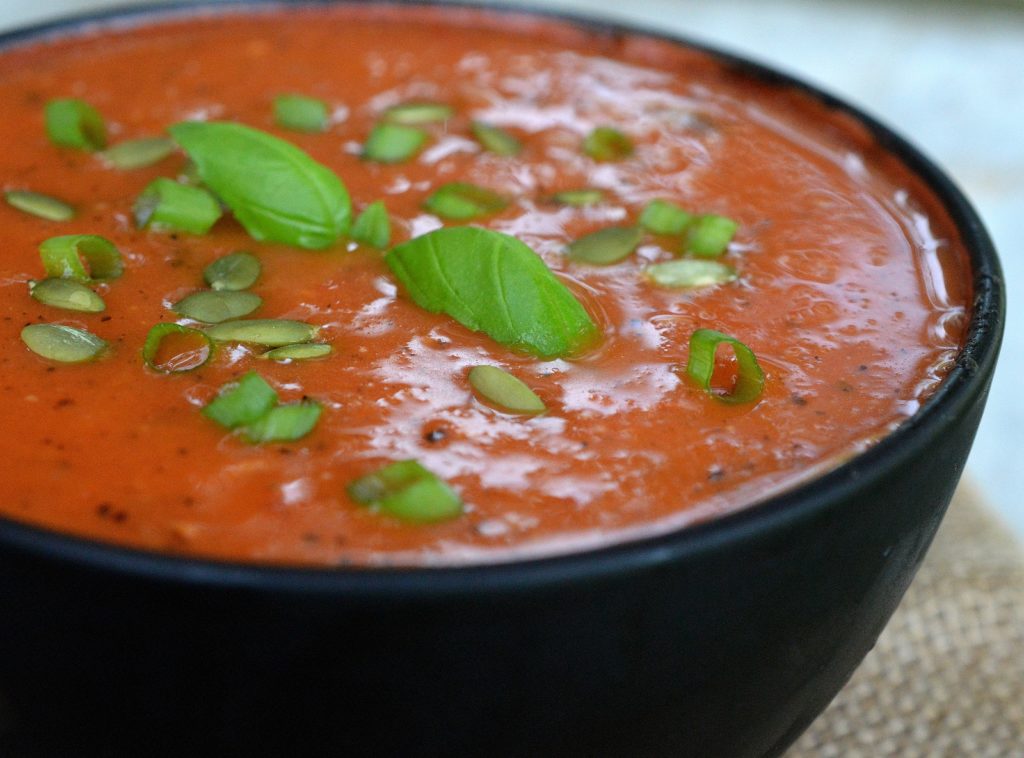 A big bowl of this Detox Vegan Pumpkin Soup soup is under 150 calories while delivering some great nutrition and antioxidant benefits.
Ingredients Pumpkin Soup Recipe
pumpkin look for a smaller pumpkin (about 3-4 pounds)
oil (olive, grapeseed or avocado)
sweet onion (I like Vidalia) 
garlic paste or large cloves of garlic,
ginger paste or minced fresh ginger
red chili pepper or jalapeno pepper
carrots (feel free to add more)
fresh Thyme
bay leaf
fresh turmeric or a scant teaspoon dried turmeric
salt and pepper
vegetable stock/broth
spritz of fresh lemon juice
Optional garnish of pepitas
Both this vegan Pumpkin Soup recipe and the the Detox Tomato Soup that I make are loaded with antioxidants, vitamins and minerals! Made with ingredients like ginger, onion, garlic, tomatoes, pumpkin and turmeric.
Both soups are very low in calories and both deliver big on flavor. For crunch (and additional benefits) I add pepitas (the inside of pumpkin seeds) to the top of my soups. Purchase either roasted salted pepitas or raw pepitas (I like to toast them in the oven for a few minutes).
Adding pepitas to certain soups like these make me feel more satisfied.
I also have a fun and festive recipe for Pumpkin Pie Biscotti and a scrumptious Pumpkin Crunch Cake. As well as a unique recipe for Pumpkin Pie, the way the Pilgrims would have had to make it. There was no flour in America at that time, so what they did was make a custard IN a pumpkin, over the fire. This is my take on that and its ah-mazing for Thanksgiving!
Enjoy!!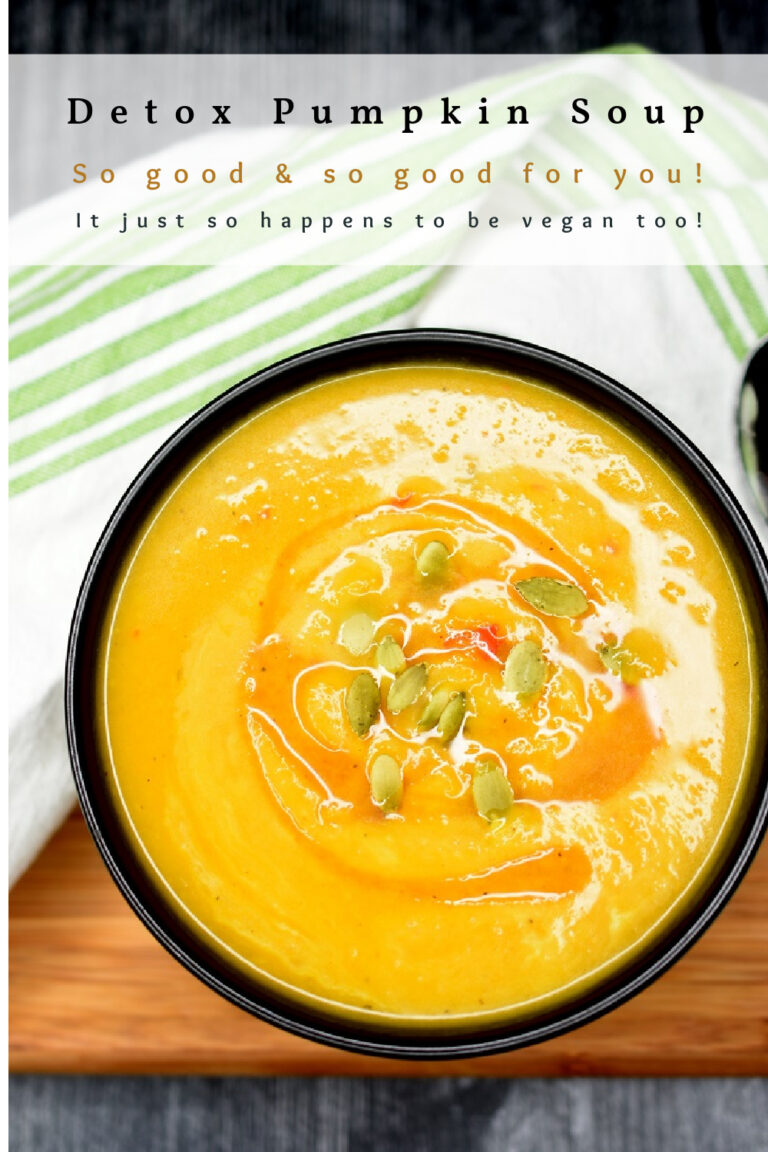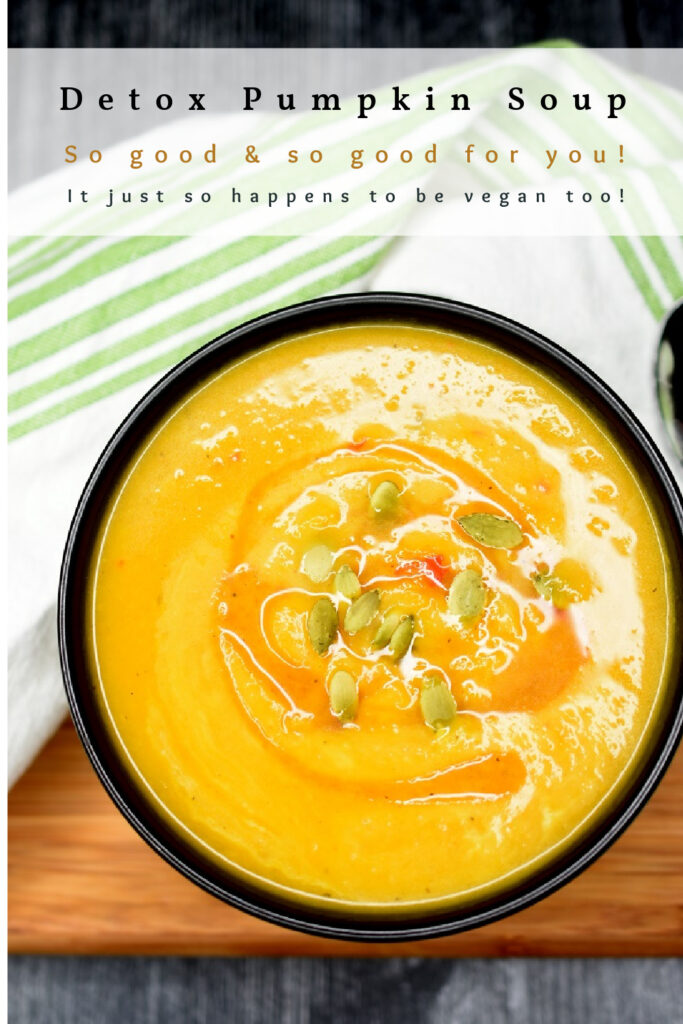 Detox Pumpkin Soup
This amazing Detox Pumpkin Soup is low in calories and loaded with immune boosting and detoxifying ingredients. It may just become you new favorite soup!
Ingredients
1

pumpkin

look for a smaller pumpkin (about 3-4 pounds) often referred to as a sugar pumpkin

1

TBS

oil (olive, grapeseed or avocado)

1

sweet onion (I like Vidalia)

Or a heaping cup (1 ¼ cup)

3

TBS

garlic paste

or 3-4 large cloves of garlic, minced

3

TBS

ginger paste

or 2 TBS minced fresh ginger

1

red chili pepper

This can be HOT, so start with ½ and go from there if you do not enjoy spicy. You can also substitute jalapeno or red (cayenne pepper or red pepper flakes

¾

cup

chopped carrots

(feel free to add more)

a few sprigs fresh Thyme

1

bay leaf

1

TBS

fresh turmeric

or a scant teaspoon dried turmeric

salt and pepper

1

quart

(4 cups) vegetable stock/broth

spritz of fresh lemon juice

Optional garnish of pepitas (the inside of pumpkin seeds) honey, cream or croutons
Instructions
Preheat oven to 375 degrees.

Wipe down your pumpkin with a damp towel. First cut off the top where the steam is, and then proceed to cut each side off of the pumpkin (think 4 sides). Finally cut the bottom off. Remember the center of the pumpkin is hollow, filled with pulp and seeds, so you are cutting around that. (See notes)

Throw away the pulp and seeds (or rinse off the seeds and save them for roasting or your animal friends). Cut your pumpkin into 1 ½ - 2 inch long slices. Once slices are all cut, use a small spoon and scrape off any pulp and seeds left sticking to each slice.

Place slices onto a parchment paper lined baking sheet (easy cleanup). Brush lightly with grapeseed, avocado or olive oil and then season well with salt and pepper. and roast for 40-50 minutes or until a fork slides easily into the the slices.

Turn oven off and allow pumpkin to sit in the oven for another 10 minutes, remove and cool a bit until you can handle the slices. Once you can handle them, slide a paring knife or other small knife between the flesh of the pumpkin and its skin to remove the skin. Throw skin away and reserve pumpkin for the soup.

While the pumpkin cools, heat your soup pot over medium high heat and add in the oil, onion, garlic, ginger, red chili pepper and carrots and saute for 4 minutes. Add in the pumpkin, thyme, bay leaf, and turmeric. Mix, season with salt and pepper and saute for a few minutes.

Add in vegetable stock cover, bring to a boil and then lower heat and allow soup to simmer for 10-15 minutes. Remove from heat and either use an immersion blender or carefully puree in a blender (in batches if necessary). Placing a dish towel over the lid of the blender and pressing down as you pulse. Once soup is smooth, return it back to your rinsed-out soup pot, taste and adjust seasoning or spicy level to your liking.

Garnish with pepitas, croutons, thyme sprigs, a drizzle of cream or a drizzle of honey (yum!!) and enjoy! I actually like to mix honey with red pepper (cayenne) and drizzle that on for an extra sweet and spicy kick.
Notes
The best way I can describe how to cut a pumpkin is one you get the tip of your chefs knife into an area of the pumpkin, slice down like an old-fashioned paper cutter. if you know what I mean. You really have to push trough with your forearm putting pressure in the heel of your hand. Once you start its easier. Make sure your knife is sharp. Maybe put your pumpkin on a dish towel to help it not move around, things can get slippery.
You COULD pop it in the microwave for 4 minutes in 2 minute bursts to make cutting easier BUT I really don't want the microwave to cook your pumpkin (at all). That is a last resort, lol!
Using garlic paste and ginger paste in this soup is so much easier and a better eating experience in my opinion. I have long been obsessed with Gourmet Gardens garlic, ginger and other pastes (found in the refrigerated section by the fresh herbs in produce)
Note: Turmeric, stains a little...both the powder and the root. SO maybe don't use a white spatula or get it ob your clothes, lol BUT its SO good for you!
Nutrition
Calories:
135
kcal
Carbohydrates:
20
g
Protein:
4
g
Fat:
2
g
Sodium:
969
mg
Potassium:
638
mg
Fiber:
5
g
Sugar:
8
g
Vitamin A:
10422
IU
Vitamin C:
33
mg
Calcium:
103
mg
Iron:
5
mg
Follow me on Tik Tok for 1 minute videos