The benefits of the humble tomato are almost too many to count. This simple Tomato Detox Soup is a staple in my house; it's incredibly flavorful and loaded with antioxidants and vitamins. It's one of my go-to recipes for keeping both myself and my family healthy.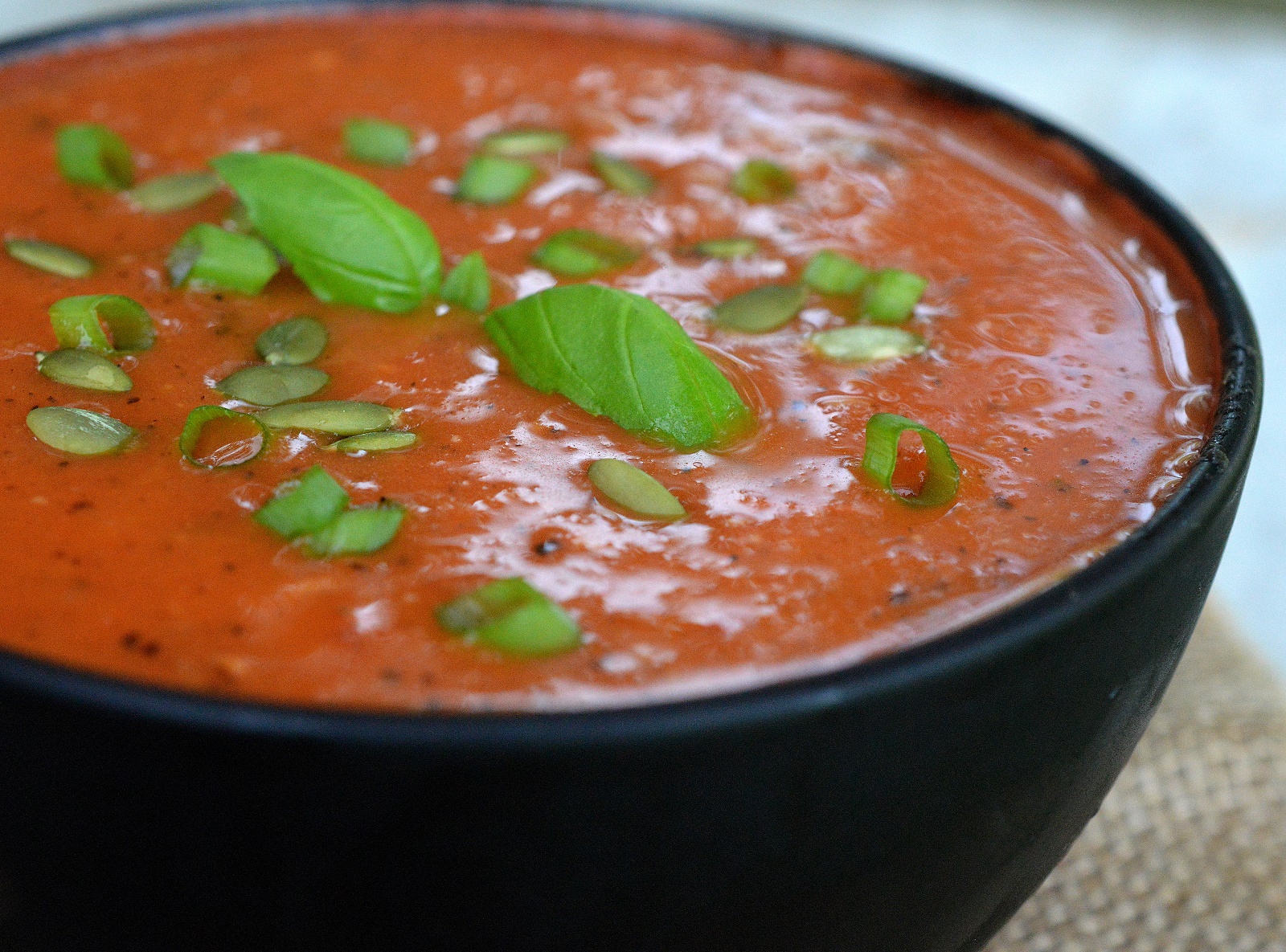 A big thank you to ACME Markets who partnered with me on this post and recipe, opinions about Acme products and store are my own.
This Tomato Detox Soup needs to be in your life and is suited for year-round rotation.  It's rich, robust and explodes with flavor. I enjoy it both hot and cold.  Really! It's that good!  When I do a 3 to 5-day detox, this soup is what gets me through it (I can not just do smoothies and water!!). I leave some of the tomatoes chunky, so it feels like I am eating more than I actually am.
Most of my life I leaned towards creamy soups and in addition, looked for crunch in the form of crackers or crusty bread.  Once I hit 40, I began to make better choices. One of my favorite things to scatter on a healthy soup is pepitas (pumpkin seeds). You can roast them first, however, I enjoy them raw.  They give me that crunch I long for without the guilt…I can save that for yummy dips and homemade cookies, lol!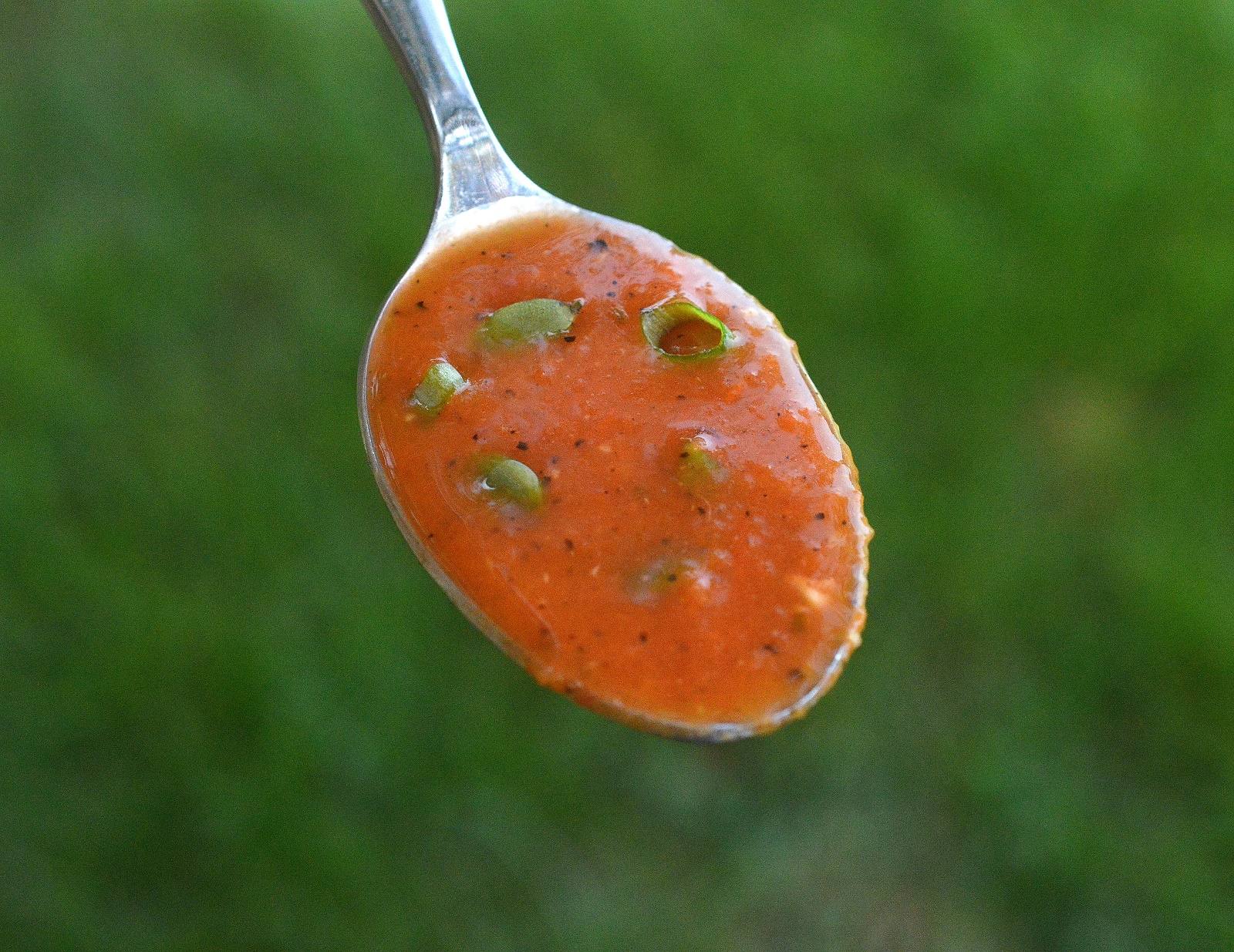 Tomatoes are a powerhouse when it comes to keeping our bodies at optimum health. They are loaded with antioxidants, minerals, and vitamins like C, K, Folate, and Potassium. The antioxidants found in lycopene help protect our livers from free radical damage, which helps allow the liver to function optimally, metabolizing and removing toxins from our bodies. In addition, anti-aging experts believe that lycopene is essential to maintaining good health as people grow older. It also boosts our immune system. Some studies proclaim lycopene fights cancer cells.
My husband, son, and daughter are all asthmatics, so come fall and winter especially, I do everything I can to keep them healthy. When colds strike I work hard to get rid of them fast and keep the symptoms under control to limit asthma flare-ups.  Available exclusively at ACME Markets in the Philly Suburbs (and in Philadelphia), the affordable Signature Care™ line of cough and cold remedies are typically found in my medicine basket.  ACME Markets' Signature Care Cough and Cold Cough Drops are always tucked into my kid's backpacks during allergy and cold season. They enjoy the cherry and lemon flavors. To keep us all going when a cold does strike, we use Signature Care Cold/Flu Softgels Day/Night Gel Combo Pack, which is perfect! Instead of buying both a day pack and a night pack…we get two in one!
I shop at ACME Markets, but you can find Signature Care products at all Albertsons Companies family of stores, including Albertsons, Safeway, Jewel-Osco, Vons, Pavilions, Randalls, Tom Thumb, Shaw's, Star Market, United Supermarkets, Market Street, Albertsons Market and Carrs/Safeway.
Signature Care™ products provide the same quality and relief that national name brands do, but at a better value. They have the same active ingredients and are made with the same manufacturing standards as national brands. All Signature Care™ products sold exclusively at Acme come with a 100% satisfaction guaranteed or your money back promise.
To make this Tomato Detox Soup, in addition to tomatoes, I use super detoxifying ingredients like garlic, ginger, and onions. This soup doesn't take long to make. The only part you need to set time aside for is roasting the tomatoes. The flavors that come as a result are really rich and delicious!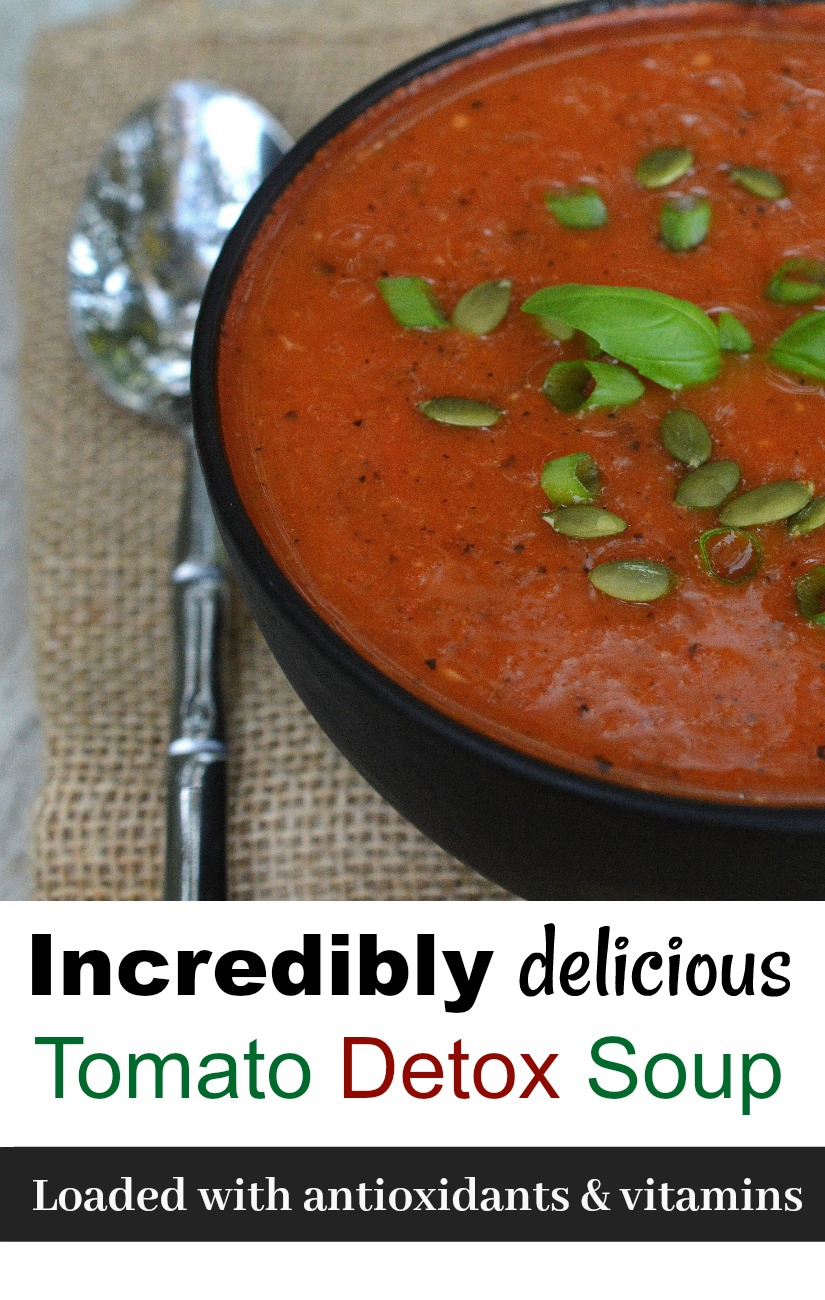 If you are going to make a detox soup (or smoothie for that matter), you really do need to choose organic ingredients. I love ACME Markets' line of O Organics® products! Found exclusively at ACME Markets, O Organics are USDA certified organic and the products are designed for anyone interested in maintaining and living an organic lifestyle.  ACME Markets carefully selects producers who meet their extremely high standards for organic farming, and only partner with those who share their commitment to sustainable practices, while promising to never use synthetic pesticides, herbicides, and antibiotics.
In my opinion, the O Organics line of ACME products have a superior taste and are very affordable, more so than just about any other line of organic products I have come across. ACME Markets was my neighborhood store growing up in Northeast Philadelphia and today in Bucks County, it's my neighborhood store as well! I am an ACME girl!!  I literally know a dozen names of the employees at my ACME…If I miss a day or two and don't pop in for something…They are like "where were you?" When I shop they all know I am a food blogger (and not just a crazy lady who shops twice a day sometimes for this or that) they always ask "what are you making today?" Because as a food blogger and foodie…You just never know, lol!
Also, I have to share that since ACME Markets' Gas Rewards program began THIS GIRL…gets $1.00 off her gas fill-ups…a lot! I LOVE it!
This is a sponsored post written by me on behalf of ACME Markets.
Enjoy!

Tomato Detox Soup
Ingredients
1 pint grape tomatoes
1 TBS grapeseed or olive oil
1 TBS chopped ginger
½ cup chopped Vidalia onion
3 cloves garlic minced (2 TBS or garlic paste)
2 cans fire roasted diced tomatoes
1 quart vegetable stock
Handful of fresh Basil
Kosher salt & black pepper
Optional: 1 TBS sugar, Cayenne pepper
Garnish: Pepitas, scallions Basil
Instructions
Heat your oven to 300 degrees.
Place tomatoes in a small baking dish or in some aluminum foil (with the top open) and roast them for 35 minutes. Turn off the oven and allow them to sit in the oven for an additional 15 minutes.If you are running out, they can sit there until cool. You can do this a day ahead if you like)
When ready to make the soup. Heat oil in a medium pot, saute onions and ginger for a few minutes, add in garlic and roasted tomatoes and saute for a couple more minutes, you can press down on the tomatoes with the back of a spoon or a potato masher to "pop" them if you like.
Add canned tomatoes and vegetable stock, season and bring to a simmer.
Simmer for 10 minutes, add in Basil and season some more until you get the taste you desire.
Decide if you want to puree your soup or leave it chunky (I like it mostly pureed). Using an immersion blender or traditional blender/Vitamix. Puree soup.
Enjoy hot, room temperature or cold. Garnish with a handful of pepitas (pumpkin seeds), chives or scallions and Basil and enjoy!
Notes
I like to add a TBS of sugar to this. It's how I like it. Taste and decide if you want to add sugar or not.

If you want a spicy soup, add in ½ or a whole chopped jalapeno in the beginning...Just watch out and taste the jalapeno before you do, you never know how hot they may be, lol! You can also choose to add Cayenne pepper instead.

Enjoy the soup chunky or puree it. I like it mostly pureed.

Soup keeps for a week.