This easy Sweet Potato Soup recipe is one of my favorite soups and I make it often in fall and winter. You really can't mess this soup recipe up...Plus it's easily customizable to any taste or preferred way of eating.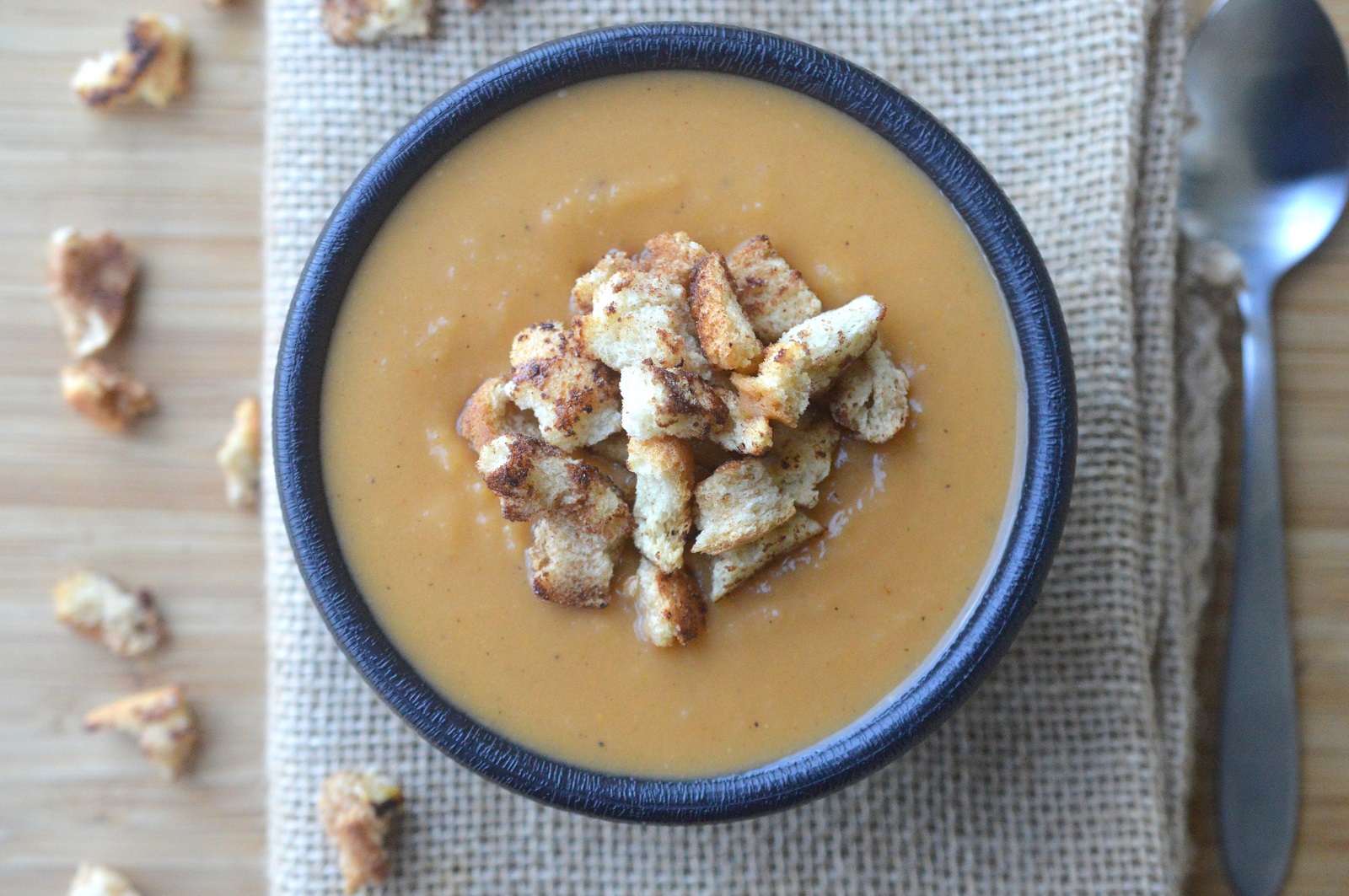 Ingredients to make Sweet Potato Soup
All you need to make this scrumptious soup are a couple of sweet potatoes, and onion, vegetable and chicken stock and a few spices. Add carrots if you have them for natural sweetness or add in some brown sugar or maple syrup. Yum!
You can make this easy sweet potato soup recipe, vegan, vegetarian or you can switch out the vegetable stock for chicken stock. It's your call. You can choose to add cream or milk to the soup as well. In my opinion its plenty creamy on its own.
How To Make Sweet Potato Soup?
Making sweet potato soup is easy. All you need are sweet potatoes (or yams), vegetable or chicken stock, onion and some oil and seasoning. You can also add brown sugar or maple syrup for extra sweetness OR you can add sweetness naturally by adding in 1 cup of chopped carrots. That's it! In no time you will be enjoying a creamy and robust soup that is light in calories and delivers some key nutrients.
Simply saute the onions, add in the potatoes and stock. Puree the soup once potatoes are cooked through and then add in your seasonings.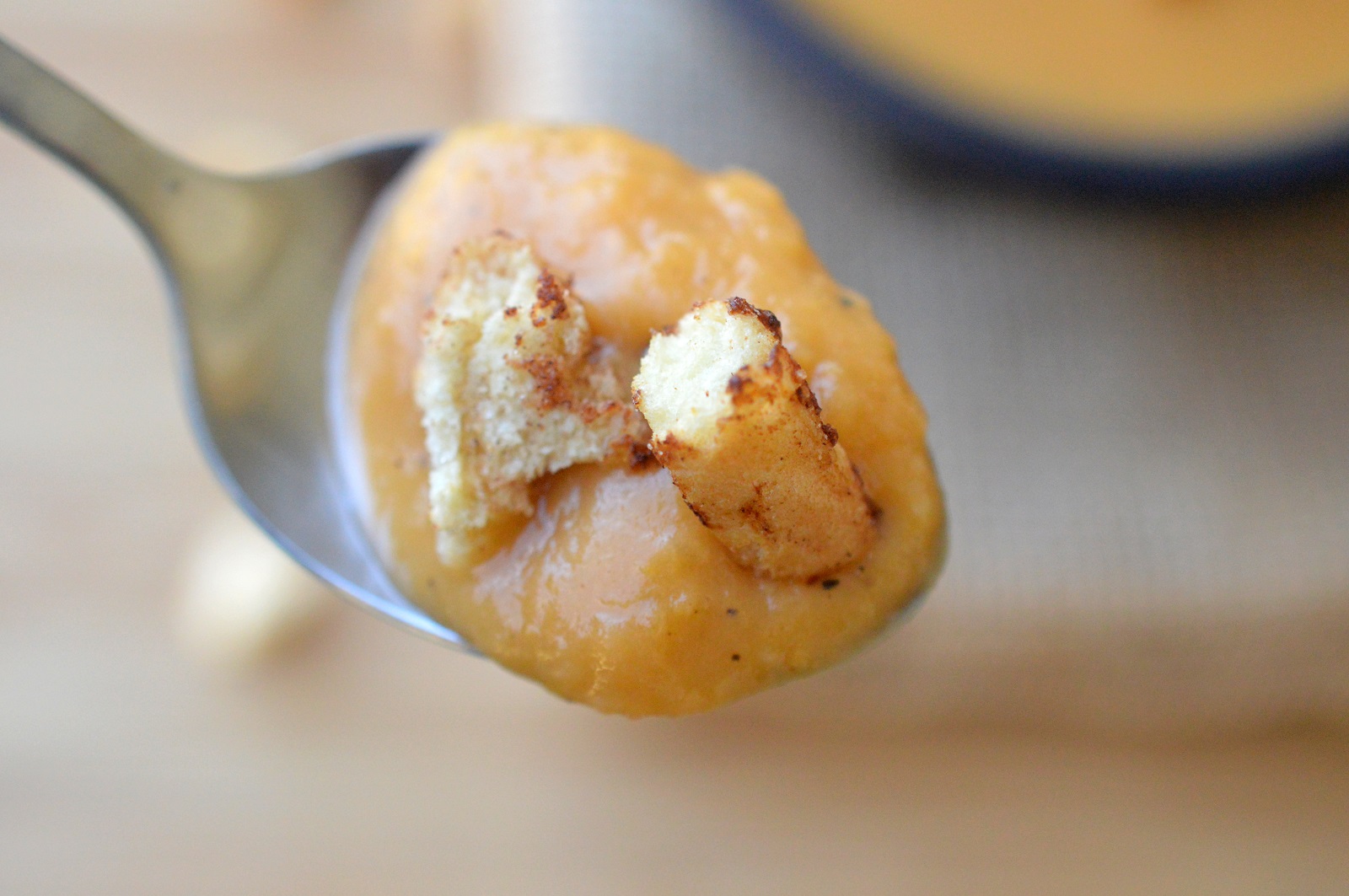 Is Sweet Potato Soup Vegetarian?
The soup recipe itself as written is actually vegan as written. You can choose to keep it that way and make this soup with just vegetable stock or you can customize it and use chicken stock and or add some cream/half and half at the end.
What Can I Top Sweet Potato Soup with?
You can enjoy this soup as is, however, I love to top it with cinnamon and sugar croutons (the more the better for me!). I also sometimes add in pepitas (pumpkin seeds, which are green) for added crunch and color.
You can also choose to top this easy sweet potato soup with snipped scallions or chives, crumbled bacon or oyster crackers. If you want some heat, a crescent moon of red pepper flakes is pretty to add. To make this soup even prettier, add a swirl of cream on top just before serving.
Once made the soup will keep in the refrigerator for a week.
Can I Freeze Sweet Potato Soup?
Yes, since this soup is pureed you can freeze it as long as you do not add in any dairy.  The best practice is to add cream or milk to the soup after you thaw it (if that is what you are choosing to do). To me this easy sweet potato soup recipe is so creamy and flavorful, it doesn't need cream or milk.
Any pureed soup you freeze can always be tossed back in your blender after it thaws, for a quick whirl to make it just as smooth as the day it was made.
Some of my FAVORITE soup recipes are:
This  Garlicky Tortellini & Spinach Soup is our family favorite! JUST made it last night before the snow. It literally takes 15 minutes to make, all in 1 pot and the flavor is ah-mazing AND it takes just 15 minutes to make...we call it dinner!    
My Easy Chicken Pho is also a family fav (so many people send me emails saying just how much they enjoyed it...love that!).
This White Bean and Bacon Soup is really good and a meal in itself, I replicated it from a delicious soup I had at Seasons 52 a few years back.
If you want to watch what you are eating or drop a few pounds quick! My Tomato Detox Soup is just the ticket!
For all my soup recipes, visit here or visit my Soul-Satisfying Soup Board on Pinterest...I have so many amazing soups pinned there You are about to enter Soup Heaven!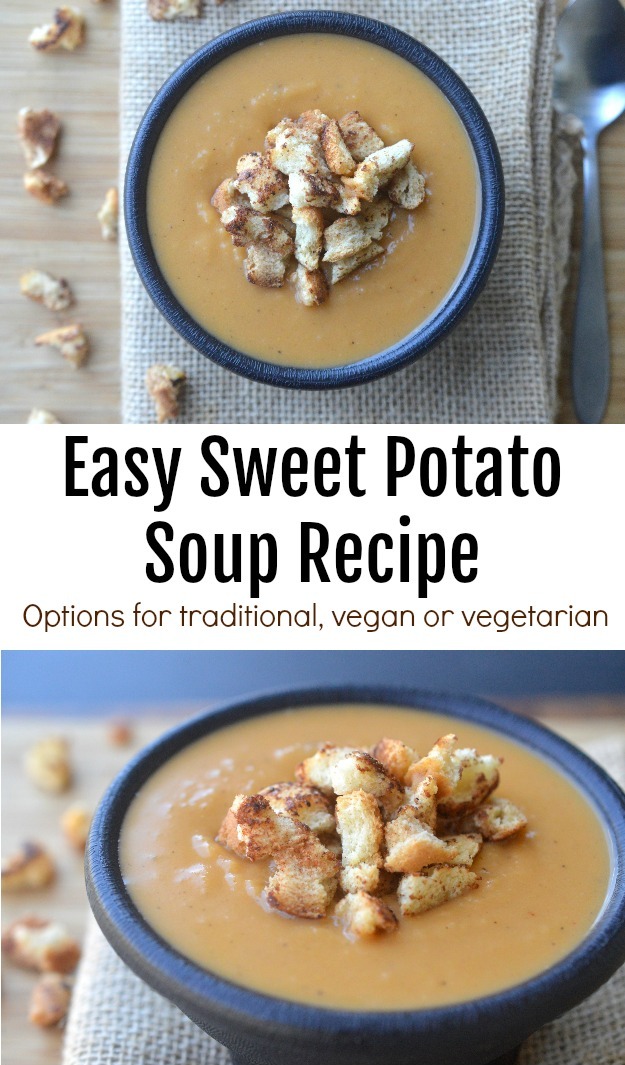 Enjoy!!

Originally published 2/2019, updates 3/2020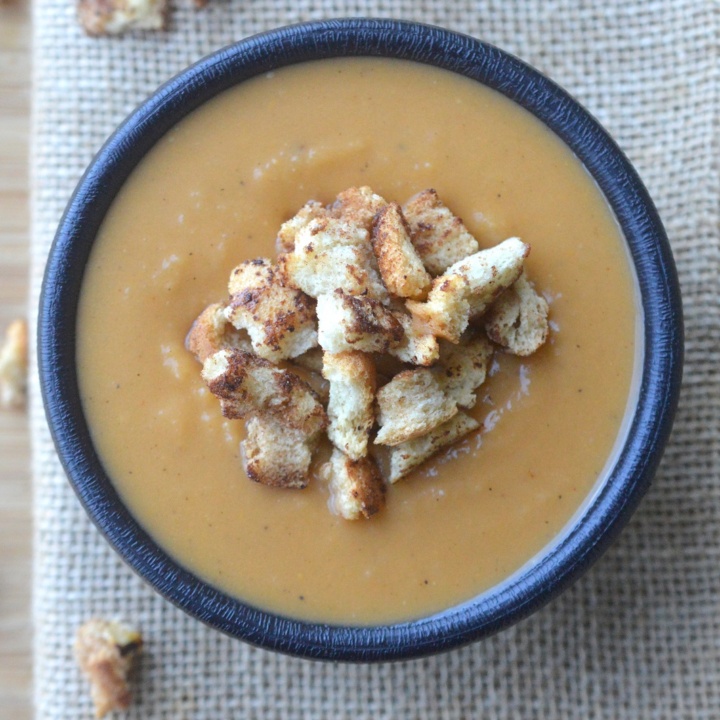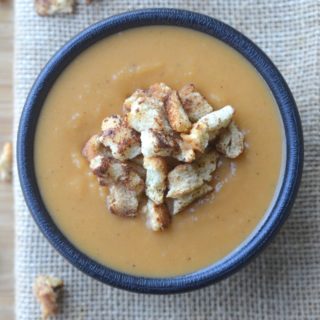 Easy Sweet Potato Soup Recipe
This scrumptious, super easy sweet potato soup only needs a handful of ingredients. No cream necessary, it can be made vegan/vegetarian using vegetable stock or with chicken stock.
Ingredients
2

TBS

grapeseed or olive oil

¾

cup

chopped sweet onion

4

cups

vegetable stock

2

large sweet potatoes

peeled and diced (2 heaping cups)

2

TBS

brown sugar

maple syrup or maple flakes

½

teaspoon

cinnamon

⅛

teaspoon

nutmeg

A few shakes of ginger

Kosher salt &black or white pepper to taste

A few shakes of Cayenne pepper if you want a little heat

Cinnamon & Sugar Croutons

1-2

TBS

butter

or no butter, see Notes

1 ½

cups

bread

on the stale side is good bread torn or cut into small chunks, crusts work great

½

TBS

sugar

½

teaspoon

cinnamon
Instructions
Vegetarian Sweet Potato Soup

Saute onions in oil over medium heat in a medium-sized pot until they are wilted and translucent, about 4 minutes.

Add in your stock and your sweet potatoes and simmer until potatoes are tender. Remove from heat and allow the soup to cool a bit.

Use an immersion blender or carefully pour your soup into your blender and puree soup (place a dish towel over the lid of the blender in case of warm soup splattering up out of the lid).

Rinse your pot clean, then return soup to the pot. Taste the soup. The sweetness of sweet potatoes (or yams) varies.

If you want it a little sweeter add in 1-2 TBS of brown sugar or more to taste. Just keep tasting till its where you want it to be. I like my sweet potato soup to be sweet with a hint of spice.

Add in a bit of cinnamon, ginger and if you like a little heat, red (Cayenne) pepper).

Taste and adjust to your liking as you go.

You can also add some milk or half and <g class="gr_ gr_120 gr-alert gr_gramm gr_inline_cards gr_run_anim Grammar only-ins doubleReplace replaceWithoutSep" id="120" data-gr-id="120">half</g> in to make it more luxurious OR you can thin it out more with additional vegetable stock.

Cinnamon & Sugar Croutons

Melt your butter in a large skillet over med-low heat, add in the <g class="gr_ gr_1419 gr-alert gr_spell gr_inline_cards gr_run_anim ContextualSpelling ins-del" id="1419" data-gr-id="1419">torn</g> bread, and toss it around. add in the sugar and toss until combined. Stir continuously over medium heat until croutons begin to crisp up, being careful not to burn them. OR you can toss the bread with the butter (or no butter...see Notes) and pop them in the oven at 375 degrees until dried up and crisp, tossing occasionally(about 20 minutes). Store in an airtight mason jar, container or baggie until ready to use. These keep for a week.

You can also make these without butter, see Notes.
Notes
You really can't mess this soup up!
Size and sweetness of sweet potatoes vary (yes you can also use yams). So add as much or as little brown sugar/maple syrup as you like). The same goes for liquid. Add more if you want it thinner. if you feel your sweet potatoes are small, then start with only 3 cups of broth and add more later after you puree the soup.
You can also choose to add in milk, half and half or cream to make the soup more luxurious however this soup really doesn't need it..
If you don't want to toss them bread for the croutons in butter, you don't have to. Simply season them with cinnamon and sugar and bake them in a 250-degree oven until crisp.
Nutrition
Serving:
4
people
Calories:
437
kcal
Carbohydrates:
71
g
Protein:
11
g
Fat:
13
g
Saturated Fat:
4
g
Cholesterol:
8
mg
Sodium:
1465
mg
Potassium:
424
mg
Fiber:
6
g
Sugar:
19
g
Vitamin A:
9811
IU
Vitamin C:
4
mg
Calcium:
154
mg
Iron:
4
mg
Follow me on Tik Tok for 1 minute videos