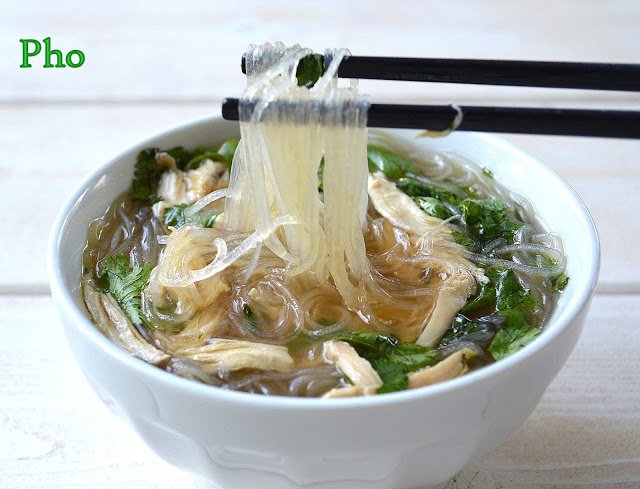 Today I am sharing something with you that just might change your life!
No it's not the latest self-help book.
And no, I didn't win the lottery (although I would share).
It's Pho….(insert angels singing here) and it's easy to make…hence the name Easy Chicken Pho!
No, I didn't just sneeze!  Pho is a Vietnamese Noodle Soup and it is seriously un-believable!
I had it for the first time this past New Year's Eve.  Amy, a new neighbor who hails from Vietnam, had brought it to the party we were at, and I swear…after my first warm, intense flavor-full noodley bite…I swooned!  I literally ran over to my husband to have him taste it and waited to see if his life had instantly changed too.  A bowl of Pho is like eating a hug…a warm, loving, happy, delicious hug from the most amazing person you can imagine (maybe someone on your Top 5 laminated list?? Hmmmm).
So THIS was what all those instagram pics from my foodie friends in NYC was about – THIS is why they seem to seek out bowls full of noodles every chance they get, sometimes I wonder just how those two very tiny people eat all they do…they eat like it's their job, sometimes the food they eat looks amazing, sometimes to me it's scary – all I know is one day I need to head to NYC and have them take me out to eat (you know who you are
Ken
and
Margaret
)!!  Check out their Instagram feeds, they sure will make you drool!
I cornered Amy to ask her how to make it and really sounded like an all day thing to make it truly authentic, (chicken hearts may or may not be involved).  I knew instantly that I had to make some for myself.  I've been tinkering with trying to get a bunch of flavor into the broth in a short period of time since I really don't want to be at the stove all day to make soup.  I am happy with this result, but now I want to taste Amy's again so I can compare and adjust.  One of these days I am going to spend some time in her kitchen!My 11 year old son went crazy over this – he ate a giant bowlful 2 days in a row.  My husband also loves it – minus the Cilantro…both him and our daughter detest the taste of even 1 leaf.  The little one says all she can taste is soap – just like her daddy!  I personally think both the Cilantro and the lime added at the end are what help make this soup so magical!
Oh and by the way, Amy says it is pronounced F-uuuh, no fough or fooooo.  It really does sound weird when you say it to someone that way – they just look at you like – "ok…finish your word now".  What I was really told is that it sounds like that 4 letter word F***, just drop the c and the k.  And there you go, a language lesson and a recipe 🙂
Easy Chicken Pho
8 cups chicken broth
3 cloves garlic, crushed
4 scallions, chopped rough
1 TBS minced fresh
ginger,
1 tablespoon sugar
2 tablespoon soy sauce
3 tablespoon fish sauce
1 teaspoon sesame oil
A few dashes of Tabasco
½ cup chopped carrots
Chicken bones, skin, leftovers (optional)
4-8 ounces  Glass/Cellophane
Bean Thread Noodles or rice noodles
2 heaping cups of shredded chicken
2 TBS fresh lime juice
1 cup cilantro leaves
A few pinches of Truffle salt (optional)
In large stockpot over high heat add chicken broth, garlic, scallions,
ginger, sugar, soy sauce, fish sauce, Tabasco, sesame oi, carrots and if you have it a
chicken carcass, wings, skin legs…whatever you have.   Bring your stock to a boil, and then reduce
heat to medium-low.  Allow the flavors to
develop by simmering for 20 minutes.   Remove stock from heat, allow it to sit for
20 minutes, then strain the stock into a large bowl, pressing on your solids to
get every bit of flavor you can.  If you are adding slice mushrooms, add them now to th broth.
Just before you are ready to serve the soup, place your
noodles in large bowl , cover with hot water AND Soak for 5 minutes.  Drain noodles and set them aside.
Return your strained broth to your pot and bring to a simmer
and add in your shredded chicken, cook for 5 minutes.  Add in the lime juice and turn off the heat.  Fill your bowl(s) with the amount of noodles
you would like (I like the bowl ¾ full of noodles) then ladle in the soup.  Top each bowl with cilantro leaves and serve.
Colleen's Notes: I recommend either using a leftover chicken carcass or buying a rotisserie chicken for this – just take what meat you need for the soup, find a use for the rest and use the skin, bones and wings for the stock – it makes the broth so very rich!Amy's Pho did not have mushrooms, however if you enjoy mushrooms feel free to add some sliced shiitakes to your soup.  I opted to add a few pinches of truffle salt and we totally enjoyed the result.
A bowlful of Pho is a meal, so plan on this for your  lunch or dinner.  This amazing left over as well, just place your still wet noodles in a sealed container or make a fresh batch, it only takes 5 minutes.  They way I warm it up is to strain out the chicken, bring the broth to a boil, remove from heat and then add the chicken and noodles in and top with cilantro (this way your chicken doesn't dry out).  My mouth is literally filling with saliva as I type this – you HAVE TO make it!!
Enjoy!!