Are you ready for a smooth, creamy, nutritious & delicious Sweet Potato Soup? This soup is SO good and it just so happens to be vegetarian / vegan.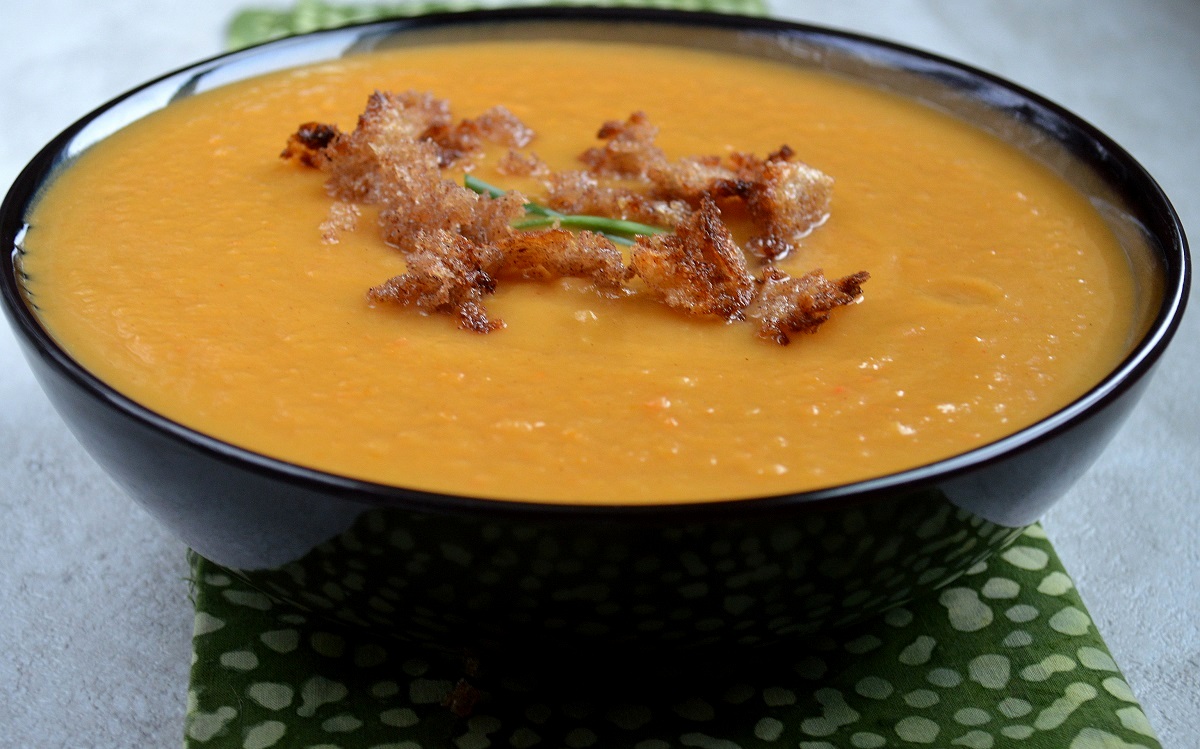 I am! And I had 4 bowls last weekend, I just can't get enough!
Today it was 60 something degrees...as I type this, it's getting cooold! Tonight will dip to 27. Snow is in the forecast for Friday. The weather is very indecisive around here, but that is what keeps things in Pennsylvania interesting!
I actually just made a massive batch of this sweet potato soup for my sisters bridal shower this past weekend. It was a hit! This is a perfect fall soup recipe. Its a great Thanksgiving soup recipe as well.
Ingredients
olive or grapeseed oil
sweet onion
vegetable stock (you could also use chicken stock, I just prefer vegetable for this soup)
sweet potatoes
brown sugar
cinnamon
ginger
s&p
cayenne pepper
In my opinion you must make the crumble for the top of this soup! It's good enough to eat as a snack on its own! It's just bread, butter, brown sugar and spices. They crisp up and just compliment the soup so well.
The color of the soup may vary. Most grocery stores call yams "sweet potatoes" in the produce section. They are vibrant orange inside while true sweet potatoes are white inside. Either works for this recipe. And actually its prettier using yams in my opinion.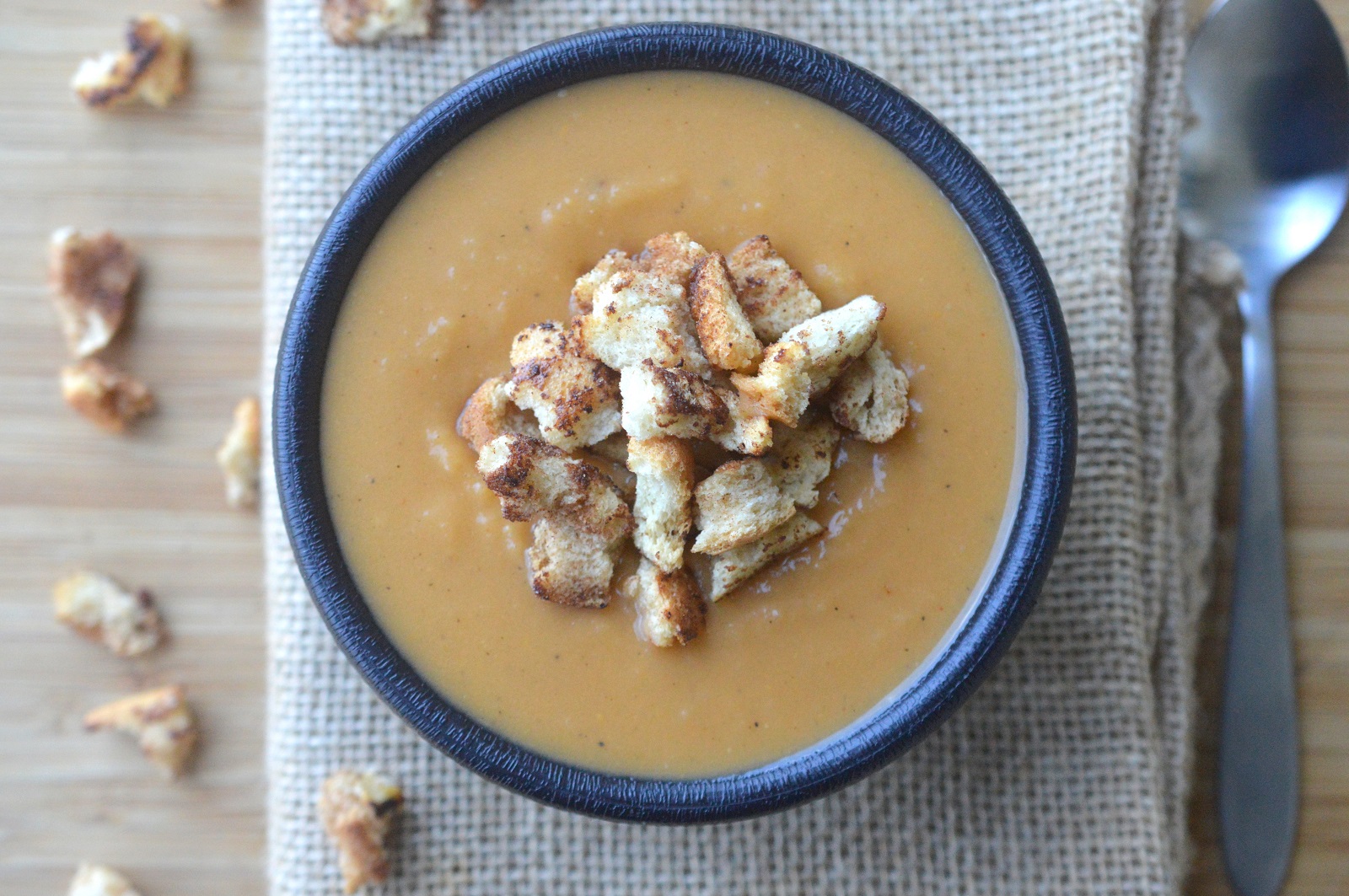 Above is actual sweet potatoes in the soup, see the color difference. Taste is just about the same.
Tips
Let soup sit a bit and cool down a little before pureeing.
Sweeten and season the soup after you puree. Taste and adjust.
For a thinner soup, add in more vegetable stock.
IF somehow your soup IS to thin, just add in more sweet potato (you can simply boil more chunks in water till tender, strain and add).
For the crumble, if you see those bags of fresh bread cut into small pieces for stuffing, grab one. That is perfect for the crumble! Just tear the strips into smaller pieces by hand.
You can make the crumble as sweet and as caramelized as you wish! Just add lots of butter, brown sugar for caramelization and cinnamon (and if you want nutmeg and ginger) for flavor.
If you want your crumble really crunchy, you can do it again after it has cooled, just melt a few TBS of butter, more brown sugar and do it again. YUM!!
Storage
This soup will stay good in your fridge for a week. It reheats beautifully! Store crumble in a mason jar or baggie.
Recipes you may enjoy
Recipe originally published in 2015, updated 2022.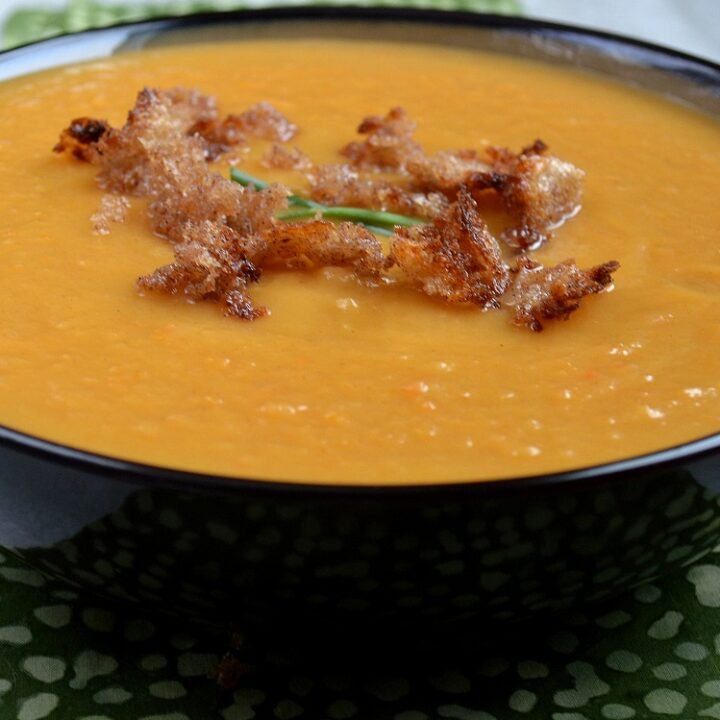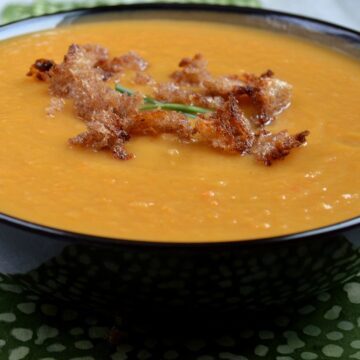 Sweet Potato Soup
This is the best sweet Potato Soup recipe! It's easy and vegetarian/vegan You could add cream if you like however I don't find it necessary! The Brown Sugar Cinnamon Crumble is a must!!
Ingredients
2

TBS

olive or grapeseed oil

¾

cup

chopped sweet onion

4

cups

vegetable stock

orchicken stock

2

large sweet potatoes, cut into small chunks

or yams, peeled and diced (2 heaping cups)

2-3

TBS

brown sugar

Pinch

or two of Cinnamon or to taste

Pinch

of ginger or to taste

Pinch

Kosher salt or to taste

A shake or two of Cayenne pepper if you want a little heat

Optional: If you have maple flakes add in a TBS or add in a TBS of maple syrup.
Crouton Crumble
6

TBS

butter

¼

cup

brown sugar

(or more)

Pinches cinnamon, nutmeg and if you have it cardamom
Instructions
Cut your sweet potatoes into small chunks (they will cook faster)

Saute your onions in the oil over medium heat in a medium sized pot until they are wilted and translucent, about 4 minutes.

Add in your stock and your sweet potatoes and simmer until potatoes are fork tender.

Remove from heat and allow the soup to cool a bit.

Use an immersion blender to puree soup OR carefully pour your soup into your blender and puree soup (place a dish towel over the lid of the blender in case of warm soup splattering up out of the lid).

Since sweetness of sweet potatoes/yams will vary, taste and adjust for your preference of sweetness.

If you want it a little sweeter add in 2-3 TBS of brown sugar. I like mine sweet with a hit of spice. Add in a bit of cinnamon, ginger and if you like a little heat, red (Cayenne) pepper). Taste and adjust to your liking as you go.

Make the Brown Sugar Cinnamon Crumble by melting butter in a pan until it just bubbles, toss in bread chunks, season and stir until they begin to crisp up. Add in more butter if necessary.

Turn crumble out onto a parchment paper lined baking sheet and cool completely (it will harden up as it cools)

Serve soup and top liberally with crumble, yum!!
Crouton Crumble
Melt butter in a pan until it begins to bubble.

Add in brown sugar and stir until melted.

Add in bread pieces and spices and stir, stir, stir until it begins to crisp up.

Turn out onto a parchment paper lined baking sheet to cool completely.

Store in a jar or container until ready to use.

Top soup liberally with crumble as you serve.
Nutrition
Serving:
4
servings
Calories:
206
kcal
Carbohydrates:
34
g
Protein:
2
g
Fat:
7
g
Saturated Fat:
1
g
Polyunsaturated Fat:
5
g
Monounsaturated Fat:
1
g
Sodium:
1005
mg
Potassium:
433
mg
Fiber:
4
g
Sugar:
14
g
Vitamin A:
16532
IU
Vitamin C:
5
mg
Calcium:
46
mg
Iron:
1
mg
Follow me on Tik Tok for 1 minute videos