Are you ready for a smooth, creamy, nutritious & delicious Simple Dairy Free Sweet Potato Bisque / Soup?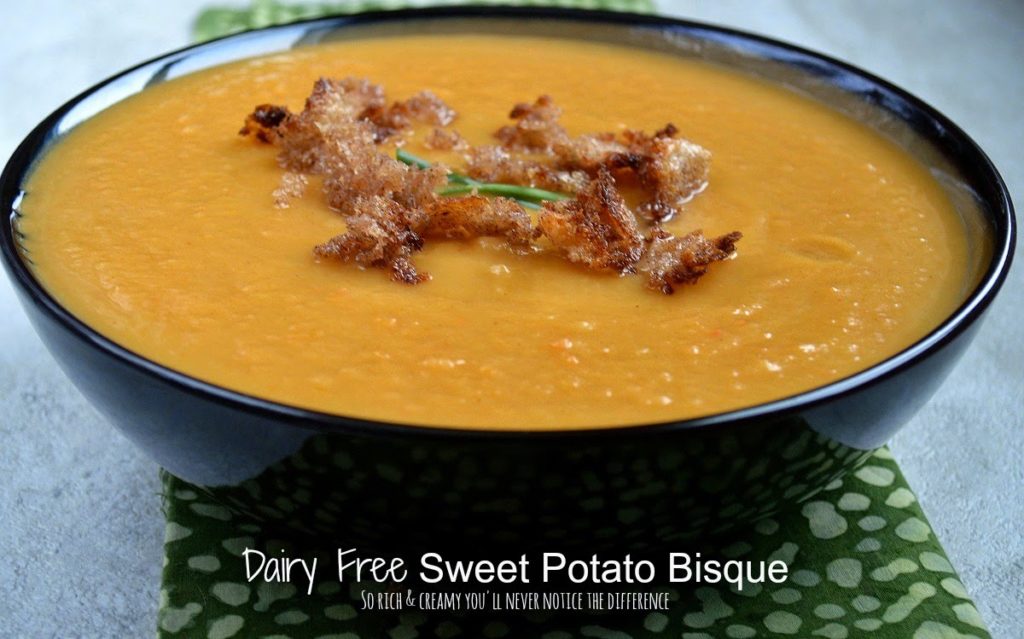 I am…
and
I
had 4 bowls last weekend…
I just can't get enough!
Today it was 60 something degrees…as I type this, it's getting cooold! Tonight will dip to 27. Snow is in the forecast for Friday. The weather is very indecisive around here, but
that
is what keeps things in Pennsylvania interesting!
Once the first warm-ish day hits each year, everyone around here thinks spring has come…My birthday is March 30th, so I can vividly recall snowstorms on my birthday and into the first week of April. So as much as I enjoy spring weather, I enjoy a roaring fire and a good snow too!
Whatever the weather. "I" am a soup girl…always have been! I make it, I order it out, I think about it…I could probably exist off of it since the varieties of soup are endless!
This Sweet Potato Soup which I am calling a
bisque
due to its richness and creaminess. may be one of my favorite soups…ever! Somehow, I never got around to making it…not once this fall or winter. And now that I have made it, I can't stop making it, lol! It's actually dairy free. You will never miss the cream, it really doesn't need it, the richness of the sweet potato is all you need and it is SO stinking delicious!I added a Spicy Cinnamon & Sugar Breadcrumb Crumble because I always look for some type of crunch in my thicker soups. It makes this soup, a show-stopper!
This is a soup that I make a big batch of and enjoy for a few days as well as package some up for someone…usually whomever crosses my path the next day gets it.Spider-Man may have a spidey-sense however
he
has nothing on my mom and her soup-sense…usually she is the lucky recipient!
This is a must try soup…and once you do…it will become one of you must make soups, again and again and again! The Spicy Cinnamon & Sugar Crumble takes this soup over-the-top!
Speaking of soup…here are 8 additional must-try soups! Let me know which is your favorite!
Some of my favorite soups to try:
Looking for more soup to try? I have 98 soups on my "Soul Satisfying Soups" Pinterest Board! You could make a different soup for 3 months straight, lol!
Dairy Free Sweet Potato Soup with Spicy Cinnamon & Sugar Crumble
2 TBS olive or grapeseed oil
3/4 cup chopped sweet onion
4 cups chicken stock (or vegetable stock)
2 large sweet potatoes (or yams), peeled and diced (2 heaping cups)
2 TBS brown sugar (optional)
A pinch or two of Cinnamon
Pinch of ginger
Kosher salt & pepper to taste
A shake or two of Cayenne pepper if you want a little heatSaute your onions in the oil over medium heat in a medium sized pot until they are wilted and translucent, about 4 minutes.
Add in your stock and your sweet potatoes and simmer until potatoes are tender. Remove from heat and allow the soup to cool a bit.
Use an immersion blender or carefully pour your soup into your blender and puree soup (place a dish towel over the lid of the blender in case of warm soup splattering up out of the lid).
Rinse your pot clean, then return soup to the pot. Taste the soup. The sweetness of sweet potatoes (or yams) varies.
If you want it a little sweeter add in 1-2 TBS of brown sugar. I like mine sweet with a hit of spice. Add in a bit of cinnamon, ginger and if you like a little heat, red (Cayenne) pepper). Taste and adjust to your liking as you go.
Spicy Cinnamon & Sugar Crumble
2 TBS butter
1 1/2 cups fresh (on the stale side is good) bread torn into crumbs or small chunks
1 TBS sugar
1/2 tsp cinnamon
A couple pinches of red (Cayenne) pepper
Melt your butter in a large skillet, add in the breadcrumbs, sugar and cinnamon and toss until combined. Stir continuously over medium heat until breadcrumb crisp, being careful not to burn them, about 5-6 minutes. Keep the breadcrumbs spread out to help them crisp up faster.
If dairy is an issue, try this with a bit of coconut oil. I have not tried that but I am assuming it would lend an interesting taste to the soup overall.
Colleen's Notes: If dairy is not an issue, an option is to swap out the 2 TBS olive/grapeseed oil in the soup for butter. Yams are what gives this soup its vibrant color. If you get your hands on an actual sweet potatoes, the soup will be lighter in color. The soup you see pictured above was made with 1 sweet potato and 1 yam.
Enjoy!