Years ago when my son was 13, he ordered Chicken Pot Pie Soup at a steak house we were having lunch at not too far from us. That boy loves my Chicken Pot Pie, so when I saw how much he was enjoying the soup, you know I ran home and replicated it, lol!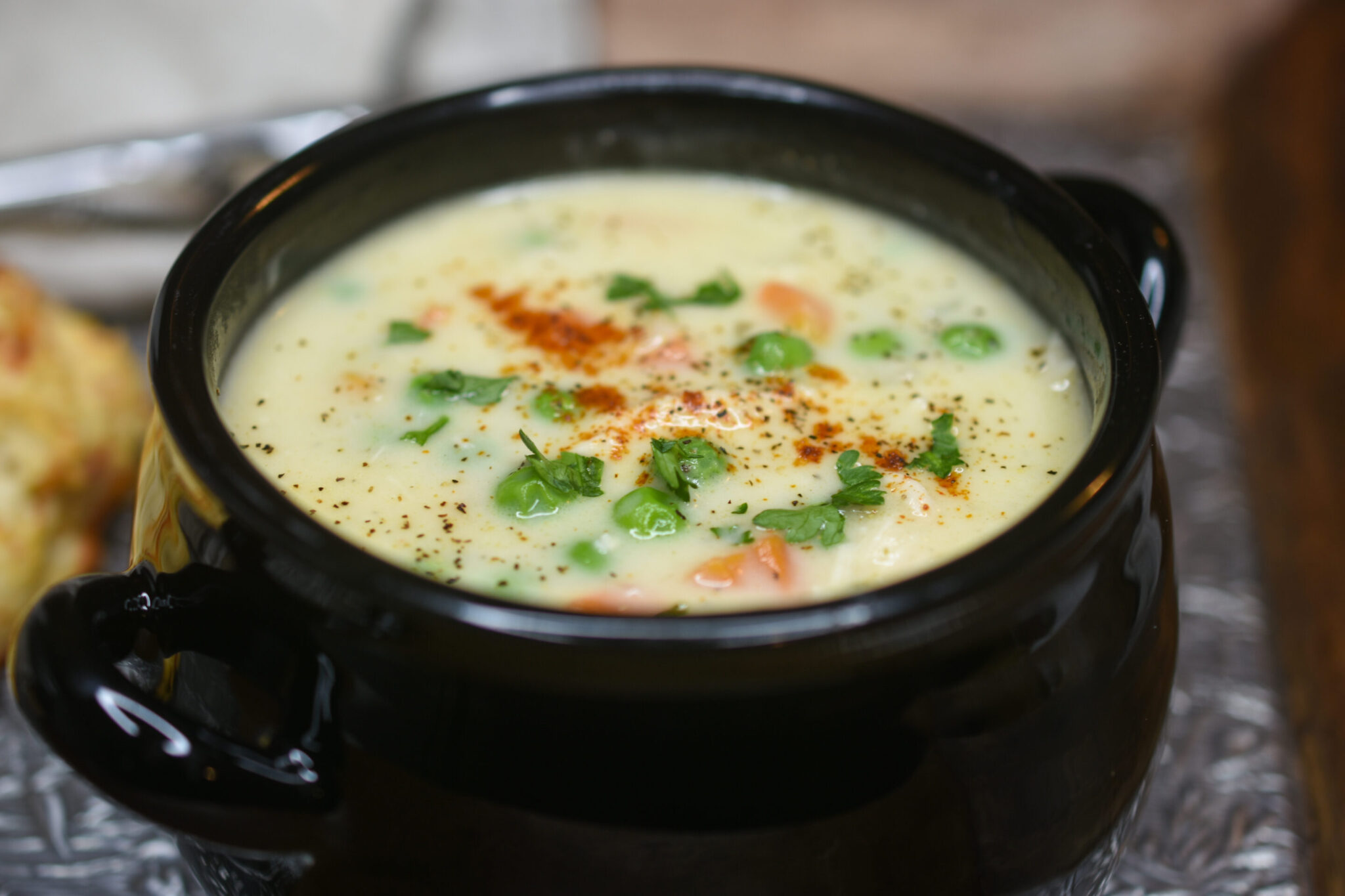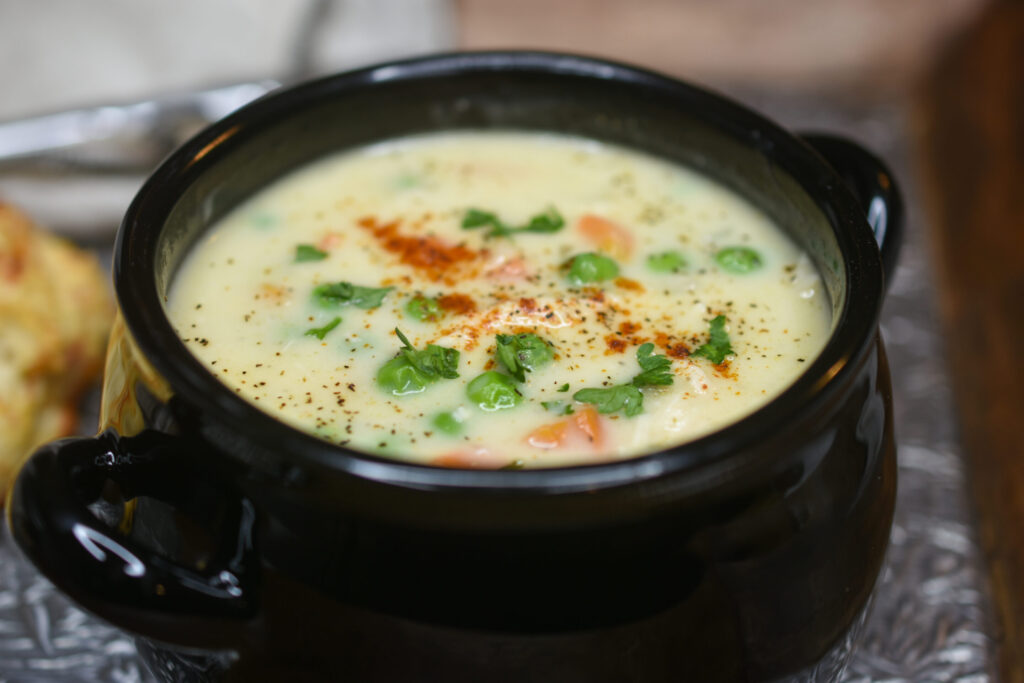 Needless to say my son was VERY happy once I began making this soup at home.
My daughter and I are both smittem with it as well. Now Chicken Pot Pie Soup is at the very top of my favorite foods to devour in the cold months. It is pure comfort and I swear, I sit in my chair and make yum-mmm noises every time I eat it. Haha!
I get big smiles and a bear hug from my son to this day whenever I when I slide a bowl of this delicious and comforting Chicken Pot Pie Soup in front of him. He will come back for bowl after bowl throughout the day...he just keeps coming back for more and he'll keep saying "mom...moooommmm!!" "This soup is the best" Memories like that, well they are the closest to my heart (and I hope his too!).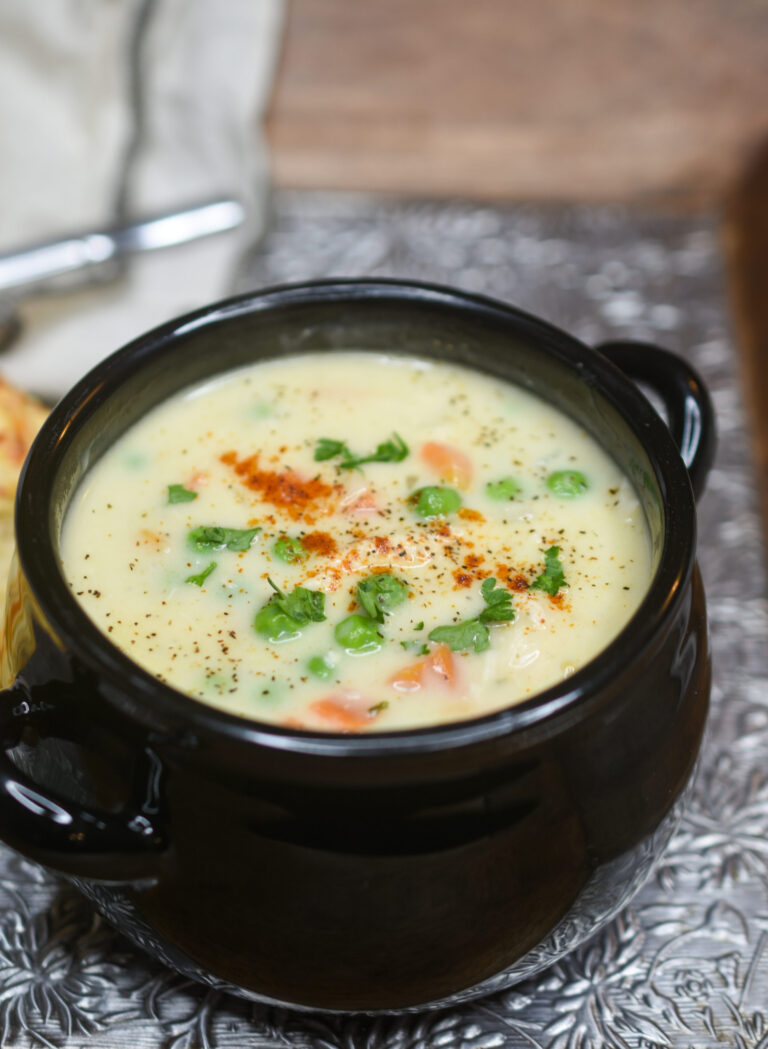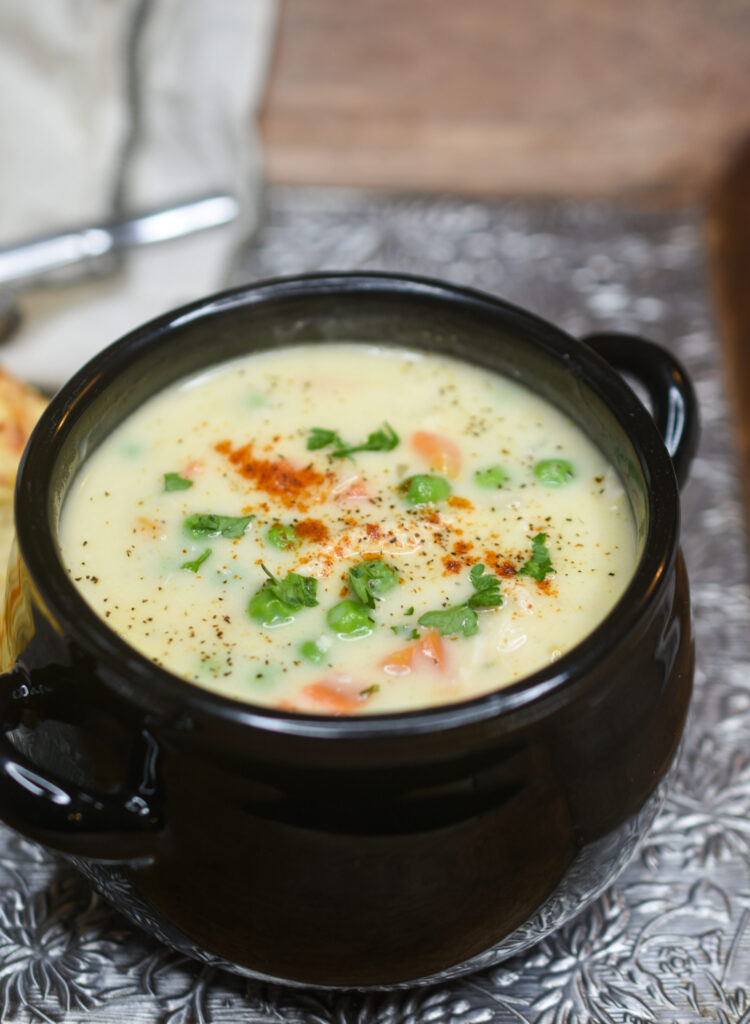 If you enjoy this Chicken Pot Pie recipe, you'll need to try my Biscuit Topped Chicken Pot Pie. It's very similar (and easy).
You can watch my 1 minute TikTok video HERE.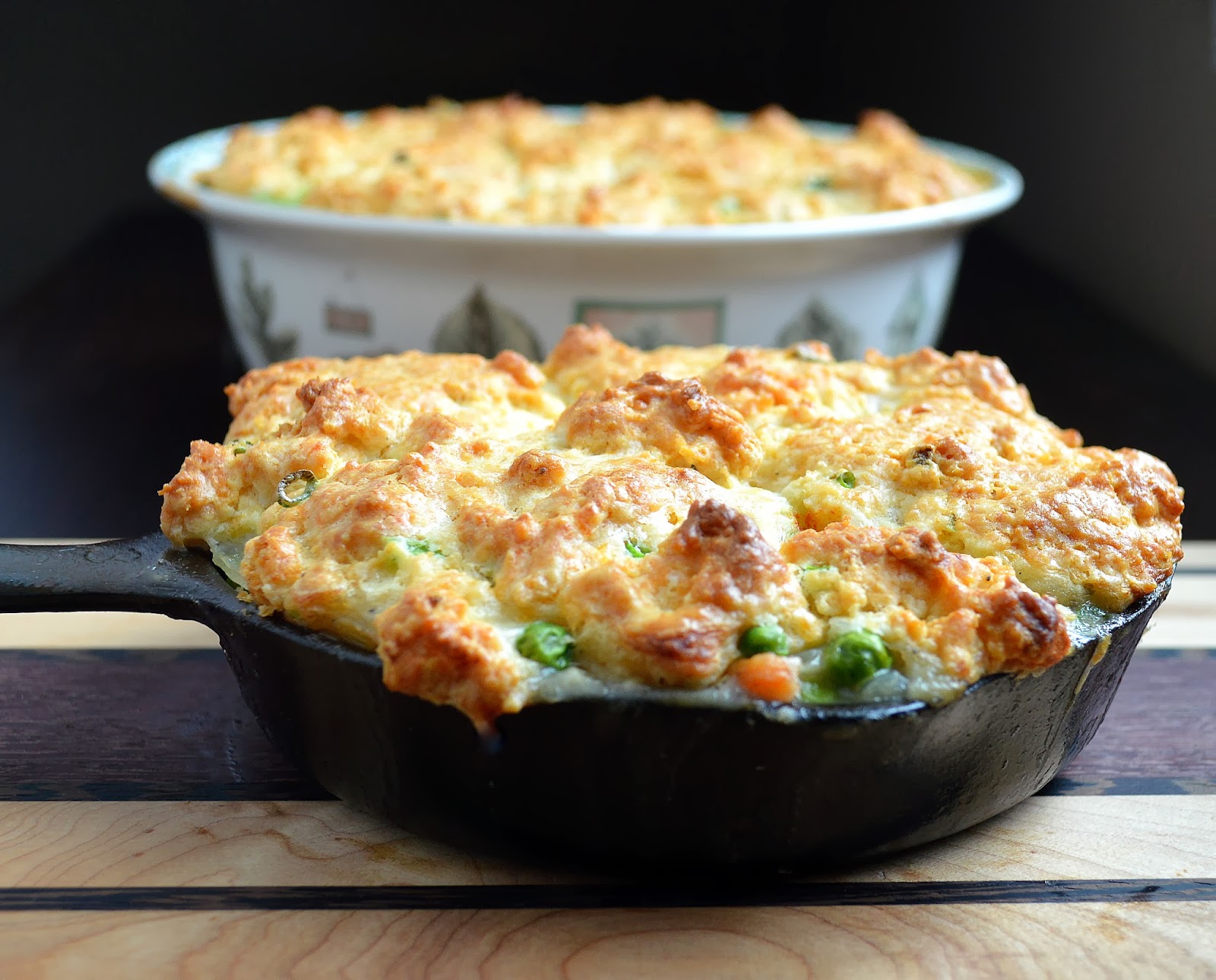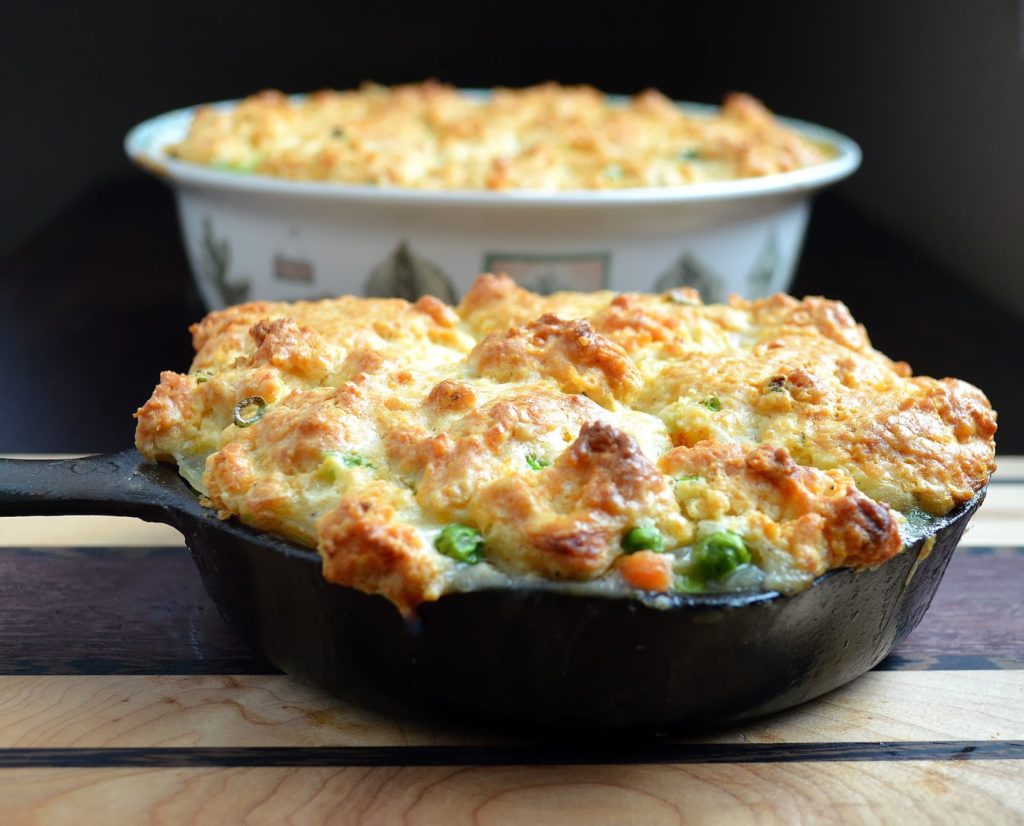 If you enjoy soup in the colder months, then you should take a look at my family's other favorite (my husband gives this one his top vote). Tortellini Tomato & Spinach Soup has SO much flavor and can be eaten as a meal! You can make this for your family in 20 minutes flat!
Other favorites are Sweet Potato, Seafood Soup (seriously restaurant-quality at home) and Tomato Detox Soup. Sure its a healthy soup but...wow!
Tips to make the BEST Chicken Pot Pie Soup:
I like to use a bag (or part of a bag) of frozen carrots and peas. No chopping necessary.
When you add the flour to the butter and onions in your pot, whisk all around and then gradually add in your stock.
If you are adding in potatoes (Which you totally can) cut them into small, uniformed cubes. Place them in as soon as you place the broth in. Since they need to cook a bit, add in an extra ¼ cup or so of broth.
Customize this as you wish. Add more or less broth based on how thick or thin you want the soup.
If towards the end, you want it thicker. Scoop out ¼ cup of the soup and add in a ½ TBS of flour or so. Mix that till smooth and stir it back into the soup. If you want it thinner, add more broth.
Taste and adjust adding in more seasoning if you choose.
I like my soup a little spicy, so I add in red (cayenne) pepper and a lot of black pepper.
Using a rotisserie chicken helps this soup get made really fast. Then save the carcass and whatever meat is left and make stock. Then add meat back in, noodles etc. for chicken noodles soup OR more chicken pot pie soup, lol!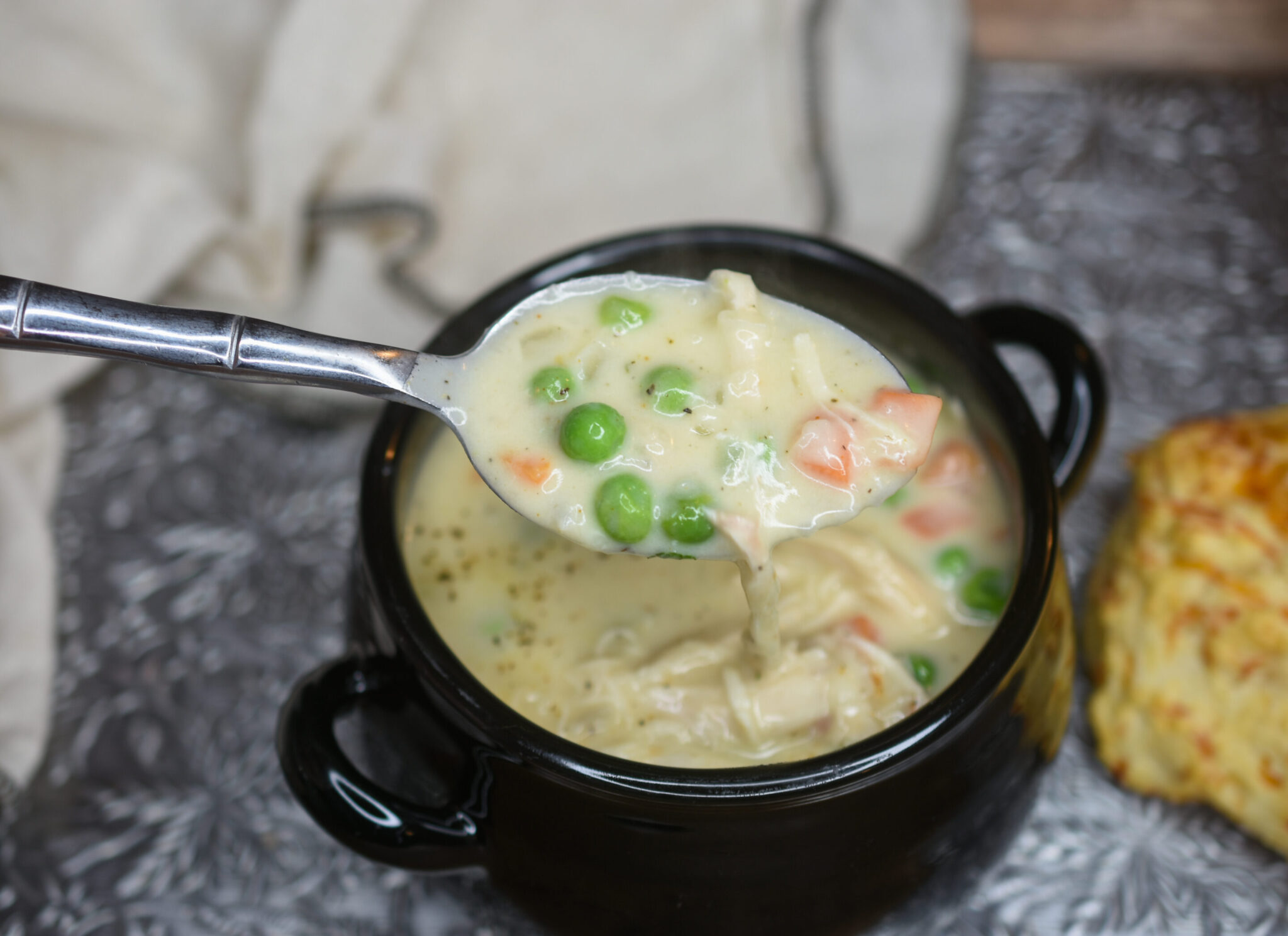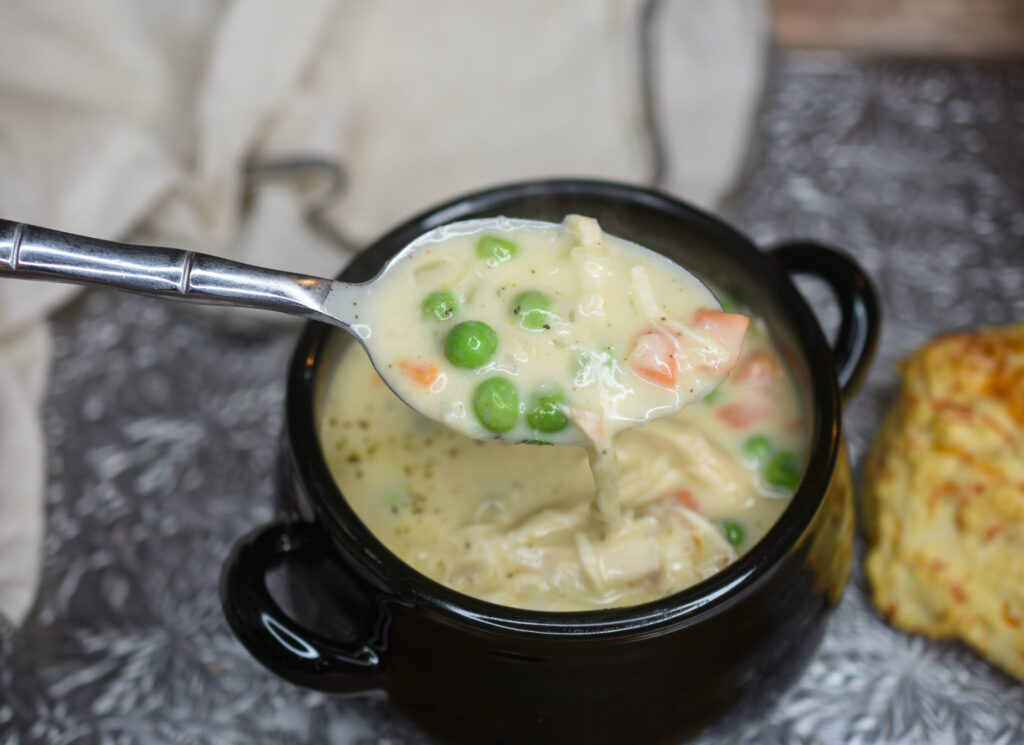 Next time you are craving Chicken Pot Pie, try a bowl of this smooth & satisfying Chicken Pot Pie Soup instead! You can make this recipe in 30 minutes or less! Hope you love it as much as we do!
Enjoy!
Originally posted March 3, 2015. Recipe updated December 8, 2021. Nutritional information is calculated using a WP plugin.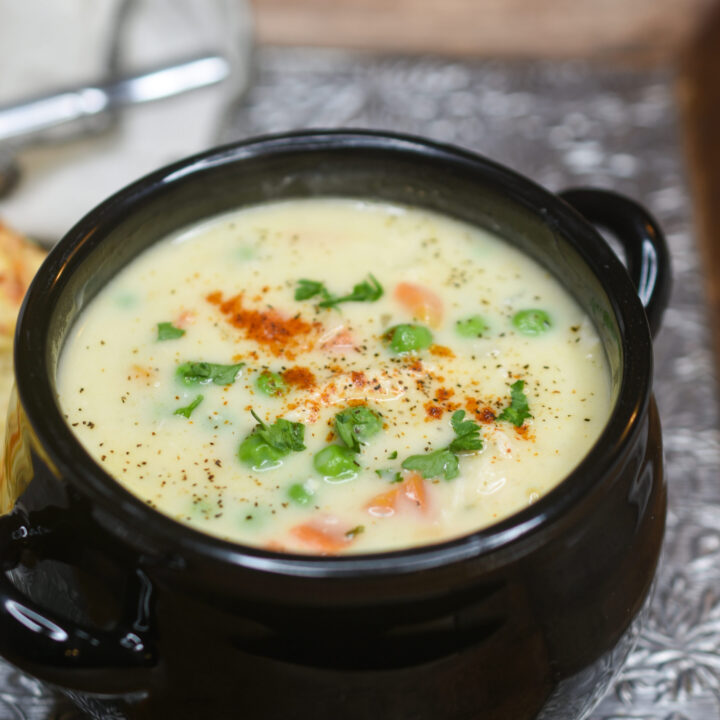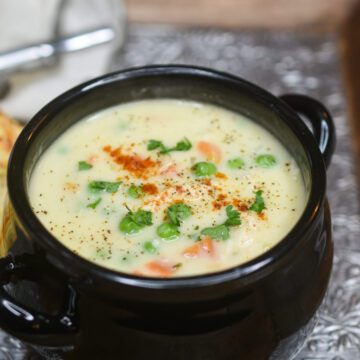 Chicken Pot Pie Soup
My favorite winter soup! Easy recipe for Chicken Pot Pie Soup. Loaded with flavor, serve with biscuits or crescent rolls.
Ingredients
2

TBS

butter

½

cup

chopped onion

¼

cup

plus 1 TBS flour

4

cups

chicken stock/broth

1-2

cups

frozen carrots and peas (combined)

or 1 cup of each separately

Black pepper to taste

(I like a lot)

shake or two of cayenne pepper

(optional but yummy)

1

TBS

chicken bouillon

or more to taste

Salt (if you choose depending on taste)

½

cup

heavy cream

2

cups

shredded chicken (cooked)
Instructions
Melt the butter in a medium pot over medium-high heat, add in onion and and sauté for 2-3 minutes, stirring often until the onions begin to wilt.

Sprinkle in the flour remove from the heat and stir or whisk until combined.

Return to the heat and cook for a minute more, stirring constantly.

Slowly add in the chicken stock, ⅓ of it at a time, stirring constantly and scraping up any browned bits from the pan. The filling will begin to thicken just after it begins to bubble.

If adding potatoes do so here and allow them to simmer for 5 minutes.

Sprinkle in the chicken bullion and truffle salt (if using) and stir to combine.

Remove from heat, add in your heavy cream, stir, place back on heat and allow it to just start to simmer.

Add in shredded cooked chicken, stir. Taste and adjust seasoning.

Remove from heat and allow it to sit for a few minutes.

Serve with biscuits, pie crust cut outs, crescent rolls or bread.
Nutrition
Serving:
4
servings
Calories:
337
kcal
Carbohydrates:
14
g
Protein:
21
g
Fat:
22
g
Saturated Fat:
12
g
Polyunsaturated Fat:
2
g
Monounsaturated Fat:
7
g
Trans Fat:
1
g
Cholesterol:
108
mg
Sodium:
1017
mg
Potassium:
478
mg
Fiber:
2
g
Sugar:
1
g
Vitamin A:
3970
IU
Vitamin C:
22
mg
Calcium:
59
mg
Iron:
2
mg
Follow me on Tik Tok for 1 minute videos