I am super excited to share the Best Potato Soup Recipe with you (and its easy too). If you love homemade soup as much as my family does, you'll want to try this one as soon as possible.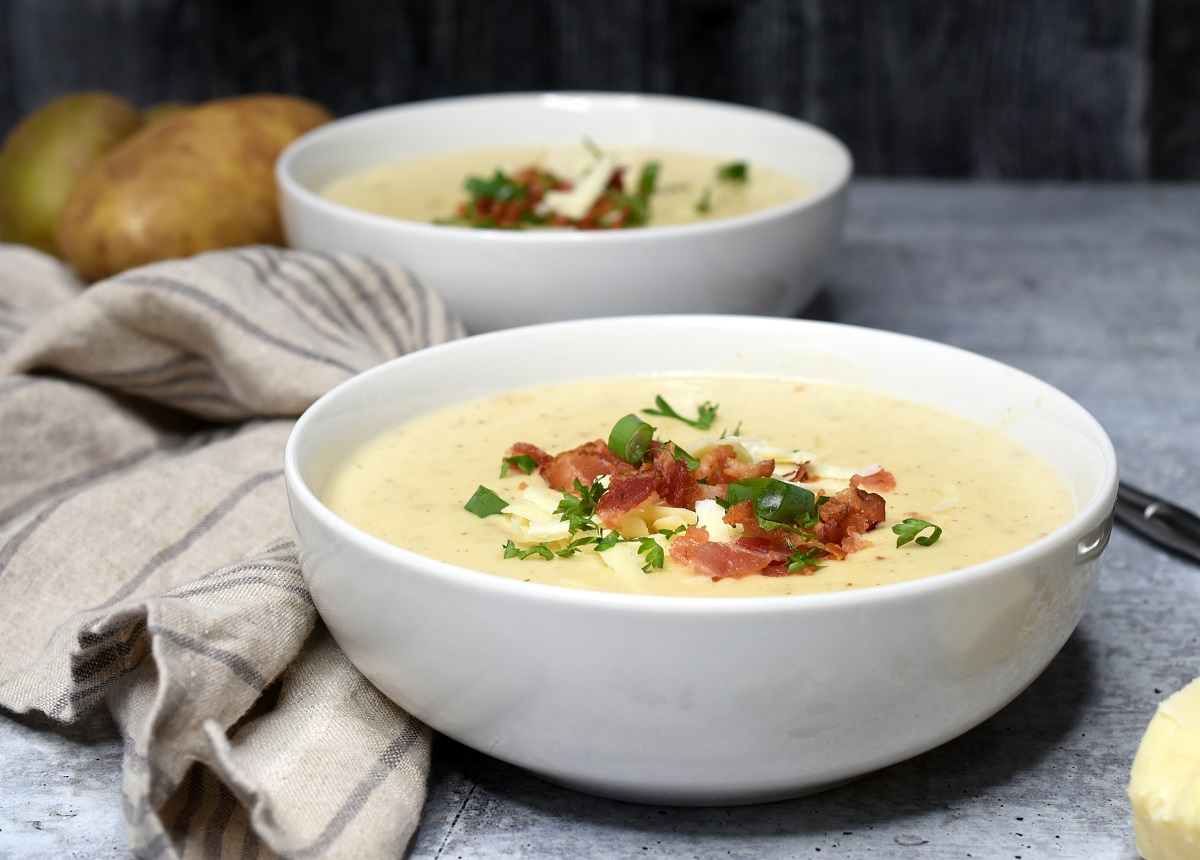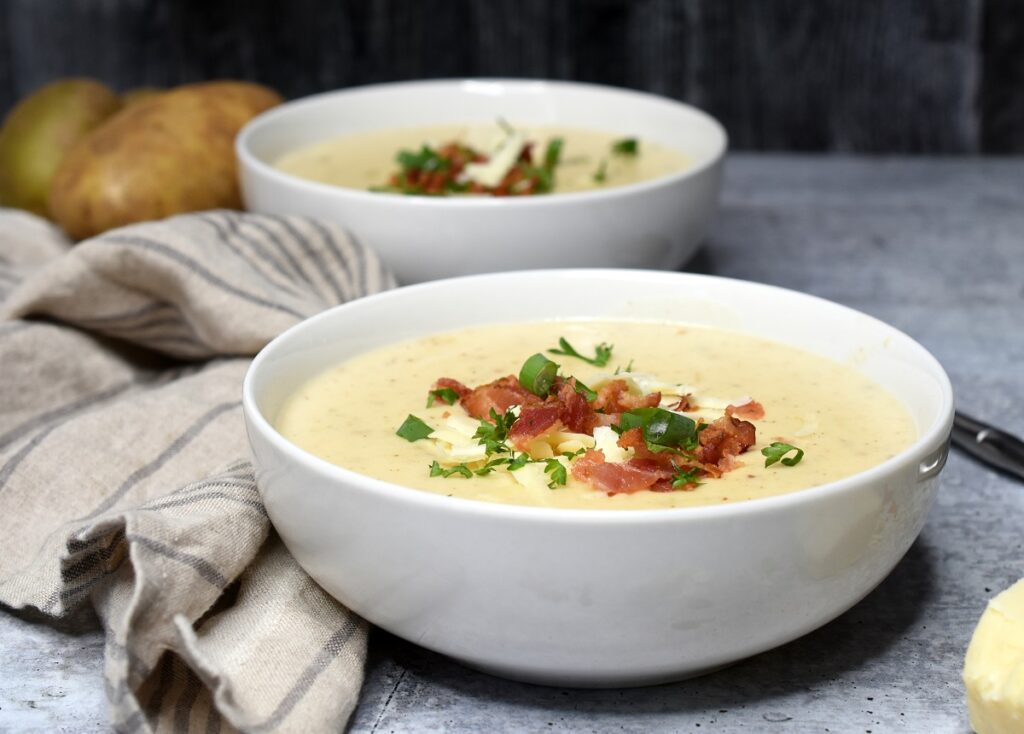 My teenage daughter Samantha is obsessed with this soup! The last few years she asks for it often. Samantha often assists me when cooking or baking which I love!
I am a huge advocate of kids cooking at every age. I do love cooking alongside my kids, next time however she is in charge of this soup recipe, start to finish!
If you are looking for a totally satisfying soup that can work as a meal for lunch or dinner, this Loaded Potato Soup is it. Unless you are super hungry, you really don't need anything else to go with it. This soup robust is loaded with flavor and its easy to customize to your taste.
Potatoes are loaded with good carbs, giving you lots of vitamin C, fiber, potassium, B6 and more.
I may or may not be a little obsessed with soup as evidenced by my Soup Pinterest Board. If you dig enjoy making and eating soups, especially in the fall and winter, check out my board and follow along to discover some amazing recipes.
Instructions
To make this soup, you'll use everyday ingredients that work together in harmony. You only need to use 1 pot for this soup. You will however need either an immersion blender (stick blender) or a traditional blender to cream the soup.
Start by cooking the bacon in your soup pot till crispy. Remove the bacon, blot, set aside and allow it to cool as you work on the soup. 
Next sauté the onions and potatoes on the bacon fat for 5 minutes or so, then place them in a bowl while you use the same pot to make the roux (which thickens the soup).
After you make the roux, slowly add in your milk and then stock per the instructions in the recipe card. Next add the potato mixture back in and allow it to simmer until potatoes are soft.
After allowing the soup to cool for 30 minutes or so, either use an immersion blender or traditional blender and puree the soup (if you want some potato chunks to remain you can allow for that as well).
Tip: Remember heat has power, so if you are using a traditional blender to puree, cover it with a dish town and go slow. Just be careful of lid trying to come off.
Add in your cheese (soup will be warm enough to melt it), taste and adjust seasoning. Add in red pepper flakes and smoked paprika, taste and adjust seasoning adding in additional S&P if necessary.
Ladle into bowls, garnish with reserved bacon, scallions and additional cheese if you wish and dig in!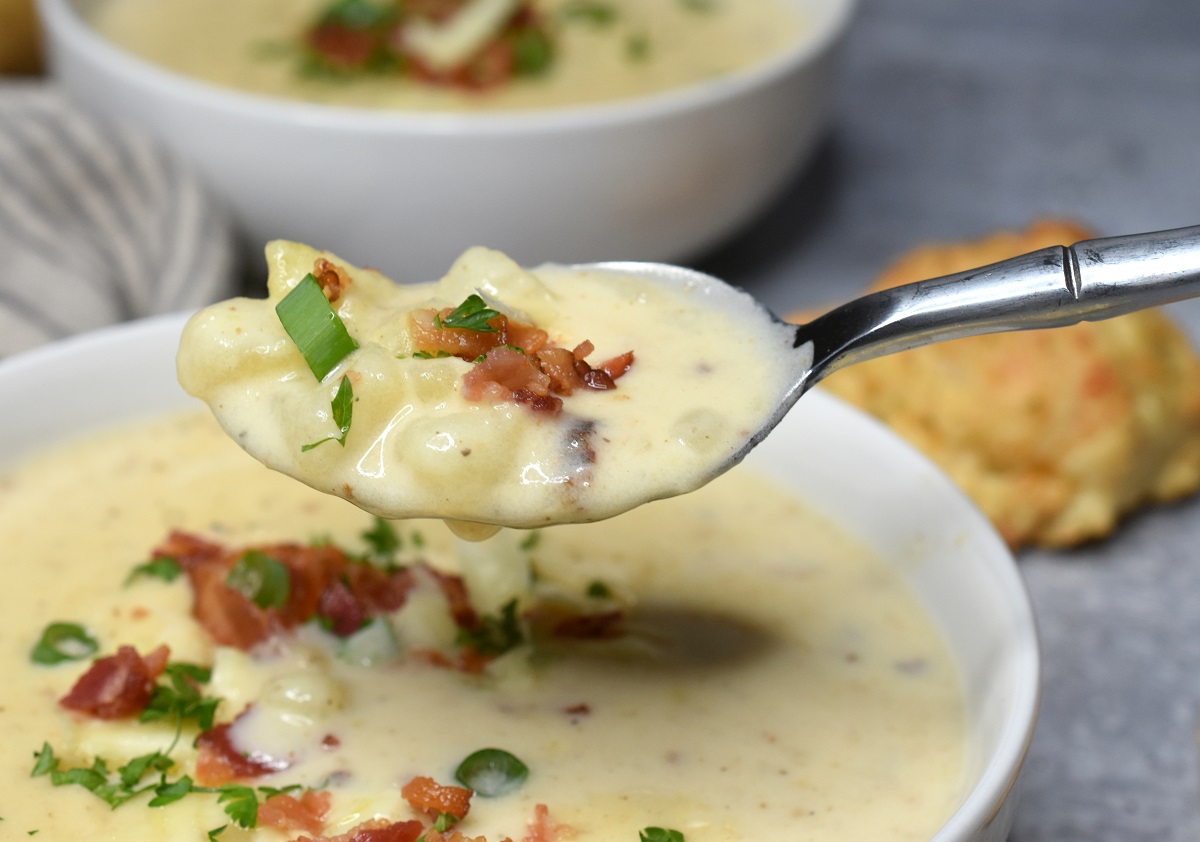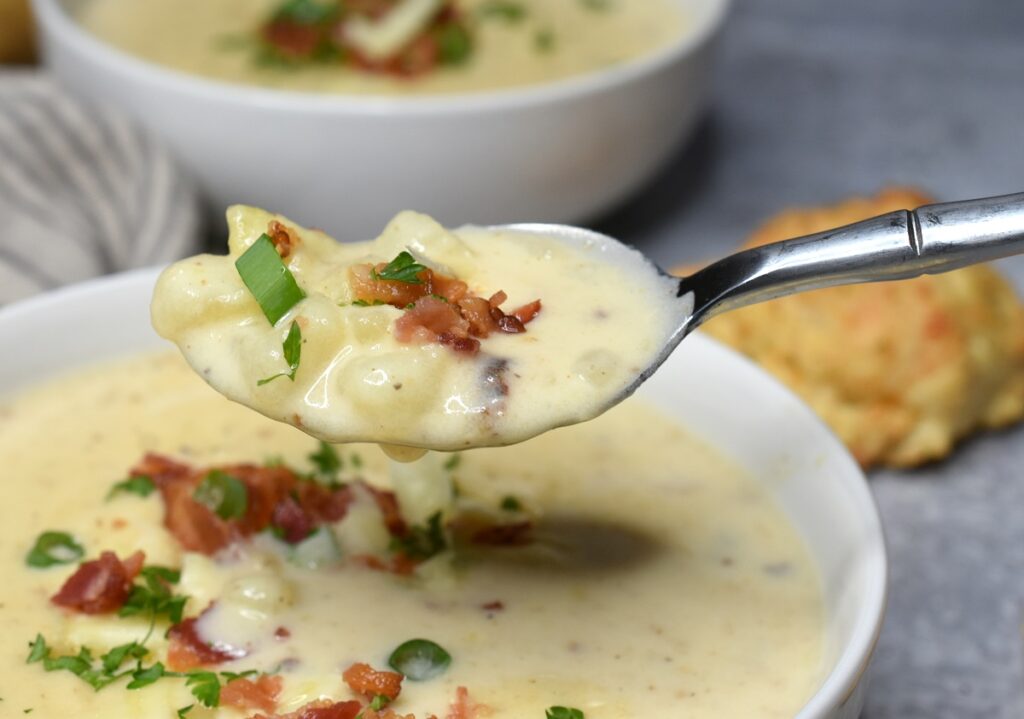 Variations
Change up the type of potato used. Any potato will work. Different potato's will give you slightly different flavor.
Change up the cheese. I enjoy making my soup with half Monterrey Jack cheese and half Irish Cheddar or sharp cheddar. You can use all Cheddar, a Mexican blend of shredded cheese or experiment with what you have on-hand.
Adding sour cream is not for me (or my family for that matter). We just don't enjoy the flavor it adds to this particular soup. However if you enjoy it feel free to add some.free to experiment.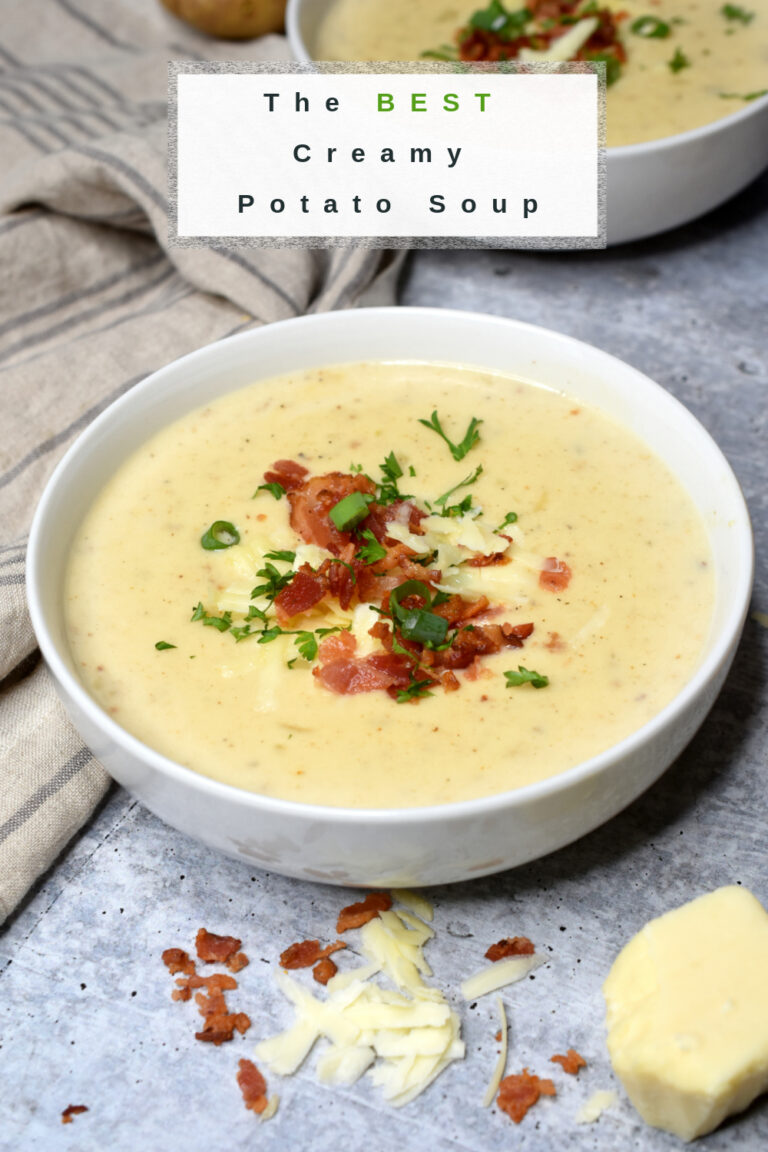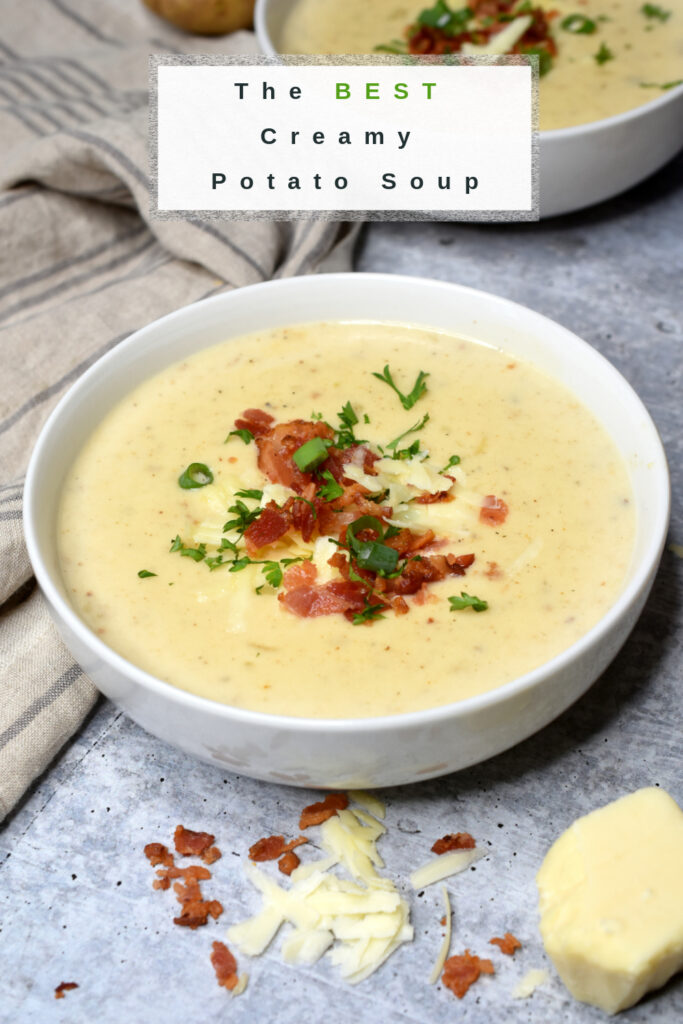 Hope you try this delicious soup which is one of our family favorites! Taste and adjust to how you like it and enjoy!
If you enjoy soups as much as my family does, take a look at these favorites - Tomato Detox Soup(crazy good & good for you!), 15 Minute Tortellini Spinach Soup (family favorite!), Chicken Pot Pie Soup, Black Bean & Bacon Soup or Easy Sweet Potato Soup.
Nutritional data provided by a WordPress plug-in.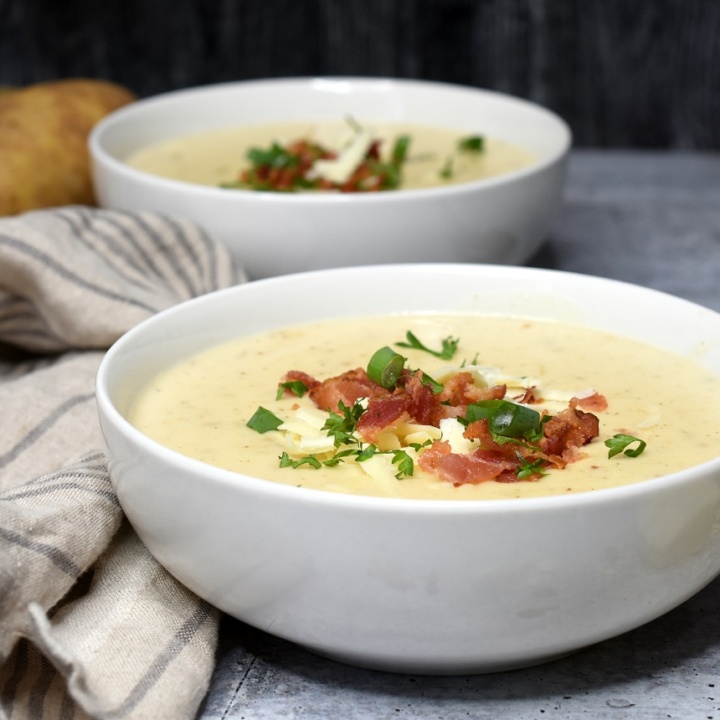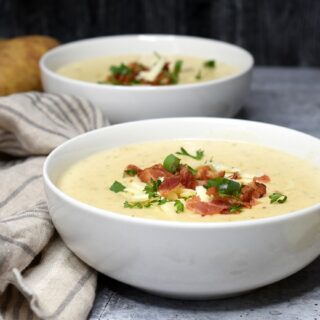 The BEST Potato Soup Recipe
When it comes to pure comfort food, nothing beats a potato! Make this amazing Potato Soup recipe easily and then dig in!
Ingredients
10

slices

bacon, chopped

4

large potatoes, peeled and cut into small 1-inch or so pieces

5-6 cups when cubed

1

cup

chopped sweet onion

I like Vidalia

1

bay leaf

Pinch

black pepper and salt

Salt lightly since the addition of cheese will add salt as well. Feel free to season again after soup is finished.

4

TBS

butter

⅓

cup

flour

4

cups

milk

1 ½

cups

vegetable or chicken stock

I prefer vegetable for this

4

scallions, snipped

2

cups

cheddar cheese, shredded

I like 1 cup shar cheddar and 1 cup Monterrey jack (4 oz of each)

Optional: red pepper flakes and smoked paprika
Instructions
Snip or chop bacon into small pieces and sauté in a soup pot until crispy. Once crisp, remove, blot dry and allow it to cool. Once cool, transfer to a small ramekin or bowl until ready to serve the soup.

Place potatoes, onions and a bay leaf into the soup pot with the bacon drippings and sauté over medium heat for 5 minutes, stirring often. Season with black pepper and a pinch or two of salt.

Remove pot from heat. Scrape the potatoes and onions into a bowl and set aside.

Place butter into the pot, return to heat. Once butter melts, add in flour and whisk together allowing it to cook enough to remove the raw flour taste, about a minute. Be sure you whisk the mixture the whole time.

Slowly add in your milk, whisking vigorously as you do. Allow it to just begin to bubble and thicken then, add in 1 ½ cups of the broth/stock, whisking vigorously as you do.

Carefully add the potato mixture back into the pot, cover and simmer on low for 15-20 minutes with lid on, stirring often. Remove from heat, leaving the lid on, and allow the soup to sit for a bit (which ensures potatoes are fully cooked and flavors mingle).

Using an immersion blender, blend the soup until smooth. If you enjoy chunks of potato in the soup, blend less. You can also puree the soup in batches in your blender. Just remember that heat has energy, so place a dish towel on top of the blender lid and press down firmly ensuring no soup spurts out.

Return soup to your pot, stir in the cheese until melted. Taste and adjust seasoning. This is also where you can choose to add additional broth/stock to thin the soup a little if necessary or according to your preference. I also add in red pepper flakes here as well as about 1 teaspoon smoked paprika.

Ladle into serving bowls, top with snipped scallions, bacon & more cheese if you like. Enjoy!
Notes
I usually use regular russet baking potatoes for this. You can also use Yukon or red potatoes. They will all work, each lends a variant of taste and texture.
They type of cheese you use for this soup will influence the taste. For example, if you grate a nice aged cheddar vs pre-shredded bagged cheese. I like using ½ Monterrey Jack cheese and half Cheddar cheese for this soup. Experiment and find your favorite.
Sometimes I add in a couple of pinches of smoky paprika as I did in this photo, it changes the color of the soup slightly. You can also choose to add it to the garnish.
For garnish, add as much or as little crumbles bacon and scallions as you wish. Same goes for additional cheese, black pepper, chopped parsley etc. 
I am not a fan of adding sour cream to potato soup. I just don't like the taste it adds. (I do love sour cream just not in this soup).
This soup thickens to almost a mashed potato consistency in the fridge. When you reheat it do so with care, remember you added cheese to it at the end, so boiling it will "break" the cheese. Not the best eating experience. Feel free to add additional milk or stock when reheating.
Nutrition
Serving:
6
servings
Calories:
620
kcal
Carbohydrates:
42
g
Protein:
23
g
Fat:
40
g
Saturated Fat:
21
g
Cholesterol:
100
mg
Sodium:
859
mg
Potassium:
968
mg
Fiber:
4
g
Sugar:
11
g
Vitamin A:
1016
IU
Vitamin C:
30
mg
Calcium:
483
mg
Iron:
2
mg
Follow me on Tik Tok for 1 minute videos