This Easy recipe Chicken Pot Pie with Biscuit Topping is one of my children's favorite meals for years (an d mine too!!)! If a food could hug you back, this Chicken Pot Pie with biscuits is it!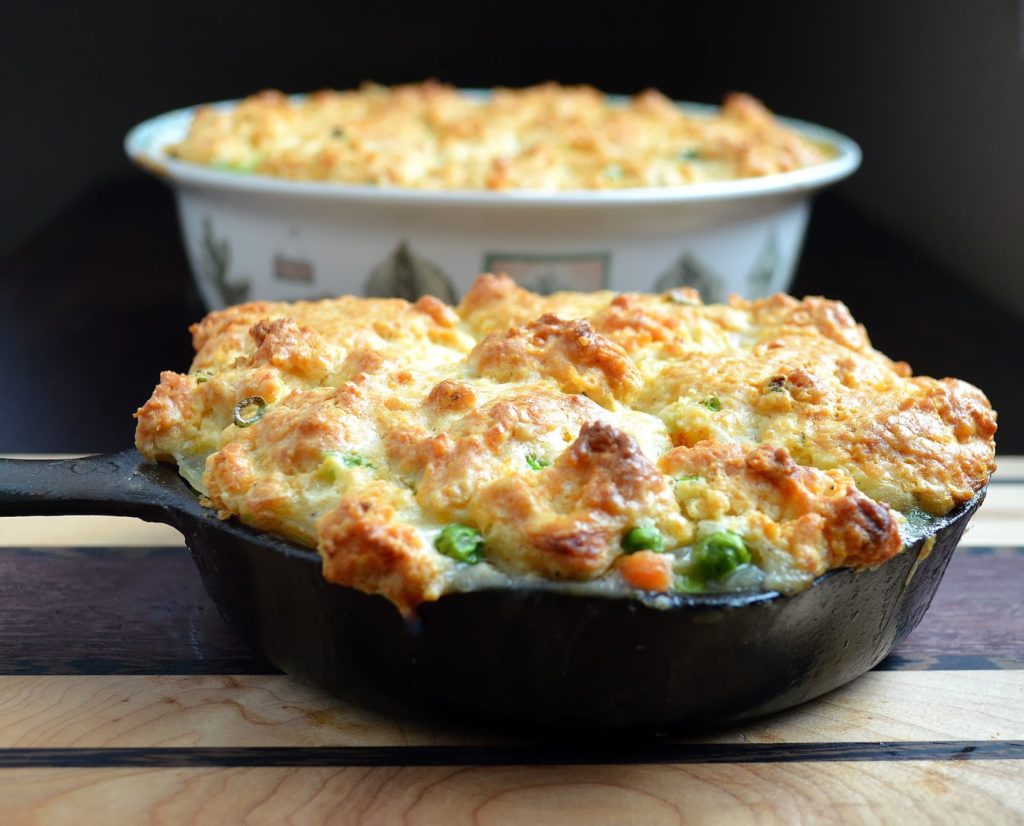 For whatever reason, this winter I am all about comfort food. Maybe it's the Polar Vortex thing-a-ma-jig that keeps happening, the increased snowfall (bring it on!!) or my new slippers. (That was 2014 and boy was all of that snow in PA fun!!)
Either way, I have been a bit of a homebody busy puttering about the kitchen making food that I consider comforting! And my Easy Chicken Pot Pie recipe topped with Jalapeno & Scallion Biscuits is a favorite of my kids and I. My husband however would prefer a steak, lol!
I probably make some version of a pot pie about 5 times each winter. I also make Chicken Pot Pie Soup that my kids and I are crazy for! (Pictured below)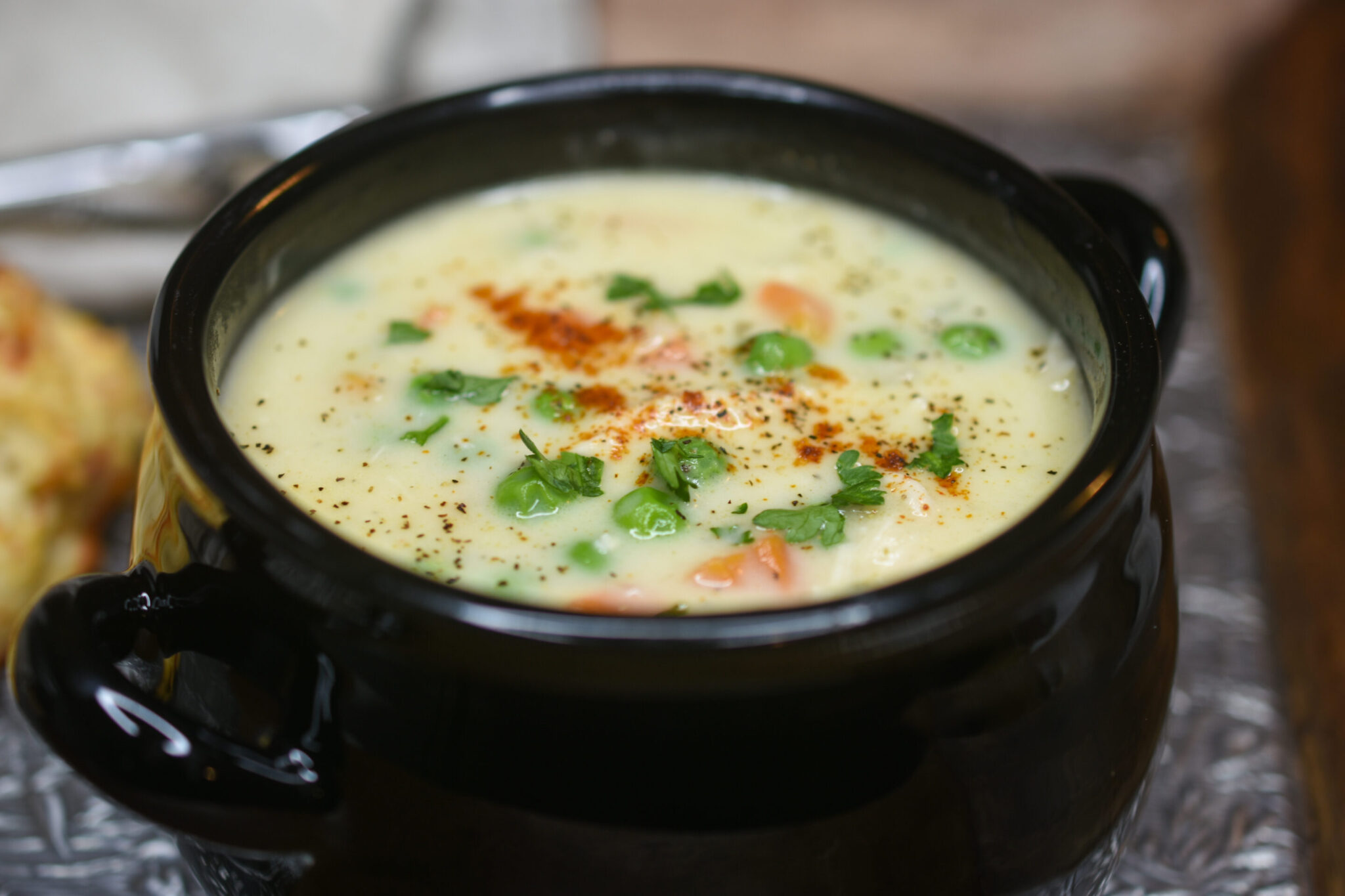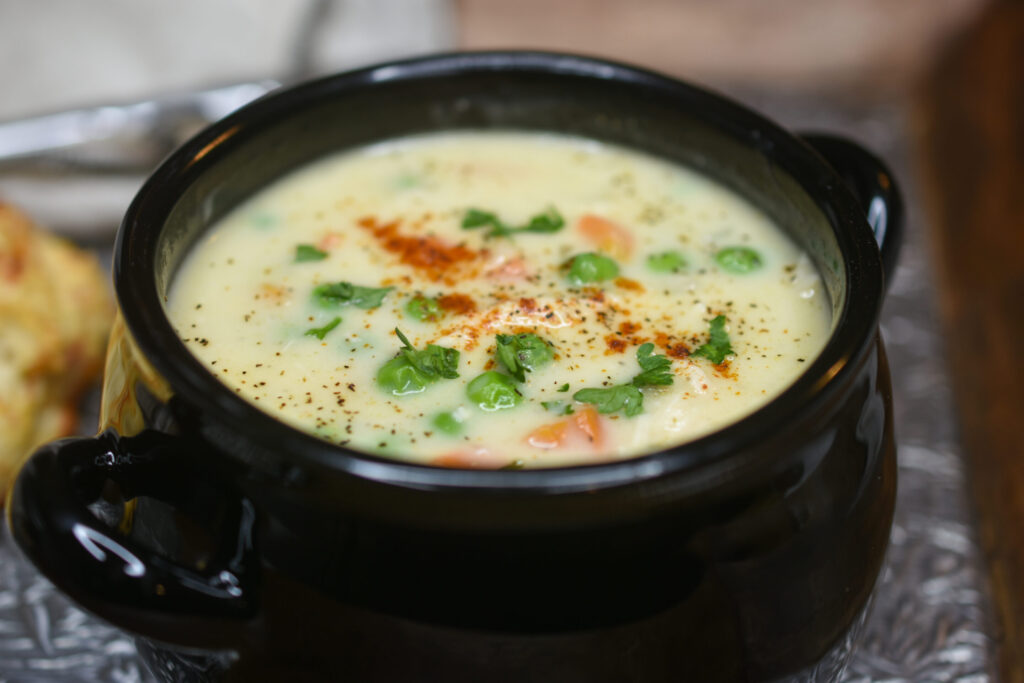 I just love a good pot pie and its one of those weekend lunches or dinners that the whole family can enjoy!
Chicken Pot Pie is pure comfort food!
I like to make a big family portion as well as 1 or 2 mini portions whenever I make it, that way I can bake up a fresh mini pot pie when the mood strikes the next day or so or one of my kids can feel special and get a chicken pot pie all to themselves. Love it!
I love cooking with my kids, always have since they were small. And now as teens they are independent cooks (my son always texts me from college asking questions "what can I do with X?" or "this is how, right?" LOVE IT!! And his roommates to doo, he's known as the cook!!)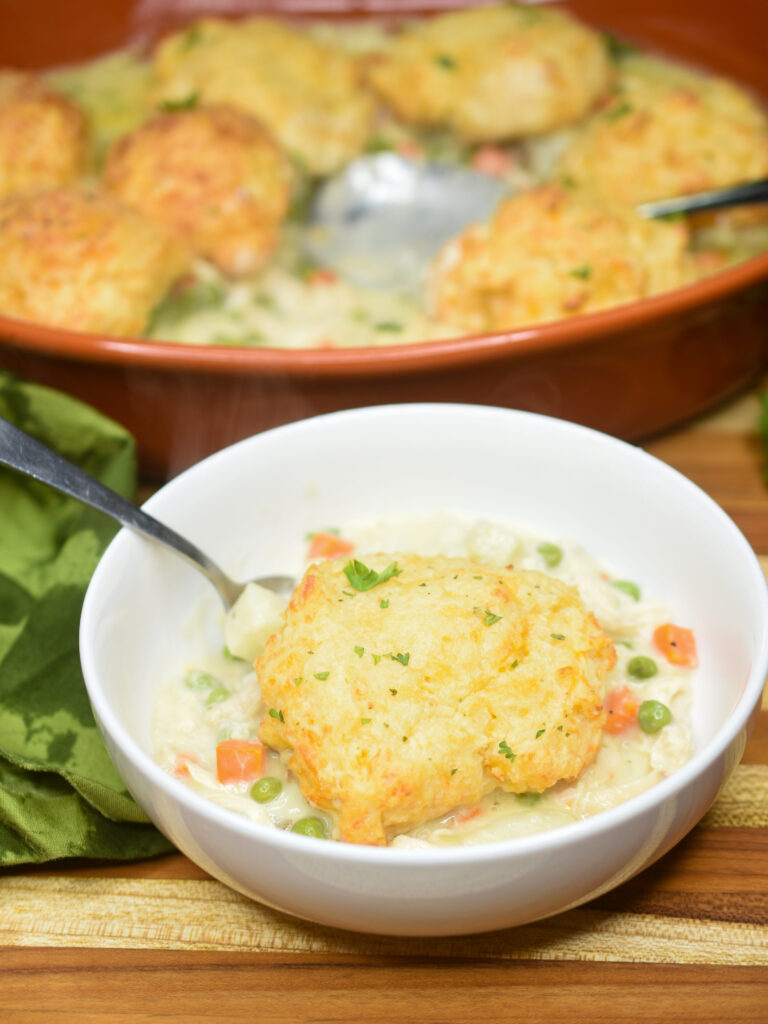 Ingredients
Butter
Onion & carrots
Flour
Chicken stock/broth
Chicken bouillon
Heavy cream
S&P1 cup
Frozen peas
Shredded chicken
baking soda
baking powder
Buttermilk half and half or cream
Jalapeno
Scallions
Tabasco/red pepper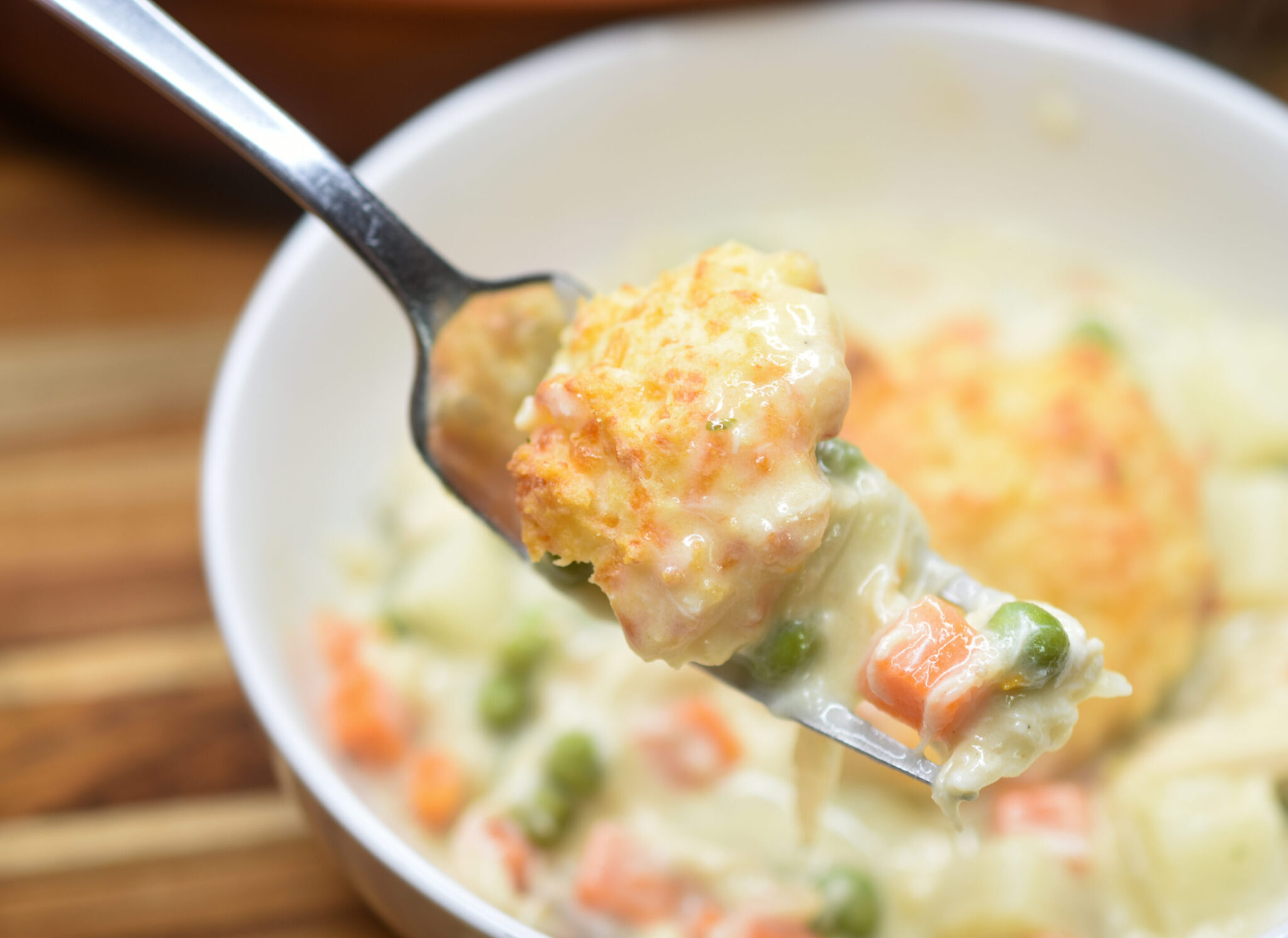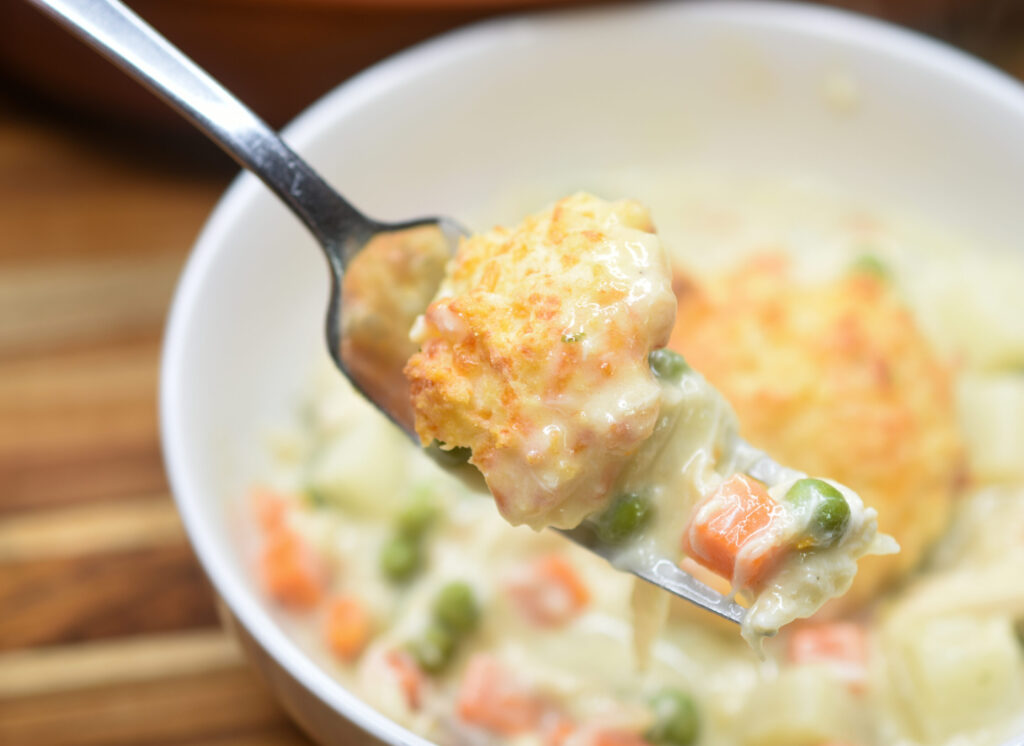 Tips
Use rotisserie chicken to make this easy!
If you don't feel like making biscuits from scratch, that's OK!! Use a box of Red Lobster Biscuits. They are SO tasty! I find them in the baking aisle by the cornbread.
You can make the filling a day ahead.
Taste your chicken pot pie filling after its made and adjust flavors to your preference.
Adding in a few shakes of Tabasco deepens the flavor a bit without heat
If you want a tiny tingle, add in Cayenne pepper
Bake Biscuits separately, then just as you pull filling from oven, top it with all of your biscuits.
You can put raw biscuit dough on top of filling and bake that way as well. The result is just a bit doughier so its like a dumpling/pot pie hybrid (I often do this).
If making ahead of time, keep pot pie and biscuits separate for the best eating experience the day you decide to enjoy it. Give your biscuits a refresh in the air fryer, toaster oven or microwave before topping.
If you want to enjoy filling and want something other than biscuits, make my Bacon Cheese Jalapeno Quick Bread as bread (no yeast) or as biscuits and dip away! Its also magical used as a bread for grilled cheese, just sayin'!!
Variations
Use a biscuit box mix instead of homemade.
Use this filling recipe and top with pie crust if you like.
Add in additional vegetables if you like.
Make this a veggie pot pie filling by adding additional veggies, swapping chicken stock for vegetable stock.
Additional recipes to try
Hope you LOVE this recipe! Follow me on TikTok to see all sorts of short food videos or on Instagram or Facebook.
XO – Colleen
Recipe originally published 2014, updates 2022 with images and text. As I am not a nutritionist, nutritional information is calculated using a WordPress plug in.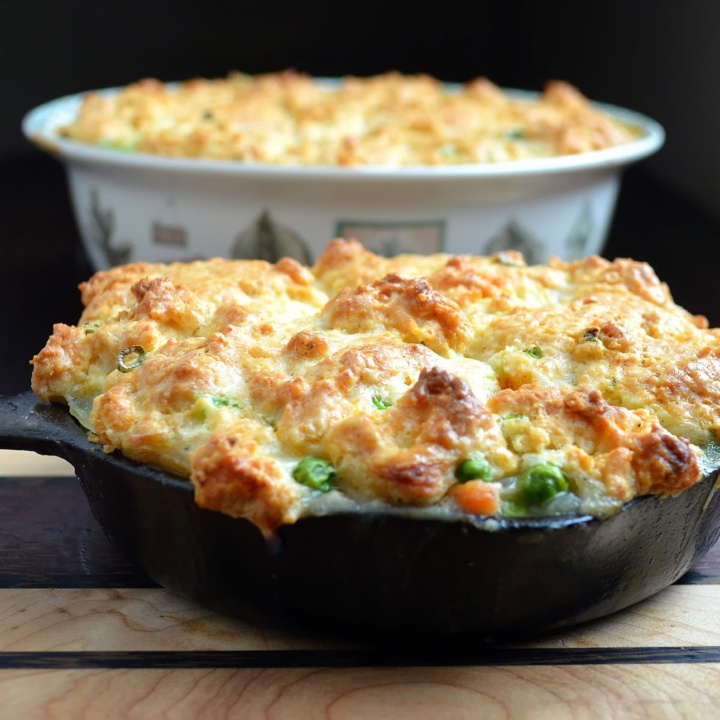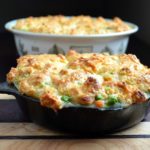 Print Recipe
Chicken Pot Pie Topped with Jalapeno & Scallion Biscuits
The BEST Chicken Pot Pie with Biscuits. Topping your chicken pot pie is so easy, pure comfort food!
Ingredients
Pot Pie

3

TBS

butter

1/2

cup

chopped onion

3/4

cup

chopped carrots

1/4

cup

plus 1 TBS flour

2 1/2

cups

chicken stock/broth

1

TBS

chicken bouillon

1/2

cup

heavy cream

Salt and pepper to taste

A couple sprinkles of red pepper for a little heat or a fed shakes of Tabasco

1.5

cups

frozen peas

2 1/2

cups

shredded chicken from a rotisserie chicken

or homemade

Biscuits:

2

cups

flour

1/4

tsp

baking soda

1

TBS

baking powder

6

TBS

chilled butter

cut into chunks

1

cup

buttermilk

half and half or cream

Dash of salt

Dash or two of red pepper

Cayenne

2

TBS

minced jalapeno

3

TBS

chopped scallions
Instructions
Pot Pie:

Melt the butter in a large skillet or pot over medium-high heat, add in onion and carrots and saute for 2-3 minutes, stirring often until the onions begin to wilt and turn translucent.

Sprinkle the flour into the pan, remove from the heat and stir until combined.

Return to the heat and cook for a minute more, stirring constantly.

Slowly add in the chicken stock, 1/3 of it at a time, stirring constantly and scraping up any browned bits from the pan. The filling will begin to thicken just after it begins to bubble.

Sprinkle in the chicken bullion and stir to combine.

Remove from heat, add in your heavy cream, stir, place back on heat and allow it to reach a simmer.

Remove from heat, season to taste with salt pepper and red pepper.

Stir in the peas and set aside. When ready to bake, add in your shredded chicken, pour into a lightly oiled baking dish or cast iron pan(s), top with biscuit dough by plopping biscuit sized scoops, almost touching, over-top your filling.

Bake in a preheated 425 degree oven on a middle rack for 18-22 minutes or until biscuits are golden brown and cooked through (depends on the size of your biscuits).

Biscuits:

Combine flour baking soda and baking powder in a work bowl, whisk together.

Add in the butter and using a pastry cutter, a fork or your fingers work the butter into your dry ingredients until it becomes crumbly.

Gently fold in the buttermilk, half & half or cream just until it all comes together.

Add in your salt, red pepper, jalapeno and scallions and fold it until it is all incorporated.

Using your hands, grab a small biscuit sized piece of dough and plop it over-top your pot pie filling allowing a small bit of space between each "plop" of dough.
Notes
You can omit the jalapenos and red pepper if you are not looking for a little heat. You can also add in 1/3 cup shredded cheddar cheese if you are in the mood for a biscuit with cheese. If using buttermilk, I add a few pinches of sugar. For a shortcut, you can use store-bought biscuit dough.
You can also choose to use a bag of frozen peas and carrots and add in after adding in the cream.
Nutrition
Serving:
4
servings
|
Calories:
614
kcal
|
Carbohydrates:
57
g
|
Protein:
17
g
|
Fat:
36
g
|
Saturated Fat:
21
g
|
Polyunsaturated Fat:
2
g
|
Monounsaturated Fat:
10
g
|
Trans Fat:
1
g
|
Cholesterol:
109
mg
|
Sodium:
1013
mg
|
Potassium:
428
mg
|
Fiber:
5
g
|
Sugar:
8
g
|
Vitamin A:
4676
IU
|
Vitamin C:
21
mg
|
Calcium:
258
mg
|
Iron:
4
mg