One of my daughter & my favorite meals happens to be this simple White Chicken Chili Recipe. It is not heavy like a traditional chili. It is deliciously satisfying and full of flavor.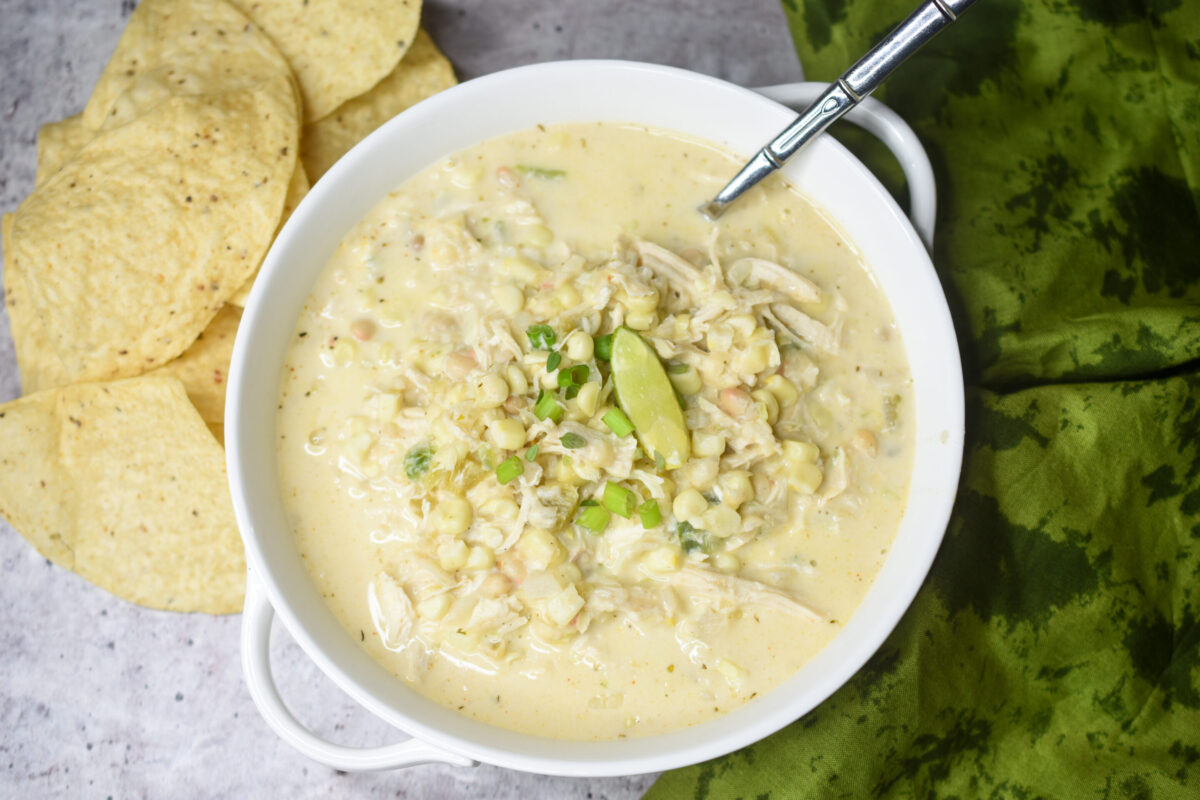 I know people call this a chicken chili but to me it eats like more like a soup, and anyone who knows me knows how I feel about a good homemade soup (or homemade cookies for that matter). YUM!
Home made soup and chili are both one of those magical meals that makes you feel comforted, warm, loved and well-fed!
To me, the making of a soup, stew or chili is relaxing and filled with purpose. You know that without much effort, something delicious is in your immediate future. Plus the kitchen smells and just feels delicious cozy. Anticipation fills the air as you await the end result.
If you have kids or grandkids, get them to help you when you make this. It's perfect for little hands to assist and it is also a great recipe for tweens and teens to take the lead on. No matter the age, cooking builds confidence, gives purpose and is a great way to introduce project management and follow through (and much more). Plus its FUN!! You will chat, compliment and build a memory!
You can make this in 30 minutes or less. Bonus its just as good gently reheated the following day! Bite after satisfying bite, this chicken chili is filled with flavor and texture. My daughter and I are in love with the pop of sweetness from the corn. It is a perfect contrast to the bit of heat I put in my chili.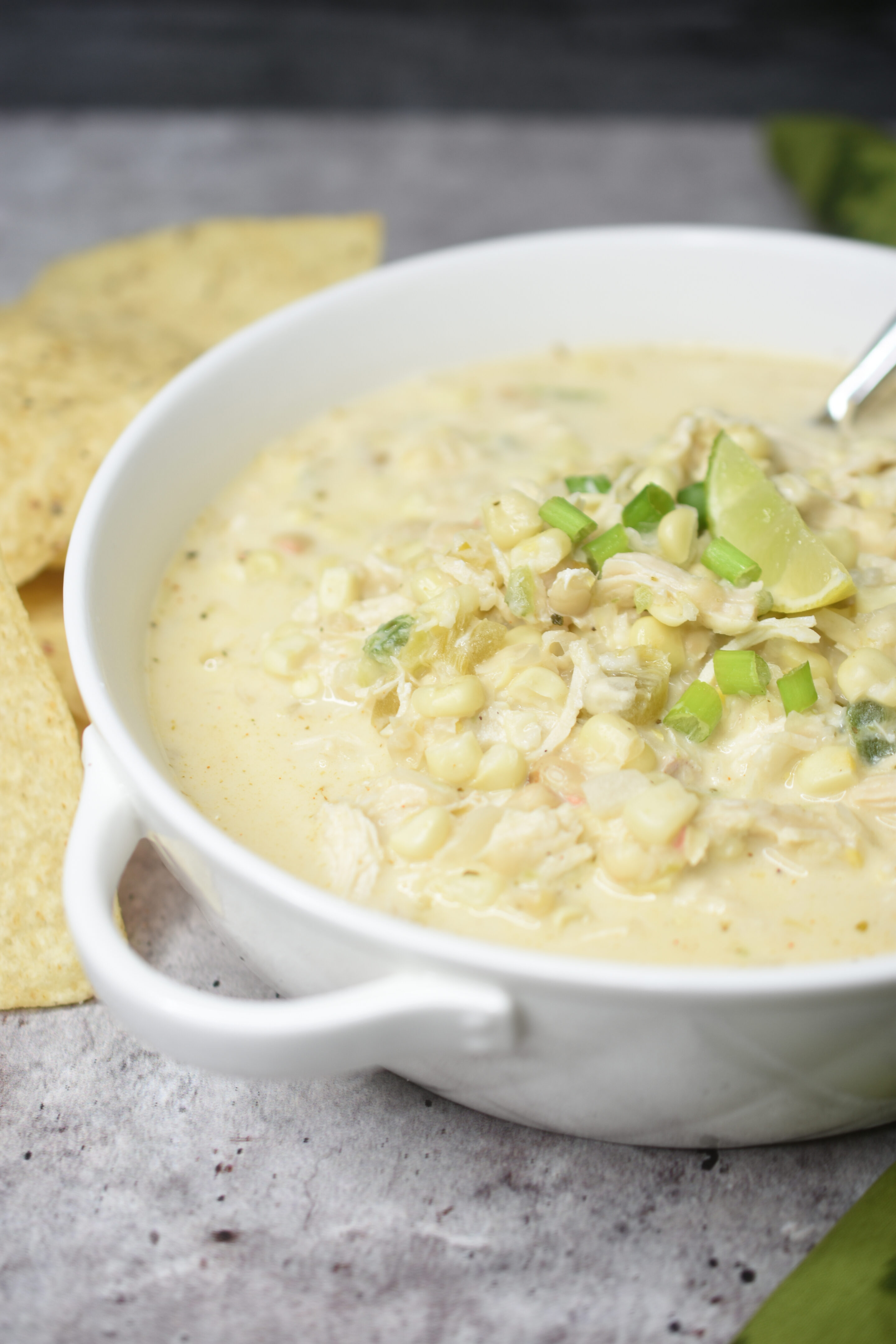 Ingredients
1 TBS grapeseed or olive oil
1 cup chopped onion
One jalapeno
3 cloves garlic
1 can green chilies
Chili powder, paprika, cumin, oregano, salt & pepper
30 ounces chicken broth
2 cans small white beans
2 cups frozen or fresh sweet corn
6 ounces cream cheese
¼ cup heavy cream
Squeeze of fresh lime
A couple shakes of Tabasco
Tips
Making is even easier if you use part of a rotisserie chicken (then use the rest of it to make stock).
I typically toss a large boneless chicken breast into my Ninja Foodie Deluxe (you can use an Instant Pot as well or any pressure cooker).
Or use left over oven roasted chicken or chicken breasts.
Make this soup thicker by adding in more cheese or by making a roux either before you start or pull some liquid out and mix with some flour in a small bowl, add back in and allow it to thicken.
If cooking your own chicken breast in an Insta Pot or pressure cooker, the liquid from that can be used towards the broth in the white chicken chili.
Add the shredded chicken after you are finished cooking the chili, this way your chicken won't become dried out.
If you shred your chicken early, be sure you wrap it tightly as you wait so it does not have a chance to dry out.
Use fresh or frozen corn. That tastes so much better vs canned in this particular recipe. I like to freeze vacuum sealed bags of fresh corn when its at its peak each August.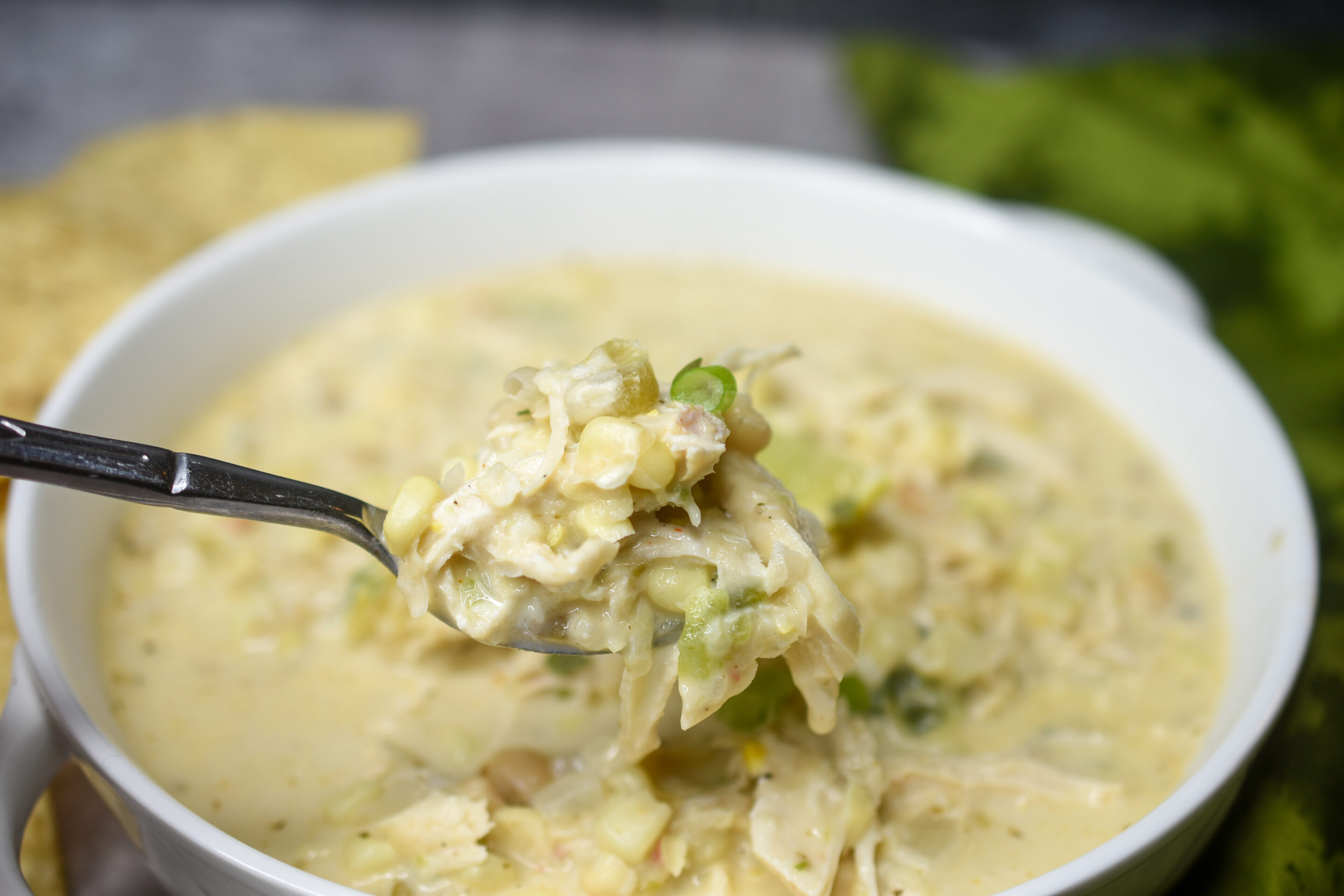 Variations
If you enjoy spicy heat, add in the seeds and stems of your jalapeno when you mince it. Or add in an additional half or whole jalapeno. You could also add in red (cayenne) pepper.
IF you want this to eat more like a soup, add in additional chicken broth. If you want it thicker allow it to simmer a little longer before you add in the chicken. Or you can make a roux prior or during and add it in until thickened.
You could enjoy this without the chicken if you like and use vegetable broth in place of the chicken broth. If you choose to do that, I would use an immersion blender and puree some of the beans to make it thicker.
For a richer chicken flavor, add in a little chicken bouillon (if salt is a concern, omit any salt until after you do this).
You can swap dark meat for white meat if that is you preference.
In place of canned chilies, you could swap and add salsa verde. I love Mrs Renfros, especially her spicy salsa verde, yum!
Recipes to try
If you enjoy making and eating soup as much as I do, check out some of my favorites on my Soup Pinterest Board or my Soup Recipe Index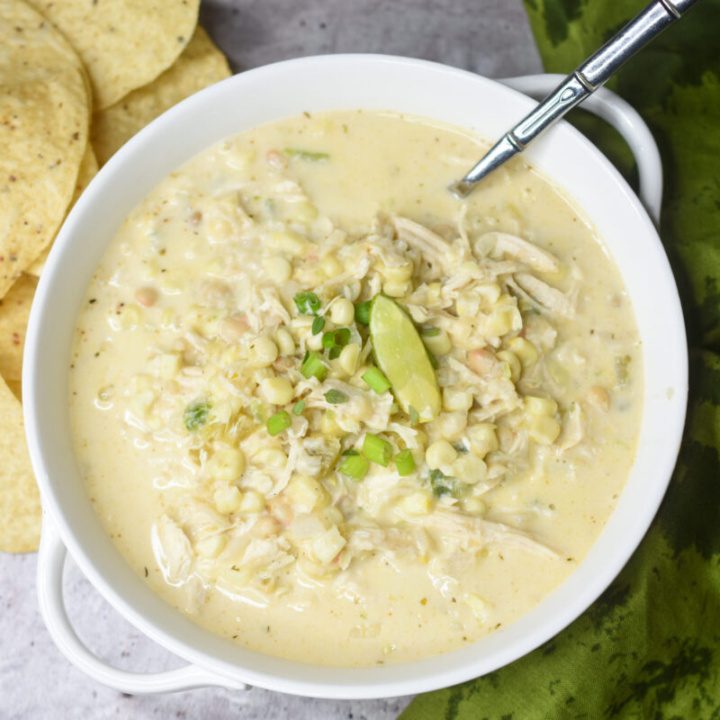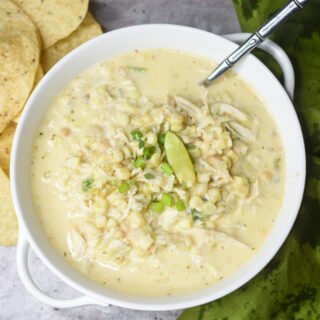 White Chicken Chili Recipe
The best White Chicken Chili Recipe. Easy to make and its even better the next day!
Ingredients
1

TBS

grapeseed or olive oil

1

cup

chopped Vidalia onion

1

whole

jalapeños minced

ribs and seeds removed (if you are worried about spiciness)

3

cloves

fresh garlic (or 2 TBS garlic paste)

minced

1

can

green chilies

1

TBS

chili powder

1

teaspoon

paprika

1

teaspoon

oregano

Pinch

cumin

add more if you enjoy the flavor of cumin

Kosher salt & black pepper to taste

30

oz

chicken broth

2

cans

cans small white beans (14 oz. cans)

2

cups

fresh or frozen corn

(

6

ounces

cream cheese

⅓

cup

heavy cream

1

heaping cup (or more) shredded chicken

1

TBS

fresh lime juice

a couple shakes of Tabasco

1

teaspoon

chicken bullion

optional, for a more rich flavor
Instructions
In a soup pot, sauté onions just until translucent. 2-3 minutes.

Add in jalapenos, chilies and garlic and sauté 1 minute more.

Add in spices, seasoning and broth and stir until combined.

Add in beans and corn and then bring to a simmer.

Once simmering, add in cream cheese, stirring until it melts into the chili.

Turn heat to low and add in heavy cream and shredded chicken. Stir until combined and then taste and adjust seasoning.

Add fresh lime to brighten the chili. If you want it thicker, allow it to simmer on low a little while longer. If you want it thinner, add additional broth.

Spoon into bowls and enjoy as is or garnish with cilantro, parsley, scallion, or shredded Pepper Jack or Cheddar cheese.
Nutrition
Serving:
5
servings
Calories:
554
kcal
Carbohydrates:
62
g
Protein:
28
g
Fat:
24
g
Saturated Fat:
11
g
Trans Fat:
1
g
Cholesterol:
88
mg
Sodium:
1028
mg
Potassium:
1390
mg
Fiber:
13
g
Sugar:
8
g
Vitamin A:
1386
IU
Vitamin C:
28
mg
Calcium:
209
mg
Iron:
7
mg
Follow me on Tik Tok for 1 minute videos