Enjoy Mexican food as much as I do? This Jalapeno Chicken White Bean Soup is light, deliciously satisfying and full of flavor. It reminds me of some of the Mexican dishes I enjoy and is a nice twist on traditional Chicken Soup.
Home made soup is one of those magical elixirs that always makes you feel comforted, warm and loved! To me, the making of soup is relaxing as well. The house gets warm and cozy as it simmers away on the stove. Anticipation fills the air as you await the end result.
Since my whole family enjoys soups as much as I do, I make soup often and I will try any idea at least once. Soup doesn't need to be complicated. The kids get involved as well, which makes the whole process more memorable. Homemade soup is also a great thing to make and bring to someone who needs a boost or just because.
I made a huge pot of this Jalapeno Chicken White Bean Soup for my mom to take to a SOUPerbowl Party she was going to, how fun and delicious does that sound?? As I type this, I just got the news that one of my brothers just had baby #5! It's a boy (I just KNEW it was going to be a boy!!) That makes 3 girls and now 2 boys back to back! I think I will take them a big pot of this soup after they arrive home! That and some crusty bread! Then while they are eating…I will get the baby all to myself!
Making this soup is even easier if you use a rotisserie chicken.  You can always cook up your own as well, either by poaching them in some chicken stock or double-wrap them in foil with a little liquid and bake them. But I typically go for the rotisserie. It's just so easy! Then I my daughter makes stock with the rest, something she's been doing since she was 8 🙂 Samantha is the chief stock-maker in this house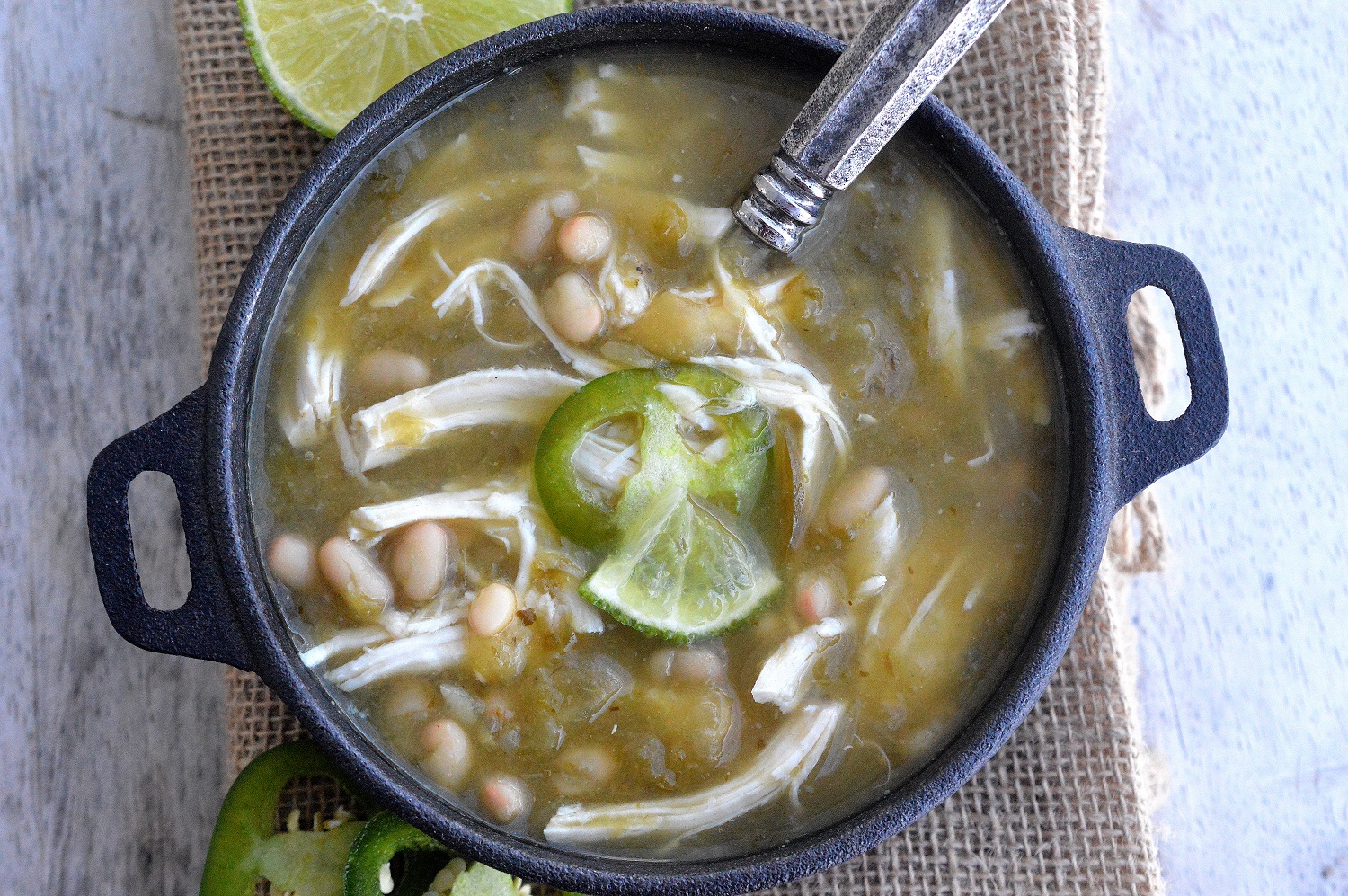 Start to finish making this Jalapeno Chicken White Bean Soup takes about 1/2 hour. As far as the beans go, I like using small white beans vs the canenellini beans, since they are about half the size. Its up to your preference, either will work.
You can make this soup as spicy as you like. Leave some jalapeno seeds in for more heat or choose a "hot" salsa verde. I always buy Mrs. Renfro's it's spicy and the best I have found. I swear by it for my White Chicken Enchiladas as well. I just saw that she has a new Ghost Pepper Salsa out and picked that up a couple of weeks ago for tacos…It is HOT!!! Yum!! It's almost "I can't handle it hot"…which is fun!
If you enjoy making and eating soup as much as I do, check out some of my favorites on my SOUP Pinterest Board or my Soup Recipe Index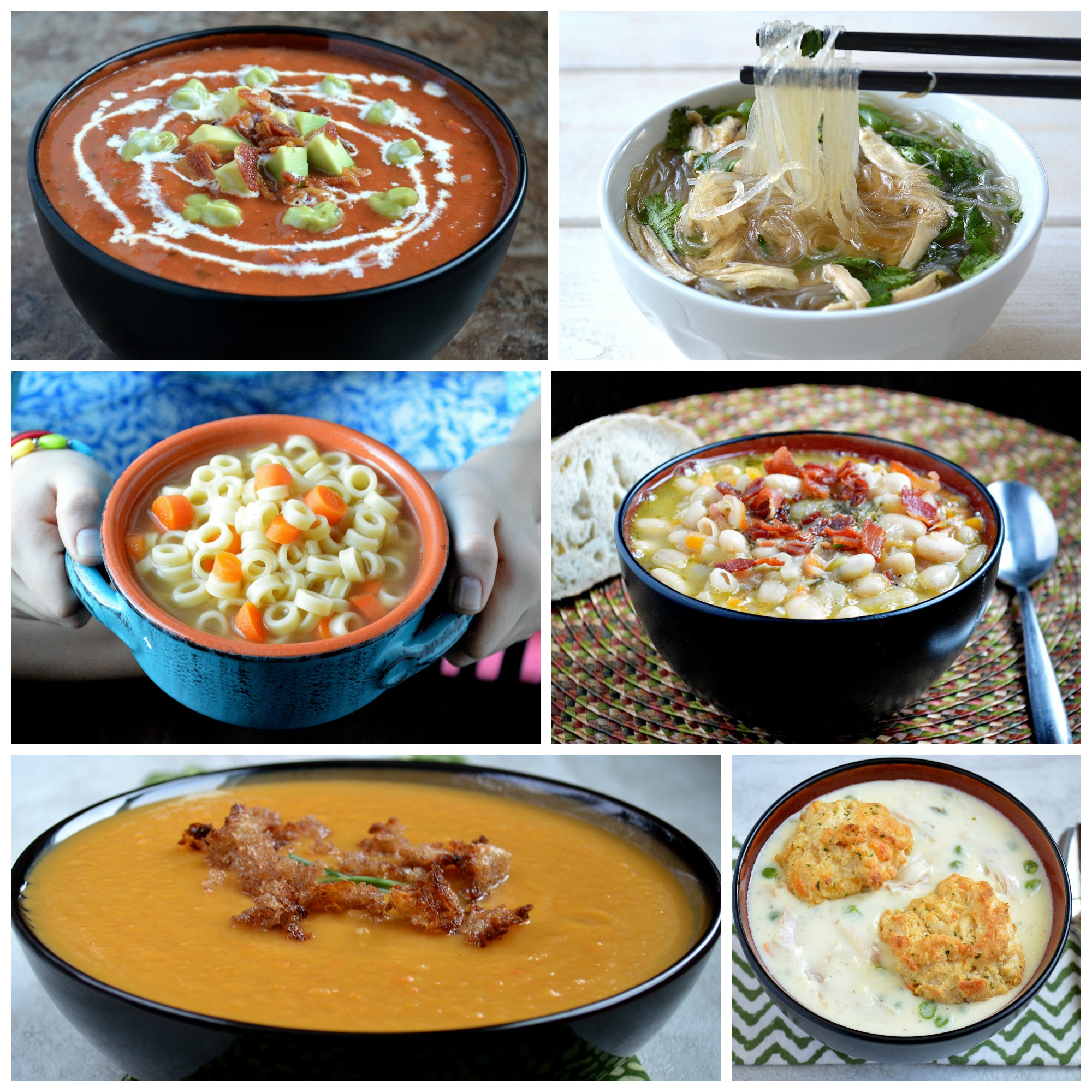 Some of my favorite soups to try:
Enjoy!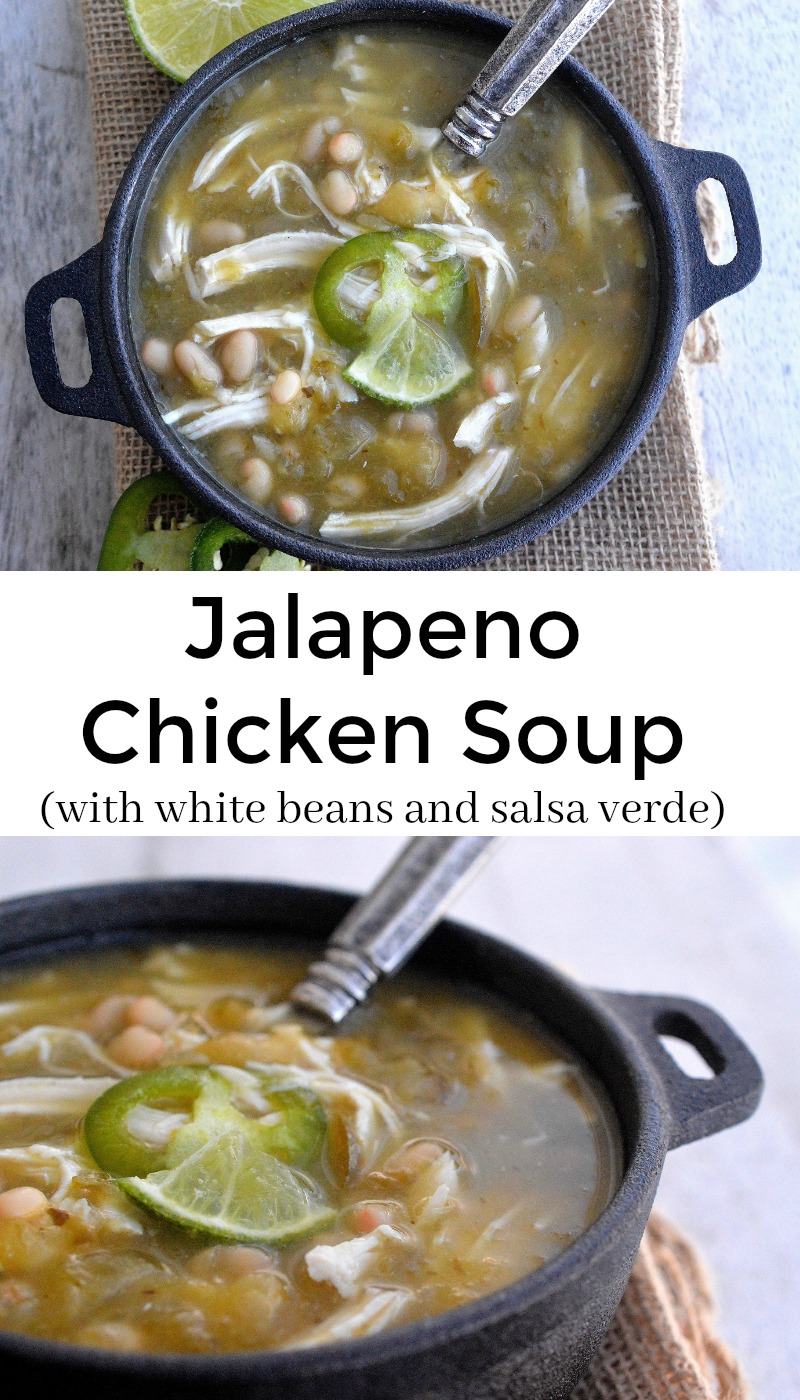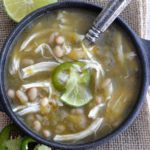 Print Recipe
Jalapeno Chicken White Bean Soup
Ingredients
2

TBS

grapeseed or olive oil

5

jalapeños minced

ribs and seeds removed

½

large red onion

5

cloves

garlic

minced

Kosher salt & pepper

6

cups

chicken broth

1

cup

water

2-14

oz

cans small white beans

or regular canellini

4-8

oz

of salsa verde

I LOVE Mrs Renfro's

2

heaping cups

or more of shredded chicken (rotisserie or homemade)

Juice of 1 lime

Fresh cilantro for serving

optional

1

tsp

chicken bullion

optional
Instructions
In a large pot, heat oil and then add in jalapenos, onion and garlic and saute for 2 minutes. Season with some salt & pepper while they saute.

Add in broth, water and 1 can of the beans. (Rinse the beans before you add them to the pot, you don't want the liquid they are in to go into the soup).

Once you add the beans to the pot, use a potato masher, muddler or back of a spoon and mash the beans up a bit. This helps thicken the soup a little.

Rinse and add the second can of beans and bring to a boil.

Add in salsa verde, reduce heat to low and simmer for 15 minutes.

Taste soup and decide if you would like to add in more salsa verde (based on your preference for heat).

If soup is spicy (because you just never know about jalapenos range of heat) You can always add in more broth. For an extra flavor kick, you can add in some chicken bouillon as well.

Add in chicken, taste soup...adjust as you like with seasoning, etc. Simmer another few minutes, remove from heat, squeeze in lime, garnish with cilantro and save.