It's almost here!! The biggest food holiday of the year…Thanksgiving! I for one cannot wait! Today I am sharing a recipe for Maple Butter Sweet Potato Stacks that is pretty, festive and lighter than traditional casseroles.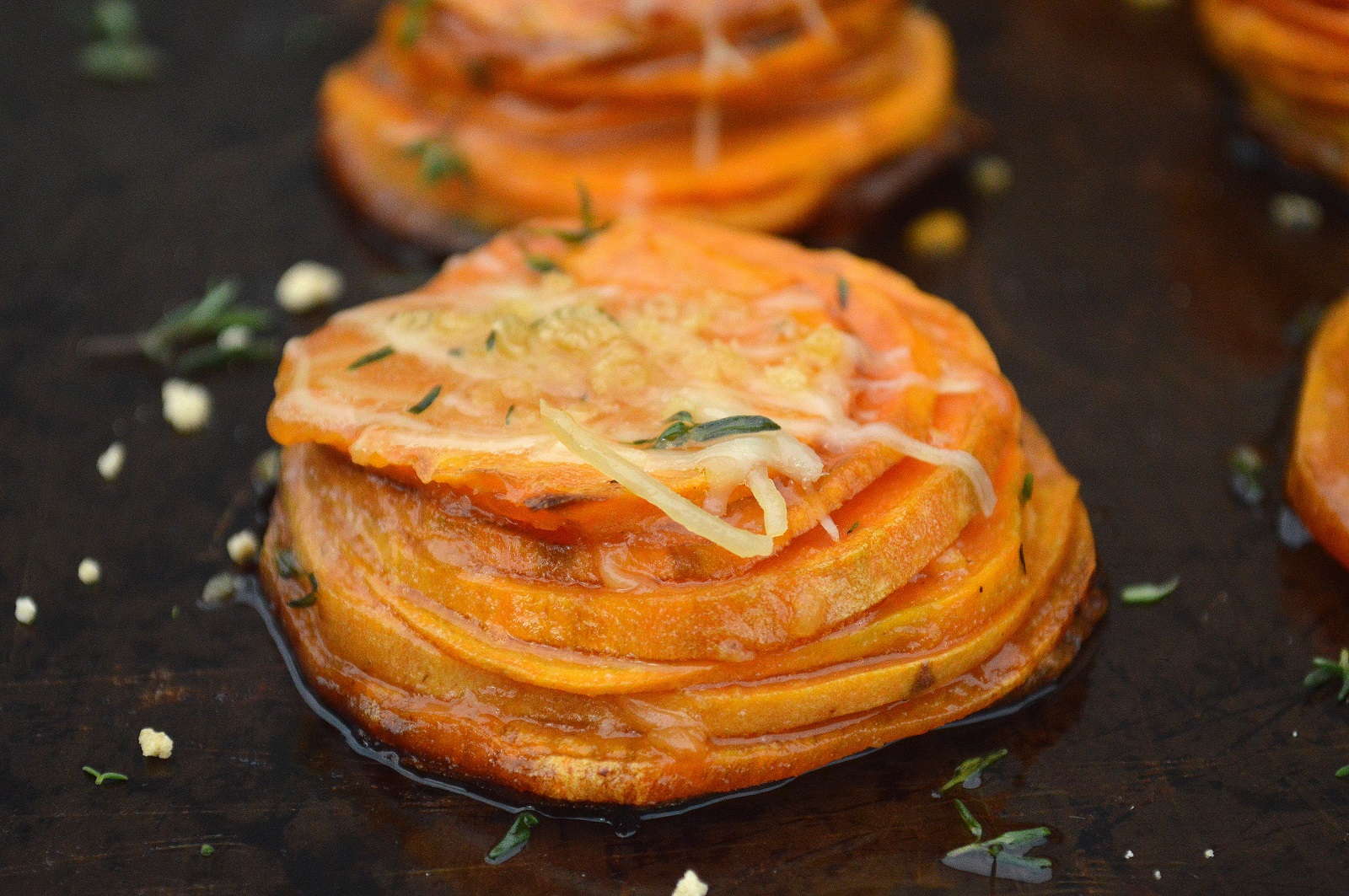 This is a sponsored post written by me in partnership with Keller's Creamery (yum…butter!). As usual, all writing and opinions are my own.
I love that I am partnering with Keller's on this post! First, Keller's Creamery is local to me, and second, the amount of butter that this girl goes through for Thanksgiving is unbelievable! I literally stop and think about it each year; I panic that I didn't buy enough because man does butter make holiday feasts taste good! My turkey is loaded with butter inside and under the skin. It is soooo good! When I think of  Thanksgiving dinner prep, I think of butter and fresh herbs scattered all over my kitchen! I would love to know what I go through in a year. Maybe I will keep track of that in 2018, just out of curiosity.
That being said, did you know that Philadelphia is the third largest butter market in the U.S.? Last Thanksgiving season Philadelphians bought more than 2.5 million pounds of butter…over 10 million sticks (I know I helped that number, haha)!** That's enough sticks of butter to run Rocky's path up and down the Philadelphia Art Museum steps 28,693 times!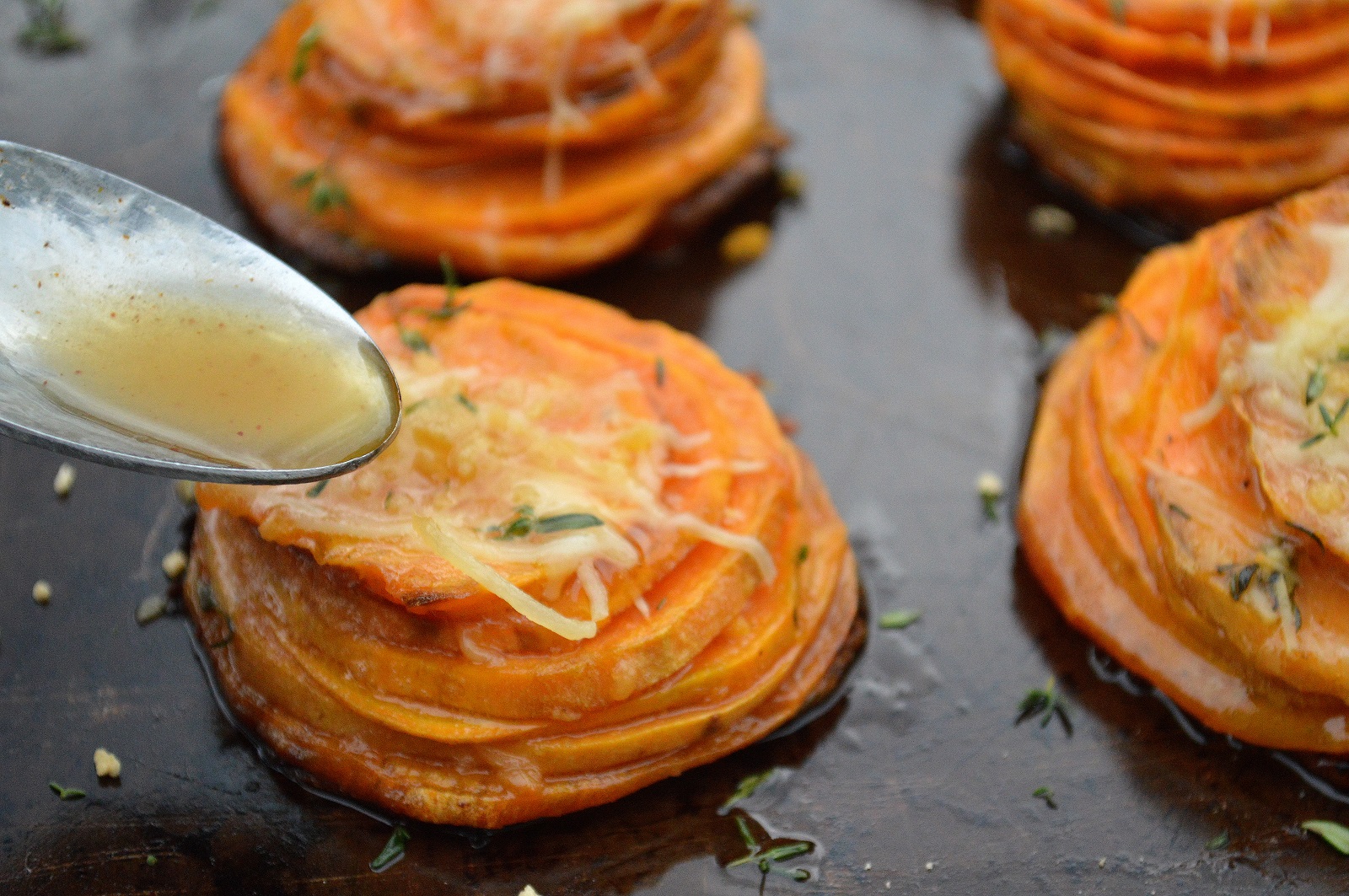 Growing up in Philly, sweet potatoes were not something we ate, I rarely saw them and they were not grown in my dad's massive garden (and I feel like he grew everything). The only time I saw sweet potatoes was at Thanksgiving and Christmas and even then they came from a pre-packaged box from the freezer. A box! It was so odd to me because of all the effort that went into holiday cooking by my parents/grandmothers and then there was this box of candied sweet potatoes. Only my mom ate them, so she just wouldn't cook them for herself, hence the box for one, lol!
Years later, one Thanksgiving, I tried my boyfriend's (now husband) grandmother's "famous" Sweet Potatoes…just to be nice, mind you because I didn't like them (even though I don't think I had ever tried them). I was ready to try to swallow without even chewing and pretend I liked them, HOWEVER, I was blown away, they were incredible! I couldn't stop eating them! John didn't believe me, he thought I was just being nice to his grandmom, I had been missing out all those years…my mom was right!!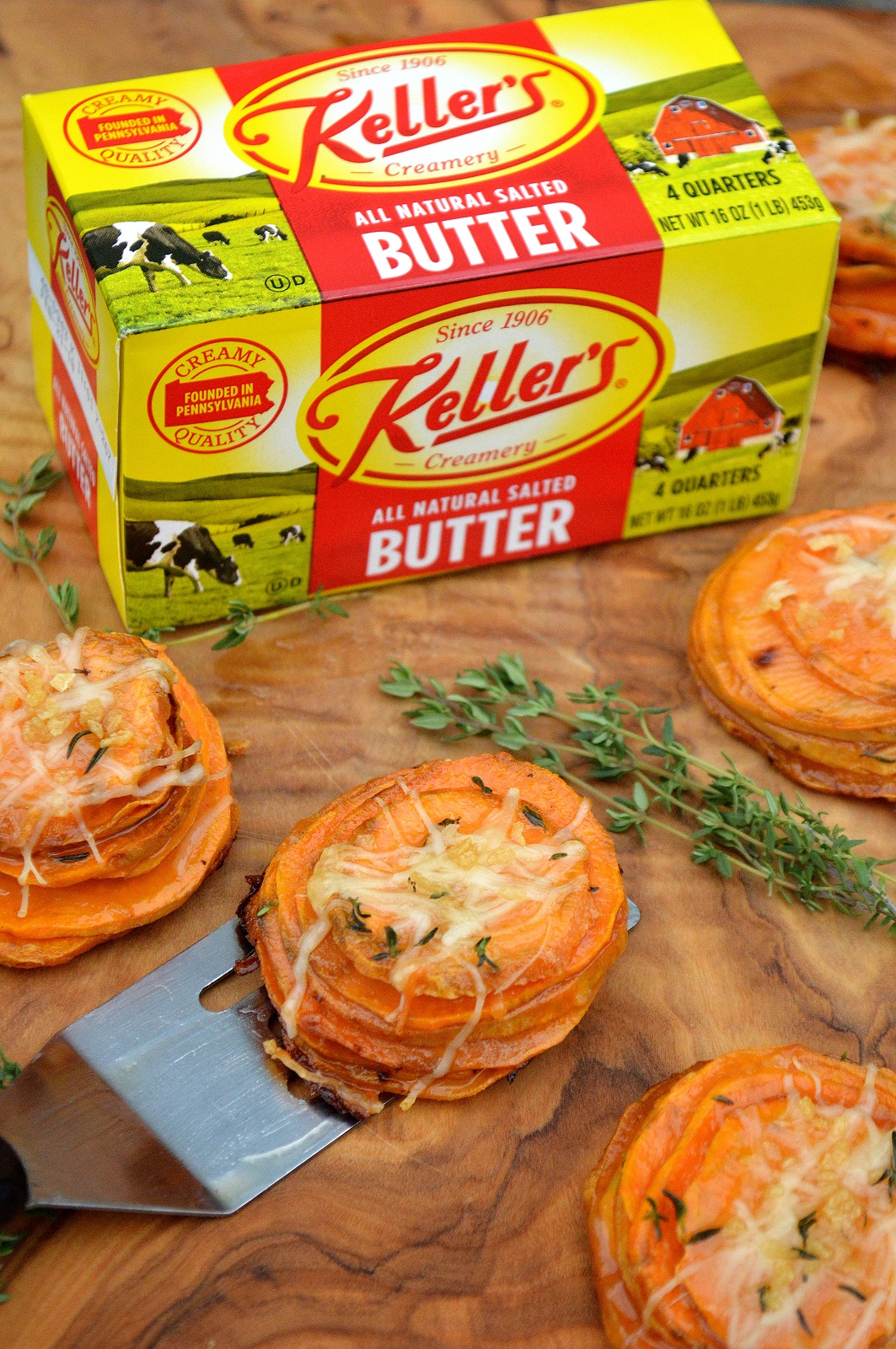 So I began experimenting with various ways to make sweet potatoes and now they are always on the table for holidays and various dinners throughout the year. These Maple Butter Sweet Potato Stacks are not difficult to make and are a pretty accent to any holiday or Sunday dinner. I love the sweet crunch you can get from the bottom and sides as well as the flavor of the maple butter sauce. If you enjoy a little heat in your food, feel free to add a bit of cayenne pepper. I scattered some Maple Flakes overtop as well…Not necessary, but I love the flavor and crunch.
This Maple Butter is delicious! Try to not eat it off the spoon ☺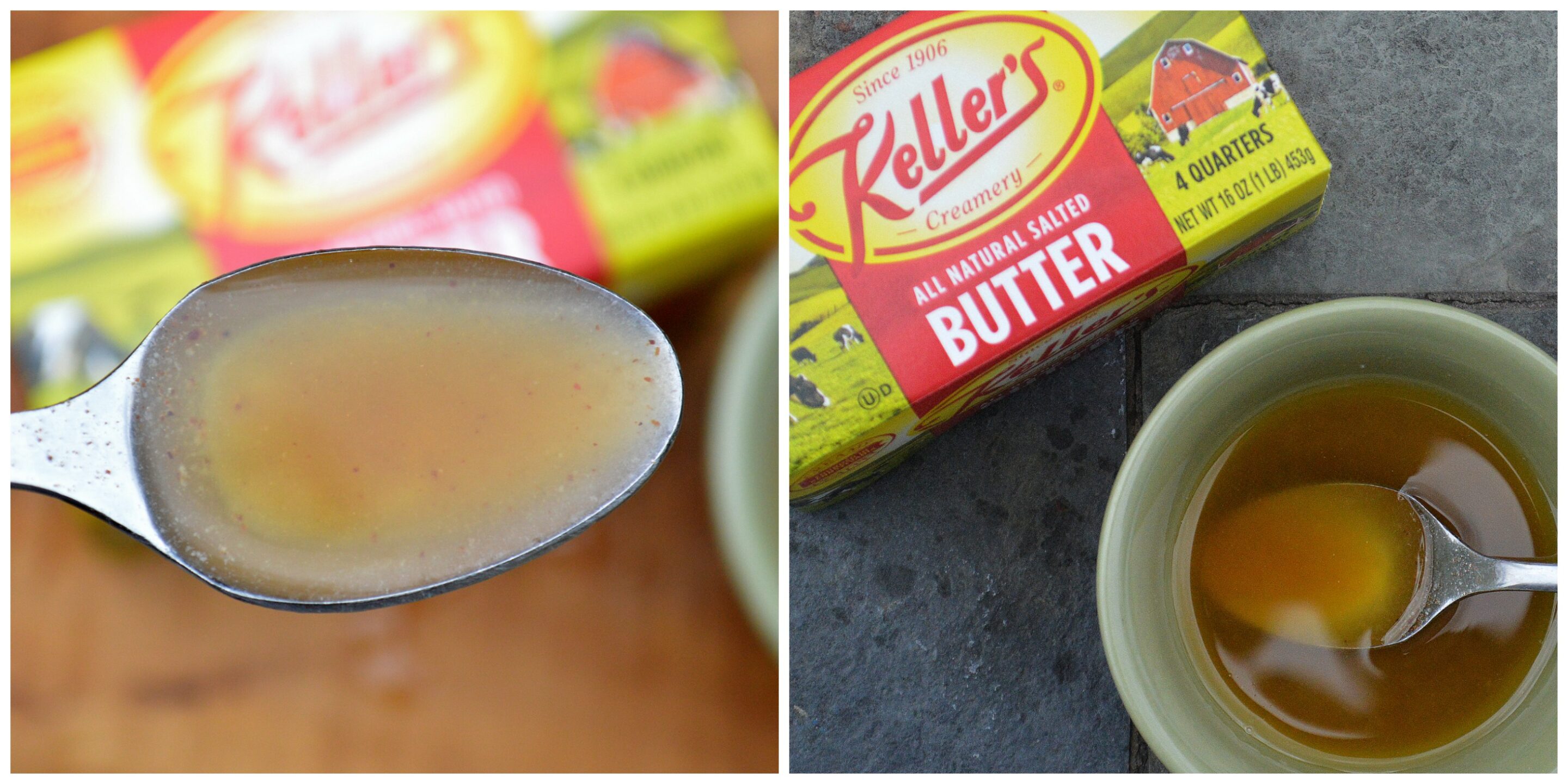 Keller's Creamery has been a staple of Philadelphia households for over 100 years. It's the butter I grew up with and its creamy, fresh taste contains no artificial ingredients or hormones.
In fact, last Thanksgiving season, Philadelphians bought more than 10 million sticks of butter.** That's 514 times the amount of yards rushed by the Philadelphia Eagles in 2016 (1,813 yards)! It's enough sticks of butter to run the length of the Benjamin Franklin Bridge 292 times!
Every area has its iconic brands and Keller's Creamery is high on the list for people from the Metropolitan Philadelphia area. It's been in our lives, cookies, foods and lovingly spread on bagels and hunks of warm crusty bread as long as I can remember. Because it is a Philadelphia family tradition, Keller's Creamery delivers a variety of butter options that contain no artificial ingredients or added hormones, including:
Keller's Salted

Keller's Unsalted

Keller's Sculptures  
Turkey sculptures add the perfect seasonal look to any tablescape. Did you pick up your turkey sculpture yet?? I grabbed mine at my local ACME Market. You can grab yours there or at any other local major retailer. Be on the lookout for Christmas tree sculptures come December. Here's a coupon for your holiday baking/cooking.
If my youngest named her top 5 favorite foods…no joke, she would list butter as one! When I was pregnant with her, my only craving was…butter! No joke, I ate bread just to get butter into me. I did stop short of picking up a stick and taking a bite (which let me tell you I really wanted to do quite a few times, lol!!). When Samantha was a toddler, I realized that the weird lines and groove marks I would find in the butter on the butter dish were actually from her fingers…She would reach up whenever she saw it as she cruised through the kitchen and drag her fingers through it. To this day, now at 13, that girl literally still does the same thing!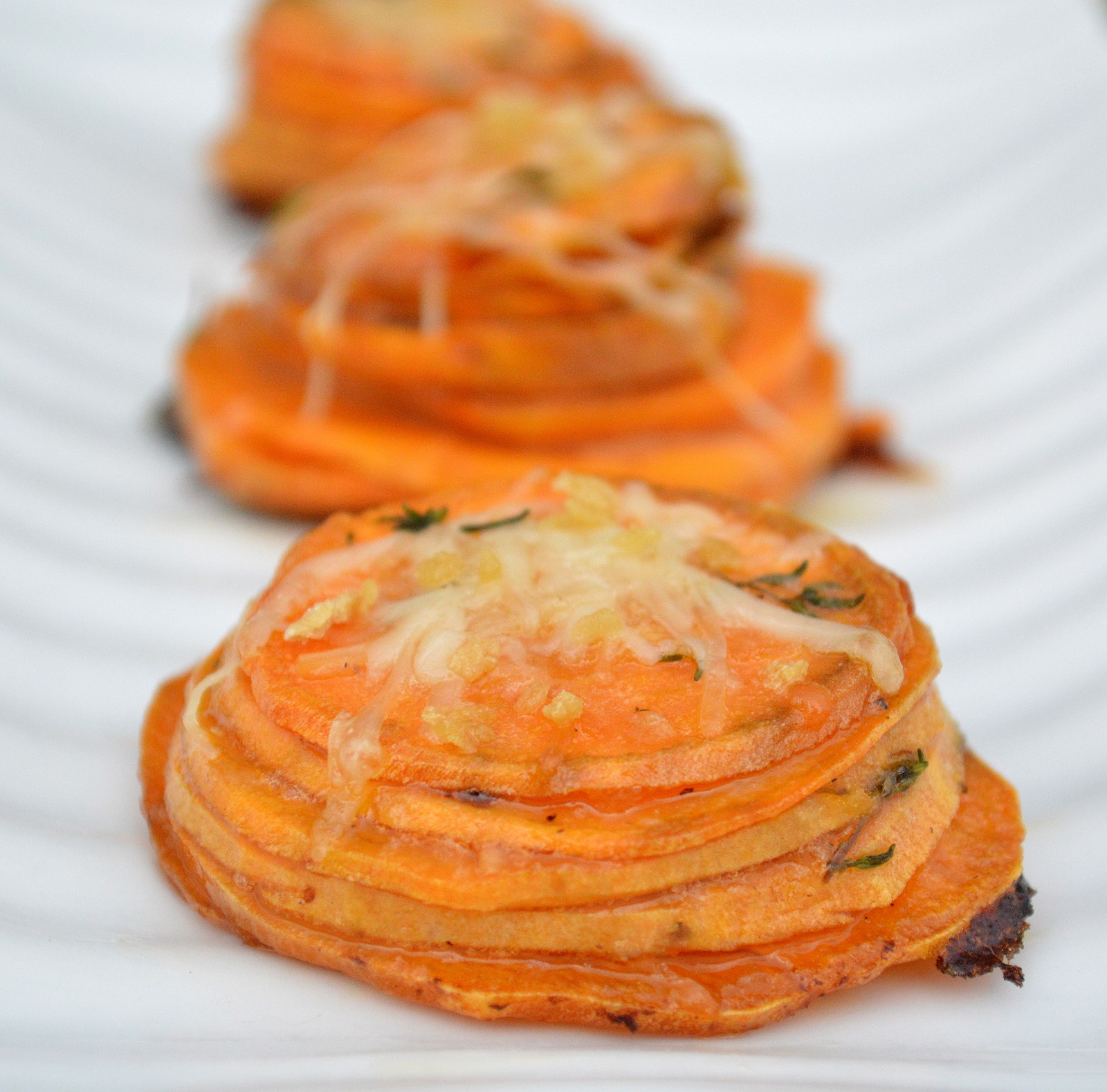 You can make these Maple Butter Sweet Potato Stacks in a muffin pan if you want, it depends on the size of your sweet potatoes if it will fit or not. I typically just make them on a baking sheet. They usually stay in stacks if I stacked them well and I am gentle pulling the pan out of the oven. I don't make them very tall. If one or two do tip over, no biggie, just use a small spatula and fork and slide it back into a stack. 
These Maple Butter Sweet Potato Stacks are a nice change from the heavy, brown sugar and marshmallow-laden casseroles that are popular for Thanksgiving. Plus they look pretty and sophisticated on a platter, meanwhile, they were so easy, just slice, toss, stack and bake.
I love the tradition of preparing for the feast with my kids, especially my daughter who hasn't left my side when it comes to holiday cooking since she was 7…She's now 13 and always wants us to host so we can do our thing together. What's your favorite Thanksgiving family tradition or dish/dessert? I'd love to learn about what people love to eat and where they are from.
Happy Thanksgiving! I hope you are surrounded by family/friends, good food and may all the dishes clean themselves!

*According to an October 2017 Survata survey of 717 Philadelphian adults.
**According to November 2016 industry data.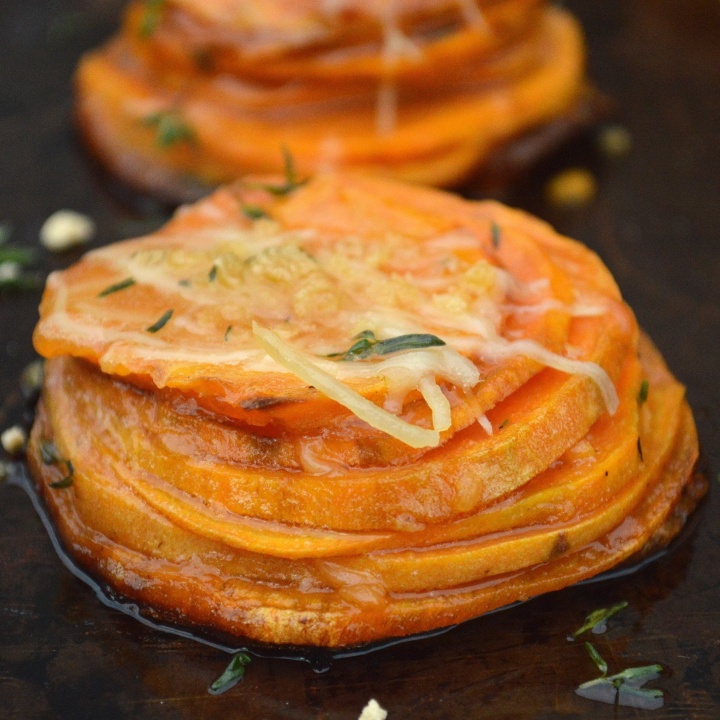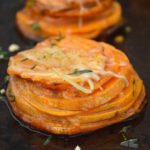 Print Recipe
Maple Butter Sweet Potato Stacks
Ingredients
3

TBS

melted Keller's Creamery butter

1

TBS

grapeseed or olive oil

Kosher salt & pepper

Fresh Thyme

2

sweet potatoes

Maple Butter

4

TBS

melted butter

3

TBS

maple syrup

Shredded Parmesan
Instructions
Preheat oven to 375 degrees.

In a small bowl, or mason jar combine melted butter, olive oil, salt & pepper, set aside.

Peel and slice your potatoes into 1/8 inch slices.

Place slices into a large bowl, whisk or shake your butter mixture until it is emulsified (well combined), and pour over your potato slices (this is a great job for any little helper you have in your kitchen).

Toss in 1/2 TBS of fresh Thyme.

Using your fingers toss the potatoes and make sure each slice is coated.

Assemble stacks, placing larger slices on the bottom, sthen maller on top of those on your baking sheet or in your muffin pan. About 8-10 slices a stack.

Bake for 20 minutes.

While it's baking, make your maple butter by combining the melted butter and maple syrup. Shake well in a mason jar until emulsified.

Spoon a bit over each stack and return to the oven for another 12-15 minutes or until cooked through to your liking.

You want the potatoes cooked through and very soft in the centers. Cooking time will vary by size and thickness of your slices.

Just before they are finished top each stack with a bit of shredded Parmesan cheese (optional)

Using a small metal spatula, gently transfer stacks to a cutting board or serving platter, spoon sauce over top and enjoy!
Notes
Tips:
You can heat the maple butter just before spooning it overtop to serve, make sure it's totally combined, shake it up.
The Maple Butter Sweet Potato Stacks usually stay in stacks if stacked well. Be gentle when pulling the pan out of the oven. I don't make them very tall. If one or two do tip over, no biggie, just use a small spatula and fork and slide it back into a stack.
A small metal spatula works best when moving these.