I am so excited to share with you one of my favorite recipes! The BEST Irish Soda Bread recipe. I make this all year round! Wait till you see how much better this is that what you are most likley accustomed to.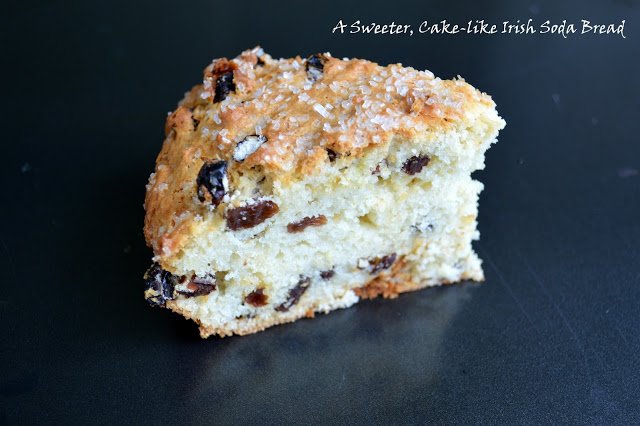 I have been making (and eating) Irish Soda Bread for as long as I can recall. I remember it being available from time to time in my house growing up and I remember my Grammy making it when I was a kid as well.
Check out my TikTok Video to see how you make my Irish Soda Bread
I am not sure if I ever helped her make it or not, I would like to think that I did. I can say with confidence (as well as with a number of contests won, accolades from family, friends and neighbors and a feature on TODAY) that this is The Best Irish Soda Bread.
O!!h And Joe Yonan, the Food Editor of The Washington Post, once told me that it was amazing and "the prettiest Irish Soda Bread he had ever seen". If that doesn't make a girl feel great, well then I don't know what does! I brought two fresh loaves of my Irish Soda Bread with raisins to a blogger event a few years back, which is where he had it.
It seems like everyone has some version of Irish Soda Bread floating from either a relative or friend. I am ½ Irish, so at family gatherings, I ate the obligatory slice. To my developing palate, the bread was dry and not that flavorful. So, I would pile on the butter - after all butter like bacon, makes everything better lol!
It wasn't until my 2nd cousin, Rosanne, came for a visit to my Grammy's (after she had married and moved to Boston) that I tasted something different in a soda bread.
But THAT bread....the one made by Roseann's Italian husband's mother - That bread, was one to remember! It was almost cake-like. Sweet and light and all I knew was that "I" wanted more...I needed more!! So, after I polished off about 4 slices, shortly after I tinkered and tinkered until I replicated it and have been making it ever since.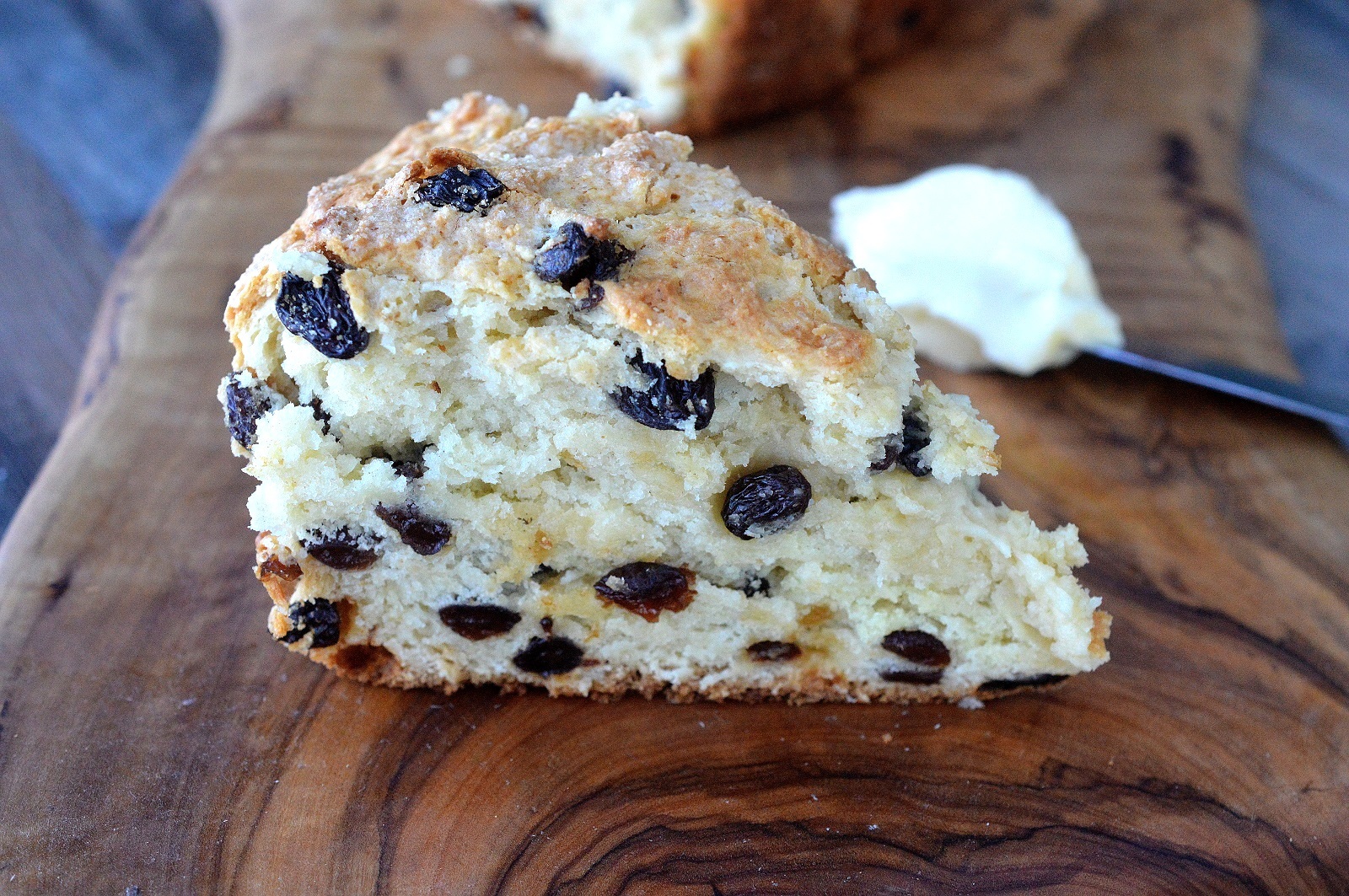 This really is The BEST Irish Soda Bread! One recent tweak I made to the recipe was to add some heavy cream to the dough.  
I was lucky enough to spend an afternoon with the incredible Darina Allen (a visionary top chef and cookbook author from Ireland and owner of the world-renowned Ballymaloe Cookery School) and she said here in the US (as compared to Ireland) our milk/buttermilk does not have enough fat in it to replicate Irish baking correctly - She said to "always add cream to any type of soda bread".  As well as brown bread, scones etc.
I tried it, loved it and updated my recipe. Another thing Darina said was to "always let the faeries out" by making a cross or an "x" over top your dough before it heads into the oven. I have always done that - but hearing someone else say it, especially someone from Ireland, makes me really happy!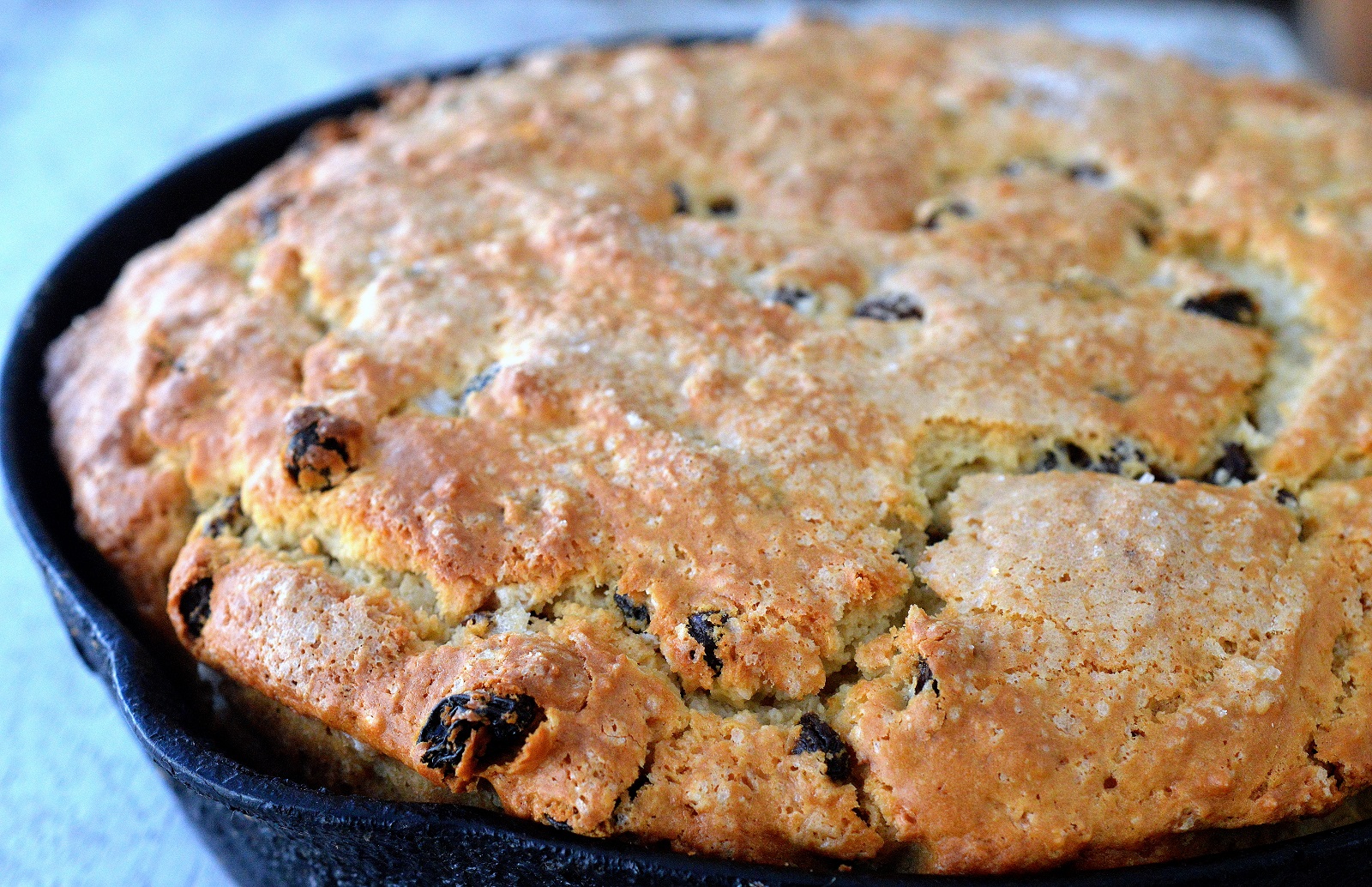 Can you see in the above photo, how much more moist the actual bread looks than what you might typically come across?? And the sugar on the top? Oh yeah, THAT right there is my Sweet Irish Soda Bread!
This sweet Irish Soda Bread recipe is so close to how my relatives over in Donegal have made it for decades. This Irish soda bread recipe uses raisins, which I recommend for both flavor and texture.
Let me tell you, there is almost nothing on this earth as good as a slice of this just out of the oven almost too hot to handle, smeared with butter (Especially Kerrygold Butter).  
If you ever need a Calgon moment and you don't feel like getting wet to do it (ha!). Make "The BEST Irish Soda Bread" and a cup of tea, then sit with a good book...Ahhhh... You are welcome!
To watch my 1 minute TikTok video on how to make this Irish Soda Bread Recipe, click here.

If you are feeling festive and looking for additional ideas for St Patty's Day, check out my Irish Brown Bread recipe.
And if you enjoy Bailey's Irish Cream...make your own.  All it takes are 6 ingredients and 5 minutes and you will never buy it again! You can also make Boozy Irish Cream & Oreo Shakes with it!
Recipe originally published in 2013. Updated in 2022.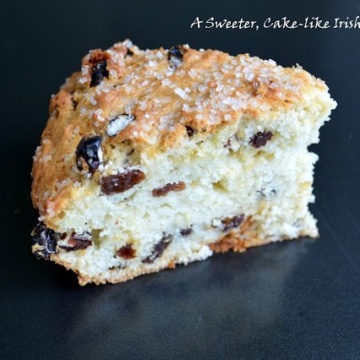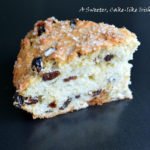 Print Recipe
Sweet Irish Soda Bread
Recipe for the BEST Irish Soada Bread the way some of my realitives make it in Ireland
Ingredients
4 ½

cups

of flour

1 ¼

cup

sugar

2 ½

teaspoon

baking powder

dash of salt

1

teaspoon

baking soda

½

cup

butter

melted

2 ½

cups

raisins

2

cups

buttermilk

½

cup

heavy cream

1

large egg
Instructions
Preheat oven to 350 degrees

To make 1 large loaf, use a 10-12 inch cast iron pan or ovenproof skillet with 2-inch or better sides or to make 2 loaves use 2 smaller cast iron skillets, oven proof pans or 2 cake pans.

Cut a big enough circle of parchment paper out to line both the bottom and the sides of your pan(s).

Whisk the first 5 ingredients in a large bowl until blended, add the butter and raisins and stir well.

Add buttermilk, heavy cream and egg to the dry ingredients and stir until incorporated - do not over mix.

Pour mixture into pan(s) and cook for one hour or until toothpick or skewer inserted comes out dry. For smaller loaves, check after 45 minutes, however, most likely it will take an hour to bake. Once a wooden skewer inserted comes out not "wet" it is done. Cool a bit then flip out of the pan(s), peel off parchment paper and allow the bead to cool on a cooling rack, that is if you don't just dig right in like my family and I do!
Notes
Since this recipe yields a large loaf, often when I am making this for someone, I set aside 25-30% of the batter to make my family a small one....which we eat almost instantly! Depending on its size I start checking the smaller loaf after 35 minutes or so - the large one usually still takes an hour.
This is wonderful for days after you make it as long as you have had it wrapped up tight.  just pop a slice in the microwave for 20-30 seconds to warm it through and smear it with butter.
Nutrition
Serving:
10
g
|
Calories:
710
kcal
|
Carbohydrates:
124
g
|
Protein:
11
g
|
Fat:
20
g
|
Saturated Fat:
12
g
|
Cholesterol:
78
mg
|
Sodium:
461
mg
|
Potassium:
549
mg
|
Fiber:
5
g
|
Sugar:
34
g
|
Vitamin A:
702
IU
|
Vitamin C:
2
mg
|
Calcium:
182
mg
|
Iron:
5
mg