Since my Irish Soda Bread recipe is so popular, many people have asked me for my Irish Brown Bread recipe. I actually make it two ways. SO today I wanted to share the typical way I make it. It's simple and one version does not include an egg. So for those that can't enjoy eggs...It's perfect.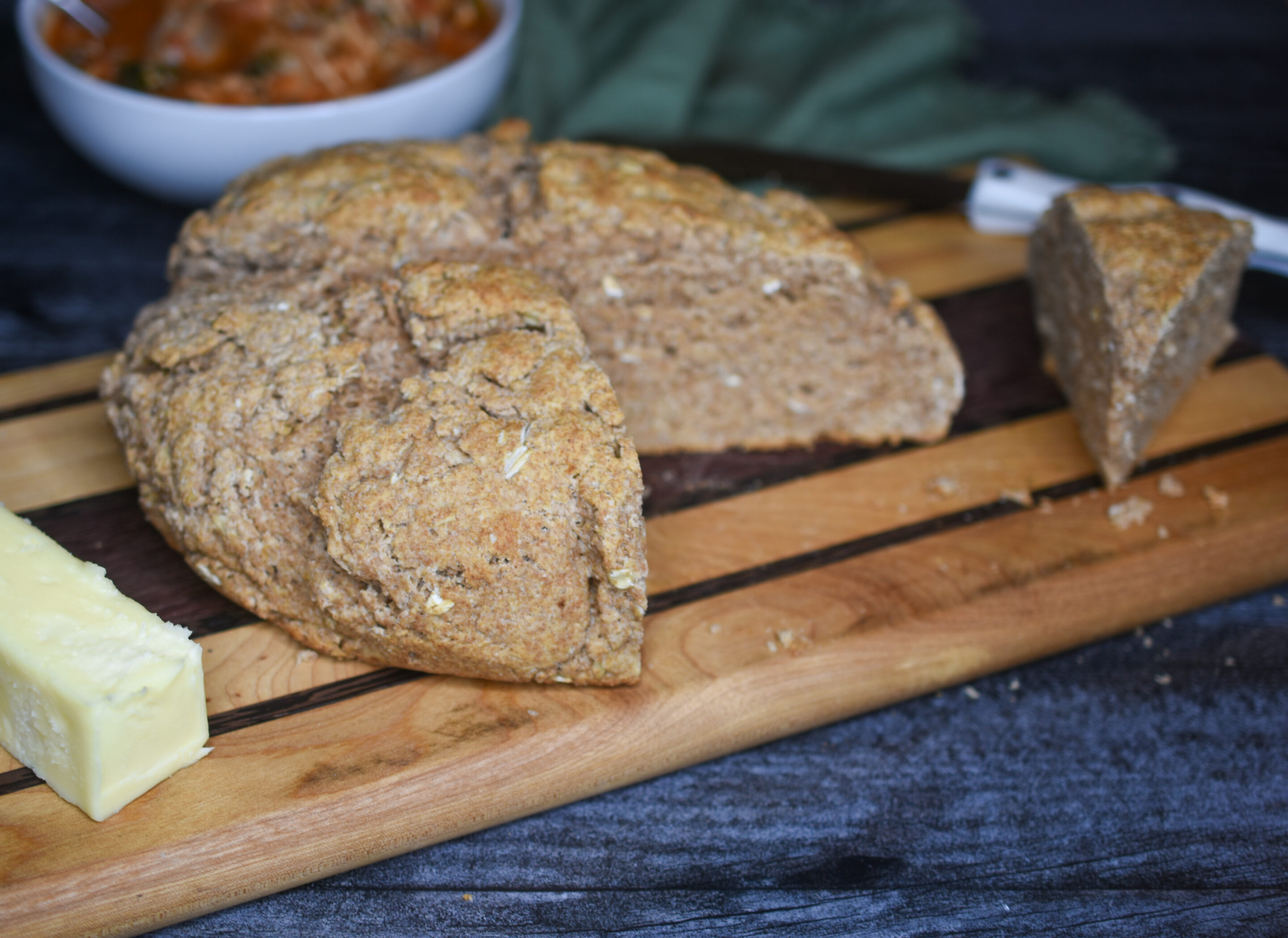 Irish Brown Bread is a humble food, easy to make and goes well with stews and soups. It's also great on its own with some good butter and/or jam.
The crust is super crunch while the inside is soft. You can choose to make Irish Brown Bread with all wheat, add in some oats or create a hybrid of whole what and white flour. I have made this every which way and today I am sharing my two favorite ways.
When I have been at events over the years, as well as spent time in Ireland, this humble brown soda bread is typically served warm, right from the oven with soups and stews. As well as at tea time with rich butter and delicious jams. Sheesh, wishing I had some in front of me right now!
This Easy Irish Brown Bread Recipe is best, piping hot from the oven, with butter, or dipped in a soup or stew. So bake it just as you are about to have your meal.
I make this two ways, one is with 100% wheat flour as well as some oats.  The other wat I make it, I use half wheat flour and white flour, as well as a little honey.
The difference between the two is that the full wheat version is more toothsome and dense in my opinion. I like both versions, while my oldest (teenager), opts for the whole wheat version. He loves the outer crust.
Whichever way you make it, always remember to make a deep cross, to "let the faeries out", "let the devil out" or "bless the bread"!
Serve Irish Brown Bread with:
Expert Tips when making and storing Irish Brown Soda Bread:
Parchment paper is your friend, you can order individual sheets of it from Amazon and have it on hand for all sorts of baking and prep needs. I am never without it! I like this unbleached parchment paper, its inexpensive, works great and is easy to store. When baking this soda bread, line your cast iron pan, oven safe skillet or cake pan with it to make baking, lifting and clean up a snap.
If you are in the USA, our milks and butters are not as rich as they are in Ireland, SO for that reason adding heavy cream makes all the difference.
Do your best to not overcook the bread. I would rather pull it a little under vs over.
Try the recipe both ways to see which is your favorite.
To store, wrap tightly in plastic wrap to prevent it from drying out. It will keep for a few days that way.
To reheat, lightly wrap a hunk in slightly damp paper towel and microwave for 30 seconds.
Enjoy with butter, or butter and jam, yum!
Ingredients to Make No Yeast Irish Brown Bread
Whole wheat version (no egg) (Pictured at the top):
3 ½ cups whole wheat flour, ½ cup quick cooking oats (I like to pulse them in my food processor just a bit to make them finer), 2 TBS sugar ,2 teaspoons baking powder, 1 teaspoon baking soda, ¾ teaspoon salt, 1.5 cups buttermilk, ½ cup heavy cream, 2 TBS melted butter. (THIS is the recipe in the recipe card below).
Whole wheat and white flour version (Pictured just below):
1 cup whole wheat flour, 1 ¼ cup white flour, ½ TBS baking powder, 1 teaspoon baking soda, pinch of salt, ¾ cup buttermilk, ¼ cup heavy cream, 1 TBS melted butter, 1 egg, 1-2 TBS honey.
For both versions bake at 400 degrees for 35-40 minutes.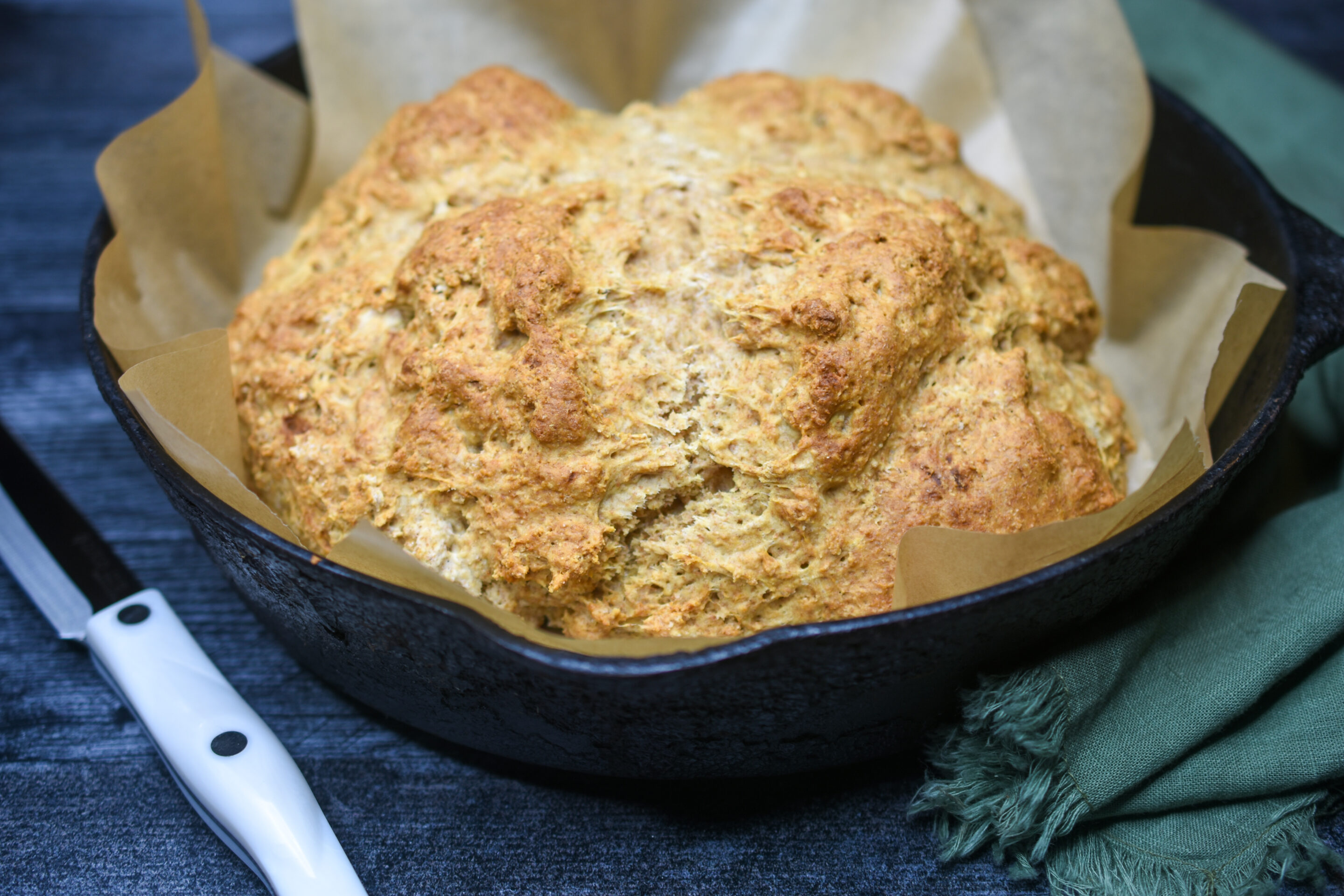 These brown breads are great to bake up all-year-long, they are not just for Saint Patrick's Day!! Same goes for my "famous" Sweet Irish Soda Bread. See the TikTok video for it here. If you really want to go all out for Saint Patrick's Day make a batch (or two) of my Homemade Irish Cream. It literally takes just 5 minutes and one taste will have you making it vs buying it...forever!
Nutritional information is calculated via a WordPress Plug-in. This post contains affiliate links which mean that if you purchase off of Amazon after checking out my recommendation, I may receive a few cents from each purchase.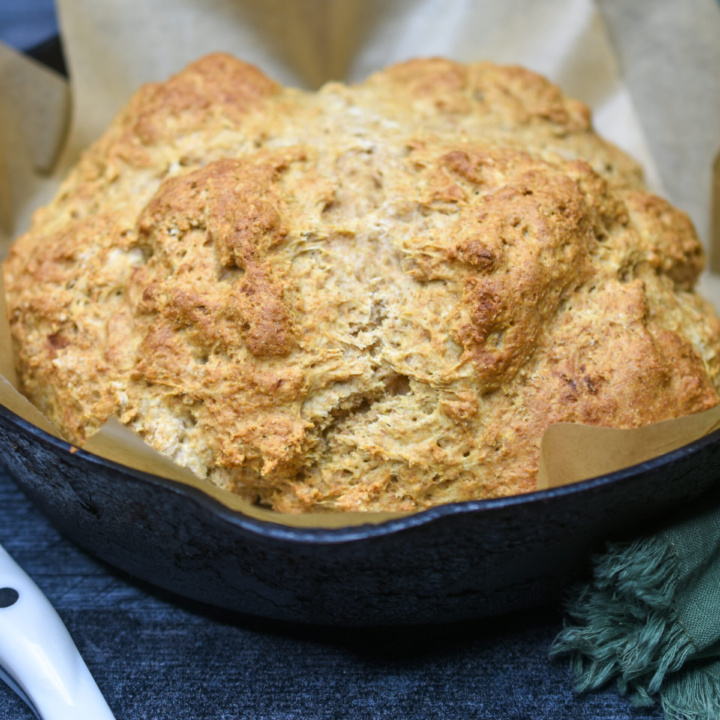 Homemade Irish Brown Bread Recipe
This simple, humble Irish Brown Bread, goes with soups, stews or can be enjoyed on its own wit butter and or jam.
Ingredients
3 ½

cups

whole wheat flour

½

cup

quick cooking oats

(see notes)

2

TBS

sugar

¾

teaspoon

salt

2

teaspoons

baking powder

1

teaspoon

baking soda

1 ½

cups

buttermilk

½

cup

heavy cream

2

TBS

melted butter
Instructions
Preheat oven to 400 degrees.

Combine dry ingredients in a bowl and whisk together.

Make a small hole in the middle of the dry ingredients and add your wet ingredients. Use a spatula and mix JUST until combined.

Cut a deep cross into the center of the bread.

Line a cast iron pan, oven safe skillet or cake pan with parchment paper and bake for 35-40 minutes.
Notes
I like to give my oats a whirl in a food processor to make them a little finer. Not necessary, yup to you. You can also choose to scatter a bit of oats on top prior to baking.
Nutrition
Serving:
8
servings
Calories:
314
kcal
Carbohydrates:
47
g
Protein:
9
g
Fat:
11
g
Saturated Fat:
6
g
Trans Fat:
1
g
Cholesterol:
33
mg
Sodium:
540
mg
Potassium:
282
mg
Fiber:
6
g
Sugar:
5
g
Vitamin A:
385
IU
Vitamin C:
1
mg
Calcium:
141
mg
Iron:
2
mg
Follow me on Tik Tok for 1 minute videos