I know not everyone has a smoker to make smoked food recipes, however!! A Smoked Turkey is one of the most delicious foods to come off of a smoker! Truly!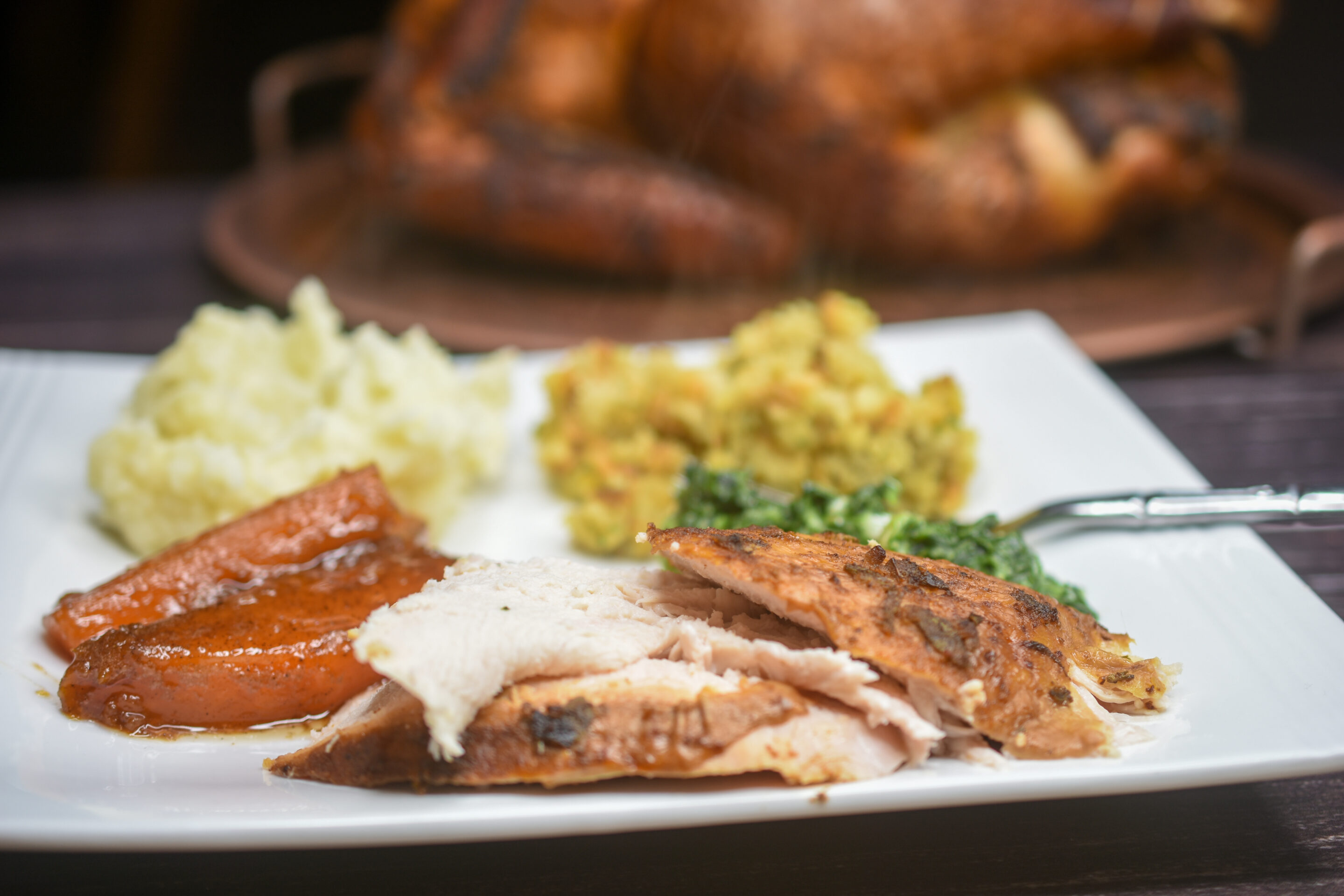 If you own a smoker and have never made a Smoked Turkey, stop what you are doing - no matter the time of year - and get yourself a turkey, stat!
If you do not own a smoker, buy a turkey and give it to your sibling, neighbor or best friend who does have one and get them to smoke it for you! Once you dig in to that deliciousness, you will be ordering yourself a smoker, lol!
I only began smoking meats and other foods a few years ago after have one to many tasty bites from friends who have smokers. Enough was enough. My husband and I needed to start tinkering with recipes and smoking food. And I am SO happy we did!
Why You will LOVE this turkey recipe
This smoked turkey recipe is so flavorful, with a beautiful smoky flavor. The meat is moist and if you catch the drippings you can make one heck of a tasty gravy!
In my opinion it is a low maintenance way to cook a turkey.
It is something different to do with a whole turkey, turkey breast, or turkey legs.
No oven needed which saves room for all of the other things.
I like to cook one turkey in the oven and a second on the smoker, giving people their choice of turkey as well as ensuring leftovers for meeeee!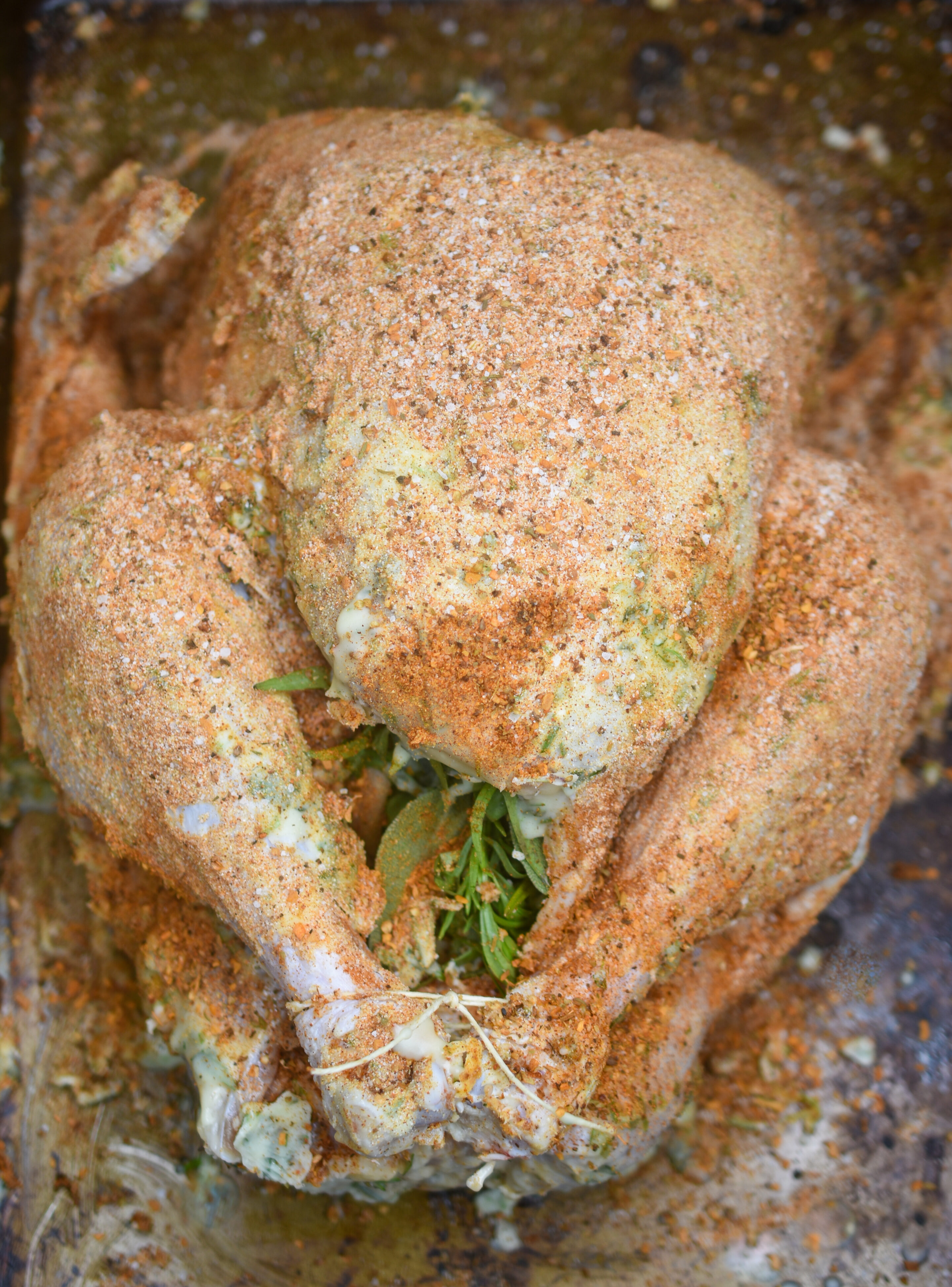 Ingredients
Brine ingredients - water, chicken stock, salt, peppercorns, brown sugar, onion, bay leaves
Turkey
Oil and butter
Fresh herbs like sage, tarragon, thyme and rosemary
Wood chips. We like to use a combination of XX XX however feel free to experiment with your favorite flavor(s).
Optional: Dry rub
Equipment
Smoker
Large pot, bowl or turkey bag
Instructions
Make sure your turkey is completely thawed (if it had been previously frozen).
Remove the neck and gizzard bag from the turkey cavities and carefully rinse the bird inside and out.
Drip off and pat dry with paper towels.
Prepare turkey brine and place turkey in the brine, place it in your refrigerator overnight or for up to a day.
Remove turkey from the brine (discard the brine), drip off, pat dry inside and out and allow it to sit for 45-60 minutes.
Stuff turkey with a stick of butter, two onion quarters, fresh sage, thyme, tarragon and rosemary.
Rub your turkey with grapeseed or olive oil or melted butter, and season with kosher salt and pepper. If you want to use your favorite rub, go right ahead. It works with or without a rub that compliments poultry.
Preheat smoker to 250 degrees, place turkey right on the rack (have a pan under on a lower rack or wherever you maybe able to set it to catch juice for making gravy). Smoked gravy is magical!!
Cook turkey for about 22 minutes per pound or until temperature deep in leg (but not touching bone) is about 155. Allow to stand for 20-30 minutes before carving.
You can choose to baste with melted butter (or a combo of melted butter and chicken broth) once or twice after the first 2 hours, just know that each time you open your smoker, you set the bird back a bit timewise, plus you may disrupt your rub if you chose to use one.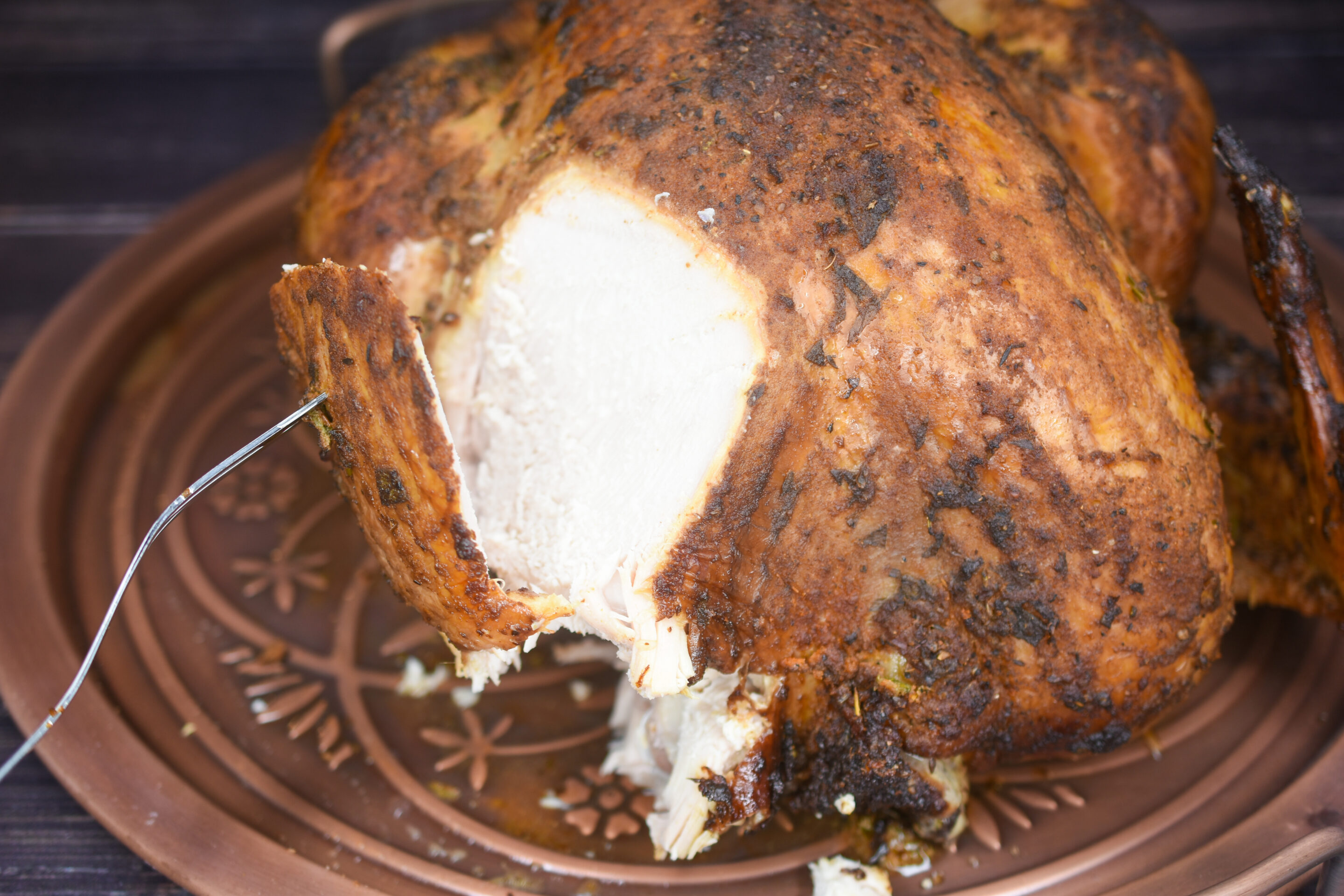 Smoked Turkey Tips
I suggest aiming for a 12-15 pound turkey vs a large 22-25+ or so pound bird. If your smoker can fit two smaller 11-13 pound birds go for it (leftovers are the best part!!)
Make sure your turkey is fully thawed.
I suggest brining your turkey overnight or for a day. I feel that brining it not only adds some moisture, it also helps the turkey cook a little faster. You can of course choose a dry salt brine or no brine at all and can still smoke the turkey. Note: If you happened to purchase a pre brined or ingested turkey, do not brine as it will be too salty. These are not available everywhere, just wanted to point out they do exist.
I prefer brining in a huge bowl or pot, less mess. If you opt to use a turkey bag, double up just in case.
Place a disposable pan under your bird on a lower rack, or bottom, wherever you can to catch the juices to use for your gravy. Smoked grave is life-altering delicious!
Pull your turkey when the temp is around 155+ the temperature will continue to rise. I find pulling a bit lower vs the recommended 165 ensures a juicy turkey that is still perfectly cooked. Just be sure when you take the temp you are not hitting bone.
Often I will raise the smoker temperature to 275 for the last 45 minutes of cooking.
If your breast skin is damaged in any way and the meat is exposed when you open the turkey, tent with foil after the first 45 minutes.
Tie legs together loosely and after turkey is nicely browned, cover your wings and legs with a bit of foil as well to prevent any burning.
What kind of wood chips are best to smoke a turkey?
I would say personal preference. If you have a wood chip flavor you enjoy, go for it. We like to use a mix of apple and hickory wood chips. I would say stay away from mesquite for this. I am personally not a fan of it in general.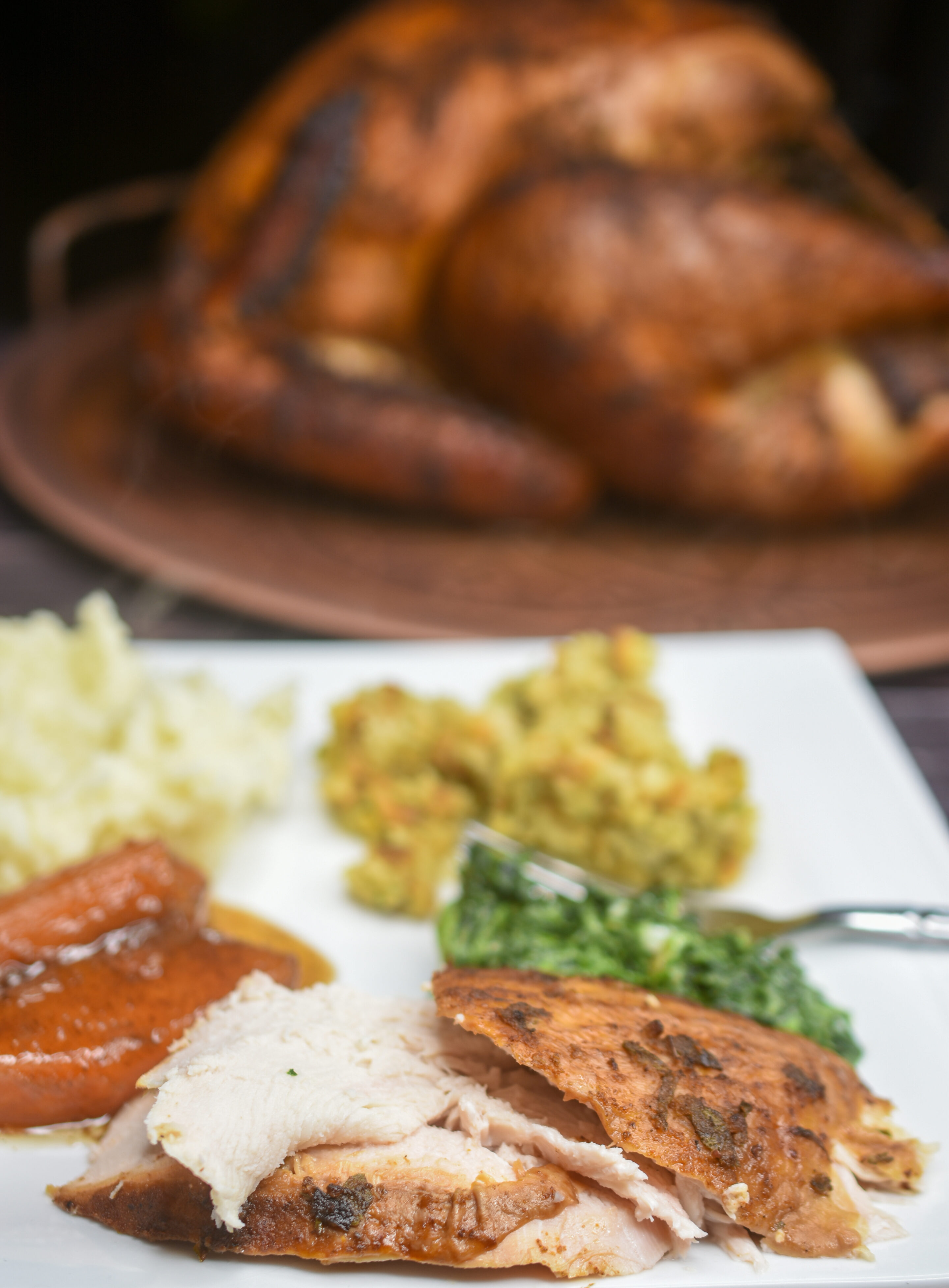 Leftover turkey recipes
I swear that these Leftover Turkey Balls made with turkey, mashed potatoes and stuffing are one of the best bites of the year! Good enough to make just because too!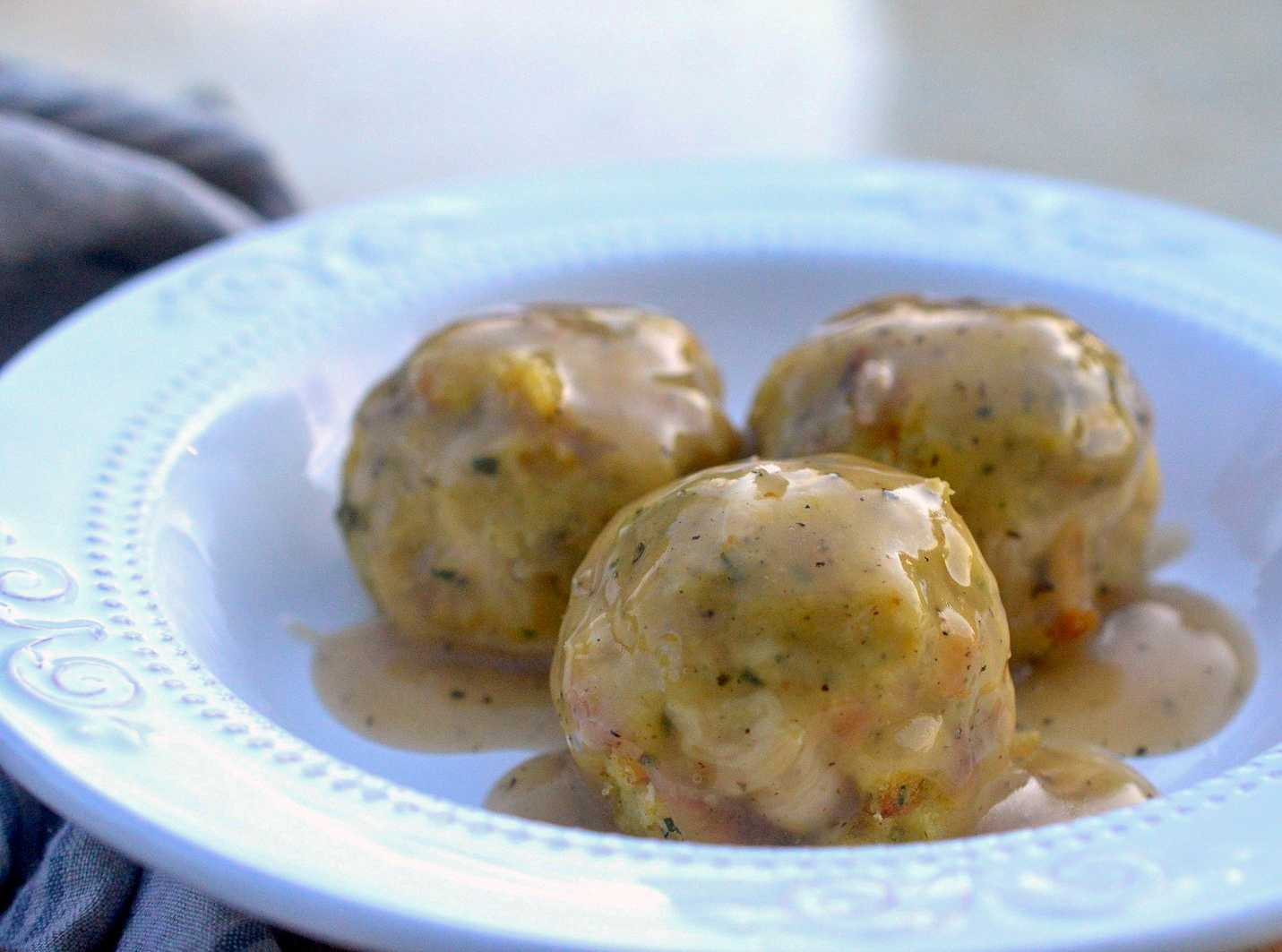 You may also like
I hope you enjoy this recipe for smoking a turkey! Stay tuned for my smoky turkey gravy recipe! xo - Colleen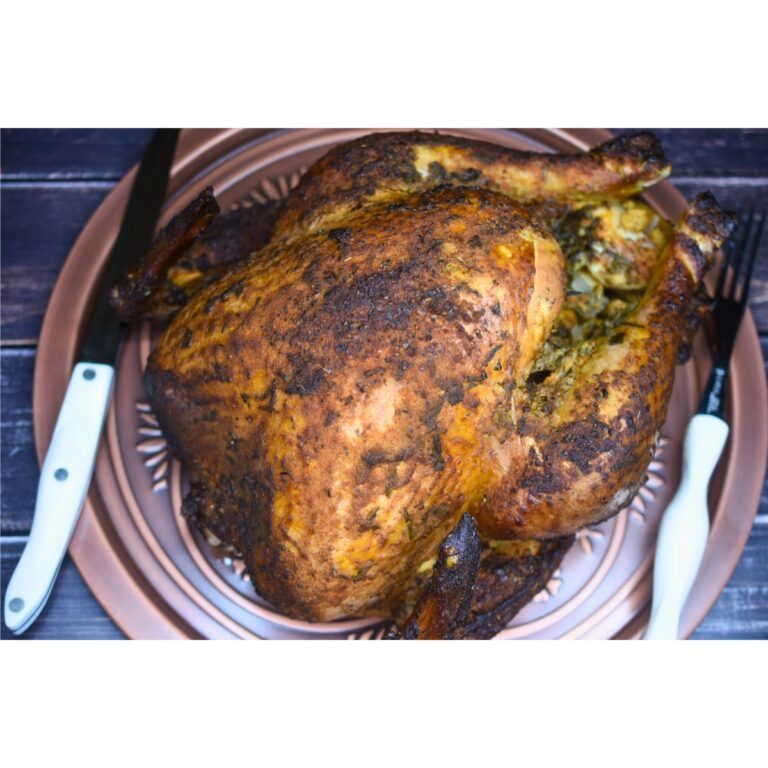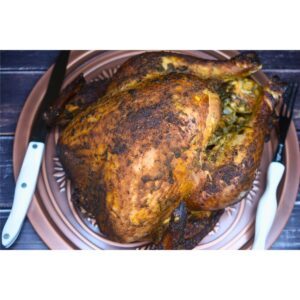 Smoked Turkey
How to make a Smoked Turkey. Delicious holiday turkey recipe. Smoked Turkey or Smoked Turkey breast is fantastic and makes for a tasty option!
Ingredients
Turkey Brine
chicken stock

I like to use half water and half chicken stock. If you choose to do all water increase salt by 1 cup.

water

kosher salt

¾

cup

brown sugar

8

garlic cloves, smashed

2

small or one large Vidalia (sweet) onion(s), quartered

1

TBS

peppercorns

2

bay leaves
Turkey
grapeseed or olive oil

light kosher salt and pepper or a light dusting of a rub

1

stick

butter

2

onion quarters

Sprigs of fresh sage, thyme, rosemary and tarragon
Instructions
Thaw turkey. remove neck and giblets. Rinse and pat dry.

Prepare brine by combining equal parts chicken stock and water. Stir in salt and sugar until dissolved. Place turkey into the pot (or what you are using), breast side down. Tuck in onion quarters, garlic, peppercorns and a couple of bay leaves. If turkey is not fully submerged top off with additional water.

Refrigerate overnight or up to 24 hours.

Remove turkey from the brine and discard brine.

Pat turkey dry with paper towels and allow to sit at room temperature for 45 minutes.

Place a pan to catch turkey juices on a rack under where the bird will be or on the bottom. Preheat smoker to 250 degrees.

Rub turkey with grapeseed or olive oil, season lightly with S&P or a dry rub. Place butter, herbs and onion in cavity of the bird.

Place turkey in smoker. Add woodchips (usually added from outside the smoker via a tube or slot. (you may wish to add additional chips as bird smokes).

Cook turkey 20-25 minutes per pound or until thermometer inserted deep in the leg area (but not touching bone) registers 155-160.

Allow turkey to rest for 20 minutes before slicing.

Note: If you wish to baste the bird with melted butter or melted butter combined with chicken stock, do so after the first hour.
Notes
Nutritional information is very loose, its calculated by the ingredients. You are not eating that broth, onions, garlic, salt, butter etc. so the actual calories etc are much lower for this particular recipe.
Nutrition
Serving:
8
servings
Calories:
866
kcal
Carbohydrates:
22
g
Protein:
105
g
Fat:
39
g
Saturated Fat:
14
g
Polyunsaturated Fat:
8
g
Monounsaturated Fat:
12
g
Trans Fat:
1
g
Cholesterol:
378
mg
Sodium:
638
mg
Potassium:
1114
mg
Fiber:
0.5
g
Sugar:
20
g
Vitamin A:
625
IU
Vitamin C:
0.4
mg
Calcium:
79
mg
Iron:
5
mg
Follow me on Tik Tok for 1 minute videos