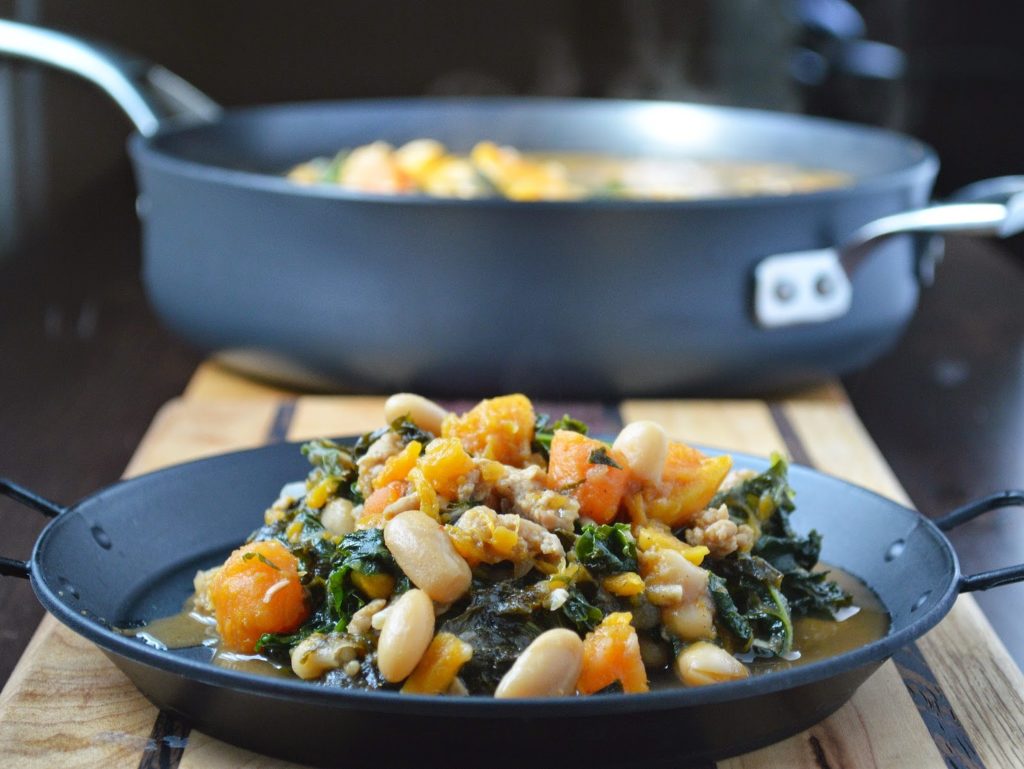 When Calphalon asked me to join in their #CulinaryDaring Campaign, I was in from the get-go! I am a long-time Calphalon fan, so I was thrilled to be a part of it!
My initial thought was to come up with something a little "daring" for me cooking-wise, but then I decided to let Samantha take the helm...To many people, allowing a 10 year old to take over their kitchen IS a culinary dare!
With the temperature beginning to dip, I had the idea recently for a sweet potato stew of some sort. As I pondered what ingredients to include, I was torn between adding either chicken or sausage to make it a hearty meal. I just couldn't decide on which protein to use, so I did what any blogger would do...No I didn't flip a coin...I asked on my Facebook Page which one people would prefer. The response was a landslide....Sausage, sausage, sausage! So that is what I used.


Actually that's what my daughter used! Samantha was adamant that SHE was the one who was going to make this dish...So I of course let her. It was a perfect way to spend part of our Sunday, her & I in the kitchen & the "boys" watching the game...Or should I say games!
Samantha made the "bones" of the stew...We discussed things we should add...She had ideas, I had ideas...We flavored it up. At one point I threw in some cocoa and she was like "MOM!!" "What are you doing?" I was a little nervous too BUT I wanted a deeper color broth.
Not only did the cocoa achieve that, it brought an interesting depth of flavor...I told her that in parts of Africa they often cook with cocoa since cocoa is native to them and now she is calling this dish African Stew, I kinda like it! When I told her that if it had been made in Africa, the meat may have been antelope, crocodile, warthog or monkey instead of sausage...She just stared at me!! Now THAT being made in our kitchen would be #CulinaryDaring for sure!
Allowing your kids, no matter their age, to take the lead in the kitchen on any dish - easy, complicated, cooked or uncooked, is a great bonding experience! Plus their confidence in the kitchen grows with every culinary adventure!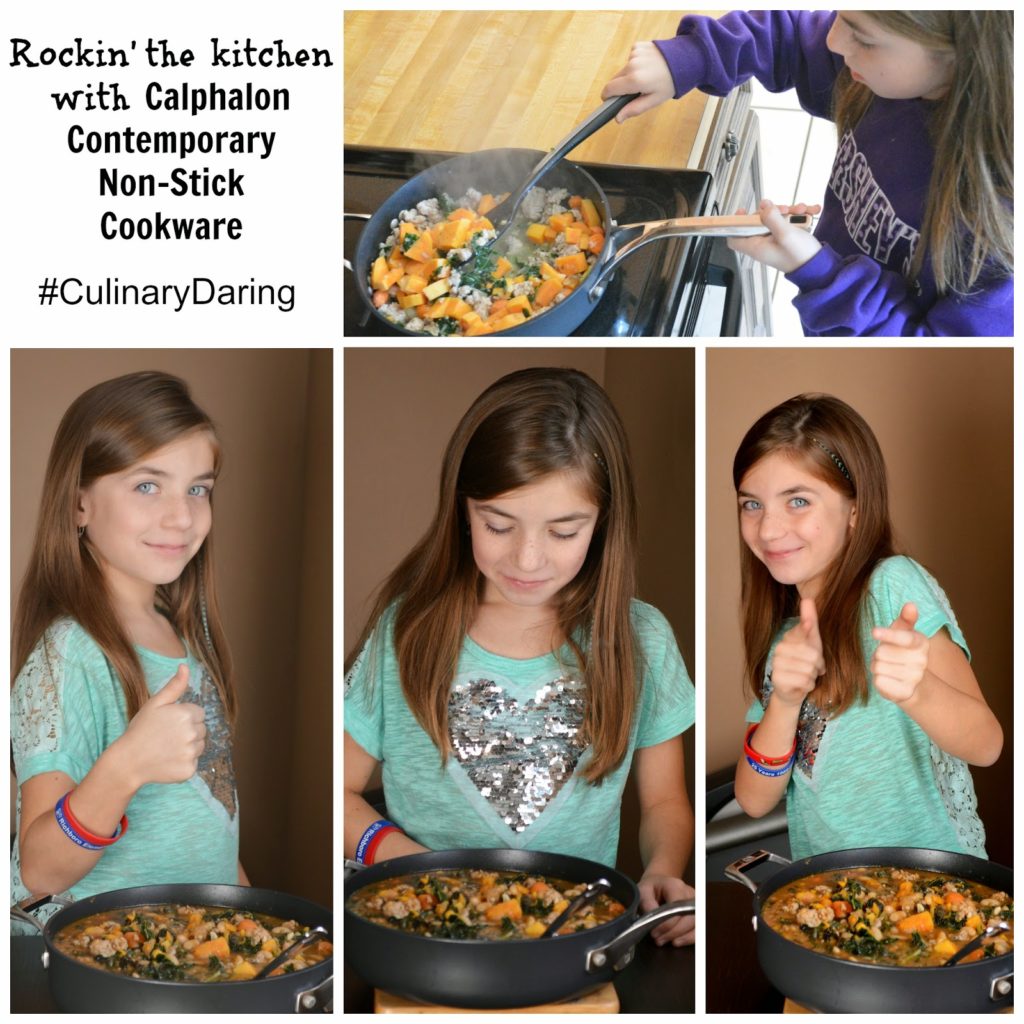 So what if they need extra guidance at first...show them what it is you want them to do and let them try. Lay the ground rules down first. Things like focus on what you are doing, take it slow and steady, ask before they do and clean up as they go.
Speaking of cleaning up...How great is it that quality pans like Calphalon, come in a non-stick line AND are dishwasher safe?? That makes cooking with your kids even easier! I have been using this line of cookware for a while now and it truly is wonderful! Omelettes, meatballs or kids cooking, throw it in the dishwasher and it cleans up like new and is ready to go at it again! I LOVE products that actually do what they claim...And this cookware line does just that!
Take a look at this 15 second Instagram video of Samantha getting her "cook-on" while making the base of the stew!
soufflebombay's video on Instagram - Pixsta PC App
Cooking makes Samantha happy, cooking makes me happy & cooking together makes us happy! I am SO grateful for the memories we have, and the one we will have from what we will create from our time in the kitchen together! I love you Samantha!!
Disclosure: In exchange for cookware, Samantha & I came up with this dish. All thought and opinions, as usual, are my/our own.


#CulinaryDaring with Calphalon Contemporary Non-Stick Dishwasher-Safe Cookware!
The kitchen can be a scary place full of intimidating ingredients and overwhelming dashes of this and teaspoons of that. Now, chefs of every level can cook a little easier knowing that they won't have to worry about the messy aftermath. Calphalon's line of dishwasher-safe Contemporary Nonstick cookware encourages kitchen newbies and accomplished chefs alike to be culinary daring and cook up something new, different or crazy with full confidence that the only thing easier than the cleanup will be eating the resulting, delicious culinary creation.
Calphalon Contemporary Nonstick combines durability and performance with fast, dishwasher-safe cleanup and easy low-fat cooking. The contemporary design looks beautiful in the kitchen and heavy-gauge, hard-anodized aluminum ensures even heating. Items in the Calphalon Contemporary Nonstick cookware line ranges in price from $14.95 to $139.95 and sets range from $299.95 to $449.95.


Sweet Potato Stew aka Samantha's African Stew
3 TBS grapeseed or olive oil
3 sweet potatoes, peeled and cut into 1 ½-inch chunks
1 cup sliced carrots
1 medium/large Vidalia onion, rough chopped
1 pound loose mild sausage
8 cloves garlic, chopped
5 cups vegetable stock/broth
Kosher salt & pepper
½ teaspoon cinnamon
½ teaspoon cumin
½ teaspoon allspice
2 TBS beef bullion
1 ½ TBS unsweetened cocoa
30 oz Cannellini beans, drained
8-16 oz kale (your preference)
In a deep skillet or dutch oven, saute your sweet potatoes, carrots and onions in the oil for about 5 minutes. Add in the sausage and garlic, saute for 2-3 minutes, then pour in the stock.
Add in the seasonings and simmer for 30 minutes. Stirring occasionally. Taste and adjust seasoning to your preference. If you want it a little spicy, throw some red pepper in.
Add in your kale and cook for 2 minutes more. Add your beans in, simmer for 5 minutes. Taste and adjust. Serve with hunks of crusty bread for dipping and enjoy!
Colleen's Note's: Like I always say, taste as you go...change the flavors to your preference. Sweeter, spicier more veggies less meat, whatever. Trust your taste-buds - we all have different tastes that call our name!


Colleen & Samantha