Halloweenie Chocolate and Peanut Butter Squares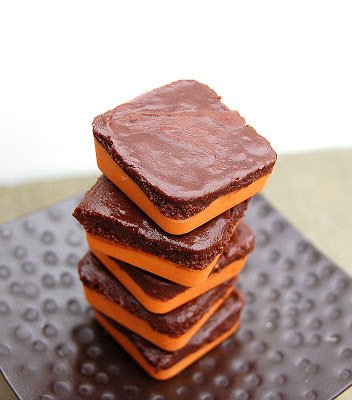 Trick or Treat!!
Here is an old favorite updated a bit as a festive Halloween treat!
Just 4 ingredients to a tasty treat for your kids (or you!)
This is a fun one for kids to help out with.
Halloweenie Chocolate and Peanut Butter Squares would be a great treat for them to make for their grandparents, neighbors, crossing guard, teachers etc this Halloween 🙂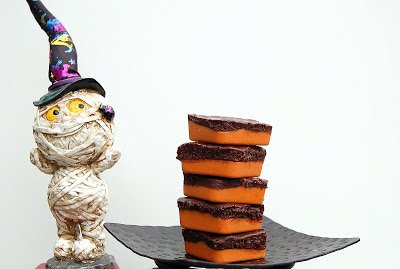 This year…my son who just turned 11 a few days ago (sniff, sniff) is going to be "scary" – it's a reaper kind of thing. From Star wars characters to a reaper…where has the time gone?
My daughter is going to be…wait for it…a Disco Zombie…WHAT?? The girl truly is nuts-o! I will have to share a pic later if the costume comes out like she plans!
What are your kids going out as?
Have a fun and safe Halloween!!

Halloweenie Chocolate and Peanut Butter Squares
1 pound Wilton orange-colored white chocolate melting disks
1 cup peanut butter
1 1/2 cups chocolate chips or 12 ounces of chocolate
1/2 cup heavy cream
*I happen to have a silicone "pan" with 24 squares in it called a Brownie Pan – which I use when making this, prior to owning that I just used a 9×9 baking pan.
Line your pan with parchment or waxed paper, leaving an overhang.
Melt your orange-colored white chocolate melting discs in your microwave for about a minute, stir until the chocolate is melted and creamy. Add in the peanut butter and stir until blended and smooth. Spread mixture into your pan.
*If using a silicone pan filled with squares like this, place your melted mixture in a pastry bag or plastic baggie and fill each square a little more than halfway. Refrigerate for at least 15 minutes or until mostly firm.
In a saucepan, combine your milk chocolate and your cream and heat over medium high heat until melted and smooth, stirring constantly. Pour/smooth over peanut butter mixture.
*If using the silicone pan repeat above process for filing squares.
Chill for at least 3 hours or overnight. Later, lift out the candy and/or cut into small squares.
Feel free to "bedazzle" these for Halloween or any holiday or any holiday. I made some with candy corn, candy hearts hearts, sprinkles, glitter and pumpkin candies.
Put some parchment paper in a pretty box, type up the recipe on a cute and there you have it…a wonderfully tasty homemade gift.
If you are making this for other than Halloween…use white melting discs (or pink for V-day)
Enjoy & Happy Halloween!!