About 10 years ago, for Connors' 3rd Birthday party, I came up with these fun Edible Halloween Eyeballs. Eyeballs you can eat for Halloween? The kids were crazy for them! I have always LOVED to surprise and delight my kids through food! That coupled with the food allergies my children have kept me my creative juices flowing in the kitchen! So when I came up with these, we were all excited!
My oldest, my baby, my Connor is almost 13 years old, sniff! In less than 10 days I will have a teenager on my hands...How did THIS happen?
This kid is my heart! I jokingly tell my husband "See I don't need you anymore...I have him!" I am not sure if my hubs actually thinks that is funny or not but I do! Lol!
Every year...every single year since then I have made hundreds of these babies for Booing, for Connors' birthday parties and for the school Halloween parties...I have literally made thousands of these Halloween eyeballs by now. The kids have been helping me as well, when they were 3, the places the pretzles on tthe baking sheets, then as they became more confident in the kitche, they began, placing the chocolate & decorating them. Everyone knows who makes them and my kids are a particularly proud when THEY make them 🙂
I didn't invent putting chocolate disks on pretzels and popping them into the oven for a fun treat (thank you whomever did...SO smart), but I did come up with the first "eyeballs" made in that way. Connor always tells his friends that they are "famous"! So cute! I know this is a memory he will carry with him forever, and that makes me smile!
These were one of the first things I ever posted on my site
these two images are all over Pinterest. My "baby" is so young here...
I always joke with my kids and say things like "if our baking sheets could talk!" Think about it, how many times you grab a baking sheet to make everything from the simple to the spectacular and they always come through for you! Sometimes we just use them to catch drips...they are always there for us. The could tell tales of our triumphs and our disasters! I love baking sheets both new and weathered...they are defiantly one of the hardest working items in my kitchen! For me its Calphalon all the way! Just like their pots and pans, Calphalons' bakeware does just what it says it will and you know what...its pretty too!
Disclosure: This is not a paid post, I love Calphalon and am a long time user of their products. I wrote this post for their Halloween series and received a few new pieces of bakewear to use.
For another Halloween treat...These Mummy Sugar Cookies are fun (and SO good) too!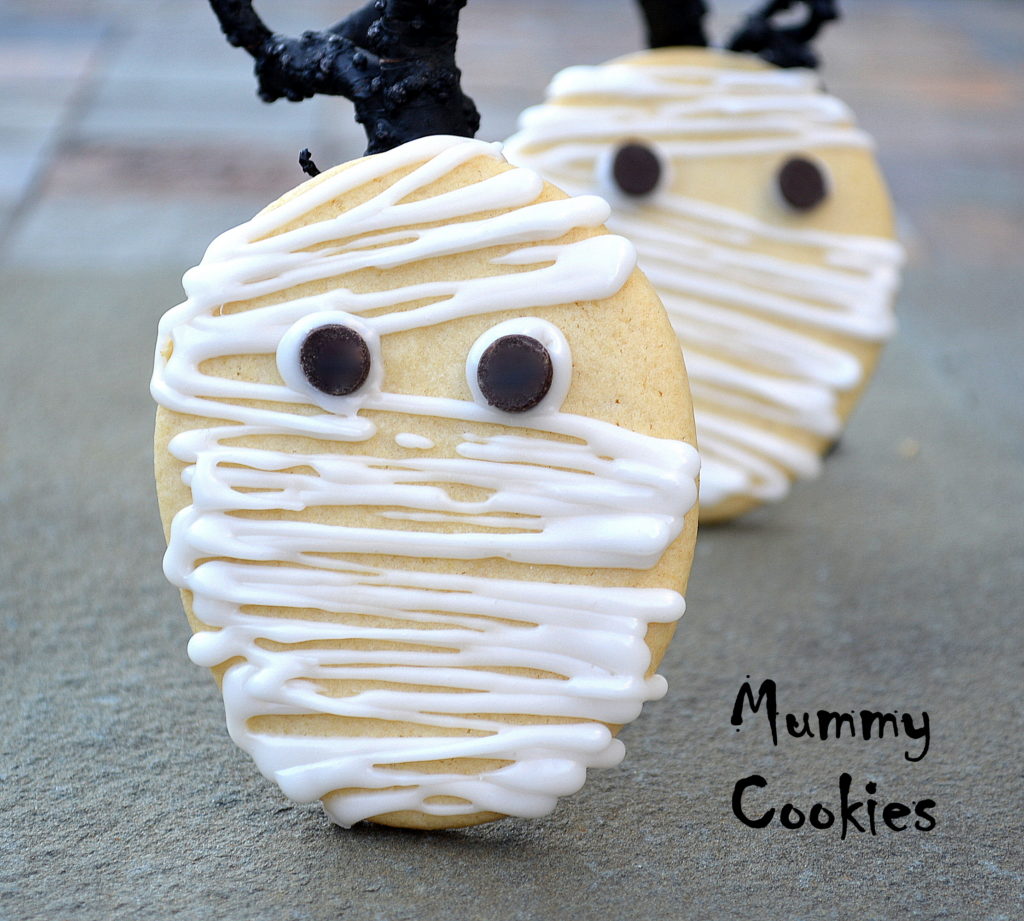 Edible Halloween Eyeballs
Round, oval or square pretzels
White chocolate disks (like Wilton, found at a craft store)
Chocolate chips
Red jimmies (that's what I call them you may call them sprinkles)

On your baking sheet, place pretzels in a single layer. Put one white chocolate disk in the center of each pretzel. Place in a 350 degree preheated oven for approx 2 ½-3 minutes or until chocolate is shiny but not melted, (or else it may fall through the pretzel).
Remove your baking sheet from the oven and sprinkle with red jimmies. Invert one chocolate chip in the center of each "eye". Cool in your fridge or cold garage for 20 minutes and they will remain hard until ready to eat.
These keep well for a week in a sealed container.
Colleen's Notes: After experimenting over the years, I now always use Wilton chocolate disks, other brands may require an additional 30 seconds to 1 minute or so more of melt time (and often stick together and become impossible to separate not a fan).