School is almost back in session (sniff, sniff). So let's talk about what we're putting in the kids lunchboxes this year. One new idea I have are these Easy Sausage Stuffed Pepper Rings.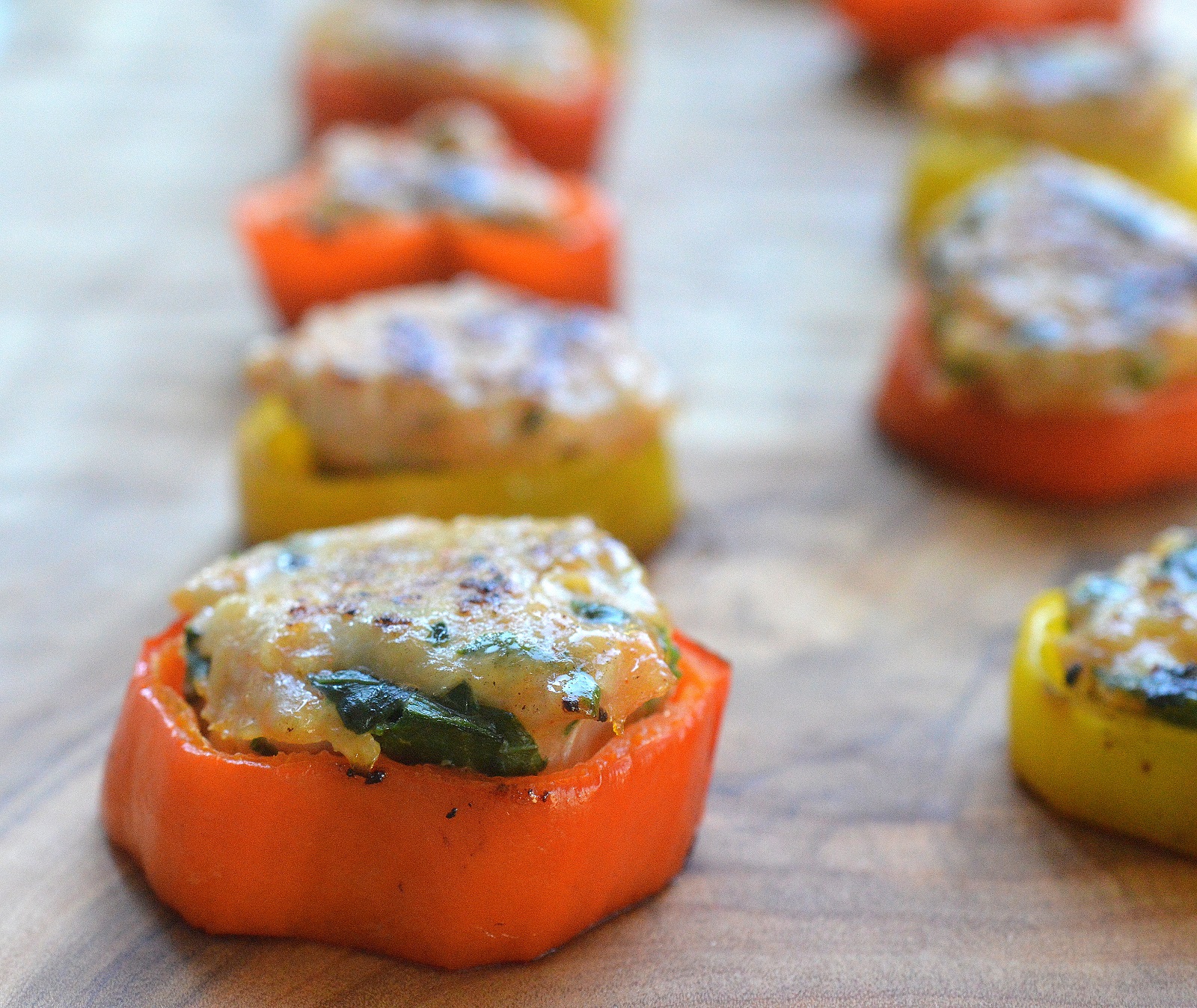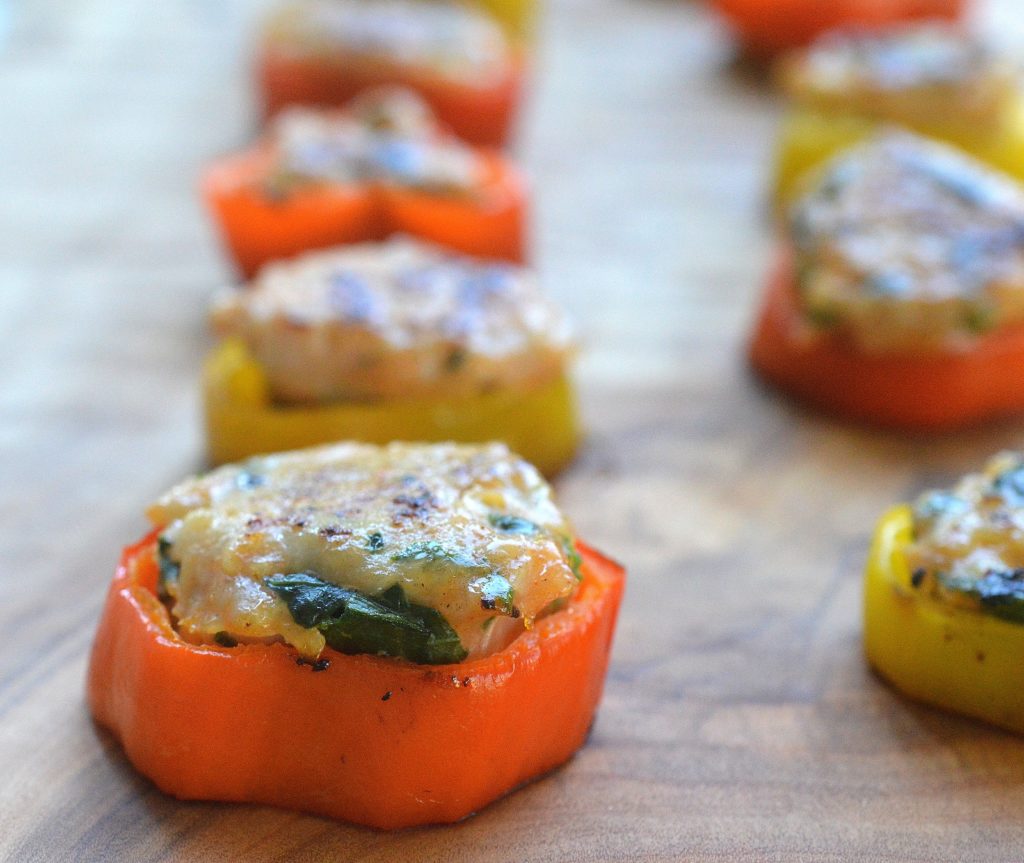 I was tinkering with ideas for school lunches and came up with these awesome Easy Sausage Stuffed Pepper Rings. I grabbed some chicken sausage, which is something both of my kids enjoy.  I had a couple of bags of Pero Family Farms® Pre-sliced Mini Sweet Peppers, so I figured I would stuff them.  My kids, their friends and my husband were crazy for them! It was a free-for all once I put them out, lol!
Initially my daughters friends (all 12) were giving these babies the stink eye, however after they each tried one, they went back for more again and again and again…so did my son and his buddy (14)…Much to the dismay of my "starving" husband who was patiently awaiting dinner and saving himself from certain death by popping a half dozen of these in his mouth.
You seriously don't want to be stranded on a lifeboat with my man! The term "hangry" may have been coined with him in mind, lol! Can anyone relate??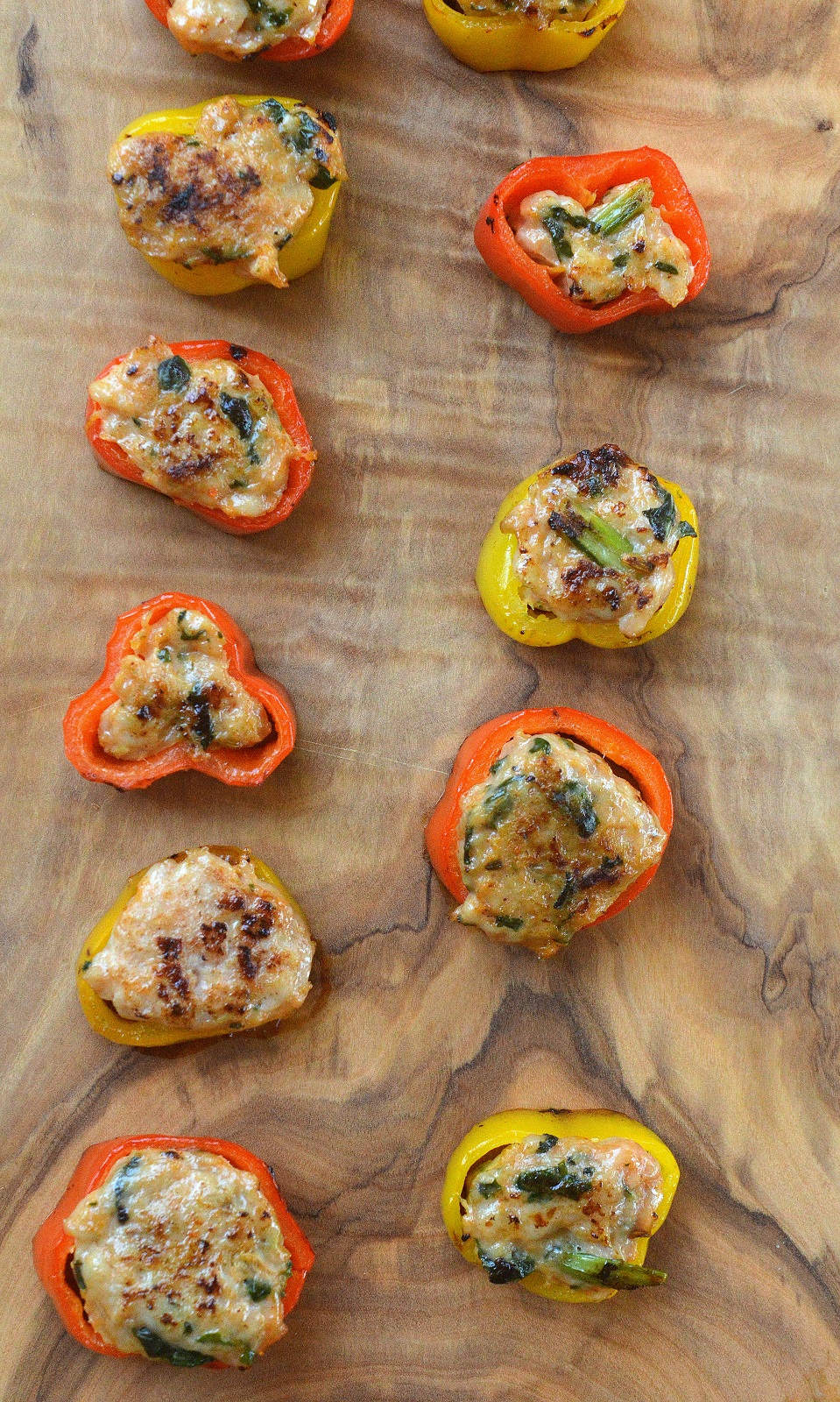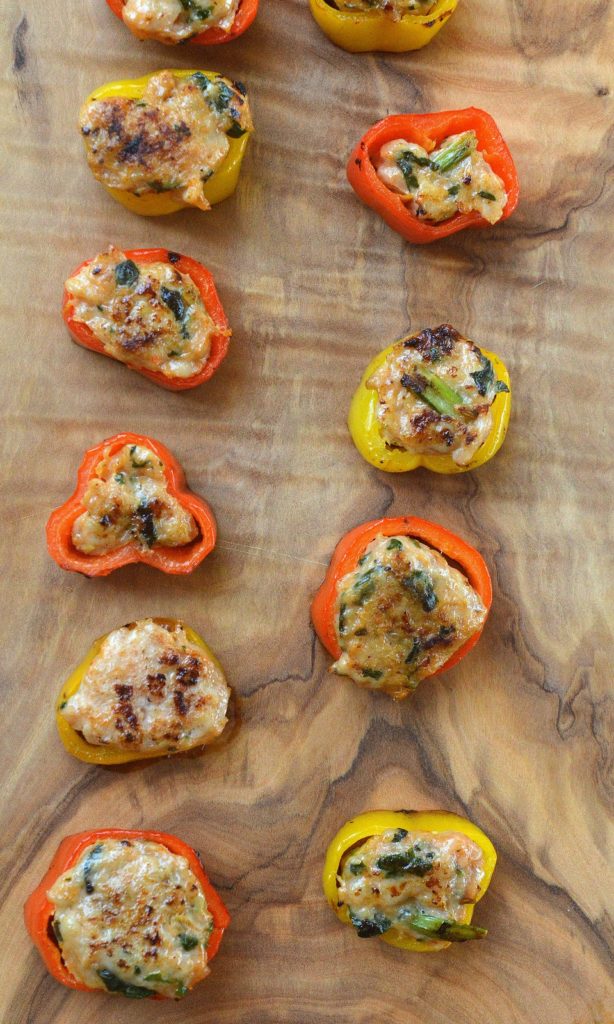 This little bites of veggie and lean protein are perfect for my kids lunchboxes either as a side or as the main meal, same goes for my husband. 
They were easy to cook up as well, I simply removed the casing from some kale & cheese stuffed chicken sausage, pressed the right amount into each pepper slice and cooked them through. Easy! I cooked up an army of them. These are good hot or at room temperature, which makes them perfect for a lunchbox.
These Easy Sausage Stuffed Pepper Rings make a perfect recipe for little hands to cook. Just remind them when touching raw chicken to always be careful of what they touch and to wash their hands thoroughly with warm soapy water immediately following every touch of the chicken.
Getting your kids into the kitchen as often as possible, builds confidence AND makes them healthier eaters. They will always at least try what they help make or make independently. Plus, people who can cook make healthier choices. Give your kids the gift of one of life's most important skills and let them, spread their wings in the kitchen early and often.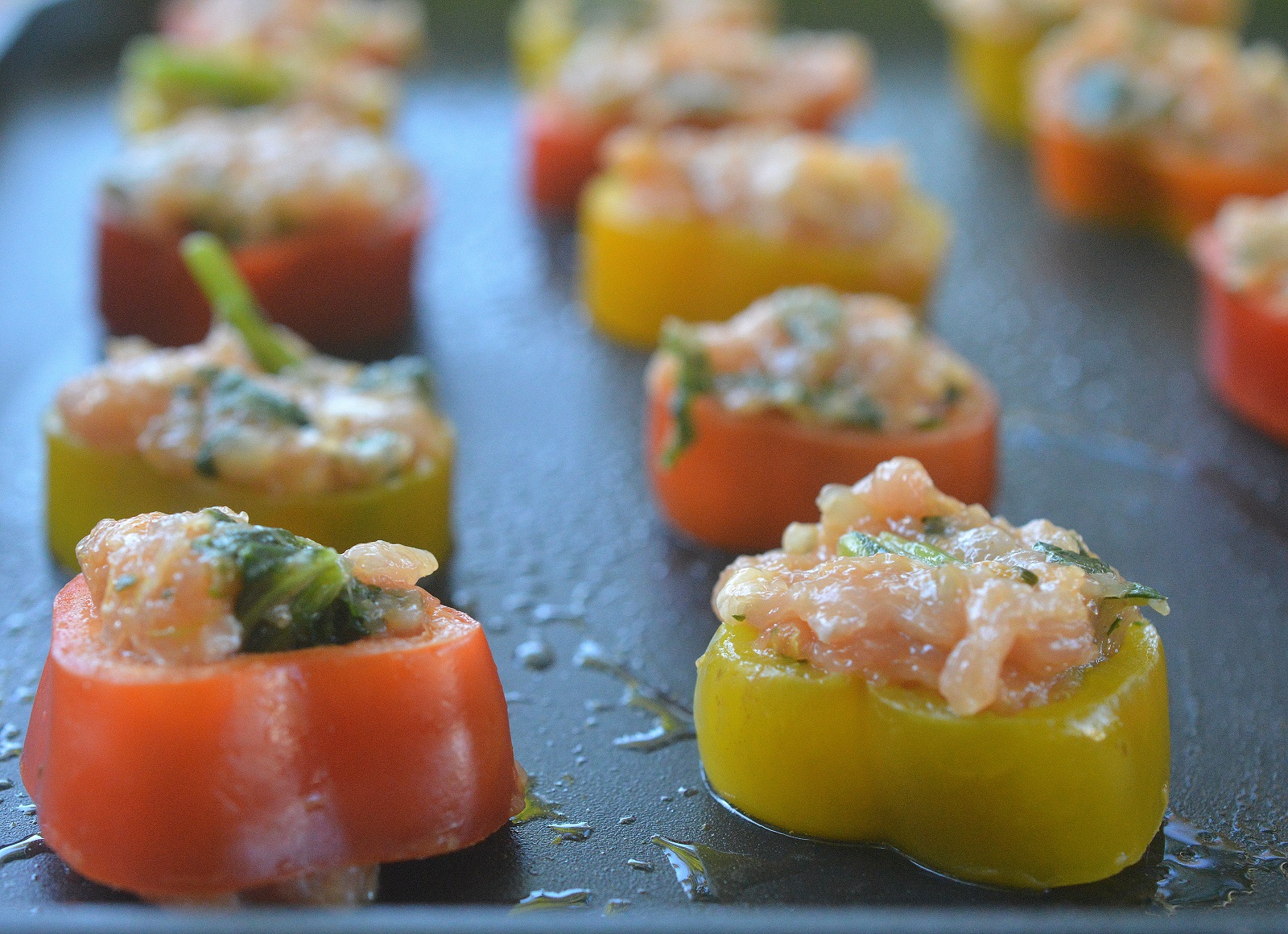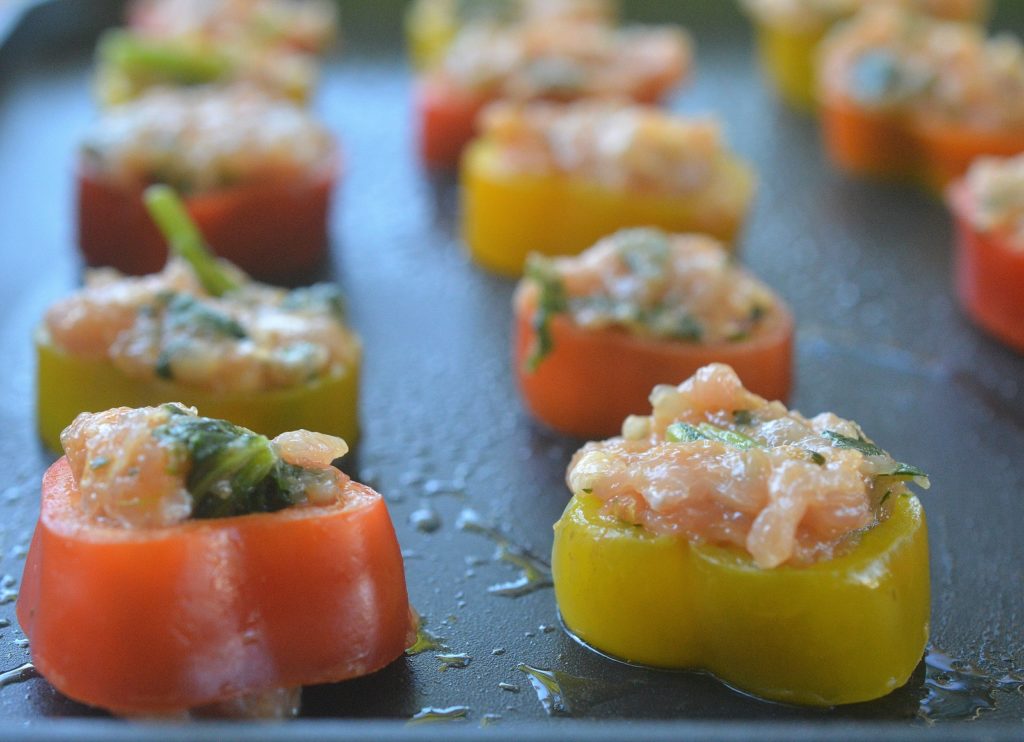 Once again, I teamed up with Produce For Kids and their Power You Lunchbox initiative which focuses on encouraging families nationwide to kick off the school year right by pledging to eat healthier lunches.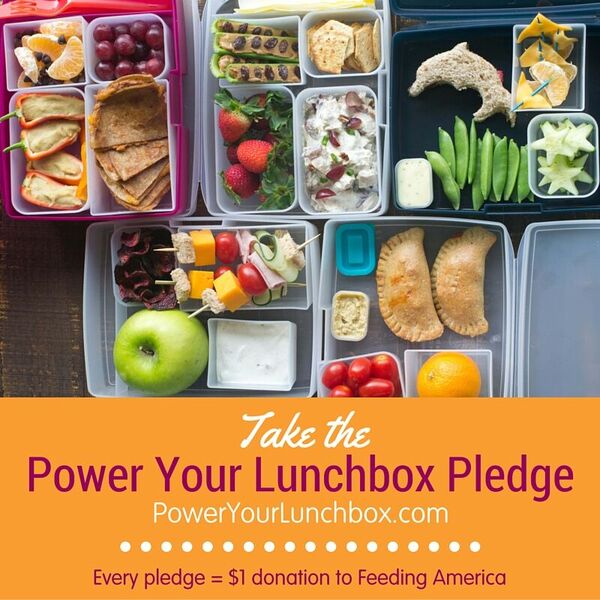 I love Produce For Kids vibrant messaging about kids and parents making healthier food choices. And I respect the Brands that help out with the mission enormously!
Their Power Your Lunchbox™ Pledge offers tools and tips for families and classrooms to eat
healthier lunches, after-school snacks and weekday dinners this school year.
For every online pledge, between August 8 through September 23 a number of lunchbox-friendly companies supporting
Power Your Lunchbox Pledge
will make a collective $1 donation to Feeding America® children's programs such as Kids Café, Backpack program and Child Hunger Corps.
Produce for Kids partners supporting Power Your Lunchbox Pledge 2016 include: 
Avocados from Mexico – Mexican Hass Avocados, Bee Sweet Citrus, Crispy Fruit Freeze-Dried Fruit Snacks from Crispy Green®, Eat Smart® Fresh Cut Vegetables, Earthbound Farm® Baby Kale, GROW Bananas by Organics Unlimited, Marie's® Dressings, Natalie's Orchid Island Juice, NatureFresh™ greenhouse tomatoes, Pero Family Farms® Mini Sweet Peppers and Snipped Green Beans, and Sun World® grapes with additional support provided by Bentology™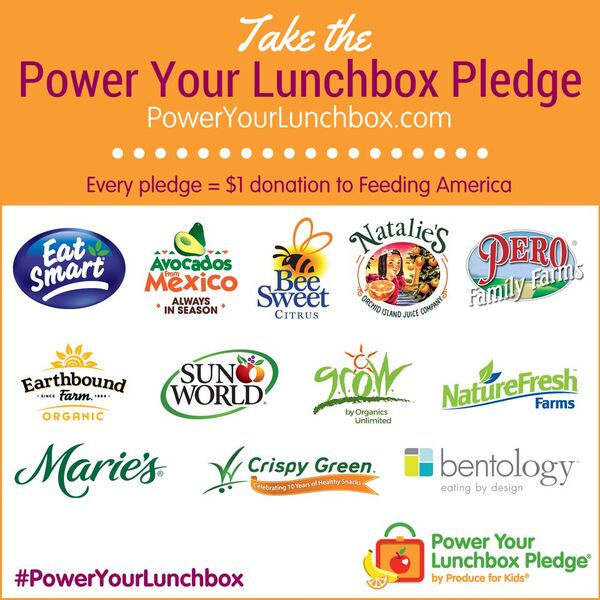 So many fantastic brands are listed above. Natalie's juice is my daughters favorite store-bought juice and luckily a local market by us carries them so she can always have one within reach! Their Strawberry Lemonade is her favorite! Earthbound Farms greens are a staple in our house as are Pero Farms® Mini Sweet Peppers (my husband and daughter eat them like candy)! My refrigerator is never without Marie's® Caesar Dressing (the best) and I just had Sun World's® Sable Seedless Grapes for the first time and everyone who was in our house that weekend…I made taste them…and awaited their reaction…we all agreed they were the best grapes we all had ever tasted!
It really makes me happy as a consumer that Brands I support also support such a great initiative! I was happy to partner up and support Produce For Kids and their Power Your Lunchbox Pledge again this year! 
In 2015, 10,797 families and classrooms took the pledge and helped them donate nearly 108,000 meals to families in need through Feeding America. Help Produce For Kids provide even more meals this year! Take the pledge now through September 23 to help make a difference it only takes a minute to help!
Show off your family's healthy lunchboxes on social media and win! 
Produce for Kids Instagram and Twitter followers can use the #PowerYourLunchbox hashtag to show off their healthy lunchboxes to have their lunchboxes featured on the Produce for Kids Facebook page. Produce for Kids is also giving away a Bentology Bento Box every day. Follow along on the hashtag #PowerYourLunchbox to see great ideas from fellow parents.
I packed my
Bentology
Bento Box with a half dozen Easy Sausage Stuffed Pepper Rings, a few Peanut Butter & Grape Roll Ups, Fresh Blackberries,  a handful of  Dried Mango Slices from
Crsipy Green
and a Natalie's Juices and it was lunch!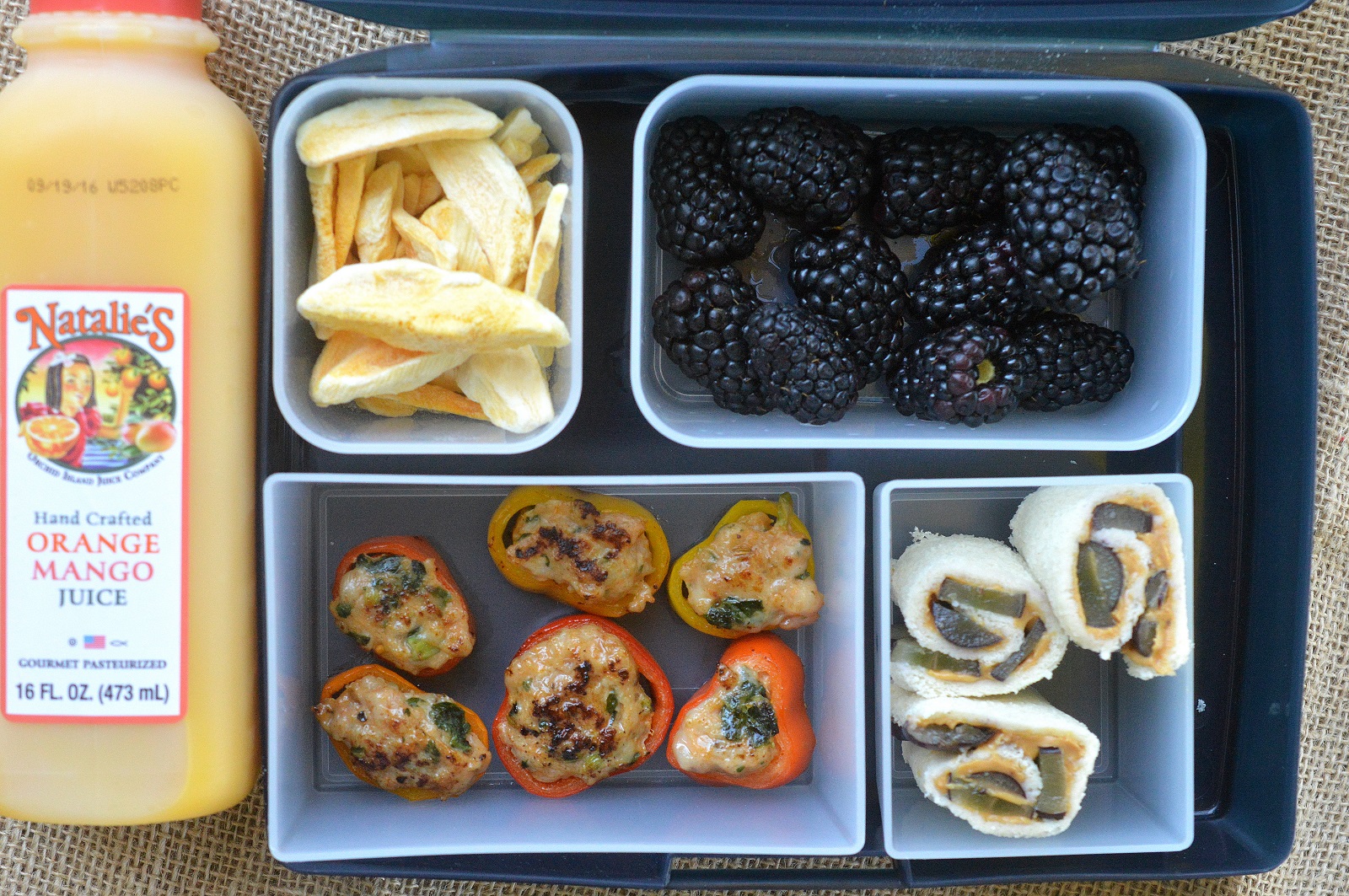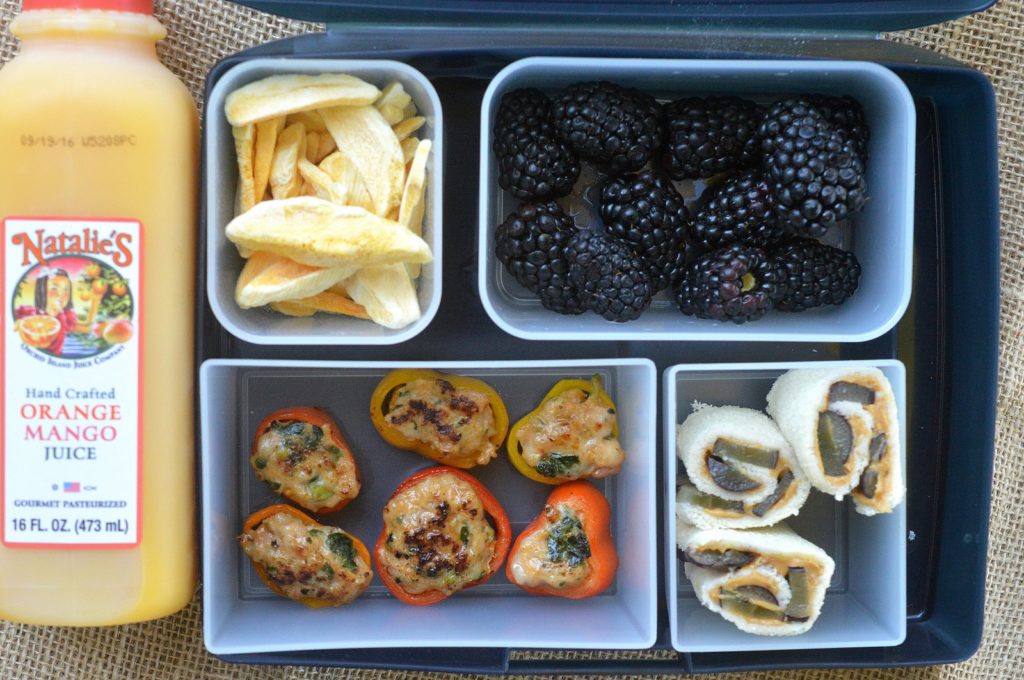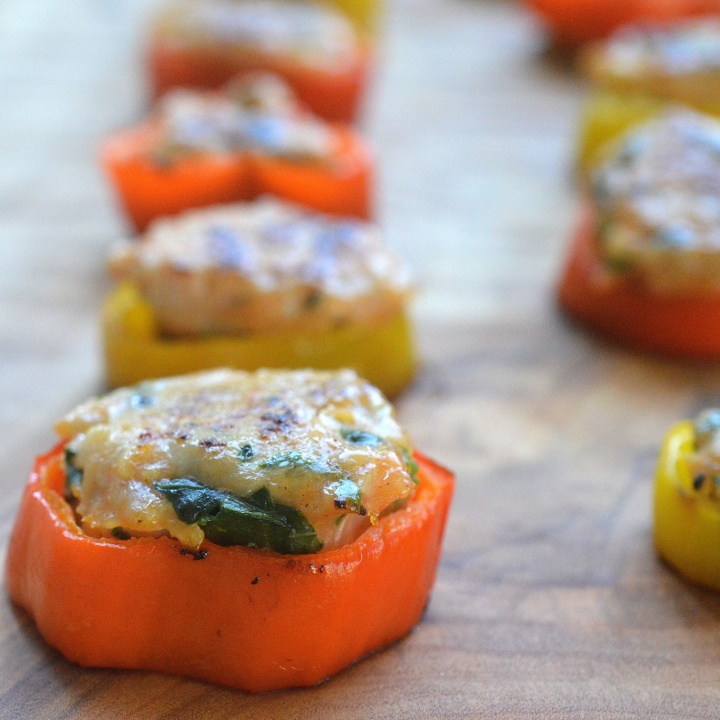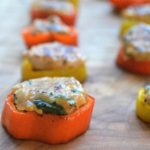 Print Recipe
Sausage Stuffed Pepper Rings
Ingredients
Chicken Sausage

Prepackaged Mini pepper Slices from Pero Family Farms or small whole peppers for you to slice down

Grapeseed or olive oil
Instructions
Remove casings from chicken sausage and break sausage apart.

If not using pre-slices pepper rings, slice down your peppers into 1/4 inch thick rings in bite sized pieces.

Stuff peppers with the chicken. Press firmly to mold the chicken sausage into each ring.

Heat a small amount of oil (about 1 TBS) in your nonstick pan, add the stuffed peppers and saute until cooked through, flipping once. Remember...chicken sausage cooks through quicker than pork sausage, be careful to not dry it out.

Serve or cool, refrigerate and pack in your kids lunches.
Enjoy!!