This is a sponsored post written by me on behalf of RAGÚ® and Barilla®. All opinions are entirely my own.
I started making these Homemade Pasta Pockets when I was 21 years old. My boyfriend at the time loved pasta and he loved bread so I thought why not combine the two for an easy, satisfying meal!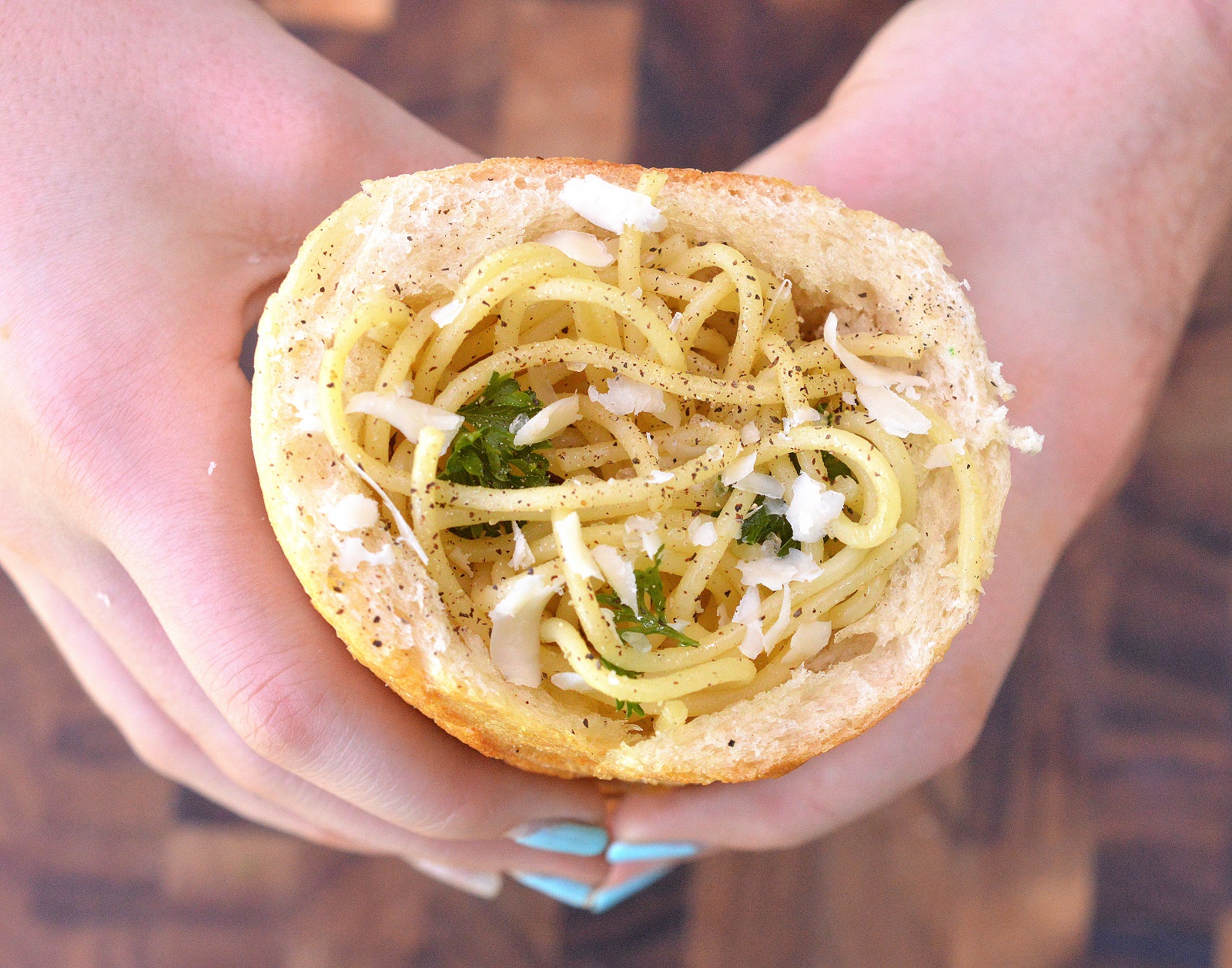 If you like pasta and good quality bread as much as most people do, why not combine the two and create your own signature Homemade Pasta Pocket?? It's simple!
Running out the door to sports practice or dance class? These Homemade Pasta Pockets are something you will feel good about feeding your family and they are perfect for when you are on the go as well! Stuff them and get going on your way!
All you need is some fresh baked French or Italian bread which you can grab from any market. Halve it, and hollow it out, then simply toss cooked pasta with sauce or butter and seasoning and stuff it in! You can add in grilled chicken, sausage, veggies or whatever you enjoy! You now have a meal in a pocket that you can easily eat to fuel you and your family much better than a drive thru meal ever could!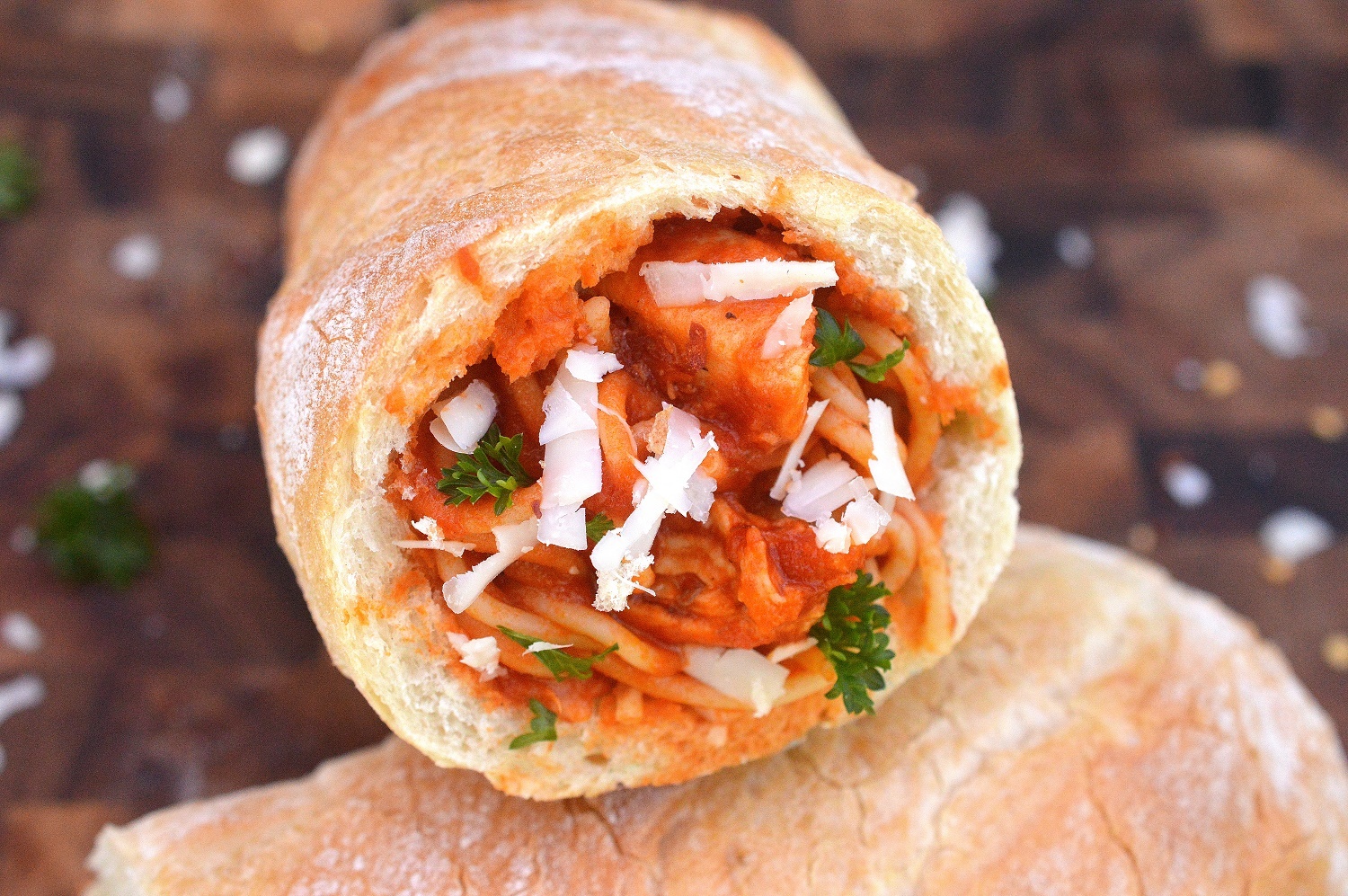 Long ago I thought about the Parisian sandwiches filled with meats and cheeses that I had heard about and thought…Why don't they do that with pasta? So I ran with it and it's delicious!
Right now at Family Dollar, if you buy 2 16-24 oz jars of RAGÚ Pasta Sauce, you get a 16oz box of Barilla Pasta for free! How's that for an economical meal? Buy the bread…stuff it with Barilla and RAGÚ and bam! You have an easy, fun family meal for four or more for under $10! All natural flavors, no high fructose corn syrup, and an easy meal you can feel good about serving your family…What's not to love?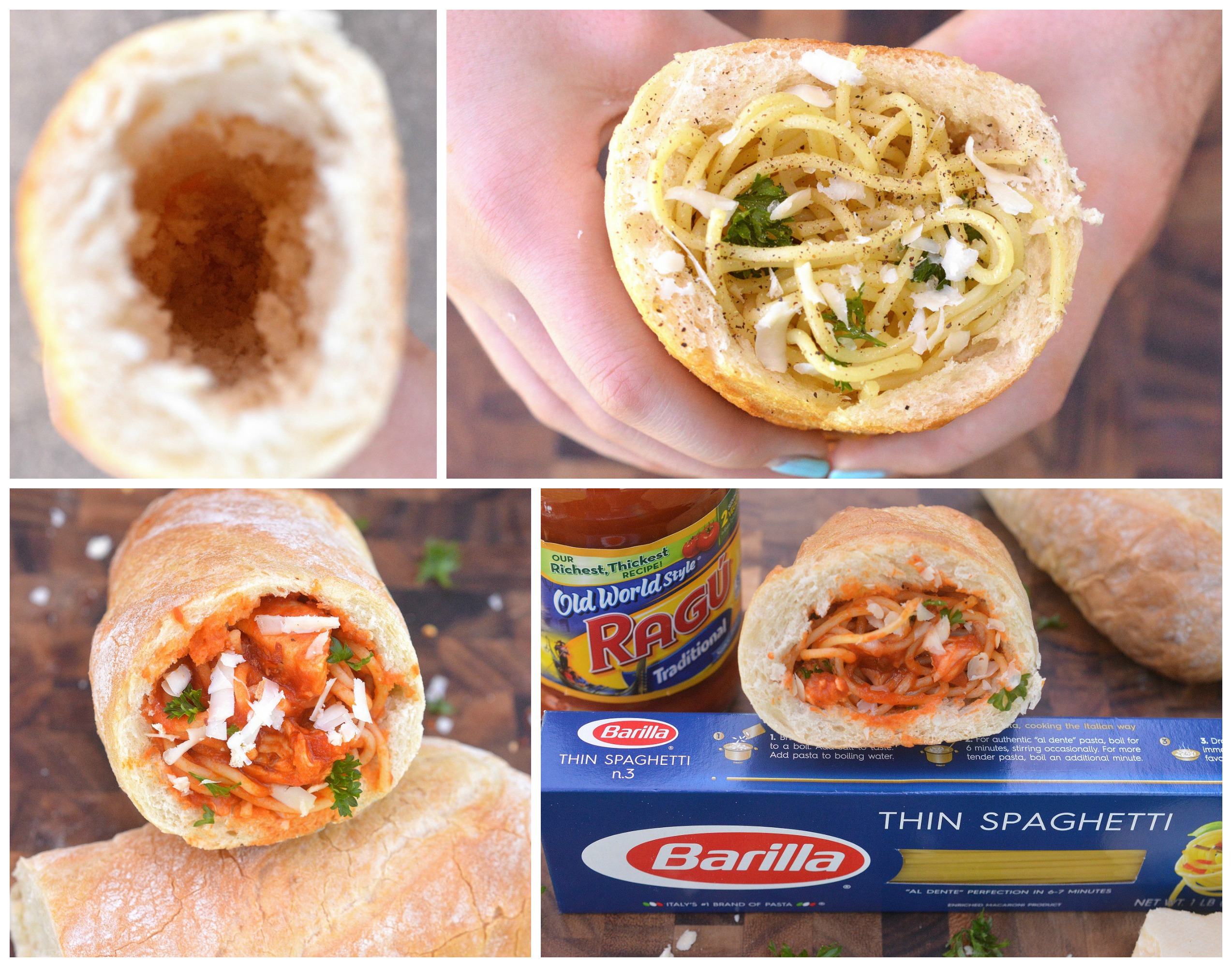 RAGÚ Pasta Sauces have been in my life since the first time I ever had pasta with sauce…I am sure my mom has the obligatory photo of baby me in the high chair smothered in pasta and sauce…Ragu RAGÚ was the only sauce we ever had at home growing up. RAGÚ has come a long way with such a variety of flavors to choose from and now a staple in my pantry. Barilla Pasta products caught my attention about 5 years ago and I often choose them for pasta night.
Make these Homemade Pasta Pockets as simple or as complicated as you like. I get the feeling that once you try them out, these will become a family tradition! #WeeknightTradition @ragusauce @BarillaUS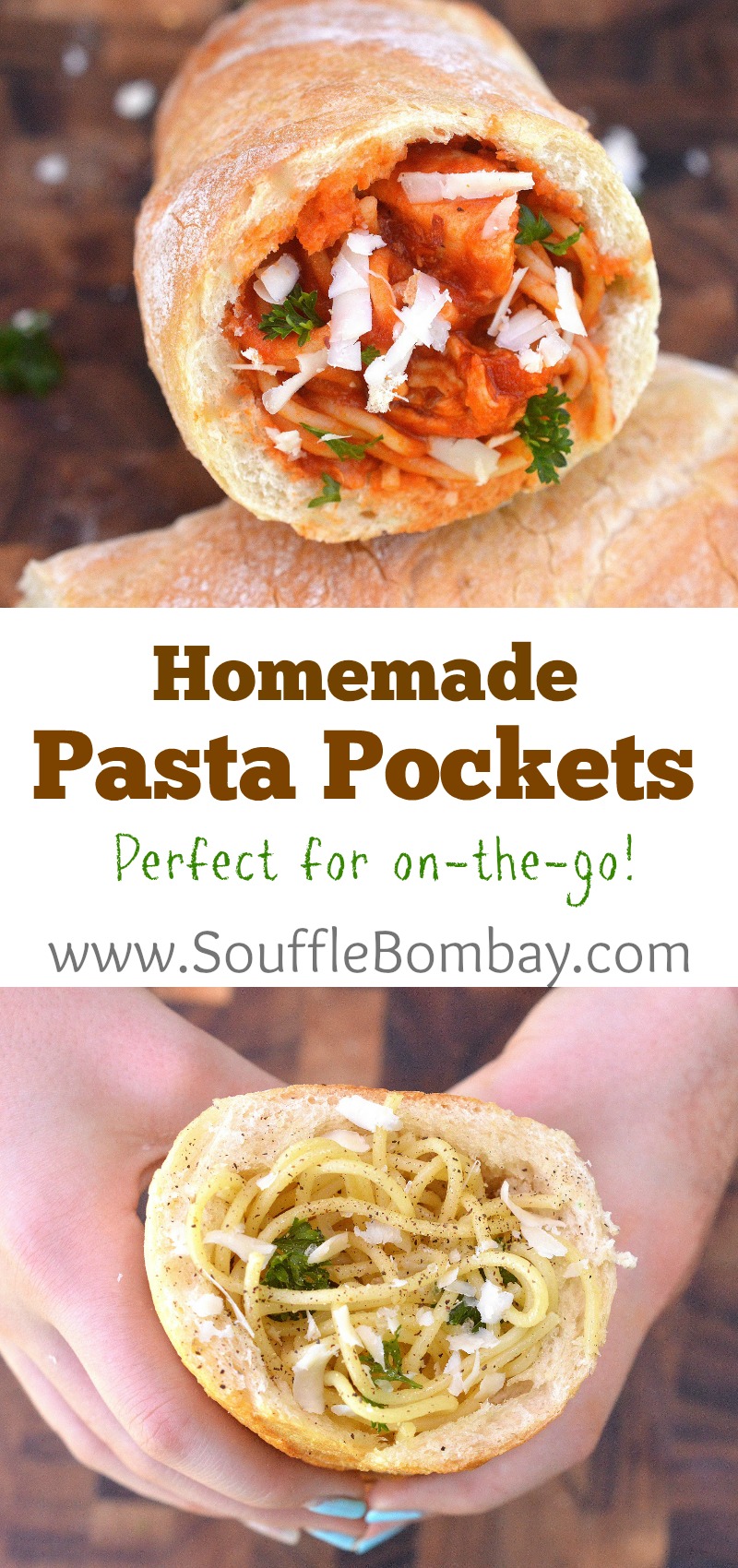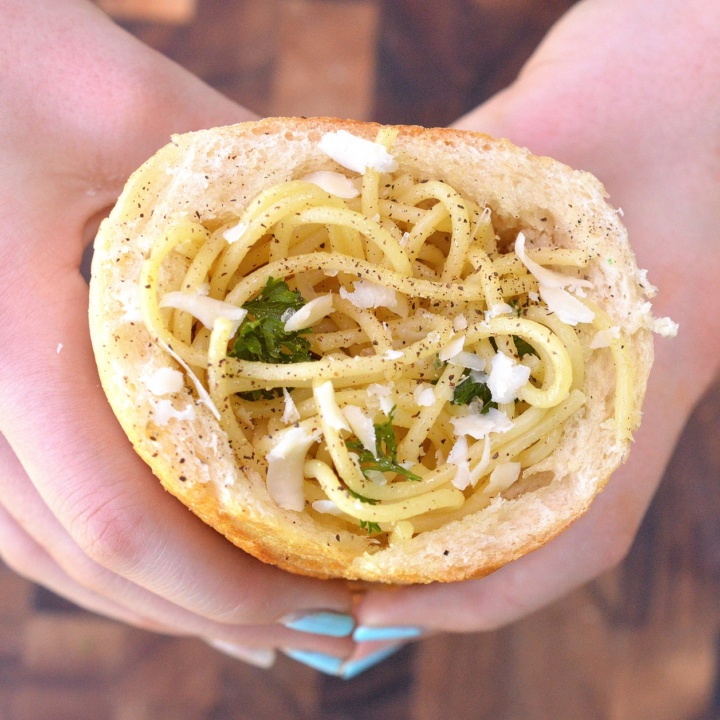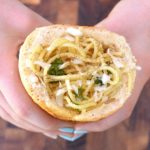 Print Recipe
Homemade Pasta Pockets
Ingredients
16

oz

Barilla pasta

4

loaves French bread

or your favorite crusty baguette style bread

RAGÚ Old World Style Traditional Sauce

Optional add-ins:

Fresh shaved Asiago or Parmesan cheese

parsley, salt & pepper, red pepper flakes, sautéed veggies, cooked chicken, sausage or ground meat.
Instructions
Cook your pasta according to package directions for al dente (don't forget to salt your water).

While pasta is cooking, half your baguettes and hollow each one out by first pulling the bread out with your fingers followed by using a fork or knife to gently scrape away as much bread as you can while leaving the crust in-tact.

Set aside.

Heat your sauce and prepare any add-ins you like. If your kids want plain pasta, simply add butter, salt and pepper to their portion of the pasta. As for the rest, toss with the sauce, garnish with cheese, red pepper and parsley and with your clean hands or tongs add portions of pasta, compressing after each addition until your "pocket" is full.

Serve or wrap in foil or parchment paper and eat on the go.

Kitchen Tip: If your bread was purchased or made prior to the day you are making this. Refresh your crust by popping the whole loaves into your 400 degree oven for 4-5 minutes.