Chocolate and Peanut Butter Squares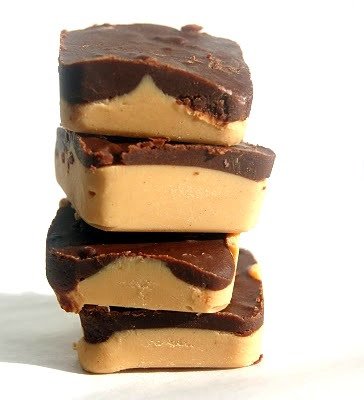 My children are seriously allergic to tree nuts and peanuts.
They would have what is called anaphylactic reaction and even a smidgen of nut will have dire consequences unless immediate action is taken and we get them to the hospital...quick.
My son , who is now 9, tasted a cashew just before he was three and it literally almost killed him. That has been the only time a nut, in any form, has ever entered his body.
My daughter (6) had never tasted a nut or nut product until last year.
She accidentally tasted a tiny heart from her cousins Valentine candy "loot" and it wasn't pretty. She actually asked me first if it was ok...however I had just gotten burned pretty good while making a big batch of funnel cakes for the kids at the get together we were at and was totally distracted.
I didn't pay attention to what she was asking...she being 5 took that as a yes, 2 seconds later she cried out "Mommy, I think I am eating nuts". Man was it crazy and did I ever feel like the worst Mommy ever!
My kids also happen to be severely allergic to all shellfish.
We have taught our children to respect everyone around them and what they eat.
We have taught them to be cautious.
We have educated them to be careful.
We have told ourselves and them...no matter how careful we all are...it will happen again...that is what the doctors all say - just be prepared for it and pray it will turn out ok.
With all of the above being said. I still do make things with nuts occasionally (like my signature Cranberry pie as well as lettuce wraps and sugared nuts)and my husband and I are seafood-aholics.
Lucky for us (and them), our children's allergies are not airborne.
These tasty 4 Ingredient Chocolate and Peanut Butter Squares are just perfect for you or you and your kids to whip up as a Valentines Day surprise for someone, or many someones, you love!
The chocolate is great and the protein in the peanut butter is not to bad either!
They are not to sweet and they really satisfy.
My niece who is 6 (and my sister) gave them 2 thumbs up...they were the recipients of the cute sparkly red box full I had made.
Chocolate and Peanut Butter Squares
1 pound white chocolate
1 cup peanut butter
1 ½ cups chocolate chips or 12 ounces of chocolate
½ cup heavy cream
*I happen to have a silicone "pan" with 24 squares in it - which I use when making this. In the past I have just used a 9x9 baking pan.
Line your pan with parchment or waxed paper, leaving an overhang. (you can also use foil however you will need to spray it with cooking spray).
Melt your white chocolate in your microwave for about a minute, stir until the chocolate is melted and creamy. Add in the peanut butter and stir until blended and smooth.
Spread mixture into your pan.
Refrigerate for 15 minutes or until a bit firm.
In a saucepan, combine your milk chocolate and your cream and heat over medium high heat until melted and smooth, stirring constantly. Pour/smooth over peanut butter mixture.
Chill for at least 3 hours or overnight. Later, lift out the candy and cut into small squares.
Feel free to "bedazzle" these Chocolate and Peanut Butter Squares for Valentines or any holiday. I made some with sprinkles, glitter gel, candies and silver dragees. Put some parchment paper in a pretty box, type up the recipe on a cute and there you have it...a gift better that the store to give.
You can also cut into shapes with a quality small cookie cutter.
Enjoy!
Colleen