When fall rolls around a favorite treat of many are candy apples. Caramel coated, chocolate covered or dipped in the iconic red candy…The irresistible crunch and juiciness of a candy apple can't be beat! However they are a lot to eat, so today let's talk about How to make Candy Apple Slices.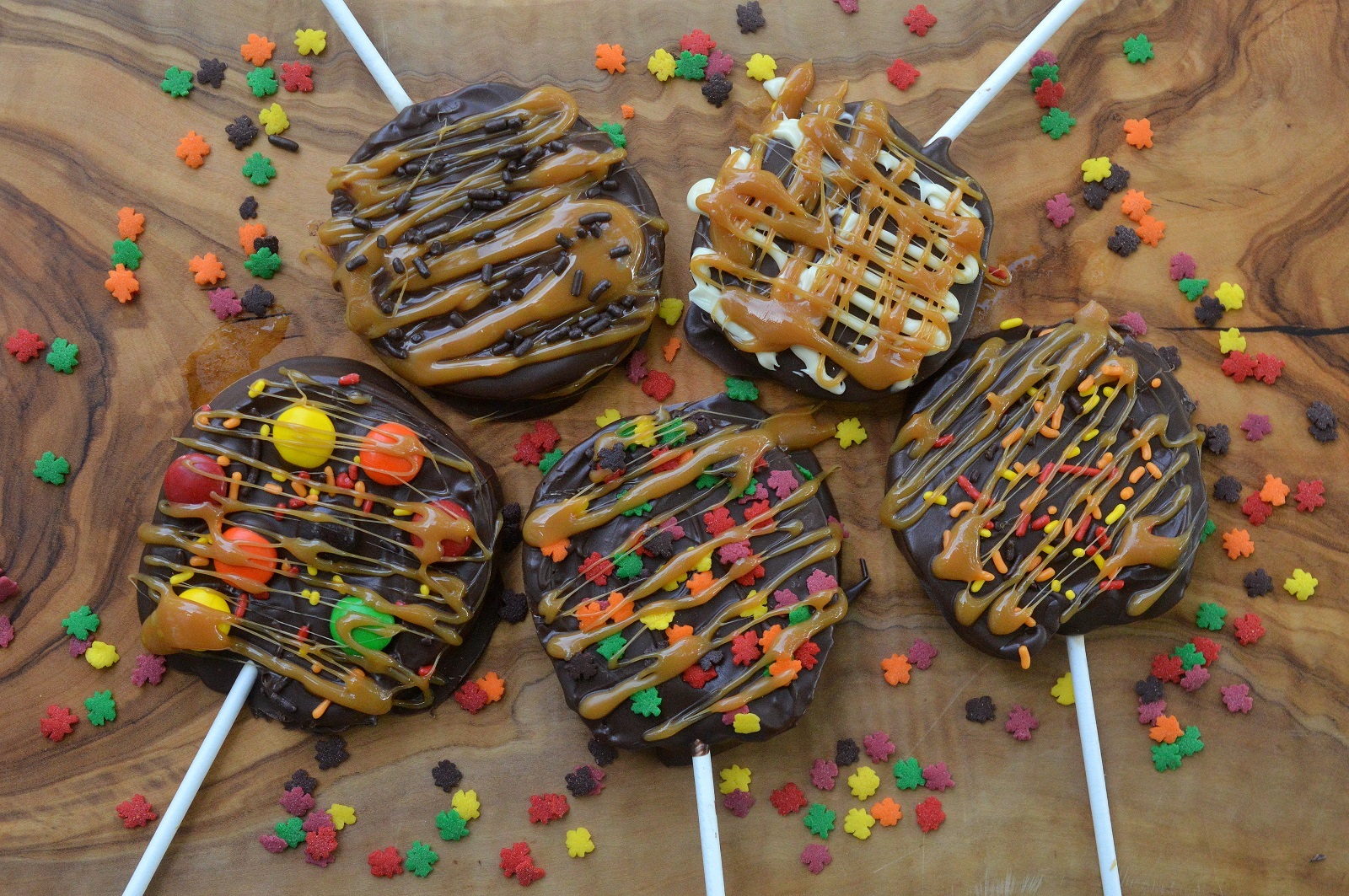 Instead of dipping whole apples, how about simply slicing your favorite apples and tricking them out! This way, you only eat just a slice or two and you can try a variety of flavors.
Let me tell you just how happy my kids were when they came home to find these Candy Apple Slices! On top of those that I had made, I left out everything so that the kids could learn how to make candy apple slices themselves.
My kids were off from school two days last week, so my daughter (13), and one of her friends decided to do some fall treat-making. They chose to make ghost pretzels, dipped strawberries with eyes (too cute!), Halloween cookies and pumpkin Rice Krispy treats. They ended up making 3 of the 4. One thing they tinkered with making was dipped apples…so because I had a bunch of supplies left over from their fall cooking-fest, I decided to do it for them.
How Do I Make Candy Apple Slices?
Making this fun treat is easy! Everyone loves them! All you need are apples, chocolate (milk chocolate, white chocolate, dark chocolate or a combination) and your chosen toppings like caramel, sprinkles, candies etc.
Slice your apples, melt your chocolate, dip your apples and decorate! That's it!
Tips For Making Candy Apple Slices
Make sure your apple slices are thick enough to allow the indent from the lollipop sticks (remember chocolate will act like glue).
Melt chocolate in short bursts in the microwave or over low heat via the stove. Be careful to not burn the chocolate.
Use wax paper or parchment paper.
Move quickly as you make each Candy Apple Slice, if you are adding sprinkles or decorative candies, you want to add them before the chocolate or caramel hardens.
Be creative, there is no right or wrong. Let the kids go at it!!
Enjoy these the day you make them. They really do not hold up well after the day they are made. They tend to get weepy/watery.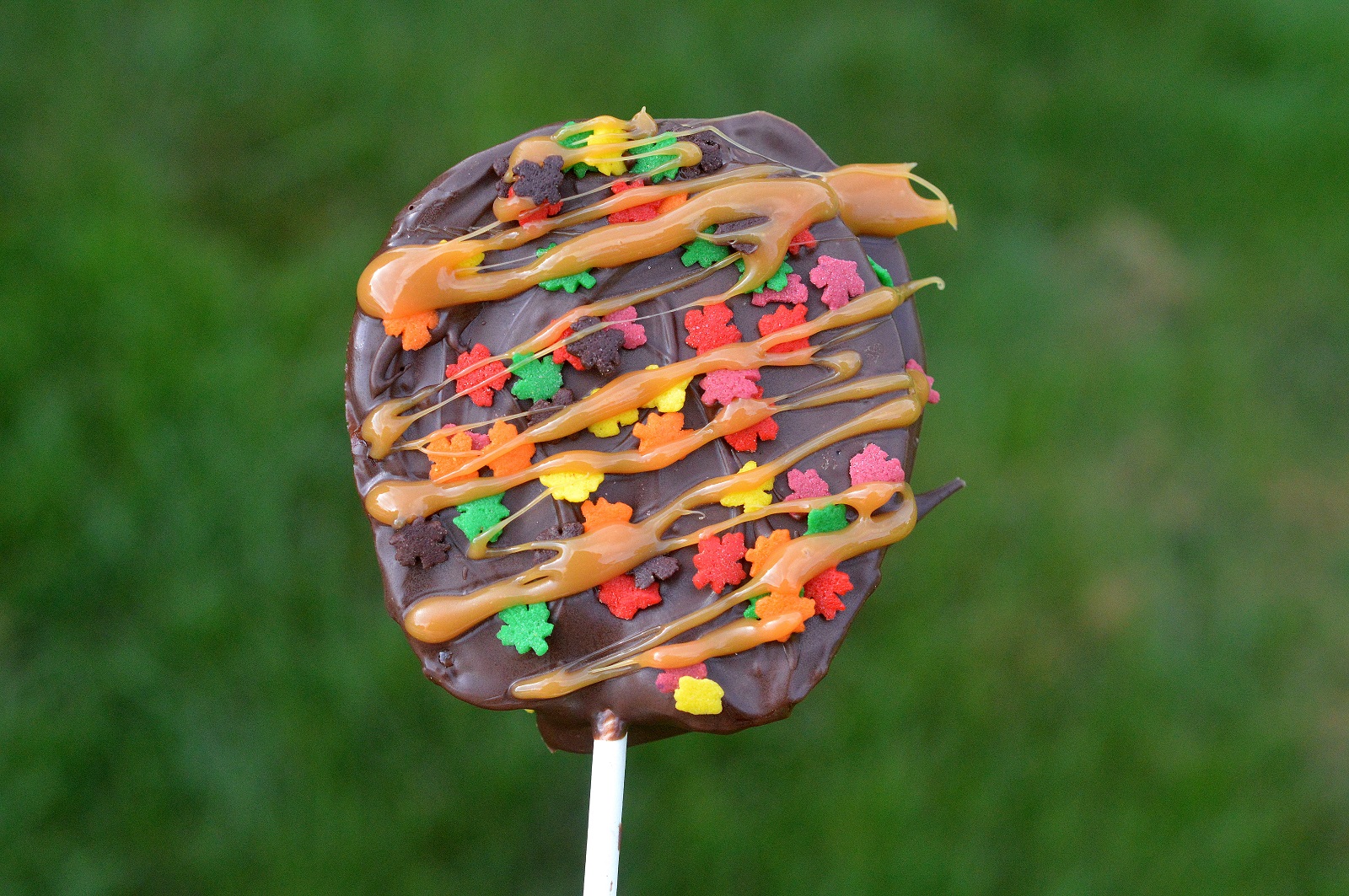 When it comes to how to make candy apple slices, there are two tricks. One, slicing your apples just the right thickness (not too thin) and two, making sure the whole apple slice is completely covered in chocolate.  If you miss a section of apple, the juices will begin to leak out. Other than those, you can have these done in 15 minutes.
The cleanup is the worst part! Getting melted chocolate and caramel out of bowls and off of spoons isn't fun, lol!
Set time aside this fall and grab your kids or grandkids and show them how to make candy apple slices. I will bet you a dollar that they will love both making these and eating these! There are no rules as to what you use to make these fun Candy Apple Slices, just have fun!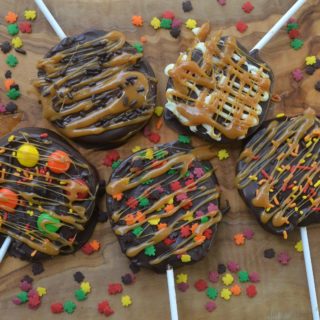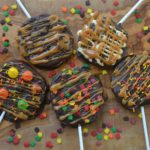 Print Recipe
How to Make Candy Apple Slices
Candy Apple Slices! Why dip the whole apple when you can dip it and enjoy it slice by slice!
Ingredients
Melting Chocolate

Kraft caramels

Garnishes such as M&M's

sprinkles, candies, chopped nuts & coconut flakes

Apples

Lollipop sticks
Instructions
Set up everything you will be using to decorate your Candy Apple Slices.

Set out one or two baking sheets lined with a piece of parchment or wax paper. (This is so your chocolate covered apple slices don't stick)

In small individual bowls, place the chocolates and caramels you will be using to cover the apple slices in. Dark chocolate, milk chocolate, white chocolate all work fine. I prefer the melting disks from the craft store for this since they melt evenly and smoothly.

Slice apples to about a 1/8 inch thickness. You can have all sizes of slices to not waste the apples OR just eat the smaller ends instead of dipping them, your call.

At the bottom of each apple slice, make a small slice 3/4 of the way through, gently but firmly press a candy stick into the apple and push it up into the apple a bit. Place the apples on your parchment paper-lined baking sheets.

Melt the chocolate you will be covering your slices in and with a spoon, spoon the melted chocolate onto one apple slice at a time, making sure you have coated the top and sides and secured the stick with chocolate.

Gently flip it over and do the other side. If decorating with sprinkles, jimmies or candies, do so quickly before the chocolate begins to harden.

Melt additional chocolate for drizzling (white on dark or dark on white) and drizzle onto chocolate-covered slices.

Melt caramel and do the same. Caramel will solidify fast, so move quick. A small spoon will work for drizzling the caramel.

To melt the chocolates as well as the caramel, place each separately in small bowls and one at a time, microwave in 15-30 second bursts, stirring in between until you can stir the chocolate and it becomes smooth. Caramel will take a little less time. Be careful not to burn.

Once all slices are finished being candied and decorated, place your tray(s) in the fridge for 15 minutes to ensure all is heartened.

Best if enjoyed within 24 hours.

No nutritional information is given since apple slice sizes and chocolate and toppings used are not finite.
Enjoy!!