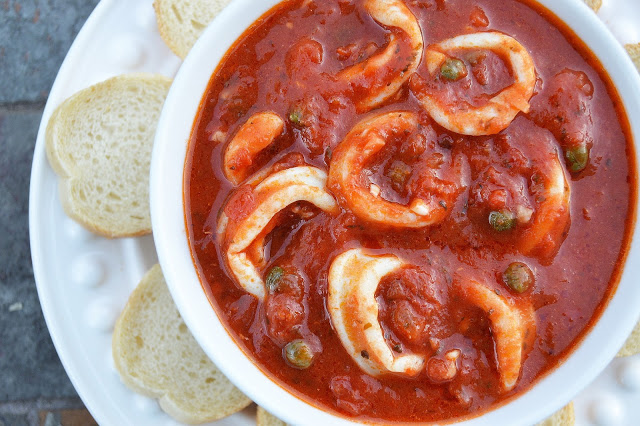 Raise your hand if you know the name Calpahlon.
Yup…exactly as I thought…just about every hand raised!
I've been a big fan of Calphalon as long as I can remember. I think the very first thing I registered for back when my husband & I were getting married was a full set of Calphalon pots & pans…I didn't even know how to say the name right, but I knew I had to have them in my life, and you know what?? They have never let me down! Since then, Calphalon has added on so many new items (and I have bought a number of them). Everything from new pans to electronic kitchen items.
Things to love about these pans:
The ability to use metal tools…yup go right ahead!!
A surface designed to excel in the searing of your food, gotta love a good sear!
Dishwasher safe – which makes cleanup a snap!
PFOA-free!
Made in the USA!!
I was lucky enough to have been sent a couple of the these beautiful pans to try out, I received the 3-Piece Fry Pan & Saute Pan Set. First, I have to say that these are gorgeous pans! The dark rich color, the beautiful hardware and the weight of them just scream "quality"! The pans also cook like a dream, a perfectly "even" cook, which is something I always look for in a pan.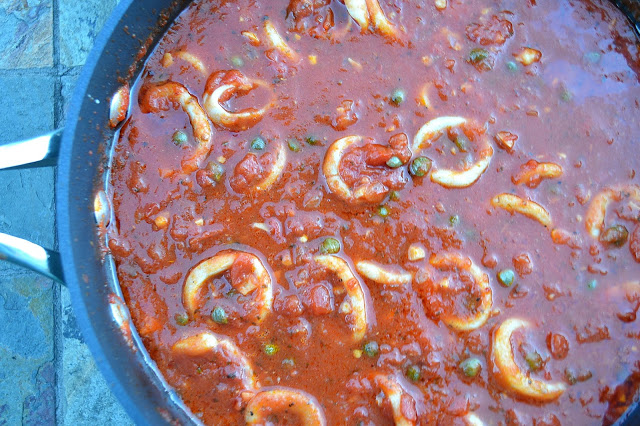 I made a number of dishes in the pans I was sent. I sautéed onions, made a mushroom side dish, made an omelet, some sausage (which browned fabulously) and scrambled eggs. I made an incredible one-dish calamari (recipe below). My 9 year old "chef" was as excited as I was to try these pans out, first she made a Pasta, Kale & Bacon Dish. Next she sauteed apples for a dessert (she gave the pans 2 thumbs up and is trying to claim them as her "own", lol). My 11 year old son wanted in on the action too and made himself a grilled cheese. In all these situations, the pans performed like a dream!
I have to say that the handles of the pan(s) as well as the additional hardware stayed cool to the touch while cooking with them. As a mom who lives with a 9 year old who is always eager to cook, that is important to me. After using these pans for a couple of weeks I totally trust her cooking with them, something which makes us both happy!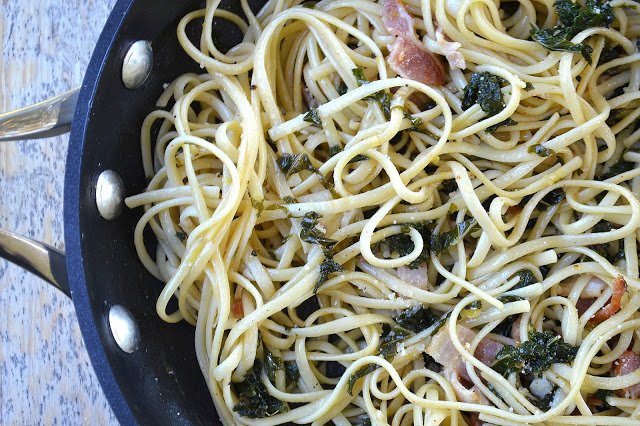 Mentally, I had a hard time allowing myself to use metal spoons, spatulas and forks with the pans while I tried them out. My brain kept screaming "nooooo, Colleen don't do it!!" But I did because I wanted to see the result and in the end, I am happy to report that no harm was done to the pans and my brain recovered after I gave it a glass of wine!
Now on to the recipe!
The best bite of food I had during our last beach vaca 2 weeks ago was an appetizer my sister ordered while out one night. The dish was called Sicilian Calamari and it was described as "tender calamari sautéed with banana peppers and onions in a garlicky tomato broth". I kid you not…my sister and I thought about using a straw for that sauce, It was delicious! Here is my take on what was in the dish.
I made this in the Calphalon Elite 3 QT Nonstick saute Pan and it came together beautifully, plus…who doesn't love a 1 dish meal or app??
Sicilian Calamari Recipe
1 LB fresh calamari tubes
1/4 cup olive oil
6 cloves garlic, minced
1/3 cup minced onion
28 oz can of crushed tomatoes
2 heaping TBS capers
2 TBS caper juice
1 tsp red pepper flakes (or to taste)
1/2 cup sliced banana peppers (from a jar)
1 TBS banana pepper juice
Kosher salt & black pepper to taste
Rinse the inside & outside of your squid tubes and slice them into rings. Set aside.
Saute your garlic & onions in a 3 qt or larger saute pan for 5 minutes, stirring often. Add in a 28 oz can of crushed tomatoes, bring to a simmer stirring occasionally. Add in your capers, caper juice, red pepper flakes, banana peppers and juice, salt and pepper and simmer for 10 minutes. Taste and adjust seasoning to your liking. Add in calamari rings, simmer for 5 minutes or until calamari is cooked to your liking. Serve with slices of French bread or over pasta.
Colleen's Notes: We enjoyed this both as an app, dipping bread into it, and as a sauce over pasta. Even the kids and another 9 year old girls we had as a dinner guest enjoyed it!
I totally meant to add some chopped parsley to the sauce – but didn't realize until the next day when I saw it sitting in my fridge that I had forgotten. The sauce was so good I don't think it was needed anyway.
If you want a more liquid sauce, add in 1/2 cup white wine or 1/2 cup water as well when your sauce comes to a simmer.
If you are not a fan of banana peppers – don't add them, however they are what my husband went crazy over in the sauce…love you babe!! The kids however ate around them.
For me personally, this was just about the best sauce I ever had!
My sister said she would add Kalamata olives if she ever made this (one of her favorite things to eat…me not-so-much)
Enjoy!!
Disclosure: Calphalon sent me a 3-Piece Fry Pan & Saute Pan Set to try out as well as a fry pan to give away to one lucky reader. I was not paid to write this post. All opinions about these pans are my own after testing them for 2 weeks.