Who here loves pasta?? I don't know about you but I would say a we have some sort of pasta dish every single week in our house. To me, pasta is extremely versatile, the choices seem limitless and it's an incredible vehicle for so many sauces, meats and seafoods. Orecchiette with Roasted Tomatoes and Sausage is a flavorful weeknight dinner idea.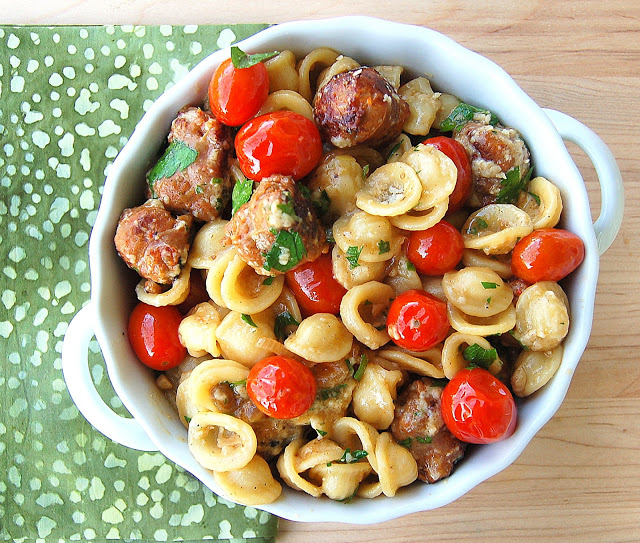 Some nights my kids just want plain old pasta with butter and seasoning. End-of-story. And that's OK. I can easily give them that and jazz up the rest of the pasta for my husband and I. Gotta love that!
When I make pasta, sometimes I've planned it out, however usually I just look around, see what I have and start throwing things together – which is my favorite way to cook…you never know just what it is you will come up with and its fun!!
That is what I did here, I saw the sausage and the tomatoes I had roasted earlier that day. (I am a lunatic for roasted tomatoes and make the almost every week to snack on). I checked for an onion and parsley and then I went to town. The result was delicious, my son liked the flavors of the pasta but didn't want the sausage. My daughter opted for plain buttered Orecchiette and my husband and I couldn't get enough of it! Truth be told I wasn't much into the sausage myself, I can only eat a piece or two…BUT I LOVE the flavor it gives to pasta and sauce. I know this is horrible, but if I am going to eat sausage, I want it almost burnt and on a roll – that's it, just-lik- that…nothing else. My husband is horrified at how I like to eat it…even now after 15 years together, lol!
See!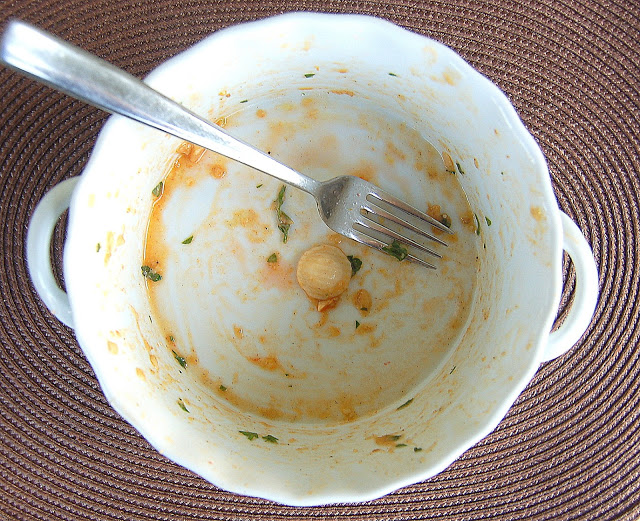 Poof… it was G-O-N-E! I think it was the truffle salt that put us over the edge!
I kinda feel bad for that last lonely noodle 🙁
What is your absolute favorite pasta dish? I would love to know.

Orecchiette with Roasted Tomatoes and Sausage
1 pint of grape tomatoes
1 pound of Orechietti
2 TBS olive oil
1 medium onion, chopped
3 cloves of garlic, minced
3/4 pound spicy Italian sausage, cut into bite sized pieces
2 cups white wine
1 TBS butter
Kosher salt and Black pepper to taste
Red (Cayenne) pepper to taste
1/4 cup parsley
1/2 cup grated Parmesan cheese
Optional: Truffle salt
Preheat your oven to 325 degrees and roast your tomatoes for 30 minutes. Remove from the oven and allow to cool. (I make these just about every week for snacking on or adding to salads…they are a-mazing cold.) Bring a salted pot of water to boil for your pasta and cook your pasta according to your packages instructions for al dente. Meanwhile, sautee your onions over medium heat in your olive oil until tender, add in the garlic and cook for an additional 2 minutes, scrape onions and garlic into a bowl and set it aside. Add your sausage to your pan raise the heat to med-high and cook the sausage until it is almost done, add in your wine and cook for another 3 minutes. Lower the heat to low, add your onions and garlic back in, add the butter and spices and toss well. Add in the parsley, cheese and adjust seasoning if necessary. Toss well. Plate and serve.
Notes: The addition of truffle salt brings this dish to a whole new level – a little truffle salt goes a long way. It's a great addition to any pantry…try it on oven fries, eggs, pizza, potatoes and more!
This is an easily customized dish…add in some spinach or kale, replace the onion with a leek or scallions, make it meatless. Your call!
To make your pasta night even simpler…how about trying out a Pasta Butter – here is a Roasted Red Pepper Pasta Butter or a Lemon Caper Pasta Butter you might enjoy.
For a fabulous pasta dish – try this Pasta with Leeks and Pancetta that my 8 year old whipped up by herself or this favorite – My interpretation of the Rainforest Cafe's Cajun Chicken & Pasta Dish
Ever have pasta in a sandwich?? Your kids would LOVE this one! Grandpa's Pasta Pockets…take them on the run with you on a busy night to a sports game or practice…Yummo!!